For those of us deep into the do-it-yourself life, we've realised just how important it is to have a nice set of drills within reach. Don't ever underestimate the immense advantages of being able to put holes in things. From creating anchoring points with screws, or drilling in pass-throughs for wiring, they're an indispensable bit kit. So then, how could we possibly turn down the opportunity to review this early development sample from Ryobi of their latest and greatest drill?
The RDD18X looks just like any other drill on the outside. There's nothing special about how it looks, and it certainly doesn't scream like it's somehow any more magical than it is. Yet, there are a few good reasons as to why this is worthy of a spot in your garage. Whether you're remodelling furniture or spending the winter months tinkering on your project car, Ryobi's new RDD18X is certainly ready to get down and start working.
A Simple But Effective Tool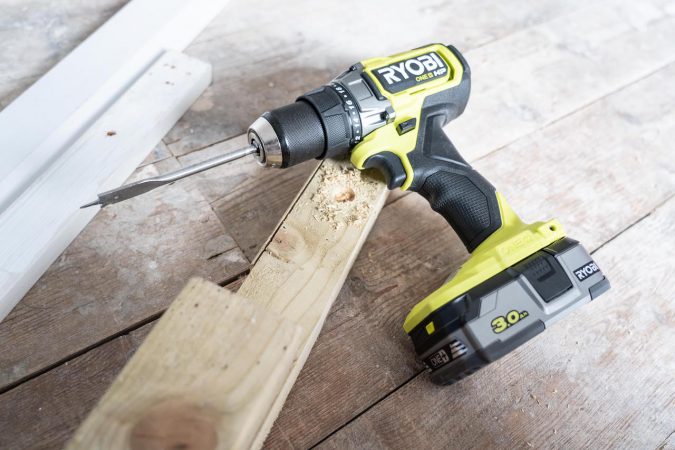 The RDD18X is marketed as one of Ryobi's 'HP', or 'high-performance' line of tools. As such, it's quite a bit more powerful than other competing drills on the market. In our experience, we've found that it's able to rev up and maintain high rotational speeds quite easily. This hefty increase in performance is thanks to an upgraded motor deep within. The brushless motor design has been tweaked and refined from earlier iterations by Ryobi.
For you and me, this means it'll be able to drill more efficiently without a loss of momentum. There are other benefits, too. Ryobi's 'HP' optimized brushless motor is not just able to deliver more power to the drill bit, but it's also more energy-efficient. This means you could be drilling for longer. For more casual workloads, it'll happily keep working for a couple of days or so. Another upside is that the motor has a lengthier lifespan, as well.
Drill Through Wood Or Metal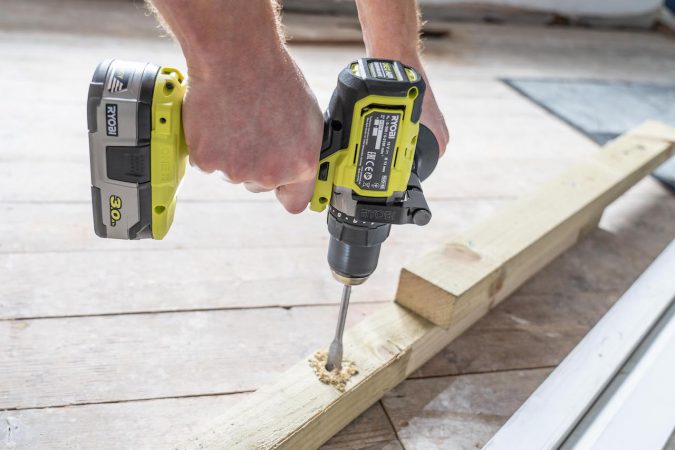 The RDD18X is a powerful drill, even if it's a fairly simple one in function. Ryobi's latest tool isn't a combi or hammer drill, so don't expect it to work against masonry. However, as a conventional rotary drill, we've found it to work rather well beyond just wooden material. Thinner metals, plastics, or composites, and the like are no match for the RDD18X.
With the right drill bits, you can start putting holes in the metalwork underneath the bonnet. This is great for mounting modifications like braces, or if you're keen to install a new set of lights. The exterior bodywork too could easily be drilled through once you have an RDD18X in hand. You might install wheel arch extensions, a spoiler, or mounting points for a set of rally-style foglights. If you're keen to stick with the wood theme, then feel maybe to fit some oak floorboards in the back of your truck?
Sharing A Battery With Other Tools
If you're going to have a drill in your garage, you might then have other tools there alongside it. Maybe you'd have a few saws, a torque wrench, and maybe an angle grinder. If you do, you'd be pleased to hear that aside from being a higher performant HP model, the RDD18X is also a part of Ryobi's One+ collection. What this means – if you're not already familiarised with Ryobi's ecosystem – is that all the tools in this series share the same battery.
And note, there are currently 175 different tools under the One+ banner. There are differing battery capacities. But overall, all the batteries are interchangeable with one another. So, you could have an entire shelf filled with Ryobi One+ tools, from lawnmowers to circular saws, and they could all be powered by the same battery. In this case, the RDD18X has an 18V pack, which is compatible with some other Ryobi tools we've reviewed in the past. No special adapters or sockets are needed.
For the end-user, the biggest advantage is cost. When you buy another Ryobi One+ tool, you won't have to worry about having to cash out for extra batteries. This is since most tools today use special batteries for each individual tool. So, a typical drill wouldn't be compatible with the battery from a reciprocating saw, for example. You'd also be able to save a lot on space too, since you don't really need to have that many batteries.
Comfy Ergonomics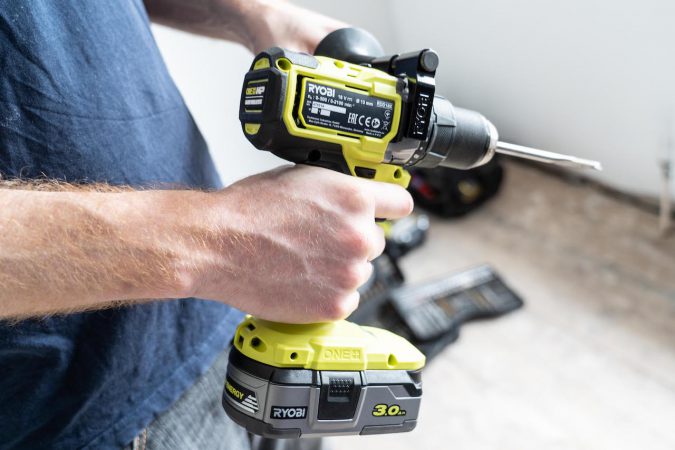 In the box, you'll also find an additional handle to mount on the RDD18X. This is great from an ergonomic point of view, as you could rest your hands easily along the side. Meanwhile, it also works well to give you an extra grip to help guide the drill bit more precisely. Best of all, you could adjust the positioning of the handle, too. This is great if you need to drill something in a tight spot, for example, and you could thus move it to the other side.
The adjustments are completely tool-less. All you need to do is loosen the clamps. Now, you could then move the handle to the left or right, or remove it entirely. The textured grips are rather nice to hold. There's also an extra safety switch just above where your thumbs naturally rest. All your torque settings are placed along a ring on the front, where you'd expect it to be. Oh, and there's a set of LEDs along the bottom near the battery pack, just to make it easier to work within the dark.
Conclusion – A Good Drill For Your Next DIY Project
Although seemingly a plain drill, Ryobi's RDD18X has marked itself as quite a memorable companion in the ever-expanding Motor Verso toolbox. Its upgraded motor is able to maintain a speedy and consistent power delivery. Meanwhile, the easily interchangeable batteries can keep us running for a decent amount of time. So, whether you're thinking of putting together a new kitchen set, or finally finish that track-ready MX-5 with an LS V8 swap, consider keeping an RDD18X drill by your side.