The Volvo P1800 remains, to this day, one of the prettiest cars ever made. It's a remembrance back to classical and elegant automotive design, with restraint and chic. But what if you throw all of that away to make a fully kitted out hot-rod? In other words, why not put a bit of that silly Hot Wheels magic in an old Swede, and let's see how it goes. Funnily enough, this actually happened.
Never thought I'd see those words be put together. Called "Ain't A Saint", this Volvo P1800 is owned and built by Lee Johnstone. A properly quick racer, the P1800's raced under the JD Racing team. 'JD' stands for Johnstone and his three Daughters – Ellie, Tori, and Sarah. All of them have quite a lot of seat time in this restomod P1800, with their supportive mum, Sue, also a part of the team.
Not Your Ordinary Volvo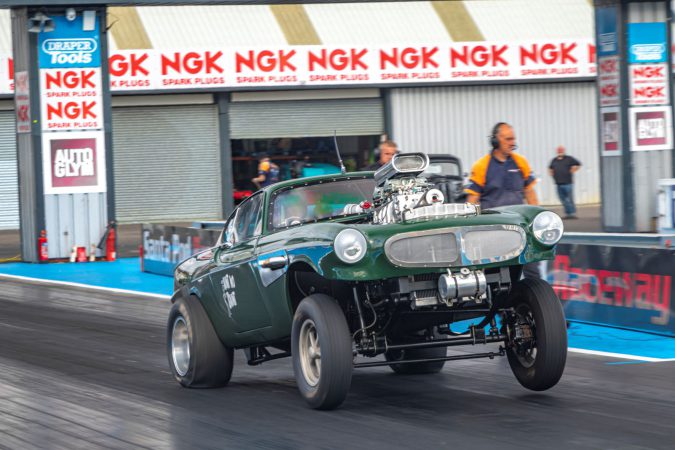 Originally, this P1800 was bought as a stripped-out shell. At the time, it was believed to be too badly damaged to ever be restored as a road-going car again. But the rules say nothing about a track car. So, Johnstone put a Chevy big-block supercharged 454 V8 in the P1800 "Gasser". This motor should be good for at least 600hp, capable of a quarter-mile run in just 10.01 seconds.
It'll keep springing until it reaches a top speed of 133mph. While you there can only admire the pics, for now, there may come a time where you can buy this in person. This P1800 Gasser was entered in the Hot Wheels Legends Tour. Here, contestants with their modified classics and race cars can get a chance to see their cars be turned into a 1:64 scale die-cast model. JD Racing is now one step closer.
Unanimously, the Gasser was selected as the UK finalist, and it's off to the next round. Its panel of judges include Car Throttle's Alex Kersten, as well as famed ex-Jaguar and Aston Martin designer, Ian Callum CBE. The next round of judging will be on the 4th of November in the Semi-Finals, before the Global Final on the 13th. If it wins, you too could one day own a mini version of the Gasser.