In a world where electric cars are rapidly becoming the norm, Volvo has once again pushed the boundaries with its latest offering, the EM90. This isn't just any electric vehicle; it's a premium Multi-Purpose Vehicle (MPV) designed to be a cosy living room on wheels, providing ample space for life's adventures with loved ones.
Let's dive into what makes the EM90 a game-changer in the automotive world.
A Nod to Versatility and Heritage
While the MPV segment is a new arena for Volvo, they're no strangers to creating versatile vehicles. The EM90 draws inspiration from the iconic Volvo Duett, a staple in versatility since 1953, known for its adaptability among families and businesses alike. This rich heritage is evident in the EM90, which marks a fresh chapter in Volvo's story of innovation and adaptability.
Tapping into New Markets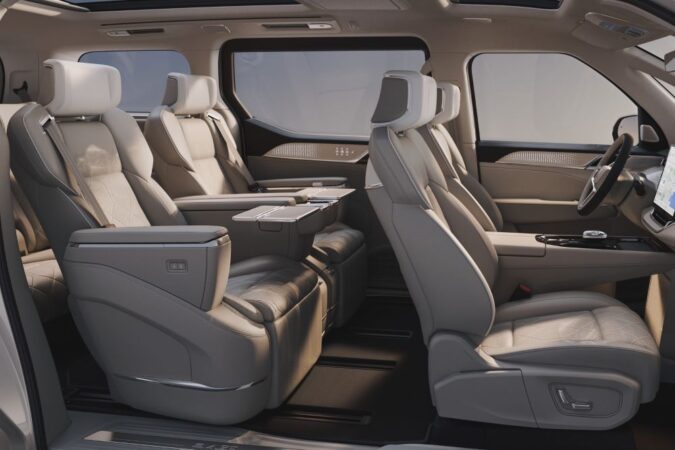 Initially launching in China, the world's largest car market, the EM90 represents Volvo's response to the growing popularity of the MPV segment, particularly in Asia. Following the successful introduction of the fully electric EX30 SUV, the EM90 is set to capture new audiences and expand Volvo's footprint in the global automotive market.
This strategic move is part of Volvo's broader goal to become a fully electric car maker by 2030, aligning with its commitment to sustainability and eco-friendly transportation.
Design and Comfort: A Home Away from Home
The EM90's design ethos centres around creating a space akin to a home. Volvo's Chief Executive Jim Rowan emphasises this, saying the EM90 is inspired by the feeling of home – a place to connect and relax.
Its exterior boasts a confident look with Thor's Hammer headlights and an illuminated grille, signifying Volvo's commitment to stylish, yet functional design. Inside, the EM90 is all about comfort and versatility, serving as a mobile living room with Scandinavian design elements, offering an upscale experience.
Performance Meets Eco-Friendliness
Under the hood, the EM90 impresses with a range of up to 738 kilometres, thanks to its 116 kWh battery. Its bi-directional charging capability further sets it apart, allowing the EM90 to function as a power bank for other electric cars and devices. In terms of speed, the EM90 doesn't lag behind, capable of accelerating from 0 to 100 km/h in just 8.3 seconds.
Safety and Technology: The Volvo Way
Safety has always been synonymous with Volvo, and the EM90 is no exception. It's equipped with an advanced suite of driver-assistance systems, underpinned by Volvo's extensive safety research. The EM90 also boasts top-notch sound isolation, dual-chamber air suspension, and 21 Bowers & Wilkins speakers, ensuring a serene and enjoyable driving experience.
The tech inside the EM90 is just as impressive, featuring Snapdragon Cockpit Platforms and 5G connectivity. An interactive voice assistant, a 15.4-inch infotainment screen for the driver, and a 15.6-inch fold-down screen for rear passengers enhance the in-car experience, whether it's for entertainment or business meetings.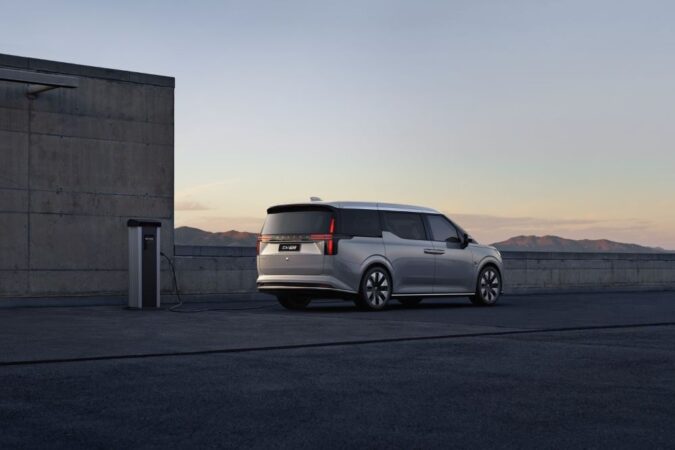 A New Chapter for Volvo
With the EM90, Volvo isn't just selling a car; they're offering an experience – a space to connect, create, and relax. This vehicle is a testament to Volvo's commitment to sustainable mobility and premium electric vehicles. The EM90 is more than just a mode of transportation; it's a lifestyle choice, offering room to breathe in a fast-paced world.
As Jim Rowan aptly puts it, the EM90 is about giving room – room for connection, creation, and relaxation, for you and those around you. With its unique blend of heritage, innovation, and forward-thinking design, the EM90 is set to redefine the premium electric MPV segment.