When most people talk about a large vehicle that can haul your entire family, they often refer to a 7 seater SUV. But when you have more than that, you need something bigger. When you have a group of 10, your choices are limited. Let us look at some 10 passenger vehicles.
Even if you can add a couple more seats in the back in an SUV, you'd only be able to carry 9 people. When you have a large group to haul, you need a big enough vehicle that allows you to get to your destination comfortably. You don't want to cram almost a dozen people into a tight space. A 10 passenger vehicle should be capable of seating 10 people with enough room to keep all of them comfortable.
When it comes to 10 passenger vehicles, there aren't a lot of options out there. This is because they are not as sought after as other vehicles. You rarely see someone driving a group of 9 or 10 passengers. Since the demand for these vehicles is low, they aren't manufactured or updated as much as other vehicles.
Nonetheless, there are a lot of big names that manufacture vans, that are great for hauling passengers. There are great options that are capable of making room for up to 15 passengers. Vans are often bulky and lack in style, which makes a lot of drivers dislike them. But if you are someone who wants to ride in style, we have a few solutions for you as well.
10 Passenger Van
When you think about a vehicle that can carry 10 or more passengers, you think of a van. No car or SUV can carry upwards of 10 passengers. Even if you think that a bus would fit into the category, it doesn't make sense to get a bus if you are only driving 10 passengers.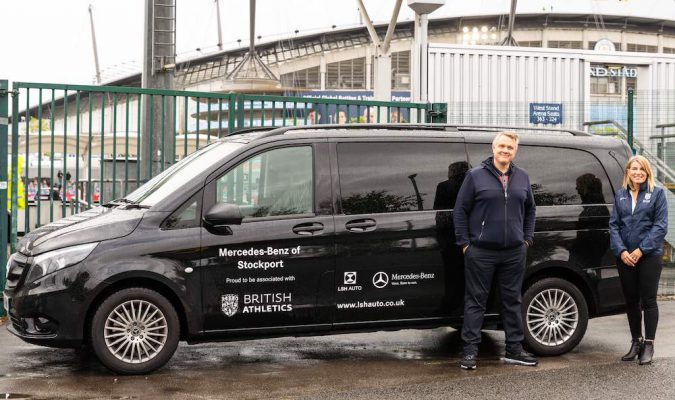 For a 10 passenger vehicle, vans are just perfect. They can seat anywhere between 10 to 15 people with enough room, and they are not too big, which could make the job of the driver much harder.
The van was invented with one thing in mind. It should be big enough to seat 10 to 15 passengers while keeping it small enough to be driven as an everyday vehicle. Eventually, the first van was introduced to the world in the 1970s. They aren't as big and bulky as buses.
So a lot of companies and individuals, who had to cater to smaller groups, who were using buses, turned to these vehicles in a heartbeat. For many organizations, this was a godsend. Daycares, churches, airports, nursing homes, schools, even for the US Army, the introduction of the passenger van meant, they did not need to board a bus every time.
Best 10 Passenger Vehicles
Even though there aren't many competitors in the automobile world who want to build better vans, still there are a few big names out there who manufacture vans. Here are some of the best vans in the market today.
Best 10 Passenger Vehicles #1. Ford Transit
The Ford Transit was one of the earliest passenger vans to enter the American market. Ford Econoline vans once dominated the category in the US. But the venerable E series has been replaced with the Transit line, which Ford sells throughout the rest of the world. It is one of the most purchased vans in the US, in specific years they have also been capable of outselling mini-vans.
Since, for a 10 passenger vehicle, you'd be looking for a passenger version of this van. For the passenger version, the company offers different variations with a lot of options. The Ford Transit is available in 3 different lengths and 3 different heights. There are also 3 different engine options which range from a diesel engine to an incredibly powerful turbocharged V6. There are also different door configurations that are available when you purchase a Ford Transit.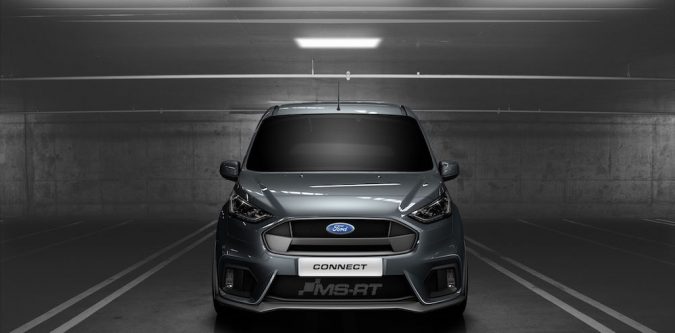 The seating capacity can be varied as well according to the length you choose. The options range from an 8 seater to a 15 seater. The Transit is shaped more like a car than a van. The weight of the van is reduced as much as possible.
The Transit can get 15 mpg on the city and 19 mpg on the highway when equipped with the 3.5L EcoBoost engine. 2 trim levels are offered by Ford for the Transit. The passenger wagon XL starts at $41,000 and the XLT trim starts at $45,000. There is a long list of options that you can get for the Transit.
A huge advantage that the Transit offers over minivans and some of the other passenger vans is the ability to walk upright in the back.
Best 10 Passenger Vehicles #2. Chevrolet Express
The full-sized van known as the Chevrolet Express has been around since 2003. Ever since then, the Savanna hasn't received any major updates to the model. But it has received several minor tweaks that were made to offer a comfortable and luxurious ride. These minor updates were to keep the Chevrolet Express relative and give it the ability to compete with dozens of newcomers on the street.
This is one of the final full-sized vans available in the US. A 12 seater is the stock size in the Express. The seating can climb up to 15 with an extended wheelbase model. A 4.8L V8 is a standard issue in the Express. If you want more power you can opt to go for a 6L V8. In the 2017 and newer Express, a 2.8 turbocharged diesel is available.
The Express is a thirsty beast compared to other vans. The 6L engine can only get 11 mpg in the city and 15 mpg on a highway on its best day.

You can choose between 2 swinging doors on the passenger side or a large sliding door. Two trim levels are available in the Express. The base trim is marked at $34,000 and the upper trim starts at $36,000. Both models have an infotainment system with a 6.5-inch screen.
The Chevy Express can tow up to 9600 pounds. This is the best towing capability in the class. Even though the V8 is a thirsty engine, but it can produce a coll 401 hp.
Best 10 Passenger Vehicles #3. GMC Savanna
The other American-manufactured van comes in the form of the GMC Savanna. The Savanna shares a lot of features with the Chevrolet Express. Both vans have a lot of similarities, making them both almost identical.
Both the vans have a seating capacity of 12, which can be extended to 15 by extending the length of the van. The Savanna contains a lot of safety features that other vans lack. These safety features include forward collision warning, lane departure warning, blind-spot monitoring, and rear parking sensors.
The engine of the Savanna is also pretty similar to the Express. The standard V6 produces 276 hp. With a base power of that V6, this is one of the most powerful engines for a base trim compared with other vans. If you want more power you can choose a V8, which just like the Express, can generate 401 hp. It further matches the towing capacity of the Express at 9600 pounds.
A brand new 2021 GMC Savanna costs $37,200 at the base. With upper trims and optional add-ons, the price could get close to $50,000.
Best 10 Passenger Vehicles #4. Mercedes Benz Sprinter
The Mercedes Benz has two different length options along with 2 different heights. It has another option that no other passenger van has, and that is all-wheel drive. Similar to many other vans the sprinter comes with a seating capacity of 12. The capacity can be upgraded to 15 with an extended length.
There are 2 diesel engine options for the Mercedes Benz Sprinter. They are a 161 hp turbo-four diesel and a  188 hp turbodiesel V6. Both these engine options are fitted with a 7-speed automatic transmission. You can also choose a 188-hp turbocharged gas engine. With the proper equipment, the Sprinter can tow up to 7500 pounds.
The center of gravity of the Sprinter is lowered as much as possible to improve handling. It further reduces the chances of toppling.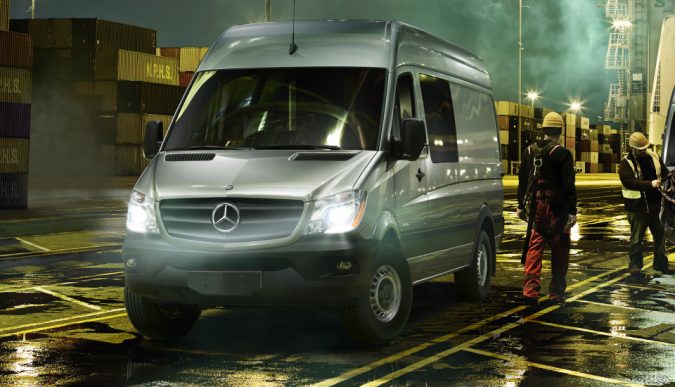 With a van produced by a company that specializes in luxury, it is not a surprise when you find out this is one of the most luxurious vans in the market.
They did not take any shortcuts when it came to the safety features in this van. The Mercedes Benz Sprinter has advanced safety features such as forward-collision warning, automatic emergency braking, adaptive cruise control, a driver attention monitor, blind-spot monitoring, lane keep assist, and a surround-view parking camera.
The price tag for this luxurious can starts at $43,000.
Best 10 Passenger Vehicles #5. Nissan NV
The Nissan NV can seat up to 12 passengers. Unlike most other vans in the category, the Nissan NV doesn't accommodate any more seats. This is Nissan's entry into the full-size van market, and it is not available in different sizes. It only comes with one length and height option. The standard Nissan NV comes with cloth seats, but if needed you can pay slightly more and get the seats upholstered with leather.
The standard engine option for the Nissan NV is the 261 hp V6, which is coupled with a five-speed automatic transmission. The lack of more gears reduces the fuel economy of the vehicle.
Another engine option in the Nissan NV is the 375-horsepower V8 engine. This is equipped with a 7-speed automatic transmission. Unlike many other vans, this is not available with a diesel engine. The maximum towing capacity of the Nissan NV is 8700 pounds.
A special feature of the Nissan NV is that it contains 8 airbags. This includes airbags for all the seats in the back. It also has an abundant storage area, which is more than most of its rivals.
The Pricing for the Nissan NV starts at $39,000.
Best 10 Passenger Vehicles #6. Ram Promaster
They don't offer a passenger version of the Ram Promaster directly from the factory. But they do offer a version with windows all around. This version is meant to be converted to a passenger vehicle by a third-party company. There are many companies that can turn this van into a passenger vehicle. Some of the most reputed in the field are Midway Specialty Vehicles, El Kapitan, and FR Conversions.
Unlike many other vans, the Ram Promaster is front-wheel drive. Since there is no need to run a driveline to the rear axle, the Promaster was able to give a lower load floor than its rivals. This makes it much easier to enter and exit for the passengers.
The Promaster is more nimble than most of its rivals. It has 36 feet turn radius, which is pretty good for a van. This makes it much easier to navigate through tight spaces like parking lots.
The Promaster comes with a choice of a 3.6 liter V6 or a 4-cylinder diesel engine. Prices start at upwards of $37,000 for the window van. Converting it to a passenger van will take a little more out of your wallet.
Best 10 Passenger Vehicles #7. Toyota HiAce
Toyota's HiAce is a renowned nameplate that's been in production for decades, known for its reliability and efficiency. In certain markets, the HiAce has been a preferred choice for shuttle services, schools, and organizations.
The modern HiAce comes with a more comfortable and spacious cabin. It offers seating arrangements ranging from 10 up to 15 passengers, depending on the region and configuration. It's powered by either a petrol or diesel engine, paired with automatic or manual transmissions.
Notably, the HiAce boasts a slew of advanced safety features including Toyota's Safety Sense suite. This includes a pre-collision system, lane departure alert, automatic high beam, and road sign assist. Fuel efficiency is decent, and while it might not offer the luxury of the Mercedes Sprinter, it's a robust and practical choice.
Best 10 Passenger Vehicles #8. Volkswagen Crafter
The Volkswagen Crafter has a substantial presence in the European van market, and its reputation for efficiency and robustness is well-founded. The Crafter is designed with functionality in mind, featuring a spacious and ergonomic cabin.
Configured for passengers, the Crafter can offer seating arrangements for 10 and more. Depending on the market, there's a choice between various diesel engines that are both powerful and fuel-efficient.
Volkswagen has also prioritized safety, equipping the Crafter with features like crosswind assist, side protection, and even a post-collision braking system.
Best 10 Passenger Vehicles #9. Peugeot Boxer
The Peugeot Boxer is another European contender, designed with flexibility and adaptability in mind. The Boxer is known for its durability, having undergone rigorous testing to ensure it can handle all kinds of terrains and conditions.
For passenger configuration, the Boxer comfortably accommodates 10 to 15 individuals. Peugeot offers a range of diesel engines that focus on fuel efficiency without compromising on performance.
In terms of safety, the Boxer is equipped with features like a hill start assist, a rearview camera, and a grip control system that adjusts to different terrains.
Best 10 Passenger Vehicles #10. Hyundai H350
Hyundai's H350 aims to blend comfort with functionality. It stands out for its modern design, both inside and out, making it appealing for passengers. The H350 can accommodate 10 to 14 passengers, depending on the model.
Powered typically by a diesel engine, the H350 promises both performance and efficiency. Hyundai has also prioritized safety, ensuring that the van is equipped with features like electronic stability control, hill-start assist control, and a rollover mitigation system.
In conclusion, when searching for the perfect 10-passenger vehicle, consider not only the seating capacity but also the driving dynamics, fuel efficiency, safety features, and price. Remember, the best vehicle isn't necessarily the most expensive or luxurious; it's the one that fits your specific needs and preferences.
How To Choose The Right One
Before buying a 10 passenger vehicle, you need to understand what you are looking to get out of it. If you need a vehicle big enough to seat your family, your needs might change. If you need a van for your company, that will require you to have a different set of expectations from your van.
Depending on the requirements the type of van that suits you best might change.
1. To Accommodate Friends And Family
If you are buying a van to accommodate your entire family or a group of friends you are going to need a van that is much more comfortable to sit in than any other. Luxuries are a must. If you are going on a long trip you need your family or friends to be comfortable sitting in the back.
For a van that hauls family members, comfort, safety, and reliability are a must. You need to make sure that the kids will be safe traveling in the van. The van also consists of enough room in the back seats to ensure the most comfortable drive. A nice infotainment system and other technological amenities are also required.
When looking at these requirements, if this is what you are looking to get out of your van, a Mercedes Benz Sprinter might suit you best.
2. For A Company & Employees
The requirements for a van to suit a company are different. You will not be loading your co-workers for a cross-country drive in a van. Long drives will not happen as usual as they would be with a van that is bought to accommodate family members.
A suitable van for a company should be cheap enough so it doesn't take a lot out of the company funds, it should be fuel efficient so it doesn't cost a lot to operate, it should have ample storage space so you can load it with cargo if necessary, and it should also be able to tow a heavy load if needed.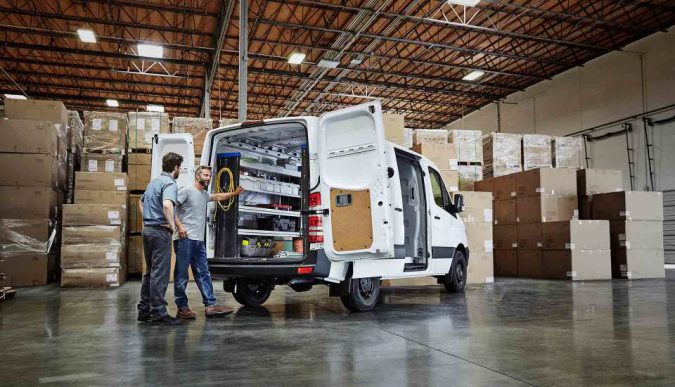 For a company van, comfort and luxuries aren't that important. So when you are looking for a van that checks the above boxes, a GMC Savanna or a Chevrolet Express might suit the needs of a company well.
Therefore, depending on what you want to get out of a van, the van that is best for you might change. Once you know what you want to get out of a van, then you can do the research accordingly and choose a van that best fits your needs.
Downsides Of Owning 10 Passenger Vehicles
Just like the advantage of being able to carry 10 passengers, vans have a certain set of disadvantages as well. Before you commit to purchasing a van, you should know the associated with them. Only by doing so will you be able to completely understand what you get for the price.
1. Safety Concerns
Vans are definitely not as safe as cars. Even though vans like the Mercedes Benz Sprinter consist of numerous safety features, the safety of a van can never match the safety of a car.
One of the reasons for that is the lack of airbags. Even though a van could have airbags, you rarely see airbags in the back seats allocated for passengers. Those who are in the front would probably have airbags so the front seats are fairly safe.
Another safety issue with vans is the height. Since these are tall vehicles, the center of gravity is situated much higher than it would be on a car. This raises even more with a full load of people in the back. The higher center of gravity makes it prone to topple in case of an accident. This is one of the reasons that vans lost a lot of popularity in the early days. Even taking sharp turns at high speeds can possibly topple a van. Ultimately, the safety of a van depends a lot on the driver.
Manufacturers do everything they can to lower the center of gravity and reduce the risk of toppling. Most modern vans have lowered their center of gravity as much as possible. But still, it is nowhere near the center of gravity of a car.
2. Performance
You cannot expect a van to perform like your car. Even with an engine generating over 400 horsepower a van is still no match to a car when it comes to performance. The reason is due to the sheer weight of the van. This is especially evident when you have people in every seat. The weight easily adds up and decreases the performance of the van.
Vans are not built for performance. So if you are purchasing a van, chances are you are not looking for it to perform similarly to your car. But keep in mind, that you cannot overtake vehicles as easily as you would with a car, or you won't be able to maintain a high average speed.
3. Fuel Efficiency
Vans are not at all fuel efficient when you compare them with cars. If you need to take out your van every time you go out, the fuel bills could add up. When you are traveling with 10 people on the back, the fuel efficiency does not matter that much. But if you are using your van to travel alone, then you must compare the fuel efficiency with a car, even if it is not a fair comparison.
4. Handling
A van handles differently from a car. If you are used to driving a car, then you would have to adapt all over again for a van. The turning radius of a van is much greater. Even while taking turns on the road, you will need to slow down much more.
The size of the van also makes it harder to handle. Apart from handling the size has its own set of challenges. Parking a van is much harder. You would need a larger space, and sometimes you might find a public parking space but your van won't fit in it. This is especially a challenge for taller vans.
Other than public parking spaces, the garages in most houses aren't fit to accommodate a 20ft van. You might have the length of the van cleared, but to fit in the garage, you need to look at the height as well. A van could be anywhere from 6 to 10 feet in height, which is taller than most garages.
These are just a few of the challenges that come with purchasing a van. Make sure you can handle them before purchasing one.
Passenger Van Facts:
The Ram ProMaster City Wagon is a 5-seater vehicle that starts at $34,970 and delivers an estimated 21 MPG in the city and 28 MPG on the highway.
The Ford Transit Connect Wagon is a 6-seater vehicle that starts at $39,610, offers flexible seating configurations, and has best-in-class infotainment.
The Mercedes-Benz Metris Passenger Van is a 7-seater vehicle that starts at $39,895, with flexible passenger configurations and ample towing and cargo capacities.
The Ford Transit Crew Van is a 5-seater vehicle that starts at $44,030 and comes with a 3.5L V6 engine and All Wheel Drive.
The Ford Transit Passenger Wagon is a 12-seater vehicle that starts at $52,025, has a roomy and quiet interior, and is enjoyable to drive with two potent engine options and sharp handling.
The Mercedes-Benz Sprinter Crew Van is a 5-seater vehicle that starts at $45,095 and comes with a Diesel 3.0L V6 Turbo engine and Rear Wheel Drive.
The Mercedes-Benz Sprinter Passenger Van is a 12-seater vehicle that starts at $50,395 and offers rare luxury amenities and the best refinement and technology in its class.
The Ram ProMaster Window Van is a 2-seater vehicle that starts at $49,020 and has a vast interior that can be configured to work in many different industries.
The GMC Savana Passenger is a 12-seater vehicle that starts at $46,195 and provides space for a dozen people or more and can tow almost five tons.
The Chevrolet Express Passenger is a 12-seater vehicle that starts at $44,095 and can seat 15 people, or the equivalent of two large SUVs, making it a perennial favorite of shuttle companies.
10 Passenger Vehicles: In Conclusion…
Whether you need a 10 passenger vehicle for your personal use or commercial use, there are some really cool vans in this modern age. Even though vans aren't as safe as cars, manufacturers today are seeking ways to make them as safe as possible. While vans like the Ram Promaster are excellent when it comes to serving companies, vans like the Mercedes Benz Sprinter are perfect for a large family. The range of these 10 passenger vehicles is wide.
You might wonder when all these 10 passenger vehicles cost above $30,000 how to find one that fits a smaller budget? These are prices for brand new 10 passenger vehicles. If you are on a tighter budget a cheaper used vehicle can serve just the same.