If you have 4L60E transmission problems, you're far from alone.
In this article, we will take an in-depth look at the 4L60E transmission, along with some of the more common problems associated with it. We will look at a few symptoms and what that might mean for your transmission. For all the information and specifications for the 4L60E transmission check out Reman-transmission.
Before examining the different 4L60E transmission problems you might be having, it's important to understand how the transmission works and the history of the 4L60E. To skip this section and get straight into the potential transmission problems, please click here.
Otherwise, let's get into it.
4L60E Transmission
The 4L60E transmission is one of the most recognizable and well-known on the US car market today.
Produced by GM (General Motors), it was first produced in 1992 and began being phased into the market during the following 2 years. Many updates, of various levels of significance, followed – the most notable of these being the introduction of a bolt-on bell housing (phased in from 1996 to 1998).
It was first seen commercially from 1993 to 1994, on cars such as the Chevrolet Suburban, Cadillac Fleetwood, and GMC Sonoma.
It replaced the 4L60. This previous transmission had been named the TH700R4 (Turbo-Hydromatic 700R4) and had been introduced in 1982. In 1990, GM altered its designations, and so the 700R4 was renamed "4L60".
4L60E 4×4 Transmission
This stood for:
4 forward gears
Longitudinal applications (rear-wheel-drive)
6000 lbs gross vehicle weight (GVW) – this means that the transmission can be safely used to haul 6,000 lbs of car along with it
The 4L60, along with many transmissions of its generation, was controlled by a hydraulic system. This means that a series of valve pressures made the transmission shift gears.
GM made the jump to electronic shifting control with the 4L60E (Electronic shifting control). Keep on scrolling down to read more about electronic shifting and its many advantages.
The 4L60E is a 4-speed (meaning it has 4 gears) transmission, with gear ratios of 3.06; 1.63; 1:1; 0.70 (overdrive). Reverse has a gear ratio of 2.29.
It weighs 146 lbs before transmission fluid is added and 162 lbs with it. GM claims that the factory transmission fluid should last the entire working life of the product.
Read more about the 4L60E from Novak Conversions.
4L60E Transmission Diagram
On the roads of most countries today, an automatic transmission isn't a rare sight. In 2015, about 34% of the cars in the world were equipped with one. This is especially the case in the US, where automatic transmissions are extremely popular.
For a quick explanation of how the basic parts of automatic transmissions, if you're not familiar with it, check out this video. Please note that this is not a 4L60E specifically, but it will give you a good general overview of how transmissions work. The one used in the example here is also a much newer 6-speed, whereas the 4L60E is a 4-speed transmission.
The 4L60E is made unique by being one of the first transmissions to use electronic shift control. Its predecessor, the 4L60 was instead controlled hydraulically.
For a detailed history of how automatic transmissions have been developed over time, ever since the first one was invented in 1904 (or 1923, depending on your view), take a look at this Wikipedia page.
Why Is Electronic Shifting Better
There are very few drawbacks when comparing electronically-controlled transmissions to those controlled by hydraulics or mechanically.
The advantages include:
Increased quality of shifting.
Faster shifting.
More accurate shifting times.
Allows for manual control if necessary.
Fewer mechanical/hydraulic parts and systems.
Better fuel economy.
Smoother engine output.
Better car control.
The increased life span of the transmission and its parts, as well as the engine and driveshafts (for more insight, check out our guide on the drive shaft center support bearing replacement).
Some might argue that electronically-controlled transmissions can be harder to fix. This is because most of the work is done inside the ECU, the Engine Control Unit. If something goes wrong inside the ECU, it can take a specialist automotive electrician to get that fixed for you. It isn't something most people would be able to fix at home.
Then again, hydraulic systems were also somewhat complicated and difficult to work on at home.
Which Cars Use The 4L60E Transmission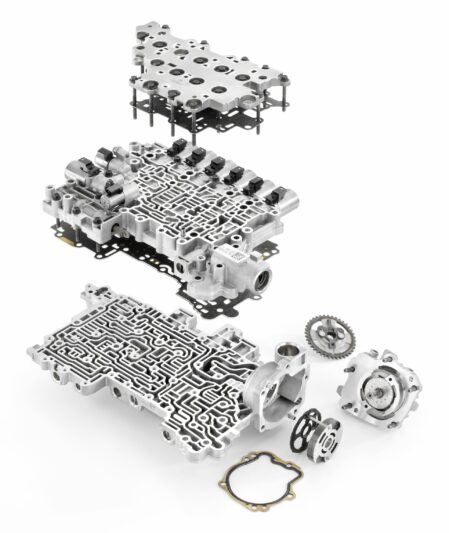 GM is responsible for some of the biggest automotive brand names in the US, including Cadillac, Chevrolet, Pontiac, and, of course, GMC.
The following cars use 4L60E transmissions:
Buick Rainier – 2004-2007
Buick Roadmaster – 1994-1996
Cadillac Escalade – 1999-2000, and 2002-2005
Cadillac Fleetwood – 1994-1996
Chevrolet Astro – 1993-2005
Chevrolet Avalanche – 2002-2008
Chevrolet S-10 Blazer – 1994-2005
Chevrolet Camaro – 1994-2002
Chevrolet Caprice – 1994-1996
Chevrolet Colorado – 2004-2012
Chevrolet Corvette – 1994-2004
Chevrolet Express – 2003-2012
Chevrolet Impala SS – 1994-1996
Chevrolet S-10 – 1994-2005
Chevrolet Silverado – 1500-2500
Chevrolet C/K – 1993-2000
Chevrolet SSR – 2003-2006
Chevrolet Suburban – 1993-2009
Chevrolet Tahoe – 1995-2010
Chevrolet TrailBlazer – 2003-2009
GMC Canyon – 2004-2012
GMC Envoy – 2003-2009
GMC Jimmy – 1993-2005
GMC Safari – 1993-2005
GMC Savana – 2003-2013
GMC Sierra – 1500-2500
GMC Sonoma – 1994-2005
GMC Yukon
GMC Yukon XL Denali
GMC Vandura – 1993-1996
Holden Commodore – 1993-2012
Holden Monaro – 2001-2006
Holden Caprice – 1994-2008
Hummer H3
Oldsmobile Bravada
Pontiac Firebird – 1994-2002
Pontiac GTO – 2004
Saab 9-7X – 2005-2009
Isuzu Ascender – 2007
What Transmission Do I Have
If you're still not sure what transmission your car has, look for the VIN number – the Vehicle Identification Number. If the car was made before 1981, it may have 16 characters (letters or numbers) – cars made after this time will have a VIN of 17 characters.
The VIN is usually found on either the dashboard (from looking through the windscreen) or the passenger doorframe. You should be able to find the VIN location by looking in your owner's manual or simply searching online: "where is the VIN number on a 2000 Chevrolet Corvette", for example.
Entering your VIN on a specialist website, such as autocheck.com, or taking it to your local mechanic, will provide you with information such as the vehicle history, service history, and – what we're looking for – the technical specifications. This should include the transmission type. You may have to pay a couple of dollars to get this.
4L60E Transmission Problems
While most argue that the 4-speed 4L60E is one of the best transmissions ever to come out of a factory, it also has its haters. Despite a great reputation, there are a few things that are well-known to go wrong on a 4L60E.
You could experience any number of 4L60E transmission problems, and so this list is by no means conclusive. However, if you are experiencing problems with your transmission, perhaps one of the following might ring true.
If you need to look at purchasing a replacement 4L60E transmission there are lots available online. However, just know that figuring out how much is a brand-new transmission can be shockingly expensive. This is partly due to the complex work required, as you'll figure out once you learn how long does it take to replace a transmission.
Check out this video from Transmission Bench to explain the 3 most common 4L60E transmission problems.
1. 4L60E Transmission Slipping
If your transmission is slipping, you may notice one or more of the following:
"Bad-sounding metal noises" – to use the technical term – such as whining, grinding, or screeching.
The car might not go into some gears, especially in reverse.
Shifting might not happen when you expect it – it could be too early or too late.
A lack of power, usually most obvious when accelerating – the car might feel sluggish.
Burning smells.
'Check engine light' turning on.
This isn't, by any stretch of the imagination, a problem solely limited to 4L60E transmissions. Any transmission could go through this at some point.
The most likely cause is something to do with the transmission fluid (like a leak). The level might be low, which could be due to a leak, or it could just be old or you're dealing with burnt transmission fluid. So, consider learning how to check your transmission fluid with the dipstick to see what it looks like and what the level is. If anything's wrong, you might need to top it up or completely drain it and refill it with some fresh stuff.
1.5. Transmission Slipping Quick Fix
If there's no issue with the transmission fluid, then it's probably a mechanical issue somewhere inside the transmission. This could be:
If you do experience transmission slipping problems with your 4L60E, and it's not down to transmission fluid, then it's time to visit the local mechanic. That is unless you know your way around an automatic transmission very well.
Chances are, it'll need to be rebuilt by a specialist, having the worn or broken part swapped out for a new one. Or, if you're looking for a more hardcore solution, maybe you might be curious about how much is a transmission swap (you can learn more in our look at the Infiniti Q60 manual transmission) and replace the 4L60E with a different gearbox entirely.
We'll look in detail at a few more slippage-specific situations of 4L60E transmission problems.
2. 4L60E 3-4 Shift Problem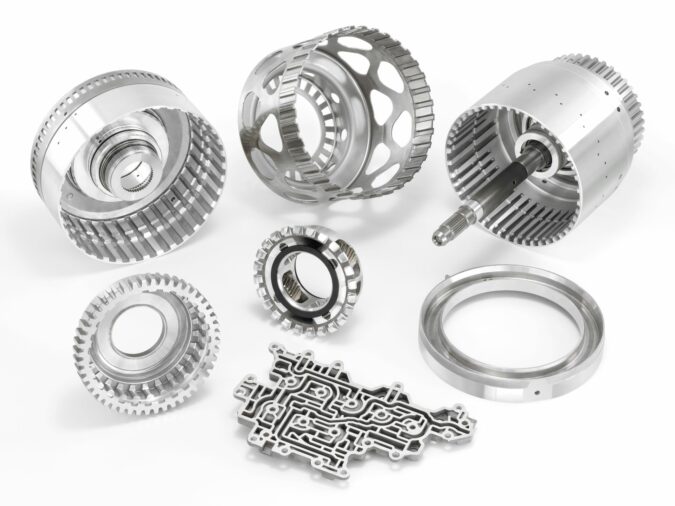 The 3rd to 4th clutches can wear out quickly. If you find a lot of problems when you are shifting from 3rd to 4th, this could be the issue. Like most of these cases, the transmission will need a full rebuild. Specifically, the 3-4 clutch pack needs replacing.
It's caused by the rubber seals on the 3-4 pistons shrinking. This happens because of age, heat, and general wear. This leads to the clutch pack getting too hot and, eventually, it will stop working.
This is one of the most commonly reported 4L60E transmission problems.
3. 4L60E No 2nd Gear
This could be caused by a broken drive shell. If this is the case, there will probably be no reverse gear at all as well.
It's not possible to definitively tell whether or not the drive shell has cracked or fractured without taking the transmission out of the car and considering the cost of a rebuild, but if you're experiencing these symptoms, there's little else that's likely to be causing it.
When doing this, be sure to also check the planetary gears and the input ring gear for damage. The broken drive shell may have stripped some of the splines on these if it was heavily damaged.
You'll need, as a minimum, a new drive shell. The transmission will need to be taken apart to fix this.
4. Heavy Shift Into 2nd With 4L60E
This could be due to a worn TCC regulator valve. You will also probably have a check engine light flashing on the dashboard and a diagnostic code of 1870 – internal slippage.
The transmission will need to be taken apart to access the TCC regulator valve. Once it's replaced, and the transmission reinstalled, the problem should be fixed. In that case, you'll likely won't have to face issues where the transmission shifts hard from 1st to 2nd again.
Have a quick look at this video from Scotties Hobbies to learn more about some of the most likely problems if your transmission is shifting hard.
5. 4L60E Transmission Only Shifts Manually
If the transmission only shifts manually (and therefore doesn't shift automatically), there is probably a problem in either the PCM (powertrain control module) or one of the related sensors sending information to the PCM.
This could be the VSS (vehicle speed sensor) or the TPS (throttle position sensor). Alternatively, there could be a problem with the wiring, such as a short or damaged circuit.
Hopefully, diagnostics can work the problem out for you. You are likely to either need a new sensor, new wiring, or an entirely new PCM. This might also be due to a bad TCM. So, be sure you've studied where is the transmission control module located in a Chevy, or any other 4L60E-fitted vehicle.
Learn some more about the throttle positions sensor (TPS) in this video from Engineering Explained.
This old clip also nicely explains how a VSS works.
6. 4L60E Won't Come Out of Gear While Driving
If your transmission is stuck in one gear (usually the lowest gear), this could be due to the car going into "limp home mode".
When the Powertrain Control Module (PCM) senses an electrical problem, it might prevent the transmission from shifting. That may be why your truck won't move in any gear. This is to prevent any damage, or perhaps any further damage, from occurring.
Acceleration will be virtually non-existent and the car will suddenly feel like it is very heavy. All non-essential systems will be shut down, for example, the air conditioning. You may feel more vibrations from the engine. Or, something akin to a transmission shudder.
Essentially, what's going on is that the ECU is making everything run as slowly as possible. It's a bit like when the human body goes into a coma – shutting down all but the essential things in order to save itself as a whole.
If the car goes into limp-home mode, don't ignore it! Although it might feel like a darned inconvenience, putting the car through too much stress in this mode is likely to finish it off for good.
Instead, you should take the car to an auto shop immediately, or get a call-out mechanic to your house. It's possible that the car may have to be taken to a specialist automotive electrician to diagnose the fault. Once you're there, be prepared to pay up the transmission diagnostic cost.
7. Transmission Won't Shift When Accelerating
If your car won't upshift (as if it's a manual transmission that won't engage any gear) from first to second until you let off the throttle, it could be a problem with the throttle position sensor (which has its own symptoms).
You can get this checked by going to a mechanic and asking them to check the readings using advanced onboard diagnostics tools.
Alternatively, you could just throw caution to the wind and change the throttle (or accelerator pedal) position sensor before getting it checked. This is probably more worth it if the OEM part you buy is less than $20 or $30, as it will probably cost you more than that just to get the car checked. However, you can expect to pay anything between $3 and $300 for a new TPS (throttle position sensor), so watch out for that.
If that doesn't work, the problem is likely somewhere inside the 4L60E transmission. There could be a leak in the second gear apply circuit. If you have a specialist car diagnostic tool, such as a pressure gauge and OBD equipment, you can check this yourself. If not, it's best to just drop it down to your mechanic at this point.
8. 4L60E Won't Come Out Of 1st Gear And Speedometer Has No Reading
If you have no reading from the speedo and the transmission won't come out of 1st, the most likely problem is the vehicle speed sensor (VSS). On-board diagnostics (OBD) may provide some light on this without having to take the transmission apart.
In order to fiddle with, repair, or replace the VSS, the transmission will need to be completely removed. The latter is necessary for any in-depth transmission repair (and once you've found a transmission repair in Omaha). Again, if you know what you're doing and you've got the tools to deal with it, great. If not, it's best to leave it to someone who knows what they're doing.
Before going into the next section, it should be noted here, to be very careful to avoid getting too much transmission fluid on your hair, clothes, or skin – aside from being an irritant, it is one of the worst smells ever and will take days or even weeks to fully wash out.
9. 4L60E Transmission Not Engaging
The most likely cause of this is either a total pump failure or a complete loss of fluid (just like a transmission seal leak). This could be due to a significant leak, so if the car has been stationary for a while you may be able to see a puddle of transmission fluid underneath it.
Before taking the car for a complete transmission rebuild and having to think about how much does it cost to rebuild a transmission, you can do the following test to see if it's just a leak or if the pump has stopped working completely as well. Refill the transmission and use that to see if you can find the leak.
Once the transmission has been refilled, check the fluid level and start the car. Make sure to never start the car if it has no transmission fluid in it. This will cause the transmission problem to become potentially ten times worse.
Leave it running for a good few minutes.
If it still won't go into any gear, turn off the car and check the fluid level again. You might be suffering from low transmission fluid symptoms. If the level is still the same as before starting the vehicle, it indicates that the pump is broken.
This will need a full rebuild. If the level has gone down, it indicates a leak in the system. In this case, you may be able to fix it yourself… but it also may be an internal leak and, again, will need a total rebuild.
10. Audible Bang And The Loss Of All Gears On 4L60E
Basically, the transmission is kaput. Usually, this represents a snapped output shaft (if you want to learn more, check out our explainer on how to replace transmission output shaft seal), although it could be any major component of the transmission. If you can feel any play in the drive shaft (a good sign to consider a repair), it indicates that the output shaft has broken.
Again, the whole transmission will need to be removed, stripped down, and rebuilt.
11. And Many More…
You could be experiencing many more possible symptoms which we haven't addressed here – it quite simply wouldn't be possible to do in just one article.
If you're still unsure about what's wrong, you should get your car looked at by a professional as soon as possible.
To have a look at some more generic transmission problems (as in, rather than specifically 4L60E transmission problems), check out our articles on Signs of Automatic Transmission Problems and 7 Sings of a Bad Transmission.
4L60E Troubleshooting Chart
All in all, transmission problems – no matter the specifics – usually require a full rebuild to be properly fixed.
To play it safe, it may be a better idea to get a call-out mechanic to come to your house and have a look at your car there. Driving a car with a transmission that's on the verge of seizing or breaking in any other way would be extremely dangerous. It's not worth the risk of driving it.
We would recommend either calling someone out to your house or getting the vehicle towed to a nearby garage. You may need to take it to a transmission specialist – not every garage deals with transmission rebuilds.
Of course, rebuilding your transmission yourself is a possibility. However, we wouldn't recommend it unless you know what you're doing. There are a lot of parts to an automatic transmission and, once you've got everything taken apart, it can be very easy to forget to reinstall a very small – but very important – valve, bolt, sensor, or something else.
It's always better to be safe than sorry.
Will A Bad Transmission Throw A Code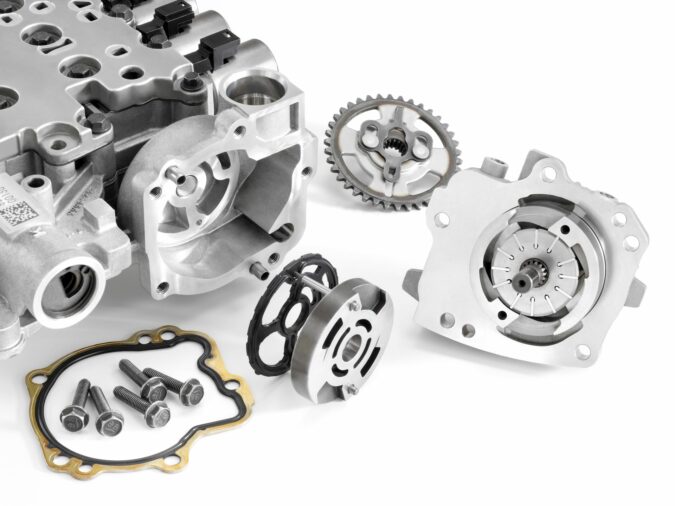 Yes, a bad transmission will throw an OBD diagnostics trouble code (DTC), and here are some of the most popular codes that you'll come across when trying to diagnose and troubleshoot 4L60E transmission problems:
P0706 – Transmission Range Sensor Circuit Range/Performance
P0711 – Transmission Fluid Temperature Sensor Circuit Range/Performance
P0712 – Transmission Fluid Temperature Sensor Circuit Low Input
P0713 – Transmission Fluid Temperature Sensor Circuit High Input
P0719 – Torque Converter/Brake Switch B Circuit Low
P0724 – Torque Converter/Brake Switch B Circuit High
P0740 – Torque Converter Clutch Circuit Malfunction
P0748 – Pressure Control Solenoid 'A' Electrical
P0751 – Shift Solenoid 'A' Performance or Stuck Off
P0753 – Shift Solenoid 'A' Electrical
P0756 – Shift Solenoid 'B' Performance or Stuck Off
P0757 – Shift Solenoid 'B' Stuck On
P0758 – Shift Solenoid 'B' Electrical
P0785 – Shift/Timing Solenoid
P0894 – Transmission Component Slipping
P1860 – TCC PWM Solenoid Circuit Electrical
P1870 – Transmission Component Slipping: GM Transmission
Note, that these are among the more common OBDII diagnostics error codes that you might spot. Otherwise, 4L60E transmission problems might prompt other, more specific codes to appear. These can be helpful, as a single (or numerous) error code can tell you more precisely what the underlying issues are.
These simple definitions can help you enormously with saving time on diagnostics. Thus, freeing more time to actually troubleshoot and solve them. If you encounter a different set of OBD codes that aren't listed above, then refer to this linked repository for a more thorough list of every relevant 4L60E-related OBD code.
4L60E Technical Service Bulletins
Here's a short (and not at all exhaustive) list of the most well-known TSBs related to the 4L60E. This might give you an idea of what to expect when you're trying to fix your 4L60E:
TSB 01-07-30-023B

Affected Transmissions – 4L60E RPO M30
Cause – Harsh 1st to 2nd gear upshift (which can be diagnosed with a P1870 code). This is because the ECU had instructed the valve body to use maximum line pressure. The latter was designed to compensate for too much wear on the bore that has the TCC isolator and regulator valves.
Fixes – Replacement of the 4L60E valve body with an updated set of TCC regulators and isolator valves.

TSB 01-07-30-038D

Affected Transmissions – 4L60E, 4L65E, and 4L70E
Cause – Loss of 3rd and 4th gears (accompanied by a P0757 code). This is followed by other issues such as poor performance, erratic gear changes, transmission slipping, and freewheeling when driving above 30mph.
Fixes – Cleaning any debris out of the valve bore, 2nd to 3rd shift valve, as well as the 2nd to 3rd shuttle valve. On top of that, the 2nd to 3rd bands, as well as the 3rd to 4th clutches will have to be inspected carefully and replaced if needed.

TSB 06-07-30-007A

Affected Transmissions – 4L60E, 4L65, and 4L70E
Causes – Harsh 1st to 2nd gear upshift (which is further accompanied by a P0894 error code).
Fixes – The TCC (torque converter clutch) solenoid and transmission wiring harness will need to be replaced.
10 Need-to-Know Facts About 4L60E Transmission Issues
The 4L60E transmission series is a four-speed automatic transmission with four forward gears and one reverse gear.
The 4L60E is electronically-controlled and includes rear-wheel driving.
The 4L60E transmission was produced by General Motors from 1992-2013 and was incorporated in over thirty vehicle models.
The most common gear issue for a 4L60E transmission is a loss of third gear caused by piston rubber seal shrinkage.
The inability to shift into second gear or go into reverse is the second most common gear issue caused by drive shell breakage.
Difficulty shifting into second gear is the third most common issue caused by TCC regulator valve wear-out.
Complete loss of third or fourth gear is typically caused by a worn-out clutch.
A loss of all gears can occur due to a total loss of fluid or pump failure.
A noisy transmission when shifting into first gear or reverse is typically caused by a lack of lubrication.
The 4L65E transmission was developed in 2001 as an upgraded version of the 4L60E and has more powerful internals, but shares the same exterior parts.
Conclusion
And just so you know, technical service bulletins (or TSBs) are technical documentation issued by an automaker and distributed to its dealers and technicians. Those TSBs outline known issues that the automaker has recognized, and they go on to detail complete steps on diagnosis, troubleshooting, and general guidance for fixing them.
In conclusion, then, we hope this article might have answered some of your questions on 4L60E transmission problems and what to do if you're experiencing them.
If you take nothing else away from this, remember that most 4L60E transmission problems (and, indeed, whatever transmission your car has) will require a rebuild. Always drive extremely cautiously if you have any symptoms of a failing transmission and, if necessary, get your vehicle towed to the relevant auto shop.
FAQs
If you still have some lingering questions about 4L60E transmission problems, our FAQs here might help…
How Much Transmission Fluid Does A 4L60E Hold
For those of you running a stock 4L60E transmission, it has a dry capacity of 12 quarts of transmission fluid. Although, this figure is based on the standard transmission pan capacity, which is shallower. If you've modified or are running a higher performance 4L60E, it's likely that it'll be fitted with a deeper transmission pan. With that in mind, the transmission fluid capacity might vary. At the very least, that's an extra quart of transmission fluid over its standard capacity, or perhaps even more depending on how large the transmission fluid pan is.
How To Convert A 4L60E To Non Electronic
By default, the 4L60E is an electronically actuated transmission, rather than adopting older hydraulic or mechanical designs. While there are plenty of upsides to using an electronically controlled transmission, there are reasons to prefer a non-electronic mechanism. Mainly, you might want to row your own gears, or perhaps prefer the easier repairability. In theory, it's possible to convert a computerized 4L60E transmission into using a fully manual valve body. The easiest route would be looking at companies like Transgo. They have a manual conversion kit for 4L60E transmissions. To do that, they'll have to retrofit the transmission module and controllers, while also swapping out the valve body. That's not to mention the torque converter lockup, vacuum pressure controller, and more.
How To Remove 4L60E 4×4 Transmission
Removing a 4L60E is a tricky process, especially for 4×4 vehicles. Begin by lifting up the vehicle, and keeping the engine running. Once it's warmed up, the exhaust heat will make it easier to disconnect the exhaust flange stud nuts, oxygen sensors, and exhaust fasteners. Once the latter 3 are loosened, you'll then have to loosen up the transfer case adapter. There, you'll also find the transmission bolts, so loosen those ones, as well. Now, make sure that the transmission is geared to Neutral, and disconnect the battery. When that's done, you'll need to drain the transfer case, before then disconnecting the shift linkage. Then, detach the driveshaft from the transfer case end. Once you remove the oxygen sensors and exhaust assembly, the 4L60E is now accessible, including the wiring harness, cooling lines, shift linkages, mounts, transmission fluid pan, and more.
How Many Gears Does A 4L60E Have
The 4L60E transmission has 4 forward gears and 1 reverse gear. One of the flaws of the 4L60E is the gearing ratios that it operates in. Its 1st gear is set at a ratio of 3.06, while the 2nd gear drops to 1.62. This means that you're getting a lot of torque in 1st gear, before halving by the time to shift up to 2nd. 3rd gear, on the other hand, has a ratio of 1:1, while 4th gear is meant to be used as overdrive. One of the most popular mods for the 4L60E is re-adjusting these gearing ratios to even out the torque output beyond 1st gear. Granted, this means rebuilding the transmission inside out with plenty of aftermarket componentry. Although, tuning it down to a 1st gear ratio of 2.84 and a 2nd gear ratio of 1.55 is a good balance, especially for high horsepower applications.
Is The 4L60E A Good Transmission
Although we've noted down plenty of 4L60E transmission problems thus far, this is a fairly dependable and versatile transmission if well cared for. General Motors developed the 4L60E as its new do-it-all gearbox to be fitted onto its cars, while also solving lingering issues at the time. Primarily, they needed a transmission that would yield a solid fuel economy figure. Yet, GM needed it to be capable of powering the majority of its road-going cars, from tiny city cars to burly muscle cars. Hence, the creation of the electronically-actuated 4L60E, which was a big deal at the time. They could handle high horsepower fairly easily, and with diligent maintenance, it's a decently reliable transmission. Just understand that they're not meant for heavy loads, like towing or hardcore off-roading.
Approved Tools
These tools have been tried and tested by our team, they are ideal for fixing your car at home.
AI Car Expert Thinking 

.

.

.