Engineering Brilliance: The Body Shell
Crafted with a blend of aluminium, steel, magnesium, and fibre composite materials, the AMG GT Coupé's body promises both rigidity and a lightweight profile. By employing optimised cross-sections and sophisticated component designs, this car accommodates the needs of luxury – from comfort to a spacious trunk – all while upholding structural integrity.
Cutting-Edge Aerodynamics
This coupé isn't just about the materials; it's the marriage of form and function. Active aerodynamics plays a pivotal role in maintaining a harmony between reduced air resistance and minimal lift.
Features like the two-part AIRPANEL air control system, seamlessly integrated into the front apron, ensure optimal airflow. This system adjusts its fins based on temperature needs and driving speed to maximise efficiency.
Additionally, the coupé boasts a retractable rear spoiler that adapts to different driving situations. It's all about optimising stability and minimising resistance. And with the active aerodynamic element situated in the underbody, handling gets an extra boost, giving drivers a heightened sense of control, especially during bends.
If that's not enough, there's an optional aerodynamics package to further enhance airflow and stability.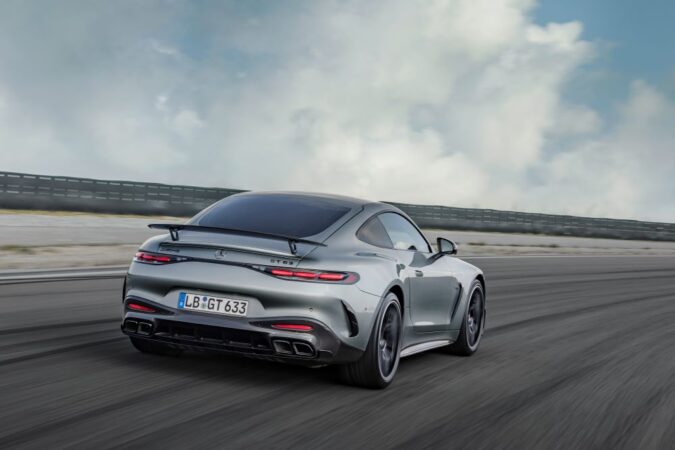 Powerhouse Engine: The V8 Biturbo
The AMG GT Coupé comes roaring to life with two performance levels of the AMG 4.0-litre V8 biturbo engine. Whether you're opting for the GT 63 4MATIC+ with a jaw-dropping 585 hp or the GT 55 4MATIC+ boasting 476 hp, you're in for a thrilling ride.
And with acceleration from 0 to 100 km/h in just over 3 seconds, you can be sure it's going to be a quick one. Enhancements to engine components and software ensure not only power but also efficiency.
Transmissions: Designed for Speed
The AMG SPEEDSHIFT MCT 9G transmission is customised for the GT Coupé. With a wet starting clutch replacing the torque converter, response times are significantly improved, guaranteeing an exhilarating drive.
4MATIC+ All-Wheel Drive: Traction Perfected
The coupé's all-wheel drive intelligently balances torque distribution on both axles, assuring unparalleled traction and safety. Whether on a sunny, rainy, or snowy day, this car ensures optimal driving stability.
Suspension Innovations
Featuring a multi-link design on both the front and rear axles, the AMG GT Coupé's suspension prioritises precise steering and minimised vibrations. The AMG ACTIVE RIDE CONTROL suspension further refines this by compensating for rolling movements, ensuring a smooth drive.
And for those worried about navigating ramps or speed bumps, there's an optional lift system to raise the front by 30 millimetres.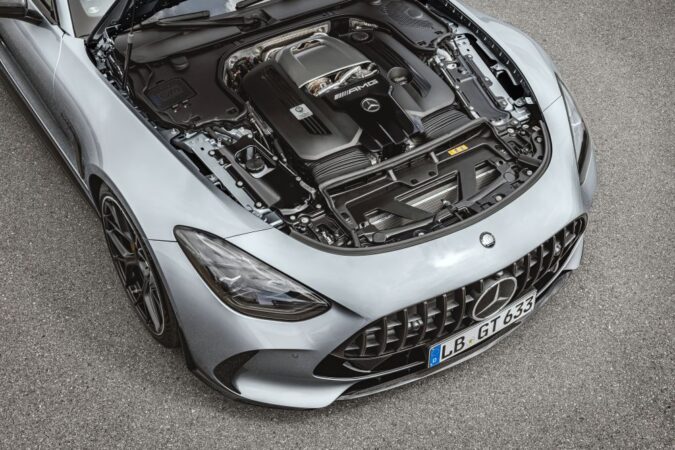 Enhanced Driving Stability
With an electronically controlled rear axle locking differential, traction and driving safety reach new heights. Whether it's tackling tight corners or switching lanes at high speeds, the AMG GT Coupé promises maximum stability.
Steering Mastery: Active Rear-Axle Steering
Completing the package is the standard-equipped active rear-axle steering. This adjusts based on speed to offer both agility during low-speed manoeuvres and stability during high-speed cruises.
In summary, the new AMG GT Coupé showcases a masterful blend of engineering, design, and functionality, setting new benchmarks in the world of luxury automobiles.