Over the years, we've reviewed a handful of Edifier sound systems before. Our experiences with them have varied from fully wireless Bluetooth earbuds, to desktop speakers that adorn your home entertainment setup. Our general bottom-line conclusion has always been along the lines of they're quite good… For the price. As we'll look more into in our Edifier TWS NB2 earbud review, could the same summary repeat itself again?
Besides, what more could you ask for than a good bang-for-buck factor? Well, it turns out that Edifier might still be pulling its old tricks again, but with an added twist. With the TWS NB2s, they may be giving you a whole lot more for the price. On the face of it, it looks no different than any other wireless earbud these days. Following a trend set forth by the AirPods, we've seen a sea of Apple-esque clones. But not this one…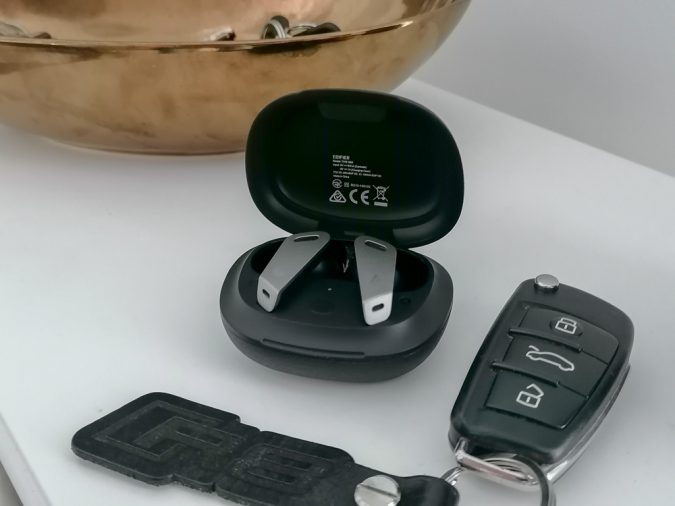 How Does It Look, And Wear?
The design of Edifier's TWS NB2 immediately stands out as soon as you take it out of its cradle. Either in black or white, the general construction is dominated by a seemingly brushed metal stem. They're actually plastic. Still, this gives off a very sleek and premium look, appearing to the naked eye to be far costlier than the price tag suggests. Unlike sportier earbuds that are made for workouts in mind, though, there aren't any hooks that could keep it in place.
Nonetheless, it does sit nicely in the ear, courtesy of the silicone ear tips. You should give these a try to see if they fit your ear canals, as we here prefer foam tips. Moving on, the TWS NB2 does indeed have some IP54 surface-level water and dust-proofing. While not completely resistant to swimming, they should help when the heavens open. Going back to the physical design of the buds themselves, the surface of the stems is touch-sensitive for additional controls.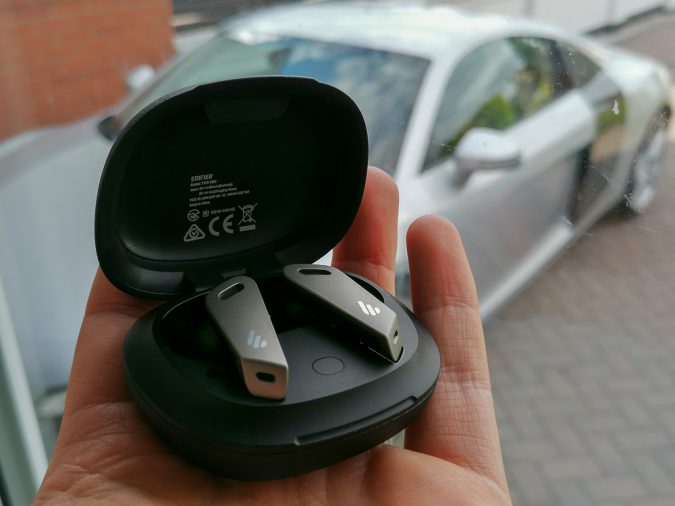 The Extra Bits And Pieces
We'll get into that later. For now, though, we should send over some well-deserved thanks to the folks over at Edifier. Finally, they've caught up and put a USB-C port to charge up the case, whereas their previous models still had the old micro-USB. That's one less pointless cable that you'll need to lug around. The charging case itself is quite compact, and has an equally premium faux-leather look.
Before we get into discussing the sound, there are a few extra components of the Edifier TWS NB2 that we should mention. First, there's some very clever in-ear detection. This plays and pauses your tracks whenever you take the earbuds in or out. Plus, these also have active noise cancellation (ANC), which is a very impressive add-on for this price. And it's one that we think works rather well to muffle out the outside noise. That is unless you're trying to hush down higher frequencies.
The connection between our phones and the earbuds was never compromised, thanks to fancy Bluetooth 5.0 tech. Oh, and there's also a gaming mode that you can activate. This would lower the latency to just 80ms, which is a world's away from the 180ms that most of its rivals sport. You can turn this on through the Edifier Connect App. Alternatively, you can use the touch controls along the side, which we've found to be a bit fiddly, but you get used to it in time.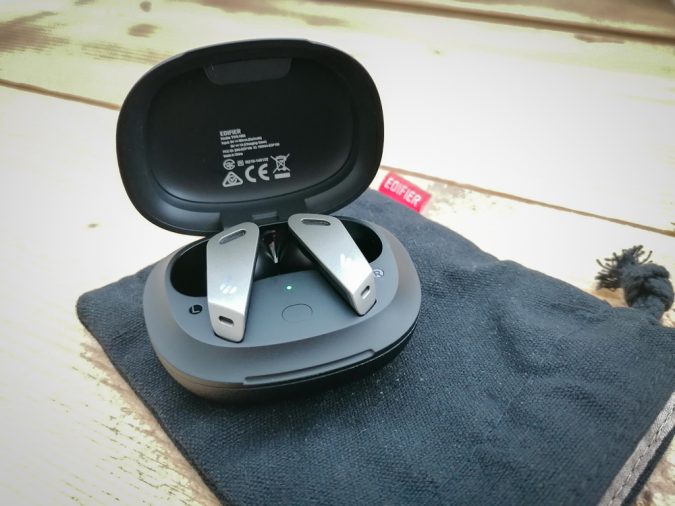 How Does It Sound?
In short, it's quite good given the price. Deep inside, there are 10mm drivers with a composite diaphragm. Edifier has certainly fulfilled its promise of creating a well-balanced sound, as there's great clarity across the whole spectrum. From the lows, mids, and highs, our listening enjoyment was not left disappointed, especially when the bass punches in. It's very noticeable, but not too overly boosted that it overwhelms the rest of the soundstage.
When coupled with decent ANC, you can expect a -40dB reduction – which is 30% lower than the previous generation – the TWS NB2 is a great mobile companion. Whether you're at a gym with your mates, or riding on the bus or train, you can be confident you will enjoy your music in relative peace. The microphones, if you're inclined to use them, they are decently good too, as the folks on the other end have little trouble having a hearty conversation with us.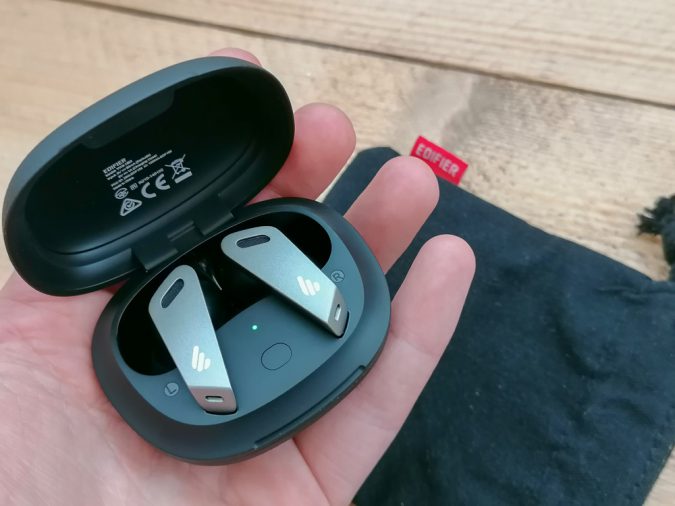 Conclusion – Great Earbuds For The Price… Made Better
Lest we forget, we should mention that the battery life is on par with the competition, though it's not hugely noteworthy. I suspect we can get more or less in the ballpark with Edifier's claims of 7-hours of playback, and with another 18-hours with the charging case with full ANC on. Turn ANC off, and you can comfortably squeeze a few more hours out of it. Overall, the TWS NB2 is a great package, providing hugely compelling sound and quality for the money. These are definitely worth a look.