The Ford Escape has always maintained its position as a top contender in the competitive compact SUV space despite a long list of Ford Escape problems. This is largely because the Ford Escape is still one of the most popular SUVs. This comes as no surprise, as the automaker has become an industry leader by offering basic, affordable cars for more than a century.
However, the vehicle's long-term reliability is often compromised to make them more affordable. Ford Escape owners have always reported catastrophic issues with the car's transmission or engine. This has seen numerous complaints filed from Ford Escape lessors and owners. However, some model years of the Ford Escape are more bugged by problems than others.
For instance, check engine lights and engine stalls are common with the 2017 Escape 1.5-Liter EcoBoost. You can find thousands of complaints by Ford Escape owners documented on government websites and online consumer forums. Here, we'll be looking at some of the most common Ford Escape problems, throughout its most popular model years…
Ford Escape Generations
Here are all the model generations of the Ford Escape…
First-Gen (2001-2008)
Ford launched the first Escape in 2000 as a 2001 model offering. At the time, most SUVs on the road were large and truck-based. Car manufacturers like Honda and Toyota had discovered another SUV nook and were shifting from body-on-frame designs to compact crossovers.
Toyota produced the Toyota RAV4, and Honda produced the Honda CR-V. Ford responded to the competition with the first-Gen Ford Escape. At the time, the market for smaller car-like crossovers was booming.
Since Ford never intended the Escape to be a serious off-roader, the car was primarily fitted with a standard front-wheel-drive format. However, they still made an off-roading option available. You could choose to get an Escape with a Dana setup that included a locking center differential that made it possible to direct 100% traction to the front wheels until the system detected a slip.
As with any other older vehicle, the first-generation Escapes are quite dated, which means you should watch out for the usual wear and tear. However, well-known issues with the first-generation Escape include computer failure, transmission failure, wheel strut tower rust, and power steering failure.
It is probably best to avoid the 2008 Ford Escape as it has the greatest prevalence of engine-slash-transmission issues and a rear window that explodes.
Second-Gen (2008-2011)
The second-generation Ford Escape came out looking different from the first-gen, but it is basically the same vehicle with a new exterior look.
Most of the internals of the second-Gen Escape were carried over from its predecessor. Both generations of the car were built on the same CD2 platform. However, the second-gen Escape had some cool new features like curtain airbags. At the time, such features were a big deal.
There are three engine options to choose from for the second-gen Escapes. The standard engine option was a 2.3-liter inline-four that generated 153 horsepower. A second more powerful option was a V6 engine that developed 200 horsepower. Ford made an even more powerful V6 engine alternative available a year later. This third engine option generated a whopping 230 horsepower.
Transmission issues were also carried over to this version of the Ford Escape. If you have a second-generation Ford Escape under your radar, be on the lookout for evidence of transmission repair in the service history. It is most likely that you will find records of some repair work that was done to correct the transmission.
The third-generation Ford Escape was introduced in 2012. Ford Europe designed this new generation. It, therefore, came as no surprise that the vehicle took on a European-inspired flavor. In Europe, the third-gen Ford Escape was badged as Ford Kuga.
Third-Gen (2013-2019)
It is common to see the third-generation Escape being described from an automotive perspective of a training shoe, which is a pretty accurate description. The third-gen is nothing like the first two generations.
The game-changer here was turbo-power. This version of the Escape came equipped with a turbo-powered engine. There was a non-turbo base engine option that was not as popular because they were aimed at fleets.  The majority of the third-gen Ford Escapes were bought with a turbo-four EcoBoost engine under the hood. This was the more desirable option for this version of the Escape.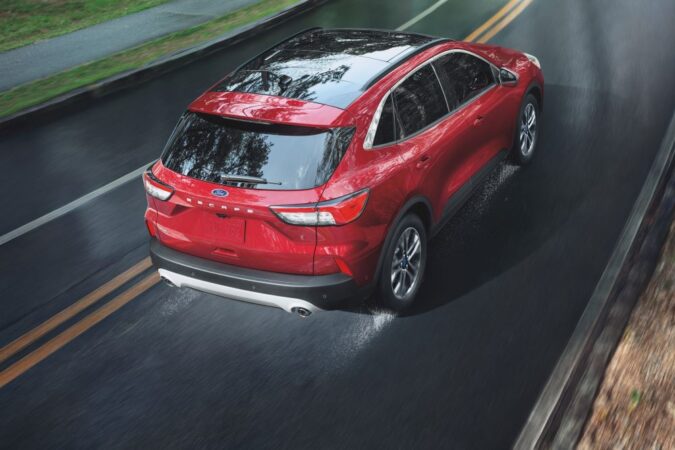 The worst downside of the third-generation Ford Escape models has been engine problems. The EcoBoost engine on these models can offer better fuel economy and deliver more power than any previous vehicle version.
Despite these huge advantages, the EcoBoost engine available on third-generation Escapes is prone to stalling, shuddering, and intense shaking. In the extreme, these engines are known to catch fire.  This is why most third-gen vehicle models have a track record of catching fire for apparently no reason.

The carmaker addressed this issue by developing a fix that does not quite solve the fire problem completely. The fix involves upgrading the software that manages the engine temperatures. The software update does not cover every issue that could leave the EcoBoost engine vulnerable to catching fire.
However, if you are still interested in buying a third-gen Escape, ask for evidence that this fix has been applied to the car.
Fourth-Gen (2020-Present)
The all-new Ford Escape was revealed in the third quarter of 2019 as a 2020 model-year offering. This new generation of the Escape ushered in another completely new styling of the SUV. This Escape is ultra-modern, and you can choose from four powertrain options; a turbo-3, turbo-4, plug-in hybrid, and a hybrid.
As other carmakers work to streamline their SUV lineups, Ford is offering their customers more options. With the fourth-generation Ford Escape, owners and lessors have a plethora of powertrains and trim to choose from.
If you wish to buy the 2020 Ford Escape, you can choose from trim levels like Titanium, SE, S, and SEL. New owners of this version of the Escape have four engine options.
The first option is a base engine. This engine is a turbocharged 1.5-liter three-cylinder that generates 181 horsepower. The second option is a turbocharged 2.0-liter four-cylinder that develops 250 horsepower. The hybrid powertrain options are 2.5-liter four-cylinder that is paired with two electric motors. The hybrid and plug-in hybrid powertrain options make a total of 221 horsepower.
Some of the already reported issues with the fourth-generation Ford Escape include cheap cabin materials prone to quick wear and tear and transmission problems. Most owners of the 2020 Ford Escape have registered a common complaint that the transmission takes time to hunt for the right gear. No major changes were made to the 2021 Ford Escape.
Ford Escape Recalls
The carmaker, in 2015, had to recall some first-gen Ford Escapes and Mariner models. The recall of the car models made between 2001 and 2009 was due to the high prevalence of transmission problems. The majority of the recalled cars had 2.3 to 3.0-liter engines that had been recently rebuilt. The transmission-related issue was due to a faulty lever bolt that hindered shifting.
Most car owners who had their cars recalled reported that the control lever disengaged gears without warning. The issue was that the lever bolt could not be tightened, and therefore there is no way you can tell the current gear position of the car. The gear position indicator would show that the gear is in parking even when driving at high speeds.
In 2016, Ford had to recall the electric system software of their 2017 Escape model. This recall affected the SE and Titanium Ford models of that year. The issue here was that the automatic windows would close in on people's heads and hands before auto-reversing. Another recall was made with 2018 models that had a faulty front hose that leaked gas.
Ford had fashioned the 2018 Ford Escape with side curtain airbags, in line with their continued commitment to improved safety. However, the airbags were reported to fall off during deployment occasionally. You wouldn't want a detached airbag flying at you in the passenger cabin. It would lead to serious injury.
Ford Escape Problems By Year
In the next section, we'll list out the most common Ford Escape problems across all model years. But for now, let's take a look at the most common Ford Escape problems by specific model year…
NOTE: We won't be detailing any issues with the much newer 2023 and 2024 model years, as these Ford Escapes haven't been on the road long enough for serious, systemic, and persistent issues to appear just yet. However, we'll update this guide whenever new data and insights on the reliability of the newer model years are available.
2011 Ford Escape Problems
The 2011 Ford Escape model comes with a lot to admire, from its compact design to impressive performance and reliability. With a staggering sales volume of 254,293 units, it's clear that this compact SUV has cemented its place in the hearts of many.
However, this does not exclude it from having its fair share of problems. In fact, users registered 1135 problems for this model, and Ford has recalled the Escape three times due to these issues. The majority of problems are centered around a glitch in the powertrain system that often requires software reprogramming.
1. Electrical Problems: Faulty Horn and Door Latch
A recurrent issue reported by users of the 2011 Ford Escape is an electrical problem concerning the horn. Users have complained about the horn engaging unexpectedly when driving over bumps, leading to its eventual failure. This issue is often attributed to a faulty clock spring, which requires replacement. However, there haven't been any official recalls concerning this problem.
Moreover, owners of the 2011 Escape have also reported issues with the door latch, notably, an unending door ajar warning, even when the door is securely closed. This issue often results in the constant illumination of the interior dome light, especially problematic during night drives. Dealers have identified the door switch as the culprit, being stuck perpetually in the 'open' position.
2. Mechanical Problems: Engine, Air Conditioner, and Fuel System
Engine-related problems are not uncommon with the 2011 Ford Escape, one of the most frequent being a sudden loss of power while driving. Despite the engine running, users have noted a lack of forward power, symbolized by a flashing wrench logo. This issue has been diagnosed as throttle body failure, which necessitates a replacement.
In terms of air conditioning issues, some owners have experienced an abrupt halt of the AC system, leading to fogging up of windows, especially during rain. Despite normal vehicle temperature, mechanics have traced the problem back to a faulty thermostat, which needs replacing.
Furthermore, several 2011 Escape owners reported sudden power loss, with the vehicle displaying trouble codes. Upon inspection, mechanics have identified a stuck fuel actuator, either in an open or closed position, as the root cause.
3. Transmission and Brake Problems
Transmission problems are another cause for concern among 2011 Escape owners. Users have reported a disturbing grinding noise while the vehicle slows down, coupled with a clunking noise during gear shifts. Diagnostics often reveal a software glitch in the PCM, necessitating a reprogramming by dealers.
Users have also flagged brake-related problems. A hard brake pedal, requiring substantial effort to slow the vehicle down, has been a significant complaint. Dealers have traced this issue back to a faulty brake vacuum pump.
4. Safety Problems: Faulty Airbags
For a vehicle of its class, the 2011 Escape is expected to uphold safety standards. However, there have been instances of airbags not deploying in collisions. Dealers traced this issue back to faulty airbag sensors, presenting a serious safety concern.
5. Structural Problems: Defective Door Latch
Structurally, users have reported issues with the rear liftgate latch, which often fails to lock the door in place. This defect could potentially cause the liftgate to open while the vehicle is in motion, raising safety concerns.
In conclusion, while the 2011 Ford Escape is a reliable and popular SUV, potential buyers and current owners should be aware of these reported issues. Despite the problems, the model continues to be a strong contender in its segment, standing up against rivals such as the Nissan Rogue, the Honda CR-V, and the Mazda CX-7.
2012 Ford Escape Problems
A mainstay of the compact SUV market, the 2012 Ford Escape has earned its popularity due to its functionality, design appeal, and budget-friendly operations.
Nevertheless, users have registered 514 complaints, most of which concern its electrical and mechanical systems. Safety, mechanical, and structural issues were frequently reported, with the Escape being recalled twice due to these concerns. Now, let's look at these issues more closely.
1. Non-Deployment of Airbags
One serious safety concern that users have raised with the 2012 Ford Escape is the failure of airbags to deploy during crashes, resulting in injuries needing medical attention. This persistent issue has not yet been effectively addressed by the brand, creating serious concerns for owners and potential buyers.
2. Cracked Fuel Module
Several complaints have centered around issues with the vehicle's fuel and propulsion system. Specifically, owners have reported fuel modules developing cracks that can lead to fuel leakage, raising the risk of fire and leading to unexpected engine stalling. Ford has acknowledged this widespread problem with a recall, but repair parts are currently unavailable.
3. Engine Stalling
Another common mechanical problem with the 2012 Escape is unexpected engine stalling, which can leave drivers stranded. This issue often manifests alongside the illumination of a wrench light on the dash screen, indicating a powertrain problem. In many instances, the failure of the throttle body, which requires replacement, has been identified as the root cause.
4. Transmission Issues
The 2012 Ford Escape is also plagued by transmission problems. Users have reported rough downshifting, as well as lagging when shifting to a higher gear. These issues significantly hamper the vehicle's performance and require immediate attention from the manufacturer.
5. Loss of Power Steering Assist
Several owners have reported losing power steering functionality, making vehicle control difficult, especially when making turns. This increases the risk of an accident. Despite the clear safety implications of this issue, the underlying cause remains undetermined.
6. Unintended Acceleration
Another alarming problem with the 2012 Escape is unintended acceleration, where the vehicle's speed increases without the accelerator being pressed. This makes vehicle control challenging, particularly in parking situations, and has resulted in several reported accidents.
7. Malfunctioning Seat Belts
Seat belt issues are also common in the 2012 Ford Escape, with users reporting failures in restraining passengers during a crash, increasing injury risk. Additionally, some seat belts have been reported to malfunction, failing to unlatch and sometimes over-tightening, trapping occupants in their seats.
8. Rusting Rear Wheel Wells
Structural problems have also been reported in the 2012 Escape, particularly with the rear wheel wells rusting, which could potentially lead to wheel detachment. This problem poses a significant safety concern, although the cause and solution remain elusive.
9. Compromised Structural Integrity
The 2012 Ford Escape has problems related to its structural integrity. The improper functioning of the trunk and hood latches can lead to these components opening unexpectedly, limiting the driver's visibility and potentially leading to crashes. This structural issue is another that has yet to be properly addressed by Ford.
2013 Ford Escape Problems
Despite its popularity as an affordable midsize SUV, the 2013 Ford Escape has encountered numerous complaints, with over 2,100 registered and a concerning 17 recalls. From issues with the engine and transmission to problems with the brakes and electrical system, this model year of the Escape has proven problematic for many users. Here are the details.
1. Engine Problems
Engine troubles make up almost 40% of the complaints registered with the NHTSA for the 2013 Escape. The 1.6L Eco Boost engine, which comes standard with most trims, is particularly problematic. Owners have reported coolant leaks, engine overheating, electrical shorts in the wiring harness, fuel line leaks, random stalls, and failures of the head gasket and turbo oil seal.
These issues have led to fires and cylinder head/block failures, with the average mileage of failure around 90,000 miles. Ford has issued several recalls to address these problems.
2. Transmission Problems
While not as widespread as the engine issues, the 2013 Ford Escape has some recurring transmission problems. Shifting delays, inability to shift, and transmission linkage coercion are commonly reported.
These problems have resulted in several low-speed crashes or injuries. Ford has initiated a couple of recalls to replace the damaged shift linkage. The average failure mileage is around 130,000 miles.
3. Service Brake Problems
Brake vacuum pump failure and brake fluid leaks are something to look out for with the 2013 Escape. Though these brake issues aren't widespread, they can lead to loss of braking force or pedal resistance without warning. It's recommended to check these systems on high-mileage cars.
4. Electrical System Complaints
Issues with the wiring connecting the engine and its components, like the MAP sensor, can result in improper engine function or even an engine stall or no-start condition. Also, the loss of power steering assist is another common complaint, which could cost between $1,000 and $1,300 to fix. The average failure mileage for this problem is around 120,000 miles.
5. Structural Problems
Initial batches of the 2013 Ford Escape SUVs were reported to have door lock issues. Owners have reported doors not staying closed or swinging open while driving. Several recalls have been issued to address these problems.
6. Safety Complaints
The primary safety issue with the 2013 Escape is the non-deployment of airbags in the event of a crash, due to manufacturing errors and software glitches. The manufacturer has issued recalls to address this issue. Additionally, the driver-side seatbelt reportedly fails to retract or offer support during heavy braking, but no recall has been issued for this problem yet.
Given the multitude of problems reported with the 2013 Ford Escape, potential buyers may want to consider other options in the market, like the Honda CR-V, the Toyota RAV4, or the Hyundai Santa Fe.
2014 Ford Escape Problems
As a compact SUV, the 2014 Ford Escape has made its mark in the automotive market, admired for its impressive design, practicality, and comfort. However, it has been the subject of several concerns, including 1,320 recorded complaints and 14 recalls.
These complaints primarily pertain to the vehicle's safety, structure, electrical system, interior, and mechanical components. Below, we'll delve into each of these problem categories and provide insight into the implications, solutions, and potential repair costs.
1. Safety Complaints: Airbag Non-deployment
The 2014 Ford Escape has raised safety concerns due to numerous instances of airbags not deploying during accidents. This malfunction could potentially lead to severe injuries requiring medical attention. Airbags can be examined through diagnostic testing by a certified mechanic to verify their functionality.
If faulty, airbags may need replacement, which can cost up to $1,000 or more depending on the model and the number of airbags to be replaced. The automaker or a local Ford dealer can provide further assistance and possibly rectify the problem under warranty, given the safety-critical nature of the problem.
2. Structural Complaints: Sunroof and Windshield Issues
Owners have reported instances of sunroofs and windshields cracking spontaneously, impairing driver visibility and risking injury. The windshield wipers have also been reported to stop working unexpectedly. If structural issues are suspected, the vehicle should be taken to a dealer for an assessment.
Repairs could range from $200 for windshield repair to $1,000 or more for a sunroof replacement. Ford has issued recalls relating to the latching system, which should be reviewed and followed up by owners.
3. Electrical System Complaints: Rearview Camera and Information Cluster
The 2014 Escape has issues with its rearview camera malfunctioning or going blank, resulting in the display of a failure message and restricted rearward visibility. The vehicle's information cluster has also been reported to lose power randomly, impeding access to crucial information such as speed, fuel levels, and tire pressure warnings.
Electrical issues should be examined by a certified Ford technician. A rearview camera replacement might cost around $200-$400, while an information cluster replacement might run upwards of $500. No specific recalls for these issues have been issued for the 2014 Escape as of now.
4. Interior Complaints: Seat Belt Issues
Seat belt issues have been reported in the 2014 Ford Escape, with instances of seat belts not retracting during accidents and rear seat buckles getting stuck under the seat when folded. These seat belt malfunctions are safety-critical issues, and vehicles should be taken to a Ford dealer for inspection and repair.
Seat belt repairs or replacements can range from $100-$200 per belt. Ford may cover these under warranty, given the potential safety implications.
5. Mechanical Complaints: Coolant Leak and Engine Stalling
The 2014 Escape has had complaints regarding coolant leaks causing the vehicle to shudder and stall, sometimes leading to overheating. Some instances report the coolant entering the engine compartment, causing the vehicle to catch fire. The engine has also been reported to lose power unexpectedly due to a cylinder misfire, damaged head gaskets, or spark plug failure.
If a coolant leak is suspected, a mechanic should examine the vehicle immediately. Repairs could range from $500 for minor leaks to $2,000 or more for significant engine damage. Ford has issued two recalls relating to fuel system issues, which should be reviewed by owners.
6. Transmission Failure
Rough shifting between gears and transmission failure are also common problems in the 2014 Escape. This can result in an unexpected stall and a failure to pick up speed. If transmission issues are suspected, a certified mechanic should inspect the vehicle immediately.
Transmission replacement can cost between $1,500 and $3,500, depending on the severity of the damage. There have been no recalls issued for these specific issues, but owners should contact Ford for possible support.
7. Power Steering Malfunction
Owners of the 2014 Escape have also reported issues with power steering functionality, where the steering wheel becomes stiff and difficult to control. This can be a major safety issue, and any suspected problems should be addressed immediately by a Ford dealership or certified mechanic.
Power steering repair costs can range from $600-$1,000. As of now, no recalls have been issued for these specific issues.
8. Swollen Lug Nuts
Lastly, the 2014 Escape has had problems with lug nuts swelling or corroding easily, making it difficult to remove the wheel in case of a blowout. This is a significant safety concern, and if encountered, it's advised to have lug nuts replaced by a certified mechanic.
Lug nut replacement costs are generally affordable, with prices ranging from $5-$10 per lug nut, excluding labor charges. As of now, no recalls have been issued for these specific issues.
In conclusion, while the 2014 Ford Escape is lauded for its features and design, it's crucial for owners and prospective buyers to be aware of these common issues. Always refer to your local Ford dealer or certified mechanic for professional advice and assistance.
2015 Ford Escape Problems
The 2015 Ford Escape, while offering competitive features in the compact SUV market, has its fair share of complaints. High sales numbers coupled with significant mechanical and electrical issues have led to a number of recalls. From coolant leakage to faulty shifter cables and brake failures, the issues are quite diverse and potentially dangerous.
Here we will delve into the most common problems faced by owners of the 2015 Ford Escape.
Coolant Leakage
Many owners have reported coolant leakage problems with their 2015 Ford Escape. The coolant seems to seep into the engine, resulting in smoke emission from the tailpipe. This coolant leakage can lead to a complete loss of power in the engine.
The severity of the damage is such that in many cases, a complete engine replacement becomes the only solution. This issue has not yet been addressed by Ford with a recall, leaving the onus of a costly repair on the owner.
Transmission Issues
The shifter cable in the 2015 Ford Escape has a reputation for snapping, resulting in an inability to maintain a specific gear. This could result in unexpected and dangerous vehicle movement, like shifting into drive only to find the vehicle moving backward. Thankfully, this issue has been remedied, but it remains a common complaint for this model year.
Brake Failure
Brake failure in the 2015 Escape typically stems from a leaky vacuum pump, which results in a loss of pressure. This causes the brake pedal to lose its effectiveness, leading to reduced braking power and, in extreme cases, crashes. The problem demands immediate attention and, typically, a replacement of the brake pump.
Malfunctioning Fuel Pressure Sensor
The fuel pressure sensor in the 2015 Escape is often reported to malfunction, providing incorrect fuel level readings. This can cause the vehicle to stall or shake, despite having sufficient fuel in the tank. Although a quick fix at the dealership is usually all it takes, it's a recurring problem that's frustrated many Escape owners.
Backup Camera Problems
The backup camera in the 2015 Escape is known to blank out or display a blue screen when the vehicle is in reverse. This compromises rear visibility, making reversing more difficult. In some cases, the backup camera screen remains active, effectively disabling the infotainment system.
Instrument Panel Issues
Adding to the list of electrical problems, the instrument panel in the 2015 Escape has been reported to display lines or distort the displayed information. This makes it difficult to read basic details like the odometer reading, potentially hiding warning signs and creating safety concerns.
Door Latch Problems
Door latch failures in the 2015 Escape have been a significant issue, leading to multiple recalls. Faulty latches may not securely close the door or hatch, making the vehicle unsafe to drive. In certain cases, the doors or liftgate might open while the vehicle is in motion.
Swollen Lug Nuts
Lastly, swollen lug nuts are a common problem for 2015 Escape owners. The lug nuts tend to expand within their housing, making them difficult to remove when changing a tire. In some instances, the swollen lug nuts have broken, causing the wheel to detach from the axle, leading to serious damage and potential road hazards.
Overall, the 2015 Ford Escape has an array of common problems that need to be addressed. Understanding these issues will help current and potential owners make informed decisions about maintenance and repairs.
2016 Ford Escape Problems
The Ford Escape 2016 model is a well-rounded compact SUV that sports a powerful turbocharged engine, agile handling, and a spacious interior. However, its reputation for reliability has been tarnished by a number of common problems, with 379 official complaints and a single recall up until now.
In this article, we delve into the problems plaguing this vehicle and provide an overview of the common issues you might face with a 2016 Ford Escape. We will also provide potential remedies, estimated repair costs, and the level of support you can expect from Ford.
1. Engine Head Gasket and Turbocharger Leaks
The engine head gasket of the 2016 Ford Escape has been known to fail prematurely, resulting in a coolant leak. This can cause cylinder misfires, overheating, and even total engine failure if not addressed promptly. Additionally, users have reported a leaky turbocharger that allows exhaust fumes to enter the cabin, posing health risks.
These problems can be diagnosed through a combination of engine checks and physical inspections. A head gasket repair typically costs between $1,000 and $2,000, while a new turbocharger may set you back around $1,500 to $3,000. Some users have reported limited assistance from Ford in addressing these problems, which can result in substantial out-of-pocket expenses.
2. Brake Failure
Several owners of the 2016 Ford Escape have reported brake failure while the vehicle is in operation. Issues have been traced back to a faulty brake vacuum pump and prematurely worn-out brake rotors and pads. The ABS and hill assist systems have also come under fire for being less than reliable.
Dealerships have generally been willing to replace the brake vacuum pump, but the costs of the brake rotor and pad replacement often fall to the vehicle owner. A brake vacuum pump can cost around $250 to $500 to replace, while a brake rotor and pad replacement can range between $300 and $600.
3. Fuel System Defects
Another common problem with the 2016 Ford Escape is a malfunctioning canister purge valve and fuel tank vacuum, which can cause the engine to stall, especially after refueling. Unfortunately, Ford dealerships have largely been uncooperative in addressing this issue, leaving owners to foot the bill for replacement parts.
Repair costs can range from $100 to $400, depending on the specific part that needs replacing.
4. Powertrain and Transmission Problems
The transmission system is a major concern for 2016 Ford Escape owners, with many reporting the vehicle losing power, decelerating, and stalling out. Gears slipping into reverse or neutral have also been mentioned as recurring issues.
These problems often lead to substantial repair costs, with a full transmission replacement costing upwards of $6,000. Despite the widespread nature of these issues, a transmission recall for the 2016 Ford Escape has yet to be made.
5. Steering Failure
Multiple users have reported failures in the power steering system, resulting in the steering wheel locking up unexpectedly. This presents a significant safety risk, and unfortunately, a solution has yet to be found.
6. Electrical Problems
The 2016 Ford Escape also suffers from various electrical issues, including malfunctioning infotainment systems and defective electrical wiring that has been known to cause fires. Problems with key detection due to faulty anti-theft system software have also been reported.
7. Safety Problems
There have been multiple safety-related complaints for this model, including failure of airbags to deploy in the event of a crash and seat belts not locking properly. The only recall associated with these issues so far pertains to the driver's side knee airbags.
8. Exterior Problems
Due to defective latches or locks, the doors and tailgates of the 2016 Ford Escape can come open while the vehicle is in motion, which poses a significant safety risk. However, Ford dealerships have generally been helpful in resolving this issue.
In conclusion, while the 2016 Ford Escape does have its merits, potential buyers should be aware of these common issues and factor in potential repair costs. Always remember to get a pre-purchase inspection before buying a used vehicle, and consult with professionals for diagnosis and repairs.
2017 Ford Escape Problems
The 2017 Ford Escape, while known for its affordability, turbocharged engine, and comfortable ride quality, is no stranger to numerous mechanical and technical issues.
As per consumer reports, this model has recorded over 505 complaints and one official recall, with problems spanning engine failure, powertrain disengagement, electrical malfunction, brake issues, suspension faults, and more.
This comprehensive analysis of the common problems faced by 2017 Ford Escape owners aims to provide a useful guide for potential buyers and current owners alike.
1. Engine Problems
The engine has proven to be the most problematic component of the 2017 Ford Escape, often marked by a check engine light preceding catastrophic failure. Some of the causes include oil leaks leading to cylinder misfires, coolant leaks that cause overheating, and issues with spark plugs and the head gasket.
Dealerships have often been unhelpful, citing that failures occurred beyond warranty coverage or that replacement parts were unavailable, exacerbating owners' frustrations. Repairs for such issues can range from $500 for spark plug replacements to upwards of $4,000 for a complete engine rebuild or replacement.
2. Brake System Issues
Another notable issue pertains to the premature rusting of brake components, leading to stiff brake pedals and, in some cases, complete brake failure. Rust treatment and replacing rusty parts, which can cost anywhere from $300 to $600, may alleviate this issue. However, the problem appears to be systemic, with Ford dealers often struggling to offer comprehensive solutions.
3. Steering Failure
Steering failure, both complete and in the form of power steering assist malfunction, is another concern. While no significant accidents due to this issue have been reported, it represents a significant safety risk. Fixes can include software updates to the power steering control module or replacement of the power steering motor, costing between $200 and $1,200.
4. Transmission and Powertrain Problems
Transmission issues are the second most recurring problem in the 2017 Ford Escape. Symptoms include hesitation in gear switching and unexpected deceleration or acceleration. These issues can be dangerous and may require transmission repairs or replacements, with costs ranging from $1,800 to $3,500.
5. Suspension Faults
Reports of rusting and the right front suspension breaking free from the vehicle are concerning. Repair costs can vary depending on the severity of the damage but expect to pay anywhere between $300 to $1,500.
6. Wheel Lug Nut Issues
Owners have found that their lug nuts attached to the wheels swell, likely due to heat expansion, making tire changes difficult. Replacing lug nuts is relatively inexpensive, typically around $100 for a full set.
7. Electrical Malfunction
Common electrical issues involve the auto start/stop function causing the vehicle to stop unexpectedly. Some dealerships have traced this to code errors P06E9 and P164C, remedying the problem by reprogramming the BCM. However, not all dealerships may be equipped to identify or rectify this problem.
8. Airbag and Seatbelt Failures
There have been instances of airbags failing to deploy in crashes and seatbelts not retracting properly, both significant safety risks. While dealerships can typically fix seatbelt issues, airbag problems might require specialist intervention and could cost between $200 and $1,000 to fix.
9. Exterior Problems
Exterior issues encompass paint thinning or chipping, primarily on the front side of the vehicle, liftgate closing with occupants nearby, and windshield wipers colliding. While paint jobs and minor exterior fixes might run a couple of hundred dollars, major repairs could go well into the thousands.
In conclusion, while the 2017 Ford Escape offers several enticing features, potential buyers should be aware of these common problems and take them into account before purchase. Current owners, on the other hand, can use this guide to better understand and address their vehicle's issues.
2018 Ford Escape Problems
The 2018 Ford Escape is lauded for its impressive interior, ample cargo space, and exciting handling. Yet, reliability issues have cast a shadow over these commendable aspects. The car, despite being a popular choice among compact SUVs, has suffered from several mechanical and electrical hitches that have significantly influenced its overall reputation.
With 2 recalls and a total of 184 complaints, these problems are mainly concentrated around engine issues, especially coolant leaks, and electrical system malfunctions.
1. Engine Leaking Problems
The 2018 Ford Escape's engine has been reported by several users to exhibit significant leaking issues. These leaks, which notably involve coolant seeping into the engine bay, can lead to severe problems, affecting the cylinders and spark plugs. Coolant leaks can cause the engine to overheat, blow head gaskets, stall, and in extreme cases, cease to function entirely.
To rectify this, many users have been forced to rebuild the engine completely, a process that is not only expensive but also time-consuming. It's crucial for potential buyers or current owners to regularly check for these leaks and address them promptly to avoid more severe damage.
2. Faulty Service Brakes
A number of 2018 Ford Escape owners have reported problems with the service brakes, specifically incidents where the brakes would sink to the floor and cause the vehicle to take longer than usual to stop. This can pose a significant safety risk, and in response, Ford initiated a recall.
The company offered to check and repair the brakes as necessary. Despite this, it is advisable for owners to have their brakes inspected regularly to ensure their safety.
3. Transmission Failure
Some users have complained about the 2018 Ford Escape's transmission system, which often resulted in jerky movements and frequent revving. Many have had to either replace or fix the transmission prematurely due to this issue.
Transmission repairs can be quite costly and may involve significant downtime for the vehicle. It's recommended that owners experiencing such issues consult with a mechanic or a Ford dealership to diagnose and address the problem.
4. Electrical System Issues
Electrical system issues were another prevalent problem reported by owners of the 2018 Ford Escape. Errors such as the 'auto start/ stop the shift to park, then restart the engine", "POWERTRAIN MALFUNCTION/REDUCED POWER", "MALFUNCTION INDICATOR LAMP – REGULATORY", "ANTILOCK BRAKE FAULT", and the "RESTRAINTS INDICATOR LAMP WARNING" were commonly displayed.
The auto start feature was particularly troublesome, often causing the vehicle to stop mid-operation and subsequently fail to restart manually. For such issues, a thorough diagnostic run by a professional may be required to identify and fix the underlying problem.
Despite these problems, the 2018 Ford Escape remains a popular choice in its segment. However, potential buyers and current owners should be aware of these issues and take the necessary steps to ensure their vehicle remains reliable and safe to drive.
2019 Ford Escape Problems
Despite the generous cargo room and comfortable interiors, the 2019 Ford Escape has its fair share of reliability issues. These problems persist even though the SUV competes with top-class models like the Kia Sportage, Honda HR-V, and Lincoln MKC.
From coolant leaks and transmission issues to airbag system malfunctions, the 2019 Ford Escape has faced significant challenges. It has been subject to 1 recall and 84 official complaints.
1. Engine Coolant Leaks and Spark Plug Problems
Numerous complaints have centered around the issue of engine coolant leaks, which have led to engine cracks, purge valve errors, and spark plug replacements. Furthermore, five users have reported water pump issues, and one user stated that a water pump failure caused the engine block to crack. Regrettably, no recall has been issued concerning these issues.
2. Brake Failure
Several 2019 Ford Escape owners have reported the brake pedal's failure to engage properly. This can present a serious safety hazard as it could potentially prevent the vehicle from stopping as quickly as necessary.
3. Steering Problems
Mostly noticed in the Titanium trim, a significant number of users have reported a vibrating and shaking steering wheel. One user even stated that the steering had frozen, a problem that can be both distressing and dangerous.
4. Powertrain Issues
One owner reported a near-serious injury when an abnormal sound occurred upon shifting to reverse gear, causing the SUV to accelerate uncontrollably and crash into a pole. Unfortunately, no airbags were deployed. Similar issues have been reported by other users, particularly within the mileage range of 300 to 1000 miles.
5. Electrical Malfunction
A serious injury was reported due to an unexpected activation of hill assist mode when the SUV was not on a hill. This incident led to the SUV hesitating when the user applied the brakes, the steering wheel seizing and eventually resulted in a crash into a guard rail. Neither the airbags nor the seatbelt engaged, leading to serious head injuries for the user.
6. Airbag Deployment Failure
One of the most alarming issues reported by 2019 Ford Escape owners is the failure of the airbags to deploy during crashes and accidents. This problem has resulted in injuries for several users, representing a serious safety concern.
7. Tire Failure
A serious safety issue with the 2019 Ford Escape is the tendency for the tires to develop breaks in the sidewall, leading to sudden deflation. This could potentially cause a sudden stop or near-crash experience. To mitigate this issue, Ford introduced a recall to fix this issue.
In conclusion, the 2019 Ford Escape has significant reliability issues that potential buyers should be aware of. Despite its comfortable interiors and ample cargo space, these recurring issues may impact the overall ownership experience.
2020 Ford Escape Problems
When it comes to the standards of affordable compact SUVs, the 2020 Ford Escape falls short in a number of areas. Despite being up against formidable competitors like the 2020 Jeep Wrangler, 2020 Jeep Cherokee, and 2020 GMC terrain, this SUV seems to struggle with cabin features and overall reliability.
Noteworthy problems include an inadequate rear occupant alert system, the absence of heating and cooling seat functions across the lineup, optional expensive LED headlights, and a non-standard 360-degree camera system. However, there are more significant issues to delve into, based on user complaints and problems:
1. Engine Oil Leak
Owners of the 2020 Ford Escape have reported problems with engine oil leaks and the cooling system. The engine oil tends to leak from the oil separator due to excessive heat. While the number of complaints isn't overwhelmingly high, it was significant enough to warrant a recall.
2. Premature Brake Failure
Users have reported premature failures of the brakes on the 2020 Ford Escape. Some have described a feeling of motion even when applying the brakes, a sensation that can unsettle both the driver and the passengers. As of now, there hasn't been an official recall related to this issue.
3. Steering Vibration
Users have reported feeling a vibration in the steering when accelerating in "normal mode". This has been described as discomforting and potentially detracting from the overall driving experience.
4. Transmission Fluid Leaks
The transmission in the 2020 Ford Escape seems to be a major source of problems, with both the 2019 and 2020 models experiencing multiple issues. Users have reported that the gears change abruptly, disrupting the quality of the drive and creating discomfort.
5. Electrical Malfunction
Several reports have come in about electrical malfunctions in the 2020 Ford Escape. These include unexpected shutdowns of the navigation system, leading to partial vehicle malfunction. People have also reported problems with the rear-view camera, a concern that extends to other Ford models like the Mustang and the F-150.
6. Airbag Issues
An official statement has been made regarding certain models of the 2020 Ford Escape and 2020 Transit having malfunctioning side airbags. Investigations suggest this problem likely stems from a malfunctioning diffuser.
In conclusion, while the 2020 Ford Escape has some appealing features, it also has a number of significant issues. Potential buyers should be aware of these problems when considering this model.
2021 Ford Escape Problems
In 2021, Ford Motor Co. launched the Ford Escape, aiming to meet basic daily commuting needs.
Despite offering a refined powertrain and various features, the 2021 Ford Escape has multiple vulnerabilities, including fuel leakages and transmission failures. These issues persist due to the unavailability of necessary parts. According to the National Highway Traffic Safety Administration (NHTSA), there have been 33 user complaints and 5 recalls for this SUV.
The Ford Escape competes against the likes of the Honda CR-V, the Toyota RAV4, and the Chevrolet Equinox in the compact-SUV segment. However, reliability concerns hamper the model's impact. Here are the main issues reported by users:
1. Engine Stalling
Engine stalling is a known issue with the Ford Escape. Users report that the SUV tends to lose power during driving, resulting in a sudden drop in speed. Before the stalling occurs, a 'STOP SAFELY NOW' warning is typically displayed. This sudden loss of power can significantly increase the risk of accidents.
2. Brake Issues
Problems with the brake system are common. Reported issues include brake fade and brake slip. Brake fade can lead to inadequate braking and squealing sounds during brake application, while brake slip can result in longer braking distances. Both issues require the user to apply extra force on the brake pedal, leading to several recalls.
3. Cooling System
The cooling system of the Ford Escape is susceptible to a drop in coolant levels, resulting in potential engine overheating. Most cooling system complaints involve vehicle fires, posing a substantial risk to occupant safety.
4. Fuel Leakage
Fuel leakage is a significant problem with the Ford Escape. Ford attributes the issue primarily to defects in the Fuel Delivery Module. Complaints related to fuel leaks include multiple reports of vehicle fires, resulting in total loss and prompting vehicle recalls.
5. Transmission
Some Ford Escape owners report instances of transmission failure resulting in gear jamming. Specifically, the gearbox can get stuck in 'park mode', preventing gear shifting.
6. Battery
The high-voltage battery of the SUV is prone to failure, which can lead to a sudden loss of vehicle power and an increased risk of accidents. The solution to this problem often involves replacing the high-voltage battery.
In conclusion, despite its strengths, the 2021 Ford Escape is associated with various reliability issues that potential buyers should consider before making a purchase.
2022 Ford Escape Problems
The Ford Escape, a long-standing player in the crossover market, saw a few minor feature changes for its 2022 model. Despite being in its fourth generation, it continues to wrestle with multiple issues, as evidenced by user complaints.
In fact, the reliability of Ford vehicles, including the Escape, has been somewhat inconsistent, primarily due to issues with their safety systems, electronics, and powertrains. Here are the main problems reported by users of the 2022 Ford Escape:
1. Engine Coolant Leak
The most notorious problem with the Ford Escape since its third-generation models is the engine coolant leak. The problem persisted into the fourth-gen model, albeit affecting fewer vehicles. Complaints reported coolant leakage from the engine cooling system, leading to various issues such as misfiring, white smoke, loss of power, and sudden stalling.
In several instances, the coolant leak issue resurfaced even after repeated repairs, with no permanent fix provided by the manufacturer.
2. Transmission Issues
The Escape also suffers from transmission issues, which began with the third-gen models and worsened by the fourth-gen models. Previous models faced complete transmission failures, while the 2019 and 2020 models experienced problems such as the transmission randomly shifting to neutral, causing the engine to stall, transmission slippage, and transmission oil leakage.
3. Engine Fires
Two complaints about the 2021 Ford Escape reported that the engine caught fire, resulting in the total destruction of the vehicles. In both cases, black smoke began pouring from under the hood, followed shortly by a fire that consumed the vehicle.
4. Airbags Failing to Deploy
Several models of the Escape have received complaints about airbags failing to deploy or partially deploying in the event of a crash. This issue is relatively common with other modern vehicles as well.
5. Brake Failures
Several complaints were lodged with the NHTSA regarding the brakes of the Ford Escape. Most of them state that the brakes failed randomly, leading to crashes. Some detailed complaints mentioned that the brake pedal became extremely hard, making it impossible to brake when necessary.
Occasionally, restarting the vehicle would resolve the problem, but it remained a significant safety concern.
6. Multiple Systems Failure
From the 2018 model year through to 2021, many recorded complaints about the vehicle's electrical systems. Many drivers reported instances where the vehicle would display multiple system error messages (such as power steering, hill start assist not available) while in motion.
During these incidents, the power steering system often partially or fully stopped working, making it difficult to control the vehicle.
7. Complete Shutdown of Vehicle
Some reports stated that while driving, the vehicle would randomly shut down, often due to issues with the wiring harness. In some cases, despite repeated repairs, the problems kept recurring.
Overall, despite its strengths, the 2022 Ford Escape is associated with a series of reliability issues that potential buyers should consider before making a purchase.
Ford Escape Years to Avoid
When purchasing a used car, it's essential to understand the common problems associated with certain model years. The Ford Escape, a popular compact SUV, is no exception to this rule. While some years offer reliability and a comfortable driving experience, others are riddled with issues. Let's delve into the details of which Ford Escape model years you should avoid.
2005 Ford Escape
Ranking as the most problematic model year overall, the 2005 Ford Escape is one to steer clear of. It had a slew of issues that ranged from misfiring ignitions to faulty internal transfer cases for 4WD models.
Other common complaints include electrical issues, paint peeling, and various engine problems. It's worth noting that many drivers reported these issues typically surface during warmer weather, leading to repeated and costly repairs.
2006 Ford Escape
The 2006 Ford Escape has been recalled by the National Highway Traffic Safety Administration (NHTSA) multiple times due to various faults. Common areas of concern include the wheel bearings, power steering system, electronic suspension, anti-lock brakes, and trim elements.
Despite numerous recalls, this model still carries a plethora of issues that can potentially lead to safety hazards.
2008 Ford Escape
The 2008 Ford Escape is notorious for transmission troubles that are not only annoying but also expensive to repair. This particular model year received numerous recalls due to various issues including brake failure, broken Anti-Lock Brake Systems, faulty electrical components, and transmission failure.
2009 Ford Escape
From the strange noises emanating from both the four-cylinder and V6 engines to less-than-stellar interior upgrades, the 2009 Ford Escape provides an unsettling driving experience. This model year has been recalled three times due to a range of problems, including air and water leaks from the roof and premature axle bushing failures.
2013 Ford Escape
The 2013 Ford Escape was recalled 16 times due to safety concerns. Issues range from faulty electronic systems (including GPS, communication systems, Bluetooth, radio, or speakers) to problematic exhaust systems. While it's not all mechanical problems, these are significant enough to discourage potential buyers.
2014 Ford Escape
Review websites commonly rank the 2014 Ford Escape as one of the worst model years, second only to the 2008 model. Common complaints revolve around electrical components such as faulty wiring, issues with ignition switches, and a quickly draining battery.
This model year also suffers from problems related to the weather stripping and poorly functioning sensors and backup cameras.
Best Years for Ford Escape
While some Ford Escape years should be avoided, several model years shine for their reliability, features, and overall performance. These are the years that potential buyers should consider when looking for a used Ford Escape.
2010 Ford Escape
Many buyers looking for a reliable vehicle with plenty of room choose the 2010 Ford Escape. It performed exceptionally well in crash tests and comes loaded with unique technological features. Whether you choose the standard or the Hybrid Escape, you can expect impressive fuel economy and affordability.
2011 Ford Escape
The 2011 Ford Escape offers a spacious interior and an extensive list of appealing technological amenities. Despite its slightly lower reliability score from J.D. Power, this model year still provides a reliable and enjoyable driving experience at a reasonable cost.
2012 Ford Escape
The 2012 Ford Escape ranks 11th in the Affordable Compact SUVs category and has an overall safety rating of 7.7 out of 10. This model year boasts excellent fuel efficiency, leading to lower running costs, and also excelled in various safety tests.
2015 Ford Escape
With its spacious cabin, competent handling, and high dependability rating, the 2015 Ford Escape stands as one of the most reliable options in its category. The 2015 model was a nominee for the 2015 Best Compact SUV for Families award and ranks second in the Affordable Compact SUVs category.
2019 Ford Escape
The 2019 Ford Escape ranks high among budget compact SUVs. This model year brought in a unique combination of upgrades and redesigned standard equipment, including strong engines, agile handling, high towing capacities, and impressive fuel economy from the 1.5-liter engine.
2020 Ford Escape
The 2020 Ford Escape underwent a significant redesign, resulting in a fun-to-drive vehicle with plenty of room for passengers and cargo. The infotainment system is user-friendly, and the vehicle boasts a cylinder deactivation mechanism for increased gas mileage.
The turbocharged four-cylinder engine ensures smooth acceleration, making this model year an excellent choice for those in the market for a used Ford Escape.
Ford Escape Problems
Here are some of the most common Ford Escape problems (in general, across all or some model years)…
Ford Escape Transmission Problems
Transmission-related issues have been one of the biggest downsides to any generation of the Ford Escape. Unfortunately, the transmission is one of the vital components of your car. The transmission is integral to the workability of any vehicle. Therefore, this is one issue you want to have fixed before you are left stranded on the roadside.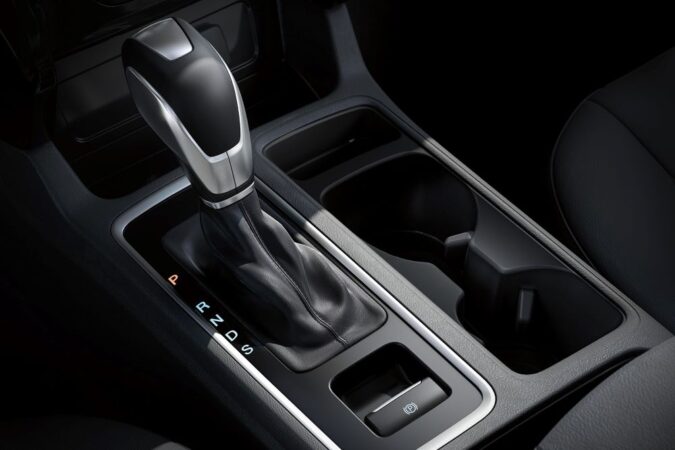 As we discussed earlier in this guide, the second-generation Ford Escape is notorious for transmission-related issues. If you don't know the symptoms of the transmission problems, you might miss them until the issue translates into a more serious and expensive problem.
If left unaddressed, your vehicle becomes more vulnerable to stalling anywhere at any time. Here are some of the most common transmission problems with the Ford Escape.
1. Low Fluid Level
Low fluid level is one of the most common problems with many cars and the 2014 Ford Escape in particular. The low fluid level makes it hard for the transmission of the car to shift gears. Since most cars are prone to having low fluid levels, it is advisable to routinely check the fluid level of your car and make any additions if necessary.
Here are some of the most common symptoms of a car that is low on transmission fluid levels.
The car will shake inexplicably or produce a jerking motion that throws you back and forth when you try shifting gears.
Low transmission fluid levels can manifest by overheating the transmission. The transmission is well-designed not to overheat. If it overheats, it is a telltale sign that you have transmission problems like low fluid levels.
A transmission that is low on fluid will delay when shifting gears. Ford Escapes with low fluid levels are reported to take more time shifting gears.
Change the transmission fluid if you happen to experience any of the above symptoms with your Ford Escape. It is advisable not to flush the transmission fluid as it can cause more damage to a transmission that is already experiencing problems.
2. Delayed Shifts
Delayed shifts on your Ford Escape are often a result of malfunctioning transmission solenoid or valve body and are generally common with automatic transmission vehicles. In the worst cases, it can lead to total failure of the transmission system, and therefore your car won't shift to a higher or lower gear. Some common symptoms of this issue include:
The car takes time to shift from drive to park or vice versa. A damaged body valve usually causes this, and you should therefore consider replacing it.
You may have probably heard of Ford Escapes that won't reverse. Before the reverse gear fails completely, you may hear some clunking sounds whenever you engage the reverse gear.
Ford Escape drivers have reported having transmission problems that manifest as radical shifting. This is likely caused by old transmission fluid or the valve.
3. Deteriorated Gear Synchronizers
As the name suggests, the gear synchronizers synchronize or match the spinning speed of the gear you are shifting to with the speed of the gear you are shifting from. A well-functioning gear synchronizer will result in a smooth and seamless shifting experience.
Ford Escapes equipped with a manual transmission setup is more vulnerable to developing worn-out gear synchronizers than most other manual vehicles in the segment.
4. Gear Grinding
Gear grinding is another major transmission problem in a Ford Escape. The 2008 Ford Escape is particularly prone to developing this problem. Fortunately, it is mostly a simple case of a clutch that won't release or an improperly adjusted shifter.
Generally, most manual vehicles develop this issue from time to time. If not fixed in time, it can lead to transmission failure. The low transmission fluid level is also known to cause this issue.
5. Shifting Into An Intended Gear
The 2008 Ford Escape again is notorious for shifting into an unintended gear. In the 2008 Escape, this issue was caused by a malfunctioning manual lever sensor.  Also, if your manual lever is in the wrong position, it can cause this problem. Imagine having a car that erroneously shifts to a higher or lower gear than intended.
Dangerous, right? When the manual lever sensor fails, the 2008 Ford Escape goes into limp mode. In this mode, you can shift into different gears, but the PCM won't be able to tell which gear you are shifting into.
6. Clutch Pedal Issues
The linkage or hydraulic system of the clutch can malfunction and cause the pedal engagement to be very low. Fortunately, this is easily fixed by bleeding the hydraulic system and other simple adjustments. However, it can also go in a different direction, whereby you have a high-grabbing clutch. Although this is also fixable, it may leave you with a worn-out pressure plate and clutch disc.
7. Vibrations
The 2012 and 2013 Ford Escape models often exhibit a common issue of vibrating when the vehicles accelerate beyond 35 MPH. A faulty torque converter usually causes this problem. In most of these cases, the engine abruptly shuts off when engaging a gear.
A damaged torque converter produces a loud whining noise. When driving with a faulty torque converter, you will experience a bumpy ride that feels like driving on a rough road.
8. Gear Slippage
Worn-out clutches are the most prevalent transmission issue with most cars and the 2011 Ford Escape in particular. With a slipping transmission, the 2011 Ford Escape will have symptoms such as high revs when downshifting.
This is definitely a sign of clutches that are burning out. The car loses traction and may lead to other safety hazards. Many drivers of the 2011 Escape have reported having a gear that slips in and out when they are driving.
Ford Escape Engine Problems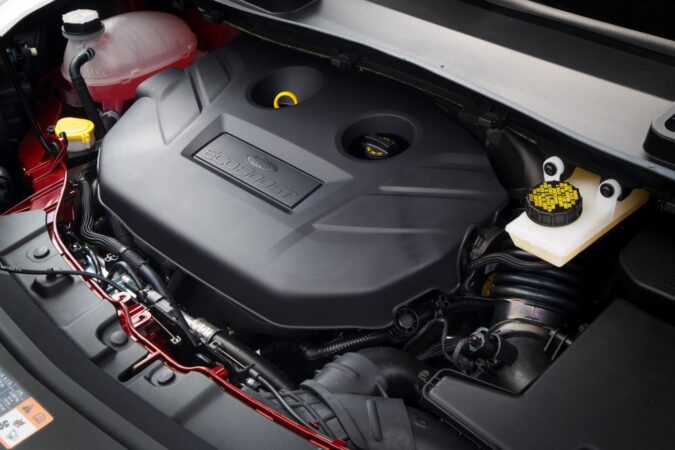 Apart from spring leaks, Ford Escape engines are known to catch fire. Even on newer models of the Ford Escape, owners and lessors have reported having coolant that leaked into the engine and wreaked havoc on it.
In most cases, it all starts with a check engine light that comes on, and when the car is taken for further diagnosis, it is discovered to have coolant leaks in the engine. When the coolant leaks into the engine's head gasket, it causes a complete shutdown of the vehicle.
There have been several reports of the turbo booster not functioning when needed. This turbo booster comes in handy when changing lanes on the highway. It accelerates the vehicle, allowing you to change lanes safely.
When the turbo booster fails, the SUV does not accelerate even when the gas pedal is pressed. This puts the life of the driver and passengers at risk when driving on the highway. The 4-cylinder variants of the EcoBoost engine on Ford Escapes had a design defect that allows coolant to leak into the engine's cylinders.
This causes engine failures, misfires, and in extreme cases, fires. The 1.5L, 1.6L, and 2.0L variants of the EcoBoost had a design that involved grooves in the cylinder head. Over time, coolant pooled up in these grooves and slowly degraded the gasket seal.
Ford Escape General Issues
As the coolant level drops, the engine overheats, leading to damaged pistons and cylinder heads. This only aggravates the leakage, and when it eventually reaches the combustion chambers, the engine goes up in flames. This led to the famous Ford Escape recall in 2012 when they recalled over 140,000 of the 2013 Escapes.
Second-generation Ford Escapes have had a high number of reports on loss of power steering assist when on the road. The car manufacturer acknowledged this issue and developed a fix for it. The loss of power steering is supposedly caused by inefficient EPAS configurations and can be fixed with a PSCM update. This issue can be quite annoying, especially if you are on a long drive.
Ford Escape Rollaway Problems
A substantial concern in the Ford Escape relates to the vehicle's potential to roll away due to malfunctions in the transmission system. This is mainly present in models produced between 2013 to 2019.
The root cause of this problem is that the shifter cable might detach, preventing the transmission from correctly shifting into park. This can happen even when the shifter appears to be in the correct position.
If the parking brake isn't engaged, the vehicle may roll away, leading to property damage or accidents. Several instances of such mishaps have already been reported.
As a remedy, Ford dealers replace the shift linkage bushing and add a protective cap. Affected vehicle owners receive notification via mail, but anyone uncertain about their vehicle's status can check via Ford's recall page using their VIN.
Ford Escape Corrosion Problems
Corrosion is a frequently reported issue with older Ford Escapes. These rust problems are more than cosmetic, with severe instances affecting the vehicle's safety.
In particular, first-generation Escapes commonly exhibit rusty fenders. A closer inspection often reveals that the entire wheel arch and shock towers are significantly corroded. Once corrosion weakens the shock towers, they can't support the vehicle's weight, causing significant structural issues.
Many first and second-generation Ford Escapes suffer from severely corroded subframes, affecting the secure attachment of control arms and other suspension components.
For models from 2001 to 2004, Ford initiated a recall to replace the rust-prone subframes. But for other models with the same issue, owners can opt for aftermarket replacements, although these can require extensive professional bodywork.
Ford Escape Power Steering Problems
Another prevalent issue involves the Electric Power Assisted Steering (EPAS) in the second and third-generation Ford Escapes.
These systems, despite being lighter and requiring less maintenance than older hydraulic steering models, are prone to sudden failures. The failure of power steering significantly increases the effort required to turn the wheel, causing unexpected handling difficulties.
Data shows these issues are common in models from 2008 to 2013. Though less frequent, failures are still reported in newer models.
To rectify these problems, faulty electric motors, sensors, and control units often need replacement, which can be costly. However, Ford did issue a recall for the steering torque sensor in models from 2008 to 2011.
Ford Escape Door Latch Problems
Door latch problems were a common issue in the early years of the third-generation Ford Escape. The root of this issue lies in the door latch spring breaking, which could lead to doors swinging open unexpectedly.
This problem mainly affected the 2013 to 2015 models. However, not all vehicles from these model years have encountered door latch issues.
To resolve this, Ford recalled over 2 million vehicles, including the 2013 to 2015 Ford Escape. Since this is a safety issue, recalls are done free of charge. Vehicle owners can verify their Escape's recall repair status using their VIN on Ford's recall page.
Ford Escape Problems Repair Cost
The average repair cost for most common Ford Escape problems can vary greatly depending on the severity of the damage and the complexity of the repair.
Transmission issues, the most common problems with the Ford Escape, can see you pay up to $6000 in repair costs. A used Ford Escape transmission will cost you between $1000 and $2500. The labor cost can cost you as much as $2500 and as low as $1500.
In other cases, Ford Escape owners who experienced issues with a malfunctioning PCM solved the problem by replacing faulty components. The affected components include the actual PCM, cylinders, spark plugs, and even coils. This fix cost them an average of $2500 worth of repairs to get the engines running properly and efficiently.
In Conclusion…
Just like most other cars, the Ford Escape has its share of problems. Compared to other SUV juggernauts like the Honda CR-V and Toyota RAV4, the Escape seems to be less reliable. Fortunately, most of the issues reported by Ford Escape drivers are fixable in a dealership or other mechanics.
Most online car reviewers rate the Ford Escape as an affordable, reliable, and fuel-efficient smaller SUV option. However, some model years of the Ford Escape, such as the 2008 and 2011 Escapes, should be avoided altogether.
Frequently Asked Questions (FAQs)
Here are some of the most popular questions and answers about the most common Ford Escape problems…
Are Ford Escapes Good Cars
Yes, Ford Escapes have been generally regarded as good cars by many consumers. They are often praised for their spacious interiors, comfortable ride, and advanced technology features. Moreover, they offer a variety of engine options, including hybrid and plug-in hybrid models, that provide both performance and fuel efficiency. However, like any vehicle, their quality can depend on the specific model year, as some years have experienced more issues than others.
Are Fords Reliable
Ford vehicles have a reputation for being generally reliable. In fact, the brand frequently scores above average in many consumer and industry reliability surveys. However, the reliability can vary by model and model year, with some vehicles performing better than others. Routine maintenance and careful driving can also greatly impact the longevity and reliability of any Ford vehicle.
How Long Do Ford Escapes Last
With regular maintenance and care, a Ford Escape can typically last for 200,000 miles or more. However, the actual lifespan can depend on many factors such as the driving conditions, how well the vehicle is maintained, and the model year. Some owners have reported their Ford Escapes running well beyond the 200,000-mile mark.
Is Ford Escape a 4 Wheel Drive
Ford Escape models come with the option of either front-wheel drive or four-wheel drive. The four-wheel drive versions are often marketed under the 'Intelligent 4WD' label, providing enhanced handling and traction in a variety of road and weather conditions. However, not all Ford Escapes come with this feature as standard, so it's important to check the vehicle's specifications.
Where Are Ford Escapes Made
Ford Escapes are primarily manufactured at the Ford Louisville Assembly Plant in Louisville, Kentucky. This has been the primary production location for the Escape since its inception, demonstrating Ford's long-standing commitment to American manufacturing.
Is a Ford Escape an SUV
Yes, the Ford Escape is classified as a compact sport utility vehicle (SUV). It offers the space and versatility typical of an SUV, with the comfort and handling of a sedan. Its design emphasizes a balance between performance, efficiency, and passenger comfort, making it a popular choice for families and individuals alike.
How Many Miles Do Ford Escapes Last
Ford Escapes earn a reputation for their durability, often lasting for over 200,000 miles with regular maintenance. Some owners even report their Escapes exceeding the 300,000-mile mark. However, individual experiences can vary, and factors such as driving conditions, maintenance habits, and the specific model year can impact the vehicle's longevity.
How Long Is a Ford Escape
The length of a Ford Escape can vary slightly depending on the specific model year. However, as of writing, most recent models measure approximately 180 inches in length. This makes the Ford Escape a compact SUV, offering a good balance of interior space and easy maneuverability.
Is Ford Escape Reliable
Most consider the Ford Escape a reliable vehicle, often earning above-average scores in many consumer reliability ratings. However, like any vehicle, its reliability can vary by model year and can be significantly influenced by factors such as maintenance habits, driving conditions, and usage.
How Long Do Fords Last
Ford vehicles, on average, earn a reputation for their durability and longevity, often surpassing 200,000 miles with the right care and maintenance. Some Ford models, particularly those with diesel engines, can even exceed 300,000 miles. However, the lifespan of a Ford vehicle can vary significantly depending on the specific model, the maintenance habits of the owner, and the driving conditions it encounters.
How to Join Ford Ecoboost Class Action Lawsuit
Joining a class action lawsuit usually requires getting in touch with the law firm that's handling the case. You can typically find information about ongoing class action lawsuits against Ford, including those related to the Ecoboost engine, through a simple online search. The law firm's website should have instructions on how to join, which might involve filling out a form or contacting them directly. However, in some cases, if you are an affected owner, you may be automatically included in the lawsuit and would be notified accordingly.
What Year Ford Escape to Avoid
People generally regard the Ford Escape as a reliable vehicle, but some model years have more reported issues than others. For instance, several complaints have been made about engine and transmission problems in the 2013 Ford Escape. Therefore, prospective buyers should exercise caution when considering this specific model year. We always recommend conducting thorough research and inspection before purchasing any used vehicle.
What Does a Ford Escape Look Like
The Ford Escape is a compact SUV, often characterized by its sleek and modern design. It generally features a bold front grille, stylish headlights, and a streamlined body shape. Inside, the Escape offers a spacious and comfortable interior with advanced technology features. Its exterior and interior designs can vary somewhat depending on the specific model year, so it's best to look up images or view one in person for the most accurate impression.
Are Ford Escapes All Wheel Drive
Ford Escapes come with either a standard front-wheel drive or an optional all-wheel drive, depending on the trim level and the model year. Ford's Intelligent 4WD System, available in some models, can provide additional stability and traction in different driving conditions. However, not all Ford Escapes are equipped with this feature, so it's crucial to check the specifications before purchasing.
What Year Ford Focus to Avoid
The 2012 Ford Focus has been reported to have significant issues, primarily with its automatic transmission. Many owners have lodged complaints about this model year, citing problems like shuddering, hesitation, and even total transmission failure. As such, it might be wise for potential buyers to be cautious about purchasing a 2012 Ford Focus.
What Year Ford Edge to Avoid
The 2011 Ford Edge has received numerous complaints from owners, particularly related to issues with the electrical system and the vehicle's interior accessories. As such, it may be advisable for potential buyers to be cautious when considering a 2011 Ford Edge. Thorough inspection and research are crucial before any used vehicle purchase.
How Much Is a 2013 Ford Escape Worth
The value of a 2013 Ford Escape can vary greatly depending on factors like mileage, vehicle condition, location, and the vehicle's history. As of writing, you could expect to see prices ranging from around $7,000 to $12,000 in the used car market. However, it's best to check reliable online automotive marketplaces or use vehicle valuation tools for the most accurate and current pricing information.
Do Spark Plugs Break Windows
Yes, you can use the ceramic part of a spark plug, also known as an insulator, to break car windows if you strike with enough force. The ceramic material's physical property can cause tempered glass to shatter upon impact. However, you should only do this in emergency situations as it can be dangerous and many areas deem it illegal if used for wrongful purposes.
How to Start Ford Escape with Key
To start a traditional key-start Ford Escape, you insert the key into the ignition and turn it clockwise to the 'Start' position. After the engine ignites, release the key; it should automatically return to the 'On' position. If your Ford Escape comes with keyless ignition, ensure you have the key fob inside the vehicle. To initiate the engine start, press the brake pedal and push the engine's start-stop button simultaneously. Always remember that the specific starting procedure might vary slightly depending on the vehicle's model year and the type of key system in use. Always refer to your vehicle's owner's manual for the most accurate information.
What Is the Biggest Problem with Ford Escape
One of the most commonly reported problems with the Ford Escape, particularly for some earlier models like the 2013 version, relates to engine issues. These can include problems with the coolant system that may lead to the engine overheating. It's worth noting that all vehicles can have issues and the incidence of these problems can vary based on factors like maintenance and usage.
How Much Is a 2014 Ford Escape Worth
The value of a 2014 Ford Escape can depend on various factors such as the vehicle's mileage, overall condition, location, and history. As of writing, prices in the used car market may range from approximately $8,000 to $13,000. However, for the most accurate pricing, check online car valuation tools or reliable automotive marketplaces.
Are Fords Bad Cars
Ford has a long history of producing reliable and well-loved vehicles. However, like all brands, some models and model years have proven to be more problematic than others. It's crucial to remember that the reliability of any vehicle can be heavily influenced by factors such as maintenance, driving habits, and usage. Researching specific models and years can provide a clearer picture of a particular Ford vehicle's reliability.
Is the 2012 Ford Escape a Good Car
People generally received the 2012 Ford Escape well for its strong performance, comfortable ride, and spacious interior. However, like any used vehicle, its condition and reliability hinge on the previous owners' maintenance levels. Some owners have reported issues with the vehicle's transmission, so potential buyers should ensure a thorough pre-purchase inspection.
How Much Is a 2010 Ford Escape Worth
The price of a 2010 Ford Escape can vary depending on its mileage, condition, location, and history. As of writing, you might expect to find prices in the used car market ranging from about $6,000 to $9,000. For the most up-to-date and accurate pricing, it's best to refer to trusted car valuation websites or online automotive marketplaces.
Is Ecoboost Good
People praise Ford's EcoBoost engines for delivering good fuel efficiency without compromising performance. These engines harness a combination of turbocharging and direct fuel injection to generate more power from a smaller engine displacement. However, as with any engine, some owners report issues, and factors like maintenance and driving habits can influence the engine's longevity.
How to Jumpstart a 2014 Ford Escape
To jumpstart a 2014 Ford Escape, you'll need jumper cables and a second vehicle with a functioning battery. Start by connecting the positive (usually red) cable to the positive terminal of the dead battery, then do the same for the functioning battery. Next, connect the negative (usually black) cable to the negative terminal of the functioning battery. Connect the other end of the negative cable to an unpainted metal surface in the dead car's engine bay, away from the battery. Start the working vehicle, then try starting the Ford Escape.
Do Ford Escapes Have a Lot of Problems
Ford Escapes, like any vehicle, can experience problems. The extent and nature of these issues can vary depending on the model year, with some years reporting more problems than others. Some of the commonly reported problems include issues with the engine and transmission. However, many Ford Escapes run for many miles with minimal issues, especially with proper maintenance.
Why Are Fords So Unreliable
While it's not accurate to label all Ford vehicles as unreliable, certain models and years have had more than their fair share of problems. Issues can range from electrical glitches to more serious powertrain problems. However, it's crucial to note that Ford has also produced many models that perform well in reliability ratings. Factors such as maintenance, driving habits, and model-specific issues can greatly influence a vehicle's reliability.
Is the 1.5 EcoBoost a Good Engine
Ford produces the praised 1.5 EcoBoost, a turbocharged engine known for its blend of performance and fuel efficiency. A variety of Ford models use this engine, and most consider it reliable. However, its longevity and performance significantly depend on the vehicle's maintenance and driving style.
What Ford Engines to Avoid
Certain Ford engines have had more reported problems than others. For example, some older models experience head gasket issues with their 3.8L V6 engine. Reports also indicate that some Ford EcoBoost engines encounter problems with coolant leaks, potentially leading to engine overheating. However, many factors can influence an engine's reliability, including maintenance and usage, so it's always best to research specific models and years.