The letters "F.P." are frequently seen on license plates in certain states of the United States. This is not available in all states, and not everyone is aware of its significance. What does F.P. on a license plate mean then? Continue reading to understand what FP on license plate means, its functions, and which states in the US offer this facility.
"Fleet Plate" or "Fleet Permanent" is what the F.P. on a license plate denotes. On motor vehicles that are owned or leased by a company, an organization, or a government body, fleet permanent plates are issued. These include police forces, taxi firms, and bus companies. Illinois is one of the states in the US that offers F.P. plates.
FP License Plate
The letters "F.P." on some license plates stand for "fleet permanent," if you've noticed them. These are found on motor vehicles that are owned or leased by a government agency, a business, or an institution, such as taxicab firms, police departments, and bus companies.
In essence, cars bearing F.P. plates don't belong to specific people. Instead, they might be controlled by private companies, public agencies, or even nonprofit groups. These vehicles are frequently utilized for certain work-related tasks and are maintained by qualified mechanics.
The letters F.P. are not always used by U.S. states to designate fleet cars on license plates. Other states use a different acronym to differentiate between fleet vehicles and non-fleet vehicles. Find out which states in the US use F.P. and which ones do not by reading on:
FP On License Plate: Illinois Fleet License Plate
As already mentioned, Illinois-registered vehicles' license plates frequently bear the initials F.P. The letter F is positioned on the leftmost part of the license plate due to the way it is written. Then, directly behind it, is the letter P. Behind these characters, comes the vehicle's license plate number. Additionally, the topmost portion of the plate is centered with the word "Illinois."

FP On License Plate: Oregon Fleet License Plate
Many Americans mistakenly believed that Oregon also designates fleet cars with the letters F.P. on its license plates. This is false; the abbreviation used in this American state is P.F. In Oregon, P.F. stands for Permanent Fleet, whereas in Illinois, F.P. stands for Fleet Permanent.
Therefore, if you are from Oregon and own a fleet of automobiles, each of your vehicles will receive a set of unique license plates. Each plate starts with the initials P.F. and then has a number after it.
On the top of the plate, in the center, is the state's name. The phrase "Permanent Fleet" is written at the plate's base. This kind of plate has blue writing and yellow background.
FP On License Plate: Florida Fleet License Plate
In Florida, fleet vehicles are not referred to by the initials F.P. The license plates instead have a distinctive color. And the word "Fleet" can be seen at the plate's bottom, with the word "Florida" visible on top. The organization's name and logo must also be visible on every plate. They can then be easily recognized in this way.
FP On License Plate: California Fleet License Plate
A Permanent Fleet Registration (PFR) program is in place in California. Owners of fleets of vehicles can easily register each vehicle with the help of this program.
In California, a fleet vehicle does not have the letters F.P. or P.F. on it. The actual license plate is not painted with the characters. Instead, it comes as a sticker that must be adhered to the plate's upper right corner.
The sticker included information including the text "California Permanent Fleet". On the rightmost portion of the sticker, the letters PFR are inscribed vertically. You can find the serial number at the bottom (for more insight, check out our explainer on do catalytic converters have serial numbers).
FP On License Plate: New York Fleet License Plate
In New York, fleet vehicles are identified in a unique method. The type of vehicle is stated specifically on the license plate rather than the fact that the car is part of a fleet.
For example, a license plate with the term "commercial" at the bottom is used for commercial vehicles. For trailer trucks, the word "trailer" is also depicted there. The name of the state is also displayed on the uppermost portion of the plate, just like in other states.
FP On License Plate: Washington, D.C. Fleet License Plate
They have a Fleet Account Program in Washington, D.C. Owners can easily register their fleet vehicles because of this.
Fleet cars in Washington, D.C. do not carry the letters F.P. on their license plates. The word "Fleet," on the other hand, appears on the plate and is written in a distinct font from the rest of the text. This helps to easily determine if the vehicle is a fleet vehicle or not.
Fleet Registration
Does your company require multiple vehicles for making deliveries, visiting clients' offices, transporting equipment, and other purposes? Several factors determine whether leasing a car is better for you than buying one. Additionally, you can be qualified for fleet leasing programs that can help you save a lot of money if you need multiple cars or vans for delivery drivers or salespeople.
The benefits and ease of leasing a small fleet of cars, minivans, or pickups have never been greater. Businesses that purchase or lease 10 or more cars or trucks are considered commercial fleet buyers. They are issued a fleet registration number (obtained through the dealer), giving them access to all readily available fleet incentive programs offered by manufacturers and dealers.
There is a lot of similarity between fleet registration and apportioned registrations. However, they differ slightly. Fleets are used for business; they carry out a company's in-state operations (Intrastate). A commercial vehicle is also known as an apportioned vehicle if it frequently travels across state lines (Interstate).
Typically, a fleet consists of trucks or vans, but depending on the client's industry, they may also register passenger cars, limousines, ambulances, taxis, buses, and other types of vehicles under a fleet registration.
Keeping track of each vehicle's specific renewal date might be a problem if commercial vehicles are registered individually. By using a fleet registration, you may simplify the complicated process of renewing your business vehicles into a single annual invoice that renews in the month of your choice.
By registering your vehicles under a single fleet, you can opt to receive a single invoice detailing all of your vehicles. This is much more convenient than renewing applications for each individual vehicle at various times.
License Plate
The term "vehicle registration plate" or "license plate" refers to a metal or plastic plate used to identify a car, truck, trailer, or other motor vehicle. All nations need road vehicles, such as cars, lorries, and motorbikes, to have registration plates. Depending on the jurisdiction, they might also be needed for other types of vehicles like bicycles, boats, or tractors.
In the vehicle registry of the issuing region, the registration identifier—a numeric or alphanumeric ID—uniquely identifies the car or its owner. In some nations, the identifier is exclusive to the entire nation, whereas, in others, it is exclusive to a particular state or province.
Department of motor vehicles, an agency of a state or territorial government, or in the case of the District of Columbia, the district government, issues license plates in the US. They are also referred to as vehicle registration plates. Certain Native American tribes are also entitled to issue license plates.
The U.S. federal government issues plates for its own fleet of cars and the cars of foreign diplomats only. Diplomatic license plates were provided by the state where the consulate or embassy was situated until the 1980s. Symbols, colors, or slogans connected to the issuing jurisdiction are frequently incorporated into the designs of license plates.
Vanity license plates can contain up to eight characters in some places. However, most standard license plates for passenger cars have six or seven characters. Within the state, license plate number formats are uniform. For instance, Delaware's low population allows for the usage of six-digit, all-numeric serial numbers.
State License Plates
The issuing jurisdiction's emblems, colors, and slogans are frequently featured in plate designs. Formats for registration numbers, which are primarily alphanumeric, are created to offer enough distinctive numbers for all the cars that a jurisdiction anticipates registering. Non-passenger vehicle license plates typically feature a unique design, including a unique numbering scheme.
Several states, especially those with larger populations, use seven-character formats with three letters and four digits. These states include California (1ABC234) and Georgia (ABC-1234, with or without a space or dash), Michigan, Mississippi, New York, North Carolina, Ohio, Pennsylvania, Tennessee, Texas, Virginia, Washington, and Wisconsin.
For instance, California uses the seven-character format 1ABC234, whereas numerous other populated states use the seven-character format ABC-1234 or AB-12345. The minor states of Delaware and Rhode Island are also permitted to utilize formats of 123456. Other layouts include those that incorporate a county code system or the month of expiration into the plate number (such as Idaho vehicle registration plates).
Many American states use recognizable color schemes and emblems to distinguish their license plates, and these features sometimes last for years. For instance, Wyoming's license plates have had the cowboy symbol that is frequently associated with that state consistently since 1936.
Some early Tennessee plates were made to resemble the state's parallelogram shape. Since 1939, the phrase "Grand Canyon State" has appeared on Arizona's license plates. Also, from 1954 onwards Illinois' license plates have proclaimed the state to be the "Land of Lincoln". Since 1982, North Carolina's license plates have spelled out the phrase "First in Flight."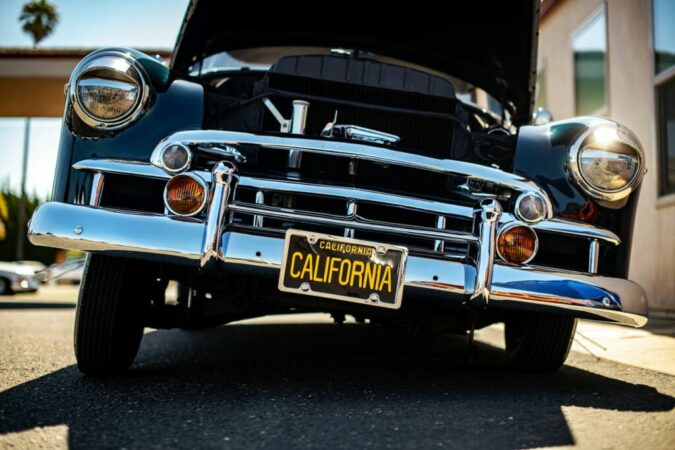 Illinois License Plate
The Illinois license plate consists of an aluminum plate with characters and registration numbers assigned to the vehicle. According to the Illinois Vehicle Code, the license plate is the property of the driver of the vehicle and cannot be transferred to another person.
After registering a vehicle with the Secretary of State, a license plate is obtained. Within 30 days of purchase, all newly purchased automobiles must be registered. Applications for vehicle registration can be submitted online, via mail, or in person. The list of SoS locations for in-person applications is provided by the Secretary of State.
For the duration of the license plate application process, newly purchased automobiles are issued a temporary license plate. The temporary license plate is only renewable by the Secretary of State and is only good for 30 days.
The license plate belongs to the original owner and can be moved to another vehicle the owner buys even if the car is sold. All automobiles in Illinois are required to have two license plates attached to the front and back of the vehicle. However, motorcycles, trailers, semi-trailers, mopeds, autocycles, and truck tractors, are excluded which only needed to have one plate.
The 16th president of the United States, Abraham Lincoln, is depicted on the official Illinois license plate along with the words "Land of Lincoln,". This is compulsory unless the Secretary of State expressly permits something otherwise. The following details are included on the typical passenger license plate-
Issuing state – Illinois
Month and year of issuance
Inscription "State of Lincoln"
Combination of alphabets and numbers, e.g., AC 32441
The image of Abraham Lincoln in the background
Passenger License Plates vs. Commercial License Plates
The standard license plates given to citizens for personal use are known as passenger license plates. Those used for business purposes, such as buses, taxis, liveries, and commercial trailers, are given commercial license plates. At the far right of commercial license plates, one or two alphabets designate the kind of commercial vehicle that is being mentioned. Among the alphabets used are-
CV – Buses, taxis, funerals, charity
LY – Delivery (for-hire)
D – Truck, trailer, semi-trailer, tow truck
Illinois License Plate Renewal
The Illinois Vehicle Services Department in the Secretary of State's Office registers and renews license plates. Prior to the vehicle's registration expiration date, the Secretary of State may mail or email notices of registration renewal. The owner of the car is in charge of keeping track of the expiration, though.
The owner of the car has several options for renewing license plates: mail, touch-tone phone, internet, or in person at a Secretary of State office. One month before the expiration of the present registration, license plate renewal can be started.

Illinois License Plate Lookup
Anyone in Illinois can conduct a license plate lookup to see who owns a certain license plate and what car is currently linked to it. The department of Illinois Vehicle Service offers a license plate lookup service. A number of third-party websites offer the license plate lookup function for free, while some charge a fee.
Through a phone number lookup or a search of Illinois's vehicle service records, the information from the lookup can be utilized to locate the owner of the car. A trustworthy alternative for finding license plate information is using third-party aggregate websites. These websites are run by independent organizations that compile data from government repositories.
It is frequently simpler to obtain records from these websites than through the government. To access the relevant record, requestors might need to submit any data needed to speed up the record search and pay any fees necessary.
Illinois license plate lookup is a process using a license plate search tool to find information about a vehicle by inputting its license plate number. License plate lookup offers particular details on a car. This includes the current owner, the date of the most recent renewal, the condition of the vehicle, and any liens that may be attached.
It is useful when buying a used car as it gives some background on the model's history and attributes. In a license plate lookup, one can discover information including the following-
Owner information within legal limits
Vehicle title information
Vehicle registration
Driver's criminal history
Vehicle Description
Vehicle History
Illinois FP License Plates
An Illinois government organization or business may lease or possess a permanent fleet plate under the designation "FP" in Illinois. The letter F is set on the license plate's leftmost side, while the letter P is directly beneath the letter F. Illinois's state name is centered at the top of the plate.
FP stands for fleet plate, which can be obtained by public utilities, car rental firms, taxicab companies, police departments, and public transportation providers. To transport sales reps to clients or deliver goods to customers, many businesses buy or lease fleet vehicles.
Fleet management software is used by the fleet manager or transport manager to manage vehicles. Additionally, a Fleet Management System, or FMS, can be used to connect vehicles to a fleet telematics system.
Illinois Vanity Plates
A unique, specialized vehicle registration plate for a car or other vehicle is called a vanity plate or personalized plate. The car owner pays extra to have the numbers or letters of their choice, typically depicting a well-known saying, slogan, or abbreviation, on their license plate. In North America, vanity plate sales are frequently an important source of income for state and provincial licensing organizations.
Every state and the District of Columbia in the United States, along with all but two provinces in Canada, issue vanity license plates. Vanity plates come in certain states with different color schemes and styles, like British Columbia.
The distribution and issue of personalized and unique vanity license plates are under the control of the Illinois Secretary of State. In Illinois, you can check the Pick a Plate website to see if your desired license plate lettering is offered.
Online orders for customized license plates in Illinois might take up to 45 days to produce and ship. Only registered owners are permitted to order license plates, and the plate you acquire must be subsequently registered to an Illinois-registered vehicle.
FP On License Plate: In Conclusion…
A vehicle's license plate will display letters and/or numbers regardless of whether it is a part of a fleet account. All automobiles have serial numbers that are special and distinctive. However, in order to be recognized by fleet cars, their license plates carry additional information.
The letters F.P. can sometimes be seen vertically. Then there are those with the P.F. letters which are also positioned vertically. The details vary depending on the state. The license plate specifically mentions the term "fleet." However, other states like it to be even more detailed, with "Permanent Fleet" printed on the plate.
Some states take it even more literally. For instance, the license plate of what looks to be a trailer truck has the word "trailer" on it. Also, there are commercial automobiles with "commercial"-designated license plates. The bottom line is that each state has a unique system for classifying fleet vehicles based on their license plates.
Once more, what does F.P. on a license plate mean? F.P. stands for Fleet Permanent on a license plate. Specifically, police cars, taxicab firms, and other organizations or companies-owned vehicles have F.P. printed on them.
FAQs On FP On License Plate
Can You Look Up License Plates
Yes, you can uncover a limited amount of public records linked to license plate owners, vehicles, vehicle details, vehicle history reports, and vehicle descriptions. You can also obtain details about recalls and safety on the NHTSA website. By using online resources for license plates, you can avoid having to go to the DMV and stand in line.
How Many Letters On A License Plate
Vanity license plates can contain up to eight characters in some places. However, most standard license plates for passenger cars have six or seven characters. Within the state, license plate number formats are uniform.
What State Has Yellow License Plates
The New York license plate is one of the US license plates that are more widely recognized. The plate is quite plain, with a yellow background and black writing. Along the bottom, it just says Empire State. Also, Alaska's license plates resemble New York's quite a bit. The state flag is depicted in the center, and it has a yellow background with dark blue text.
How To Find License Plate Number
Use the Vehicle Identification Number to locate a license plate number (VIN). You can also look for other papers that you have, including your insurance card, title, or car registration. As an alternative, you can go to your neighborhood motor vehicles department and show the required documentation to get the license plate number.
What Does FP Mean On A License Plate
FP stands for fleet plate, albeit not all states handle it in the same way (or at all). This indicates that a business or other type of organization owns the vehicle it is on. Even so, it might be a rental. Rental automobiles registered in certain states receive fleet plates.
Can You Find Someone By Their License Plate Number
The owner of a car can, in fact, be identified by its license plate. This is what? If you don't have a compelling purpose to obtain the information, it can be more difficult than you imagine. If you are in a hit-and-run accident and report it to the authorities, law enforcement will help you collect the information.
What State Has Green License Plates
The slim and green design of Vermont's license plate is suitable given that 78% of the state is made up of forests. Alaska has preferred yellow and blue plates while other states and territories, like California and Virginia, offer more straightforward designs. These frequently come with a white backdrop and minimal ornamentation.
What Happens If You Don't Return License Plates Florida
If you don't return your license plate when you sell your car and don't transfer it to a new car within a maximum of 30 days, your driver's license will be suspended.