An Estate With More Elbow Room
The new E-Class Estate from Mercedes has rolled onto the stage boasting a substantial increase in width, with a growth of 28mm compared to its predecessor. This means more elbow room, specifically up to 1519mm in the rear. The wheelbase has also been lengthened by 22mm to reach 2961mm, providing more leg and knee room for backseat passengers.
In terms of cargo capacity, you can expect an impressive 615 litres, which can be expanded to 1830 litres. If you opt for the plug-in hybrid model, you can look forward to a generous luggage capacity of 460–1675 litres.
Sporty and Stylish Design
While it holds a more dynamic roofline compared to its predecessor, the new E-Class Estate once again impresses with functionality and load compartment volume. The overall appearance of the car, bolstered by the progressive rear window design, combines tradition with modernity.
The front of the vehicle features a black, high-gloss panel-like surface, connecting the radiator grille with the headlamps, evoking visuals reminiscent of the Mercedes-EQ models.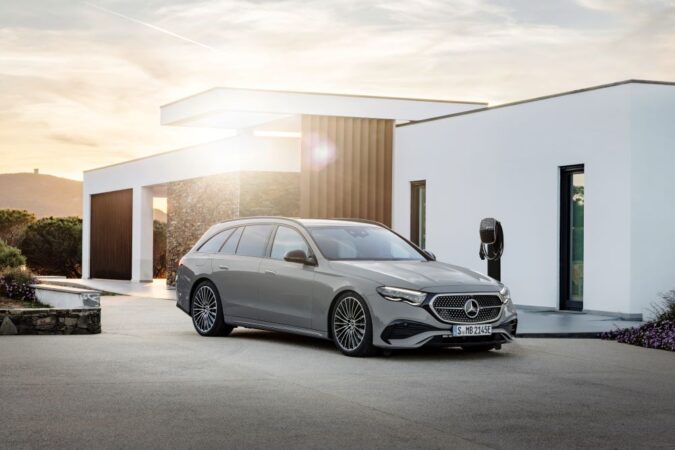 MBUX Superscreen: The Digital Experience
Inside, the digital dashboard experience is a highlight. If you choose the optional front passenger screen, the large glass surface of the MBUX Superscreen extends to the central display. The main icons on the central and optional passenger displays are simpler and colour-coded to match smartphone tiles. With this, digital experience meets driver-friendly design.
More Software, Less Hardware
The E-Class Estate has pivoted towards a more software-centric architecture. Instead of relying on separate domains, the computing functions now occur within a single processor. Screens and the MBUX infotainment system share a new, highly capable onboard computer. This integration improves both performance and speed of the data streams.
Digital Vehicle Key and Sound Visualisation
The Digital Vehicle Key lets the E-Class Estate be started and locked with a compatible device such as an iPhone or Apple Watch. It even allows the vehicle owner to assign access rights to family members or friends and can be shared by up to 16 individuals.
The Active Ambient Lighting option comes with Sound Visualisation, allowing occupants to "see" music tracks and the sounds of films or apps. Rapid sequences of beats can trigger fast light changes, creating an immersive ambience.
Third-Party Apps and Smart Comfort Functions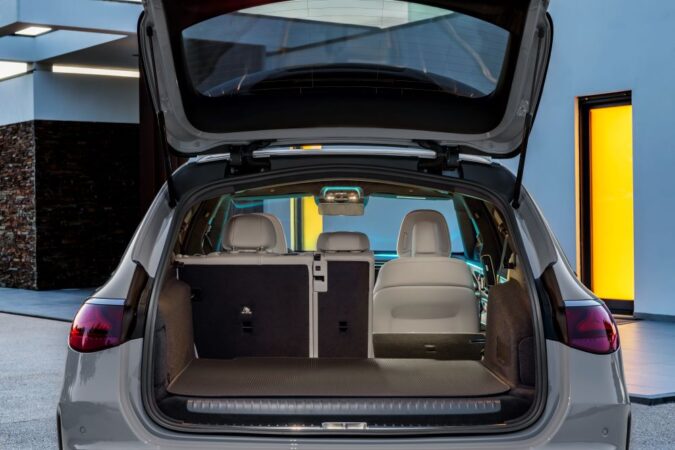 The new E-Class Estate features a compatibility layer allowing the installation of third-party apps. From the entertainment platform "TikTok", and the game "Angry Birds", to the office application "Zoom", and many more, it promises an interactive ride.
The use of artificial intelligence (AI) in the car means it learns which comfort systems are used repeatedly and can automate such functions. Mercedes-Benz refers to this innovation as 'routine', with templates available for standard routines at launch.
Efficient and Green
Committed to electrification and intelligent downsizing, the new E-Class sets new efficiency standards. Both the diesel and petrol engines feature intelligent support from an integrated starter-generator (ISG), classifying them as mild hybrids. A fourth-generation plug-in hybrid is also available at launch.
On the green front, many components of the E-Class Estate are made from resource-saving materials, including recyclates and renewable raw materials.
The new E-Class Estate brings together roominess, tech innovations, efficiency and environmental sustainability in a seamless blend, offering a truly progressive driving experience. Get ready for a unique blend of comfort, luxury, and advanced technology.