A Mighty Heart: The New Powerhouse on Wheels
If you're a fan of that unique blend of British charm and full-throttle exhilaration, hold onto your flat caps. The MINI John Cooper Works Countryman has rolled out its latest generation, and it's more spacious, stylish, and swift than ever before. This isn't just any MINI—it's the biggest in the family, and it's packed with a high-performance punch.
Behind the wheel of the new Countryman, you're in for a treat. With a 2.0-litre turbocharged engine under the bonnet, this car doesn't just promise an adrenaline rush—it delivers it, with 300 horsepower ready to gallop at your command.
And with the ALL4 all-wheel drive, you've got the grip and the grit to take the road less travelled, making this MINI a crossover that's not afraid to cross over to the wild side.
Sleek Meets Street: The Look of a Legend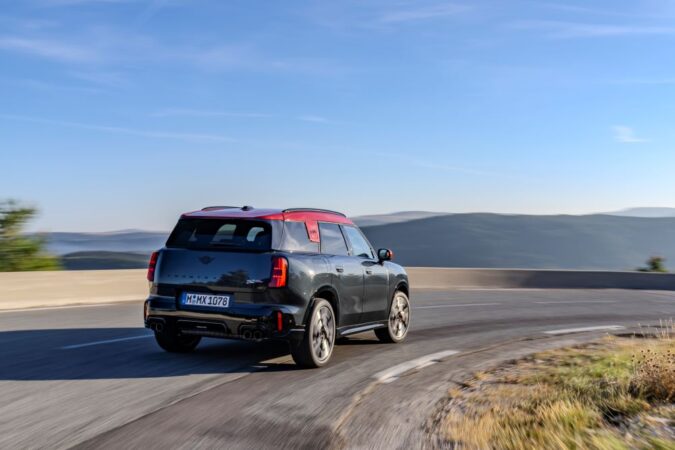 From the iconic MINI design team in Munich comes a car that's both a nod to its heritage and a leap into the future. The Countryman's silhouette is upright, exuding adventure and reliability without a word spoken. The John Cooper Works logo, reimagined with a crisp modern flair, sits proudly in its new tri-colour scheme on this sporty chariot.
What's more? This MINI is a wind-cheating wonder with a drag coefficient of just 0.26, helping it zip from 0 to 100 km/h in just 5.4 seconds. This isn't just driving; it's soaring on tarmac.
Driving Joy, Amplified
The Countryman isn't just about looks—it's about the visceral joy of driving. The standard all-wheel drive divvies up power with precision, and the high-performance brakes bring you to a stop just as smoothly as you started. And let's not forget the soundtrack to this drive, a booming exhaust note that's unmistakably MINI John Cooper Works.
Inside, it's a concert of engine sounds that elevate the experience, with a JCW sound extension that makes the start-up a symphony and the drive, an opera of horsepower.
Tech-Savvy Travels
Advanced driver assistance systems in the Countryman not only add to the comfort but also bring a touch of the future to your drive. With ultrasonic sensors and surround-view cameras, the Countryman offers partially automated driving, allowing you to take your hands off the wheel at certain speeds while still keeping you in control.
A Bold Statement on Any Terrain
The Countryman sports a bold look that matches its performance. Aerodynamic touches, new MINI LED headlights, and an octagonal grille set the stage for a car that's not just a means of transport—it's a statement. The C-pillar and contrasting roof in Chili Red give it a silhouette that's both sporty and sleek.
Racing at Heart
Step inside, and the interior's minimalist design with its racing DNA takes centre stage. The cockpit's clean layout, with a red and black colour scheme, is a tribute to MINI's racing roots. And with adjustable rear seats and a generous luggage compartment, this MINI is as practical as it is punchy.
The Ultimate MINI Experience
With the MINI toggle bar, every driving function is at your fingertips. The central OLED display brings a world of technology to your dashboard, complete with new MINI Experience Modes to tailor your drive to your mood.
So, for those looking for a car with the heart of a racer and the soul of an explorer, the new MINI John Cooper Works Countryman is a beacon of excitement. It's a MINI, sure, but it's also so much more. Buckle up—it's going to be an electrifying ride.