Crafted for Convenience: The Crafter's Fresh Cockpit
Volkswagen Commercial Vehicles have rolled up their sleeves and reimagined the Crafter, giving it a digital makeover that's set to keep it at the forefront of the commercial vehicle sector. The latest Crafter now boasts a cockpit that wouldn't look out of place in a sci-fi flick.
Think sleek new infotainment systems and a digital cockpit that's all about intuitiveness. Gone are the days of fumbling for buttons; a new free-standing display means everything you need is at your fingertips, literally. Plus, with new assist systems, the Crafter is like a trusty co-pilot for every journey.
Tech at Your Touch: The Digital Revolution
Tech lovers, rejoice! The Crafter's new infotainment system is a tech haven with its modular infotainment matrix. A dashing 10.3-inch display (with an even larger 12.9-inch option) sits proudly, awaiting your touch. This isn't just any display; it's free-standing, bringing a modern touch to the interior.
And it's not just about looks – the functionality is top-notch, with customisable tiles and touch sliders for a personal driving experience. Even the air-con and seat heating have gone digital, and let's not start on the voice control system – it's like chatting with an old mate who just gets you.
Steer and Command: The New Multifunction Steering Wheel
Drivers, the new multifunction steering wheel is set to be your new best friend. With just a tap of the View button, you can switch up the display to show what matters to you – speed, range, or that all-important playlist.
And the electronic parking brake? It's not just a fancy addition; it's a practical one, freeing up precious cabin space and easing movement inside the vehicle. The new selector lever echoes the ID. Buzz, bringing a slice of Volkswagen's electric future to the here and now.
Safety as Standard: Pioneering Assist Systems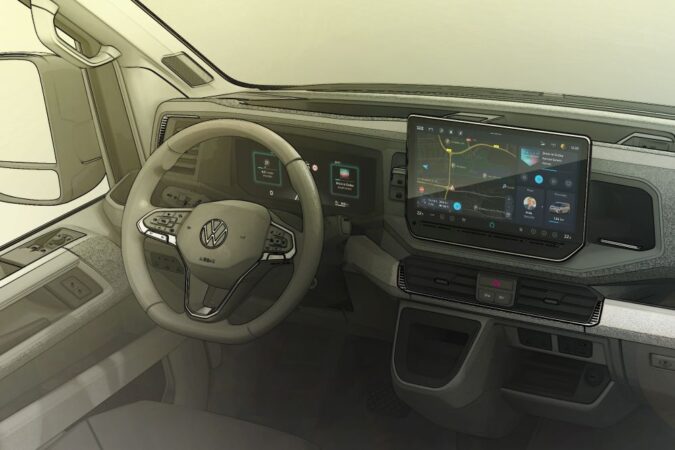 Volkswagen isn't playing around when it comes to safety. The new Crafter comes equipped with an arsenal of assist systems, including a blind spot information system that's vigilant about urban hazards.
Even moving off is less of a worry with systems in place to warn you of any pedestrians in your path. And for those who like a bit of tech with their safety, Travel Assist combines Adaptive Cruise Control and Lane Assist for a smoother, safer drive.
Versatile and Varied: A Crafter for Every Need
The new Crafter isn't just a one-trick pony. It comes in various shapes and sizes, from panel vans to campers and chassis. With different weight classes, wheelbases, and lengths, it's like a Swiss army knife on wheels. And power? The Crafter's engines are more than just efficient; they're robust, ensuring that whatever you haul, it's done with ease.
In short, the Volkswagen Crafter is getting a futuristic facelift, and it's not just about the looks. It's smarter, safer, and more intuitive, ready to tackle the demands of modern-day logistics with a digital edge. Pre-sales start in April 2024, so mark your calendars – the future of commercial driving is just around the corner.