When I say "restomod", I bet most of you are thinking of one word in response… "Singer". Over the years, Singer has been well-regarded as one of the finest makers of resto-mods in the world. While Singer only works on Porsches, it makes even the most unwavering of Porsche sceptics to dream and yearn of getting close to a Singer one day. Let alone have the chance to drive one.
Yet, while Singer has built countless fascinating and jaw-dropping restomod 911s in the past, it has yet to evolve into one particular body style… Cabriolets. Well, this is about to change now, following its introduction of the 964 Cabrio. This comes after they've been studying how they'd restore and modify a Porsche with forced induction, as part of their Turbo Study programme.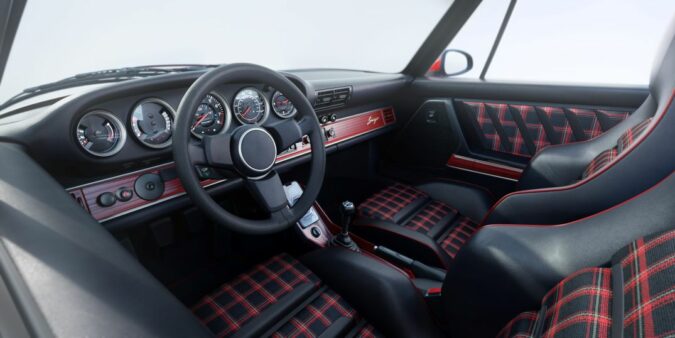 Open-Top Turbocharged Power
So, what have they learned? For one thing, their new 964 Cabriolet is very, very fast. Its engine has been mated with twin turbochargers. Alongside other mods here and there, this allows the 964 Cabriolet to output anywhere between 450hp to 510hp. Being a roadster, the rest of it was tuned with touring in mind, too. This includes the chassis, steering, suspension, and so forth.
Crucially, this Singer 964 is supremely lightweight. This is thanks to the extensive use of carbon fibre throughout its gorgeous bodywork. Which in this example, is painted in a beautiful shade of Cadiz Red. As a restomod, you'll note several modern touches while sitting inside. There's a proper A/C unit and wireless phone charger, contrasting wonderfully with bespoke wooden accents.