29 years… That's how long it's been since the very first Goodwood Festival of Speed was held. And for every single one of those 29 years, each occasion was always a blockbuster event for enthusiasts. It's fair to say that few could come close to being a literal mecca for every type of petrolhead imaginable. Whether or not you love 60s classics, supercars, rally racers, or wacky concept cars, they have it all.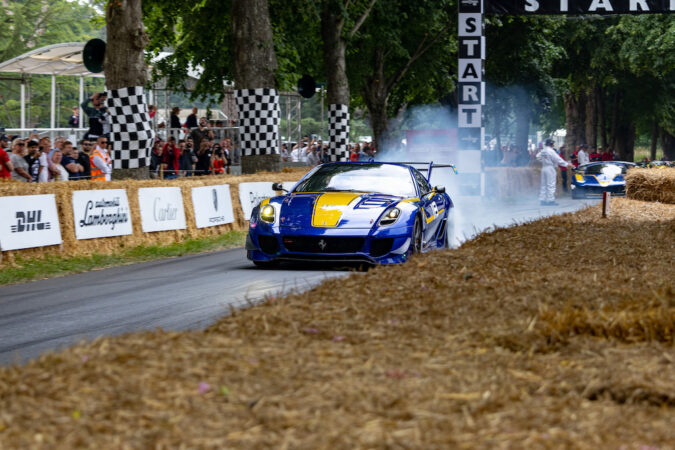 This year was an especially momentous time for the Goodwood Festival of Speed, with all the COVID-related calamities in the years prior. So, it's unsurprising that 2022's Festival of Speed was celebrated with a bang, featuring every spectrum of the automotive world combined. So, I picked up a camera, sharpened my pencils, and kept my eyes peeled to share with you what I saw in this year's FOS…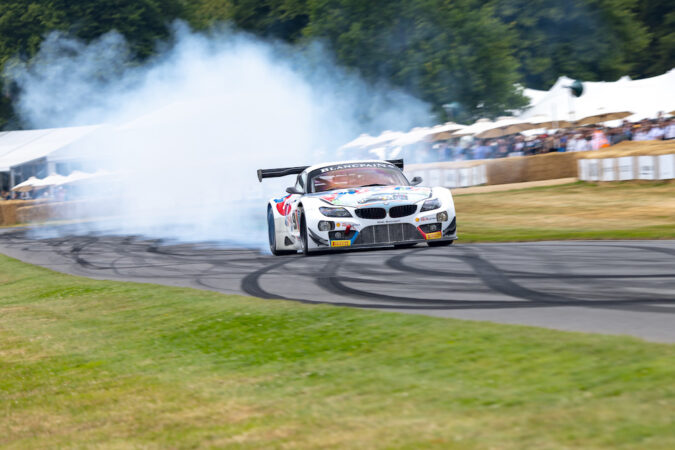 Super-Duper-Hypercars
As with every Goodwood Festival of Speed, supercars are a typical sight. After all, what more do you need to satisfy your inner 8-year-old than outrageous styling, uber-loud exhausts, coupled with more horsepower than a human reasonably needs. This year, however, there were some pretty fascinating highlights. For starters, the AMG Project ONE is finally here! Ah, how many decades has it been?
Well… More like 5 years, but that's quite a while in the car world. I guess Mercedes really bit a whole lot more than they could chew when they decided to put an F1 engine into a road-going supercar.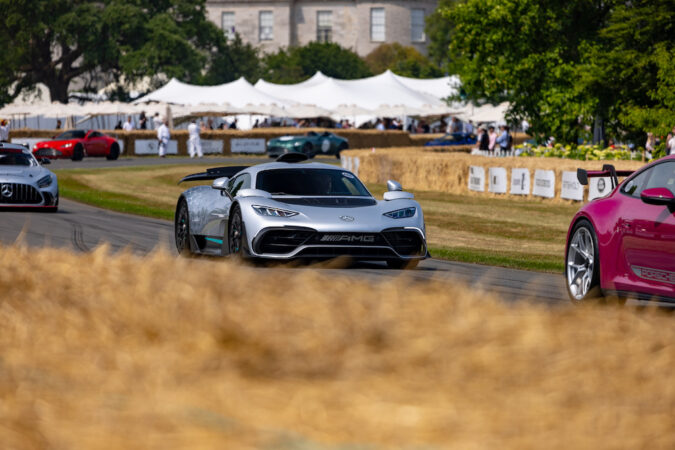 An AMG Project ONE made the rounds at Goodwood, and it seems that Mercedes is adamant that their F1-car-for-the-road is really close to production this time. Surprisingly, it's not even the maddest thing I saw.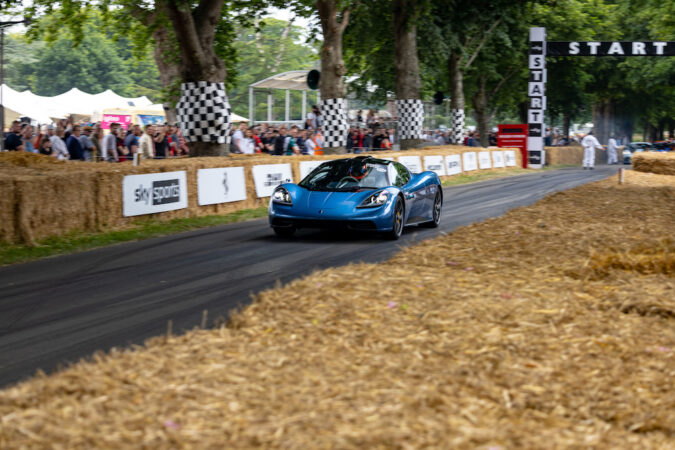 Though the Project ONE is undoubtedly super-cool, Gordon Murray's T.50 takes the cake for me. Put 12 cylinders and a manual gearbox together, and the only plausible result is automotive nirvana. It'll rock your soul apart too, with just how raw and unfiltered that V12 sounds. But, if you're a maximalist for displacement, no one does it better than Bugatti. I mean, who else here has a W16 engine?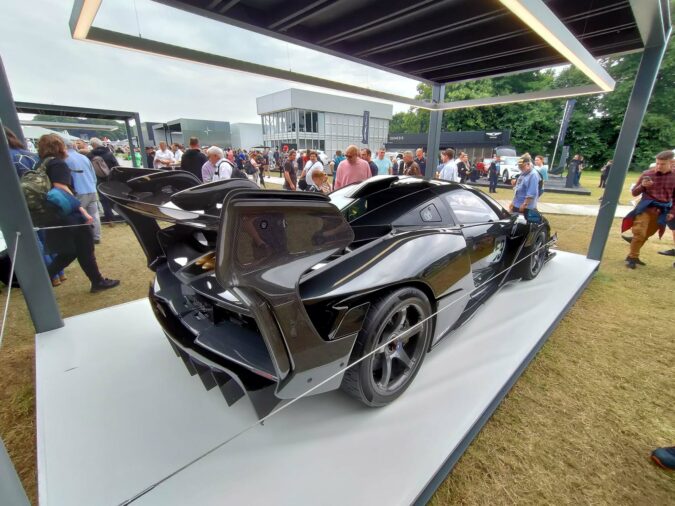 However, the old-school world of supercars is joined with the new, with such juxtapositions being a commonplace nature of Goodwood. One such example is the Czinger 21C. It's not every day that an American supercar enters the fray, but the 21C aims to square one off with the established players. It features a twin-turbo, hybridised V8, though we've covered it in more detail in a separate article.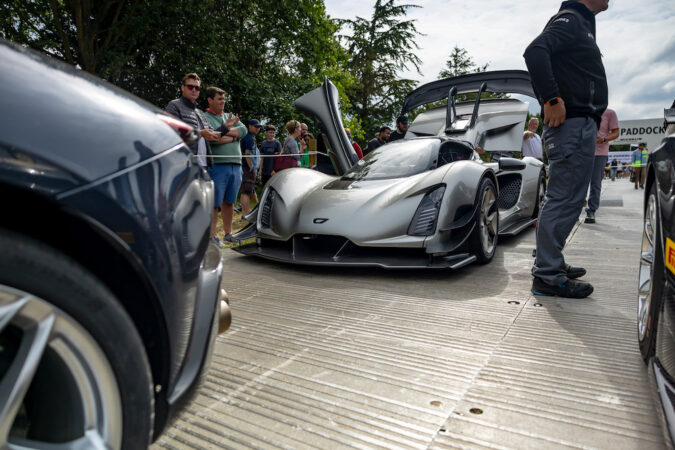 A Swarm Of McLarens
Speaking of supercars, let's head back in time to look at the super-fast machines that lit the world on fire back when most of you were younger. Cartier was at Goodwood, hosting their Style et Luxe lawn, and boy, did they have a lot of special cars. In particular, they had not one, not two, but six McLaren F1s! It's hard enough to find just one F1, let alone six, and with such a great variety of them, too.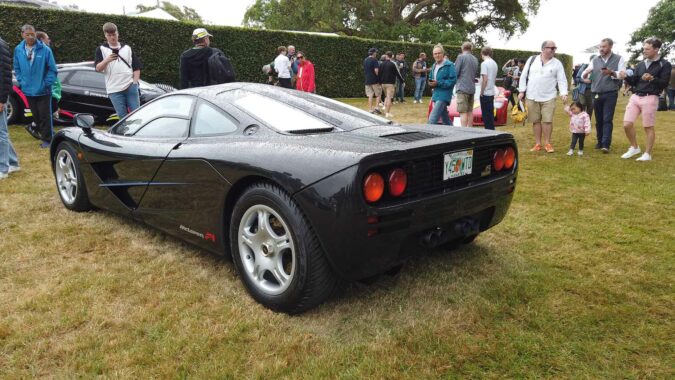 There were the regular F1s, flanked with an F1 GTR, and the iconic F1 Longtail. Not to mention, there was an aubergine F1 which was owned by none other than Rowan Atkinson himself. Fun fact, did you know that the McLaren F1's famed V12 engine was built by BMW? Few can match the high standards of Professor Gordon Murray, and rather fittingly, BMW had a jolly old time at Goodwood this year.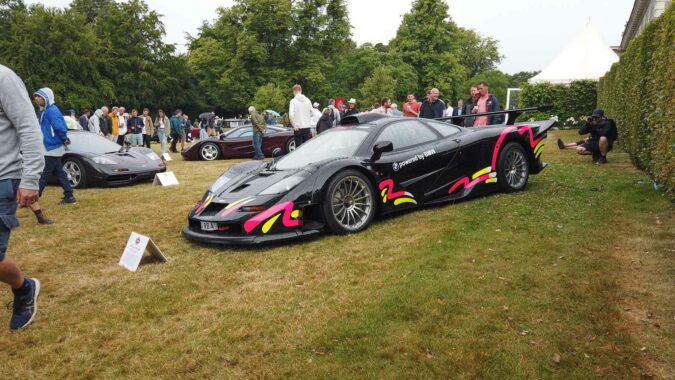 It's well-deserved, as BMW is celebrating 50 years of their legendary M Motorsports division. They've really rolled out the red carpet for this one, with an impressive central sculpture to commemorate all the joy that they've brought to enthusiasts over the five glorious decades.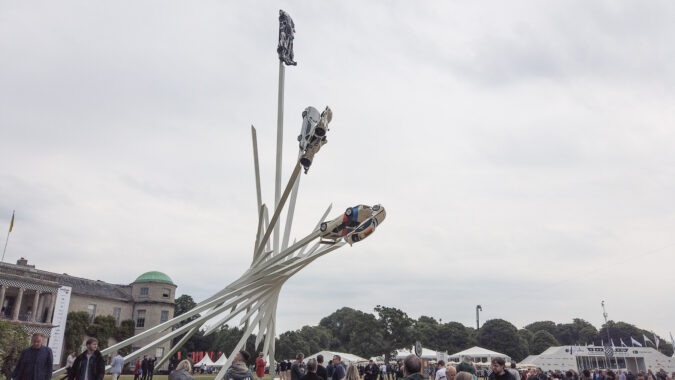 A few of their most special cars were at Goodwood, like the E9 CSL, M1 Procar, V12 LMR, and their latest endurance car.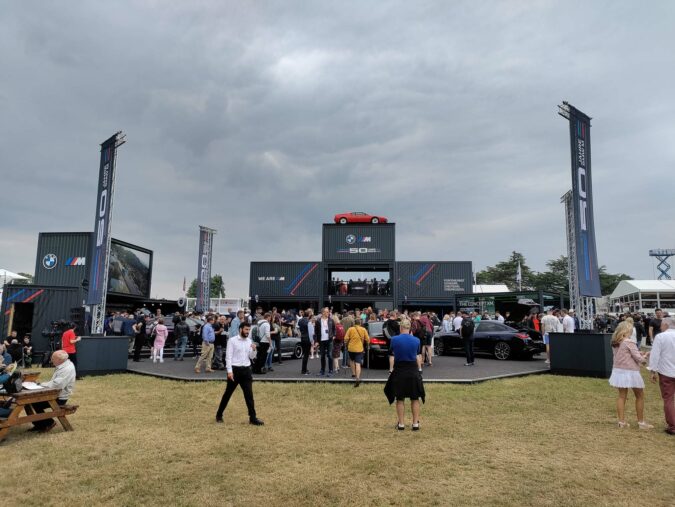 Since we're merging the past and present, I saw quite a few retro-futuristic projects that got me very excited. The Radford Type 62/2 makes an appearance once again. If it drives just as well as it looks, I think they're on to a winner. Should you prefer a more contemporary restomod, Prodrive finally showed off the P25. Just when you thought a Subaru 22B was awesome, try giving it more power, with less weight!
The World Of Motorsport Collides
Sticking with the racy theme, motorsport was a central focal point of this year's Goodwood Festival of Speed… As it's always been. Though, one might argue that it's even better this year because we'd been treated with the one and only, Nigel Mansell. But not only that, as the man with the moustache hopped into the seat of his championship-winning Williams FW14B for the first time in 30 years.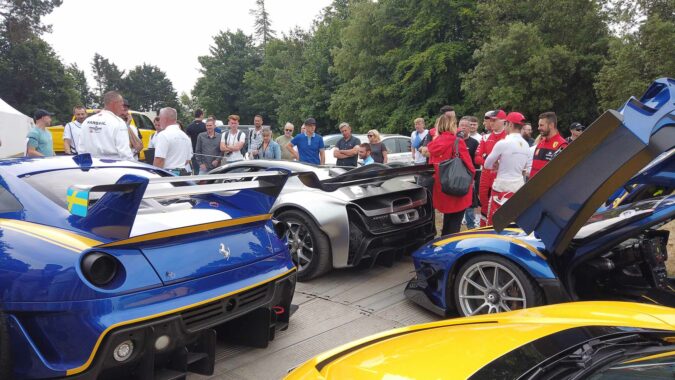 Anyone lucky enough to be at Goodwood might've noticed him rocketing it up the Hill, celebrating the anniversary of his win. It was quite the sight (and sound) to behold. Although, Nigel Mansell wasn't the sole racing driver at the Festival of Speed, as there were more there than I could count. Formula 1 showed up with its quartet, comprising the Mercedes, Ferrari, McLaren, and Williams F1 teams.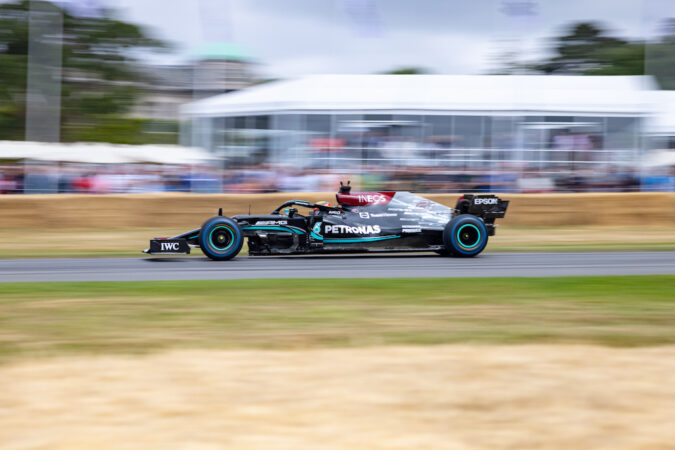 Goodwood's FOS is one of the few places in the world (not including Drive To Survive) where average joes and janes can get up close and personal with the machinery on show. Even George Russell and Zhou Guanyu were there to challenge the Hill, too. They're joined by a host of other racing drivers across all disciplines of motorsports, and throughout the various eras of racing altogether.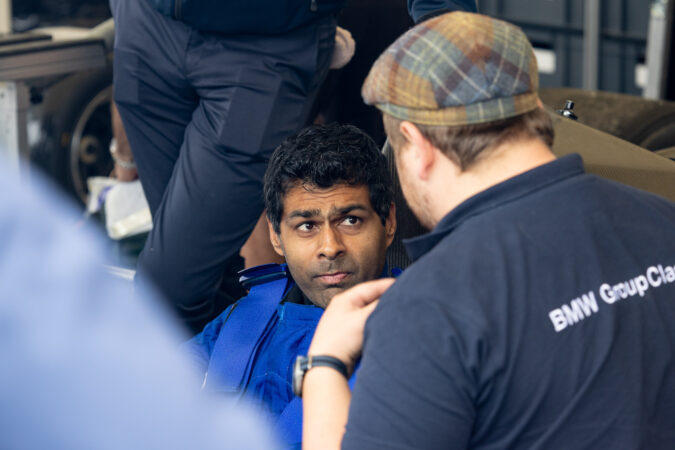 This included Sir Jackie Stewart, who's become quite a regular at Goodwood as of late. Other F1 stars were also there, such as Jenson Button, Mika Häkkinen, Damon Hill, and Mark Webber. Elsewhere, I caught glimpses of Dario Franchitti, Karun Chandhok, and Travis Pastrana. Then, there were Jamie Chadwick, Sophia Floersch, Tessa Whittock, and others representing the new wave of female racing drivers.
No Such Thing As Too Much Speed
But hey, let's keep at it and press on the racing theme for just a bit longer. After all, you couldn't spell Goodwood without S, P, E, E, and D. Pagani flaunted yet another bespoke spin-off of the Huayra, the so-called Codalunga. For those who don't speak the lingo, Codalunga translates from Italian to "long tail", and Pagani's latest, magnificent creation is just that… It's got a very long (and beautiful) tail.
Though besides the bodywork, it's still the same Huayra that we know and love, with a lot more horsepower to play around with. Porsche's presence at Goodwood is always grand, and it's still that way over the past weekend. They brought along the new 911 Sport Classic, which is apparently the most powerful 911 that you can buy with a manual. But what if you wanted an older 911, instead?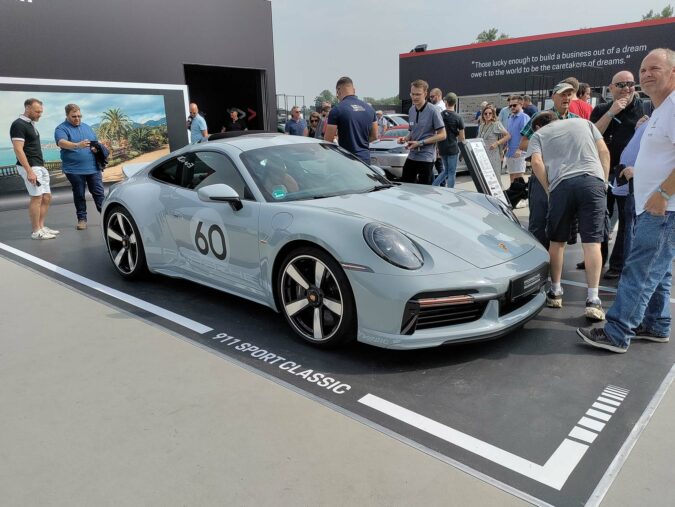 Well, lucky you, as Singer brought their Turbo Study prototype up onto the Hill. If you've ever wanted to relive the glory days of air-cooled turbos, Singer is one step closer to making that come true. Besides that, Porsche's new 963 was shown for the first time. It's the latest reveal among constructors vying to build the fastest and meanest Le Man hypercars yet, and who better to contest that than Porsche?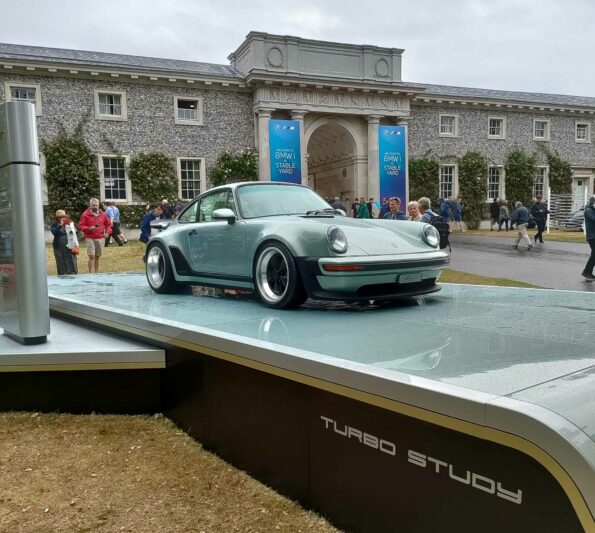 Being Goodwood, you'd sometimes find truly bizarre cars – in the best ways possible. Hispano-Suiza is officially brought back to life once more. And just to prove how serious they are, they brought along their new Carmen to show for it. Just as weird is the McMurtry Spéirling. Say what you want about its baby Batmobile-like shape, but just know that it blitzed the Hill in a record-breaking 39.08 seconds.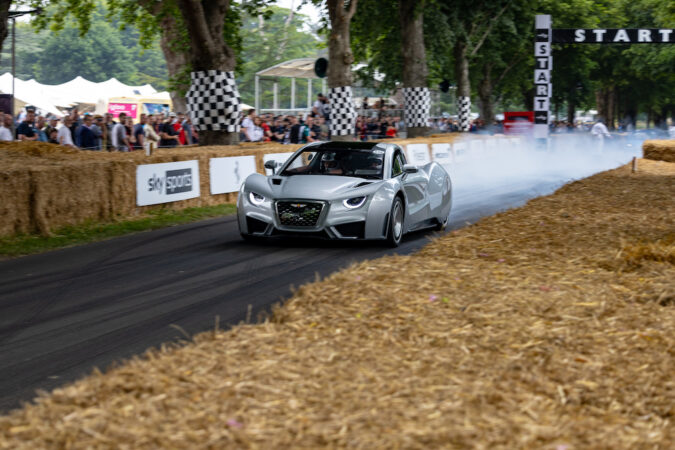 The Buzz Of The Future
The most amazing part about the Goodwood Festival of Speed is the sheer variety of cars. In contrast to all the mad and loud super-, hyper-, and race-cars that we've been gushing over, electric cars were keen to make themselves heard. Or at least, they tried doing that, but silently. Goodwood hosted the Electric Avenue, an exhibition of what you could expect electrification to be like by 2030.
Still, there are plenty of EVs there that you could go out and (hopefully) buy pretty soon. There's that brand new Lotus Eletre SUV which we covered not too long ago. And beside it, you'll find the ultra-cool Renault 5 EV prototype – definitely one of the best-looking EVs today. Polestar, meanwhile, had one of the largest stands at Goodwood this time around, with a sea of neat EV concepts.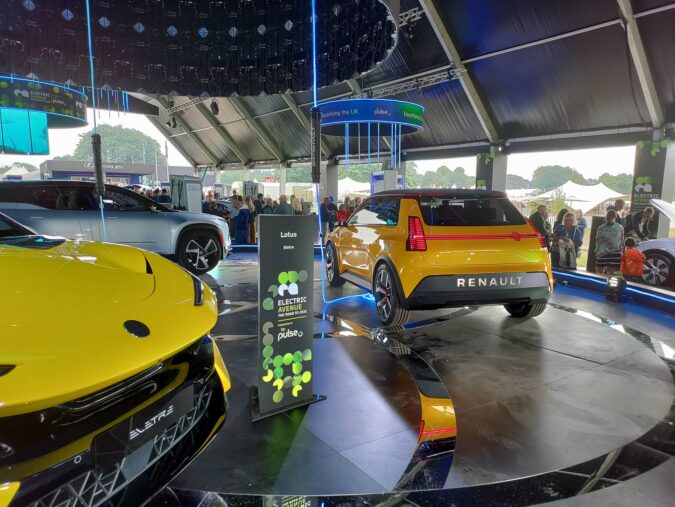 The highly camouflaged, Tesla Model S-beating Polestar 5 made its in-person debut for the first time in public. And, I got to see their O2 electric roadster concept, too. Alongside that, Polestar gave us a closer look at their Electric GT concept. Basically, a lot of concept cars, and I sincerely wish Polestar's brass would consider putting these into production someday. They're simply far too cool to ignore.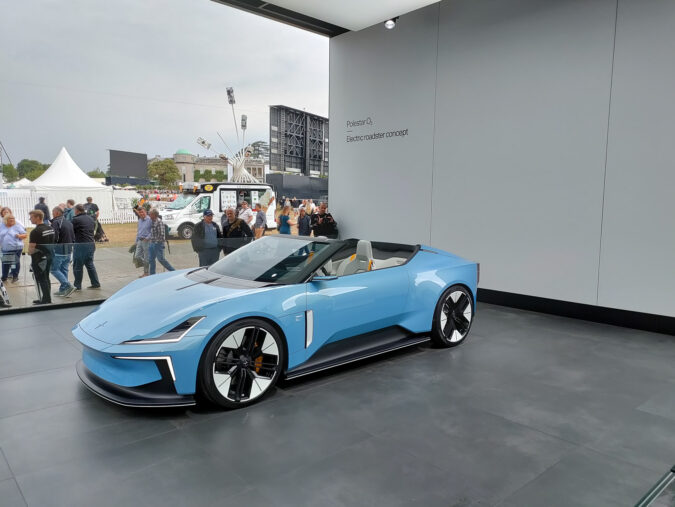 Another neat addition to Goodwood is their Future Lab event, showcasing the mobility and technology of the future. Who knows, maybe there'll come a time when you'd want a haptic suit before jumping off into the metaverse. There were other fun and inventive tech, like Interstellar Lab and its bio-domes to help sustain human life on other planets. Astronaut Tim Peake also paid a visit to Goodwood.
Back To The Present
But anyway, Goodwood isn't just a playground for supercars and racing, it's also a great place to head down to if you're interested to look at what's on the horizon. Or, if you want to get hands-on in a few of the cars that you might actually consider buying. Land Rover hauled along a bunch of brand new Defenders if you'd like to try one. Or, perhaps even give it a try on their off-road course.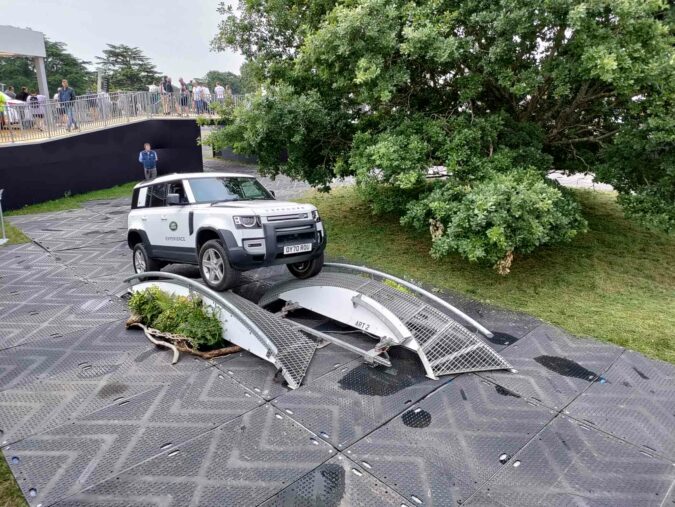 If you'd prefer something more left-field, Genesis had their entire line-up on display, including the big and imposing GV80 SUV. Their stand also had the G80 E, a luxobarge EV coming to a showroom near you pretty soon. If your budget is a little higher, Maserati's brand duality was quite apparent over the weekend. For those who like speed, its awe-inspiring MC20 supercar is sure to light your hair on fire.
All the while, Maserati is also showcasing their brand new baby crossover and hot-seller, the Grecale. Flying in all the way from America, the Lucid confirmed that they'll be entering the UK market, which is already jam-packed with EVs left and right. Perhaps, the Lucid Air may finally dethrone the mighty Tesla's Model S. But before it can do that, it has BMW to contend with and their new i4 EV.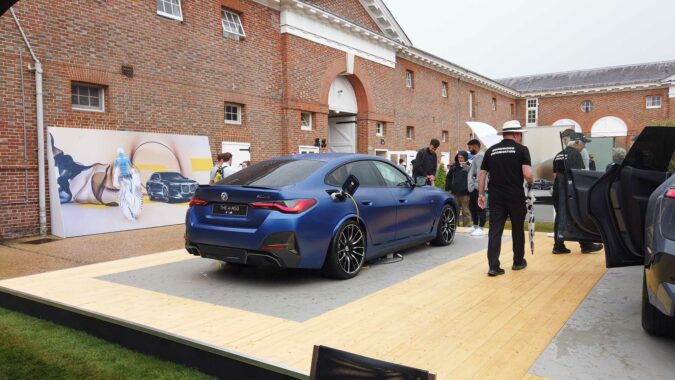 Also fresh off the press is McLaren's Artura. It's their first production plug-in hybrid, which has been in the works for some time now. Alas, the early prototype cars seemed to have been hit with some build quality issues, but McLaren promises to have them fixed right quick. They'd better hurry, as Ferrari's own plug-in hybrid supercar, the 298 GTB, is just right around the corner, and ready to eat its lunch.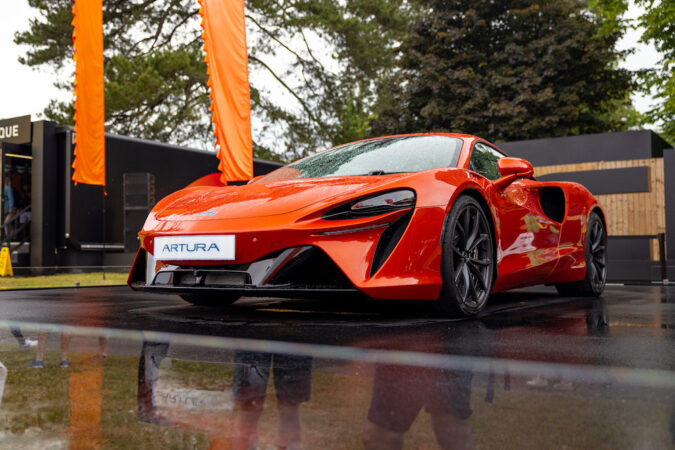 The Art Of Giving Back
You might not think that the Festival of Speed could be a place to experience wholesome exchanges, but you'd be dead wrong. Last weekend, Goodwood hosted the Race Against Dementia charity event, which was founded by our old friend, Sir Jackie Stewart. Among the fundraising efforts saw the RAF Lightning Rally Team pull an Impreza rally car across 29 entire kilometres, celebrating the 29th FOS.
That then goes to show the diversity on display that you'd typically find at every single FOS, with each year hard at work trying to outdo the previous one. On one corner, you'll find celebrities like Gordon Ramsay and David Beckham hanging out. While on the other, you could be in for a shouting match at the Bonham's auction, going head to head to see who'd get away with James Bonds' DBS.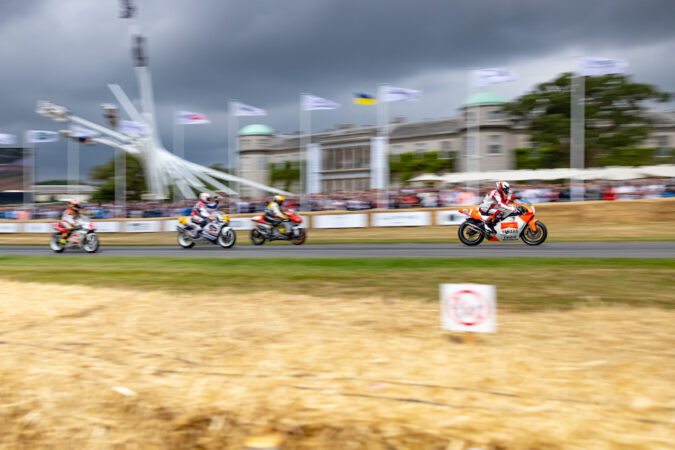 There was a lot more going on that I've yet to talk about. Like how Wayne Rainey sat atop the saddle for the first time in 30 years. Along the way, he'd wheelied and shot across the hill in his old Yamaha YZR500. At the other side of Goodwood, the Duke of Richmond himself sampled Zero Petroleum and their new synthetic petrol. This fossil fuel-free RON 95 may even one day make it to the pumps.
That'll just about round up my summary of some of the things I saw over this past weekend at the 29th edition of the Goodwood Festival of Speed. It's hardly a comprehensive recounting of events, given just how many cars, bikes and planes there were, with all the various shenanigans that went around in between. Nevertheless, perhaps that might just be enough to convince you to buy tickets for next year's FOS?