Meet the Most Powerful Four-Cylinder Lotus Sports Car
With a punchy 360bhp mid-mounted engine, the Lotus Emira sets a new standard as the most powerful four-cylinder sports car from the iconic British manufacturer. The car achieves blistering speeds from 0-62mph in a mere 4.4 seconds and peaks at a breath-taking 180mph.
What makes the Emira stand out, however, is the unique blend of power, responsiveness, and efficiency, thanks to its twin-scroll turbocharger, combined direct and port fuel injection system, and variable valvetrain.
Effortless Control with Dual-Clutch Transmission
The Lotus Emira introduces an eight-speed dual-clutch transmission, allowing for rapid, seamless gear changes. You can opt for the thrill of full manual control or the convenience of automatic shifts. Regardless of the mode you choose, the Emira promises a drive that's dynamic, swift, and fluid.
A Striking Addition to Lotus' Line-up
The Emira First Edition continues Lotus' tradition of lightweight, high-performance sports cars. It features a bespoke calibration that aligns with the Lotus ethos of delivering higher performance by reducing mass.
As the final mainstream combustion engine Lotus two-seater, the Emira holds a special place in the storied lineage of Lotus models, including the Elise, Esprit, Europa, Elan, and Elite. The Emira showcases Lotus at its best, blending performance and efficiency with a uniquely Lotus character.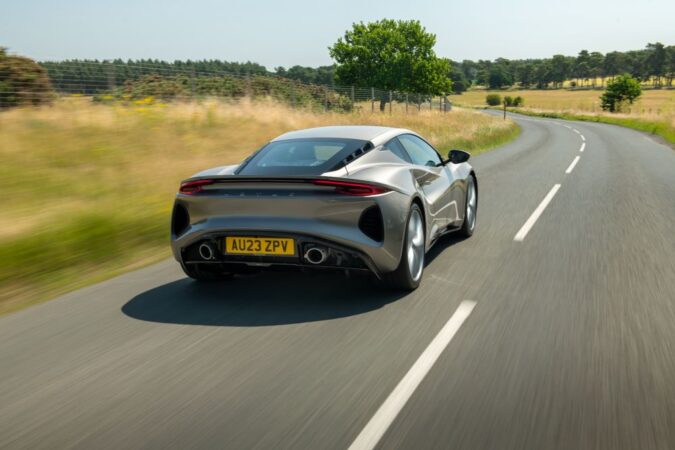 Powerful, Responsive, Efficient Powertrain
The Emira sports a 1,991cc engine designed exclusively for high-performance applications. It boasts features like a chill-cast cylinder block for high strength, an advanced 200-bar direct injection system, and a 'twin-scroll' turbocharger.
When combined with Lotus' unique intake and exhaust systems, the engine delivers an unparalleled balance of power, torque, and efficiency across its operating range.
Agile, Intuitive, Rewarding Vehicle Dynamics
Lotus engineers have worked meticulously to ensure the Emira continues the Lotus legacy of superior ride, handling, and steering characteristics. The Emira features a new lightweight cast aluminium rear subframe and a specially-developed tyre range, which provide the perfect platform for a dynamic and rewarding driving experience.
Aerodynamically Beautiful Exterior Design
The Emira's design brings unrivalled supercar desirability to the sports car segment. With striking proportions and an athletic form, the Emira exudes Lotus sports car DNA. The front is defined by full-LED headlights, angular bonnet ducts and sculpted doors that feature deployable handles for reducing drag.
It can be specified in a range of 13 colours, each one enhancing the Emira's dramatic, purposeful form.
Conclusion
The Lotus Emira V6 has already proved incredibly successful, and the introduction of the four-cylinder Emira adds a new dimension to the car's breadth of capability and appeal. It offers unprecedented levels of efficiency and accessibility, while continuing to deliver all the performance and agility that Lotus customers expect.
Whether you are a seasoned Lotus enthusiast or a newcomer to the brand, the Lotus Emira promises a unique driving experience that's authentically Lotus.