Whether you're looking to purchase a new or used Audi A4, you'll most probably get an impressive deal. The car has superb handling, user-friendly safety and technological systems, and a well-built cabin. However, the most typical 2011 Audi A4 problems that owners encounter with their car may indicate otherwise. Is the 2011 Audi A4 as luxurious and dependable as it appears?
Audi A4s have a depreciation rate of 49% after five years. This is a better score than most of its competitors. However, the reliability of some model years of the Audi A4 would be a major concern. Let's now see how good the A4 is and learn about it, especially about the 2011 model year.
Audi A4: History And Generations
The Audi A4 is a series of compact executive automobiles manufactured by Audi since 1994. Audi is a division of the Volkswagen Group and the A4 is based on the Volkswagen Group B platform. The A4 has been produced in five iterations. Also, fun fact, go check out our explainer on how to pronounce Audi.
The Audi 80 was a compact executive car produced by Audi in four versions, from 1966 to 1996. The first-generation A4 superseded this particular model. The A4 is treated as a continuation of the Audi 80 lineage by the automaker's internal numbering system. With the B5 series being the first, followed by the B6, B7, B8, and B9.
The Audi A4 has a front-engine configuration with transaxle-type gearboxes at the rear of the engine. The automobiles are front-wheel drive or "Quattro" all-wheel drive on select variants.
The Audi A4 is available in two body styles: sedan and station wagon. Historically, the second (B6) and third (B7) editions of the A4 were offered a convertible model. From the B8 generation onwards, Audi spun off the convertible, together with a redesigned coupé and 5-door liftback model. These were segmented into a new moniker called the Audi A5.
The A4 B8 and B9 models are based on the Volkswagen Group MLB platform. This one is shared by various Volkswagen Group cars and brands.
Audi A4 B8 Generation
The first official images of the B8 series A4 were revealed in August 2007. The car was unveiled to the public at the Frankfurt Motor Show in September 2007.
The Audi B8 A4 is based on a version of the Audi Modular Longitudinal Platform. This is also the platform utilized in the Audi A5 coupé. The MLP allows for a lower front overhang, resulting in a longer wheelbase without increasing the total length.
Previous A4 chassis were limited in wheelbase due to the interaction between the engine, transmission, and front axle. This effectively shifts the vehicle's center of gravity backward. This enhanced handling by better balancing the vehicle's mass between the front and rear axles.
The Audi A4's enlarged size gives it best-in-class rear legroom and trunk space. These factors gave it mixed reviews in the compact executive car sector. Its inline-4 2.0 TFSI engine, was efficient and capable of producing a lot of torque.
However, it was also criticized for being unrefined when compared to lighter 6-cylinder competitor engines. These stronger engines also offered faster acceleration times. The Audi S4 sports sedan, on the other hand, was praised for its V6 3.0 TFSI engine's power and economy.
2011 Audi A4
Over the years, the Audi A4 has evolved into a purebred performance sedan rather than a luxury compact sedan. The 2011 Audi A4 retains its racier look after a complete redesign in 2009. It offers a compelling driving experience, superb in-cabin technology, and, surprisingly, excellent fuel efficiency.
The 2011 Audi A4 sedan is available in North America only with a 2.0 TFSI gasoline engine. Premium, Premium Plus, and Prestige are the three model classifications offered with the 2011 A4.
The Audi A4 Quattro received an optional eight-speed automatic transmission in place of the previous six-speed automatic. This improved its fuel economy marginally. A 2.0-liter turbocharged four-cylinder engine powers every 2011 Audi A4. The engine makes 211 horsepower and 258 pound-feet of torque.
The 2.0T FrontTrak comes standard on the Premium and Premium Plus trim levels. This means that these models are equipped with front-wheel drive with a continuously variable automatic transmission (CVT).
All trims are available with the 2.0T Quattro. This configuration came with an all-wheel drive with either a six-speed manual or an optional eight-speed automatic transmission. The Avant is only available with Quattro and an automatic transmission.
2011 Audi A4 Problems: Audi A4 Reliability
The A4 receives a 3.5 out of 5.0 reliability rating from RepairPal. They placed it at 14th position out of 31 luxury midsize sedans. The A4's average yearly maintenance and repair cost is $739, which is about average for luxury sedans.
However, it is more expensive than other models. In comparison, the average cost of repairs and maintenance for other vehicles in the same class is $652. Owners of A4s rarely need to bring their vehicles in for unscheduled maintenance.
A4 owners take their sedans to the shop 0.4 times per year. This is fewer than the 0.6 times per year average for luxury midsize automobiles. The A4, on the other hand, has a 13% chance of needing a significant repair. This is slightly high compared to a standard 12% for all vehicle types.
Despite the issues described above, with good care and maintenance, the A4 B8 may be a dependable vehicle. Audi has resolved and recalled a lot of the concerns listed above. However, the extended warranty on some of the faults may be up for early model year B8s.
When it comes to overall reliability, we'd probably give the car an "average" rating. This is because faults grow more prevalent and frequent as these automobiles get older.
2011 Audi A4 Reliability
CarComplaints.com's model year comparison compares various model years of a car. According to this, the 2009 Audi A4 has the most complaints of any model year. It has been reported with 33 complaints in total. So this one may seem like an obvious model year to avoid.
However, Car Complaints ranks the 2011 A4 as the "Worst Model Year" with 22 complaints. This should come as no surprise, given that the 2011 model year has the worst-rated problems according to Car Complaints.
2011 Audi A4 Common Problems
2011 Audi A4 Problems: Carbon Buildup
The 2.0TFSI direct-injection engine used in the 2011 Audi A4 is prone to carbon buildup in the intake system. This could result in cause power loss, OBD errors, check engine lights, and rough idling in these cars.
Carbon buildup on your VW or Audi 2.0T FSI engine's intake valves is unavoidable. Because A4s use direct injection engines, gasoline does not flow through the traditional carbon-accumulation zones.
While this happens, it usually starts with random misfire codes when the car is cold. These are known as cold start misfires, and they will most likely get worse over time. You may also notice a reduction in your fuel mileage.
Both of these symptoms could be caused by an obstruction in the airflow inside your engine. This obstruction is caused by carbon buildup on the intake valve. This is why, in order to clean the intake system, experts recommend removing the intake manifold.
Cleaning Carbon Buildup In Audi Engines
The remedy is to remove the intake manifold and clean it professionally. Chemicals, wire brushes, picks, or a media blaster of some sort will be required to clean the valves (like sandblasting). Along with this the intake ports on the cylinder head and the intake valves, also have to be cleaned. This might be accomplished in as little as 20,000 miles.
Walnut blasting the intake valves is the most common and effective approach to decrease or clean carbon buildup. Crushed walnut pieces are blasted through the intake valves with pressurized air. This procedure will remove all carbon deposits and create the extra space required for optimal airflow.
Walnut blasting will necessitate the use of specialized equipment and will take approximately 4-6 hours. Even for a seasoned DIYer, it's not easy. Therefore seeing a mechanic is definitely the best option. Audi service centers usually charge around $1,500 for the service. However, some independent shops will get it done for less than $1,000.
2011 Audi A4 Problems: Excessive Oil Consumption
Excessive oil consumption is one of the most typical 2011 Audi A4 issues. The lack of oil in the engine results in major issues. Many drivers of this model year noted considerable vibration from their vehicles when braking. The majority of drivers indicated they had changed their engine oil several times. But their vehicles continued to consume oil at an alarming pace.
The root of the problem appears to be the piston rings. These piston rings enable small amounts of oil to escape around the pistons and into the cylinders. Here it burns, resulting in excessive oil consumption.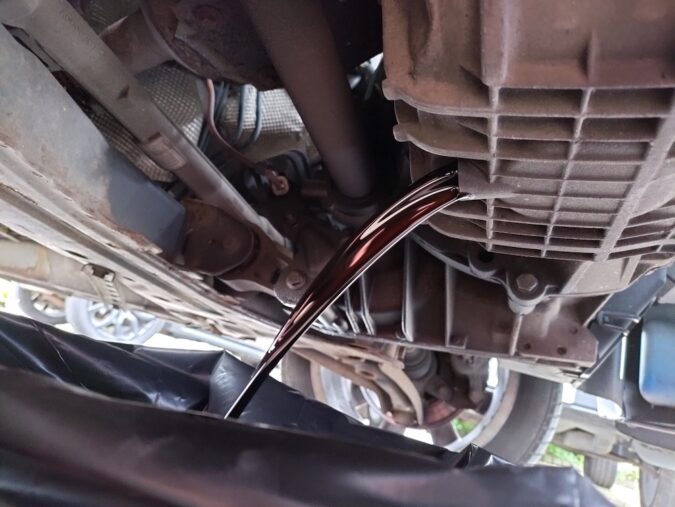 The 'add one liter of oil' sign is the most common way for drivers to become aware of this. You don't have to stop right away if this happens. But you should add a liter of correct grade oil as soon as possible.
This problem worsens over time, and the distance you can drive before adding oil decreases (be wary about whether should your car be running when adding new oil). Under strong acceleration, serious cases can produce visible smoke from the exhaust. It has even been known to harm the cylinders themselves, producing scoring in the bores. According to a theory, these grooves cause more and more oil to leak around the pistons. This causes the problem to worsen.
Note that the Audi 2.0 engine standard allows for a quart of oil to be consumed every 1,000 miles. Audi doesn't consider this usage level to be a defect. If you look at the section on oil, you'll see this written in the manual. However, many 2.0 TFSI owners report getting barely 500-600 miles on a regular basis, which is well below spec.
2011 Audi A4 Problems: Engine Failure
Engine failure has been reported by many owners of the 2011 Audi A4. The timing belt had to be replaced by the majority of them before the prescribed period. The issue is said to happen a day after their engines were cleansed to replenish the coolant. Several drivers reported seeing an illuminated low oil pressure warning lamp after this.
Keep in mind that engine failure can be caused by a variety of factors. Low or drained battery, ignition switch failure could be the issue. Also, clogged fuel filters and catalytic converter failure could also be the issue. Make sure to get a complete diagnostic from a licensed mechanic before replacing any parts.
Even a luxury vehicle like the Audi A4 isn't immune to having worn-out or damaged components. This might even result in compromised drivability. To keep your car running for a long time, it's critical to keep up with its maintenance.
It's also a good idea to become familiar with the model's most prevalent problems. Hence you'll be able to know which parts are likely to break down when your Audi accumulates miles.
2011 Audi A4 Problems: Bad Pistons
Complaints regarding a faulty piston are worth considering, despite their rarity. Particularly given their exorbitant repair prices. A piston can break loose and shatter the piston skirt in some 4th generation 2.0T engines.
Multiple complaints occur before the engine reaches 70,000 miles, indicating that these engines aren't very worn. That's well past the warranty time, and Audi hasn't offered any assistance with this issue. The real sting is that the issue means you'll have to replace the engine. This would set you back $8,000 or more.
2011 Audi A4 Problems: Timing Chain Tensioner Guide Failure
Loose timing chains of Audi's 2.0-liter TFSI engine can rattle, making the car difficult to start. This can finally lead to catastrophic engine failure. The timing tensioner is what ensures that the chain is properly coiled to the pulleys and gears. The failure of this part is most likely to blame.
Owners should not have to worry about timing chain maintenance for the first 120,000 miles. This is what Volkswagen, Audi's parent company assures. Some owners, who had theirs fail around 64,000 miles, were presumably taken aback by this.
The good news is that a series of lawsuits eventually led to a warranty settlement. This helped cover the repairs by extending the car's new limited warranty.
2011 Audi A4 Problems: Water Pump Failure
On the B8 A4, the water pump is extremely vulnerable and a likely site of failure. Instead of aluminum, the genuine Audi factory water pump is made of plastic. The plastic housing of the water pump can break over time. This is because it is exposed to high heat levels in the engine bay. This results in coolant leakage as well as pump failure.
Another point of failure is the gasket between the water pump and the thermostat. Gaskets naturally deteriorate and wear out over time, becoming brittle and easily breaking and decaying. The gasket becomes vulnerable to leaks as a result of this.
Instead of the OEM/Genuine Audi water pump, you should 100% replace it with an aluminum water pump. The aluminum element will prevent any cracks in the housing. It is much stronger and less prone to fail than plastic parts. The repair is pretty simple for those who wish to do it themselves. However, it will likely take 3-4 hours to complete the process.
2011 Audi A4 Problems: Leaking/Clogged Fuel Injectors
The B8 A4 has a direct injection system. It sprays fuel directly into the engine cylinders using fuel injectors. These fuel injectors are prone to clogging, becoming unclean, or leaking over time. A faulty fuel injector results in insufficient fuel being injected into the cylinders.
Fortunately, all of the injectors do not usually fail at the same time. These parts normally fail one at a time. But, even a single defective injector can create serious performance and driving issues.
When injectors malfunction, they might become stuck open or closed. This will result in either no fuel or excessive fuel being shot into the cylinder. This can happen on a regular basis or intermittently, and it will almost certainly result in a lot of misfires.
Injectors are expensive and difficult to replace. You should first check the fuel pressure at the fuel rail before changing any of them.
2011 Audi A4 Problems: Faulty Power Steering Hose
Owners of the A4 have reported significant vibration or speed wobble while driving at low and high speeds. Audi discovered that the problem is typically caused by a faulty power steering line. Also, Audi says that owners who routinely hard-brake are more prone to this issue.
This issue is more widespread in B8s since the first model year. While the pipe may need to be replaced, cleaning and refilling the power steering fluid can occasionally resolve the problem. Poorly balanced wheels may also contribute to a speed wobble problem.
Most Reliable And Unreliable Audi A4 Models
Most Reliable Audi A4 Model Years
The Audi A4's most reliable year is largely acknowledged to be 2001. This was the final year of manufacture for the original B5 generation. If you can locate one with the 1.9 TDI engine, you should buy it. The 1.9 TDI is a fairly dependable engine. There are A4s on the road that have logged over 500,000 miles while being kept up with regular maintenance.
The only disadvantage of the 2001 Audi A4 is that it lacks the updated tech included in recent models. If you're looking for something more technologically advanced, 2010 is a fantastic year to consider. Audi was making some excellent automobiles at the time, and it had the fewest complaints.
In terms of reliability, Audi has had its ups and downs throughout the years. But they appear to be on the mend. If you're looking at a new A4, I wouldn't worry about it surviving more than 150,000 miles.
Audi A4 Years To Avoid
Stay away from the years 2009, 2011, and 2014. In comparison to previous years, these had the most complaints. The primary issue with the 2011 Audi A4 is excessive oil consumption. For the 2011 model year, the A4's oil system became unnecessarily complicated.
This caused it to consume oil significantly more quickly than competing cars. As a result, the vehicle ran out of oil quickly. When the oil level is low, improper lubrication caused further harm to the engine.
Facts about Audi A4's Most Common Problems and Reliability
CarComplaints.com identified the most common problems with the Audi A4 by tallying complaints across all model years, with the top three problems all falling under the engine category.
The most common problem is excessive oil usage, with complaints across all years, and worst in the 2011 model, costing owners an average of $6,000 to repair at 64,000 miles.
Engine failure is the second-worst-rated problem, with a severity rating of 10.0 and an average repair cost of $6,500 at around 66,000 miles for the 2002 model year.
A bad piston is another costly engine issue that earns a severity rating of 10.0, occurring at an average of 48,000 miles and costing around $8,500 to fix.
The engine category is the worst-ranked across all model years, with the vast majority of complaints falling into this category and an average cost of $7,000 to fix, occurring at fewer than 59,000 miles.
The 2009 Audi A4 has the most complaints among all model years, with 33 total, while the 2011 A4 is the "Worst Model Year" according to Car Complaints, with 22 complaints, because of other factors like higher repair cost or more problems at lower mileage.
Despite these issues, the Audi A4 still has a low number of owner-reported complaints and is generally considered a reliable vehicle, with Consumer Reports ranking the 2020 Audi A4 as the best new luxury compact car overall, with a score of 88 and a perfect predicted reliability rating of five out of five.
Conclusion
This article discussed all about 2011 Audi A4 problems and reliability. You first learned about the history and generations of the Audi A4. Then we focused specifically on the 2011 Audi A4 and the B8 generation it belonged to.
Followed by this you got to know all the reliability concerns and common issues associated with the 2011 Audi A4. Followed by this we discussed the best and worst of the Audi A4 model years. Now you would have an idea of what all factors to check for while buying a used A4.
FAQs On The 2011 Audi A4 Problems
Here are some popular FAQs:
Are Audis Reliable
Audi ranks 34th out of 40 manufacturers on the Reliability Index. This suggests that its reliability is substantially below average. Mercedes-Benz and BMW, the other two major German luxury automobile manufacturers, are ranked 30th and 31st, respectively.
Is Audi A Good Car
Audi was once described as a sinkhole of service difficulties by Consumer Reports. However, it is now the top-ranked European brand in the magazine's annual reliability rankings. According to the survey, Audi has considerably improved in recent years.
How Long Do Audis Last
A well-driven and maintained Audi should last between 150,000 and 200,000 miles or 10 to 13 years.
How Reliable Are Audi A4
According to RepairPal, the Audi A4 has a 3.5 out of 5.0 reliability rating. This places it 14th out of 31 luxury midsize cars. The average yearly repair cost is $739, indicating that its ownership costs are average. When compared to all other vehicles, the frequency and intensity of repairs are also fairly average.
Do Audi Have A Lot Of Problems
Audi has produced some excellent vehicles and has the greatest of intentions. However, they have a long history of issues, ranging from blown cylinders and serious oil leaks to widespread electrical malfunctions. Owners of older models, such as the 2011 Audi A4, have expressed discontent.
What Year Audi A4 Is Most Reliable
2001 is widely regarded as the most reliable year for the Audi A4. For the original B5 generation, this was the final year of production. You should get one with the 1.9 TDI engine if you can find one as it is a solid performer.