Chevrolet has produced and sold the Chevrolet Malibu, from 1964 through 1983 and once again since 1997. It has received several Car of the Year Awards throughout its more than 30-year lifespan and has consistently won awards for its safety features. But in this article, we will focus on the 2013 Chevy Malibu and specifically on the 2013 Chevy Malibu oil type.
We are all aware of how crucial certain automotive components like the engine and brakes are to motorists. If they are not properly maintained, there is a chance of a breakdown or even a crash.
Finding an appropriate product, such as the right 2013 Chevy Malibu oil type, might be difficult for some people without technical knowledge. This guide will assist you in that process.

Chevy Malibu
Beginning as a Chevrolet Chevelle trim level, the Malibu evolved into a separate model line in 1978. Originally a rear-wheel-drive intermediate, GM brought back the Malibu nameplate in February 1997 as a front-wheel-drive car.
The Malibu was largely sold in North America and was named after the seaside community of Malibu, California. The Malibu is now the only sedan sold by Chevrolet in the United States following the demise of the compact Cruze in 2019, the full-size Impala, and the subcompact Sonic in 2020.
Sadly at the end of the 2023 model year, it is expected to be discontinued. While you're still able to buy one, do check out our guide on Chevy Malibu common problems, and Chevy Malibu model years to avoid, as well as issues such as the 'engine power reduced' for a Chevy Malibu.
First Generation (1964-1967)
From 1964 until 1972, the first Malibu was a top-of-the-line subseries of the Chevrolet Chevelle. Patterned fabric and vinyl upholstery, deep-twist carpeting, a premium steering wheel, and other features made the interiors more opulent than those of the less expensive Chevelle 300 and 300 Deluxe models.
Second Generation (1968-1972)
Malibus and all other Chevelles received a new redesign for 1968. The Concours luxury package was a brand-new addition to 1968 Malibu sedans and coupes. As Chevy's high-end sedan, the Malibu was showing success.
While lengthening the wheelbase for the Malibu sedans and wagons, they decreased the same in the coupes and convertibles. Even yet, it was a small but powerful vehicle.
Third Generation (1973-1977)
The third generation saw the introduction of the SS line in all of the Malibu body styles. The design modification aimed to improve aerodynamics. With these adjustments, the Malibu amassed a total of 25 Nascar victories.
Fourth Generation (1978-1983)
In 1978, the Fourth Generation Malibu was released. It satisfied the needs of those who desired greater fuel efficiency. It was smaller than its predecessors, but it was still available as a coupe, sedan, or wagon. The Malibu was withdrawn at the end of its generation in 1983.
Fifth Generation (1997-2003)
The Malibu made its reappearance in 1997 as a brand-new vehicle. Other sedans had been replacing it during its absence, but the 1997 Malibu returned and recovered the top rank.
Reviews indicated that it had been missed and that consumers were happy to see it back on the market. It boasted four and six-cylinder engine options and came as a front-wheel drive midsize sedan.
Sixth Generation (2004-2007)
The Sixth Generation added increasingly sophisticated features to the Malibu. This generation and its consumers both knew what they wanted in a sedan. They aimed to improve the ride and handling with more advanced technologies and more engaging performance. Chevy also brought back the SS variant in this generation.
Seventh Generation (2008-2012)
When it won the 2008 North American Car of the Year title, the Seventh Generation got praise from critics once more. The exterior of the car was seriously redesigned. Changes included a brand-new grill that would serve as Chevrolet's new face and two recognizable rounded taillights.
Eight Generation (2013-2015)
In 2013, GM announced that the Malibu would be produced for the first time for the global market. The Malibu was now based on a global platform. It was now being made for 100 markets across six continents and continued to enjoy popularity everywhere it is sold.
The Chevy Malibu maintained its attractiveness by targeting both parent and teen drivers.
Ninth Generation (2016+)
Chevy went back to the drawing board for 2016, and the outcome is one of the biggest generational upgrades. The 2016 Chevy Malibu's stunning external styling was its most eye-catching element.
Overall, the present, ninth-generation Malibu is a large, pleasant midsize car with a nice selection of engines and excellent safety ratings. The teen driving system, which lets parents set driving restrictions and check reports, was another new feature in the new Malibu.
2013 Chevy Malibu
The Malibu underwent a complete redesign for the 2013 model year, with a new and refreshed interior and exterior, as well as new powertrain choices. Once inside, the improvements to the Malibu are instantly noticeable.
Even Malibus of lower trims provide plenty of soundproofing, plush materials, premium switchgear, and a stylish design. With a cabin that borders on entry-level luxury, the 2013 Chevrolet Malibu stood out from the competition.
The design was appealing, with numerous soft-touch materials, and buttons and knobs with a substantial feel to them. In terms of spaciousness and comfort, the 2013 Malibu was a mixed bag.
The front seats were cozy, and the optional power driver seat offered a wide range of adjustments even for tall drivers. The 2013 Malibu's wider interior offered greater shoulder and hip room, but less legroom due to the vehicle's shorter wheelbase.
2013 Chevy Malibu Engine
Initially, the 2013 Malibu first debuted in its Eco variant. This variant combined a 2.4-liter four-cylinder engine with a mild hybrid system. The system came with an electric motor that helped with acceleration but largely powered an auto stop/start system and numerous accessories.
With minor aerodynamic improvements, the Malibu Eco also got an excellent 29 mpg combined rating from the the EPA.
The 2013 Chevy Malibu also did offer new gasoline engines. The standard engine was a 2.5-liter four-cylinder engine that produced 197 horsepower. There was also an option to upgrade to a stronger 2.0-liter four-cylinder turbocharged engine that produced 259 horsepower.
Both of these engines were easily superior to the Eco model in terms of performance while providing adequate fuel efficiency.
2013 Chevy Malibu Oil
The type of vehicle, engine size, and oil you should use all have a significant impact on how much oil you need to use. For instance, a vehicle with a high-performance V-8 engine may need full synthetic motor oil, whilst a 4-cylinder passenger car may consume less oil and normally use conventional oil.
The majority of engines need between 5 and 8 quarts of oil. Just make sure that you're cognizant of the dangers of overfilling the engine oil by even 1 quart. For instance, a 4-cylinder engine needs at least 5 quarts of oil, whereas a 6-cylinder engine needs about 6 quarts.
The 2013 Chevy Malibu oil capacity for the 2.0L L4 FWD, 2.4L, and 2.5L engines are all the same at 5 quarts (4.7 liters).
2013 Chevy Malibu Oil Type
If you want to know more about the type of oil a 2013 Chevrolet Malibu requires, we should divide them into three categories based on the types of engines. For optimal performance, each engine will require a certain type of oil. The following are the engines the 2013 Malibu was offered with-
Ecotec 2.4L DOHC I-4 VVT DI w/ eAssist (2.4L engine)
Ecotec 2.5L DOHC I-4 VVT DI (2.5L engine)
Ecotec 2.0L DOHC I-4 VVT DI Turbo (2.0L engine)
The SAE 5W-30 grade engine oil will work best with a Malibu with a 2.4L or 2.0L engine. Meanwhile, if your Malibu has a 2.5L engine, you should select the SAE 5W-20 grade engine oil.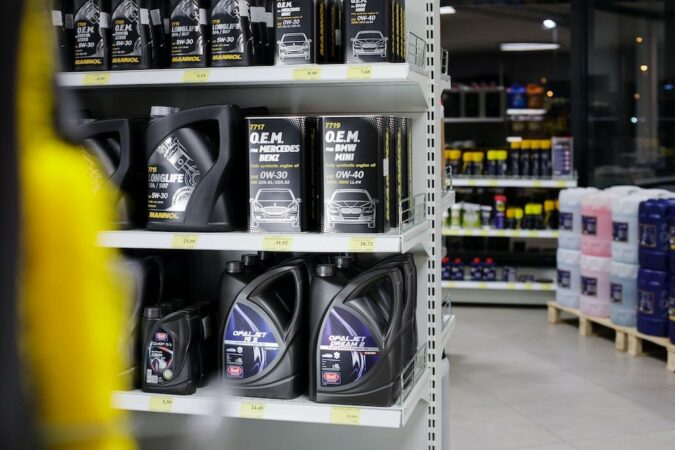 The SAE (Society of Automotive Engineers) devised this numerical code system for oils. The method seems to grade the oil based on its viscosity properties because oil viscosity can vary with temperature.
For instance, the number in front of the "W" in 5W-30 motor oil refers to the oil's viscosity at low temperatures. The lower the number, the thinner the oil. This means, the lower this number is, the more effectively the oil will function when used in colder climates.
The number following W indicates the thickness of the oil at the engine's typical operating temperature. If you want your car's engine to have the best performance, efficiency, and longevity, these figures will determine the 2013 Chevy Malibu engine oil type.
You can choose between three different types of oil in addition to the appropriate viscosity: synthetic oil, synthetic blend oil, and conventional base oil. They all have different pricing, and they all perform differently.
2013 Chevy Malibu Oil Type: Types Of Engine Oils
Conventional Oil
To fulfill the needs of common vehicle engines, conventional motor oil is produced from crude oil by refining and combining it with other chemical additives. Conventional oil is the sort of oil that is most frequently used. This is a typical choice for regular cars at many oil change sites, such as Express oil change, Jiffy Lube, or Valvoline.
Conventional motor oil offers several advantages despite being a classic option. It is a fact that synthetic oils typically outperform conventional oils or blends in terms of durability and performance at high and low temperatures.
However, if the additives aren't right for your car, it's not the right kind of oil to use and could damage your engine. Almost invariably, conventional oil changes are less expensive than full synthetic or synthetic blend oil changes. A synthetic oil change could cost twice as much as a regular oil change, depending on the area.
If you want to learn more, feel free to check out our discussions on the cheapest oil change near me, the price of a Firestone oil change, an oil change cost at Walmart, whether a cheap oil change is good or not, and is it cheaper to change your own oil, as well as how much does an oil change cost.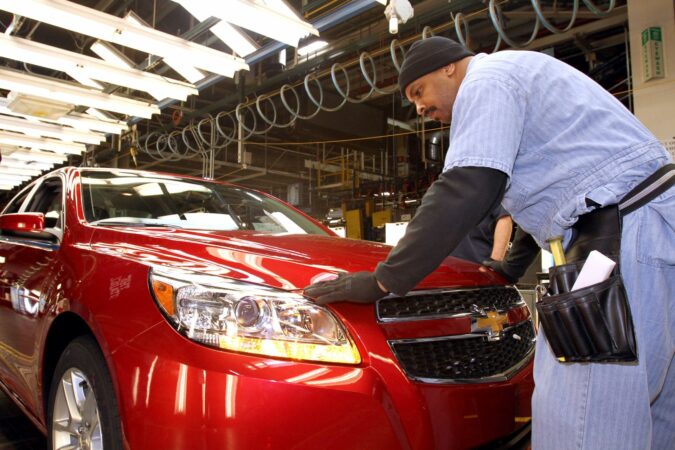 Synthetic-Blend Oil
The greatest qualities of full synthetic oil and conventional motor oil are combined in synthetic blend oil. The terms "part-synthetic" and "semi-synthetic" are also sometimes used, but they all relate to the same substance.
Synthetic-blend motor oil offers many of the same advantages as fully synthetic motor oil without the exorbitant price tag. Also, in some cases, they only cost as much as conventional oil. Keep up with regularly scheduled oil changes and other maintenance tasks for the best chance of keeping your engine in vital condition.
No matter how quiet your engine is, you should always keep in mind that there is a lot of internal combustion going on. So you should always make sure it is properly lubricated. Because of this, synthetic-blend motor oil is increasingly becoming a standard alternative for oil changes.
Regardless, you have to be wary of how many miles can you go over an oil change, as well as what happens if you don't change your oil.
Synthetic Oil
Synthetic oil is a lubricant made of synthetic chemical compounds, which are created by disassembling and then reassembling petroleum molecules. Millions of molecules of synthetic oil may be seen under a microscope, all with a remarkably uniform size and structure.
On the other hand, refined crude oil is used to create mineral or conventional oil. Millions of molecules in all sizes, shapes, and configurations can be seen in a drop of standard oil when examined under a microscope. Synthetic oil can be produced from a variety of base types and can be entirely synthetic or a blend of synthetics.
Full-Synthetic vs Synthetic Blend Oil
Synthetic blend oil is chemically distinct but shares many characteristics with a full synthetic. Full synthetics have fewer contaminants than synthetic mixes, but blends nevertheless offer better oxidation resistance and continue to function well in high temperatures.
You might wonder what the difference is between full synthetic oil vs synthetic blend oil.
Synthetic blend oils are a combination of additives and base oils, both synthetic and conventional. Additionally, synthetic blends are a superb option for drivers that subject their engines to enormous stress through activities like hauling, off-roading, or towing enormous trailers. It offers all of these benefits while being less expensive than full-synthetic oils.
2013 Chevy Malibu Oil Type: Best Engine Oils For 2013 Chevy Malibu
2013 Chevy Malibu Oil Type: Best SAE 5W-30 Grade Engine Oil
5w30 is a typical engine oil that is frequently used in light gasoline and diesel engines. It is a multi-grade oil, like the majority of modern engine lubricants, with a viscosity grade range of 5 to 30.
Winter is indicated by the "W." The oil's viscosity at low temperatures is represented by the number before (5), while its viscosity at higher temperatures, primarily when the engine is operating, is represented by the number after (30).
Mobil 1 Extended Performance High Mileage Full Synthetic Motor Oil 5W-30 – 5 Quart
This one is a budget-friendly 5w30 full synthetic oil that does an excellent job of lubricating and safeguarding your engine. This synthetic motor oil helps to lower the risk of low-speed pre-ignition in addition to being cost-effective. Additionally, it assists in avoiding accumulation in your engine, which frequently results in rust and corrosion.
For engines with high mileage and lengthy intervals between oil changes, this motor oil performs remarkably well. It continuously reduces friction to save engine wear. Its greater resilience to viscosity and heat breakdown also enhances its effectiveness as engine oil.
The absence of a strip to view the oil level as you pour is the only noticeable downside. If you intend to use the entire 5-quart bottle at once which is the quantity of oil needed for your 2013 Malibu, this won't be a major issue.
Castrol 03057 GTX MAGNATEC 5W-30 Full Synthetic Motor Oil, Green – 5 Quart
The Castrol 03057 GTX Magnatec is one of the best fill-synthetic engine oil options. It's likely the only oil on this list with intelligent molecules that adhere to crucial engine components to ensure immediate protection from the time your car starts.
When driving in challenging conditions, this 5w30 motor oil significantly decreases engine wear while also maximizing engine protection. Additionally, the Castrol 03057 GTX guarantees that your engine's critical components will be at least four times smoother than before.
Furthermore, considering the oil quality and the 5-quart container's reasonable pricing, you can be confident that you're receiving a lot for your money. Furthermore, you never have to worry about your engine stalling and you only need to perform oil changes when absolutely necessary.
Valvoline Advanced Full Synthetic SAE 5W-30 Motor Oil – 5 Quart
When you start your car, the Valvoline Advanced Full Synthetic SAE 5W-30 ensures that the oil will flow more quickly. When you're driving in inclement weather or even below-freezing temperatures, this equates to superb high-temperature protection.
According to reports, this motor oil provides up to 40% more wear protection than typical synthetic oils. By shielding the engine from sludge and varnish, it also keeps the engine running efficiently while maintaining cleanliness.
Both synthetic and conventional oils are compatible with it and can be used without any issues. On the other hand, the spout tends to gurgle a little, which can make things a little messy. But if you get the hang of it, you can avoid this.
2013 Chevy Malibu Oil Type: Best SAE 5W-20 Grade Engine Oil
SAE 5W-20 grade oil is the OEM-recommended motor oil for the standard 2.5L engine of the 2013 Chevy Malibu. Because 5w20 oils have a low coefficient of friction, they cause less drag on engine components including pistons, crankshafts, and valve trains. You then gain an indirect benefit as a result of the increased fuel efficiency.
In addition, 5w20 oils' runnier consistency makes it easier for the oil pump to transfer them from the oil pan to the remainder of the engine. It is a better choice if you reside in a colder area primarily for this reason. The following are some of the best options for SAE 5W-20 grade oils.
Valvoline SynPower 5W-20 Full Synthetic Motor Oil – 5 Quart
The name Valvoline is synonymous with synthetic engine oils. The Valvoline Synpower 5W-20 can keep your engine clean and well-maintained. Regular use of Valvoline SynPower results in a cleaner engine, which improves car performance, accelerates engine ignition times, and improves running part velocity.
With high-temperature stability and protection, the Valvoline SynPower is a full-synthetic oil that excels in demanding driving situations. Additionally, it provides greater cold-temperature protection, which guarantees a speedier start-up in cold weather due to a faster oil flow.
Additionally, the high-temperature protection feature guards against and prevents deposits. Because of this, the oil is also renowned for having the best cleaning ability to keep sludge and varnish at bay. Reduced engine wear and tear and subsequently higher fuel efficiency are also fruits of this oil.
Castrol 1598EF Edge Extended Performance 5W-20 Advanced Full Synthetic Motor Oil, 5 Quart
Your engine needs the Castrol 1598EF Edge Extended Performance 5W-20 Advanced Full Synthetic Motor Oil to function consistently even in variable environments and conditions. It comes from Castrol, a massive, incredibly well-liked global corporation that is one of the most dominant producers of synthetic oil.
They do make some of the best synthetic motor oils, making their products a secure option for car owners. One of them is the Castrol 1598EF EDGE, which is precisely what your 2013 Malibu's 2.5L engine needs to function flawlessly. If you want to know how well it compares, our write-up on Castrol Edge vs Mobil 1 might help.
While traveling at various speeds, it effectively adapts to the various pressures, temperatures, and demands of the many metal-to-metal contact areas in the engine. Credit goes to the Castrol EDGE's distinctive structure, which was created using fluid titanium technology.
By doubling the oil film strength, this technology alters the behavior of the oil at high pressures in a physical way. In this way, the oil works to lessen engine friction.
Valvoline High Mileage with MaxLife Technology 5W-20 Synthetic Blend Motor Oil – 5 Quart
This High Mileage Oil with MaxLife Technology is another synthetic engine oil option from Valvoline. It helps increase the engine's working efficiency, making it perfect for use in older vehicles and engines. In actuality, it is the first motor oil that has been specially created to cater to the special requirements of higher mileage engines.
This oil is the best option if your car has more than 75,000 miles on it and you can use it to protect against potential engine failure. Because MaxLife is a mix of synthetic and conventional base stocks, it can be of great help to you.
Additionally, it includes added chemicals like seal conditioners, which work to renew your worn-out engine seals and thwart any oil leaks. In addition to reviving worn-out engine seals, MaxLife also offers additional wear protection by reducing friction using cutting-edge friction modifiers.
This helps shield the engine of your car from any future damage, increased wear, and oil leaks. Hence, this is the best option for your 2013 Malibu's 2.5L engine if it already has covered plenty of miles. If you're curious, do check out our guide on how much is a Valvoline oil change.
2013 Chevy Malibu Oil Filter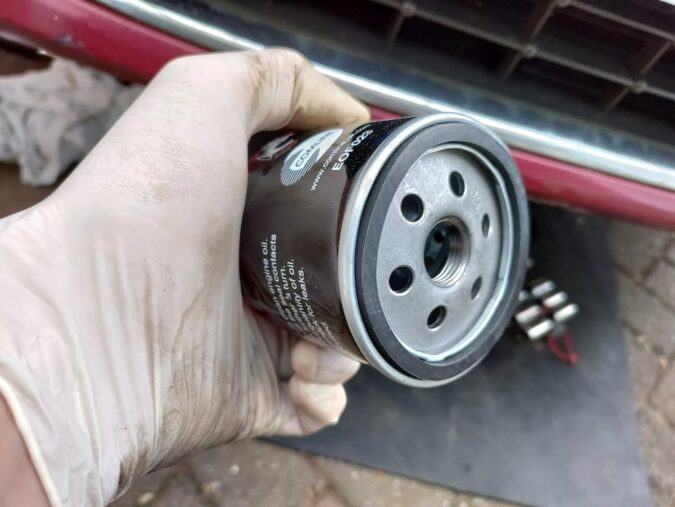 Your 2013 Chevy Malibu's engine oil is contaminated with smoke, sludge, metal shavings, and other foreign substances. The oil filter's job is to filter out these impurities to make your engine function more smoothly and reduce the risk of internal damage or other expensive repairs.
The performance of your 2013 Chevy Malibu depends on having clean oil. The best oil filter varies depending on the make and model of your car and, in some circumstances, the type of oil you use with it. For example, if you use synthetic oil, the best oil filter for it will differ.
The best location to look for the precise type of oil filter and suggested replacement cycles for your 2013 Chevy Malibu is in the owner's handbook. The surface area, the filter's material, and its uniformity will determine the optimum oil filter for a 2013 Chevy Malibu.
The more surface area, the more impurities it can filter out, and you don't want even bits of them in your engine oil. We advise always using the oil filter that Chevy specially selected for your engine when it left the production line because the fit is obviously crucial.
It is generally advised to choose genuine factory parts over aftermarket ones when changing your 2013 Chevy Malibu's oil filter. These filters are specifically tailored for your engine and could also need to be accessed with factory tools. That'll help prevent issues where the oil filter won't come off or need a special oil filter wrench.
Your 2013 Chevy Malibu's oil filter should last longer than 3,000 miles, or three months, although many oil filters can withstand regular wear and tear for up to 7,500 miles. Every time you visit an auto shop, do think about whether you do have to change the oil filter every time.
2013 Chevy Malibu Oil Type: In Conclusion…
If your Malibu is low on oil significant engine components will start to rub against one another. Additionally, your engine will quickly be damaged by these fast-moving parts, maybe to the point where replacement is necessary.
Your car is also more prone to overheating when the oil level is low. An engine with insufficient oil can occasionally even ignite a fire.
All of this means that you should change the oil in your Malibu properly. Depending on the type of engine in your car, you should use SAE 5W-30 or SAE 5W-20 in your 2013 Chevy Malibu. Remember that the oil you use is always of the correct grade and always try to fill up your 2013 Malibu with the best available synthetic oil option.
FAQs On 2013 Chevy Malibu Oil Type
Is 5w-20 Oil Synthetic
There are both conventional and synthetic versions of 5W-20 oil available. Several additives are combined with refined crude oil to create 5W-20 conventional oil. It is advised for engine protection and lubrication since it offers appropriate performance at normal operating temperatures. Synthetic base oil and additives make up 5W-20 synthetic motor oil. Hence, it is comparatively more stable in warm temperatures.
How Much Is A 2013 Chevy Malibu Worth
The 2013 Chevy Malibu costs between $10,249 and $16,151, depending on the model and mileage. This makes it more expensive than some other midsize sedans. The price tag when it was brand-new was between $21,995 to $29,700. Depreciation has been quite average resulting in a loss of value of roughly 45% over the first five years.
What Does LTZ Mean On A Chevy Malibu
LTZ used to be the highest-end trim option offered in the Malibu lineup. Luxury Touring Z is abbreviated as LTZ. The highest degree of luxury touring is denoted by the Z. When you perform a Chevy LT vs. LTZ comparison, you'll see extra, top-of-the-line features, appear in the LTZ trim. However, the LTZ was replaced with the Premier trim in the ninth-gen Malibu.
Is The Ecotec 2.4 An Interference Engine
Yes, the Ecotec 2.4 engine was designed as an interference engine. This indicates that if the timing chain snaps or leaps more than a few teeth, it will bend or break valves. An interference engine is a 4-stroke internal combustion piston engine that has one or more valves that extend into every space that the piston may move in when they are fully open.
Are Chevy Malibus Good Cars
The 2023 Chevrolet Malibu can be considered a good midsize car. It has a comparatively comfortable ride and achieves good fuel efficiency. However, the antiquated interior and feeble engine of the current model year make this car only passable.
How Long Does Chevy Malibu Last
Even though Chevys aren't as renowned for reliability as some of their Japanese rivals, there's no denying the Malibu's endurance. If properly maintained, a Chevrolet Malibu typically has a life of around 200,000 to 250,000 miles. The Chevrolet Malibu should last 13 to 17 years if you drive 15,000 miles each year before needing expensive repairs or breaking down.
Are Chevy Malibus Reliable
Yes, they are reliable and a Chevy Malibu can last much longer than owners may anticipate if they take excellent care of it. The Malibu has a dependability rating of four out of five from RepairPal. The 2021 model of the Malibu also received a reliability score of 89 out of 100 from J.D. Power.
Where Is Chevy Malibu Made
The Malibu has been produced in two facilities in the United States: Fairfax, Kansas, and Detroit-Hamtramck. However, as of now, it is only being assembled in the Fairfax plant along with the Cadillac XT4.
Approved Tools
These tools have been tried and tested by our team, they are ideal for fixing your car at home.
AI Car Expert Thinking 

.

.

.