Are you planning to purchase a 2016 Kia Soul and you are planning to learn more about the 2016 Kia Soul problems before you buy? Well, if that is the case, then you are at the right place because, in this article, there will be quite a bit to cover on this topic.
Doing your own research before you decide to purchase a used car is always a good thing. Mainly because of the problems that can exist around these cars. And trust me, when it comes to used cars, there can be a lot of problems. Especially ones with higher mileage on the clock.
This is why we recommend performing good and thorough research on the model before you decide to spend a lot of money to buy since by doing this, you will save a lot of time and money in the long run.
And not to forget about the nerves that you can save since when a problem pops up can be extremely frustrating to deal with. This is why we are going to help you out. First, we are going to learn more about who is Kia and a little bit about its history.
Then we will cover the Kia Soul and learn more about this model. Then we will discuss the 2016 model of the Kia Soul. We will cover the specs and the 2016 Kia Soul problems and then we will see if this model is a good purchase. So, if you want to learn more, follow along.
Who Is Kia
Now before we dive into the 2016 Kia Soul problems, let's take a look at who is Kia and why Kia is one of the hottest carmakers right now in the US market. Why do we think that this is essential? Well, it might help to have a bit of context, so let's elaborate more on Kia first before we discuss the Kia Soul.
So, who is Kia? Well, Kia is a Korean automaker that was founded in 1944. Nowadays Kia is the second largest automaker in Korea, right behind Hyundai.
Kia has been present in the US market for about 30 years or so. They started selling their first models in 1992 when they opened their first four dealerships in Portland, Oregon. And since then they have expanded and now they serve all states of the US.
What is important to note is that Kia shares a lot with Hyundai. Back in 1997, Kia was in a big crisis. And Hyundai basically saved Kia from bankruptcy by acquiring about 51% of the stake in Kia. And since then they have become really inseparable. Some even wonder if whether is Kia and Hyundai are the same company.
Even though in recent years, Hyundai reduced its stake in Kia quite significantly to 33.8%. But still, Kia and Hyundai share plenty of parts between them. Which is a good thing since by doing this, they can make their cars a lot cheaper. In some ways, this makes questioning whether Kia owns Hyundai a bit harder to discern.
And when it comes to the price to performance value, there is hardly any competitor to Kia and Hyundai. They offer a wide range of models that basically destroy the competition both in performance and also in terms of cost to purchase.
In some cases, they both make fantastic cars that compete in the same segment. Hence, why some folks make comparisons such as the Kia Niro versus Hyundai Kona, among other sibling models. But what about the 2016 Kia Soul problems? More on that, we will cover it in a bit.
Kia Soul
Now as we learned more about the Kia Motor Company and learned that this is a Korean automaker. We can now move on and learn a little bit about the Kia Soul in general. What is the Kia Soul?
Well, the Soul is a model that was first incepted in 2005. This model was styled by Mike Torpey at the all-new Kia Design Team in California. For this purpose, he was sent to Korea to get inspired and do some brainstorming on a new vehicle that will implement something from the Korean culture and also something modern.
So, what he did was sketch a boar wearing a backpack. And according to New York Times, this was a reference to the Boar's altitude in terms of strength and capability. This was the vision of the designer for an all-new model intended for urban youths.
And the design as we can tell was rather controversial at the time since it didn't really fall into a certain category of cars. When you see a Kia Soul on the road, you will know that it is a Soul since there is no other car that resembles this model.
So, the Soul is really good for people who want something new and different. And since 2008 when the first model was introduced, the Soul was released in a total of three generations. But we are only interested in the second generation. And more about that we are going to cover next before we dive into the common Kia Soul problems.
Kia Soul 2016 Specs
Now let's move on to the 2016 Kia Soul specs before we dive into the 2016 Kia Soul problems. Why do we need to learn the specs?
Well, there are a lot of people interested in purchasing this model on the used market. So, we need to learn more about the specs of the car and see more about the numbers.
Nevertheless, what is important about this Soul from 2016 is that it was a part of the second generation of the model.
This second generation was produced between 2013 and 2019, with 2014 being the first model year of this generation.
The second generation followed the same design principles. It is a compact crossover with a boxy-shaped rear end. But what is interesting about this model, was that it started offering the dual-tone option. With the roof painted black and the rest of the body white.
This design language made the Kia Soul a lot more appealing to the audience. Another interesting fact about this model is that it included a lot of new suspension improvements with a 28.7% increase in rigidity. As well as many other improvements.
But the biggest improvement was the introduction of the new Gamma and Nu GDI engines, which were a lot more efficient when compared to the previous model. But more on this, we are going to elaborate in the following chapters.
And the last thing that we would want to mention is that this model was assembled in South Korea at the Gwangju Plant. But what about the 2016 Kia Soul problems? More on that, we will discuss it in a bit.
2016 Kia Soul Dimensions & Size
Now before we start discussing about the 2016 Kia Soul problems, let's take a look at the Kia Soul's dimensions and size and learn more about how big of a car the Kia Soul is.
As we noted previously, this is a compact crossover SUV. So, the core of the car is taken from a compact class vehicle. More specifically, the Kia Ceed. But the platform was stretched and reinforced for the Soul.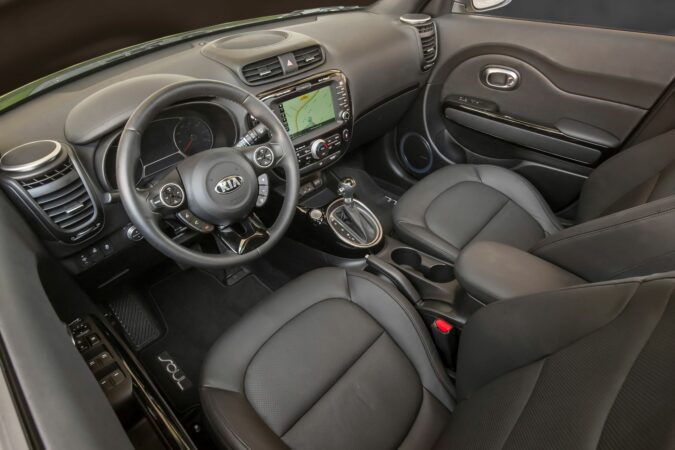 So, the wheelbase of the Kia Soul from this generation is about 101.2 inches and has an overall length of 163 inches. The Soul is 70.9 inches wide and 63 inches tall.
The curb weight of the model is somewhere between 2,787 and 3,144 lbs depending on the model. Since there were variations in terms of engines. And not all engines weigh the same. And lastly, the ground clearance of the Soul is 5.9 inches. But what about the 2016 Kia Soul problems? More on that, we will cover it in a bit.
2016 Kia Soul Engines & Transmissions
Now let's take a look at the engines and transmissions included in the 2016 Kia Soul before we dive into the 2016 Kia Soul problems. Engines and transmissions are the most important since you need enough power to be able to accelerate quickly.
In terms of engines, it is worth noting that the base engine used in this model is a 1.6L inline-4 engine. This engine produces about 130hp and 118lb-ft of torque. Nothing too crazy but it is enough for driving the Soul comfortably.
The second engine is a 2.0L inline-4. This engine is more powerful and develops about 164hp and 151lb-ft of torque. So, this is the more preferable option.
In terms of transmissions, there are two options to choose from. A 6-speed manual. And a 6-speed automatic transmission. But what about the 2016 Kia Soul problems? More on that, we will cover it in a bit.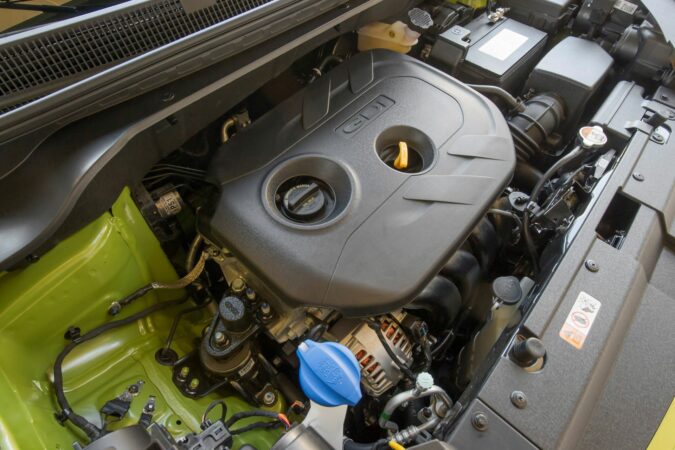 2016 Kia Soul MPG
Now let's discuss a little bit about the fuel economy of the Kia Soul and learn about how fuel efficient this vehicle is before we cover the 2016 Kia Soul problems.
The 1.6L engine is very fuel efficient. This model delivers about 24 mpg in the city and 30 mpg on the highway. The average fuel economy is rated at 26 mpg.
On the other hand, the 2.0L is performing even better. This model gets 24 mpg in the city, 31 mpg on the highway, and 27 mpg combined. This is the case because this engine is more suitable for this chassis.
The chassis is simply too heavy for the 1.6L and this is why the smaller engine spends more fuel. But what about the 2016 Kia Soul problems? More about that, we are going to cover it in a bit.
2016 Kia Soul Safety
In terms of safety, the Kia Soul performed really well. This model was tested by the IIHS and on most of the scores, it got a "Good" rating. Which is basically the highest score possible.
In addition to this, the Soul got a Top Safety Pick award for the 2016 model year as well. The only weak point for this model was the small driver-side overlap test where the model got an "Acceptable" rating.
But what about the 2016 Kia Soup problems? More about the problems, we are going to cover in a bit after we discuss the Kia Soul price.
2016 Kia Soul Price
Now let's cover the last thing before we dive into the 2016 Kia Soul problems. And this is the price of the Kia Soul. How much can you expect to pay for this model?
The low end is somewhere at $5,900. While the higher end is somewhere at $16,000. Honestly, we would not recommend going for the cheapest ones if you intend to purchase a Kia Soul. Mainly because these cars are pretty worn out since the prices are so low.
Always learn about the 2016 Kia Soul before you make a purchase and make sure that you get the best deal for your money. And that's what we are going to cover next, where we will elaborate on the problems in detail.
2016 Kia Soul Problems
Now let's dive into the 2016 Kia Soul problems and learn more about the issues that this model has. We will primarily focus on the engine problems since this is the biggest downside of this model.
We will also cover electrical issues and other miscellaneous problems that often can happen on the Kia Soul. Luckily, there were serious no reports based on data from carcomplaints.com in terms of the transmissions used in the vehicle. And we will not cover the transmission issues because they were not reported.
Kia Soul Engine Problems
Now let's discuss the 2016 Kia Soul problems. Let's first list the engine problems that there are present in the Kia Soul. What is worth noting is that these engines are somewhat problematic and prone to issues. Both of them are prone to failure with a total of 10 failures reported on carcomplaints.com.
The biggest problem with this engine is the situation with the oil leaks. These engines are prone to develop oil leaks. They develop leaks almost everywhere. Especially on the valve covers and oil pans where you can find these leaks the most times. And this can make the engine run low on oil and fail prematurely.
If you want to learn more about a car oil leak, you can check out our guides on an oil leak repair cost, as well as the symptoms of an oil pan gasket leak.
The GDI engines that implement direct injection are also prone to problems. Namely, they tend to develop carbon buildup on the intake ports. This carbon buildup is an outcome of the fact that the direct injection is not working like MPI where the gas basically cleans these ports.
So, you will end up with a bunch of carbon buildup on these GDI engines.
And this can greatly affect the work of the engine and make the engine performance really poor. So, if you get yourself a GDI engine, you will highly likely end up with problems like misfires and similar situations where the valves fail to close properly. A solution for this is to walnut blast them with a special machine.
Also, these engines tend to drink a lot of oil in the process (i.e. the car is burning through oil). Especially at higher miles. So, be really aware if the car produces a lot of black exhaust smoke, don't buy it.
Overall, these engines do not last for long mileage, even though they are really efficient. As we noted, on carcomplaints.com are a total of 10 complete failures reported.
Electrical Problems
The second most reported 2016 Kia Soul problems were concerned with the electrical system. On carcomplaints.com there are a total of 8 complaints on this specific model year when it comes to electrical issues.
Some owners reported problems with the engine won't turn over and would not like to start. In some of the cases, this was reportedly due to the fact that there was a parasitic loss that drained the battery.
Other electrical problems were noted with the horn not working, the horn going off randomly and the mileage indicator giving inaccurate readings. Otherwise, you'll need to learn how to manually check the mileage of a car.
And also, there was a report concerning the fire hazard and the dangers of a fire developing inside the engine bay. Which is a common occurrence in these models. The complaints about this problem are enormous with many people having their Kia or Hyundai burnt to the ground.
You can do deeper research on these problems with Kia and Hyundai catching fire issues. Now let's move on to the next 2016 Kia Soul problems.
Other Miscellaneous Problems
Now let's cover the other miscellaneous 2016 Kia Soul problems and see what else bothers the Kia Soul from 2016.
The next problem that is important to cover is the purge valve solenoid. This solenoid is in charge of the EVAP system. The solenoid basically purges the EVAP system and keeps the emissions low. And whenever the solenoid fails, you will have problems like these. Most notably with the check engine light.
If you need to learn more, feel free to head over to our guides on driving with a bad purge valve and the P0441 code or PO441 code. Additionally, we've also discussed the cost to replace the purge valve, as well as the canister purge valve replacement.
The second biggest problem with this model is the failure of the catalytic converter. Each car has a catalytic converter that is in charge of keeping the emissions controlled (to learn more about emissions, check out our overview of do all cars have a catalytic converter). And whenever this converter fails, the car will have problems. First, with the check engine light and then with performance.
In this specific situation, the catalytic converter tends to heat up quite a bit and when it heats up it basically burns up. And this was a subject of a recall that we are going to discuss next.
Other 2016 Kia Soul problems include problems with the lights, and the low beams being too bright. There was one report of steam coming out from the vents inside of the car and the windows fogging up (which helps if you know how to defog headlights and how to clean headlights at home, as well as how to defog windshield), and also, the seat belt light flashing.
Kia Soul Recall
Now let's discuss another topic and that is the 2016 Kia Soul recall and learn more about the recalls that were performed on this model.
More specifically, there were two recalls, one concerning the engine and one for the steering. The recall concerning the steering was because of a pinion plug. This pinion plug was susceptible to allowing the pinion gear to separate from the steering assembly. This recall was done in 2017.
In 2019, there was a recall concerning the catalytic converter. More specifically cars with a 1.6L engine. In these cars, the catalytic converter got damaged because of high temperatures.
This could result in abnormal combustion as well as damage to the engine pistons and cause a connecting rod failure. So, make sure that you definitely check if the specific Kia Soul 2016 model had these recalls performed.
Kia Soul Years To Avoid
Now that we cleared the 2016 Kia Soul problems, let's now take a look at what are the Kia Soul model years to avoid. Which is the worst production year of this model?
Well, most of the reports are for the model years, 2012, 2013, 2014, 2015, and 2016. So, even though we reviewed this model in the article, it still falls in the worst model year category. But it is one of the better ones compared to the previous ones that we listed.
Best Kia Soul Year
When it comes to the best Kia Soul year and finding out whether are Kia Souls good cars, we can say that 2010 and 2011 seem pretty decent compared to the following years.
And from 2017 only 2020 is somewhat more problematic. So, if you can, go for 2017, 2018, 2019, 2021, or 2022.
2016 Kia Soul Problems: In Conclusion…
In this article, we have covered quite a bit when it comes to the Kia Soul. First, we learned about Kia and its business model. Then we focused on the Kia Soul 2016 model and covered the specs of this model, the mpg, as well as the price.
After that, we focused on the 2016 Kia Soul problems and learned what are the problems that trouble this model the most. As well as the recalls and the best and worst years.
Frequently Asked Questions
Now let's answer some frequently asked questions.
Are Kias Good Cars
The answer to this question really depends since there were many reports of Kias having issues with the engines. Especially the GDI engine can develop carbon buildup on the intake ports, as well as have problems with oil leaks.
Is A Kia Soul An SUV
Technically, yes. But actually no. The Soul is a crossover SUV. This means that it is built on a car platform and comes only as a FWD. You don't have the option to get an AWD soul.
How Long Do Kia Souls Last
The ones with GDI engines especially before 2017, do not last a lot, especially the 1.6L engine. These engines are problematic and if you can, you can try to avoid them.
Are Kia Souls Good In Snow
They are good in snow. This is actually the case because the Soul is only FWD. It is not the base case like when you have AWD. But it is certainly much better compared to RWD.
Does Kia Have Engine Problems
Yes, their GDI engines are somewhat problematic. They have a lot of trouble with carbon deposits on the intake ports as well as oil leaks and oil consumption. Overall, GDI engines do not last for a very long time.
What Is The Best Year For Kia Soul
The best model years are 2010 and 2011. This was the pre-GDI time when their engines were actually good. So, if you can find an MPI engine, go for it.