This article was recently reviewed by car expert Paul Hadley to ensure it is as accurate and helpful as possible.
Is Kia and Hyundai the same company? No, the two are separate business entities. However, both are South Korean carmakers and are intertwined. There's a lot to know about these two companies, so let me bore you with all sorts of interesting facts about these two companies.
If you want to know more about these two automotive giants from South Korea, here's our table of contents so you can find the information you'd like to know:
Is Kia And Hyundai The Same Company: The History
So, the two brands are separate business entities. However, both are from South Korea. And while they started separately, Hyundai now owns the majority share of Kia and is the owner of Kia. Before we delve deeper into their structure and compare the two brands, let's learn their history first:
Hyundai's History
The South Korean automotive giant was originally an engineering and construction company that started life in 1947. Founder Chung Ju-yung then established the Hyundai Motor Company in December 1967, and its first car was built in cooperation with Ford.
Many South Korean entrepreneurs did make knock-off versions of Jeeps and Japanese cars previously but saw little success. It wasn't until the South Korean government decided to invest in the industry that it finally made significant progress.
The Hyundai Pony was their first proper mass-produced car. As mentioned, it collaborated with Ford for this car. Specifically, it was based on the Ford Cortina. It was hardly exciting, but the Cortina parts and Mitsubishi drivetrain were enough to produce relative success.
The company then started selling to the U.S market in 1986 with the Hyundai Excel. It was yet another unremarkable and boring car. However, its affordable price of just $4,995 (about $13,000 in today's money) helped it to sell quite well. It's also the car that pushed the company's production past the one million mark.
Hyundai continues making mostly boring but affordable cars for the global market afterward. At best they worked but were very boring, at worst, well, they were just plain awful.
It wasn't until the early 2000s that they finally made what we would consider as good cars. And they've only started gaining the respect of journalists and car buyers in the last decade or so. But we'll talk about their transformation more later on.
Kia's History
Similar to its sibling, Kia started as a construction company specializing in steel tubing as the Kyungsung Precision Industry. Additionally, they made bicycle parts and eventually produced Korea's first domestic bicycle.
The company was established much earlier than Hyundai though, and in 1957 they built Honda-licensed motorcycles. Eventually, they also made trucks and cars licensed from Mazda. Kia's first proper car was the Brisa built from 1974 to 1981. And it was based on the Mazda Familia.
The name 'Brisa' comes from the Spanish word for 'breeze'. But with a 1.0L Mazda engine making 62 horsepower, driving up a hill was going to be anything but a breeze for this car. In any case, the car was relatively successful, but the company's factories were shut down in 1981 due to industry consolidation enforced by Korea's military dictator.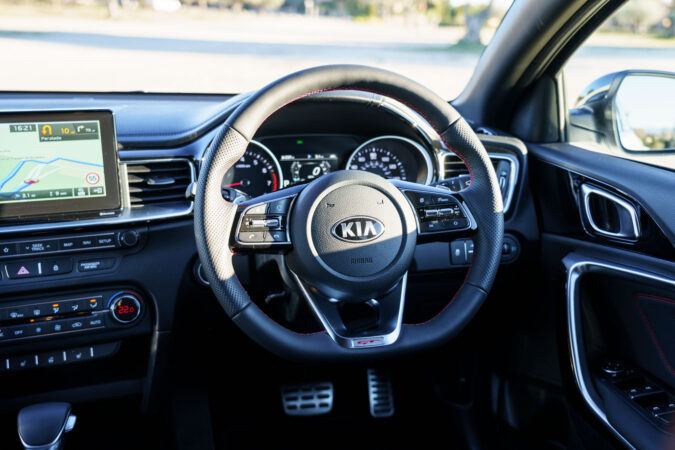 The company continued producing cars again in 1986. And all of their cars were based on some sort of either Japanese or American cars, such as the Kia Pride that was based on the Mazda 121. Still, they were cheap and were enough for the company to continue operating.
However, thanks to the Asian financial crisis, the company had to declare bankruptcy in 1997. A year later they came to a deal with Hyundai which acquired 51% of the company. And this brings us to how the two companies work today:
Is Kia And Hyundai The Same Company: Kia And Hyundai's Modern Structure
Hyundai still owns the majority share of Kia today, albeit less than what it used to be in 1998. Hyundai now owns 33% of Kia, and the rest of the shares are treasury stock, employee stock ownership, and public stocks. But this still means Kia is part of the Hyundai Motor Group.
Hyundai itself is a very large company with lots of subsidiaries. This includes GLOVIS their logistics division, an engineering division, Hyundai Steel, and of course, the Hyundai Motor Group that owns Kia.
We won't bore you with the details on how all of these subsidiaries operate. But the gist of it is that while they're separate business entities, they're all under the Hyundai multinational group. And this means they share knowledge and technologies when building cars.
Is Kia And Hyundai The Same Company: Hyundai's Transformation
Hyundai went from making mostly boring affordable cars to making good cars that you would consider over established Japanese, American, and even European cars. It now even has a luxury brand division that can put Audi, BMW, and the rest of the industry to shame—often at a more affordable price tag!
This transformation began in the late '90s when they unveiled the Tiburon. It wasn't their first sports car, but it was the first one that you would want. It looks good, has a solid V6 engine, and it handles well.
Then the Genesis Coupe came along in the late 2000s, their third attempt at sports cars. It also had a V6 available, rear-wheel drive, and was another fun car to drive.
Unfortunately, the styling was a bit mundane. Sure, it had two doors and a swooping roof line, but it just wasn't good-looking enough against the opposition. Remember, it had to go against the likes of the Nissan 370Z, the Dodge Challenger (especially among the best Dodge Challenger years), and the Chevy Camaro at the time.
So, the third time's not the charm. But for the fourth time, Hyundai hired ex-BMW M division boss, Albert Biermann. During his tenure, he established the Genesis brand. But more importantly, Hyundai's N division.
The N division's job was to make exciting versions of Hyundai's cars. They took the normal cars, fit powerful turbocharged engines, tune the suspension, and replace the bodywork with aero bits and bobs. The results are fast and cool hot hatches such as the Veloster N and Elantra N.
This move to hire an ex-BMW boss proved to be a good decision. As now they make luxury cars in the form of Genesis, exciting cars in the form of their 'N' cars, and most importantly, even the "normal" Hyundai cars got good.
Kia VS Hyundai
So, to answer the question "is Kia and Hyundai the same company?" the answer is no. They're separate business entities, but Hyundai owns Kia and they're sister companies. So, they often share parts and platforms when building cars.
The next question is how does the company differ? Which one is better? This is where it gets a little tricky, as their brand positioning is similar. Unlike, for example, VW with their subsidiaries. VW caters to the general car buyer, anything from small hatchbacks to SUVs. Albeit usually at a more premium price tag than its Japanese and American rivals.
Meanwhile, their subsidiaries cater to completely different markets. The Skoda brand, for example, makes mostly affordable versions of VW cars for the European market. While Audi is the global luxury brand of the VW group.
Kia and Hyundai have similar brand positioning but there are subtle differences. Let's take a look at how they compare in different aspects:
1. Exterior Design
It's easy to distinguish their cars in terms of exterior design even if they share platforms. Sure, some of them look similar, or at least, have similar silhouettes. But you'll still be able to tell them apart even if you remove the badges.
This is because they take different design approaches. Kia's styling is sportier, with sharp edges and boxier designs, especially for their SUVs. For example, both the Telluride and Sorento have sharper lines, a boxy silhouette, and a large and very bold grille upfront as opposed to the curvier design of their Hyundai counterparts.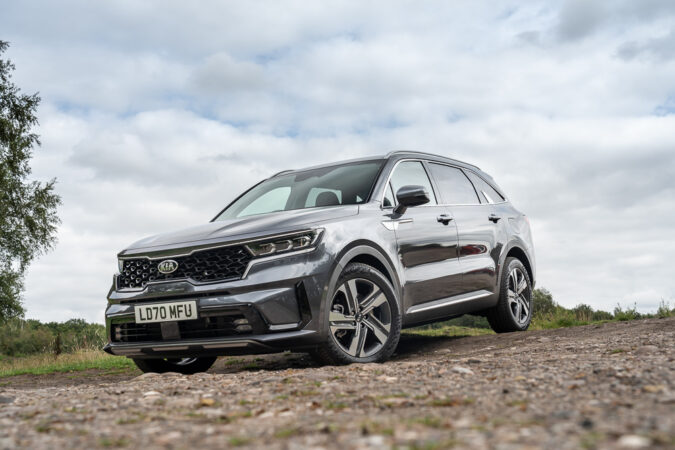 Hyundai's design approach is more towards luxury. Their cars generally have more curves. And while the sharp body lines—remnants of ex-BMW designers, we assume—also exist in Hyundai cars, their designs are meant to appeal to the more "mature" and luxury-focused car buyers.
It can be hard to tell at first but compare their models and you'll realize they have very different design languages. Part of the reason why Kia cars tend to look sportier is that a lot of their cars come with black or dark silver wheels, further accentuating the sporty design of the car.
2. Interior
You'd be forgiven for thinking that the interior of Hyundai cars is more luxurious than Kia's, but that's not always the case. Mainly because the interior quality and features heavily depend on the model trim level.
So, while Hyundai is supposedly the more mature brand of the two, a higher-trim Kia Sportage will have better materials and features than a lower-trim Hyundai Tucson. However, look a little closer at their newer cars, and you can start to see the difference.
Take the two new EVs from the two companies which are the EV6 and Ioniq 5. While they look very different from the outside, the interior shares a similar design, especially on the dashboard.
The biggest and easiest difference you can tell is with the air-conditioning controls. Whereas Hyundai uses conventional physical buttons and knobs, Kia uses dual-purpose capacitive screens.
They're touch-sensitive just like smartphone screens. And while this sounds cool, this means you can't just glance at it when you want to adjust the A/C. Partly because you can't feel them, and partly because they do different things depending on the settings.
This difference also exists in some of their more normal cars, such as the Tucson and Sportage. And you can tell that Kia's interior choices are aimed at younger buyers who would love this sort of novel technology.
3. Driving
Differences in driving feel are often hard to distinguish, especially for those who aren't keen drivers. Most people probably wouldn't be able to tell the difference, but it's there and the theme is similar to the design differences.
Hyundai cars tend to be more comfortable. Whereas its sister cars have firmer rides, making it feel tauter around corners and giving you more confidence when taking corners.
This is in line with how they're trying to differentiate the two brands so far. Younger buyers typically care less about comfort and can tolerate the firmer ride in Kia cars. Meanwhile, older buyers tend to just want something comfortable to do their commute in.
Worry not if you like the Hyundai brand more but want sporty cars since they're the ones with the performance division. The Hyundai N models such as the Kona N, the Veloster N, and the Elantra N are there for those who want a no-compromise sporty Hyundai.
4. Pricing
Price-wise they're very similar. Prices of the cars that share the same platform start at a similar price, and the difference is often no more than $2,000 which is somewhat negligible. Sometimes Hyundai starts at a higher price, but other times, it's the sister company's car that starts at a higher price.
For example, Hyundai's mid-size SUV which is the Santa Fe has an MSRP of $27,700. Meanwhile, its sibling the Sorento starts at $29,590. So, Kia's offering is around $1,890 more.
However, the Hyundai Palisade starts at $33,600, while the Kia Telluride is just a smudge under at $33,390. So, it's Hyundai this time with the more expensive cars. You'll only start bigger differences in pricing when you take a look at the higher trims.
Still, they're all very similar in pricing and are still in the same price bracket. While there's a bit of difference, both companies offer the same 10-year/100,000-mile powertrain warranty and a 5-year/60,000-mile basic car warranty.
5. Model Lineup Comparison
Kia currently has 13 models in its lineup. Meanwhile, Hyundai has a total of 12 models. While many of them are similar and share platforms, both companies have their own engineering division. This results in their cars feeling slightly different.
So, while the engine and platforms are the same, they tune the cars differently to achieve the brand's goals. This is why you'll see slight differences in fuel economy, power output, and as mentioned, their driving dynamics.
Additionally, each of them also makes cars that the other doesn't make. For example, Hyundai makes the Santa-Cruz which is a compact pickup to rival the Ford Maverick. Whereas Kia doesn't have a pickup truck in its lineup.
Similarly, Kia makes the Carnival, which is an MPV/minivan that rivals the likes of the Toyota Sienna. And you guessed it, Hyundai doesn't have an MVP in its lineup.
This has to do with the small market that these cars serve. Both the compact pickup and MPV markets are very small, so making two cars that go against each other would cannibalize the sales too much and will be a waste of everyone's time and money.
Meanwhile, the SUV market accounts for 52% of total car sales, a seven percent growth over the previous year. The large market means they can afford to build similar cars, as there are a lot of buyers out there.
On the other hand, the MPV market only accounts for 4.5% of total car sales in 2020. And while the pickup truck market accounts for around 17% of US car sales, the compact pickup truck market has been practically non-existent since the late-2000s.
Which Is Better Hyundai Or Kia
There's no right answer to this question. While they're very similar, they still offer different things in their car. Kia offers cars that are bold, sporty, and more willing to experiment with new features in the cabin.
Whereas Hyundai offers better refinement and familiarity, and a more luxury-oriented design. That being said, the engine, prices, and their aftersales service are all very similar. And since they're similar engineering-wise, reliability ratings are pretty much the same as well.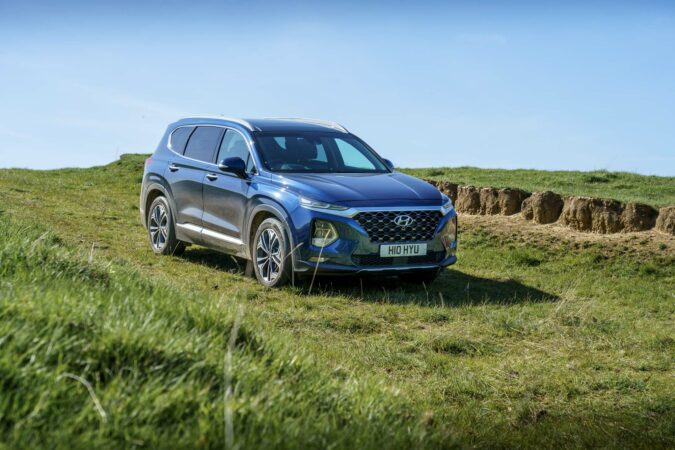 So, it comes down to your preferences. If you like comfortable cars, then Hyundai is probably going to suit you better. If you want cars that feel tauter and sharper to drive, Kia's offerings might be better for you. However, if you're not budget-conscious, we strongly implore you to consider Hyundai's N cars.
If you want my two cents, I tend to lean towards Hyundai. They look better in my eyes, I like their interior, and they have more conventional controls in the cabin which I prefer. But what if Hyundai cars aren't quite as luxurious as you'd like them to be?
Luxury Upstart: Genesis
We briefly mentioned that ex-BMW M boss, Albert Biermann established the Genesis brand during his tenure. This is Hyundai's luxury division, similar to what Lexus is to Toyota.
Genesis was originally a nameplate of Hyundai's 2007 luxury sedan, but then they established a luxury division in 2015. Their goal was obviously to emulate Toyota's success with the Lexus brand: make luxury cars to rival the German carmakers such as Audi, BMW, and Mercedes.
While you probably won't spot Genesis as often as you would spot their German counterparts, Genesis cars are selling quite well and are mostly positively received by customers and journalists.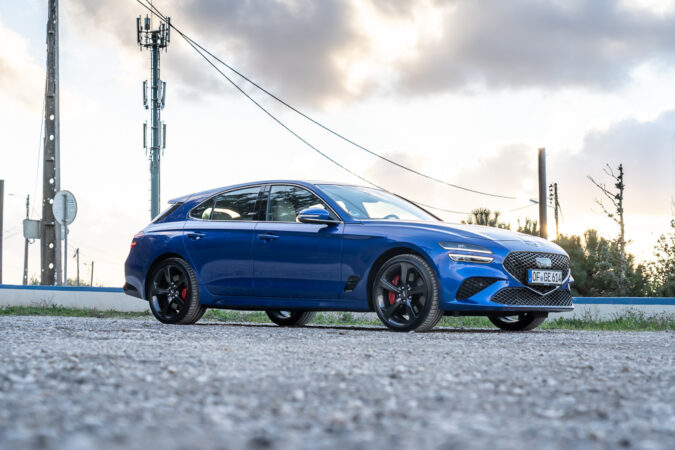 They currently offer nine different cars, including sedans, SUVs, electric cars, and even a shooting brake. They come with all the luxury features you might expect, often at a slightly lower price than their competitors.
What I like most about them is how distinct they look from their rivals, especially their shooting brake and SUV offerings. It might not be to everyone's taste, but I always like cars that look a little different and quirky.
Kia vs. Hyundai: Facts to Help You Choose Your Next Car
Kia and Hyundai are not the same company, but Hyundai owns 33.8% of Kia Motors and both are headquartered in South Korea.
Kia offers a larger selection of vehicle options than Hyundai, including minivans and more electric and hybrid options.
Both Kia and Hyundai offer outstanding warranties, including a 10-year/100,000-mile limited powertrain warranty.
Kia and Hyundai offer similar tech features, with Kia offering UVO and Hyundai offering Hyundai Blue Link.
Kia models tend to have a sportier exterior design, while Hyundai cars and SUVs have an aerodynamic shape.
Kia models come with a wider variety of active and passive safety features than Hyundai models.
The Kia Forte offers more standard safety features at a lower starting price than the Hyundai Elantra.
The Kia K5 offers standard features at a lower starting price than the Hyundai Sonata.
The Kia Telluride offers more standard features at a lower starting price than the Hyundai Palisade.
The Kia Sorento offers higher performance and a third-row seat as standard, making it a better overall value than the Hyundai Santa Fe.
Is Kia And Hyundai The Same Company: FAQ
Now you know the answer to the question "Is Kia and Hyundai the same company?" But you probably have a lot more questions about these two Korean carmakers. Here are some answers you might find interesting:
What Does Kia Stand For
There is conflicting information on this. Some suggest that Kia stands for Korea International Automotive, but others suggest that the 'Ki' means "To Rise From" in Korean, and the 'a' in Kia stands for 'Asia'.
Is Hyundai Japanese
No, Hyundai is completely Korean. It began as a South Korean company founded by a Korean businessman, and to this day its ownership still fully belongs to the Hyundai group and no Japanese company is involved.
Who Makes Kia Engines
Hyundai Motor Group provides Kia with their engines. However, they have a separate engineering division and Kia would often tune the engines to their own specification to differentiate it from Hyundai. This is because Kia focuses on making sportier cars.
What Does Hyundai Mean
Hyundai is how you pronounce the Korean word "Hyeondae" which translates to "modernity" or "contemporary" in English.
Does Kia Make A Truck
No, Kia doesn't make pickup trucks. However, Hyundai does make a compact pickup truck which is the Santa Cruz, a rival to the Ford Maverick. If the compact pickup truck market continues to grow, we wouldn't be at all surprised if Kia makes their own spinoff of the Santa Cruz.
Do Kias Hold Their Value
According to MotorTrend, Kia cars hold about 47.7% of their value after five years. Not great when you compare them to the likes of Toyota, Honda, and Ford. But it's still higher than VW, Nissan, and Mitsubishi amongst other carmakers. Bad news if you're buying brand new, great for the secondhand car buyers.
What Does GDI Mean On A Kia
You'll often see GDI on the engine cover of Kia and Hyundai cars. This stands for Gasoline Direct Injection (GDI), which is a fuel injecting technology that's widely used nowadays.
Why Are Hyundais So Cheap
Older Hyundais are very cheap mainly because they use cheaper materials, primarily in the interior. You'll find the panels are mostly hard scratchy plastic that isn't very pleasant to look at or touch. These days though Hyundai is only very slightly cheaper than their competitor, and has much better quality than they used to. Although their higher-end models still might feel a little less well-made than their Japanese and European counterparts.
Is Kia And Hyundai The Same Company: Final Thoughts
If someone asks you "is Kia and Hyundai the same company?" you now know to tell them no. The two brands are separate companies, but they are under one ownership of the Hyundai multinational group. And while Hyundai technically owns Kia, the two operate as sister companies.
This means they share knowledge, parts, and platforms when building cars. Hence why they make similar cars that compete in the same segment, and often with a similar price tag.
However, Kia focuses on making sportier cars with novel features aimed at the younger demographic who often values these things. Meanwhile, Hyundai cars put a larger emphasis on luxury, comfort, and familiarity. Since the two often share platforms, it's hard to say which one is better.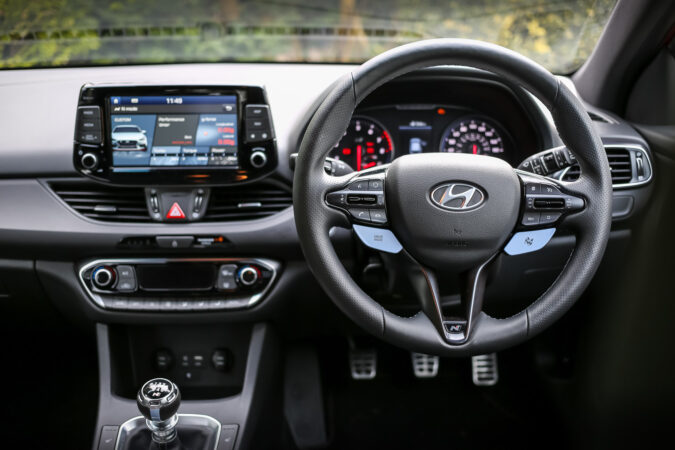 It heavily depends on your preferences, and I personally prefer Hyundai. Probably because while I'm still 26, I have the soul of a 46-year-old with a bad back. Sports cars are a thing of the past for me. In any case, hopefully, this has been informative and entertaining.
At the very least, the next time a friend asks you "is Kia and Hyundai the same company?" you can bore them with all sorts of facts about the two Korean carmakers I've shared with you today.