If there's such a thing as heaven for car enthusiasts, then the Goodwood Festival of Speed would be it. Especially for those living overseas, or non-car folk who've never heard of it before, it's a bit hard to explain what Goodwood really is. It's part rolling car show, part hill climb event, part race track, and part historic racing series. Every once in a while, there are air shows, rally stages, concours displays, exhibitions, car auctions, and a whole lot more.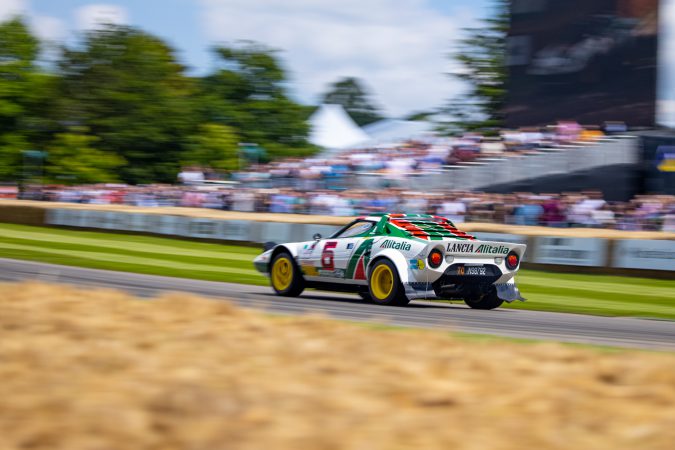 Sometimes, it happens all at once. This year's Goodwood Festival of Speed is a bit different, after an 18-month hiatus. Its 2020 edition was canned, owing to the Covid-19 pandemic. While Coronavirus is still stubbornly around, the good times are slowly returning. As a pilot of the UK government's 'Event Research Programme' – or i.e. a display of how a post-COVID reopening would be like – 2021's Goodwood Festival of Speed hit a home run, and was a welcomed retreat for many visitors.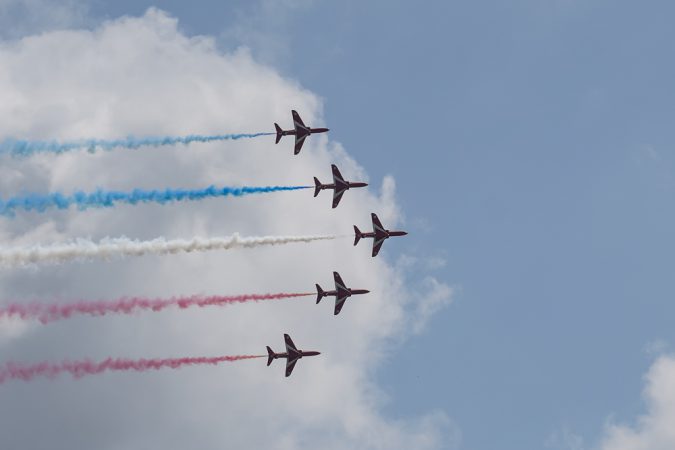 No doubt, a lot of enthusiasts, manufacturers, journalists, and all else in between have had plenty of pent up car-spotting and showing off to do. We saw that burst of life and energy in bucket loads this past weekend. There were new cars making their public debut for the first time.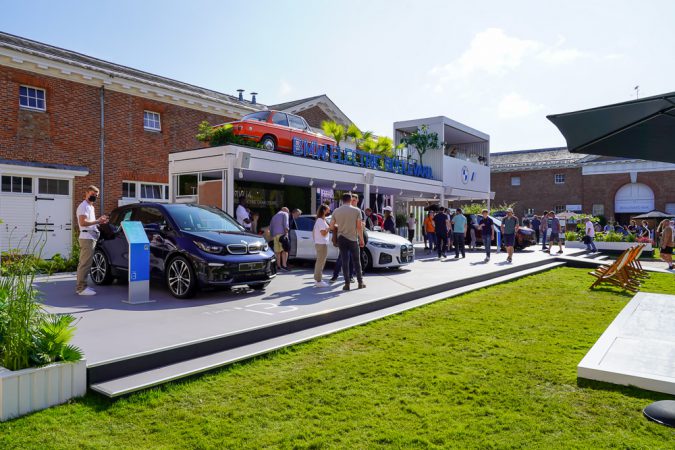 We saw old racers run up the legendary Goodwood hill climb course. Rally cars stormed through nearby woodlands, as icons of times past made came home. Goodwood is never short of excitement.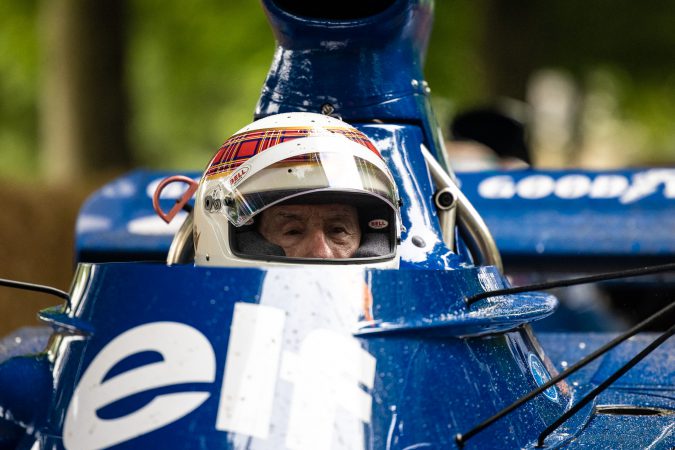 Oh Captain, My Captain
Where else could we start the 2021 Goodwood Festival of Speed, then celebrating its fleshy human heroes who piloted four-wheeled machines to eternal glory? As part of Goodwood's "The Maestros – Motorsport's Great All-Rounders" event, more than a few racing legends returned to the hallowed grounds of the estate. The highlight for many would surely the Roger "The Captain" Penske. This was his first time back at Goodwood since 1969, when he last raced a Ferrari 250 GTO.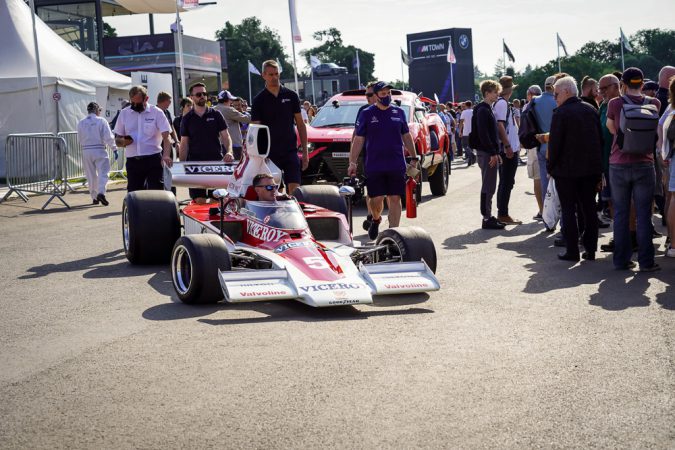 He is no doubt one of the greatest racing drivers – not to mention his namesake team – in American motorsport history. He displayed his pace quite well in a once Le Mans-bred Penske Porsche RS Spyder, storming up Goodwood Hill. Team Penske also brought along their massive collection of racers across numerous series over the decades. These include title-winning machines from its NASCAR, IndyCar, Indy 500, Le Mans, and the Australian Supercars endeavours.
Another luminary of the racing underworld was Mario Andretti. He's a great driver who's become a life-long friend of the Penske family and racing team. Alongside them were some of Andretti's championship-winning cars. Jacky Ickx, a six-time champion of the 24-hours of Le Mans, sadly couldn't attend. But at least some of his cars made it, with winning cars from endurance racing's finest sports, GT, and saloon car classes coming together in his absence.
A Celebration Of The Good Old Days
Speaking of motorsport legends, we had a fittingly emotional tribute to the one and only Murray Walker. His radiant and enthusiastic commentary made Formula 1 of the old days such a joyous and memorable time.
It's fair to say that many fans of the sport were just as excited to hear his voice, just as much as the screaming V12s of yesteryear. His very recent passing was commemorated at the Goodwood Festival of Speed, courtesy of F1 driver, Damon Hill.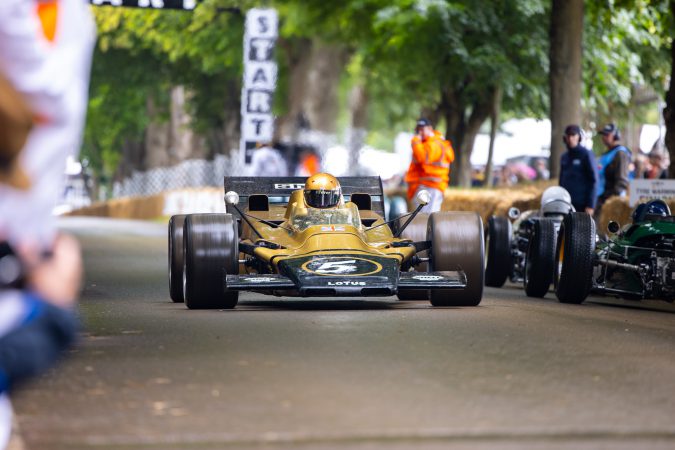 It's safe to say that more than a few of us had lumps in our throats. From past to present, we saw today's drivers test out the machinery that their ancestors had almost a lifetime ago.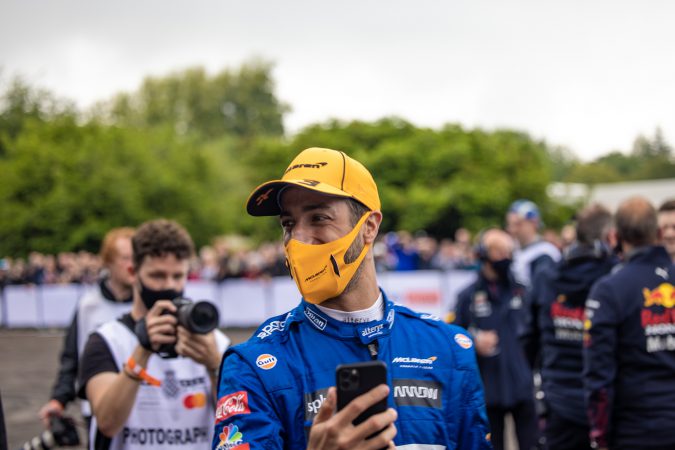 The current crop of McLaren F1 Team drivers, Lando Norris and Daniel Ricciardo, spent some time in a couple of Marlboro liveried racers. It's a far cry from the awe-inspiring MCL35M of today, but it's safe to say there's a lot of pedigree in the old MP4/5B, which once ferried around one Ayrton Senna.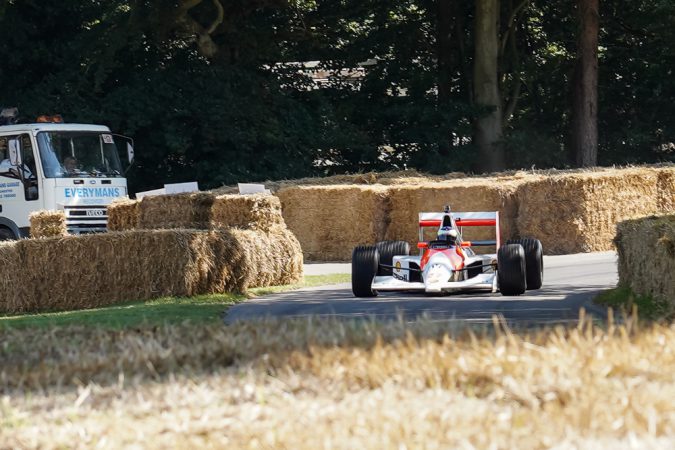 Supercars Galore
Oh, the supercars… There were many of those around at Goodwood. The best ones to look out for, in our opinion, were the big V12s. Aston Martin's Valkyrie, practically a pseudo Formula 1 car shrink-wrapped into road-going proportions, made a thunderous fly-by of Goodwood.
Its mid-mounted, hybrid-assisted, naturally-aspirated, 6.5-litre Cosworth-tuned V12 is a monster. Combined with the aid of some electrification, more than 1,000 horsepower are at the disposal of your right foot. And the noise it makes is exactly what's missing from cars today. It very much shook the entire Goodwood grounds to its core. Along with that was also Aston Martin's current F1 car for the fans to see close up.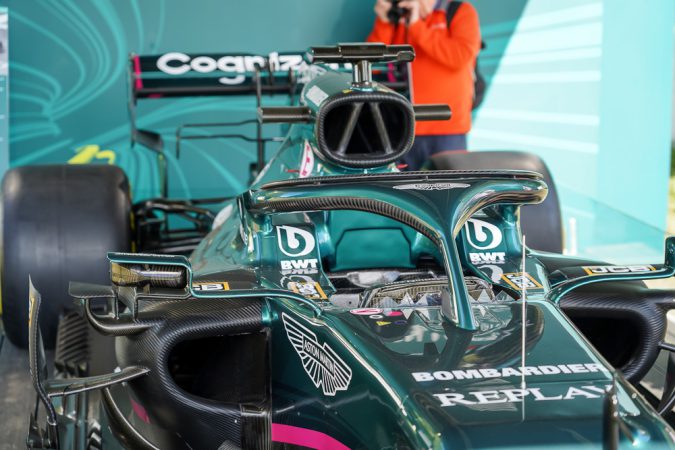 Not far behind is Lamborghini's Essenza SCV12. It looks like a fighter jet, and it certainly sounds like one. Not being road legal, the Essenza is a limited edition track-only racer, destined for a one-make racing series akin to Ferrari's FXX programme. Underneath is a V12, honed from the same unit in the Aventador, but now tuned to produce 820 atmospheric horsepower.
If the Valkyrie somehow didn't make your eardrums bleed, then the SCV12 surely will. Believe me, you're all the better for it. Should a howling V12 perhaps be too much for your ears, then consider a rumbly and growly W16. The mesmerising Bolide – my favourite super/hypercar to date – was unfortunately absent. But Bugatti did send over the Pur Sport, a racy and more dynamic sibling of the Chiron, up the hill. With all sixteen cylinders, quad-turbos, and two+ tonnes of it.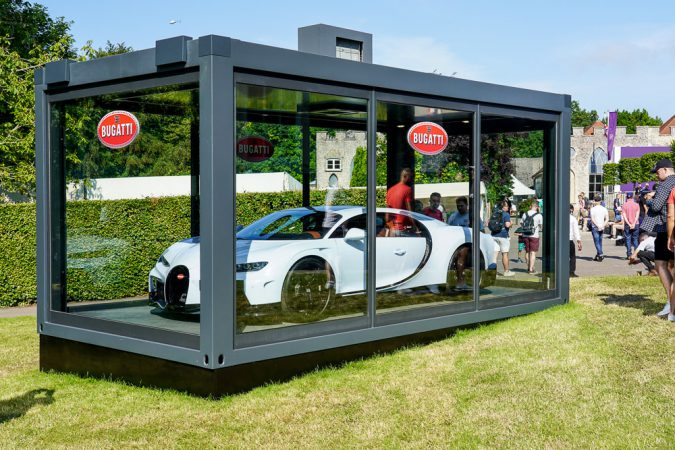 A Rejuvenation
It's not only the more look-at-me cars that arrived with a splash at Goodwood, too. Plenty of brands are seeking to have their spirits reborn, we got a hint of a couple of them. Maserati has a very bold plan for the future. It all starts with the MC20, its first mid-engine supercar in more than a decade, not since the Ferrari Enzo-based MC12. In bright blue, its twin-turbo V6 – which Maserati swears it wasn't shared with either the Alfa Giulia or Ferrari 296 – gave the air at Goodwood a raspy tune.
Its 600+ horses underneath is a healthy bunch too, and it's just barely the beginning. Soon, we might see an even racier track-tuned version. Meanwhile, a drop-top, hybrid, and fully electric variant of the MC20 coming soon. But while this may be Maserati's new start, for some brands like Lotus, Goodwood is a good place for the last hurrah. This came with the Emira, in what would be its final internal combustion engine-powered car before the era of electrification beckons.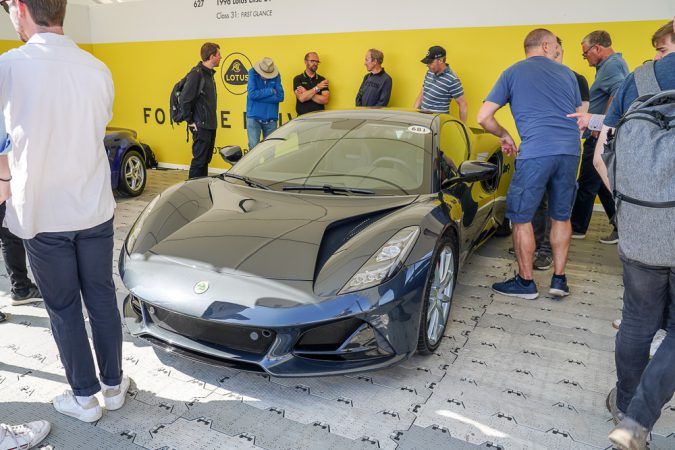 Born to replace the Elise, Evora, and Exige all in one package, the stunning little Emira is a substantial step forward for Lotus. A supercar for sports car money, it has the familiar supercharged 3.5-litre V6 from past Lotuses. But for the first time ever, you can – or will soon be able – to get the Emira with an AMG-sourced 2.0-litre four-pot motor; a similar powerplant to that in the A45 AMG. The cosy and luxurious interior too, is a most welcomed change from the spartan Lotuses of old.
Small Cars, Big Cars Aplenty
Speaking of sporty cars, there were so much more to celebrate. Back to Aston Martin, they brought the whole family down for a picnic at Goodwood. Its revised small sports car, now the Vantage F1 Edition – as trimmed in its safety car livery – flew across the Hill.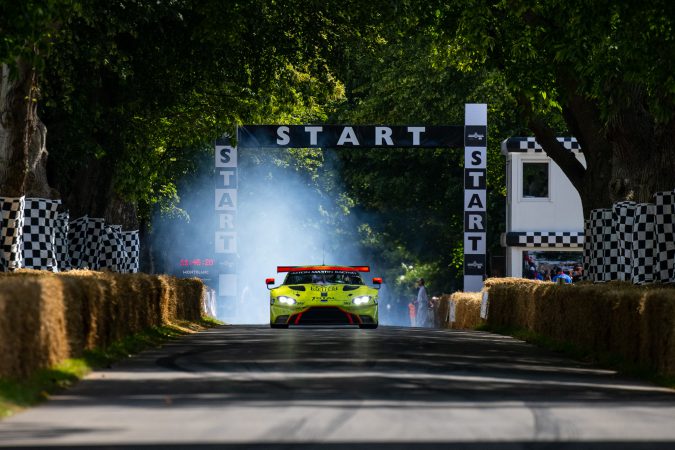 Alongside it was the no-roofed V12 Speedster, as well as a DBS Volante, a DB11 AMR, and their currently running F1 car. Moving from timelessly elegant and sultry Astons, we have the uber-aggressive Lamborghini Huracan STO.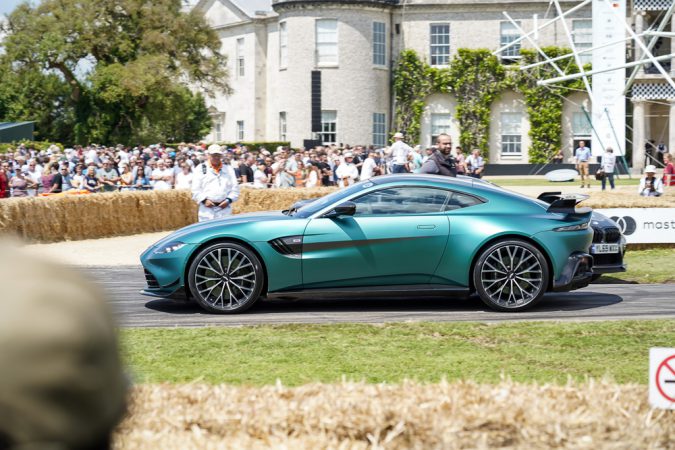 Even with two fewer cylinders than the SCV12, it wasn't hard for it to make itself heard. The battle of the Brits was capped off with McLaren. With them was the Elva, and more excitingly, the Artura. Its first hybrid production car, the Artura (and its electrified V6) will be a showcase to what McLaren might be up to once the thirsty V8s go out of fashion.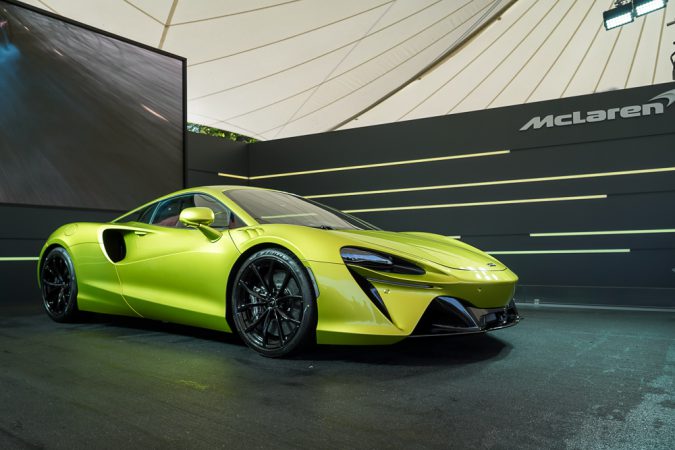 Scuderia Glickenhaus, who ordinarily make race cars for Le Mans and GT3, finally unveiled its road-going SCG 004S.
Its 1960s styling is already quite a head-turner on its own before you notice the McLaren F1-esque central driving position, a throaty made-in-the-USA V8, and a clicky open-gate manual box. Porsche, never keen to disappoint the crowds, brought out the wingless GT3 Touring. Essentially a more subtle GT3 that you can drive around town without feeling embarrassed, Goodwood's onlookers can revel in its flat-six revving to a sky-high 9,000RPM.
What's Old Is New Again
But sometimes, you don't want a new car. What you want is the analogue and simplistic mechanics of an old car, wrapped up in new-age comfort and refinement. In that case, Goodwood has a few things in store for you. First up, we have the Kimera EVO37. It's a love letter to the Lancia 037, which was the last rear-wheel-drive car to win the World Rally Championship. This is the Singer for old Lancias, with a slightly more powerful engine, and a carbon-fibre bodywork all-around.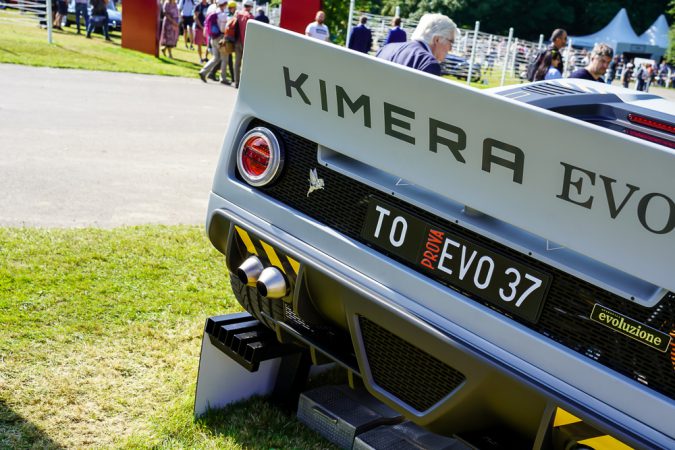 Or, perhaps you'd like a more utilitarian vehicle, with plenty of room for the whole family, luggage, and some off-road capabilities? In that case, look no further than the INEOS Grenadier. Looking past its frankly awesome name, the Grenadier is INEOS' reinterpretation of the old-school (Land Rover) Defender. It's boxy, rugged, and looks like it's ready for an adventure. But if you're looking for more silliness, then how about the new Defender, but with a big V8?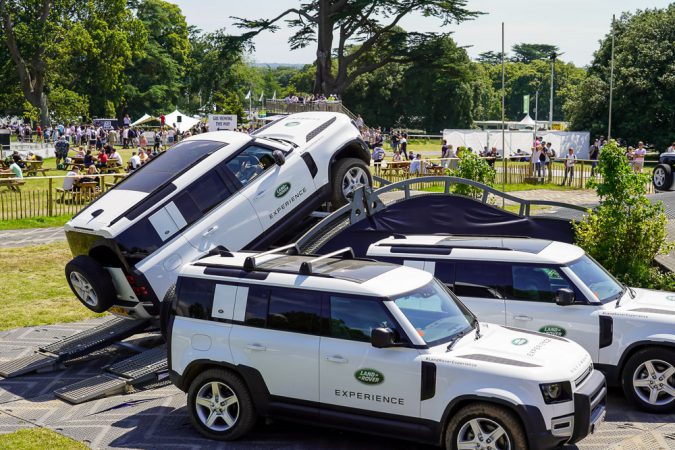 Surprisingly, its run up the Hill hasn't toppled it over, nor did we see it roll and wobble around as much, even at its ludicrous speeds.
A personal favourite of mine here would be the twin Alfas, the Giulia GTA, and the GTAm. Both are based on the familiar Giulia that we know and love, but now with the wick turned up to 11. Be in awe of its big wing, and puffed up carbon fibre surgery.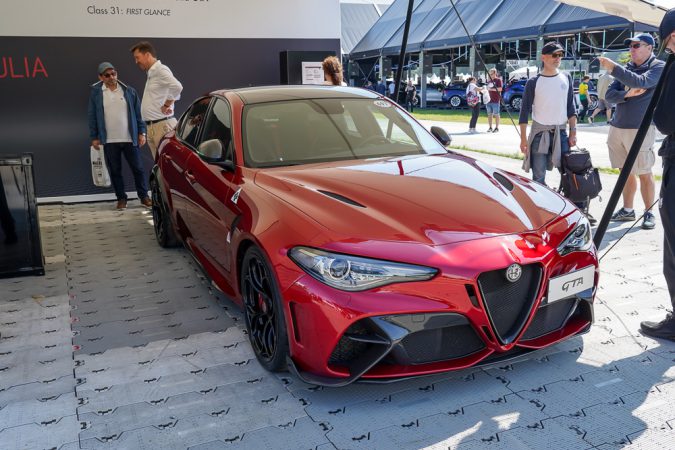 Although for a more classical touch, its Ferrari V8-powered sibling, the Maserati Ghibli Trofeo, is there too.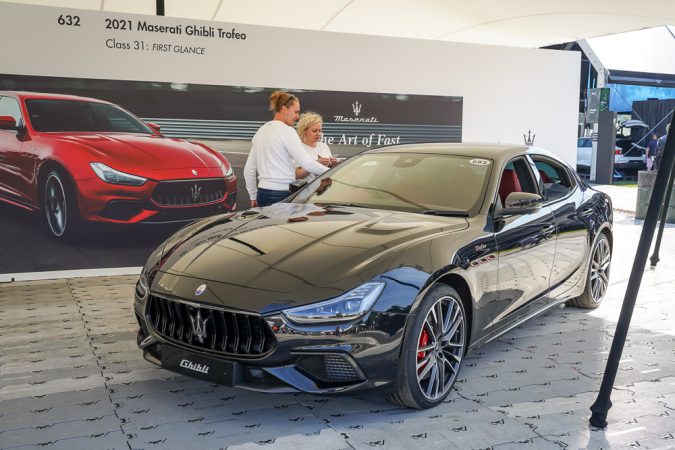 Absolutely Electrifying
Of course, we can't escape car talk in 2021 without at least a bit of electrification thrown into the mix. At this year's Goodwood Festival of Speed, though, there was a whole paddock assigned just for celebrating this exciting new era. The pinnacle of which would surely be the Rimac Nevera, the Croatian brand's as-near-as-makes-no-difference 1,900hp electric supercar. This is the successor to the ground-breaking Concept One, taken up a notch.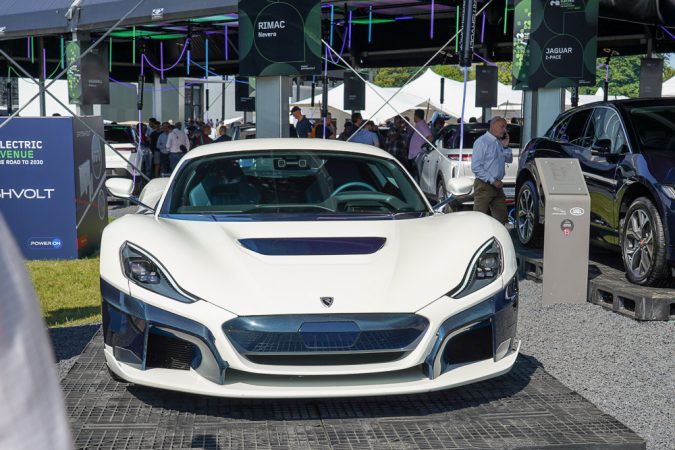 Alongside it is the oh-so-Italian Pininfarina Batista, the Rimac's Latin cousin which was jointly developed alongside the Nevera, now clothed with some new sheets. Ah, and how could we miss the Evija. While the Lotus Emira was built for today and tomorrow, the Evija is here to stay on for a world built years from now. The stunning design is one thing, but wait till you realise that each motor – one for each wheel – has 500hp each. There was also an angry, beefed up Polestar 2.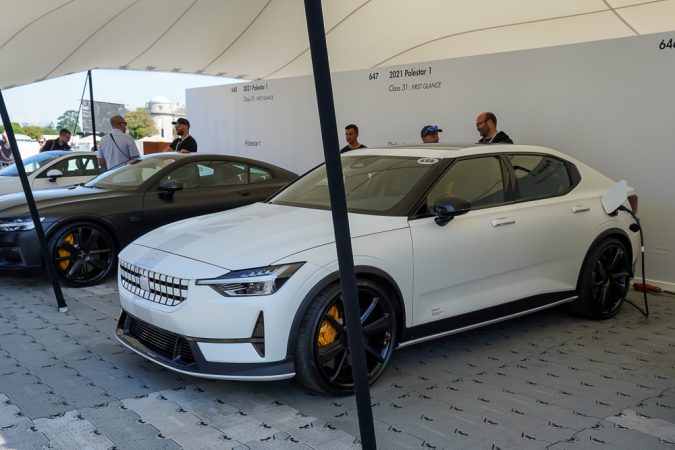 But for those of us that can't spare millions on a new car, there are plenty of more affordable EV options. The Ford Mustang Mach E was present at Goodwood, as is the Hyundai Ioniq5.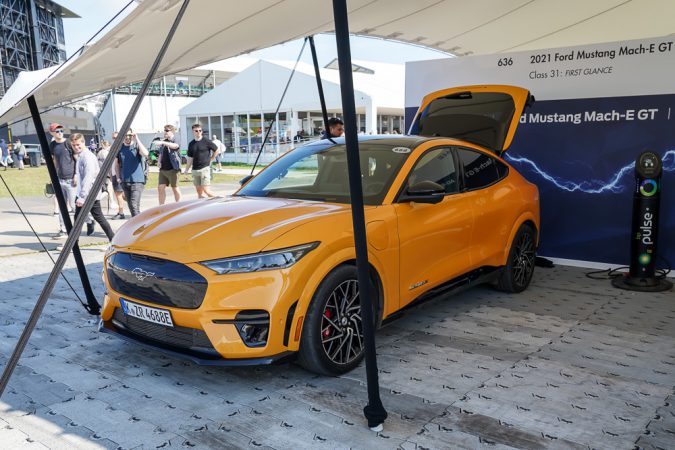 The latter is the more appealing option to my eyes, with its retro-futuristic design marking a gigantic leap forward for Hyundai's design ethos. Moving further down in size, we have the cutesy little Citroën AMI, a city car-pod thing, which you may soon be able to purchase in the UK.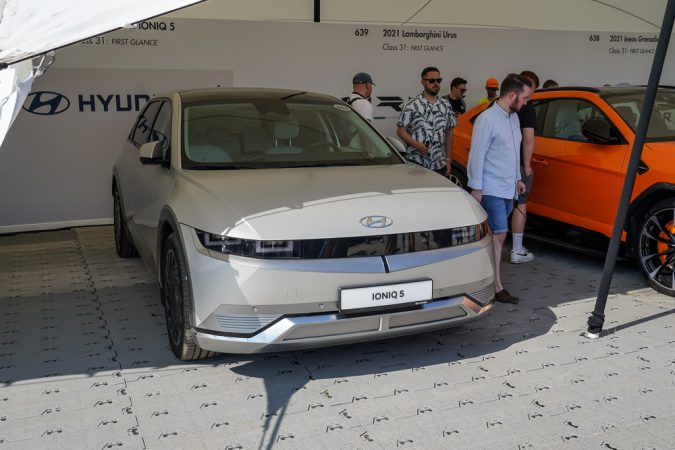 A Quick Jaunt
Looking around Goodwood, you see plenty of new and exciting cars. Stuff like the new Toyota GR86 or BMW 2-series, both representing perhaps the best bang for your buck in the sports car market. Then, you have cars like the Genesis G70 Shooting Brake, a so very sexy and elegant wagon for all that you desire in the world. But while that side of the Goodwood estate is fairly calm, the emotions run high along the Hill. Here, competition cars, professional drifters and racers get their chance to make a lasting mark.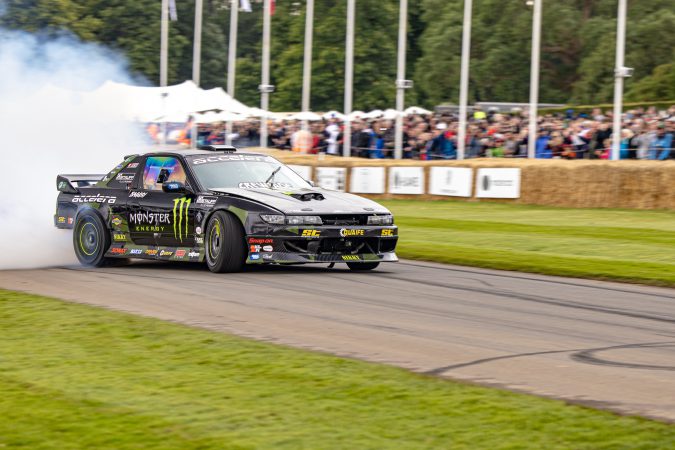 The long roster includes the hydrogen-powered H24 Racing LMPH2G, a hybrid Toyota Corolla for its entry into the BTCC, an SCG 007 LMH destined for Le Mans, and a Ford Puma WRC car. Elsewhere, there was a Driftkhana competition, and a rally stage set up. The limelight, though, has to fall to the Goodwood Shootout, which saw cars across all eras try to set a time up the 1.16-mile hill-climb course. There was a rare vintage Mercedes, some F1 cars, as well as Touring and Le Mans racers.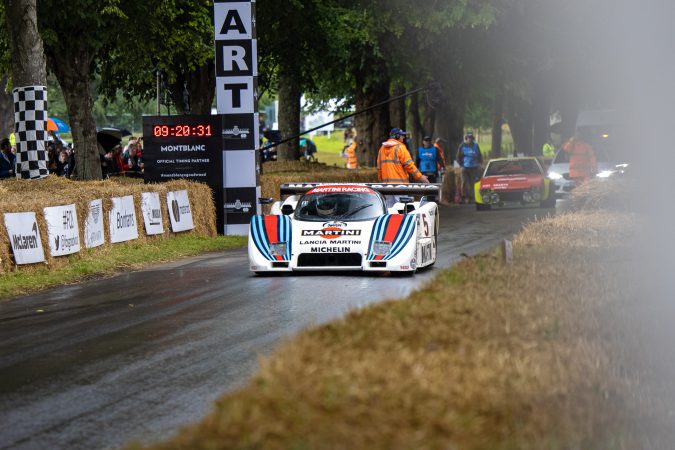 Travis Pastrana and his Subaru WRX STI rally car started off with a blistering time of 48.10 seconds, before beating it again with a time of 46.20. But then, Rob Bell blitzed the Hill in a works McLaren 720S GT3X racer to top a record 45.01 seconds, winning the Shootout outright. Its bellowing V8 echoed through the whole estate, likely causing a ruckus on the Cartier Style et Luxe concours, where another (once) competition car, Lancia Stratos HF, won as the finest and best-presented car.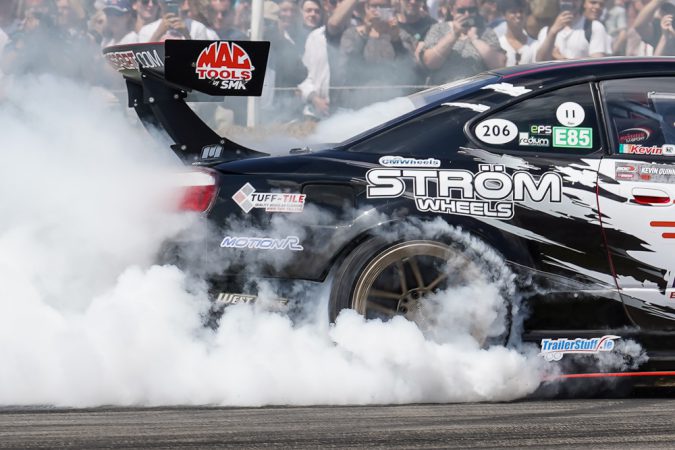 Goodwood 2021 Galley
Images can be seen below from Jay Sidhu covering as much of possible of the Goodwood event.