For a regular person, owning 3 or 4 cars is already a collection. But around the globe, there are a few car collections that would blow your socks off. And one of those sick car collections belongs to Jay Leno. Jay Leno is a popular comedian and a legendary TV show host. He is also a desirous, car collector. In this impressive collection, how many cars does Jay Leno have?
Steam cars, sports cars, muscle cars, race cars, supercars, service trucks, turbine cars, motorcycles whatever that hosts an engine and wheels seem to pique Jay Leno's interest. In his collection, he has over 181 exotic cars in his collection. Along with his massive lineup of cars, he also owns 160 motorcycles.
Jay Leno himself is worth $450 million. And the car collection of his is valued at least at $52 million. The entire collection of his assumed is worth as high as 100 million. All these valuables are stored in his garage in Burbank, California. It started out as a 17,000 square foot space in 1991 and today it is almost 122,000 square feet.
Who Is Jay Leno (And The Cars He Has)?
Jay Leno also known as James Douglas Muir Leno, is a popular American TV show host. H also made a name for himself as a stand-up comedian. He gained a lot of recognition from his TV appearances.
Jay Leno is a genuine gear head, and he loves everything about cars. He loves buying them, repairing them, and restoring them to their former glory. He also occasionally takes them out for spins.
In 2021 Jay Leno is worth over $450 million. He earns almost $15 million per year.
How Many Cars Does Jay Leno Have, Quick Stats
Jay Leno's Net Worth (2022)
Roughly $450 Million
How Many Cars?
Over 181
How Many Bikes?
Over 160
Collection Worth
Between $52 Million And $100 Million
Most Expensive Car
McLaren F1 (Around $20 Million)
Success Of Jay Leno And The Cars In His Collection
Jay Leno first started his career as a stand-up comedian. From the late 70s up to the early 80s, he managed to hook a few TV show roles. The only role he played as the star was in the 1989 movie Collision Course.
The true fame for Jay Leno came through The Tonight Show and Leno made his first appearance on The Tonight Show on March 2, 1977, performing a comedy routine. In 1986 and moving forward he was a regular substitute to the host at that time, Johnny Carson. Finally, in 1992, he became the official host of The Tonight Show.
The NBC contract kept him occupied until 2009. After leaving The Tonight Show, he starred in his own talk show, The Jay Leno Show. This didn't continue for long. In 2010 he signed with NBC's The Tonight Show again. That contract was 4 years long, and in 2014 he left.
Jay Leno's Financial Ways To Get This Many Cars
Building such an impressive collection actually needs firm financial backing. Not everyone can pour an excess of 50 million into a collection. Jay Leno's financial habits allowed him to save up enough to spend on his cars.
Ever since his first job, Jay Leno has believed he should have multiple jobs. By working multiple jobs he planned on saving a substantial sum of money. These multiple jobs or multiple streams of income played a key role in building this exotic car museum.
While he was under the NBC contract, he continued to stand up comedy tours. He often used the earnings from those tours to support his expenses. Almost all of the money that flowed in through The Tonight Show went straight to his savings.
 

View this post on Instagram

 
Another effective habit was spending what he has. He never wanted to use credit cards, since he would be in debt if he does so. This same principle applied when he purchased his house. He did not depend on any mortgage loans, he only purchased his house when he is capable of paying the entire sum upfront.
Even the cars that he purchased were never on loan. Every single car in this vast collection was paid in full upon purchase. By not paying any interest, when the cars increase in value, every bit of that added amount would be profit.
Jay Leno Car Collection
Among the 181 cars that Jay Leno has, almost all are 6 figures or more. Not a lot of people have that amount of money to dump into one car, let alone more than 150. Among the handful of people who can afford it is Jay Leno. Among the tons of precious metals in this collection, a few stand out as the most valuable.
Here are the most valuable cars in Jay Leno's collection.
2017 Ford GT
First, we have the 2017 Ford GT that comes with a base price of $450,000. The demand for the Ford GT is over the roof. And Ford doesn't make nearly enough Ford GTs to keep up with this demand. Therefore this lack of supply to keep up with the demand makes it one of the hardest cars to own. This makes it a really valuable car to own. Only a select few get to own a Ford GT, and Jay Leno is one of them.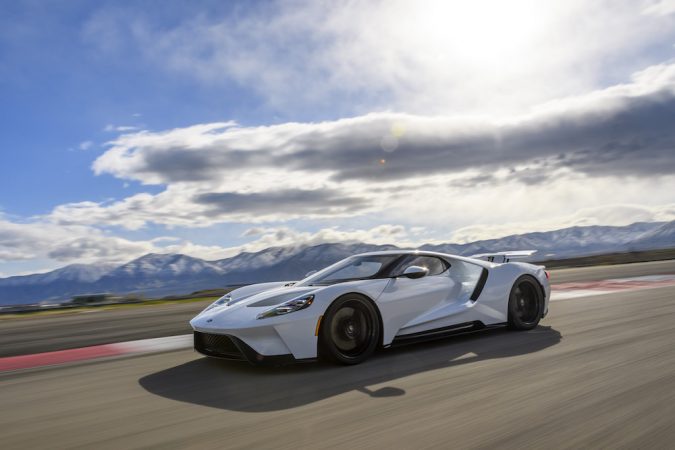 The original Ford GT won the 24 hour Le Mans in 1966. Two Ford GTs captured the first and third position in that race. And Ford has since shown no intent to slow down. Ford still manufactures the finest American supercars. The 2017 Ford GT is no exception.
The Ford GT is unlike any other Ford. It can produce 650+ hp with the help of the turbocharged, 3.5L V6 engine. The car can get to a top speed of 216 miles per hour. It only gets 11 miles per gallon, but it is still a formidable machine.
Chrysler Jet Car
Jay Leno is currently the owner of Chrysler's turbine-powered coupe. The story behind the car is quite interesting. The Chrysler company manufactured the Chrysler Turbine back in 1962. 50 units of this car were made for testing purposes only. Finally, only 55 of these cars were ever made.
Today only 9 of these are known to exist. These experimental turbine engines in the Chrysler turbine engines are meant to eliminate the need for pistons and the need for regular gas. This means anything that is combustible can be used as fuel. The efficiency might decrease and there is no guarantee that is good for the vehicle. But in theory, it can run in vegetable oil.
 

View this post on Instagram

 
The engines were loud and inefficient. So eventually Chrysler had to scrap the turbine engine idea. Therefore the car was never mass-produced. With genuine fuel, the engine was capable of producing 130 hp. One of the few that exists is owned by Jay Leno.
There is a lot of confusion regarding the value of this car since only a handful exists. A lot of collectors go nuts when they hear about the turbine engines. The demand adds to the value. Estimates say the value could be more than $500,000 and could reach up to a million.
Mercedes Benz SLR McLaaren
First showcased at the 2003 IAA Frankfurt Autoshow, the car was produced by the joint effort of both Mercedes and McLaren. This became McLaren's first modern-day supercar since the illustrious F1. The SLR McLaren is one of the sought-after celebrity cars out there.
With a 0-62mph time of 3.8 seconds and a top speed of 208mph, the SLR McLaren combined the performance of the McLaren and the signature luxury of Mercedes. In short, this created the ultimate show car.
Finally, this car is valued at almost $500,000.
2014 McLaren P1
The name McLaren is well known to exotic car fans. This is a car definitely valued at 1 million-plus. The McLaren P1 is one of the most sought-after hypercars in the modern world. It is said that a McLaren P1 offers the most unforgettable, savage, and raw rides. This car proved that it can hold its own against the Lamborghini Huracan Performante Spyder.
Jay Leno has a good relationship with the McLaren company. So this allowed him to get the first-ever P1 that hit the US shores. He does take the car out for a spin on a regular basis and that makes sense. This beast isn't supposed to be caged inside a garage. The car is well capable of reaching speeds of 215 plus miles per hour.
1955 Mercedes 300SL Gullwing Coupe
The car was a sci-fi ride over 50 years ago when it was introduced. The Mercedes company is known to produce luxurious highly-priced cars and this was no different 50 years ago. Jay Leno owns a fine restored version of the 1955 Mercedes 300SL Gullwing Coupe.
Leno is the 3rd owner of his 300SL Gullwing. It was formerly a race car and supposedly was raced at the tracks. Leno and his team rebuilt the 3L V6 engine. The restored engine can produce over 180 hp.
The car received its nickname 'gullwing' because of its ahead of time upward swinging doors. It is still considered the best car ever made. It has an estimated value of $1.8 million.
1939 Lagonda V12
The version of the 1939 Lagonda V12 that Jay Leno owns is a replica of the classic. The British manufacturer might release a futuristic high riding model soon. But back in the day, they were known to build sports model cars. The company is also responsible for building high-quality reproductions of classic Aston Martin models.
Many Lagonda V12s were composed by former  Rolls Royce designers. Finding an original Lagonda is almost impossible today. So Jay Len0 built himself a custom replica.
 

View this post on Instagram

 
Though it might be a replica, it is still worth a hefty sum. A version of the car was reportedly sold previously in 2012 for 1.6 million pounds. This values the car in Jay Leno's collection today at $2.56 million.
1967 Lamborghini Miura P400
Lamborghini Miura did not have a long production run. Only 741 of these gorgeous Italian cars were ever produced. The car was introduced in 1966 and is known as the genesis for modern hypercars.
Due to the rarity and because the car is absolutely fantastic the prices have skyrocketed in recent years. Many models of the Lamborghini Miura are on display in museums around the world. And Jay Leno's Garage is one of them.
Jay Leno owns a 1967 Lamborghini Miura P400 with a 3.9L V12 engine. The sleek design of this performance car, changed the world of supercars in the years to follow. The car is valued at $3.5 million.
Koenigsegg CCXR Trevita
After all, any Koenigsegg is worth drooling over, and they are all fine-tuned supercars. The Koenigsegg CCXR Trevita tops the list as probably the best car ever to come out of Koenigsegg's factory.
The entire body of the CCXR Trevita is made out of carbon fiber. It is painted in a white to silver color. So as it blasts past you it would look like a rolling hump of diamonds. The car can accelerate from 0 to 60 mph in under 2.9 seconds.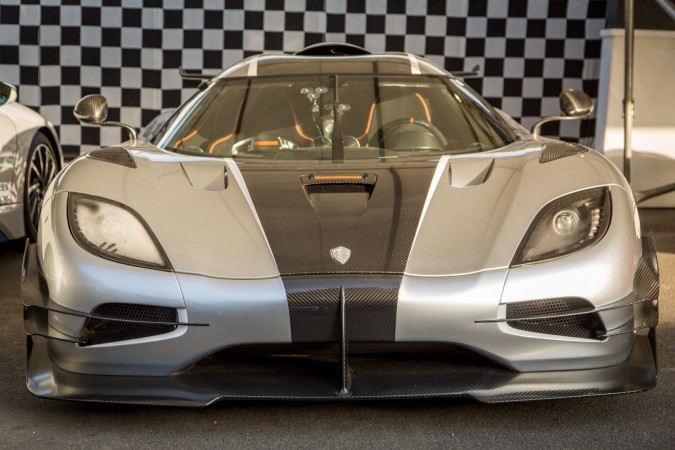 The company also mentioned it can get to 125 mph in 8.75 seconds. This is one of the most technologically advanced cars in Jay Leno's collection and it can reach a top speed of 254 mph. The car was directly delivered in the hands of Jay Leno by the builder Christian von Koenigsegg himself and this is only one of two that ever exists. The car is estimated to be worth $4.8 million.
1994 McLaren F1
The McLaren F1 is an iconic well-known sports car of the 20th century. Out of his $50 million collections, Jay Leno admits that he cannot pick a favorite. But he did mention to CNN, in an event of a disaster he would save the McLaren F1 first.
McLaren only produced the F1 for 6 years from 1992 to 1998. Only 107 F1s were ever made. This makes the F1 one of the most valuable cars in Jay Leno's collection. During its run, it also set a Guinness world record for the fastest car in the world by achieving a speed of 240.1 mph.
The 1994 McLaren F1 is estimated to be worth around $12 million.
1934 Duesenberg Walker Coupe
Duesenbergs are a common sight on Jay Leno's Garage. The 1934 Duesenberg Walker Coupe takes the cake though. In 1934, the Walker Aerodynamic Coupe cost $25,000. This makes it the most expensive Duesenberg ever produced.
The value of this car today is estimated to be $20 million and this makes it the most valuable car in the Jay Leno car heaven.
 

View this post on Instagram

 
The car is powered by an 8 cylinder engine. To summarize this is said to be able to produce 265 hp.
Then these are the top 10 most valuable cars in Jay Leno's garage. What makes it better is these are not left to rot in the garage for years. The comedian-slash-car enthusiast takes almost all of his cars out of the garage and drives them, which is how it is supposed to be.
How Many Other Cool Cars In Jay Leno's Collection?
Value alone doesn't make an amazing collection and some cars in the Jay Leno collection have that cool factor that a value cannot be stated. So, here are some of the coolest cars in the Jay Leno museum.
2004 EcoJet
Jay Leno is not your typical car collector. Thus he collaborated with General Motors to produce the EcoJet. Similar to the Chrysler Turbine, the Ecojet also is powered by a turbo engine. EcoJet is a one-off supercar that can be best described as a technological showcase. It was showcased in the 2006 SEMA Autoshow in Las Vegas.
The car runs purely on 100% biodiesel. The exact top speed of the car is unknown, but it can reach glass-shattering speeds. It is powered by a Honeywell LT1 helicopter Jet turbine engine. And this allows it to produce 650+ hp.
You cannot put a price on this car. You should also keep in mind that this is a car that Jay Leno himself designed.
Nissan GT-R LM NISMO
Legendary Hollywood star Steve McQueen was a diehard fan of Le Mans. Hence he starred in a movie based on the legendary race. While Jay Leno might not be such a fan of the race, he still has an ample amount of respect for it.
In 2015, Leno showcased the Nissan GT-R LM NISMO race car. This car was specifically designed to survive the harsh conditions of the 24 hour Le Mans. It is built with a front-based engine and a front-wheel-drive drivetrain.
The prototype car is powered by a 3L 60-degree twin-turbocharged V6. It is capable of producing 500 hp.
Tumbler Batmobile
The Tumbler batmobile is one of the coolest and craziest cars to appear in the Jay Leno collection. The Tumbler Batmobile appeared in Christopher Nolan's dark knight trilogy. Christopher Nolan is renowned for his use of practical special effects in his films. Finally, now the car resides in Jay Leno's garage.
The sleek design and color palette make it look like one of the fastest Batmobiles to date. It is a muscle car with a cool color scheme and batman written all over it.
Since Christopher Nolan specialized in special effects he never insisted on the batmobile being a working version. The Batmobile was designed to be a cross-over between a Lamborghini and a tank.  The Tumbler Batmobile is powered by a 5.7-liter V8 engine. It can produce upwards of 500 hp. Even with all that heavy metal, it still can reach 0 to 60 mph in 5.6 seconds.
These are a few of the hundreds of cool cars that Jay Leno owns. While some of these cars are only appreciated for their value, there are plenty of cars that can be defined by the story behind them.
Other Popular Car Collections With As Many Cars As Jay Leno
Jay Leno does have one of the world's biggest car collections. But he is not the only person who collects cars. When it comes to the collection, most people either choose jewelry or sports memorabilia, or something similar. Not many people can afford to dump hundreds of thousands of dollars into cars. But a rare few who are crazy car enthusiasts and have enough money to invest in a collection, build their own car paradise.
Ralph Lauren
Mostly known as a fashion mogul, Ralph Lauren is best known for his 'Polo' designs. But he is not to be underestimated in the world of engines. He has a very classy collection. Speed, style, and beauty are the highest forms of vanity that mold his collection.
His collection is comprised of cars like the Ferrari 250 GTO and the Bugatti Type 57SC Atlantic Drophead Coupe. The collection is full of  Ferraris, Alfa Romeo roadsters, Bugatti, Mercedes, Bentley, Jaguar, and also a McLaren F1 which makes a total of 40 plus cars.
What makes his collection extra special is that 98% of his cars are red. They are all laid on an all-white platform in a specially built NYC garage.
Sultan Hassanal Bolkiah
This guy is worth over $20 billion. He owns the largest royal palace in the world with diamond and gold gilded bathrooms. Hence it is no wonder that he is able to house over 7000 exotic cars for his collection.
The collection consists of  209 BMWs, 574 Benz, 452 Ferraris, 179, Jaguars, 382 Bentleys and 134 Koenigseggs. Further, he owns a handful of Lamborghinis, Aston Martins, SSCs, and then many more.
And finally, he also owns a few limited edition cars made only for him.
Rowan Atkinson
Another popular face all around the world belongs to Mr. Bean, Johnny English also known as Rowan Atkinson. If you think he rolls around town in an armchair strapped to the top of a Mini then you are in for a surprise. Rowan Atkinson made a fortune playing his entertaining roles in the movie business, and he spent it all on cars.
Among his dozens of cars is a McLaren F1. Just like Jay Leno, he is not a person who keeps his cars in a showcase. He drives his McLaren F1 and crashed it twice. The second crash cashed out the largest insurance payout in Britain. It brought him over $1 million.
How Many Cars Does Jay Leno Have – FAQs
How Many Cars Does Jay Leno Own
Currently, Jay Leno has more than 181 exotic, high-end, rare, and expensive cars in his collection. Besides that, he also owns over 160 motorcycles and is as much of a biker as he is a car enthusiast.
Jay Leno Net Worth
At present now in 2022, Jay Leno's net worth is valued at roughly $450 million. Most of that was accumulated through his early days as a late-night TV host. Of which, he was at it for more than three decades. He still regularly hosts car shows and other programs on TV, YouTube, and other streaming platforms.
Jay Leno Car Collection Worth
His car collection alone is worth at least $52 million. When taken into account with all his bikes together, and adjusted for inflation, it may be closer to the $100 million mark. Moreover, given that many of his rarest and most exotic cars are continually gaining value, it could easily rise even further.
Jay Leno's Most Expensive Car
Of all the eye-wateringly expensive cars in his collection, Jay Leno's most expensive car would no doubt be the McLaren F1. Regarded as the grandaddy for today's crop of supercars, the F1 remains highly collectible. It's made all the rarer given that only just over 100 F1s were ever made. It's estimated that each one, and depending on the provenance, is valued to a tune of around $20 million apiece.
Jay Leno Garage
If you'd like to see more of Jay Leno's cars and hear him talk intimately about them in person, just head over to YouTube. The Jay Leno's Garage YouTube channel is one of the most popular automotive networks out there. Besides looking at the cars that he already owns, he also talks about, reviews, and gives his first impressions on newer cars. Or, other interesting cars that folks have brought into his garage.
Summary – How Many Cars Does Jay Leno Have?
Jay Leno has one of the biggest car collections in the world. His collection is valued at over $50 million. It is full of exotic cars. He also has a taste for one-of-a-kind cars and owns a few of them.
Jay Leno is not your typical car collector. So, how many cars does Jay Leno have? He owns 181 top-of-the-line cars. Most of these cars are worth more than 6 figures. And he is one of those people who doesn't keep his cars to rot in a showroom. So when the time is right he loves taking out his prized possessions for a spin.
Jay Leno's Car Collection: Facts
Jay Leno's car collection is valued at around $100 million, consisting of over 180 cars and 160 motorcycles.
Leno keeps his collection in his 122,000-square-foot Big Dog Garage in Burbank, California, which he purchased in 1991 and expanded over time.
Leno sees himself as a steward of his automobiles, responsible for maintaining them for future generations to use.
The least expensive car in Leno's collection is a 1966 Oldsmobile Toronado worth $150,000, and the most expensive is a 1934 Duesenberg Walker Coupe worth $20 million.
Leno's collection includes a range of cars, from vintage steam cars and turbine cars to supercars, muscle cars, race cars, and service trucks.
Some of the notable cars in Leno's collection include a 1909 Stanley Steamer, 1986 Lamborghini Countach, 1963 Chrysler Turbine Car, and 1955 Mercedes 300SL Gullwing Coupe.
Leno designed the EcoJet himself, a biodiesel-powered car with a sustainably powered drivetrain that has an invaluable estimated value.
Leno's car insurance bill is estimated to be at least $1,117,571 per year, with insurance and registration costs for each vehicle and motorcycle in his collection.
Jay Leno's car collection is not usually open to the public, but he gives rare tours of his garage.
Leno's favorite car is unknown, but he said his McLaren F1 would be the first one he'd save from a crash if he had to.
Approved Tools
These tools have been tried and tested by our team, they are ideal for fixing your car at home.
AI Car Expert Thinking 

.

.

.