The engine is the heart of your car. It works to generate the necessary power to start and move the vehicle. For most road situations, the engine needs to be constantly running. Whether accelerating or idling, the engine is not supposed to produce any clicking or ticking sounds. So, if you hear any ticking sound in engine while idling, an issue needs to be addressed immediately.
The importance of maintaining the engine of your car in pristine condition needs no reiteration. The performance of the engine is critical to the workability of your vehicle. Engine issues develop due to several reasons. Typically, an engine with little or no regular maintenance is more likely to develop issues in the long run. It is therefore very important to have your engine inspected and repaired by a qualified professional.
It is very important to diagnose or catch an engine issue before it escalates to a more serious and expensive repair. This will save you hefty repair costs and prolong the life of your vehicle's engine and, ultimately, your beloved car. Having the engine of your car in top-notch performance enhances not only the functionality of the vehicle but also the driving experience.
Normally, the engine is designed to run without making any sounds. However, several circumstances can make your vehicle's engine produce a strange ticking noise while running. In some instances, the vehicle does not need to be accelerated to produce a ticking sound. It will make the sounds even just while idling. It can be quite hard to tell which part is causing the ticking sounds with all the moving engine components.
What Is Normal? – Ticking Sound In Engine While Idling
Sure, any ticking sounds coming from the engine compartment are deserving of your attention. But not all such noises are always a cause for concern. In some vehicle models, ticking noises are completely normal. You may have never paid attention to these low noises until you had your car idle in a confined space where the sound is amplified.
Here are some causes of ticking engine noises that need no intervention. It is, however, important not to assume any strange noises coming from beneath the hood of your car. Always pay keen attention to any slight changes in the sounds made by your vehicle's engine.
Injectors – typically, the engine's fuel injectors are expected to produce a ticking noise. This is because the injectors are actuated electronically. They, therefore, produce a buying noise or ticking noise while in action. However, the ticking sound may be more intense or louder if the vehicle has faulty fuel injectors.
Purge valve – the purge valve releases the gases stored in the charcoal canister of the vehicle into the engine's intake. The gases are then combusted in the engine's intake. A ticking sound can be typically heard while the purge valve operates.
PCV valve – it is normal for the PCV valve to produce a ticking sound from time to time. This is common for aging PCV valves, and this is no cause for alarm. However, it is advisable to have the PCV valve replaced if the ticking noise becomes aggravated.
Common Causes – Ticking Sound In Engine While Idling
Low Engine Oil Level
Excessive wear and overheating are the most expected issues while you drive your car with low engine oil levels. What you might not be aware of is that low engine oil levels can also cause ticking noises. Engine oil acts as a lubricant for the internal engine components and also as a cooling medium. There are several reasons why your engine oil runs low.
The ticking sound produced by an engine with a low oil level occurs due to inefficient lubrication. This is often due to the oil not reaching all moving parts in the engine. In the absence of adequate lubrication, the metal engine parts are forced to rub against each other aggressively. This may result in a ticking sound coming from inside the engine compartment.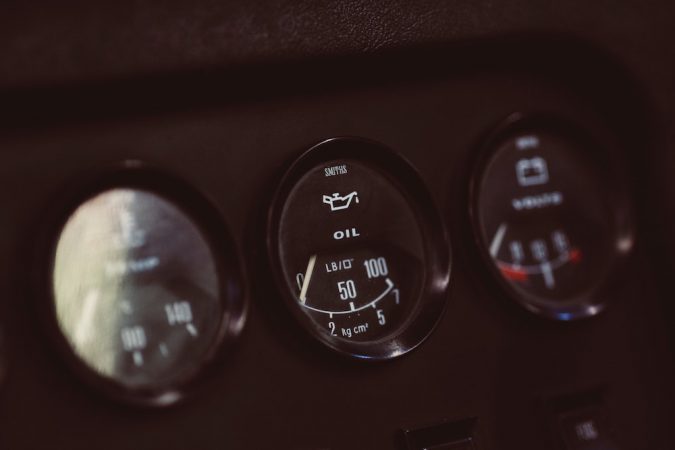 For the engine components to be adequately lubricated, the engine oil has to reach the top section of the engine. In this case, a small amount of oil can't reach the top section. As the metal components rub against each other, they will produce a shrill tapping or ticking sound as the engine idles. In most low engine oil level situations, the timing chain and the valvetrain components produce the ticking sound.
Normal Wear
Normal wear is easily the most common source of ticking sound in an engine while idling. As discussed earlier, some engine components such as injectors are expected to make ticking sounds when operating. When in optimal condition, the injectors normally make a sound similar to tapping a pencil on a wooden tabletop. Some carmakers, such as Subaru, make more injector ticking noise than others.
The valvetrain also produces ticking noise as it ages. As the valves, pushrods, lifters, and camshaft wear normally, they tend to produce a slight ticking. Even if you have an overhead cam engine, slight ticking noise will still be as the engine components wear off. In this case, the cam lobes directly contact the valve stems. The overhead cam engine consists of chains that drive the camshafts.
Even as you idle your vehicle or drive to the store and back, these internal components move hundreds of thousands of times. They are therefore subject to wear and tear over time. When new, these assemblies are precisely assembled and move extremely short distances. As they age, they wear out and become loose. This may cause them to produce a ticking sound as the engine runs.
Faulty Reciprocating Components
When an engine component makes a ticking sound, it is usually a reciprocating component rather than a rotating component. Please pay more attention to reciprocating components because they are the most probable culprits.  Such parts can include pistons, valves as well as pushrods. Ticking sounds are an unavoidable consequence if the reciprocating components are faulty, broken, or worn out.
It would be best if you considered having the components replaced immediately you notice the strange ticking noises. This is because they may progress to more irritating noises such as clunking and even whining. Here are some of the reciprocating components and how they can be a source of uncomfortable sounds.
Bad pistons – these are the most frequently moving reciprocating components in your car's engine. Therefore, they tend to wear off quickly. A problem with the pistons, such as excessive wear and tear, or damage can cause ticking noises in the engine.
Pistons play a vital role in the generation of power by the engine. However, ticking noise should be the least of your problems if the pistons are faulty. Therefore, take the ticking as an early warning that the pistons need to be replaced as soon as possible.
Bent pushrods – pushrods are another reciprocating components that can cause a ticking sound when faulty. The pushrods get easily bent when you frequently push your car too hard or treat it like a race car. This bending action is often due to the speed of the pushrods' depression becoming too much for them to handle. In this case, it is advisable to have the pushrods replaced before they wreak havoc on your engine.
Unadjusted Valves
An unadjusted valve train is bound to cause ticking sounds. Typically, most cases of ticking sound in the engine while idling are often due to an unadjusted valve train. Each time your engine spins twice around, the valves have to open and close once. In a single cam engine, the pushrods are actuated by the cam, and they open the valves via a lever known as the rocker arm.
In the case of an overhead cam engine, the valves are depressed by the camshaft lobes. It is very important that for the distance from the valve to the pushrod or cam to be very precise since the valves move very fast and over a short distance. Shims and other adjustments are used to control this distance. However, as normal wear and tear take place, the distance tends to move out of tolerance.
The ticking sound is produced as these components shift around while the engine is idling. This occurs when there is excessive play in the engine components. Excessive play or clearance can be removed by installing new shims or just by adjusting the rocker arms.
Rod Knock
Although possible, rod knocking is not a common engine problem. This is fortunate because it is relatively costly to fix. It is easy to tell if you have a rod knock because the ticking intensifies to pretty heavy knocking. The crankshaft is rotated by the rods, which are moved by the pistons. Some bearings are attached to the rod to hold in a steady position when moving.
However, these bearings wear out and cause the rods to knock around. This action produces a ticking sound while the engine is running. This does not change the temperatures of the engine, but you will experience an RPM slowdown, which means you will have problems accelerating. Due to the location of the worn-out bearings, you will tear down the whole engine to replace them. This makes it very expensive to fix a rod knock.
Having the bearings replaced with a rod knock problem is often a temporary yet costly solution to eliminate the ticking noises. The only real solution is to have the entire motor replaced. Although this might seem too expensive, it is inevitable as other solutions will only hold for some time.
Loose Spark Plug
Faulty spark plugs, just like valves that are not well aligned, will cause your car's engine to misfire. If the spark plugs were recently replaced but you still hear a ticking sound, it could be that they are loose or incorrectly installed. Cracked or loose spark plugs cause a ticking noise. It is fairly easy to tell if you have a loose or cracked spark plug.
Spark plugs seal off your engine's combustion cylinders. Therefore, gas will leak out of the cylinder while the engine is running. This is what causes the ticking sound. Incompatible plugs tend to strip the cylinder head threads, making it impossible to contain the cylinder compression. This will also result in low engine compression problems that will greatly impact your car's performance.
To tell whether your spark plugs are cracked or loose, start by visually inspecting them. This should only be done while the engine is not running and has cooled off. If you notice any cracks on the spark plugs, replace them immediately. Remove the spark plug wire and wiggle the spark plugs to see if they move. Tighten any loose spark plugs by following the manufacturer's manual.
Faulty Or Loose Engine Fan
If you hear tapping or ticking sound coming from under the hood of your car, it could be you're having a damaged or loose engine fan problem. Luckily, a visual inspection will easily identify any issues with the engine fan. Check and inspect the clips and bolts holding the engine fan in place to see if they are there or loose.
You can also tell if the shroud or fan blades are faulty or worn out just by looking at them. Since the fan blades spin to push cool air into the radiator, any contact with the shroud or other components such as cables or belts can produce a ticking sound while the engine is running. Crank your engine and visually inspect if anything is coming into contact with the spinning fan blades.
Tighten any loose clips and bolts. It is also advisable to replace any worn out or damaged parts before they develop into bigger problems. Also, do not attempt to work on or even touch the engine fan or fan blades while spinning. This is hazardous to you and can cause severe injury. If you are not well experienced, it is best to seek the services of a qualified professional.
Fuel Injector
As stated earlier, the ticking sound may be normal for your engine. If you own a Subaru, the fuel injection system will likely produce a ticking sound whenever the fuel injectors begin firing. If this is the case, you don't have to worry about the ticking noises. However, some cars do not produce any ticking sound when new, and if they start ticking after some time, you should have it diagnosed.
As the injector valves quickly open and close to allow the right amount of fuel into the internal combustion chambers, they tend to tick. It is advisable not to assume the ticking sound is a normal part of your car's operation until you have confirmed with the dealership. If it is not normal for the injectors to tick, it is time to have the injectors replaced.
Exhaust Manifold Leak
The exhaust system of your car is responsible for expelling combusted fuel in a controlled manner. The exhaust system is not just the visible exhaust pipe at the rear end of your car. It is a system of pipes, sensors, and mufflers. Sometimes the exhaust develops leaks due to rust or collision and abrasion with the road terrain. A leak in the exhaust manifold can cause a ticking sound. This may seem to be coming from the engine since the manifold is directly attached to the engine.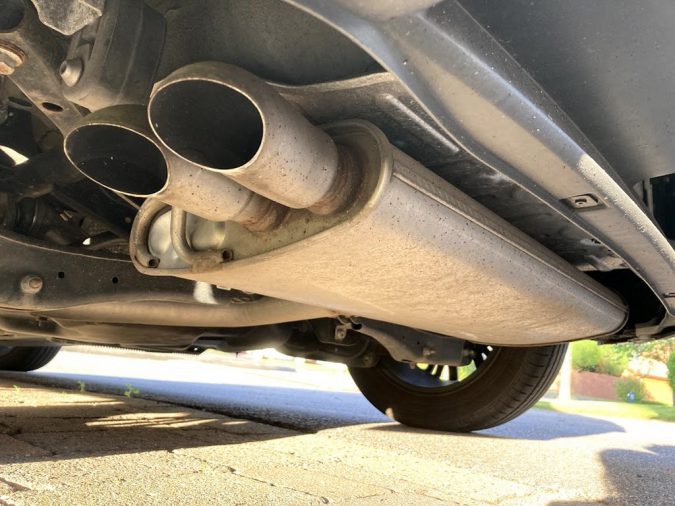 Although this might not present as an emergency, it is a great idea to leak fixed sooner than later. Aside from the annoying ticking sounds, such leaks release toxic fumes into the atmosphere. Exhaust manifold leaks increase warm-up time, therefore increasing your fuel consumption. That's why we should ensure a leaky manifold is replaced immediately.
Lifters
The hydraulic valve lifter is a small cylinder attached to your vehicle's hydraulic valve by the rocker arm. There is a well-known phenomenon called lifter tick, where the lifter produces annoying ticking noises. You may hear a constant tick as the engine runs or an occasional tick depending on the severity of the problem. Older vehicle models are more likely to develop this issue. However, it can still occur in just about any vehicle.
Hydraulic lifters are particularly prone to developing the ticker problem more than certain mechanical and solid lifters. But why does it happen? Lifter tick is often an early warning of an underlying problem with your oil. Sometimes, it is just that the lifters are worn out and need to be replaced. If you have this issue with an older vehicle that you have been driving for a long time, it could be worn-out lifters.
Lifter tick, in most modern new cars, is often due to oil issues. Sludge or dirt from the engine oil may form around or in the hydraulic lifters and cause ticking sounds. Ticking usually starts when the lifters stop functioning properly. Also, if you use oil with improper viscosity, too tin or too thick, the lifter tick can occur.
Should You Worry? – Ticking Sound In Engine While Idling
It depends. If your car engine utilizes fuel injectors, it is probably normal for it to produce ticking noises. If you have little to no knowledge of cars or engines, the odds are that you don't know whether your car has fuel injectors. A little searching online should be able to solve this mystery. It is often advisable that you contact your mechanic when in doubt.
Coming in for regular maintenance is a great idea since most seasoned mechanics can tell how most engines should sound if in pristine condition. If the mechanic determines that a certain part or component causes the ticking noises, it is advisable to replace such components immediately. The mechanic will thoroughly inspect and diagnose all common culprits. If there are no issues with the engine, check the engine oil level.
If the ticking sound is not normal, it is affecting the performance of your engine negatively. Rod knocking, for example, can ruin the engine since it makes multiple micro explosions that can degrade the inner walls of the combustion chamber. Such erosion can ultimately lead to an engine block failure. If the ticking sound emanates from the spark plugs, it can cause overheating at the spark plug points. This makes the spark plugs weaker.
How To Fix – Ticking Sound In Engine While Idling
Getting to the root of the issue is the first step to fixing ticking sounds in the engine while idling. If the ticking is due to improperly installed spark plugs, you can fix this issue by reinstalling them properly. Any cracked spark plugs should be replaced immediately. Ensure the new spark plugs are compatible before attempting to install them on the engine.
Now, if the irritating noise is caused by worn-out or faulty reciprocating components, the best fix is to have them replaced. This might seem expensive, but it is worth it because other fixes will only prove to be temporary. Have an experienced mechanic diagnose your vehicle for faulty reciprocating components such as pushrods or pistons.
The easiest yet effective way of fixing an engine ticking noise is replacing or topping up the engine oil. Oil is essential to the workability of the engine. It lubricates the internal metal components, which would otherwise aggressively rub against each other and eventually lead to an engine failure. As stated earlier, low engine oil is the most common culprit for engine ticking noise.
Finally, if you determine that the ticking noise is coming from the engine's bottom, it is often a tell-tale sign of failing crankshaft bearings. To get a closer look, the oil pan has to be removed. If this is the cause of ticking noise, replace the bearings or have a qualified mechanic to the job as soon as possible. If left for long enough, your car's engine will suffer further damage.
Car Ticking Noise Facts
Ticking noise from a car engine can be an indication of a problem and should not be ignored.
Low engine oil level could cause a ticking noise, and it is important to check the oil dipstick and ensure that the oil level is between the minimum and maximum fill levels.
Worn out lifters in the engine's cylinder head can also cause ticking noise, and regular oil changes can mitigate the sound. However, in some cases, replacing the lifters may be necessary.
Misaligned valves can cause ticking noise, and older cars with higher mileage need their valves checked periodically to ensure that they are aligned.
Damaged or old spark plugs can cause ticking noise, and they typically need to be replaced every 100,000 miles or so.
Worn-out drive pulleys that use bearings to spin can cause ticking noise at idle and acceleration, and replacing the bearings on the pulleys may be necessary.
Some ticking noises are normal, such as the ticking noise caused by an engine's purge valve, PCV valve, and fuel injectors.
If all the culprits have been ruled out, it is advisable to get the car's engine checked by a qualified mechanic.
Ticking noise is usually present when the car is idling or upon acceleration.
Checking the car's engine bay for potential issues, such as low oil level, misaligned valves, and worn-out drive pulleys, can help diagnose the problem causing the ticking noise.
Final Thoughts On Ticking Sound In Engine While Idling
A ticking sound in the engine can be normal or expected of your model. That, of course, depends on the type of engine your vehicle has. If you are not sure if the ticking sound is normal for your car, confirm with the dealership or do a quick online search of the vehicle model. If the ticking noise is not normal, do not hesitate to have the engine diagnosed. Sometimes, it may turn out not to be as bad as you think.
Approved Tools
These tools have been tried and tested by our team, they are ideal for fixing your car at home.
AI Car Expert Thinking 

.

.

.