Wondering how to know about the 2021 Honda CRV problems? The Honda CR-V is one of the most well-liked SUV options for 2021, just like it was for many years prior. It is a family-oriented SUV alternative that many consumers may trust because of its low price and long history of dependability. Nevertheless, given the pricing and available features, it is not without flaws.
Like with many other cars, these minor issues are less of a concern than a drawback, so it is unlikely that they would prevent many customers from a car like the 2021 Honda CR-V, which is otherwise well-rounded.
The SUV Honda CR-V from 2021 has drawn a lot of interest. Despite the automaker's promise that its vehicles are "designed to go you farther," most media attention has not been positive. In truth, this model has many unhappy owners because of problems with the electrical system, engine, chassis, and 2021 Honda CRV transmission problems.
2021 Honda CRV Problems And Complaints
Electrical 2021 Honda CRV Problems
2021 Honda CRV Battery Problems: The battery in their CR-V Hybrid drains abnormally, according to many owners. When the crossover is left inactive for a few days, the battery drains, necessitating a jump-start. Some users have complained that their automobile stalled on the road because the battery died while they were traveling.
False Warning Lights: The crossover flashes warnings at random on the instrument cluster. These alerts can cause the car to go into limp mode (and figuring out how to bypass limp mode), which reduces its speed. According to the complainants, no problem is often discovered following diagnosis.
Dysfunctional Charging System: The hybrid charging technology has caused Honda CRV problems for several owners. The ECM develops an error due to this malfunction, which also restricts the crossover's power. This power restriction increases the possibility of a rear-end collision.
Mechanical 2021 Honda CRV Problems
Numerous 2021 CR-V Hybrid owners have complained about brake failure. People claim that the brakes stop working completely and become unresponsive. Due to this problem, the crossover collided with other vehicles, injuring those insides. Any warning lights didn't precede the failure.
Problems with the steering's alignment: Some drivers claim that their CR-V Hybrid veers to the left or right when traveling at highway speeds. On brand-new autos with relatively few miles, the problem still occurred. Dealerships made a complaint about a problem with the steering arrangement, and the problem was fixed under warranty.
External 2021 Honda CRV Problems:
Problems with the hood latch: A few owners have reported that the CR-V Hybrid's hood comes open when traveling at highway speeds. This problem is quite distracting and may result in a collision.
Cracks in the windshield: A few owners have complained that the top of the windshield has started to crack. The cracks appear to form without an external force and enlarge over time.
2021 Honda CRV Safety Concerns: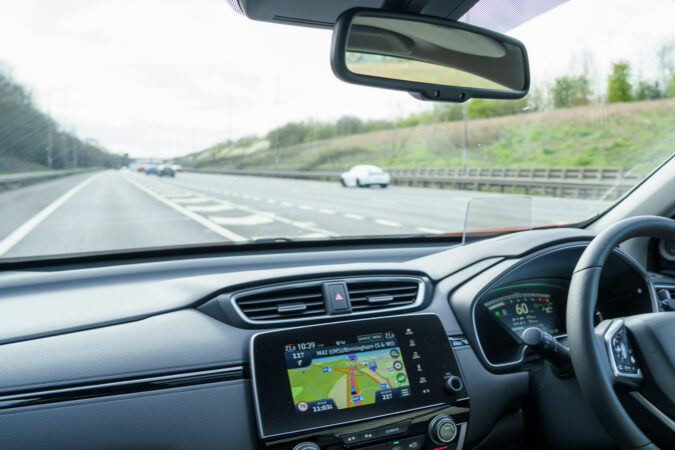 Problems with Automatic Emergency Braking (AEB). The CR-V Hybrid's AEB suddenly activates and smashes on the brakes. The error typically occurs at slow speeds and without any nearby objects.
The SRS airbag light in the instrument cluster has reportedly been on continuously, giving off a false airbag warning. This mistake could disable the airbag in a collision and result in injuries.
Issues with the Lane Departure System (LDS). According to reports, the CR-V Hybrid's LDS has problems and often loses track of the lane while cruising down a freeway. According to the complainants, the mechanism made the automobile downshift at random, unnecessarily increasing engine revs.
Interior 2021 Honda CRV Problems:
According to one owner, the car's cabin cannot warm up while it is idling. Since it can only be done while the car is moving, it is impossible to get the automobile ready for a journey in preparation during the winter.
2021 Honda CRV Infotainment Problems:
A seven-inch touchscreen infotainment system is standard on most new Honda CR-V models. Many people's first impressions of the system are that it is smaller than the screens available in other SUVs. The small infotainment screen is close to touch-sensitive climate and volume buttons, which could be mistakenly touched while using the system.
In addition to its size, several users complain that the technology is difficult to operate. The entertainment system in the CR-V involves menu navigation, which might be challenging to use while driving.
The last concern with the Honda CR-infotainment V's system is connectivity problems. The CR-infotainment V's system enables customers to connect to Apple CarPlay, like many others do today; however, some claim that disconnections are frequent. The only method to reconnect it when this occurs is to totally restart the car.
2021 Honda CRV Engine Problems
The next complaint discusses the motor itself, in contrast to the previous one, which focused on the engine's electrical components. Some users said that the gasoline and engine oil was mixing. A severe problem. It is also contributing to engine failure, among other things. Buying this car is not advised until Honda properly fixes its recalls.
Gas and oil shouldn't ever combine in any way. This serious 2021 Honda CRV transmission problem reveals that Honda's engineering is subpar. How is the CR-V supposed to move when it can't even grasp the basics of mechanics? Honda, meanwhile, has been silent and has declined to address any 2021 Honda CRV engine problems. The decision to keep quiet has backfired since consumers are using the internet to air their grievances.
Honda CRV Recalls 2021
The automaker has already recalled one 2021 Honda CR-V. NHTSA Campaign Number 21V900000 was used to issue the recall on November 18, 2021. For a defective seat belt retractor, American Honda Motor Co. recalled a large number of vehicles, including the 2021 CR-V, Accord, Ridgeline, and Insight.
The child restraint system could be inappropriately deactivated and rendered insecure by this automated retractor. Injury risk is increased as a result. The crossover also violates FMVSS Number 208, "Occupant Crash Protection," in another way. The defective seat belt assemblies were examined and replaced at no cost by the dealers.
Should You Purchase The Hybrid Honda CR-V In 2021?
Since entering the current generation, the 2021 CR-V Hybrid has been stocked at the top of the segment's shelves. The customers are generally happy with the car on offer, and sales have been excellent. We anticipate the Japanese automaker to quickly address any issues with the crossover even though it has some. We advise checking for any braking issues and seeing if the battery has been replaced if you decide to buy a used CR-V Hybrid.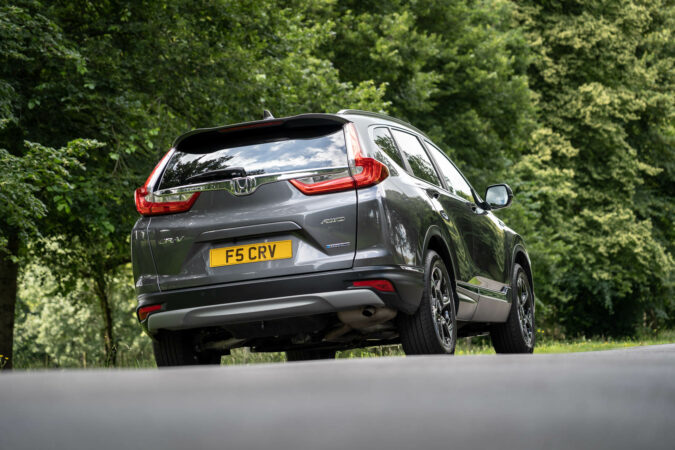 Best And Worst Years For Honda CRV
When there were few to no complaints about the models, the Honda CRV class experienced its greatest years. Every year's products are well-liked and hardly ever have any flaws.
Best Year: 2016 Honda CRV
The brand's supporters largely recognize the Honda CRV 2016 model as the greatest of the most recent batch of models released. The 2016 edition of one of the most popular cars in its class offers a fantastic ride quality in addition to comfort in the form of soft front seats and fuel efficiency.
During a typical journey, the automobile provides you with sharp handling and fast braking, making driving comfortable and pleasant. Despite being a small SUV, the vehicle can carry a lot of cargo and is quite adaptable.
Because they are comparable and have similar advantages, the 2016 CR V model is frequently compared to versions that were introduced decades ago. Though it still has an iconic and instantly identifiable look, the 2016 model has more modern and technologically oriented features, making it more approachable in the modern world and one of the best CRVs the manufacturer has produced.
Second Best Year: 2006 Honda CRV
The Honda CRV 2006 would have easily topped the list if not for the improvements made by the 2016 model. This car has a high market value even after more than ten years, which it has acquired and maintained due to its extreme dependability and benefits. The automobile is easily recognized due to its rounded and modern appearance.
While not a vehicle for exploring the outdoors, the model received a flawless grade from the NHTSA for its protection from impacts from all sides and can drive on slick and icy roads. It is not very strong, but it is fuel-efficient, uses little room, is cozy, and is dependable. Although it has been around for more than ten years, it remains a wise investment.
Third Best Year: 2005 Honda CRV
The Honda CRV 2005, like its successor, has a number of excellent and reliable features as well as a variety of attributes that help it rank so highly. The car is still highly valuable even though it was created more than 16 years ago. It is loaded with virtually every safety feature imaginable to compete with its rivals.
It is equipped with one of the best engines available at the time, free from several issues that plagued the generation preceding it. No matter how old the vehicle is, its excellent handling, strong braking system, and clever and good fuel economy make it one of the best CRVs produced by the manufacturer.
Fourth Best Year: 2021 Toyota CRV
The Honda CRV 2021, one of the company's most recent models, has succeeded once more in providing a product that strikes a balance between value and quality. According to the U.S. News & World Report, this vehicle is the greatest buy. The 2021 model demonstrates that a car's value need not be determined by its purchase price.
This specific model offers you the option between conventional and hybrid powertrains. It features a sizable luggage room, more console storage than other vehicles in its class, and outstanding interior quality. It is difficult to recommend the 2021 Model given its range of safety features and good fuel efficiency, especially given its age.
Fifth Best Year: 2020 Honda CRV
The Honda CRV 2020 continues to be more ecologically friendly while ensuring the user is satisfied, while the following model works toward a balance between cost and quality.
The 2020 model, which AutoTrader and Green Car Journal both named the best car of 2020 and the best 2020 Green SUV, respectively, is yet another strong contender for this list. It does its best to offer a first-rate interior, spectacular performance, and good fuel economy without sacrificing any of these features.
With its high efficiency as a conventionally powered model, popularity as a hybrid model, powerful engine, and all necessary safety features, it was undoubtedly the best hybrid car you could buy in 2020.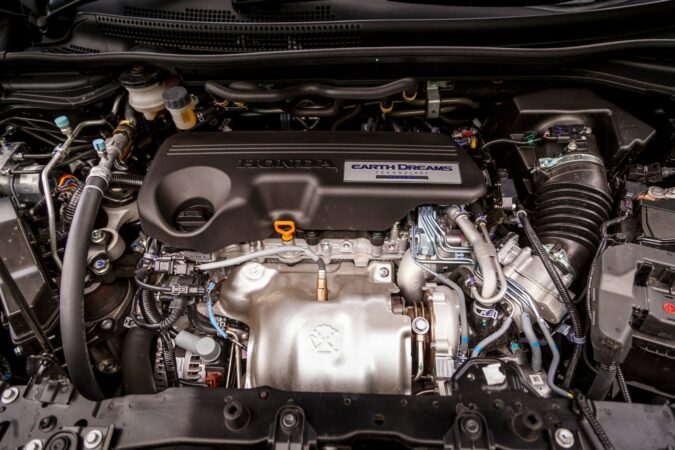 Sixth Best Year: 2019 Honda CRV
In comparison tests, many of its rivals were handily defeated by the 2019 Honda CRV. The Subaru Forester 2019 was defeated by the Honda CRV 2019 model due to the competition test findings, which showed that the Honda CRV 2019 model was more potent and fulfilling and had a number of well-rounded features.
One of these characteristics is that the internal space is not sacrificed. Even though it is shorter than its rivals, it outshines them with a touch screen and adequate cabin storage.
The 2019 Honda CRV also has a strong fuel efficiency, which has earned it a spot on this list. Fuel efficiency and mileage appear to be a trend with Honda CRVs.
Seventh Best Year: 1997 Honda CRV
The 1997 Honda CRV, which is widely regarded as the best SUV ever made, changed what it meant to be an SUV. Since this was the first SUV the firm had produced, they didn't hold back, packing the vehicle with convenient technology and ensuring that it handled and drove just like a typical automobile would have in the late 1990s.
The vehicle is dependable and quite effective. It is still a hidden treasure, readily capable of going long distances with few to no repairs, especially in icy places due to the AWD, which can plow through snow to get to any destination, even though it is not as fuel-efficient as the numerous models which came after it.
Eighth Best Year: 2001 Toyota CRV
The Honda CRV 2001 is a compact, city-friendly SUV from the first generation of Honda SUVs that was affordable to purchase and has held its resale value up to this day. This model features the AWD stated in the 1997 model, which can drive over heavy snow when necessary.
Without any input from the driver, the vehicle could also automatically transfer traction from the front wheels to the rear wheels. The vehicle has enough power to keep up with local traffic and provide comfortable driving as well. It is a cozy and welcoming SUV made to quickly transport people about the city due to its smooth suspensions and tiny body.
Years You Should Avoid
The Honda CRV class suffered the most during the years when the vehicles were nearly impossible to operate without problems. There would always be problems, some minor annoyances and some potentially fatal.
First Worst Year: 2011 Honda CRV
The Honda CRV model 2011, generally regarded as one of the worst Honda SUVs ever manufactured, was a poor and tragic way to end what had been a terrible generation of cars.
The third generation of CRV models included some truly awful vehicles, but the 2011 model stole the cake as the worst year for the Honda CRV class. The 2011 model of the automobile experienced almost every flaw imaginable. The vehicle has more issues at lower mileages than any other model. This, combined with the pricey repairs, propelled it to the top of our list of the worst years.
If you could imagine a car-related issue, chances are this model had it. The door actuators were engineered to give frequent problems while locking and unlocking, tires would wear out unevenly, numerous engine problems, steering problems, braking problems, airbag problems, electrical problems, noise, and overall discomfort in the back seat.
Second Worst Year: 2007 Honda CRV
Honda's terrible generation may have ended with the 2011 model, but it actually began with the 2007 model. An extremely unpopular design that was carried over to the following generation was present in this model. A number of NHTSA concerns were made about the model, including the poor door locking actuators that would persist for years.
The car's doors were difficult, if not impossible, to lock or open because of the actuators. A safety issue with the airbags could cause serious injury or even death to a person. The business was obliged to recall them. Considered unreliable, you may invest more than $5,000 in the vehicle, and it still not be running as it should.
Third Worst Year: 2015 Honda CRV
If not for the 2011 model having numerous issues very early, the Honda 2015, which is probably the car on this list about which the most complaints are made, would have made this list's worst year.
After the third generation, you would think Honda would have learned its lesson. However, the 2015 model, which has an engine that owners claim "vibrated like crazy" and frequently died in reverse or wouldn't start at all, receives even more NHTSA complaints.
The electrical system received harsh criticism for being rodent-friendly and having a car battery that would frequently fail. All of this came with poor handling, different transmission issues, and a confusing media system, which was a part of a wider range of interior problems.
Fourth Worst Year: 2010 Honda CRV
When it comes to the dreaded third generation, the Honda CRV 2010 is yet another vehicle that has received a lot of criticism for repeating the flaws of the generation before it. It appears that Honda didn't bother to try to remedy many of the issues noted in the 2007 model because they are reproduced again.
The engine's heating and cooling were also criticized, leading to numerous NHTSA complaints, and faults with the engine ranged from minor excessive oil consumption to deadly unwelcome acceleration.
The back seat's folding form was unpleasant, and the absence of a V6 engine option was disappointing. Overall, the future of this model appeared dismal as criticism increased and users stopped using it after 5000 miles.
Fifth Worst Year: 2009 Honda CRV
The Honda CRV 2009, another third-generation letdown, featured a very bumpy and poor ride quality. The car handles and conceals road irregularities poorly. Additionally, the acceleration is rather slow, taking roughly 10 seconds to travel from 0 to 60, which may mean the difference between getting the green light or being forced to stop at the red light.
Honda has a history of producing vehicles with moderate power and good efficiency; however, none of those traits remained true for this generation, and especially for this model. The same faults that have plagued V6 engines since the 2007 model were there along with these disappointments; no V6 engine offered uncomfortable back seats, AC troubles, wheel issues, interior issues, or lethal airbags.
Sixth Worst Year: 2008 Honda CRV
Honda wanted to gain back its audience and produce a product that could repair its reputation after the terrible start of its third generation. The Honda 2008 went in the opposite direction and made the same mistakes as the 2007 model. Despite a continuing airbag recall, the airbag issue remained unresolved, putting customers in danger.
The door actuators remained dysfunctional and unresponsive. When changing the locks, you will have to replace the complete locking system, which is awful for a client to consider, as the entire actuator system was at issue. Once more, there was no V6 engine option, and the backseats were still excruciatingly uncomfortable.
Seventh Worst Year: 2002 Honda CRV
The first and most successful generation of Honda SUVs came to an end with the release of the Honda CRV in 2002. The 2002 model attempted to keep the same traits as the 2001 model but instead had some unforeseen repercussions due to its redesign, increased power, and other improvements.
This specific model was the subject of three to four recalls, which was bad for consumer relations. The steering pumps and wheel bearings were prone to failure and required replacement.
The air conditioner can have a compressor that blows hot air, dust, and metal shavings into the cabin. It was typical for door actuators to fail, and there were numerous issues with the engine as well.
Eighth Worst Year: 2003 Toyota CRV
For the first time, Honda began a poor run of yearly releases. It would be something that, regrettably, would spread widely in the succeeding decades. The 2003 Honda CRV experienced the same issues as the earlier iteration. The metal fragments that the AC would blow into the cabin and the unresolved airbag problem from the CRV 2002 continued in this new model.
Due to the inadequate system in place, the door actuators were still inoperable. The engine is equally poor, with the ability to lock up before 100,000 miles and a propensity to overheat. The car is difficult to ride in and is very noisy, with plenty of rattles and air noise.
Honda CRV Reliability
The CR-V received a relatively respectable overall ranking of 25th place out of 75 models in the 2021 Driver Power owner satisfaction survey, and the overall satisfaction score of almost 88 percent indicates that owners were satisfied with their CR-Vs generally.
The Honda brand should provide a satisfying ownership experience because it placed seventh among all brands in the poll's category. If you're shopping for a used model, confirm that a dealer fixed the airbag because there was a recall in October 2020. All vehicles produced after that date won't require the patch. But how about its safety credentials?
According to the results of the CR-V's Euro NCAP crash tests, it is generally highly safe. It also comes standard with several safety features, including collision mitigation braking, front collision warning, lane-keeping assistance, lane-departure warning, road departure mitigation, intelligent speed assistance, and traffic-sign recognition systems.
It received high marks for safety technology, and these systems also give drivers peace of mind. Adaptive cruise control is also featured. Blind-spot warning, cross-traffic monitoring, and low-speed cruise control are only available on the SR or EX trim levels and require an upgrade. Unfortunately, there isn't room under the boot floor for a space-saving spare wheel; instead, there is only capacity for a tire inflation kit.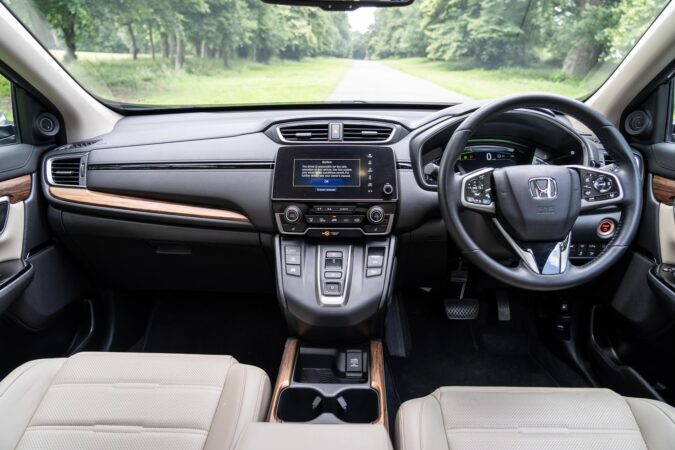 Facts about 2021 Honda CR-V Problems:
The 2021 Honda CR-V SUV has received a lot of attention for its problems with the electrical system, engine, and structure.
The electrical system malfunctions can range from annoying to dangerous, with auto idle stop and auto start/stop features causing trouble.
Honda hasn't released any information on how to resolve the complaints about the electrical system.
The NHTSA received a complaint about the low battery voltage warning light and check engine warning light being illuminated, which resulted in the vehicle entering limp mode and reducing speed to 40 MPH.
Gasoline mixing into the oil inside the engine is a major problem, causing engine failure and other issues.
Honda has not disclosed any engine problems with the CR-V, despite customers discussing their concerns on the internet.
Complaints about the CR-V's structure include the headlights not being bright and the seat feeling uncomfortable.
Previous CR-V models were subject to a class-action lawsuit due to windshield cracks, but it's unclear if the problem persists in newer models.
Honda's reputation for making reliable, durable vehicles may be in question due to the CR-V's issues.
Honda has not provided any information on how it plans to address the problems with the 2021 CR-V.
FAQs – 2021 Honda CRV Problems
Here are some popular FAQs:
Is Honda CRV A Good Car
Certainly, the Honda CR-V is a top-notch SUV. It offers responsive acceleration, a smooth ride, and good gas consumption. The room exudes an elegant vibe. Additionally, the cargo compartment is one of the biggest in the small SUV class, and both rows of seats are roomy and comfy.
Did Honda Fix The Oil Dilution Problem For 2021
Despite several assertions that software updates have fixed oil dilution problems, the issue still persists on MY2018–2021 Accords, 2019–2021 CR–Vs, and 2019–2021 Civics equipped with the 1.5L turbo engine.
Are Honda CRVs Reliable
The expected reliability rating for the 2022 Honda CR-V is 84 out of 100. J.D. Power predicts reliability scores between 91 and 100 as the best, 81 and 90 as great, 70 and 80 as acceptable, and 0-69 as fair and below average.
How Long Does A Honda CRV Last
Your car's lifespan is largely dependent on how well you maintain it and how frequently you use it. Honda CRVs are built with premium components and incredible craftsmanship, which allows them to last for more than two hundred thousand miles. With a little extra care, you may raise this to well over 400 000, which equates to more than 20 years. Changing the car's oil and filter on a regular basis will make this simple to accomplish.
How Much Does A Honda CRV Weigh
The CR-V has a curb weight that ranges from 3,337 to 2,649 pounds. The drivetrain determines the CR-V curb weight for the gasoline variants. The CR-FWD V's trims weigh 3,337 pounds, while AWD models weigh 3,455 pounds. The Hybrids weigh 3,649 lbs as well.
What Is The Best Year Of Honda CRV To Buy
Owner surveys reveal that the 2005 and 2006 model years have reliable, smooth engines and good fuel efficiency. The 2005 and 2006 CR-V offers a reasonably pleasant ride, and the handling isn't terrible either. Additionally, the cargo capacity and legroom are better compared to some of the other vehicles in the sector. Consider a 2015 or 2016 Honda CR-V if you want to stay away from older cars. They are reasonably reliable, have good handling, and have spacious interiors. Honda equipped it with a CVT gearbox and a 2.4-liter four-cylinder engine.
Did Honda Fix Turbo Engine Problems 2021
The good news is that by 2021 and 2022, most issues with the Honda 1.5 turbo engine had been resolved. The main problem with the 1.5 turbo engines was oil dilution, which on its own led to other problems. This is mostly because the 1.5 turbo engine takes a while to warm up, especially in cooler weather.
Where Are CRVs Made
The Honda CR-V is built in both the United States and Canada. In the US, CR-V assemblies are located in Marysville, Ohio, East Liberty, Ohio, and Greensburg, Indiana. The Alliston, Ontario facility in Canada is in charge of CR-V assembly.
Final Verdict – 2021 Honda CRV Problems
Honda is a very family-oriented brand in their CRV class models, which are among the greatest SUV class vehicles available. They are still more dependable than their rivals, despite some years having mediocre reviews and numerous issues. For Honda CRVs, these have been both the finest and worst years.
The 2016 Honda CRV is unquestionably a legendary vehicle produced by the firm, offering a tonne of features in addition to being renowned for its handling, dependability, and similarity to the 2005/2006 vehicles. The third generation, which dates from 2007 to 2001, is the most difficult to recommend and ought to be avoided.
Approved Tools
These tools have been tried and tested by our team, they are ideal for fixing your car at home.
AI Car Expert Thinking 

.

.

.