The Mazda CX-5 is a compact crossover that made its debut in 2012 as a 2013 model year vehicle. It is a successful model still in production today. The CX-5 has progressively gained popularity since its introduction in 2013. Thanks to its chiseled good looks and superb build quality. Hence we have put together the best years of the Mazda CX 5 together for your reference.
But not everyone is able to or wants to purchase a new CX-5. The Mazda CX-5 has established itself as a reliable crossover. It has challenged well-known brands such as Toyota and Honda (we've looked at this in greater depth by comparing the Mazda CX-5 vs the Honda CRV) in just nearly ten years of manufacturing.
Here, we'll discuss the Mazda CX-5's best and worst years, examining each model year in terms of factors like fuel economy, safety, reliability, and more.

Mazda CX 5
For the 2013 model year, the Mazda CX-5 made its debut as a compact crossover. It was the first Mazda model to usher in the Kodo design language. The CX-5 stood out from the boxier SUVs that were overtaking the market at the time with its modern stylistic cues.
It was also supported by a suspension and steering system that confidently hugged the road. In the right trim, it even qualified to become one of the fastest Mazda SUVs around. Additionally, it was the first Mazda vehicle to have the proprietary SkyActive technologies.
SkyActive was a platform that was both rigid and light, and it was combined with a variety of fuel-efficient engines and transmissions. The CX-5 entered its second generation in 2017 with a major redesign and upgrades. Let's continue by going over the Mazda CX-5's two different generations in depth.
Mazda CX 5 Generations
The first-gen Mazda CX-5 compact crossover with seating for five rolled off the assembly line in 2013. Mazda didn't skimp as a debut vehicle. The CX-5 featured the lines, shapes, and attitude of a sporty, powerful vehicle. Of course, the new model featured an all-new new body, transmission, engine, and other features.
First Generation (2013-2016)
Every first-gen CX-5 initially came powered by a 2.0L four-cylinder engine. A 6-speed manual transmission and FWD were standard while a 6-speed automatic and AWD were optional. If you're unsure about one or the either, check out our guide on FWD vs AWD to see which one's right for you.
Although less powerful than other competitors, the CX-5 nonetheless managed to attain a respectable level of fuel efficiency for a small SUV that runs only on gasoline. It was supported by the same new platform, as the Mazda3 and Mazda6.
The Mazda CX-5 was the first model to feature Mazda's Skyactiv technology, a series of technologies including new powertrains designed to improve engine performance and fuel efficiency.
The initial 2013 model was praised by critics for being more stylish than its rivals and providing a comparatively engaging driving experience in the segment.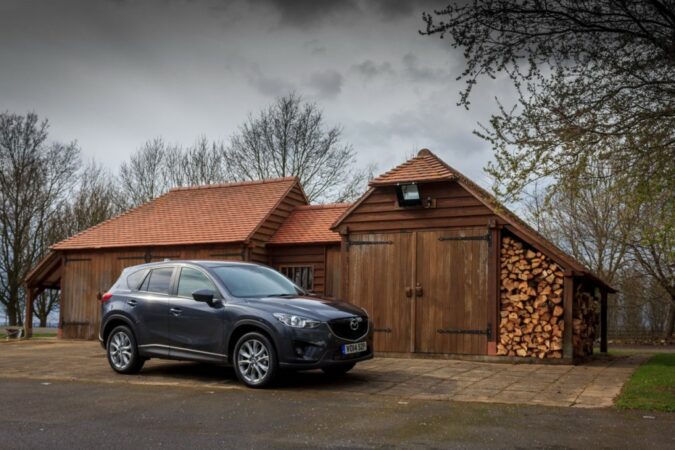 Mazda addressed the one significant criticism of the original CX-5 for 2014 which was the lack of power. It did it by providing a new, more potent standard engine for the Touring and Grand Touring trims – a 184-horsepower, 2.5-liter four-cylinder engine.
Although the new engine was more potent, it had little impact on the CX-5's fuel efficiency which helped to further boost the CX-5. The 2016 model year received a minor update in the form of modified suspension tuning for improved performance.
It also came with improved sound insulation for a quieter interior and less road noise. The car's exterior was also redesigned to make it a little sleeker, while the interior's materials and infotainment system were also upgraded.
Second Generation (2017+)
Mazda completely redesigned the CX-5 in 2017 (just be mindful of the 2017 Mazda CX-5 problems), giving the crossover a bold and more modern styling as it entered its second generation. At first, the only engine choice was a revised 2.5-liter four-cylinder from the previous generation.
With the manual transmission option gone, this engine was paired with a six-speed automated transmission. All trims came standard with FWD, while all-wheel-drive was an option. Returning to its original three trim levels for 2018, Mazda discontinued the Grand Select trim option.
Low-speed forward collision detection and mitigation as well as blind-spot monitoring with rear cross-traffic alert was made standard on all trims. Mazda updated the CX-5 trim lineup once again in 2019 by adding the Grand Touring Reserve and Signature as the top two grades.
The 168-hp 2.2-liter turbocharged diesel engine offered in the Signature trim was an unusual choice in the US that was removed after a year because it wasn't popular. The most important update in 2020 was the addition of adaptive cruise control, lane departure warning, lane keeps assist, front collision warning, and pedestrian recognition to the standard safety package.
Mazda CX 5 Engine
The CX-5 has a strong reputation among owners. The vehicle is renowned for its dependable, powerful, and effective engine options, which we'll go over in more detail below. Three different engines were offered with the CX-5. These included a 2.5L with or without a turbo, a 2.0L turbo four-cylinder, and a 2.2L Skyactiv-D diesel engine.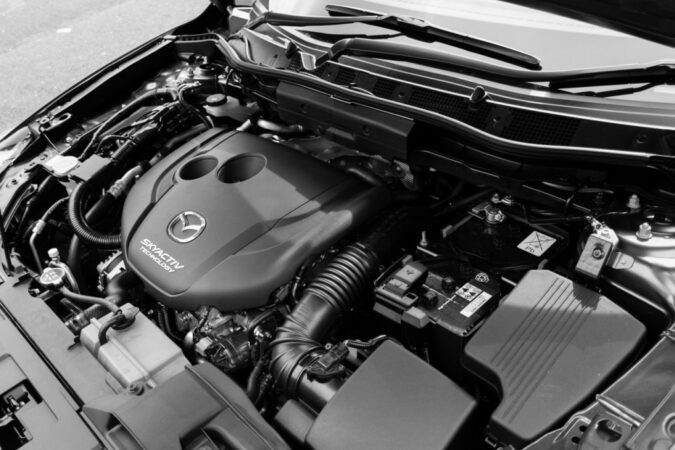 But first, let's examine what Skyactiv technology is in detail and how it helped Mazda establish such a strong reputation. There are several efficiencies for the Skyactiv-G engines that improve performance while using less fuel.
In American markets, a lower compression ratio of 13:1 was set for these engines compared to the standard 14.0:1. This allowed them to run on regular fuel. A piston chamber was added, and the fuel injection was improved by raising the injection pressure and utilizing multi-hole injectors.
Due to its all-aluminum construction, chain-driven dual overhead cams (DOHC), variable valve timing, and gasoline direct injection, the Skyactiv-G engine series were also able to comply with ultra-low emission vehicle pollution criteria.
2.0L Naturally Aspirated Skyactiv Four-Cylinder Engine
From 2012 to 2016, the CX-5 used a 2.0L four-cylinder Skyactiv engine. This engine was more than capable with 155 horsepower, and 150 lb-ft of torque. But it won't win any drag races unless they are about efficiency.
The 2.0L's EPA ratings of 26 mpg in the city and 35 mpg on the interstate ensured that owning an SUV won't break the bank.
2.5L Naturally Aspirated And Turbocharged Skyactiv Four-Cylinder Engine
Mazda also used two versions of the 2.5L Skyactiv engine to power the CX-5. It was offered with or without a turbo depending on your requirements for performance.
The naturally aspirated model has 186 lb.-ft of torque and 187 horsepower. It was employed as a mid-level choice between the 2.0L and a 2.5L turbo option and wasn't super-thrilling. Even though it may not be the sportiest engine, we believe most drivers will find it adequate.
You can choose the 2.5L turbo with 250 horsepower and 320 lb.-ft. of torque if you require something more sporty. The more expensive trim levels, such as the Carbon Edition Turbo, Grand Touring Reserve, and Signature, featured the turbo engine.
2.2L Skyactiv-D Diesel Four-Cylinder Engine
In 2017, Mazda introduced a diesel engine. The engine produced 290 lb.-ft of torque and 168 horsepower. It was quiet, strong, and had a strong reserve torque. Although it was smooth, its power may not have been sufficient for passing on a two-lane road.
Additionally, to lessen the unneeded shaking that is typical of diesel engines, the pistons were equipped with vibration reducers, and the fuel injectors had been calibrated. It was arguably one of the best diesel cars in the USA at that time. Unfortunately, it was only offered between the 2017 and 2019 model years because of weak consumer demand.
Mazda CX 5 Gas Mileage
It's challenging to find high-performing cars with excellent gas mileage. But Mazda has succeeded in doing so. From the body design and engine technology to the chassis and gearbox, every component of the CX-5 was built to maximize driving dynamics and efficiency. The result of this was impressive EPA-estimated MPG figures.
With a highway fuel economy of 34 mpg in 2013, the CX-5 had the best fuel economy of any SUV marketed in North America at the time, including hybrids. It led the crossover class in terms of fuel efficiency with combined ratings of 29 mpg (FWD) and 27 mpg (AWD).
Despite only being available for the 2019 model year, the 2.2-liter diesel engine was quite effective, with combined mpg ratings of 28 for AWD cars and 29 for FWD. The 2021 CX-5 base model currently has city and highway mileage ratings of 25 mpg and 31 mpg, respectively.
The Turbo variant's mileage is 22 mpg in the city and 27 mpg on the highway.
Mazda CX 5 Reliability
How has the Mazda CX5 performed in terms of reliability and issues? According to the NHTSA, early on, things were pretty decent. Just one recall involving the rear liftgate's rusted struts was issued in the vehicle's debut year of 2013.
181 people filed complaints, the majority of which focused on electrical system problems including stalling or non-shutoff.
The previous liftgate problem was one of five recalls that were issued in 2016, the last year of the first generation. The other four include a fuel filler pipe rupture, a windscreen bracket that might come loose, daytime running lights that could malfunction, and steering loss caused by insufficient bolt torque.
The 2016 model had 418 complaints, the majority of which were against the electrical systems, exterior lights, and powertrain. There was only one recall and less than complaints for the first year of the second generation. A wire harness for trailer hitching that may short circuit prompted the recall.
If you want further context, our guides on the trailer break away wiring, as well as the 4-pin trailer wiring diagram might help. Similar findings were reported for the 2019 model year CX-5, with just one recall concerning a software flaw that could result in an engine stall.
Only 30 complaints have been filed for 2020, and there have been no recalls issued while the 2021 model has 58 complaints to its name. The 2022 model as of now has merely 30 complaints reported against it.
Mazda CX 5 Problems
The Mazda CX-5 is a desirable option in its segment with room for five passengers and a pleasant driving experience. It also offers reasonable fuel efficiency compared to other vehicles in the compact SUV category. But what specific Mazda CX-5 common problems have technicians and owners documented over time?
Any vehicle model that has sold a million or more units will have a few sporadic issues that are reported to regional repair shops and dealer service departments. The Mazda CX-5 is not an exception. The majority of these issues are one-off occurrences.
But a few have surfaced frequently enough to make our list of the most prevalent Mazda CX-5 issues. However, the issues that triggered a recall and were officially rectified by Mazda are listed under the recalls section. Here we have listed the rare occurrences of serious issues that were left unaddressed by Mazda.
1. Shattering Sunroof
There hasn't been a recall for this issue. Numerous owners of CX-5s from every model year have reported their sunroofs breaking. This is reported to be happening when traveling at highway speeds of as little as 45 mph. Drivers adamantly claim that nothing struck the glass or in any way harmed the sunroof.
Although Mazda has not officially acknowledged the ongoing issue as a manufacturing flaw, the problem is all over the internet. There are currently no class-action lawsuits ongoing against Mazda, although there are against other automakers like Mercedes-Benz, Hyundai, and Kia.
2. Cracking Windshields
The model year with the most recalls and complaints is 2016. While there is a recall for a laser sensor with a loose bracket on the windscreen, some drivers have also noticed sporadic cracks over the top of the windscreen.
A rock impacted at least one driver, which is a potential source of the crack, although other drivers notice the issue after the car has been in the garage overnight. Be advised that the repair will cost a bit more than replacing a regular windscreen if your vehicle contains rain-sensing wipers and the Smart City Brake system.
If you're keen on getting it fixed, do consider heading over to our guide on windshield chip repair processes to learn more. Or, you could otherwise consider getting the best windshield repair kit to see if you can solve it yourself on the cheap.
Mazda CX 5 Recalls
There have only been a few recalls in the CX-5's two generations, and only one of those recalls involved the engine. The details of these recalls based on the component that malfunctioned are as follows-
1. Liftgate Struts
The National Highway Traffic Safety Administration (NHTSA) issued a recall in September 2016 for many 2013 to 2016 Mazda CX-5 vehicles to replace the liftgate struts. Corrosion on the piston put the strut at risk of failing while supporting the liftgate. The damaged struts were replaced by dealers.
2. Daytime Running Lights
The next recall only affected the 2016 Mazda CX-5. The front headlight assembly was installed with subpar gaskets in this model. The daytime running lamps' control board could corrode due to moisture buildup inside the lens, which could lead to the failure of the DRLs.
The headlamp assembly was checked for corrosion and the sealing gasket was replaced as part of the recall. If necessary, the complete assembly was replaced.
3. Powertrain Control Module
The powertrain control module (PCM) had a software flaw that caused the engine to stall in the 2018 and 2019 model year cars. 262,220 vehicles were impacted, of which 224,240 were CX-5s from 2018 and 2019.
"The software controlling the hydraulic valve clearance adjuster may operate improperly when transitioning from cylinder deactivation to full cylinder activation modes." quoting the Mazda recall.
Beginning on August 20, 2019, Mazda began providing free maintenance for impacted vehicles. Have the VIN checked if you're purchasing a 2013–2016 or 2018-2019 Mazda CX-5s to make sure that all recalls have been addressed. Otherwise, you might have to bear the PCM reprogramming cost on your own dime.
4. Fuel Filler Pipe
A recall was issued by the NHTSA to replace the fuel filler pipe connection point in Mazda CX-5 models manufactured from 2014 to 2016. The filler pipe may shatter if the SUV happens to be in a crash, which could result in gas spilling and starting a fire.
Mazda CX 5 Safety Rating
The National Highway Traffic Safety Administration  (NHTSA) gave the 2013 Mazda CX-5 a strong overall rating of four stars right away. The 2013 model year was on the verge of receiving five stars. But it was denied due to its rollover rating and four-star front-passenger crash ratings.
The CX-5 didn't receive the supreme five-star overall safety rating until the 2019 model year. However, its rollover rating still remained at four. The CX-5 was designated a Top Safety Pick+ for its class by the Insurance Institute for Highway Safety (IIHS).
They also awarded it their highest rating of G for "Good." Overall it is one of the safest options in its segment.
Mazda CX-5 Years To Avoid
2016 Mazda CX-5
In general, you should stay away from a model's inception year as well as the first year of another generation of it. However, due to its five recalls and 400+ complaints, 2016 is the worst year for the Mazda CX-5 in this scenario. This model is not a fantastic choice if you're seeking a used SUV.
This Mazda CX-5 has the most complaints out of any model year. The daytime running lights on the 2016 model don't appear to last very long. They will intermittently flicker before abruptly ceasing to exist.
This issue has occurred well below the 100,000-mile mark, despite the fact that they are designed to last the entire lifespan of the CX-5. The main issue here is that Mazda created all of these lights to work together as a single unit.
Hence, the bulb cannot be swapped out for another. Here, as in many more recent automobiles, the bulb and housing are entirely fused together. This makes the repair more expensive and challenging. So, take a peek at our guide on how much is a headlight bulb and how to replace headlight bulb as well as how to change headlight bulb to see how much it really costs.
Mazda at least filed a recall in 2020 for the LED lights because they used a gasket that was constructed incorrectly and allowed sulfur to leak into the assembly. However, the 2016 model is also prone to the windshield-cracking issue while an issue concerning the emergency brakes has been reported as well.
All of this means that the 2016 Mazda CX-5 is a red flag.
Best Mazda CX5 Year
The pre-2017 Mazda CX-5 is a fantastic vehicle. But it lacks the advanced electronics found in more recent models. We recommend the 2018, 2019, 2020, and 2021 models for the best performance and the most technology. Particularly a 2020 model that is well-equipped would be a great choice.
The updated range of standard safety technologies, including adaptive cruise control, pedestrian recognition, lane-keep assist, and automatic high-beam headlights, was a major factor in our decision to go with the 2020 model. However, the 2013, 2014, 2015, and 2017 models are also good versions of the CX-5 that wouldn't let you down.
In the end, it is challenging to make a wrong choice with the Mazda CX-5. The Mazda CX-5 has had comparatively few issues throughout its whole production run. Even those more frequent problems are unlikely to force you to wait for a tow truck on the side of the road.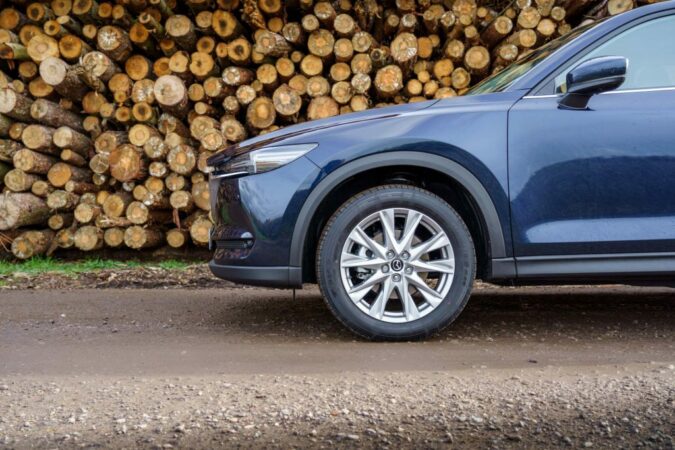 Best Year Mazda CX 5: In Conclusion…
The Mazda CX-5 has received rave reviews from auto writers and owners alike. It is safe, and inexpensive has a luxurious and comfy cabin and handles brilliantly. It is uncommon to discover a car with intriguing aesthetics and few bad surprises in terms of upkeep and reliability.
Mazda took a chance with the CX-5, and it paid off. The CX-5 proved that a crossover can provide a more pleasurable ride than a sedan or traditional SUV and that you can purchase one without going broke.
Only based on engine reliability, you would struggle to find something as reliable and efficient as the Mazda Skyactiv options in the CX-5. The Mazda CX-5 features a stylish, aerodynamic design. The majority of those who own one adore how comfortable and fuel-efficient it is.
This is a wonderful vehicle to put on your shortlist when looking for a used vehicle if you're looking for a sporty compact SUV that is entertaining to drive and can transport the kids and their gear to school.
FAQs On Best Year Mazda CX 5
Is Mazda A Good Car
Mazdas are indeed good vehicles. Thanks to dependable performance, fun driving qualities, high safety ratings, reasonable prices, and a stylish look. Mazda is one of the top car companies when it comes to reliability. They are also renowned to produce crossover SUVs with excellent driving dynamics.
Where Is Mazda CX 5 Made
Mazda's primary manufacturing location is Japan. In Aki, Hiroshima, Mazda manufactures the 3, 6, CX-5, CX-9, and MX-5 Miata. The CX-8 is also produced in Aki, albeit it isn't offered in North America. Since 1931, Mazda has produced automobiles at the Aki facility. In Hofu, Yamaguchi, there is another factory that assembles the 2, 3, CX-3, 6, and CX-5.
Is Mazda A Reliable Car
According to Consumer Reports, Mazda has supplanted Lexus and Toyota as the brand with the highest reliability in 2022. Since 2013, the CX-5 crossover, Mazda's best-selling vehicle, has consistently received ratings of 4 or 5 on Consumer Report's reliability scale. The car received the best rating in seven of those years.
Which Mazda SUV Is The Best
The Mazda CX-5 is the brand's greatest SUV for multiple reasons. Thanks to its stylish exterior, opulent cabin, and agile handling. But that doesn't mean you shouldn't take Mazda's other SUVs into consideration. Mazda has the vehicle you require, whether you're looking for a family hauler, an engaging driver's car, or a fuel-efficient daily driver.
How Long Do Mazda CX 5 Last
The CX-5 has only been manufactured by Mazda for around 10 years. The CX-5 will typically endure between 200,000 and 250,000 miles. This is based on real owner reviews, trustworthy automotive publications, and Mazda enthusiast forums. According to government estimates, the average motorist will need more than 18 years to put that many miles on their SUV.
Are Mazdas Good On Gas
For its Skyactiv vehicles, Mazda stakes its metaphorical hat on achieving best-in-class fuel efficiency. One may claim that Mazda only manufactures fuel-efficient vehicles. Mazda is not the most fuel-efficient brand. However, they have succeeded in striking an excellent balance between performance and fuel efficiency.
Do Mazda CX 5 Hold Their Value
The Mazda CX 5 maintains its value mediocrely. But it isn't particularly noteworthy. In terms of other Mazda models, it is likewise in the center of the pack (better than the 3, but not as good as the 6 or the MX 5). Choosing a specific model year is also challenging. Because the depreciation happens gradually over the course of the vehicle's usable life.
What Is The Biggest Mazda SUV
The largest SUV in Mazda's portfolio is the CX-9. It features third-row seating and a luxurious cabin that can compete with models from more premium brands. It competes against larger versions from Ford and Chevrolet as well as those in its own class. Credit goes to its comfortable first and second rows and passable third row.