As today's roads are becoming more clogged up than ever with record-breaking numbers of vehicles running about, getting a dashcam has become more of a necessity than a privilege. However, plenty of drivers seem to be far more concerned about what they're bound to hit (or get hit by), rather than ensuring that they too are able to stay focused. This is one factor BlackVue aims to help account for.
Recently, BlackVue unveiled the DR900X-2CH DMS Plus. On the surface, it certainly is rather unique compared to most dashcam offerings out there. This is mainly due to those three letters in the name – D, M, and S. It references BlackVue's 'driver monitoring system', which can be fitted alongside the primary 4K dashcam unit. So, is it worth the price tag?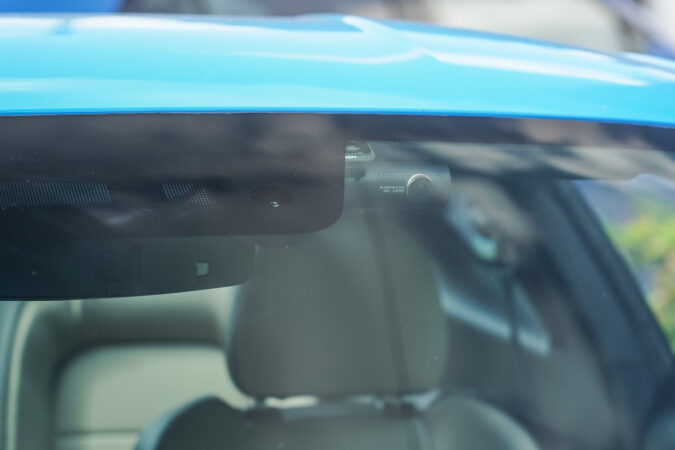 Well, you get a crystal-clear camera, as one would expect with a super-sharp 4K resolution. Yet, it barely takes up any room in your car and makes using a dashcam more than a breeze. But while you're steadily driving along, you also have the DMS system keeping a close eye on you, as the built-in software works silently in the background to ensure that you're paying attention. Altogether, it's jampacked with tech.
The Ultimate On-Road Safety Combo
So, just what is this BlackVue DR900X-2CH DMS Plus, anyway? Well, just as we mentioned briefly, it compromises two separate components… There's the conventional dashcam, which you'd mount onto your windscreen to record what's in front of you. Then, there's also a second camera unit that you'd mount on the dash, where it'll be pointed right at you. This latter unit is BlackVue's DMS.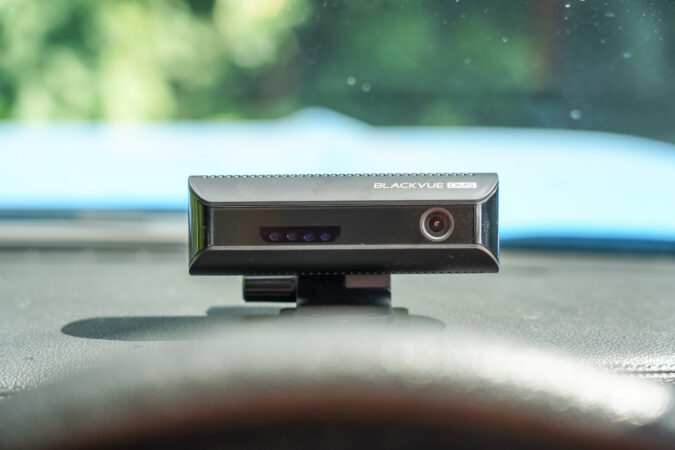 In essence (though we'll discuss much more of it later on), it tracks your body and eye movement to make sure that you're readily awake and aware of what's ahead of you. While at the same time, it's made to alert you if you're drowsy, distracted, or otherwise that may adversely impact your driving. As you might've guessed, this is a pretty common inclusion in most new cars these days.
DMS systems are steadily becoming a de rigueur addition to many vehicles. Moreover, some parts of the world are mandating that it be included by default. However, this is a stumbling block if you'd drive around in an older or more commercial vehicle. In this instance, you're usually out of luck… Unless, you installed an aftermarket accessory like the BlackVue DR900X-2CH DMS Plus, which can be fitted onto any car.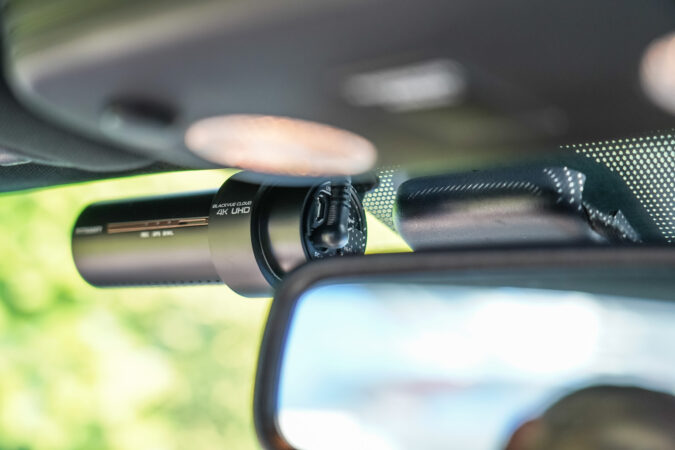 A Pretty Solid Dashcam
Before we get into discussing in more detail as to how that DMS system performs, let's begin with the dashcam itself. It's a pretty solid contender, even among the highest end of 4K dashcams, which is somewhat surprising given how small it is. It's low-profile enough that it would easily stay hidden and won't get in the way, like how the BlackVue is seen here mounted inside our Mustang.
As such, it won't intrude into your peripheral vision, and if you need to, the mounting base even lets you rotate the dashcam. So, if you have to point it towards an awkward angle, this has the versatility to do that. The one thing to bear in mind here is cable management. At the moment, you're able to see only one power cable that runs into the dashcam unit and onto the cigarette lighter.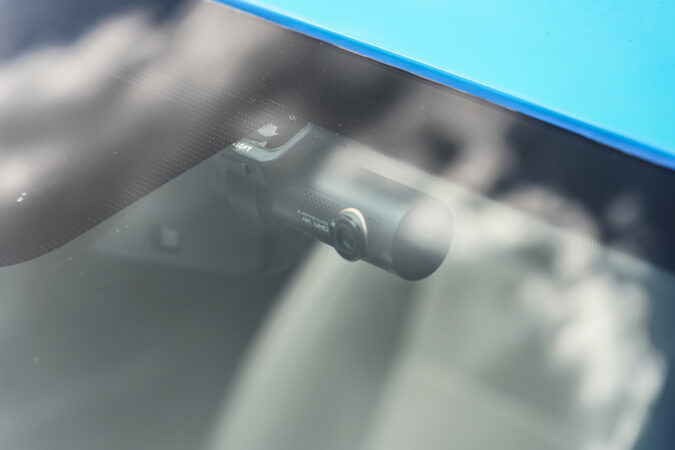 Although, if you're going to wire the dashcam up alongside the optional DMS system, you'll need to run an additional cable between them. This is done so that data captured by the DMS unit (more on that later) can be saved onto the SD card, which is kept inside the dashcam. Dimensions and design, of course, are secondary to deciding whether or not a dashcam excels with its primary function.
Crisp And Clear Footage
Speaking of, capturing video is something the BlackVue DR900X-2CH DMS Plus does very well at. It's partly owed to the sheer amount of tech sitting inside of its compact frame. For starters, you get an impressive 8-megapixel CMOS sensor that captures at 4K. Specifically, that's a 3840×2160 resolution at 30 frames per second, which is on par with many other high-end, 4K dashcams out there. See the raw test footage below.
In addition, it features a 162-degree ultra-wide-angle recording setup. This allows the dashcam unit to take full advantage of all those 4K pixels, while also being able to capture more of what's around you. Combined, it makes for a pretty good camera. All of the footage captured by this here BlackVue DR900X-2CH DMS Plus presents sharp and crisp details, easily showing us what's going on.
It's definitely the best dashcam that we've sampled, based on footage quality alone. Since we're talking about cameras, we may as well mention the gear inside the DMS system, too. This time around, we have a 2.1-megapixel Sony STARVIS image sensor. It peaks out at 1080p and 30FPS, but that should be more than enough to capture footage of the driver and interior of any car.
Making Sure You Pay Attention
Skipping ahead, the DMS system in this BlackVue DR900X-2CH DMS Plus package is a rather unique offering on the market. After all, it's still an as-of-yet unexplored genre, which I'd argue might not be super-popular for most people. This is especially given the price point once you factor in the expense of including the DMS kit in a bundle. Nonetheless, this could be a boon for commercial fleets.
Let's say you're operating a fleet of vans and lorries… Adding a DMS unit into commercial vehicles is a great way to ensure that your drivers are behaving properly. As in, keeping their eyes on the road ahead, driving cautiously, and not being distracted behind the wheel. Plus, it'll help clear things out more smoothly with your company's insurance provider if something goes horribly wrong.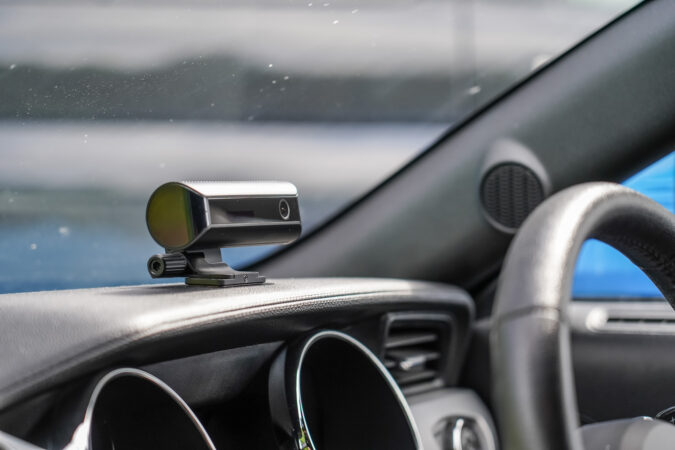 Such a concept would be just as applicable if used in hire cars or taxi cabs, for example. Specifically, this BlackVue DR900X-2CH DMS Plus kit comes with the DMC200 DMS unit. It's an infrared system, so it should be capable of operating well after it's dark out. It even comes programmed with AI and some pretty clever algorithms to detect and warn you about how you're behaving.
This includes various no-no bad practices like looking away and being distracted. Or, if you're just a bit drowsy behind the wheel, during which it'll prompt an audible alert. Moreover, hand distraction (i.e. keeping your hands away from the wheel for too long) is also noted by the DMS. On top of that, it could even keep logs of the driver being away from the car, or removing their face masks.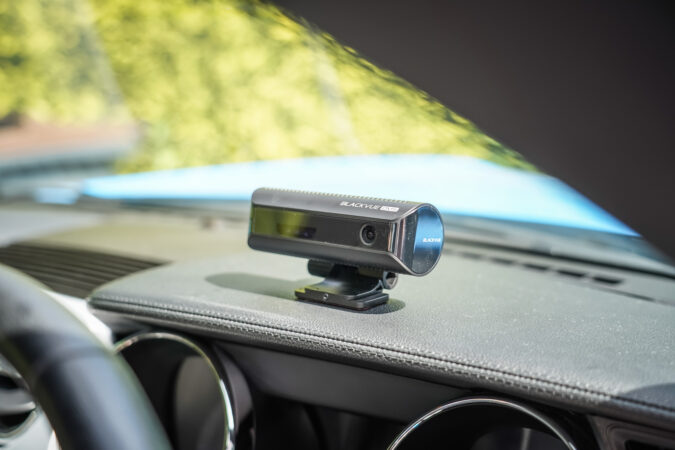 Instant And Easy Connectivity
Another noteworthy highlight of the BlackVue DR900X-2CH DMS Plus is the overall ease of use and accessibility. It pairs seamlessly with the BlackVue app (which you can download on your phone and PC), where you can easily browse through your footage. This is where you'd also be setting up the DMS, with numerous settings made available, such as turning on or off what to record and keep a log of.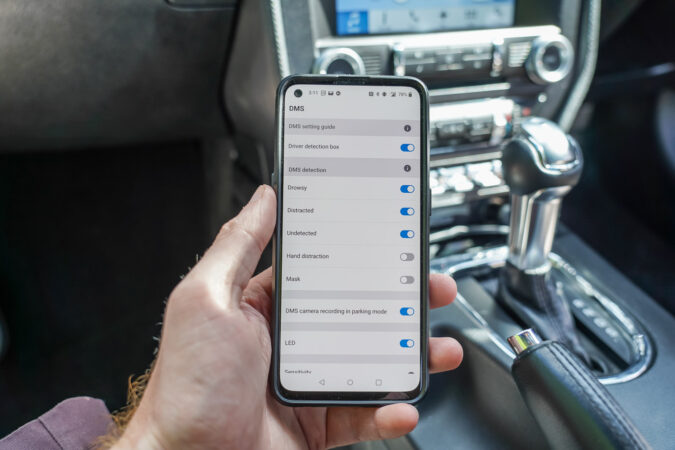 Within the app, there's a wealth of information that you can access. It includes push notifications of when the DMS detects driver inattentiveness, as well as AI-tailored driving reports. This will tell you what percentage of your time behind the wheel had been spent recklessly or as you were being left distracted. Real-time updates, detailed logs, and more can be found within the app, too.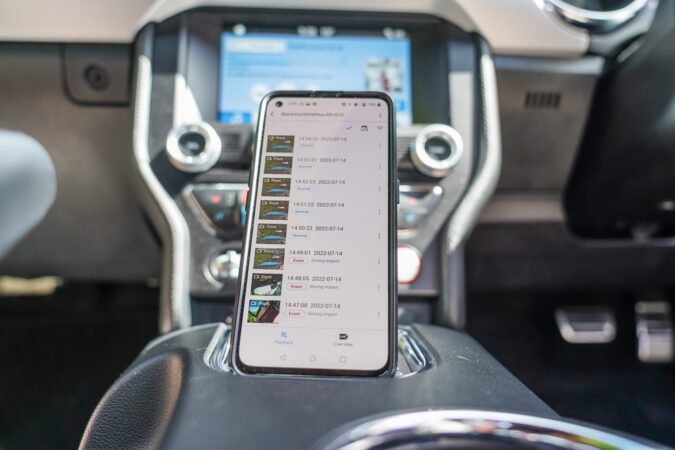 However, this doesn't mean that the only means of interaction with the BlackVue DR900X-2CH DMS Plus is merely through the app alone. The dashcam unit has a proximity sensor, so waving your hand about is enough to toggle it to start recording. Then, there's the parking mode, which records what's happening around your while parked. This feature would activate automatically once the ignition is turned off.
It comes with a myriad of motion and impact sensors. As well as, accelerometers that tags collisions and even visual movements around your car instantly. The back of the dashcam has status LEDs, as well. So, that should make it more clear to you when it's recording or otherwise. There is a myriad of ways that you can configure and set up the recording options, which are all easily presented.
Worth The Price Tag?
Before we discuss pricing, there's one small caveat about setting up a BlackVue DR900X-2CH DMS Plus that we've not yet mentioned. The DMS system needs to be hardwired into the fuse box so that it'll remain powered. This can be rather tricky, depending on what vehicle you're driving. For example, some cars keep their fuse boxes in the engine compartment instead of inside the glove box, but most will be easy to install.
Is the BlackVue DR900X-2CH DMS Plus worth its asking price? At the moment, it's a pretty tasty bit of kit, costing anywhere between $609.99 to $769.99. That equates to around £516 to £651, as of a direct conversion at the time of writing.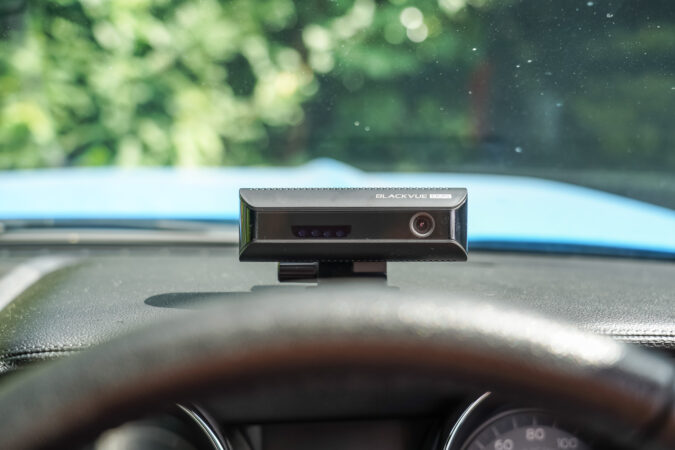 The final tally will vary quite a bit depending on the exact specification that you're choosing, on top of any accessories or upgrades alongside it. This includes differing memory capacities, extra battery packs, LTE connectivity, a tamper-proof case, and more. Although, I think the most ideal package for most would be the £549.95 bundle. That pairs the 4K dashcam with a 64GB SD card, though without the DMS.
It's a hard ask, but I do think the BlackVue DR900X-2CH DMS Plus is worth it. If all you need is a 4K dashcam, then it's a great pick when compared to other similar dashcams. However, the BlackVue set-up contains one USP that its rivals don't have – that driver monitoring system. For commercial and fleet operators, I think it's a must-have, just to keep people on alert behind the wheel.