Much of our livelihoods these days is dependent on electricity. We need it to cook, communicate with others, bathe, or entertain ourselves. While getting a steady and endless supply isn't a problem for most people, this doesn't apply once you're out and about. Say, going out for a long camping trip. It's necessary for you to have a half-decent on-the-go power solution, such as the EcoFlow DELTA mini.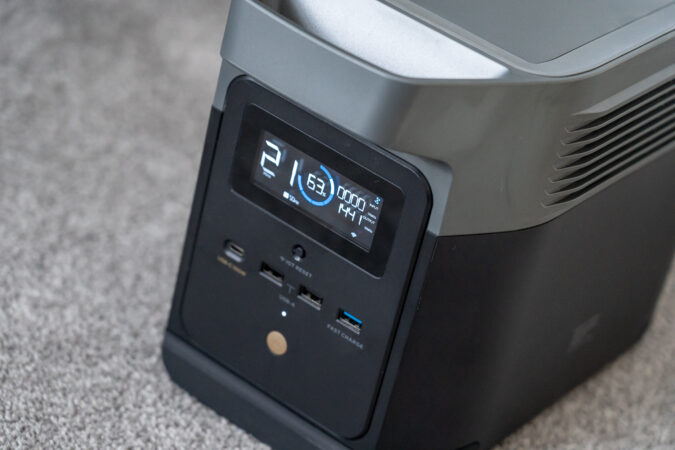 In truth, however, the EcoFlow DELTA mini is beyond just 'half-decent', as it could very well be the most featured-packed portable power station on the market. To understand more of what it is, the DELTA mini is a larger and pricier version of the RIVER, which we reviewed previously. This is surely the biggest such power station you can get that's still somewhat portable and carriable.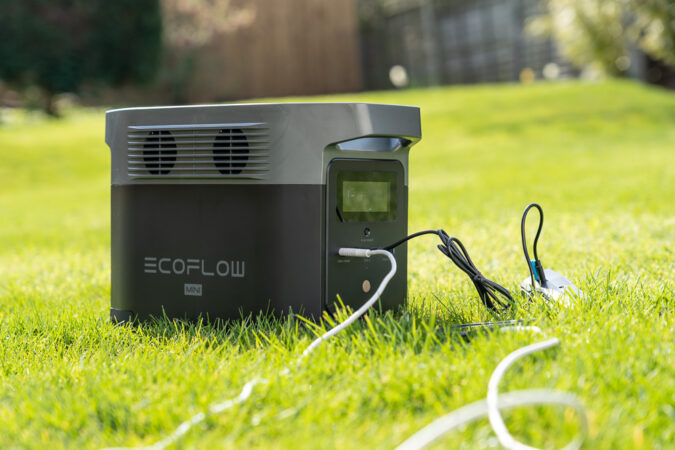 Within the market segment for these power stations then, the DELTA mini is suitably heavy-duty, and enthusiast-grade in many respects. You can power far more devices with the DELTA mini, and charge them up much quicker, too. With significantly higher outputs across the board, you could more than easily power an small campsite with this. So, what more could the DELTA mini feasibly do?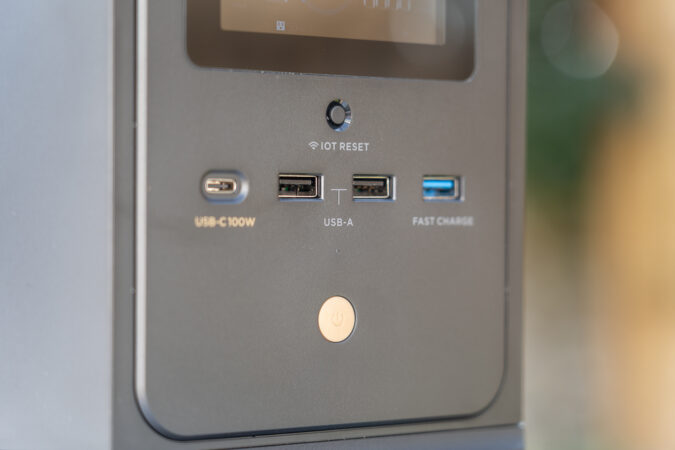 Enough Charge For Days… Literally
Given its relatively compact size (more on that later), the DELTA mini does have an impressive high as well as dense battery capacity. Officially, it's rated at 882Wh. This ensures that you could charge as many as 9 devices, all at once. This is partly thanks to its high output capacity of around 1,400W. Or, 2,200W with their X-Boost tech. So, we did what you'd likely expect us to do with this much power.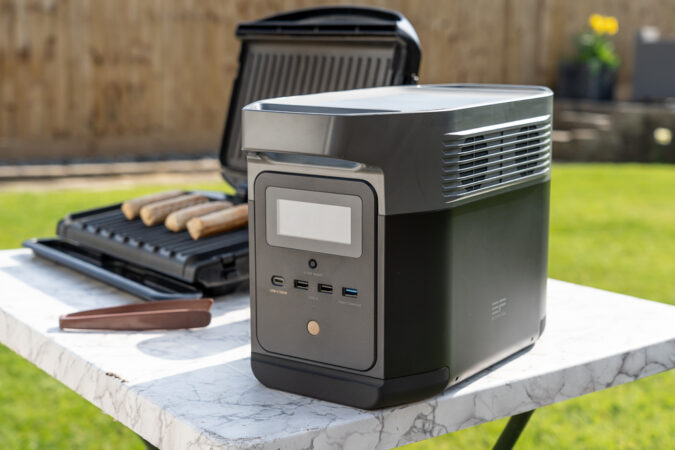 We… Hooked it up to our George Foreman grill. This is a pretty great (and tasty) test, given how that grill typically draws around 1,500W to 1,600W in regular use. Granted, the smaller RIVER managed to power the same grill here, as well. The key difference is that the George Foreman's functionality was essentially cut drastically owing to that reduced rate of power (in the RIVER) being supplied to it.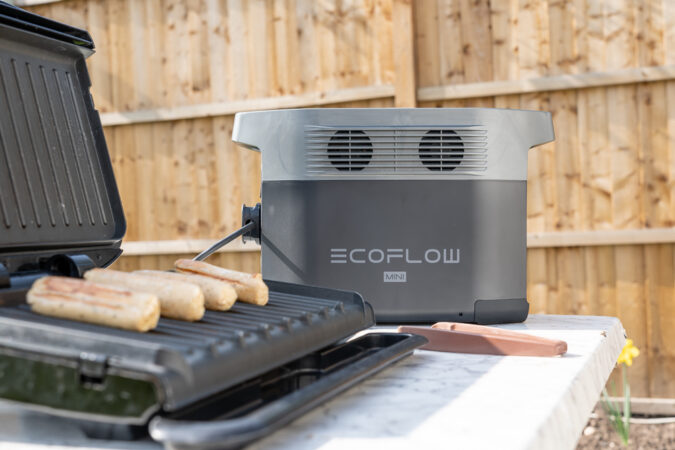 This was never an issue with the DELTA mini. It could very easily operate at its nominal rate. On top of that, we then devised another power-hungry test to attempt to stress the DELTA mini. We've tried to charge up batteries for our power tools with the DELTA mini. In addition, we had also powered up our laptops, phones, and everything else. In the end, EcoFlow's DELTA mini barely broke a sweat.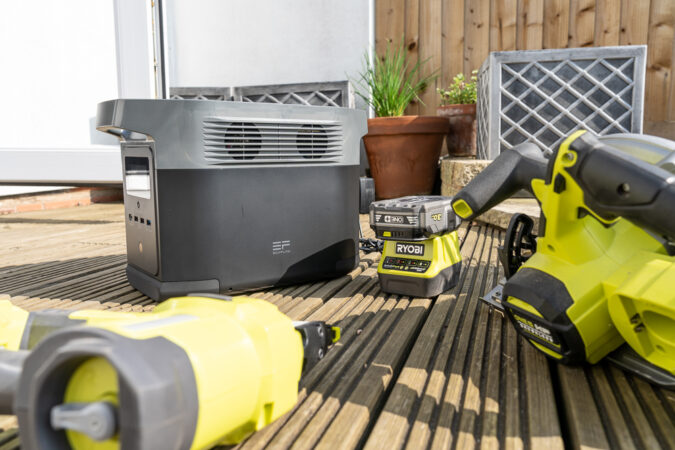 We then went ahead to do some serious cooking in our VW Transporter campervan, with power that ran through solely the DELTA mini. Surprisingly, we were able to get an hour's worth of heavy cooking done with a full charge. With our kettle trickling over and keeping it warm, it could easily keep going for hours. EcoFlow's proprietary X-Boost really worked a treat with higher output electronics.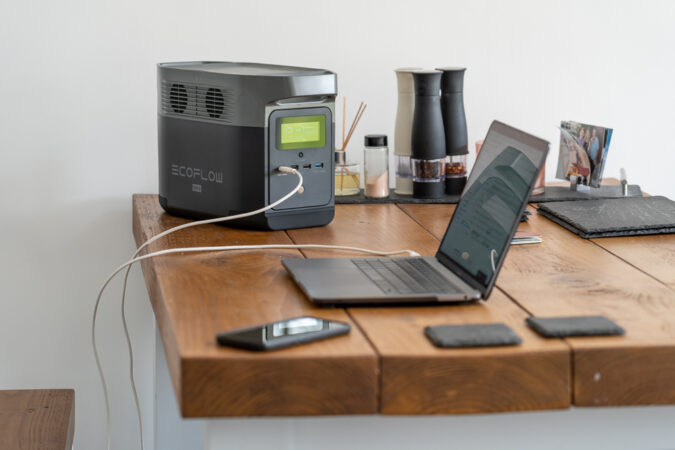 Plug In As Much As You Want
When we said you could connect the DELTA mini to 9 devices at once, we mean it. Throughout, you'd find ample ports and jacks, from USB-C to a full-on wall charger. Here's a summary of all the output and input sources that you'll find on the DELTA mini:
EcoFlow DELTA mini Input & Output
Output
USB-A (x2)
5V at 2.4A and 12W (maximum, for each port)
USB-C (x1)
5/9/12/15/20V and 5A at 100W (maximum, for each port)
Car Power (x1)
12.6V and 10A at 126W (maximum)
AC (x2)
230V at 1,400W (2,200W maximum with X-Boost)
DC5521 (x2)
12.6V and 3A (maximum, for each port)
Input
AC Charger
220V to 240V and 10A
Car Charger
8A (with either a 12V or 24V battery)
AC Power
900W (maximum, with X-Stream)
Solar Charge
11V to 75V and 13A at 300W (maximum)
Speaking off, the DELTA mini is capable of supporting multiple outputs worth of charging altogether thanks to an array of management systems built into the device. These help to provide protection in addition to extra security and flowrate reliability while charging. The DELTA mini's systems include:
BMS (battery management system)
Over-voltage protection
Overload protection
Over-temperature protection
Short-circuit protection
Low-temperature protection
Low-voltage protection
Over-current protection
Just As Easy To Charge It Up
Earlier, we noted some details about the DELTA mini's input for charging. Well, it turns out that even charging up the DELTA mini is quite intricate, as well. That's, in fact, one of the highlights of EcoFlow's big-boy power station – the ability to charge as quickly or as slowly as you'd want it. It features what they like to call a customisable charging mode, allowing you to set the power draw for charging.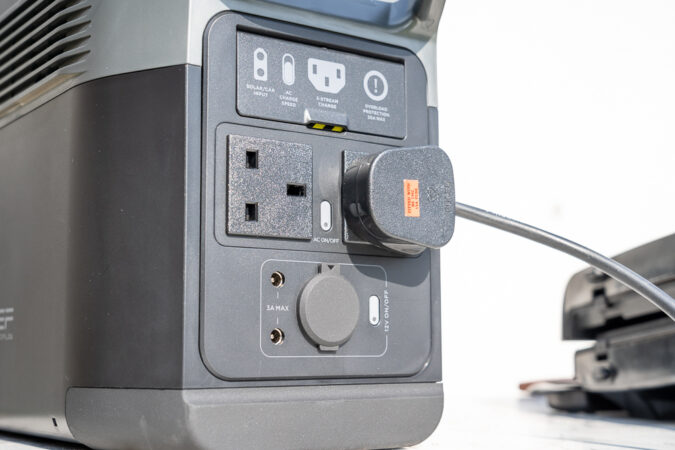 If you'd like it to charge up quickly, there's EcoFlow's X-Stream technology. Thanks to its inclusion, a DELTA mini could charge up between 3x to 4x faster than most competing power stations. Plug it into the wall, and it could fully top-up its batteries to 100% in just over one-and-a-half hours. Here are some of the figures for how long it would take to charge, depending on the power source:
Conventional wall plug at home – 1.6 hours (fast-charging with X-Stream at 900W, or less than 1 hour for a 0-80% charge)
On-the-go solar panels for off-grid charging – Between 3.3 to 6.6 hours (roughly 300W of input with 3x 110W solar panels, or combine 2x 160W solar panels together to charge it up in 3.7 to 7.4 hours)
12V car charger – Around 9.5 hours or more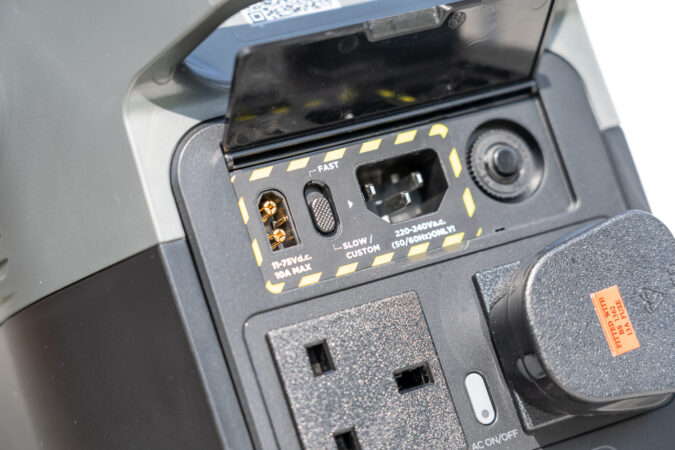 Naturally, not everyone needs or wants to charge it rapidly, with its max input rate. Fast-charging is known to deplete the lifespan of any battery. Knowing this, EcoFlow enables you to charge it slowly. This is especially handy as you're plugged in while camping. Most campgrounds feature a maximum amount of charge, so it's best not to overload it out while you still have other things that need power.
Manage Your Power Station With A Phone
Interestingly, the EcoFlow DELTA mini is Wi-Fi enabled. This is so you could pair it with its companion app. Primarily, this will be used for monitoring the power station. For example, checking in on data such as how long, given a discharge rate, would it take to deplete its batteries. Or, looking into how much each plugged-in device, gadget, or appliance is drawing from the DELTA mini, among others.
Alternatively, you have insights into the amount of time it would take, given a recharge rate, for the DELTA mini to fully recuperate its batteries. There are even the little details, like settings for how long its screen should stay on. Crucially, the EcoFlow app is where you're able to adjust that aforementioned charge rate. Here, you can tell the DELTA mini how quickly (or slowly) you'd like it to charge up.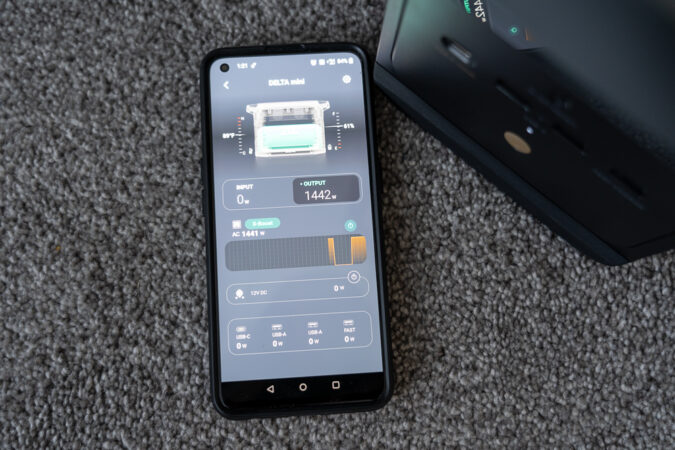 Possible Use Cases For Such A Gargantuan Thing
Admittedly, most folks would never need a power station this large or capable. It does store plenty of power that you could juice up a lot of stuff with. So, what's a reasonable use case for a hefty battery bank like the DELTA mini? We found that camping or outdoorsy expeditions are a great place to start.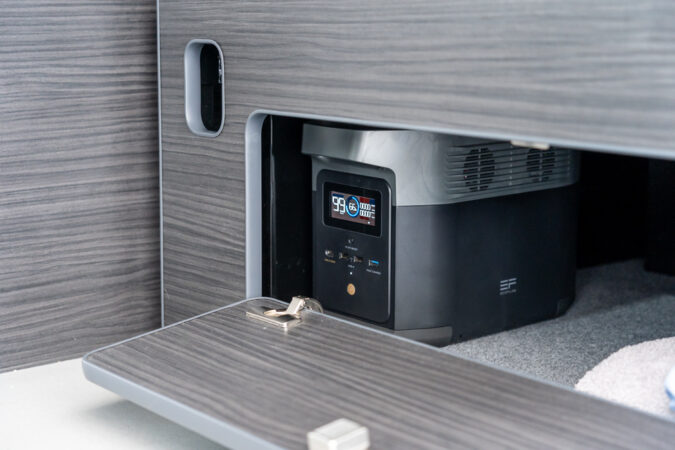 Given the high amount of charge and capacity that it carries, complemented by a relatively compact form factor, you could easily carry the DELTA mini around in your camper. We've done just that, with our VW Transporter campervan for a quick weekend getaway. We're actually planning to experiment further with this concept of powering more appliances inside the camper, with the DELTA mini.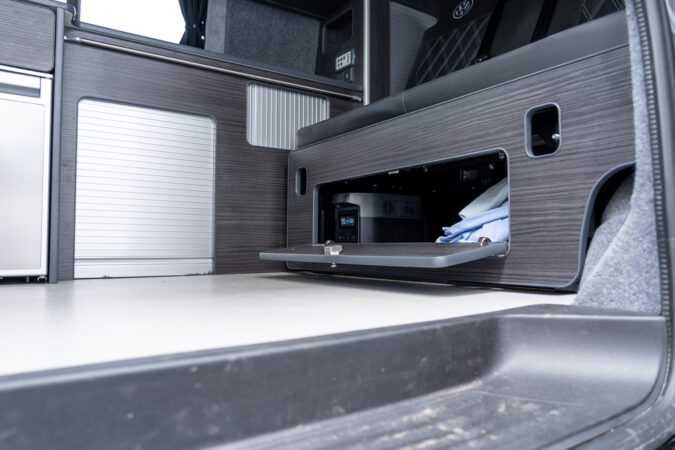 All the while, its dimensions allow us to tuck it neatly inside a storage cubby. One of the downsides of our camper is that it doesn't have as many sockets for charging. Specifically, there's a single wall charger at the moment, which only affords us room to power just one appliance with. Thus, adding to that to allow charging and running more than one kitchen appliance with the DELTA mini seems like a good idea.
We aim to get the DELTA mini powered directly from the camper fuse box in the future and then extend the sockets from the back of the mini to useful places in the van. It is the perfect bit of kit for the job.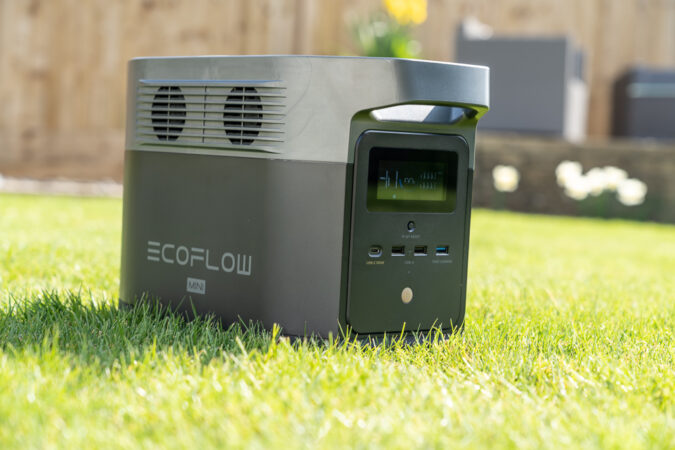 From there, we could have a kettle plugged in, while we're powering up the cooker. With the DELTA mini in tow, this also means that there are additional charge points for anyone who's joining along, for their phones and whatnot. It's a pretty good format for a camper life, I find. If the DELTA mini is any larger, it might've had trouble fitting in. Plus, we can also charge it up seamlessly once we hit the camping pitch.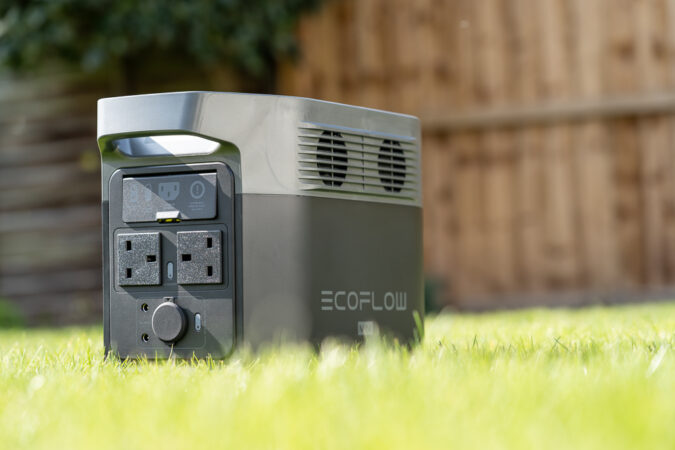 So, Is It Worth The Price?
At a cost of a whopping £999, it's very expensive, without a doubt. But given its functionality and the sheer amount of charging that it carries, there's certainly merit behind that high price tag. It's a good companion if you're keen on camping or would like to be away from the mains for a little while. Or, it might also apply to those who have difficulties with the electricity grid in their neighbourhood.
Perhaps, you need an auxiliary power supply to ensure that a reliable and powerful stream of current is able to pass through. If this is what you require, keeping a beefy unit like the EcoFlow DELTA mini is something that may very well save our life. While most people could readily make do with the RIVER, if you need that peace of mind of never running out of power, get the meatier DELTA mini, instead.