The concept of turning hot air into cold air (air conditioning) is a surprisingly complex process. That would explain why most aircon units are huge; even those standing units on the floor, owing to the sheer number of parts and machinations needed to refrigerate the air. But, what if I told you, that there is such a thing as a portable air conditioner that's actually compact enough for you to carry around…
And, it requires no installation and (mostly) no need for piping… Plus, it actually works pretty well when it comes down to turning warm summer air into breezy, chilled, refrigerated air. It turns out, EcoFlow's new WAVE 2 portable air conditioner might be the new go-to solution for on-to-go, truly portable aircon units. Yet, is all that immense cooling and heating capability in a relatively tiny package worth the cost?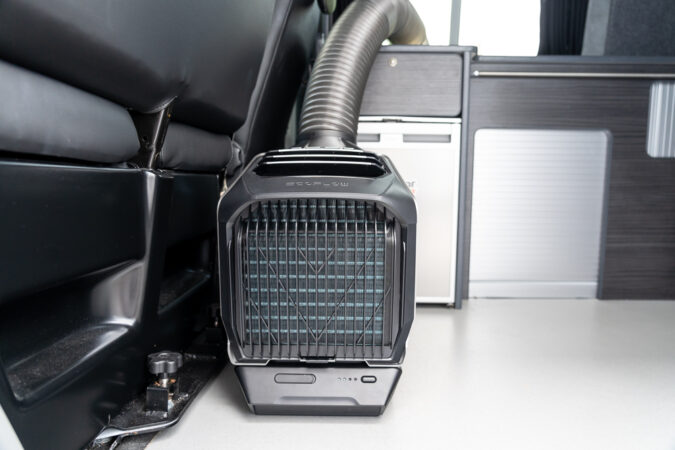 First off, what is this EcoFlow WAVE 2, anyway? Well, as we mentioned earlier, it's a portable two-in-one aircon and heater unit. The entire concept of the WAVE 2 revolves around the idea that you can have A/C and heating wherever you are. Regardless, of any space constraints, and would even run without having it plugged into a wall outlet… Assuming you have the optional battery pack installed (more on that later).
Its portability is a noteworthy highlight, but equally so, is its function. The EcoFlow WAVE 2 is designed to be easy to set up and use. While also not compromising on the quality of life factors such as excessive noise or heat. Moreover, it has to actually be good at providing cold or hot air on demand. Without, letting its rather tiny size be a bottleneck. So, let's take a look at the EcoFlow WAVE 2, and whether you should consider one.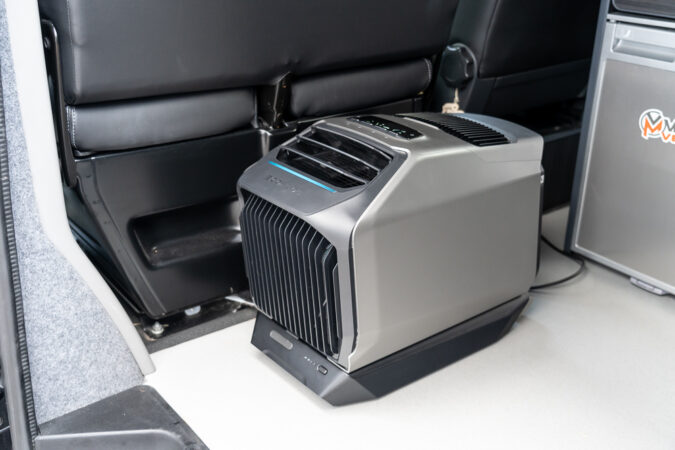 What Are The Use Cases For A Portable Air Conditioner?
The first question you might be asking is; "who is this thing even for?" Well, an EcoFlow WAVE 2 could be, it seems, especially handy in parts of the world like here in the UK. In our neck of the woods, there are very few people who have in-home and built-in air-conditioning units. Obviously, for the most part, a proper or permanent installation of an aircon unit isn't necessary anyways given how the climate is in the UK.
Our weather doesn't get nearly hot enough consistently for most of the year for folks to justify spending a lot of cash on an air-conditioner. However, there are those specific times of the year such as the middle of summer. Or, if there's a heatwave coming, when an A/C unit can be handy to have. Even, if it's only one or two days, or a week at a time. This is where portable air conditioners make sense for us.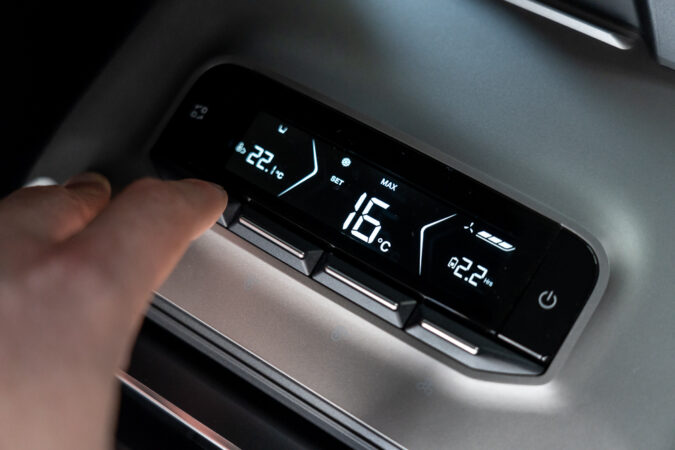 When we need cool air, we could whip out the portable aircon unit – like that EcoFlow WAVE 2 – for those days or weeks when it's toasty warm. Then, once the temperatures drop, we can then stow it away when we don't need it. However, besides cooling your house during the hot summers, there are plenty of other neat use cases for portable air conditioners like the EcoFlow WAVE 2, like using it for camping.
Particularly, in our case, we've got our VW Transporter campervan. Which, in most normal cases, needing to cool down the living space in the back requires running the van's A/C unit. That's not always ideal. And not to mention, it requires that we need the engine idling and the van's battery running. Or, maybe you're going out camping the old-school way, and need an effective means to cool down your tent.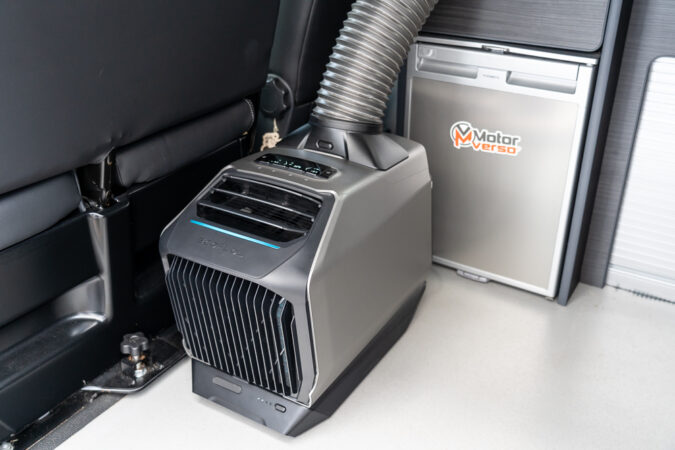 No Installation Is Needed (But Maybe Add Some Piping)
The EcoFlow WAVE 2 is just about portable enough that we would justify lugging it around in the back of the VW Transporter campervan. At approximately 14.5kg, the WAVE 2 is not exactly lightweight. But, in comparing it against other air-conditioners of its calibre, the WAVE 2 is impressively portable. Maybe the most compelling aspect of it, for most would-be buyers, is the fact that you don't need to install it.
This is mostly true, and you can indeed use it without installing anything. But, for optimal cooling, as well as heating effect, a bit of work is needed. In particular, with the pre-included exhaust ducting (and all the adapters that come with it). We'll discuss this in a bit more depth later… But, this ducting essentially allows you to create a central heating or cooling system, by playing around with the intakes and exhaust.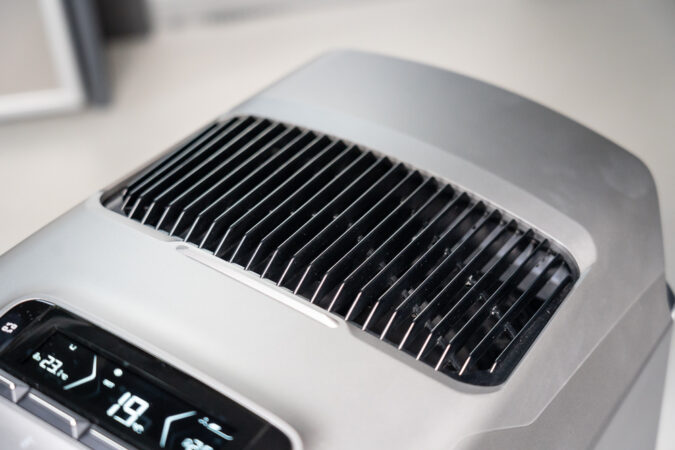 Although, aside from these simple tack-on, plug-and-play ducts, there really is no need to install anything to get the EcoFlow WAVE 2 working. It makes the whole device even more practical and usable. And even more so in situations where you don't have the right tools to do so. Say, needing to set up the WAVE 2 to aid in cooling down a makeshift campsite, as an example. But, what about needing to set up any piping?
If you're using the WAVE 2 solely for cooling, you might not need to install any piping at all. Nonetheless, you might need to consider installing some form of drainage if you're using it as a heater. With that said, most of the time, all you need to do is place it down. Then, power it up. Before finally, letting your WAVE 2 run for a few minutes to help with cooling down or heating up a room or the surrounding area.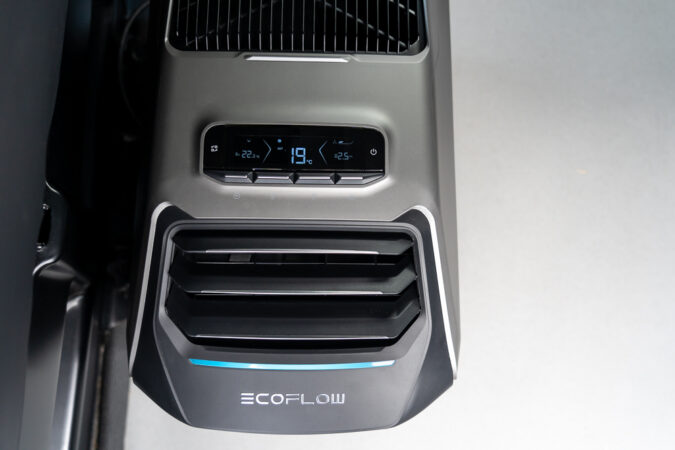 Cooling Or Heating The Air Around You In Record Time
The EcoFlow WAVE 2 should cool down and heat up pretty well, too. That is thanks to EcoFlow's bespoke compressor technology. This enables the WAVE 2 to either cool down or heat up the surrounding air very rapidly. Numbers-wise, EcoFlow claims that the WAVE 2 is capable of up to 5,100 BTUs worth of cooling, and respectively, 6,100 BTUs worth of heating. Those figures sound about right in my testing.
Primarily, the EcoFlow WAVE 2 can cool down a room from 30°C to 20°C (basically, a 10°C drop) in just a mere 5-minute period. Or alternatively, the WAVE 2 could heat up a room from 20°C to 30°C (essentially, a rise of 10°C) in a similar 5-minute operation time. It works amazingly fast. Nevertheless, make sure the room or area you're trying to cool down or heat up is, optimally, around 10m² or 107.6ft² in size.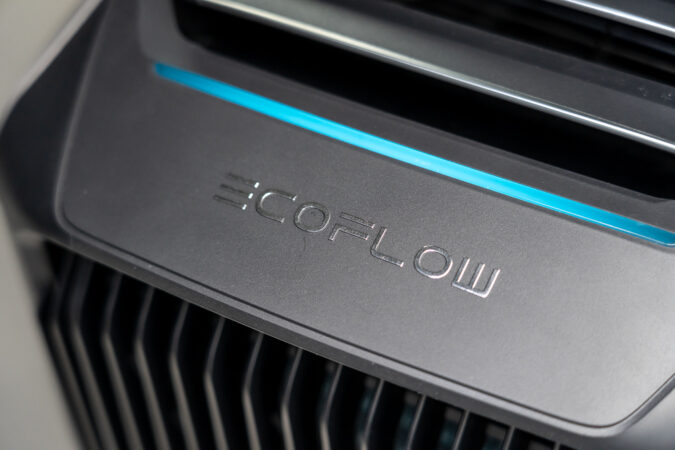 In practice then, the EcoFlow WAVE 2 works amazingly fast. Moreover, EcoFlow's use of R290 refrigerant is another huge bonus. It's a far greener and more eco-friendly alternative compared to a lot of the more conventional air-conditioning units. As such, R290 refrigerant boasts no ozone emissions and a lower risk of contributing to global warming. Having said that, you might be wondering how it works.
How does a comparatively small box like the EcoFlow WAVE 2 turn the hot air around it into refrigerated, cool, fresh air? Or, alternatively, turning cool air into toasty, warm, comfy air, instead? To understand this process, all you need to do is take a closer look at the WAVE 2. There, you'll notice, what's practically two intake vents (for air to enter the unit) and two exhaust vents (for air to exit the aircon unit).
How Does The EcoFlow WAVE 2 Actually Work?
Note the large vents with the vertical slats along the front and rear of the WAVE 2 – that's where all your intakes are. If we're looking at cooling, as an example, these two intake vents are where the hot surrounding air is channelled into the WAVE 2. That hot air is then refrigerated within the aircon unit. Meanwhile, hot air (which we don't want; only cold air) is exhausted out of the vent on the top of the WAVE 2.
Finally, cool, refrigerated air exits out of that smaller set of exhaust vents on the top-front of the EcoFlow WAVE 2. Now, inside the box, you'll find those aforementioned set of exhaust ducts that you could attach to the aircon unit. This is used to better direct or channel cold air or hot air, either for the intake or the exhaust. Let's say you're trying to cool down a room and want it as optimally chilled as possible…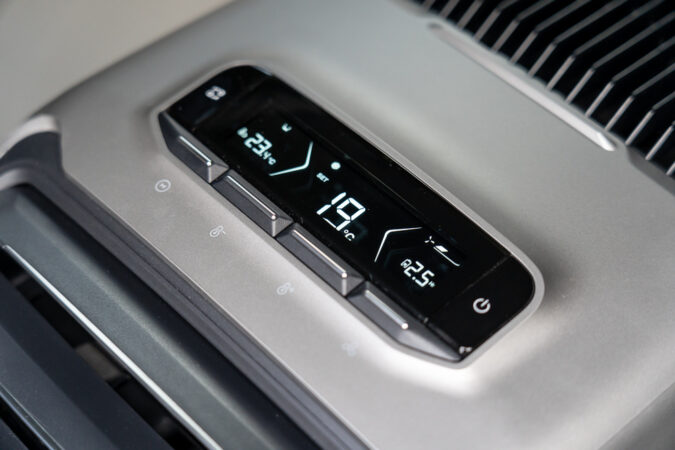 You could, for example, have the exhaust ducts direct all the hot exhaust air out of that room or through a window to ramp up the cooling time of said room. While at the same time, preventing the hot exhaust air from impacting the surrounding temperature. Or, you can, for instance, have your WAVE 2 be placed elsewhere (such as outside your campervan), and use the ducts to channel cold air inside.
There are numerous configurations that you can play around with, varying in how you'd place and direct the ducting. On top of that, you could even have your WAVE 2 run throughout the night, cooling down a bedroom or your sleeping quarters. It's practically silent (by air conditioning standards) operating at just 44dB when you set it to 'Sleep Mode'. Otherwise, in regular operation, it's a bit louder, at 56dB.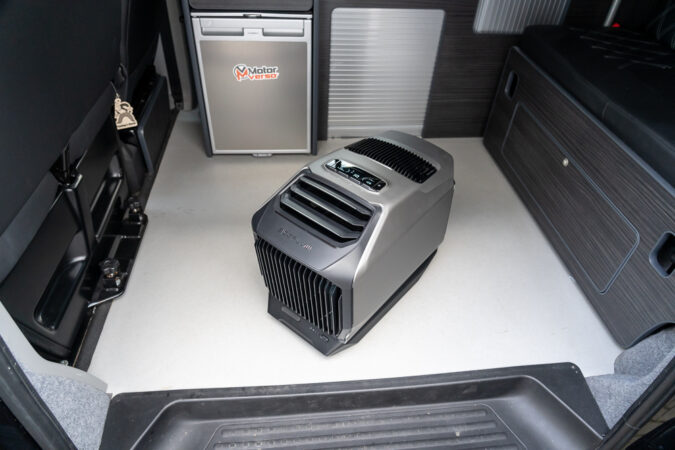 Running Your Air Conditioner Away From The Grid
Speaking of, there's a lot of adjustability with the EcoFlow WAVE 2, which should be familiar with a lot of more conventional aircon units. You could set a fixed temperature of the air that you want the WAVE 2 to be spewing out. Or, perhaps even adjust the fan speeds. While these settings could be done on the WAVE 2 itself, you could configure it remotely using the EcoFlow mobile app on your phone via Bluetooth.
To power your EcoFlow WAVE 2, you'll have to plug it into a wall outlet. There are alternative means too, such as running it from your car's 12V or 24V socket. If you're knee-deep in the EcoFlow ecosystem, and if you're trying to use the WAVE 2 away from the mains… You could consider using EcoFlow's power stations as a portable source of power. As an example, you can daisy-chain the WAVE 2 to a power station.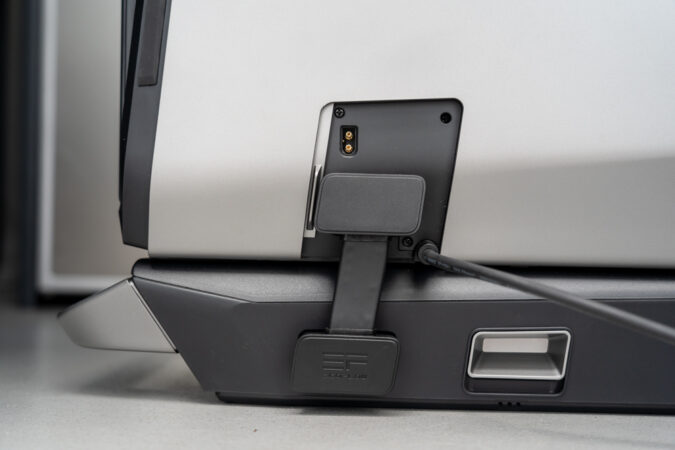 Or, for a renewable source of power, you could plug your WAVE 2 into a portable solar panel. And rather conveniently, EcoFlow makes a few of those solar panels, too. With that in mind, if you'd want to power your WAVE 2 on its own without any auxiliary power sources, you could opt to purchase the optional 1,159kWh add-on battery pack. This battery pack will then connect to and slide onto the bottom of the WAVE 2.
This should allow you more flexibility than having to run off the mains. For instance, you could use this to cool a campervan at a campsite (or an off-the-grid cabin… or a tent) that doesn't have easy access to any electricity. With that add-on battery pack, the WAVE 2 could keep running for up to 8 hours (when you've set it into 'Eco Mode'). Or, if you have more than one battery, you could hot-swap them, too.
How Much Is Too Much For A Portable Aircon Unit?
So, what about the price, then? Well, the EcoFlow WAVE 2 is going to cost you at least £1,000. The unit is normally priced at £1,049 – just for the WAVE 2, without that add-on battery pack. At the time of writing, EcoFlow is hosting a summer sale, so you could grab the WAVE 2 for £949, instead. Meanwhile, when it's not portable or versatile enough, you might consider getting the £799 add-on battery pack, too.
To be fair, this is a good chunk of money to spend on something that you'd really only use every once in a while. At most, maybe a couple of weeks concurrently in a whole year. Though, it might be a nice thing to have when the heat's getting to you. And, you're melting into a puddle of sweat. Or, if you're bracing for a chilly winter, and need a good heating unit. There aren't that many out there just like the WAVE 2.