You ever wondered how many seats in a Suburban there are? The Chevrolet or Chevy Suburban is one of the most popular SUVs globally. It initially came out in 1934 and is the world's longest continuously used automobile nameplate.
While the production was stopped in 2018, it was continued shortly afterward. The Chevy Suburban is one of the most popular large-size SUVs in the United States. So if you are thinking of this model but are unsure about it, we have got you covered.
It doesn't matter if you think how many seats in a suburban is there- we are here to help you find it out. So scroll down below and keep reading patiently.
How Many Seats In A Suburban: Related Specs
Before we can go on and fascinate you with all the features and awesomeness that the Chevy Suburban 2021 model offers, we will provide all the speculations that you will need to know if you want to understand any vehicle properly. Only then would you know that this vehicle is one of the world's best SUVs.
Drivetrain– Four wheel drive
Engine order code– L84
Required Fuel– Gas V8
Fuel System– Direct Injection
Maximum horsepower– 355 RPM
Maximum Torque– 383 RPM
Wheelbase– 134.1 inches
Length– 225.7 inches
Width– 81.1 inches
Height– 75.7 inches
Seating capacity– 8
Turning Diameter– 43.3 feet
Front Headroom/Legroom/Shoulder Room– 42.30 inches/44.50 inches/66.00 inches
Second Row Headroom/Legroom/Shoulder Room– 39.90 inches/42.00 inches/64.00 inches
Third Row Headroom/Legroom/Shoulder Room — 38.20 inches/36.70 inches/48.40 inches
Trunk Space Behind 3rd Row — 41.5 cubic feet
Cargo Space Behind 2nd Row — 93.8 cubic feet
Maximum Cargo Space — 144.7 cubic feet
How Many Seats In A Suburban: Pros And Cons
Now, let's see what are the pros and cons of the Suburban. It should help you make the best judgment.
Pros:
Muscular and robust engine to provide ample amount of energy.
Spacious seating arrangement.
Enough cargo space.
The touch screen display is used to provide all possible information
Cons:
The car is heavy and large.
Can't provide enough thrust.
It is not designed to reduce the amount of resistance that is impacted.
Styling And Design
The Chevrolet Suburban is as modern as a car can get inside. While it appears sturdy and plain as any outside block, its internal design is nothing to scoff at. Its cabin is made from sustainable but high-quality materials like high-quality alloys and plastic that are durable but soft to the touch.
The seats have been trimmed with the utmost care to give it a very sophisticated and classic look. The color contrasting leather seats are incredibly pleasing to the eye. The seats are spacious enough to make you feel like the car lacks losing space.
The seats have been arranged in an orderly manner. They can be folded when not needed as they are retractable. In addition, their placing can also be interchanged if you require more walking space.
Thick lumber is used to provide support in the middle of the cabin. It is incredibly flexible and can be adjusted however you want to adjust them. They are supported with adjustable straps and a lumbar cushion to make them more comfortable. The front seats can be reclined to 180 degrees per your preference and need.
How Many Seats In A Suburban: Convenience And Comfort
The Chevrolet Suburban is engineered to attain the best possible environment for the comfort of its passengers. It uses an extensive network of insulation, climate-controlling technologies, and various sensors to provide the type of climate that you covet while inside the car.
The seats are well ventilated so that you do not have to worry about heating or cooling in a cold climate. The same goes for the steering wheel. If the temperature is too hot, the temperature mechanism takes care to keep the internal temperature cool and as close to the room temperature as possible.
In addition, the car comes together with a windowed roof with which you can observe the sky from a panoramic viewpoint.
How Many Seats In A Suburban: Seat Dimensions
Before we can answer you how many seats in a Suburban there are, we need first to assess the dimension and arrangement of the seats. The total internal dimension of the Suburban is set at 225.7 inches. This makes it the largest SUV in the world market for SUVs.
The massive exterior dimensions of the Suburban can be compared to a spacious cabin. You can expect passengers in each row to have plenty of space to sit and more room to stretch and breathe.
The front seats are the most spacious, offering approximately 44.5 inches of legroom, 42.3 inches of headroom, 66 inches of shoulder room, and 61.5 inches of hip room. The second-row seats have the best-in-class legroom of 42 inches, 38.9 inches of headroom, 64.8 inches of shoulder room, and 61.3 inches of hip room.
Most SUVs tend to have the third row built mainly for children. However, the third row in the Suburban can also accommodate adults. It provides about 36.7 inches of legroom, 38.3 inches of headroom, 61.7 inches of shoulder room, and 49.4 inches of hip room.
How Many Seats In A Suburban?
If you need a car to carry a lot of people simultaneously regularly, the Chevy Suburban could be the best answer to this question. If you aren't aware of how many seats in a Suburban there are, you will be pleased to know that there are eight seats.
While there are eight seats in total in the car, you can add one more up in the middle of the 2nd row. There is the 9th seat, but it doesn't have much legroom and is essentially made for children. In addition to the eight-seater Suburban, a seven-seater option exists.

This option places the 2nd-row seats with two spacious captain's chairs. This is an exciting and essential setting to maximize your comfort.
How Many Seats In A Suburban: Cargo Space
Everyone loves to go out on outings on the weekend, especially after a long week of hard work. With how many seats in a Suburban, you won't need to worry about hiring another car for your large family. As a plus point, the Suburban comes together with a substantial rear-end cargo space that you might never run out of easily.
In total, the vehicles come with 144.7 cubic feet of storage space behind the front seats, 93.8 cubic feet behind the second-row seats, and 41.5 cubic feet behind the front seats. This is a lot of baggage space. If you think of carrying more essentials than you will need, you can still achieve that, even if you are very unlikely to be using them.
Additionally, there is a lot of room in the seating spaces, which you can utilize to store more baggage and cargo without worrying about having to leave any luggage or cargo behind.
How Many Seats In A Suburban: Connections And Technology
The Chevrolet Suburban comes with one of the best technological features ever found in any SUV. To keep pressing buttons to the bare minimum, it comes with a 10.2-inch touch screen display at the dashboard's front. In addition, you can also install this display on the back of the seats so that the passengers on the other rows can also keep themselves entertained.
The display features an information system that you can use to find any information through a clear graphical visual and a highly intuitive scroll-down menu. The display features a second to the second mechanism with which it responds to any inputs without causing delay or lag while receiving the information and giving the accurate output as required.
While this service isn't complimentary, you can consider getting yourself the navigation system. With this, you will have a greater riding experience and never get lost in any place as long as you are connected to the system. Additionally, the vehicle has 9 to 10 audio outputs throughout the car, depending on your buying model.
How Many Seats In A Suburban: Gas Mileage
With how many seats in a Suburban there are- the car will consume a lot of gas. However, the car has shown significant fuel consumption till now. It uses a 5.3-liter V8 engine and can travel a long way of about 100 plus miles on average under suitable conditions with 4.5 gals.
Of course, this mileage is only an estimation. This number could increase or decrease depending on external conditions like the condition of the road, the amount of resistance experienced by the car, the number of people inside.
An example would be if the car experiences too much friction than normal, its velocity is determined to decrease. This will cause it to cover a journey in more time than the same journey under regular conditions.
How Many Seats In A Suburban: Overall Performance
The Suburban has a standard 5.3-liter V8 engine, which is enough to power this beast of a vehicle. While it offers an ample amount of transmission rate, fuel efficiency to energy isn't great.
The efficiency rating is less than 40 percent which means that only 40% of the total energy supplied is used to keep the car running. The rest of the energy might be used to run other functions like air conditioners and displays. However, most of it is lost as heat and sound.
With ten forward gears to pick from, the Suburban has shown no problems with picking up speed. While there might be some problem with producing enough momentum while driving, it has demonstrated excellent maneuverability that outweighs whatever minor cons the car might have shown.
Other than that, the Suburban has also done a great job with masking its hiding its true weight and size. Since it is a large car with a flatter front, it will experience greater air resistance. However, it has been engineered to have a larger hole between the ground and its main body. This means that most of the air that comes in contact with the car escapes, thus reducing the amount of air resistance that it is meant to experience.
While the Suburban has its issues, it has shown an outstanding performance that makes it worthy of being one of the best and oldest SUVs in the world, whether you count it as being modern or simply classy. It is undeniable that this is a very convenient car with a great performance.
How Many Seats In A Suburban: Technologies That Assist The Driver
A significant aspect of using the Chevy Suburban as the mode of transportation for any journey, both long and short, is that it comes with various exceptionally advantageous features for any driver. The standard features that are constantly active include the anti-collision warnings and the rear collision sensitivity.
In addition, the car has extrasensory components installed throughout its body. One of these sensors is used to find out when a pedestrian approaches the car and ensures that the vehicle will not crash or hit the pedestrian in any way using braking mechanisms.
Additionally, suppose your braking system starts to malfunction by any chance. In that case, the car will use its sensors to brake automatically and stop whenever it senses a body in front of it. In case of danger, the car comes with airbags and cushions used to maximize the safety of the driver and the car's passengers. While almost all vehicles come with an airbag, it uses a fluid-sensitive engineered mechanism to install the airbag inside. This ensures the efficiency of the airbags.
How Many Seats In A Suburban: Interior Features
While you are already fascinated with how many seats in a Suburban there are, you will be completely awestruck when you learn about all the complementary features that come with this car. These features are as follows:
Chevrolet Infotainment 3 Plus
HD vision camera for the rear
9 Bose sound system of premium quality
12-volt power outlet
Wi-Fi hotspot- 4G LTE
4.2 inches information system used to identify the driver
10.2 inches touch screen displays
Foldable seats in the 2nd and 3rd rows
Ten-way power converter
Navigation System
Automatic heated seat and steering wheel
Central unit controlling console
Chevy Tahoe Vs Chevy Suburban
While the Suburban is the more popular of the two, many people have compared the Suburban to the Tahoe, mainly because the Suburban is an advanced version of the Tahoe. While both cars share the same capabilities and functions, there are several differences between the two, which give the Suburban its superiority.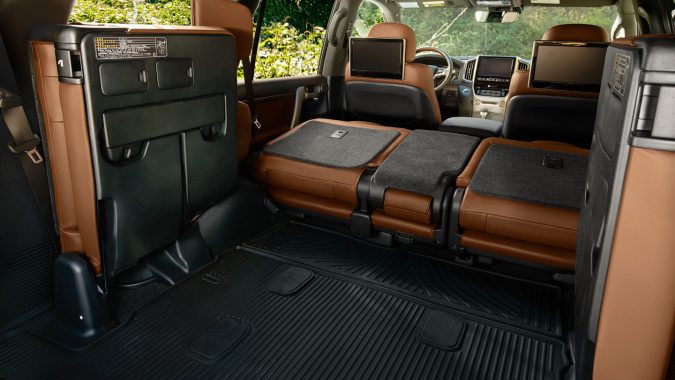 Interior And Technology
In terms of the technology that you are exposed to in these cars, they are essentially the same. You get the same touch screen displays given that your car is a newer model. With how many seats in a Suburban there are, it is the same case in the Tahoe. Both cars have eight seats in the middle of the second row.
In addition, you can also upgrade the features so that the car has better comfortability, like heated seats and keyless ignition. However, passengers of both cars have reported that the Suburban has shown a greater seat quality and aesthetic than Tahoe's.
Safety
The Tahoe uses a standard airbag and cushioning to provide the safety of the passengers. There are pressure sensors on the inside that are used to capture pressure changes almost every split second. Only when the pressure changes across a certain threshold does the airbag inflate and aid the passenger.
The main issue with this mechanism is that there's a 10% chance of malfunctioning due to various issues and falsely inflating. On the other hand, the Suburban takes care of this problem by engineering a fluid monitoring mechanism and pressure sensing.
When both mechanisms sense any accident and thin counts rise a threshold, they start releasing the airbags that inflate afterward. The cushions are released from the side windows used to decrease the stress felt up by the passenger's bodies. Additional safety features include:
Tracking via the phone in case the vehicle gets stolen.
Assistance to vehicle recovery.
Collision notifications
Emergency services
Storage Space And Weight
One of the main places that the Suburban has shown its superiority to the Tahoe is the storage spaces that these cars offer. The Suburban has a greater rear space with more headroom, legroom, and hip room. The Suburban has a more spacious storage cabin with a lot more places to store the baggage other than the rear storage.
In addition, the car also has a greater storage capacity that far exceeds that of the Tahoe. However, on the other hand, it is also much heavier and larger than the Tahoe. This causes a massive problem to the setting of the Suburban since it experiences more resistance from the surroundings, which decreases the thrust speeds compared to the Tahoe.
Types Of Seats To Get
If you know how many seats in a Suburban there are, you will also know that there are a lot of chances of getting in a special type of seat for your child. While you can use the 9th seat for your child, there are many options of booster seats that you can choose from.
Below we have compiled a list of the seats that could be installed in the car for many different purposes involving your baby. These are as follows:
Convertible Car Seat
These are among the most common and convenient car seats. It is pretty popular since it can be used as rear-facing and forward-facing booster seats. You can keep using the convertible seat till your child outgrows it and their shoulder exceeds the top slot of the seat.
3 In 1 Car Seat
These are called the 3 in 1 car seat because they can be sued in 3 different ways. It can be used as a rear-facing car seat, a forward seat without a harness, and a standard booster. Do note that you will need to remove the seat when your child exceeds the height and weight limit stated by the manufacturer.
Combination Car Seat
This is called the combination car seat because it comes in different smaller components that serve their purposes and can be combined to give off another new purpose.
It is used as a forward, pressing seat with a five-pack harness and a high height booster seat. It is beneficial for the transition when the child outgrows the harness and can use the booster seat.
Booster Seat
Another popular seating product is also quite common due to its simplicity and convenience. It is mainly used for children who have outgrown the harness seats and require something bigger to sit on.
Booster seats can be compared to a smaller regular adult seat since children can sit on the standard seat but do not have enough physique to fit in—there are 3 different types of booster seats.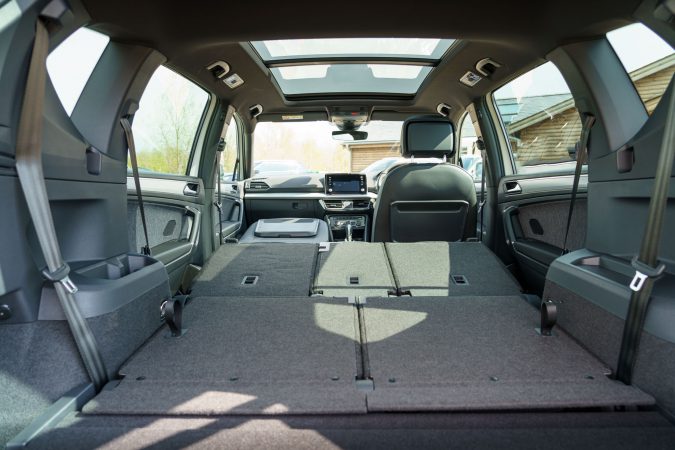 Forward-Facing Seat
While these seats are very cheap, they aren't used all the time. They are only used for toddlers to provide them a seating along with a harness to keep them in a fixed place. It prevents them from falling over and similar accidents.
How Much Does The Chevrolet Suburban Cost?
The latest 2022 Suburban model costs about $52,300. However, this is about roughly the price of the cheapest one in the market. Even then, it is considered on the high end for SUVs. On the other hand, the upmarket Suburban LT costs around $57,000. The Suburban High Country, which has yet to get released, is estimated to have a price of around $72,400, if not more.
Of course, in addition to the purchasing price, several other related prices contribute to the installation of the mainframe system, navigation system, and similar functions. While there are several complementary functions, you will need to regularly spend a lot of money to keep them updated.
Of course, the insurance cost will depend on a variety of factors, including the market price of the car, the type of insurance you are willing to choose, the cost of items that the insurance will cover each year, etc. You can check out more on the car insurance guide to find the policy that best suits you.
Conclusion
With this, you should be more than aware of how many seats in a Suburban there are. Also, as we've talked about the available features and design of the Suburban, you should be able to make the right decision. So, if you are thinking of buying a Suburban, this might be the best time to buy one.