Even for those of us who aren't crazed car enthusiasts, it's hard to not form an emotional bond with your ride. All those memories, from the day you drove it off the lot, to here and now where you're in a bind about passing it on. But hey, just know that your old car is (hopefully) going away to a caring, new forever home. But, that comes after you've figured out how to get a car out of your name.
Car ownership is a tricky thing. Not only do you have to worry about taking good care of the vehicle itself. However, you're also left juggling between taxes, insurance premiums, loan payments, as well as the myriad of paperwork that comes with it. Among those documents has your name on it, as unmistakable and verifiable proof of ownership over that car. To you and I, we call this, the title.
Nevertheless, there could be many reasons why you'd want to wonder about how to get a car out of your name. It could be that you're selling it off to someone else or gifting the car to a close relative. Sadly, the same processes also apply in the event of the death of the car's owner, or when the two parties owning it are getting a divorce. In any case, here's how to get a car out of your name…
What Is A Title, And Why Use It To Get A Car Out Of Your Name?
When you purchase a car, you also acquire a set of documents that come with it from the seller. One of those documents is the title, which is passed from one owner to another. So, why is it so crucial in learning how to get a car out of your name from it? Quite simply, the title is proof of ownership, as it validates that you, with your name and signature in that title, are the legal owner of said car.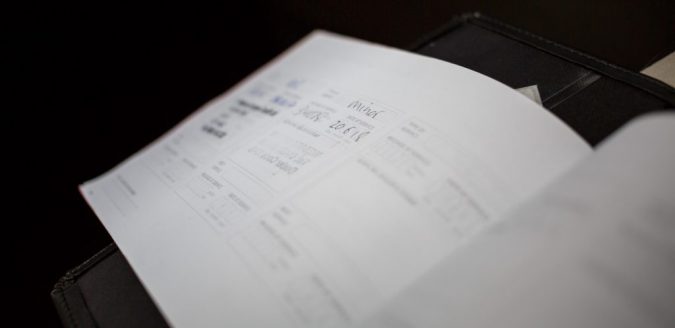 Granted, you only receive the title if you've bought and are owning the vehicle outright. That is, with no ties to bank loans or dealership financing that helped you to get your hands on that car. Titles are beyond important when it comes to vehicle ownership. You'll be using that title to, for example, register your car to be legally allowed to drive on the road. Or, when it comes time to sell it.
What Does A Car Title Include, And Why Get Your Name Out Of It?
Most consequentially, the title also informs the law about who owns a vehicle. If you bought the car with a loan or financing from the bank or dealership, as we highlighted earlier, they'll be the ones to hold onto your title. That is until the full amount is paid off, and the loan is cleared. Otherwise, you are the one to carry the title. It thus proves that you are the owner and caretaker of a vehicle.
Within that title, it includes additional information such as your identity, as well as extra data around the vehicle in question, and the past owner:
Your name (as the owner), or two names if it's joint ownership (i.e. your and your significant other's name, with both of you owning the vehicle together).
17-digit, unique vehicle identification number (VIN) of said car.
Make and model of the car, as well as the model year.
Odometer reading at the time of sale or ownership transfer.
The weight class of the vehicle (this is important for larger vehicles such as trucks, SUVs, or commercial vehicles).
Lender (or lienholder) information, such as the bank or dealership, but only if the vehicle's bought under financing or loan.
Title assignment, which contains the names of the buyer and seller (in an exchange of ownership), addresses, date of the sale taking place, and signatures of both parties.
There could be many reasons why you'd want to learn how to get a car out of your name. Some of the most popular ones include:
Why Do You Need To Get A Car Out Of Your Name?
A Step-By-Step Guide On How To Get A Car Out Of Your Name
Without further ado, here are some simple step-by-step techniques on how to get a car out of your name. But first, it's worth noting that this process isn't uniform across all states. While most states are quite simple in regards to removing a person's name from a title and is overall a straightforward procedure. There are some states, meanwhile, that necessitate crossing more hurdles to get it done.
Therefore, we'd recommend calling up, emailing, or making an in-person visit at your local DMV to ask about what needs doing. More precisely, the steps required, any other documentation that has to be settled, as well as payment to have your name removed. It's important to get it done right, as the title is a legal document. Mistakes aren't so easily welcomed or excused.
But for the most part, our guide here should generally encompass the hoops that you have to jump through in learning how to get a car out of your name.
Step 1: Check The Names On The Title (And Get Consent, If Needed)
First things first in how to get a car out of your name, you'll have to dust off and inspect the title. In particular, look at the names. If it's only your name on there, then this should be a lot easier. With that said, if there are two (or more) names on the title, then you'll need to get consent from the other parties, as well.
This applies to whether or not you want to remove your name or the name of the other party(s). In this scenario, you'll have to take a closer look at the wording used to tie the owners together. There can be several terms used in this regard for joint ownership: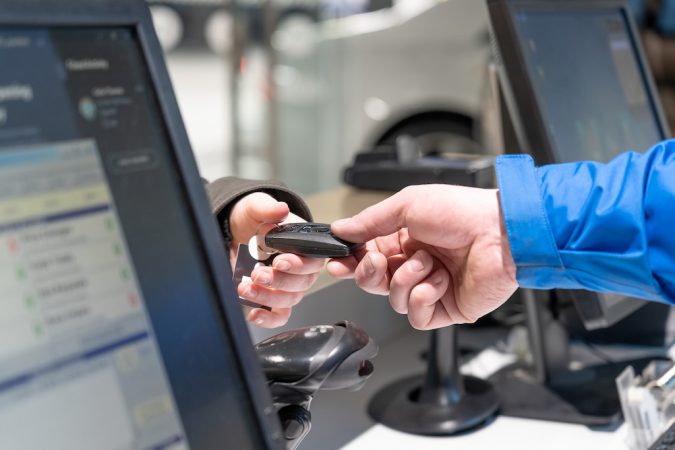 "And/Or" or just "Or" – For example, "John Doe and/or Jane Doe", or "John Doe or Jane Doe". Here, it means that one party can legally remove their or the other party's name without needing their consent. In this instance, either John Doe or Jane Doe can remove their or the other owner's name without them having to sign for it. Only either John or Jane's lone signature is required.
"And" – In this case, "John Doe and Jane Doe". Consequently, it denotes that both John Doe and Jane Doe need to agree with any change of ownership, including removing one or the other's name. Let's say John Doe wants to remove his name from the title. If that's so, both he and Jane Doe will have to sign the title as though they're sellers, before transferring ownership to just Jane.
Step 1.5 (If Applicable): See If Your Lienholder's Name Is On The Title
Remember, if you purchased your car through an auto loan or a financing package, be it from a bank or the dealership, their name will be on the title. They're, in essence, your lienholders, and their name will stay on the title until you've paid off the loan in full. In some states, you don't even get to keep a car title if you've purchased with a loan. Instead, the lienholder keeps it until you've paid.
So, while you look for the names on the title, see if your lienholder appears on there. It may have one or more lienholders listed if you've financed the car through numerous parties at once. If you have a lienholder, who is the actual owner of a car, then you have two options:
Pay off the remainder of the loan in full. Thus, this frees your car from the lienholder's ownership, as it subsequently makes you the sole owner of the vehicle.
Discuss and negotiate with your lienholder to agree to a name change or removal from the title. It may require you to accept some other measure or deal to pay off the remains of your car loan.
Should you be unable to pay the remaining sum on your car loan. Or, if the lienholder can't agree to change or remove your name from the title. Then, you'll be unable to make any name changes to the title. If they do agree, or if you've been able to settle the loan, be sure to get a release of lien letter. This document, provided by the lienholder, essentially confirms that you've settled all of your loans.
Step 2: Call Up Your State DMV To Confirm What Needs Doing
Once again, we have to reiterate the importance of checking in with your local state or country DMV to ascertain the correct procedures around how to get a car out of your name. State laws on vehicle ownership can vary wildly. For example, let's go back to that "and/or", "or", or "and" wording used to join the name of the owners together.
We explained earlier that "and/or" is similar to just "or" in the eyes of the law. Thus, they follow the same steps when one of the owners wants to remove their name or the name of the other owner(s). This isn't entirely true, however. A few states, such as Arizona, instead consider "and/or" to be the same as "and". In other words, "and/or" will require consent and signature from both owners.
So, contact your state DMV to clarify these minute details. While you're there, here are a few other things to check if they need doing:
Does your state DMV ask for the submission of a form or application, requiring you to fill in details around removing a name? Also, where can you find this form, maybe as a downloadable PDF on the DMV's website?
How's the procedure like, from start to finish? In some states, removing your name, regardless of the reason behind it, is similar to how you'd sell your car, and change the name on the title with the new owner.
Are there any processing fees attached to having the DMV process, certify, and validate the removal of your, or another party's, name from the title?
Do you need an affidavit to notarize a letter, which states the reasons behind why you'd want to have your, or another party's, name removed from the title?
Step 3: Obtain All The Supplementary Documentation
Next, it's time to gather all the documentation and get it sorted together. Besides the title itself, you may need:
Written Consent – If you've managed to get consent from the other owner, whose name you share in the title, you'll need a letter. This should be written from the other party/owner and must include their name and signature. Note, some states require this to be notarized by an affidavit. For convenience's sake, you could also see if your DMV offers an already-formatted consent form.
Identification – You're going to need some additional papers for personal identification, and to have the name removed or changed from the title. This includes your ID, as proof of your identity. Some states may ask for your driver's license of both you, and the other owner, too (if it's a joint-ownership).
Insurance – Every vehicle comes with insurance, so you'll have to bring over your insurance papers, as well. This may be necessary during the name change or removal, as additional proof of your ownership over the vehicle. Once your name's been removed, you'll then have to head over to the insurance provider and update the paperwork to reflect the changes in the title.
Those aforementioned documents should be typical for most scenarios where you'd need to learn how to get a car off your name. Although, there are unique situations that involve a name removal or change. Thus, you'll need some other forms of documents for these situations, such as:
Step 3.5 (If Applicable): Documentation For Unique Circumstances
Death Certificate – Should you want to remove the name of the deceased from a title, you'll need a death certificate. Or, some other verifiable proof of the person's death. On top of that, you may also require an affidavit to certify it, or a letter from the trustee of the deceased's estate. The latter is usually for when a vehicle is inherited by someone else.
Divorce Settlement – In the case of a divorce, you could submit the divorce settlement or order as a justification for having a name removed or changed. The new title should reflect the conditions of the divorce settlement. For example, it may be changed to note who's keeping the car after the divorce. Or, who's responsible for paying the remainder of a loan or insurance.
Gift – Going back to our earlier example of needing to remove your name, since you're gifting the car to someone else. Let's say there are two names in the title, John Doe (Sr.), and his son, John Doe Jr. When John is ready to gift his old car in full as a gift to John Jr., then the name of John Sr. needs to be removed from the title. When filling in the form, it should be treated as a transfer of assets.
Donation – Many folks donate cars to charity. That's especially the case with older, or perhaps worn-down and non-running cars. The process is similar to any other transfer of ownership. However, you'll have to note down the charity's name as a "buyer" in the title certificate. Then, hand this over to the charity, and they'll complete the rest at the DMV offices.
Step 4: Updating The Title To Reflect The Name Removal
Finally, it's time to update the names of the owner(s) in the title. To do this, turn to the back of your car's title certificate, where they'll be a form. Once more, remember to ask the state DMV about this, as some of them have a special application or form to request changes to be made to the title. Now, fill in all the blank spaces in the form, as though you're selling the car.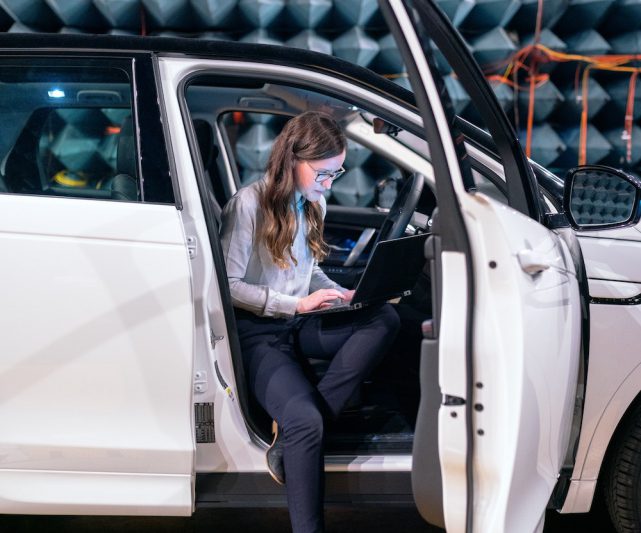 Therefore, the "seller's name" section should be your name (or of the other person, if they want their name removed from the title), and the "buyer's name" is the name of the other party. Specifically, it's either the name of the other joint owner(s) in the title or whoever it is that'll get the car after you. A very important step to note here is being careful when filling in this form.
Step 4.5: Be Very Careful When Filling In The Forms
In some states (or sometimes, individual DMVs), making mistakes while filling in the form will make it invalid. In other words, you'll have to apply for a new title to be made, similar to the old one. Then, you'll have to start over from scratch. On the other hand, some states don't mind mistakes, as long as:
If you made a mistake, such as accidentally spelling your name wrong in the title, you can correct it by crossing out your name. Draw a single, straight, clean line over your name to cross it out. Then, write the correct one on top of it. Bear in mind, not all DMVs are open to accepting this. Also, don't ever use Wite-Out or some other correction tape or fluid to erase the mistakes.
Some DMVs, even after having you clarify why there's an error and forcing you to make corrections, will still need proof. So, you'll have to contact an affidavit to notarize a letter, explaining the reasons behind your mistakes, and the correct spelling or information.
Additionally, it's worth reminding you that some DMVs need a notary to be present, and notarise the signatures in the title while changing or removing the names. Moreover, certain DMVs only accept a title certificate update if the forms are filled in and completed at the DMV, in person. So, be sure to give them a call ahead of time, and make an appointment if necessary.
Step 5: Bring It To The DMV, And Settle Any Payments
If you're not compelled to visit the DMV in person to know how to get a car out of your name, then you could send the forms back to them to have them processed and validated. The easiest way is to have it submitted over the counter, at the office. Otherwise, you could send the documents by mail. Still, a growing number of DMVs are practicing this procedure online.
In a few states, their DMVs have transitioned ownership changes fully to the web. They could set up chatrooms with you, and any other parties to be present. There, you could enquire as to what you'll have to do next. As well as, upload the documents for them to have checked. In any case, the rest will be in the DMV's hands. Note, you might also have to turn in the number plates, too.
When all is said and done, payment will need to be made to the DMV. This processing fee varies from one DMV to the next, but it's typically between $10 to $20. On top of the DMV's fees, you then have to settle any taxes as part of the ownership changes. The most notable ones include:
Sales Tax (if the ownership change is considered as a transfer, but you can have it waived for divorce settlements, or if you're gifting the car to someone else)
Use Tax (it could be waived if you gifted the car, bearing in mind to set the sale price to $0 in this event when changing the names)
Tax Deductions (only if you're donating your car to charity, assuming they're a recognized 501(c)(3) charitable organization, and having set a sale price of $0 in the form)
Removing a Name from a Car Title – Facts You Need to Know
Removing a person's name from a car title can be necessary for reasons such as inheritance, divorce, or gifting the vehicle to someone else.
The change on the title should be treated as a sale or transfer of the car, and some special circumstances may be treated differently.
If the names on the title are joined by "and," both named individuals will have to sign the title as "seller" to make the transfer to the person who is going to remain. If joined by "or" or "and/or," either person alone can legally complete the transfer.
If there are one or more lienholders listed on the original title, you need to pay off the loan in full or get the lienholder to agree to the change.
The form on the back of the title certificate must be completed carefully and neatly, and some states require notarized signatures or completion of the forms in person at the DMV.
In case of divorce, the title must be changed to match the divorce settlement agreement, and some states may waive sales tax if you present a divorce order along with the application for the new title.
Gifting a car requires removing the gift-giver's name from the title and completing the form as a transfer with the sale price as $0.
Donating a vehicle to a recognized 501(c)(3) charity requires completing the title as any other transfer, but the name of the charity or its authorized representative is listed as the "buyer," with a sale price of $0.
In case of a death, additional papers or steps may be necessary, and it is advisable to get a probate attorney involved to ensure proper completion of the transfer.
Final Thoughts On How To Get A Car Out Of Your Name
In all, that just about rounds up our look at how to get a car out of your name. While it may appear daunting at first, it can be fairly simple once you've understood the process. Primarily, the best step would be to call up the DMV to ask them about what you'll need to do. Or, what paperwork will you gather and submit, alongside the updated title certificate. And, be careful when filling it in.
Just a tiny mistake, or if you've written it in a way that's not clear and legible, could make it invalid. Finally, grab all the documentation that complements your reasoning for having a name removed, as well as proving your identity. Last but not least, prepare your wallet for a small fee to the DMV. Plus, make sure you're also ready to pay some taxes on the way. Do that, and your name is now clear.