Are you interested in an RWB Porsche and do you want to learn more about this tuner company that is making these magnificent works of art? If that is the case, then you are at the right place because we are going to cover the RWB Porsche in great detail and learn all of the important bits.
The idea of tuning a car is old as the cars are. Since early days there were a ton of hot rodders, people who just enjoyed modifying their cars with their desire to squeeze every possible bit of performance there possibly could. And they did so. They put big engines in their cars with superchargers and all that jazz that made these cars real performance machines.
But it was up until the early 90's when the tuner culture was born in Japan. Yes, that's right, the tuner culture has also focused on modifying cars. More precisely JDM cars and sometimes even Porsches. But they are more interested in the looks department unlike the hot rodders in the US who are chasing power. And trust me, there are some really exquisite tuner designs out there that look quite amazing. More precisely the RWB Porsche. So, what is the RWB Porsche?
Well, that's what we are going to learn next. First, we will cover what is RWB Porsche and its history. Later we are going to cover the configurations for Porsches they are offering and what do these cool designs include and at what price point. So, if you want to learn more, follow along.
What Is RWB?
RWB is a Japanese tuner company that is focusing on building one of the best aesthetically pleasing Porsches out there that look like nothing else you will see on the road.
Don't get me wrong, Porsches are really cool cars even bone stock (and fun fact, go check out our guide on how to pronounce Porsche). But what RWB does to these cars is like nothing else out there. And if you are one of those guys who respect modified vehicles, you are going to love the RWB Porsche.
The RWB Porsche has a large following inside of Japan and also abroad. People just love these cars and are basically one of the hottest vehicles on every car show possible that is happening in the US.
And the demand for these Porsches has gone through the roof in the last couple of years as well as their price. Porsches are one of the cars that depreciate the least from all of the cars out there and to be honest, that is for a reason. They are a "hot" object and everyone wants to get their hands around them.
Even the older ones that are more than 20 years old are one of the most desired and hold their value really well. And here RWB comes into play, they offer full body kits on these older models. They focus primarily on models from the '80s and early '90s. More precisely the 930, 964 as well as the 993.
But what is interesting about the RWB is that it boosts the value of the car because these cars are relatively rare and desired. A lot of people don't want a tuned car, but when it comes to the RWB Porsche, everyone wants to get one and pay a ton of money to do so.
History Of The RWB Porsche
RWB Porsche is a Japanese company founded by Akira Nakai who is a famous Japanese tuner who loves to modify cars. But what does RWB means?
RWB is an abbreviation for RAUH-Welt BEGRIFF meaning Rough World in German. This was the case because although Akira is Japanese, he still wanted to pay homage to the Germans and the country from where the Porsche brand comes from.
Nevertheless, RWB Porsche is making one of the best custom wide body kits for some of the classic Porsche models. Yep, that's right, they don't do modern Porsches, they are working with classics only. And these include the 930 as well as the 964. But Akira hasn't started with Porsche models from the start.
He like all people out there started small and built himself on his success and then he got into Porsche models which were his passion from his childhood. But what were his early beginnings? Let's see.
The AE86 And Rough World
As we said, Akira the founder of RWB started from the bottom and build its reputation to be one of the best car modders in the world. His world wasn't always Porsches, but his dreams were.
The reality at the time for him was racing Toyotas. Not any Toyota but the AE86 and he was a leader of a group of racers called the Rough World.
They raced these AE86s to the ground and they modified them to create one of the best drift cars out there. They added so much negative camber that made these cars stick to the ground like nothing else on the road.
So, much that they got so much attention that they started appearing in Japanese tuner magazines and showing off their cars to the public. And so their popularity was growing in Japan as well as in other parts of the world like the USA where the tuner culture just started developing.
Mostly because of car movies like the Fast & Furious and many racing video games like Need for Speed that appeared at the time and incorporated the car tuning that allowed players to modify their cars with different body kits and many cool features like neon lights, suspension elements, and other bits and pieces. The tuner community was booming at the time.
Nevertheless, Akira saw big popularity in Japan at the time and he decided to fulfill some of his childhood dreams and his love for Porsches and that we are going to cover in the following chapter where we will discuss more on the magnificent Stella Artois.
The Stella Artois
Everything connected to RWB Porsche starts with the Stella Artois. This Porsche 911 from 1985 rolled in his shop one day, badly damaged. The owner wanted Akira to fix it for him but Akira decided to fulfill his dream to have a Porsche and purchased the car from the owner.
Then Akira repaired the 911 and decided to use it on the track. So, he heavily modified this Porsche by lowering it to the ground and installing race suspension. Then he moved on to create a custom body kit for this car and used every skill that he had in building tuners and the pinnacle of his work was this 911. He named this Porsche the Stella Artois like his favorite beer beverage.
Then more work on the Stella Artois followed, he tuned the engine to perfection by using everything he knew about engines and made it able to reach 360hp which is an incredible number. Then he installed a new transmission to it and his goal was to reduce the weight to the absolute minimum that he could manage.
He ripped everything from the interior and reduced the whole weight of the car by 800 lbs, which is an insane number. All this was possible by using custom carbon fiber parts that were extremely lightweight.
And on top of all was that massive wing at the rear that created a ton of downforce, and the letters RWB underneath it. Something that is a characteristic of every RWB Porsche that he created since then. When you see a Porsche with the RWB logo and the massive rear spoiler at the rear, you just know that this is an RWB Porsche. Everything after the Stella Artois is history.
Coming To America
Now let's discuss the coming to America, not the movie but the coming to America of RWB Porsche, how the presence of RWB Porsche started here and created such an impact in the US car culture. Let's find out.
After the initial success of his Porsches in Japan and the impact that they have created in this market, soon the news traveled the world and many automotive journalists started to write about the RWB Porsche and how good it was. People instantly got hyped to the max about this company and the products that it creates and the RWB coming to America wasn't far away from being possible considering that the car culture here is one of the strongest in the whole world.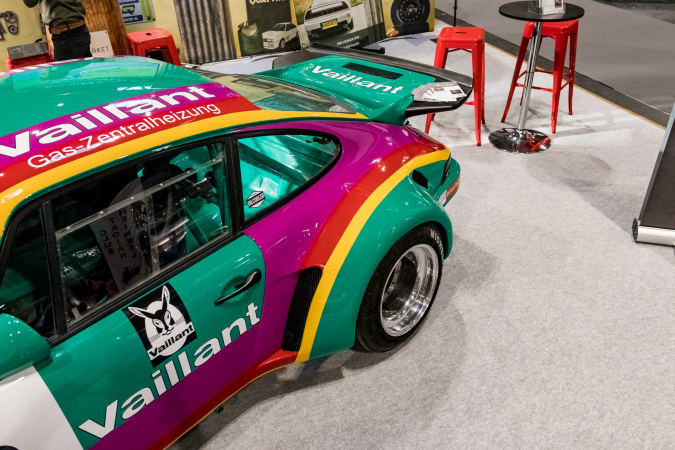 But this didn't bring only positive attention. It got also a ton of negative attention. Mostly from the Porsche purists. As you know the purists create a cult on everything the object they love which in this case is Porsche, so if they see a Porsche with a mod they just freak out and create a big buzz on it. And this was the case with the RWB Porsche, the purists simply didn't like it. The RWB was a blasphemy of the worst kind for them.
And also a lot of car auto journalists that consider themselves to be purists have trashed the RWB but was this all with a reason? Well, I think not. People just saw something different and they overreacted to it.
Soon RWB opened their first distributor center in the US and started to build some of these cars here on the mainland. Which is crazy, to be honest, this means that you can get an RWB Porsche for yourself.
The Akira Nakai Experience
So, how are you imagining getting an RWB Porsche to look like? You just go there and get it right now or you end up on a waiting list that lasts forever? Well, this isn't quite the case.
Because if you want to get one for yourself you need to talk to Akira himself. That's right, you need to call the man and tell him what are your plans with your Porsche and how you imagine your RWB Porsche to look like. Then he listens to you and evaluates your request and tells you if this thing is possible or not.
But trust me, everything is possible with RWB, even if you want to do an LS swap on your Porsche they will do it and will make your car not only look cool but also perform really well. RWB are not purists and they just love modifying these cars like no one else out there. Akira thinks that every Porsche should be driven and not be left out in the garage to collect dust until it's sold to the next collector.
So, if you have an older generation Porsche and you want to do some modifications to it. You can contact RWB and they will be happy to answer your call and you can also talk to Akira himself.
You make your order, you get all of the parts from Japan and you paint the panels. Then Akira himself comes to your home and builds the whole car in two days. And that is a real experience, to be honest. You are witnessing the birth of an artwork, like looking at an artist that is painting. In the end, you get a unique Porsche like nobody else has, an RWB Porsche.
Where To Get A RWB Porsche?
Getting yourself a Porsche can be a tricky job, to be honest. With the prices going up these days everybody tries to get a hold of a car that is holding its value as Porsche does. And Porsches are really hot items right now. Especially classic models as well as new special models that Porsche is making.
So, if you want to get one from the older models that are rare and not produced in big numbers can be a real problem to get a hold of. For these, you will need some connections to pull to find a seller who wants to say goodbye to his precious Porsche. And Porsche owners are valuing their cars very high, to be honest.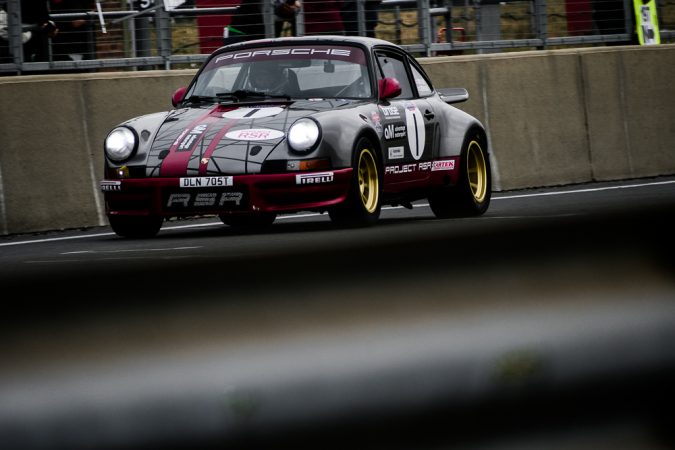 But if you have the money in your bank account anything is possible. You will overpay that is for sure, but you will still have a Porsche that could be turned into an RWB Porsche. Just to tell you, if you plan to do an RWB conversion don't tell the guy you purchase the car that you are planning to convert it to an RWB Porsche because it is highly unlikely that he will sell it to you.
As we noted, RWB got a big backlash from Porsche purists and they hate the RWB Porsche. They just cannot imagine the image in their head like a Japanese man is cutting their precious Porsche with a buzzsaw. But what are the Porsche models that Akira is making? Does he work on every Porsche model out there or some special models of the 911? Well, that's what we are going to discuss next.
Porsche Models That RWB Is Building?
As we learned RWB makes cool Porsches from classic Porsches. They rework basically everything and they have full kits premanufactured that are bolt-on and ready to install. But more on that a bit later, now let's see which Porsches is RWB modifying.
Porsche 930 – These are the oldest Porsches that RWB is working with. These Porsches are 911s produced between 1975 and 1989. If you were a kid in the '80s, this is the Porsche that you most often saw on the TV. And these were cool cars. Produced in coupe, convertibles, and even Targas. The Targa is probably the most desired of the bunch.
The early ones came equipped with 3.0l engines but the later ones are even more powerful and included a 3.3l flat-6 engine. And the only option was a manual transmission. These cars are the most connected with the RWB Porsche and it is difficult to get a hold of one of these.
Porsche 964 – The Porsche 964 was the replacement of the good old 930 and for a reason. It was a damn good car and a symbol of the '90s. With more than 63,000 produced in only 4 years. This was the best-selling Porsche out there, and if you want a Porsche to convert into an RWB Porsche, this will be it.
They also come as a coupe version, a convertible, and a Targa variant. The engines are also far more powerful than the 930. But still in a flat-6 design, classic Porsche design.
Porsche 993 – The 993 was the replacement for the 964 and was a slight improvement on the previous generation. What is important though, is that RWB is also modifying these as well. And they are the cheapest to get.
What Does RWB Porsche Kit include?
Now let's discuss the RWB Porsche kits that are available. As you know you first need to have a Porsche to modify it with some of the kits that are available. And not any Porsche but the 930, 964, or the 993.
The kits that RWB makes are bolt-on and they basically bolt together without any particular problem. Since they were designed to be highly adjustable as well as designed to fit and not you make them fit like other kits out there. So, what does a kit include?
The kit includes a front bumper, rear bumper, side rockers, front and rear wide fenders, and also other parts that are needed for the RWB Porsche to take its shape. With this kit, you also get the craftsmanship of the one and only Akira Akai who will assemble the body kit in front of your eyes.
There are also some other optional pieces that can be purchased with the kit. There are different types of wings, different types of fenders as well as front lips, side skirts. RWB stickers and also a carbon-fiber roof.
Not to forget the custom wheels and suspension that you can purchase with the kit. In addition to this, a custom exhaust is also available. All this comes to a price and more on that we are going to cover in a bit.
The important thing is that you get what you pay for. And this is really it, an unforgettable experience for any Porsche enthusiast that loves mods.
How Many RWB Porsches Are Out There?
Have you asked yourself how many of these RWB Porsche models are out there? Well, we did, and we also concluded research to learn how many of these are built.
And the answer is more than 1,500. We don't know for sure if this number is the right one. But according to many media outlets around are speculating that there are about 1,500 of them. And this tells you quite a lot about the popularity of the RWB Porsche. But how much does one of these kits cost? Let's find out next.
How Much Does It Cost To Build An RWB Porsche
So, how much does it cost to build an RWB Porsche? Well, the answer is $24,000. For this money, you get the full body kit along with the experience to observe Akira and his skill how he is putting all these parts together.
After you purchase the kit, the kit will be sent to you from Japan. Then you will get the kit and you will need to paint the parts to match the car's paint. After this, Akira will come to you and he will install the body kit. Simple as that.
There are also a ton of other pieces that you can purchase for your car. But this understandably will cost you. The pieces are not that expensive unless you get their wheels, suspension, or exhaust. These components could cost you more than $5,000 each. For more info, you can check their website to learn more about the kits available.
Facts about the Cost and Process of Building an RWB Porsche
The internet has made the process of building RWB Porsches more accessible, but it is still a rare and expensive process.
RWB is a one-man shop based in Japan that has become one of the most desired body kits for the Porsche 911 air-cooled aftermarket.
To purchase an RWB kit, you need to go through RWB USA or RWB Los Angeles, who will assist with direct contact to RWB Japan's home base.
A representative from RWB will help you walk through the various kit options, suspension, and wheels, but it is not true that Nakai-san, RWB's founder, discusses the potential customer's aura or driving style.
Once your setup is determined, a deposit is sent to RWB Japan to lock in your body kit, which gets you a place in line.
The kit must be paid in full before shipment, and the installation cost is included in the kit price, but prep and paint are not.
The cost of prep and paint for four fenders, two bumpers, and side skirts will set you back an easy $2,000 to $3,000 depending on your shop quality or connection.
The estimated cost for an RWB build is close to $40,000 once you add suspension, wheels, and tires on top of the air-cooled Porsche.
RWB owners become part of the "family," which offers perks such as access to Idlers racing event in Japan, SEMA dinner, and access to Nakai-san's personal vehicles for race days.
The value of building an RWB is in the relationships built and the experiences that go along with it.
Conclusion
In this article, we have covered quite a bit when it comes to RWB Porsche and its products. First, we covered what is RWB Porsche and its history. How all this happened and how they achieved this fame in the car community.
Then we learned for which Porsche models they are offering kits and what these kits include. As we know they include everything your Porsche needs to become an RWB and you can also get extras like wheels, suspension, and exhaust. Lastly, we covered the cost that is around this kit.