As long as you own a car, it always presents itself to be a risk. Risk for accidents, damage, insurance, hefty repair bills, or worse of all, at risk of being stolen. The latter is an especially tricky minefield that can be difficult to traverse. Finding a stolen car and regaining control of it is no easy feat. That said, its long and arduous process can be expedited if you know how to find license plate number by VIN.
On top of that, being able to understand what a VIN is, or learning how to dive deep into its mysteries on your own has other advantages. You're able to become more acquainted with a car before maybe getting hands on one used. It's able to tell you if that particular car's been damaged, or should it have been recalled by the manufacturer. Perhaps, you just want to make sure the seller's telling the truth.
The specifications of the car, mileage, fuel economy, its color, previous history, or whether they're trying to cheat you with an odometer rollback. Most maliciously, it's also a good opportunity if you're keen to see if the vehicle you want to buy has actually been stolen from somebody else. For those reasons alone, it's important that you're able to learn more about how to find license plate number by VIN.
What's A VIN, And What's Your License Plate Number Have To Do With It?
Before we look closely at how to find license plate number by VIN, we should get to know a bit more about the components in question. Now, I'm sure you don't need us to tell you what a license plate, or registration plate (for more insight, check out our guide on vehicle registration renewal WV), is.
These two plates, mounted to the front and rear of your car, can be considered a car's social security number. It informs the authorities that this vehicle's licensed to drive on the road. It informs the authorities that this vehicle's licensed to drive on the road. You can mount a custom license plate frame as per your personalized design requirements.
Just as the personal ID you carry in your wallet is unique to each person, your license plate number is distinct to every vehicle. So, where the license plate number is the automotive equivalent of social security. Then, the VIN is technically the birth certificate. A 'vehicle identification number' is sometimes referred to as the 'chassis number' or 'frame number', as it leaves the factory brandishing this mark.
It's a special code that identifies every production vehicle. This doesn't just include cars, but also bikes, trucks, as well as scooters, commercial vehicles, and even towed trailers. In other words, the VIN can be called your car's fingerprint, as no two vehicles can carry the same vehicle identification number. An idea for a VIN system or a registry for keeping track of vehicles built originated back in 1954.
Although, it wasn't until 1981 that a standardized 17-digit format was created by the NHTSA that can be used across all carmakers. A VIN is used to identify many key aspects of a vehicle, and it could, at a glance, teach you a lot about itself. This includes knowing where it was built, the make or model, paint color, specifications and options, trim level, as well as the license plate number registered to it.
How Can You Read A VIN To Find The License Plate Number?
With this new standard in place, which remains till this day, the 17 characters of your car's VIN can tell you quite a lot if you know how to read it. If you're curious, you can find the VIN number in a few spots dotted around your car. The most obvious place where the VIN plate may be located is placed on top of the dashboard, facing the windshield. Or, you could find it tacked onto the driver's side door jamb.
Otherwise, you also find the VIN in the engine bay. Most likely, this can be found on the inner firewall, separating the engine and cabin. But once you find it, how is it that you can read these 17 figures? On the surface, it looks like a randomly-generated set of letters and numbers, right? Not really, since each of those characters represents a crucial part of your car's manufacturing, as well as its configuration.
 

View this post on Instagram

 
Here's a quick rundown of how to disseminate those 17 characters of your car's VIN, and then try to decipher its meaning:
1st To 3rd Digit – WMI (World Manufacturer Identifier)
The first three digits of the VIN are how you can spot who built your car, and where it was made. This is commonly called the World Manufacturer Identifier, and encompasses practically all makes of vehicles sold in the US. To prevent any confusion, note that the letters O (o), I (i), or Q (q) aren't used, as they can easily be confused with the numbers 0, 1, or 9. Here's a summary of what they mean:
1st Digit – Country of origin. This can make you aware of where the car was built. For example, if a car sold in the US was manufactured and imported from overseas. It can either be a letter or a number. For example, cars built in Japan use J to identify themselves, or W for Germany, or S for the UK. Cars built in North America carry numbers instead, such as 1 for the US, or 2 for Canada.
2nd Digit – Vehicle Manufacturer. It can be tough for every car-producing country in the world to share just those few letters in the alphabet. Thus, the SAE (Society of Automotive Engineers) usually assigns the 1st, 2nd, and 3rd digits together. The 2nd is reserved for the automakers. For example, the letters SA to SM are reserved for the UK, where A, B, C, and all the way to M refer to UK-based car factories.
3rd Digit – Division or subsidiary of the automaker. Car companies these days are incredibly expansive mega-corporations, with their operations stretched all over the world. To better pin down which part of the company made the car, its sub-division is included in the VIN. For instance, 1FA denotes Ford cars built in the USA, or WF0 for German-built Fords. Smaller carmakers are assigned the number 9.
4th To 8th Digits – Specifications
Once you've figured out where your car was built and who made it, you can then find out more about its specifications in the following five digits. It can inform you about what engine type or size it has, its body style, and even detail its safety features or optional extras. Here's what they mean:
4th Digit – Used for model-specific features and specialties. Usually, automakers used this to highlight a particular model's most defining characteristic, such as if it has any unique safety features.
5th Digit – Series production of a specific model. This can be used to denote what production batch the car in question was built on. Or, it could help you distinguish the generations between each model.
6th And 7th Digits – Vehicle body style or type. Whether your vehicle is an SUV, 4-door sedan, truck, hatchback, van, or so on, these two digits are reserved to identify the particular layout of the vehicle.
8th Digit – Engine size. Usually a letter rather than a number, this helps to differentiate between the various engine types and sizes that a car may be sold with. It's also quite useful when it comes time to hunt down spare parts that fit a specific engine.
9th Digit – Vehicle 'Check Digit'
The 9th digit of the VIN is used as a stamp of approval by the authorities and thus validating it to be used. In layman's terms, this means that the vehicle is approved to be driven on public roads. When a car is ready to be registered, the 17-digit VIN is authenticated using a complex formula. This final tally thus corresponds to the 9th digit. This could also be used to identify faked or invalid VIN codes.
10th Digit – Model Or Manufacturing Year
It can either be a letter or number, but the 10th digit lets you know when the car was built. This could be used either for the model year or more specifically, the year of manufacture. For example, vehicles built from 1980 (to be sold as 1981 model year cars) to 2000 (or the 2001 model year), using A to Y in their VIN. Meanwhile, 1 to 9 are for cars built in 2001 (2002 model year) to 2009 (2010 model year).
 

View this post on Instagram

 
Since there aren't enough letters and numbers to go around, the NTHSA resets the numbering as well as lettering every so often. Following 2009, vehicles built from 2010 (2011 model year) to 2030 (2031 model year) will go back to using A to Y. Remember, the letters O (o), I (i), or Q (q) aren't used. Once that's finished, cars built in 2031 to 2039 will use 1 to 9 again, and will be reset the following year.
11th Digit – Production Plant
It's also known as the 'plant code', and can be used as an extension for the WMI in the 1st, 2nd, and 3rd digits. The 11th digit will further detail to you what manufacturing plant of the automaker and in the country of origin built your car. That's since some of the larger automakers can have numerous plants in a single country. Each car brand will have a unique plant code for its 11th digit.
12th To 17th Digits – Serial Number
The last 6 digits are specific to every automaker and model. This serial number sequence can usually tell you when the car was built within a lengthy production span of said model. However, it can alternatively be used to let you know other specifications about the car that couldn't fit in earlier. For example, what type of gearbox it has, the certain hue of paintwork, as well as if there's any add-on equipment on your car.
How Can You Find A License Plate Number Using The VIN?
There is a myriad of reasons why you'd want to find license plate number by VIN. Perhaps you saw a car that didn't have plates on it, and are wondering if it's been stolen. Most VINs are quite noticeable, after all, as you can spot them etched onto the windshield or windows. Or, maybe you lost your car or it's been robbed, but you couldn't remember the license plate number. But, you do have the VIN.
Whatever the case may be, you can indeed find license plate number by VIN. Although, it might not be as straightforward as it seems. Surprisingly, it's fairly simple to do this the other way around. Which is to find the VIN using the registration plate, as we've detailed in a previous guide. Nonetheless, trying to comb through the databases and spotting a license plate number using only a VIN can be difficult.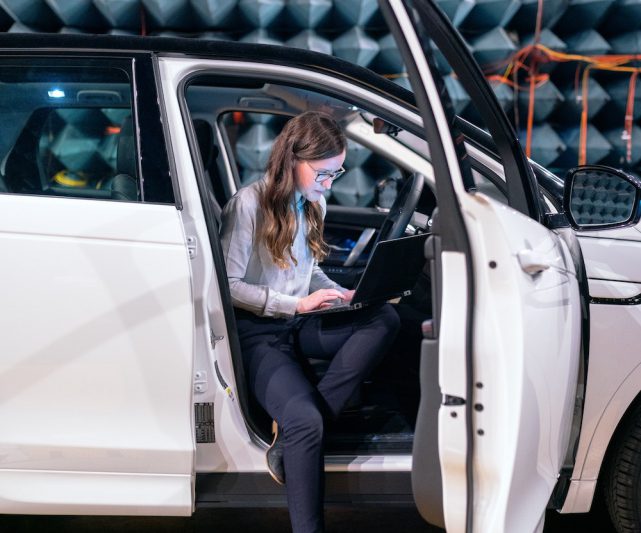 There are two ways that you can go about this, in seeking to find license plate number by VIN:
Bring your VIN number, as well as all accompanying paperwork detailing that you own a vehicle, to the local DMV offices.
Use an online VIN checker or look-up tool, and hope that it can provide some accurate information concerning the license plate numbers.
Here's a more detailed breakdown of how to find license plate number by VIN of your car, with those aforementioned options:
1. Find License Plate Number By VIN – Department Of Motor Vehicles
As you might know, the US doesn't have a single license plate registry, but 50 of them. Every state has its own distinct license plate, administered by their state DMVs. Or, Department of Motor Vehicles. Unless, of course, you're driving around a government-issue vehicle courtesy of the armed forces, or if you're a staff at the federal government, or are a foreign dignitary or official.
They use special registration plates. For the rest of us, however, a New York plate can't be searched by way of the California DMV, for example. You'll have to ring the New York DMV offices and try to run the plates with them. This also means that you can find license plate number by VIN with the DMV. As they're the ones that registered your car, they'll know all about it, and keep a detailed history report.
To find license plate number by VIN with the local DMV or authorities, you have two more options of how to go about this:
Find and visit the local DMV branch office. Just make sure you ring them up beforehand to see what day and hours they're open. You may also consider setting an appointment date to smoothen things out. In addition, and owing to the COVID-19 pandemic, be certain that they're at all ready to accept walk-in visitations on-site.
Alternatively, most DMVs have online portals where you can access their database all the same. Note, mind you, that not all DMVs share this ability and some might not be as intuitive or as featureful. We still recommend an in-person visit as your best bet. Still, go around your state DMV's webpage, and see if they offer vehicle history reports that you can request.
1.1. Bring Your Documentation Along, With The VIN Number
As you're visiting the DMV, remember to bring along any and all accompanying paperwork for this car in question, whose license plate you want to find. If you're the owner of this vehicle, then you'll need a few pieces of paperwork to get the DMV to help you. To be more precise, your ID, driver's license (and learn how to renew drivers license online Alabama), and documents that clearly show the vehicle's VIN. But what if you're sending someone else to do this?
In that case, your representative will need to have both proof that you own the vehicle, as well as written permission. This paperwork should also include the name and address, vehicle VIN, and your express authorization that this process is carried out. To maximize your chance at succeeding, we'd suggest that the owner of the vehicle themselves head over to the DMV to request the license plate.
1.2. What If It's Not Your Car Or License Plate Number?
For the DMV to even consider helping you find license plate number by VIN, you'll need to bring proof that you really don't have access to the registration plate. Or, if your car's been stolen, and its license plate number's been changed to a point where you can't find it anymore. This includes bringing along as much documentation as is possible to prove that you're indeed the owner of the vehicle.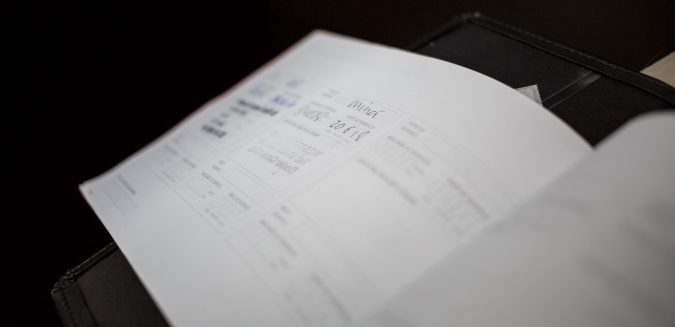 For instance, testimonies from vehicle service records, your insurance company, bank financing or loan details, vehicle title, and more that have the VIN number. You could even show them snapshots of the VIN in a bid to convince the local DMV. Additionally, you'll then have to explain to them why you're so keen to find license plate number by VIN. Did you somehow lose the license plate, by chance?
But let's say you're not the owner of the vehicle whose license plate you're trying to find with the VIN. In this case, the DMV is unlikely to help you out. That is, unless, you're a private investigator or are a member of the press. If you're trying the find license plate number by VIN on a vehicle that you don't own, the only avenue is the police. Press the matter urgently, and you may persuade them.
1.3. Be Mindful Of The Fees For Finding The License Plate Number
The DMV will ask quite a few questions before they're ready to hand you a full vehicle history report, including its license plate number, through the VIN. They also press you on whether or not you've checked high and low for the registration number. Remember, documentation such as the car's title, vehicle registration, and other paperwork that accompanied the purchase should have the plate.
You should only contact the local DMV for help in trying to find license plate number by VIN if:
All of the documentation that may have detailed the license plate number was lost or was disposed of accidentally.
The vehicle in question isn't in your possession and is thus not possible for you to inspect the license plate or paperwork stored in it.
Your car's been stolen, and you suspect that the original license plate number's been swapped out. But in this case, the DMV might question you're coming to them, instead of the police.
Visiting the DMV should only be reserved as a last resort or for emergencies. Their assistance to find license plate number by VIN for your vehicle may come at a cost. These processing fees should usually be fairly minimal given the urgency of your situation. Nevertheless, it's worthwhile asking them as to how much this will cost you beforehand.
2. Find License Plate Number By VIN – Online VIN Look-Up Tools
As we mentioned earlier, it's much easier to find the VIN with the license plate. Rather than finding the license plate through the VIN. This is especially so with online VIN or license place look-up tools, as seeking to find license plate number by VIN can be fairly limited. This is intentional, as a bid to protect the privacy of vehicle owners. What that being said, VIN checkers and be quite informative.
Some of them, for example, can detail the exact specifications of the vehicle. They could also spit out other useful data, such as how much the vehicle is worth, as well as a detailed history report. This may include the title, service history, ownership changes, registration renewals, and so on. These look-up tools might also detail any damage to the vehicle, insurance claims, and so on.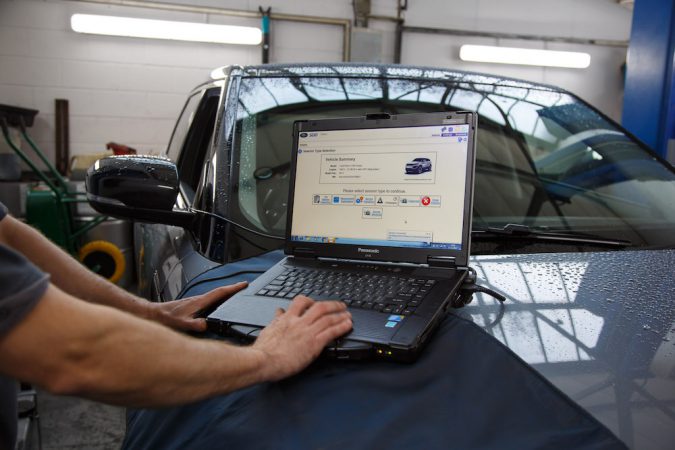 Here are some of the best that we've found (including the best free VIN decoder):
2.1. They're Quite Constrained In Finding The License Plate Number
As you're going through these, note that the license plate information will most likely not be visible or present at all. And even if they do allow you to look at the license plate number (SearchQuarry.com is able to let you see this and the previous owners, thanks to data from the NHTSA), it comes at a cost. Just like going to the DMV, online VIN lookup tools will charge a fee for a full vehicle history report.
This may be as minimal as $5 if all you want is a report on the vehicle's background. Or, it can cost you more than $15 if you want a more extensive report on the vehicle's past ownership, as well as having access to the license plate number. Be wary, however, of sites that claim to provide these services for free. It's possible they could be scamming your personal data, not to mention compromising the VIN.
Facts: How to Find License Plate Number and VIN Information
License plates are crucial in identifying and tracking down suspects for law enforcement.
Keeping license plates free from dirt and damage is essential to identify a person quickly.
Local police can locate the owner and give their address using the vehicle's license plate number.
Online searches can also help find the owner's address, but accuracy may vary.
VIN (Vehicle Identification Number) contains 17 characters and tells a car's history, including manufacturer and assembly plant, model year, and transmission type.
The VIN can be found under the hood or on the driver or passenger-side doors, typically under the windshield.
The DMV's website can provide license plate number information, but personal information should be provided with caution.
VINs can be used to track a car's ownership history, engine size, make and model, and service history.
VINs are useful in identifying specific cars and checking for recalls and safety ratings.
Traditional car license plates cannot be removed without destroying the VIN, and other sources of license plate number information include car registration, title, insurance card, DMV office, and mechanic records.
Final Thoughts On Finding License Plate Number By VIN
In all, trying to find license plate number by VIN leaves you with few options. If you want the best and most reliable outcome, your only choice is the authorities. If your car's been stolen or if it's an urgent matter, then your first contact should be the police. They can run the VIN number to find the license plate number right quick. If it's not all too critical, then you can take your time with the DMV.
It will necessitate you bring along as much documentation as is possible. This will all lead towards proving that you are the owner of said vehicle. Titles, service records, bank and insurance details, you name it. Plus, you'll have to make a strong case for why they should give you the license plate number, to begin with. It will cost you a fee, but at least there's a stronger chance you'll get what you came for.
AI Car Expert Thinking 

.

.

.