The evolution of shock absorbers is most often felt when you're getting in an older vehicle that has a more primitive setup. At the core of it, we sense its workings as a measure of adding comfort or as it works to even out the bumps. Crucially, shocks also act to keep your car planted on the road, making sure that each tire is tracking just right. To find the best shocks, we now look at KYB vs Bilstein.
Being such a vital component in any vehicle, you'd naturally want to find the best shocks out there in the market, no? Among the most popular ones that you'll find stocked in auto parts stores across the country are KYB, and Bilstein. Perhaps you're looking to kit up your Wrangler for a little hike up that trail? Or, maybe you just want a comfy set of shocks to replace the worn-out set on your CR-V.
In that case, prepare for these two brand names to be set in your sights. So, who makes the best sets of shocks between them, KYB vs Bilstein? Well, let's take a peek, and see which is the better choice for you…
What Do You Need To Know About Shocks?
Just before we take a peek at KYB vs Bilstein, it might benefit us to remind you more about what this whole shock thing is. So, what are shocks (or shock absorbers)? If you're not already familiar, take a moment to peer into your car's suspension. You see the springs, yeah? Well, do you see that cylinder or tube inside the coil of the springs? That, ladies and gentlemen, are your shock absorbers.
It's worth bearing in mind that shocks are quite different from struts. The latter is a vital structural component that connects to the main suspension as well as the steering system. Shocks, meanwhile, are a dampening unit that accompanies the springs. But why is this important? Well, the laws of physics dictate that automotive springs compress and rebound with a strong jolt, and are uncontrollable.
Without something to dampen it, the springs will keep bouncing at their natural frequency until all that pent-up energy is gradually lost. In other words, hitting a simple speedhump will feel like riding on a bouncy castle with just springs alone. This would be discomforting, and downright dangerous. This is why every modern vehicle has shocks in them, which control the motion of your car's suspension.
It does so by taking the up and down bouncing motion of the springs and turning the kinetic energy into heat. This process helps to reduce the vibrations of the suspension unit. It then dissipates heat through the hydraulic fluids within the shocks. Therefore, and anytime your vehicle encounters any bumps on the road, it's the shock absorbers that keep your car composed and poised.
What Are The Benefits Of Using A Good Set Of Shocks?
In looking at KYB vs Bilstein, you might wonder what's the fuss is all about. If all shocks do the same thing and function similarly, why bother with just these two brands? Well, it turns out that there are a plethora of benefits to using a good pair of shocks. That's relative to fitting just any cheap pair lying around. For that reason alone, and when shopping for a new set of shocks, strategy is a must.
You have to find the best shocks that suit your car, driving style, and the roads you'll be driving on, to name a few. These factors will determine, whether or not it's KYB vs Bilstein, that you'll leverage its advantages. Here are some upsides to fitting good shocks on your car:
A higher-quality set of shocks can dampen suspension movement even better, thus ensuring that you can enjoy top-notch comfort. This means fewer vibrations and noise.
Good shocks are essential for safety too, as it minimizes, uncontrolled, and wayward vehicle motion. Using poor shocks could add upwards of 20% farther and longer stopping distance.
Top-of-the-line shocks can maintain an improved contact patch between the tires and the road. This can enhance the stability of the vehicle, especially on bumpy roads or at higher speeds.
With greater traction, a nicer set of shocks entail that you can have more control over your vehicle. Plus, it opens up the realm of fine-tuning your ride to better match your style of driving.
Using a nicer pair of shocks with more refined dampening helps to subject the rest of your vehicle to minimize vibrations. Less wear means less maintenance and reduced servicing costs.
An Overview Of KYB Vs Bilstein In Their Manufacturing And Testing
Comparing KYB vs Bilstein will take us into the heart of two of the world's foremost standard-bearers in automotive technology. This, to be fair, it's reflected in how KYB vs Bilstein will perform as we'll dive deeper into its respective pros and cons. For now, though, how do they compare in the making and designing of these shocks, to begin with? If quality is what you're looking for, you have it here.
KYB's Japanese-ness is apparent out of the gate. Its shocks are as reliable as any Nipponese car has ever been, ever trustworthy and dependable. And just like automobiles in the land of the rising sun, KYB's shocks are comparatively affordable, yet are nonetheless effective and efficient. Quality is an assured guarantee, which marks KYB as a great step-up from your OEM standard fit shocks.
Bilstein's Germanic shocks, as with KYB, are equally reflected in our stereotypes about their cars. It's the best of manufacturing coupled with extensive research and development. This is all in the race to make the best shocks in the world. In this pursuit, they've outdone themselves with how many boxes Bilstein's dampers tick. However, this does come at an increased cost compared to KYB's shocks.
Either way, you're getting quality products, even if they sit on slightly different price brackets. Never do you have to worry about getting cheaply-made or poorly-engineered shocks with either one. The amount of testing and quality control conducted with either KYB vs Bilstein assures this. Additionally, they're endless practical and versatile, with respective shocks capable of handling any circumstance.
A Quick Look At Comparing KYB Vs Bilstein
Now, let's take a peek at the aforementioned list of benefits for getting a good pair of shocks over a bad one. As we delve into KYB vs Bilstein, do these two tick all those boxes. In a nutshell, yes. They make high-quality shocks that can firmly last for more than just a few years. Besides that, they make shocks that provide you with optimal comfort, stability, safety, and establish control over your car.
If you're planning to upgrade from your standard shocks, either KYB or Bilstein is a fantastic place to start shopping. Should we have to create a short list of the key differences between the two brands, this is where we'll begin:
KYB shocks are generally much cheaper than Bilstein. It's hard to put an estimate for their expansive range of shocks. However, you can expect a roughly 30% premium (at least) when looking at Bilstein.
Bilstein's shocks last longer compared to KYB. Even with good maintenance, KYB's shocks will start to lose a bit of performance after around five or six years. Bilstein's, meanwhile, could be just as good for at least a decade or more if cared for.
KYB's shocks commonly ride a bit harder and stiffer compared to Bilstein. It isn't compromising, but it's noticeable compared to the smoother Bilstein sets. Its lower starting price makes KYB more suited for regular passenger cars or smaller crossovers. These include most of the vehicles that you see today.
Bilstein's shocks can provide greater traction, tighter cornering performance, and a more refined and cushier feel. Again, they do come at a cost. As for its target audience, they aim higher up the market. That goes for SUVs, trucks, off-roaders, or at the other end of the spectrum, it caters well for sports and performance cars, too.
How's The Tech Like Behind KYB Vs Bilstein?
Continuing with the differences between KYB vs Bilstein, we're not done yet. While we've created a summary for you earlier, the biggest variation comes in the technology behind their shocks. It's this underlying principle that contributes to how KYB vs Bilstein ultimately performs in the real world. It all comes down to the monotube designs of these two brands. So, what are monotubes?
As a general template, they're an improvement over the standard-fit shocks that you might have on your car from the factory. These are typically a low-pressure twin-tube shock design, which also runs on velocity-sensitive valves. This means that the faster the suspension moves, the resistance in the shocks increases. It helps to balance out any excess vibrations in the suspension.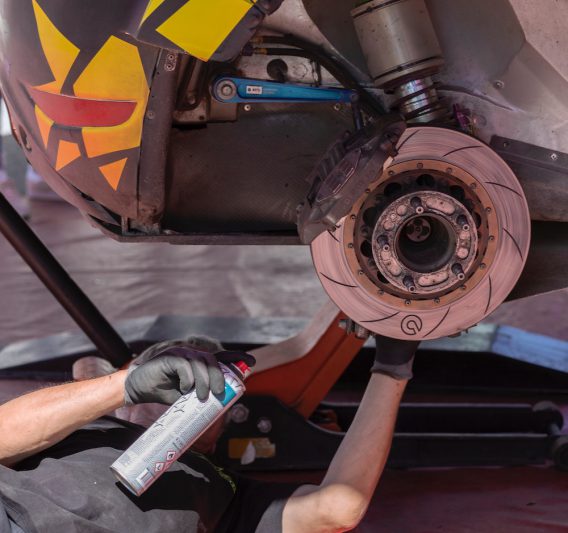 Relative to that more basic concept, monotubes in KYB and Bilstein shocks are a step above. They're equipped with self-adjusting dampening, with some digressive valving, and runs on higher pressure. It all enables KYB's and Bilstein's shocks to dole out better handling, comfort, and responsiveness on the road. Nevertheless, and as we highlighted earlier, KYB and Bilstein have unique approaches.
Bilstein shocks are almost always monotube in design. Hence, why they're a perfect match for higher-end applications, such as hardcore off-roading or using them in racy sports cars. KYB's, on the other hand, aren't all monotubes. Those that perform closely with Bilstein. But for the most part, KYB's shocks are more conventional, but it still marks a large improvement over OEM or entry-level shocks.
How Does An In-Depth Comparison Of KYB Vs Bilstein Play Out?
Both KYB and Bilstein have gigantic catalogs, with shocks aplenty for different vehicles and uses. Therefore, it's hard to make a comparison between every single product, but we'll try to give some of our recommendations later on. For now, let's take a step back and take a more general view of how they compare across their entire range. So, how does KYB vs Bilstein fare now?
1. On (Or Off) The Road Performance
This applies to whether you're searching for shocks fine-tuned for rock climbing or Autobahn-smooth tarmac. KYB shocks, as far as smoothness and refinement go, are likely a significant improvement on top of the shocks that you have by standard. They're comfortable but are mostly limited to on-the-road scenarios. This is mainly due to that stiffness that we talked about earlier.
KYB's shocks can be a tad harder compared to Bilstein's, hence why they're not recommended for an off-roading excursion. For this, you're better off with Bilstein. As a more premium selection, any off-roaders out there will be left quite satisfied with Bilstein. Whether that's a rally stage or a rock climb course, they've got it. Although, KYB can cope with a bit of gravel or dirt roads now and then.
That said, Bilstein's higher-priced shocks certainly perform better overall. So, it's up to you to decide if that expense is worth paying for. As we spoke of before, Bilstein's selection isn't merely a good fit for off-roaders. Sports and performance car enthusiasts have long raved Bilstein's on-track abilities, too. After all, you commonly see Bilstein shocks in GT and endurance racing.
2. Longevity, Reliability, And Durability
In all three of those aspects, KYB falls a bit short in looking at KYB vs Bilstein. It's not as though their shocks can't last long. On the contrary, KYB's shocks do last (ever so slightly) longer than the average lifespan of shocks in general. Naturally, it's difficult to point to exactly how long your shocks will last, as they can vary wildly. It all depends on how you drive it, and what vehicle you've fitted it to.
Usually, we can say that shocks could last somewhere around 50,000 to 100,000 miles. After that, their dampening capabilities and overall performance will drop rapidly, necessitating replacements. KYB's shocks typically fall in or just above that range. However, there are conditions in which KYB's shocks could be worn out long before the five or six-year average.
If you take it off-roading, then some folks have notice KYB shocks wearing out after just three years. Meanwhile, Bilstein's shocks are built to last a very long time. To be precise, they're good for at least 100,000 miles, though ordinarily much longer than that. And that's under relatively hard-driving, as well. Some have noticed that Bilstein shocks even last for the entire lifetime of their cars.
3. Warranty Coverage
Seeing how costly shocks are, peace of mind should always be a consideration. Thus, having a good warranty is a must when you're shopping for your next set of shocks. In that regard, KYB and Bilstein both offer excellent warranties. KYB shocks often come with a limited lifetime warranty. This covers for defects in their manufacturing, though it doesn't cover any standard wear and tear.
In a familiar theme in looking at KYB vs Bilstein, the latter edges out once more. With that price tag, Bilstein shocks make amends in its warranty coverage. Bilstein has a highly comprehensive limited lifetime warranty, which is much easier to claim than KYB's. Granted, it's mainly applicable for those who don't wear out the shocks off the beaten path. Regardless, Bilstein notches another win here.
4. Value And Bang-For-Buck
Both KYB vs Bilstein are more costly than entry-level shocks, that's for sure. They're seen as upgrades from the factory sets on your car, so they're of course pricier. With that in mind, the functionality, as well as the performance they add, should be well worth it. If bang-for-buck is what you're after, then KYB should be your best bet. As some would say, they make premium shocks without a premium price.
They're ordinarily affordable, given their class. On the flipside, Bilstein shocks are among the best of their kind that you'll find anywhere. Given their performance, warranty, and long-lasting shocks, it's no wonder why Bilstein charges extra. As a long-term investment, Bilstein is arguably a much wiser pick than KYB. Though you'll have to make sure your pockets are deep enough.
What Are The Best KYB Vs Bilstein Shocks For Each Category?
At this stage, we've not yet named a single product or product line when comparing KYB vs Bilstein. Well, we aim to rectify that in this section, as we attempt to list down the best shocks between them for each category. Whether you have a lifted truck or a slammed racer, here are the shocks from each brand that you ought to pay attention to.
Admittedly, this isn't an exhaustive list, as we've glossed over a few details. Yet, it should give you an idea of where each marque of shocks is the best for a particular type of vehicle. Plus, you'll have a better idea of what to look out for next time you go shopping for a new set of shocks:
1. SUVs, Larger Crossovers, Or Light To Medium-Duty Pickups
In this category, we'll award our nomination to the Bilstein 4600. They've long been a fan favorite for vehicles of this class, sitting between larger and more active crossover-type cars. Plus, there's the burgeoning market for SUVs and pickups. For the latter group, we'd recommend lighter to medium-duty pickups, as it otherwise might not be suitable.
The 4600s are well-balanced shocks for this class of vehicles. It provides plenty more dampening – which results in better comfort and stability – compared to any KYB equivalent. On top of that, it provides the driver ample control and handling both for on- or off-road situations. For those do-it-all SUVs that you'd occasionally like to take off the tarmac, the 4600s are the best shocks for you.
2. Heavy-Duty Pickups, Or Smaller Commercial Trucks
For these hardcore applications, you'd want shocks that can handle a lot of loads. Not only should it last decently long, but it needs to ride well, too. For that reason, KYB's famed Monomax line-up of shocks fit the bill just nicely. Although, we should stress that these shocks are a bit firmer and stiffer compared to their equivalents from Bilstein.
Thus, we'd recommend you fit these shocks only if you're regularly hauling heavy loads, just to keep those shocks weighed down a bit. Besides that, it rides well once on full load, and it handles the ride well, albeit a touch hard-riding to any Bilstein. The one huge upside is the cost savings, as it's quite a lot more budget-friendly than the comparable set of Bilstein shocks.
3. 4x4s, Sand Buggies, Off-Roaders, Or Lifted Vehicles
If you're ever planning to go really, very far off the beaten path, look no further than Bilstein's 5100. It's a step up above the 4600 in the price range, but it pays dividends once the roads get a bit tough. Any hardcore 4×4 off-roaders, modified and lifted vehicles, or even Baja and sand buggies would benefit from having a set of 5100s fitted.
It's been designed and built just for these off-road scenarios. Bilstein's 5100 has a very firm ride, thus making it the perfect companion for navigating harsh terrain. Whether that'll be rocks, sand, dirt, mud, or woodlands, the 5100 is ready for it. Additionally, the 5100s have special zinc plating on the shocks themselves. This should give it a bit of armor to defend against debris and intense wear.
4. Sedans, Hatchbacks, Or Crossovers
It's nice to gush over what these mad lads are doing with their cars. But for most of us out there, we just want a dependable pair of shocks. If you have a more ordinary passenger vehicle, no matter if it's a hatchback or a compact crossover, KYB's got you. Their oddly named KYB Gas-A-Just is the perfect alternative or replacement if the standard OEM shocks just don't cut it.
Gas-A-Just shocks are especially popular with smaller Asian cars. They've been recommended what seems to be countless times for Toyota and Hyundai cars, and we can see why. Overall, it provides the best of all worlds, with better handling, comfort, and control over OEM shocks. Yet, and though they beat out every other shock for this class of vehicles, they're decently affordable.
Shocks: KYB vs Bilstein – What You Need to Know
Shocks are an essential component of your vehicle and control the comfort of your ride and help to keep other components in your vehicle working as they should.
Both KYB and Bilstein offer great sets of shocks, but Bilstein has an advantage due to its overall performance, durability, and warranty.
KYB shocks are less expensive than Bilstein and great for daily use, come with a limited lifetime warranty, and provide outstanding options for off-roading shocks.
However, KYB shocks only last 7-9 years on average, which is typical for shocks, and have no top-notch off-roading options.
Bilstein shocks have a comprehensive limited lifetime warranty, are extremely durable, and can last over 100,000 miles with amazing off-road shocks available.
Bilstein shocks are more expensive than KYB, but they are a great long-term investment, and there are a variety of options to choose from, depending on the vehicle.
KYB shocks create a smooth ride but don't have a top-notch off-roading option that can compete with other high-end off-roading shocks.
Bilstein has a set of shocks for everyone, including the 8125 series for off-road junkies and everyday shocks for daily drivers, and their shocks last longer than the typical shock lifespan.
KYB shocks are a great value and affordable, while Bilstein shocks are some of the best money can buy but require a significant investment.
Bilstein has the edge over KYB in terms of warranty, with a limited lifetime warranty for standard shocks that covers just about everything but neglect and a 90-day money-back guarantee for their off-road shocks.
KYB Vs Bilstein – Have We Found A Winner?
In all, what can we conclude from looking at KYB vs Bilstein? Well, we can clearly see that KYB – and yes, we know they're a more upmarket brand, still – is more approachable. Compared to Bilstein, KYB is quite a ways cheaper. Their shocks are excellent for most daily driving needs, with a bit – albeit not too much – off-roading capabilities. The limited lifetime warranty isn't too shabby, either.
The compromises come in its longevity, which is still behind Bilstein. Plus, their collection is missing a lot of shocks for the off-roaders among you. Elsewhere, we have Bilstein. They've aced everything, in creating some of the best shocks out there. For pickups, SUVs, 4x4s, sports cars, or title-winning GT cars, Bilstein's been behind this success. Moreover, their shocks are built to last a lifetime, easily.
The warranty's a massive bump up from KYB's, as well. The only caveat is that you need fairly deep pockets to get even one Bilstein shock, let alone a whole set of four. That said, you can't go wrong in KYB vs Bilstein. They're both among the most respected maker of shock absorbers in the world, and there's merit behind that reputation. All that's left is a matter of choice.