Do you know what the lug pattern Ford F150 is? As you are probably aware, the majority of wheels are universal (you can take a peek at our guides on truck wheel size and how to read rim size to learn more). Therefore, we are able to switch them from an F-150 to another vehicle and vice versa.
However, not all rims can be attached to your F-150 studs with a bolt-on. Several crucial elements should be considered if you want to be certain of fitment. The most important thing you should do is compare the bolt pattern on your F-150 to the one on the wheel you wish to purchase.
To come up with the optimal solution, you may occasionally need to be aware of the stud or bolt pattern information. The center of the wheel lugs or bolt holes determines the diameter of a wheel bolt. Occasionally, you'll hear folks use the terms "bolt circle," "F150 lug pattern," or "lug circle."
F-150 Bolt Pattern
The lug holes that round the sizable hub bore in the middle of the wheel make up the bolt pattern, sometimes referred to as the F-150 lug pattern. While replacing the wheels, you must ensure you have the right bolt pattern for your car.
You won't have to put in a lot of effort visiting tire stores outside of town to obtain rims with the F150 lug pattern you require because, fortunately, the F-150 bolt pattern has remained consistent in all model years from 2015 to the present.
The bolt pattern for every Ford F-150 vehicle produced since 2004 is 6×135, or 6×5.3 inches. Do not worry if you are unfamiliar with bolt patterns. The formula for all bolt designs is essentially the same: number of bolts x diameter of the circle they make.
Therefore, the F-150 has six bolts per wheel if the lug pattern is 6×135. This circle, which has an unseen diameter of 135mm/5.3 inches, is surrounded by six bolts. Lug patterns are important, however, before you start changing your wheels, you'll also need the following measurements:
17-inch factory wheels
Size of stud: M14 x 1.5
87.1 mm Center bore with a +44 mm offset
204 Nm is the wheel-tightening torque.
Lug Pattern Ford F150: Why Is It important
To choose the right rims for your car (head over to our guide on how much are car rims to learn more), you must be aware of your car's or truck's bolt pattern. The bolts secure the rim, and consequently the wheel and F150 tires, to your vehicle. The bolts on the rim and the car must line up to install it.
You might be able to use an adaptor to change one bolt pattern to another if the precise bolt pattern on the rim you have doesn't match the bolt pattern on your car. But these adapters also serve as spacers. This results in a wider wheel track because your truck's wheels will protrude further from the side of the vehicle.
If you want to learn more, feel free to check out our guide on spacers for rims, and whether are wheel spacers safe. Typically, this is solely done for aesthetic purposes. If you use an adaptor, you shouldn't intend to tow or haul anything with the automobile.
They typically cannot withstand the intense impact and power needed to carry big weights, which reduces the truck's capacity. Because you may find some estimates about your model on websites, measuring it on your own is a simple task.
After you've changed your tire and rims, you can't be certain of your pickup's capabilities. In order to prevent a problem, you must measure it. The distance between the holes in front of one another must be measured.
Ford Bolt Pattern
The pickup should be lifted from one tire using a lifting jack. By releasing the tire's nuts, you must remove the tire (if you're having trouble, our write-up on a stripped lug nut remover might be handy). You should be aware of the Ford F150's typical weight for improved outcomes. You may easily measure it with its assistance.
Use the most precise measuring tools you can to get the best measurements of these products. You can use the measuring tape, a Vernier caliper, or any other measuring tool you like. And if you want to find the best floor jack for your truck, we've listed some of the best ones out there.
Every rim of the pickup has numerous holes, so you need to inspect it carefully. If the lug holes on the rim are even, measuring it isn't too difficult. Carefully measure the distance between the two parallel products.
You can accomplish this in as many millimeters or inches as are required. You may also easily convert units if your measuring tape has one parameter. Every component's distance from the center to the center of its opposite hole in even lug holes must be measured.
If your pickup has 4WD, you absolutely must have this (if you're not sure, be sure to check out our guide on what does 4D mean on a car). It is challenging to measure something if it has an odd number. To measure it, start at the beginning of one lug hole and move forward to the center of the other.
Two products that are next to one another shouldn't have their sizes compared. You must measure the opposing equipment. It will assist you in determining whether to disable the traction control on your Ford F150.
F150 Lug Pattern
A 2018 Ford F150 has a 6 x 135 lug pattern. The quantity of holes in each wheel equals the number of lugs on each wheel. The positioning of these holes is known as the lug pattern. Although there are no rules for these patterns, the space between each lug on a truck wheel might differ from one to the next.
Instead, it is up to the manufacturer to choose the number of lugs and the spacing between them for their wheels. Why does this matter? This implies that to have aftermarket wheels properly installed on your Ford F150, you'll need to be aware of what your truck's F150 lug pattern looks like.
The arrangement of lugs on a wheel is called a lug pattern. A car's front and rear wheels are each built with a distinctive lug pattern. One wheel differs from another by virtue of its lug pattern, which also enables it to fit on a certain vehicle.
The number of holes in the center of the wheel that bolt to the hub and the spacing between those holes make up an F150 lug pattern (the diameter). For instance, an automobile with an eight-lug layout has eight holes that are evenly spaced apart.
Today, a five-lug is the typical lug nut size for the majority of cars. Nevertheless, many sizes are available based on the type of car you drive and your location. Before buying any new F150 wheels or F150 tires, you should always verify your owner's manual or call your dealer to make sure they will fit your car properly.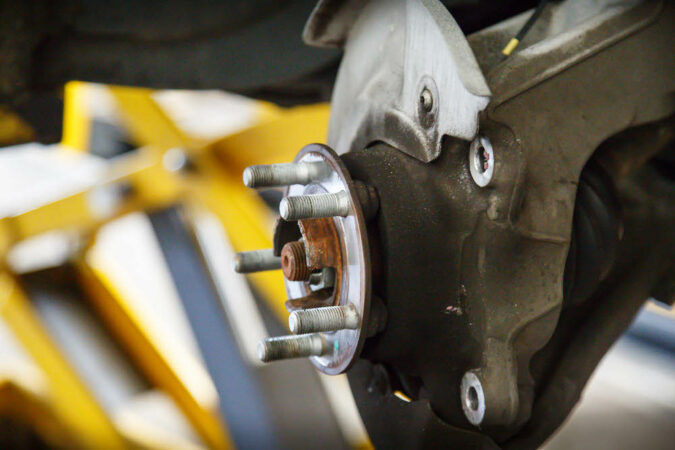 What Makes The Lug Pattern Crucial
The lug pattern must be taken into account when selecting a set of wheels for your vehicle. The arrangement of lugs or bolt holes on a wheel's outside diameter, or OD is known as the lug pattern. While some F150 wheels have 5 or 6 lugs, most have 4 lugs.
How simple it is to place F150 tires on that wheel and how much room there is for larger tires can both be influenced by the number of lugs. For instance, extra lugs can create more room between the lines of bolts, allowing you to fit a wider tire on your automobile if you wish to use a 30-inch tire.
To find out more on why this matters, do head over to our guide on big tires for pickup trucks, as well as the pros and cons of bigger tires on trucks.
F150 Dimensions
You can find the perfect wheel size by using these four crucial parameters. Locate them here:
Lug Pattern Ford F150, Dimensions #1: Ford F-150 Wheel Size
Take a look at where your tire beads are sitting. Take an accurate measurement of the wheel's true diameter where it is resting. To learn more, we have a detailed guide on the tire size chart and how to read them.
Lug Pattern Ford F150, Dimensions #2: Rim Width
Rim width is determined by measuring the distance between the inside of the outer lip and the bead that sits on the inner lip. Wheel spacers can be used to modify wheel offset.
Backspacing is a measurement of the distance between the inside of your wheel, where it meets the hub, axle flange, and brake, to the inside edge of the wheel.
Lug Pattern Ford F150, Dimensions #3: Ford Bolt Pattern
Determines the circumference of a hypothetical circle made by the bolt holes or wheel lugs.
Lug Pattern Ford F150, Dimensions #4: Rim Offset
So what is this? Wheel offset is the term used to describe the variation in distance between the wheel's mounting surface and the rim's actual centerline. All you have to do to get a positive offset is place the wheel's mounting surface in front of the actual center line of your tire or rim assembly.
You'll notice the tire contacting the fender well more as a result. On the other side, a negative offset will cause your tire to protrude from the automobile. This happens when the mounting surface is placed beyond the rim's or your tire assembly's true centerline. Wheel spacers can be used to alter the wheel offset.
Verify The F150 Bolt Pattern Torque
With the use of a torque wrench, mount your alloy F150 wheels. In addition, you should refer to your owner's handbook for precise specs. You should double-check the torque specifications after a test drive. By doing so, you'll be able to successfully reduce the possibility of incorrectly torquing your lug nuts or bolts.
Driving can quickly loosen a bolt or nut, resulting in several unnecessary difficulties and vibrations. Once you've driven the first 50 to 100 miles on your new F150 wheels, you should re-torque the lug nuts.
F150 Tire Size
17-inch silver steel wheels and 245/70 R17 BSW all-season tires are included with every Ford F-150. Depending on how you want your SuperDuty truck (such as the Ford F-450) to operate, you can also select from five other Ford F-150 tire sizes.
When correctly equipped, the maximum payload capacity of 3,270 pounds can be reached by choosing the optional 18-inch silver aluminum heavy-duty payload package wheels with 275/55 R20 BSW all-terrain tires.
Are you more interested in tires that can easily handle any terrain? The 20-inch machined aluminum wheels with flashy grey-painted pockets are an option. This tire has an all-terrain rating of 275/55 R20.
Every driver can find the ideal tire thanks to a wide range of available tire sizes.
245: From sidewall to sidewall, this value represents the width of the Ford F150 in millimeters.
70: The aspect ratio of your tire is indicated by the number following the slash line. Therefore, the height-to-width ratio is expressed as a percentage. This indicates that the tire's height equals its width in proportion.
R: This letter explains the tire's construction to you. The fabric layers, in this instance, are radial, which means they are oriented at right angles. The additional layers of fabric make for a stronger wheel, which is another benefit.
17: The diameter of the wheel is indicated by this number in inches. Simply measuring the distance between the ends of the wheel yields this information. Make sure this diameter size matches your wheel size when shopping for new tires.
BSW: Black Sidewall is the meaning of the last code, BSW. In contrast to the OWL code, which stands for Outlined White Letters, this indicates that the sides of your tires will be all black.
F150 Lug Nut Size
The lug nut socket on a Ford F-150 is 19 mm in size. To prevent crashes, it's important to ensure your tires are in excellent condition. At some point, you will run into problems with this portion. You can have issues with tire cupping. You can experience issues with feathering. One issue to watch out for is premature tire wear.
This is what causes tire wear on the inside, as well as the outside of your front tires wearing. The former of which is what some call inside tire wear or inner tire wear.
At some point, the component can come loose. In case you step on a nail, look for any holes. Once a month, make sure to check the tire pressure. At some point, this component will need to be replaced. Approximately every 30,000 to 50,000 miles, you should replace your tires. Avoid getting into any accidents on the road.
F150 Aftermarket Wheels
Given the vast array of possibilities, shopping for wheels in the aftermarket may be extremely overwhelming. Regarding impressive, aggressive, massive all-terrain wheels, Fuel Off-Road D576 Assault is a leader in the field.
With their tough style and exceptional performance, the Fuel Series D576 Assault wheels will make a striking statement on your Ford F-150. And if you want to toughen up the looks of your wheels, maybe you might even consider adding accessories such as lug nut spikes.
D576 Assault Wheels
The Assault wheel is made of one piece of aluminum that is just as durable as it is attractive. Low-pressure casting is used to create these wheels from lightweight alloys, guaranteeing the highest levels of strength and stability under load.
A wheel that exceeds the competition is produced through the low-pressure forging method and is extremely strong and powerful. Additionally, the Assault wheel fulfills the quality and safety requirements set forth by JWL and VIA.
The Assault wheel has an eye-catching attractive face with eight "Y" spokes arranged on a deep riveted lip to produce a sharp three-dimensional aesthetic that is sure to distinguish your truck from the competition.
Bolt embellishments that cover the outside lip further emphasize the stylish yet sporty style. It has a gorgeous gloss black finish with milling accents all over, giving it a lovely "two-tone" appearance that stands out without being overly bold.
The deep concave profile of the spokes adds to the wheel's alluring appearance. This wheel has an extremely strong corrosion-resistant coating that protects against small damage like scuffs and scratches thanks to an additional layer of clear gloss finish.
XD Series XD797 Spy
Off-road racing gave birth to the XD Series wheels, which were then put to the test on some of the most difficult courses in the world by several teams. Furthermore, XD Series wheels have achieved numerous victories in the Baja 500, Baja 1000, and other short-course racing events.
The best strength, durability, and performance for your Ford F-150 truck will be provided by these wheels as a result. The whole XD collection, which has undergone rigorous testing, features edgy designs that enhance the overall rough appearance of today's most popular trucks and SUVs.
As a result, the XD Series XD797 Spy wheel is a fantastic option for upgrading your F-150. The XD797 Spy wheel features a wide split six-spoke design with a faux rash ring. It has machined elements that extend into the lip for a streamlined, straightforward, and aggressive appearance.
With a bolt-on center cap with the recognizable XD Series insignia and available in gloss black machined or chrome finishes, the Spy wheel appears to have been designed specifically for off-road use.
The one-piece cast aluminum structure and clear coat finish show that this wheel was not only meant to look the part but was also made to act the part in both daily driving and off-roading.
Ford 8 Lug Bolt Pattern
A popular lug type for trucks is the Ford 8-lug bolt pattern. Most American vehicles, such as the Ford F250 and F350, employ it. Some heavy-duty utility trailers also employ it. In fact, the 86.5 bolt pattern is so widespread that the Hummer H2 even uses it.
Many Ford cars, including the F-150 and the Ford Expedition, use this bolt pattern. It's great for trucks because of its standard size. Ford changed the placement of lug nuts in 1999 to improve tire coverage and comply with the NHSTA, which resulted in the transition from a seven-lug to an eight-lug layout.
Compared to Chevy trucks, Ford trucks employ a different bolt pattern. While Chevy rims won't fit a Ford truck's wheel hub, some Dodge vehicles will accept them.
Ford 6 Lug Bolt Pattern
The "six by five and a half" or "six by five-point five" patterns are other names for the 65 5 bolt pattern. This is due to the bolts' five-and-a-half-inch spacing (measured from the center of one bolt to the center of the next).
The most popular six-lug bolt layout is six lugs by five and a half inches. The Ford F-150, Chevy Silverado 1500, GMC Sierra 1500, and Dodge Ram 1500 are just a few full-size vehicles employed. The six-lug by five-and-a-half-inch pattern comes in a few other forms, but it is the most popular.
FAQs On Lug Pattern Ford F150
What Is A Bolt Pattern
A bolt pattern, sometimes referred to as a lug pattern, is a measurement made around the center of a wheel where lug holes are located. This measurement on the wheel corresponds to the measurement on the wheel studs that are temporarily attached to the vehicle hub. Bolt patterns have the following two-number formats: 5×112, 6×139.7, or 4×108. These formats indicate the number of bolt holes a wheel has in addition to the circumference of the holes' hypothetical enclosing circle.
How Wide Is A Ford F150
An additional SuperCrew option with extra-comfy inside seats is the Limited trim level. The Limited model is 231.7 inches in length, 77.2 inches in height, and 79.9 inches in width.
How To Find Bolt Pattern On Rims
The standard bolt pattern runs from 4 to 8 lugs in most modern automobiles. An indication of a 6-lug design in a circle with a 139.7mm diameter would be a bolt circle of 6139.7. There are various methods for determining a bolt pattern. A measuring tape is usually a practical option, but we suggest utilizing a bolt pattern measuring tool for the most exact measurement. Measure from the center of one wheel stud to the center of the opposing wheel stud if your car has an even number of studs. When measuring a 5-lug vehicle, take your measurement from the center of the closest stud to the outside of the furthest stud.
How To Measure Lug Nut Pattern
The first number represents the number of bolt holes or wheel studs on the wheel or in the car. The second value represents the size of the hypothetical circle drawn around the holes. For instance, a wheel with a 5×100 lug pattern has 5 lug holes evenly spaced out around a circle with a 100mm diameter; the same is true of the wheel studs on the car.
What Lug Pattern Is A Ford Ranger
The bolt pattern of a 2020 Ford Ranger is 6×5. 5, which means that each wheel has six lugs that come together to form a circle with a 5.5-inch diameter.
What Cars Have A 5×115 Bolt Pattern
Many fantastic cars, including Buicks, Cadillacs, Chevrolets, GMs, Chryslers, Dodges, Pontiacs, and more, come with wheels with a 5×115 bolt pattern. With 5×115 wheels, you can enhance the appearance of your ride, whether you're driving a high-end luxury car or a classic American muscle car.
What Rims Interchange With Toyota
The 5 lugs x 4.5′′ (114.3 mm) bolt circle bolt design is used by many Toyota automobiles and Ford and Chrysler vehicles. But a wheel's 'fitting' is much more complicated than just its lug bolt pattern.
What Year Silverado Wheels Are Interchangeable
Wheels on a 2014 Silverado may typically be switched out. It is crucial to comprehend the lug patterns on the wheels before changing the wheels on your Silverado. The lugs on the wheels are one of many considerations when considering whether a certain wheel would be suitable for your vehicle or not.
What Vehicles Have A 5×5 Bolt Pattern
Classic Buick, Oldsmobile, and Pontiac are included in this. Therefore, you probably have a 5×5 bolt pattern if you're utilizing a large Olds rear end. After phasing out the six lug bolt pattern, Chevrolet and GMC began adopting this bolt pattern for their light two-wheel drive trucks in 1971.
What Lug Pattern Is A Chevy 1500
The Chevrolet bolt pattern size is six bolts.
What Is The Bolt Pattern On A Ford F150
The bolt pattern for every Ford F-150 model made since 2004 is 6×135 or 6×5. 3 inches.
Are All 6 Lug Chevy Wheels The Same
In essence, yes. Chevy has utilized a variety of sizes and bolt patterns over the years, but their six-lug Chevys employ the same bolt pattern. The design is most likely a six-lug, 5.5-inch standard, or medium offset, depending on your specific Chevy vehicle.
What Year F150 Wheels Are Interchangeable
Any other 2004 or later F150 will fit the majority of F150 wheels. Therefore, there is a good probability that second hand wheels you purchase at a great price from a friend or at a salvage yard will easily mount onto your truck. A few situations constitute an exception to this rule. The wheel offset on an earlier F150 model (2004 and lower) could not work with current models. Furthermore, some limited-edition versions might have particular wheel sizes or offsets that are incompatible with those on other vehicles.
How Big Of Tires Can I Fit On My F150
The largest tires that can be installed without removing the crash bars on a factory F150 are 33-34 inches in diameter. Alternatively, if your rims are 10′ wide, you can install 32-inch tires.
What Year F250 Wheels Interchange
Generally speaking, an F250 with a single-wheel rear axle can be equipped with the same wheels as an F350. With a typical SRW rear axle, an F250's wheels have the same bolt patterns, offsets, and backspacing as an F350.
Lug Pattern Ford F150: Final Verdict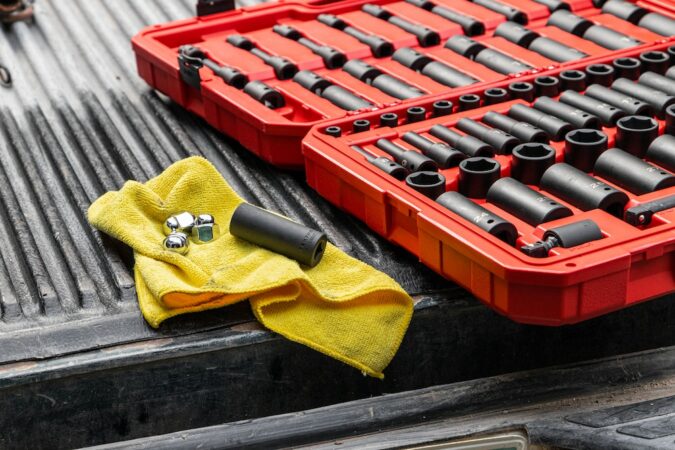 All generations of the Ford F-150 have a bolt pattern of 6×5.31 inch (6x135mm), a center bore of six lug nuts with a thread size of M14 x 2.0 (2004-2014) or M14 x 1.5 (2015 and older), and a center bore of 3.42 inch (87.1mm) are present on every model of the Ford F-150 and must be tightened with 150lb-ft (204Nm) of force.
It is usually essential to use the suggested bolt pattern and wheel size for your Ford F-150. What do you think of the lug pattern Ford F150? The 6-lug bolt pattern on each Ford F150 can be altered utilizing various techniques.
By following these recommendations, owners can ensure that their cars, SUVs, or jeeps operate in the right rhythm. A simple procedure that anyone can perform is altering the 6-lug bolt pattern. Oh, and in case you're curious to learn more about the F-150, we have plenty of other resources on that, too.
We've previously looked into the reliability of the Ford F 150 by model year. That includes discussing the 2005 Ford F150 problems, and the 2013 Ford F150 problems, as well as the most reliable Ford F150 engine. Besides that, we've also looked into what year of the Ford F150 to avoid, and the best model year of the Ford F150.
Otherwise, we've looked at the F-150's powertrains, such as the 2010 F150 5.4 Triton engine, and the Ford F150 5.0 engine problems. Elsewhere, we then discussed the life expectancy of the Ford F150 in miles and compared the Ford F150 vs the Raptor.