The Ford Expedition is a full-size, three-row SUV perfect for drivers with large families. But is it reliable? Can this be a safe and reliable car for your family? Are there any Ford Expedition years to avoid?
Like any other car, there are some terrible model years for the Ford Expedition. If you've been planning to buy one, read until the end so you can make an informed decision when you buy a Ford Expedition. We'll be discussing everything for the Ford Expedition years to avoid, common problems, and of course, the best years you should buy. Let's begin:
Ford Expedition Generations
Ford introduced the Expedition in October 1996. It's currently in its fourth generation, and the current one has been around since 2018. It was technically a replacement for the Bronco, although it has four doors rather than just two.
Ford intended the Expedition to be a more practical and family-oriented solution. Based on the F-150 chassis, the Expedition came with five seats as standard. Three-row seating was available as an option, and so were captain's chairs for both the front and second-row seats.
As for the engines, it was originally available with either a 4.6L or a 5.4L version of the Triton V8. The engines originally made 215 and 230 horsepower respectively, but were improved in 2001 and made 240 horsepower and 260 horsepower respectively.
The second generation came in 2003. Like the previous generation, it still shared the F-150 chassis. But with improved looks and a less boxy design that made it look less like a truck, and more like an SUV.
Engine options were still the same, but after 2004 it was only available with the 5.4L 3-valve version of the Triton. Before that, it had the 2-valve versions. This meant more power and torque, and better power delivery as a whole.
Ford refreshed the Expedition relatively quickly, revealing the third generation in 2007—just four years after the second generation. It was only offered with the 5.4L SOHC Triton V8 up until 2014 but paired with a six-speed automatic rather than the four-speed that came before it.
Then in 2015, Ford introduced their excellent 3.5L EcoBoost V6 in the Expedition. While fuel efficiency remains largely the same, the EcoBoost offered more power and torque. And crucially: it's a far more reliable engine than the Triton.
Current Generation Ford Expedition
The current-generation Expedition still uses the same platform as the F-150. And like the F-150, the body is now aluminum rather than steel, while the frame is boron steel. There are some differences in the F-150's structure, but it's essentially the same design and materials.
Since it's an F-150 frame, it's still a body-on-frame design which should make the Expedition a decent off-roader. Body-on-frame chassis are better at dealing with twisting and torsion loads, which is what you need when offroading.
The aluminum construction makes the Expedition lighter—around 450lbs lighter than the previous generation—which improves performance and fuel consumption. The downside of aluminum is that it's harder to fix a dent, although Ford has assured consumers that their certified shops will be able to fix it.
As for the powertrain, it comes with Ford's second-generation (D35) version of the 3.5L EcoBoost V6. Power ranges anywhere between 375 to 440 horsepower depending on the trim. And with the right specs, it can tow up to 9,300lbs. But crucially the D35 EcoBoost V6 has improved reliability over the last generation.
It's mated to a 10-speed automatic transmission, which helps to improve fuel consumption. Ford's SelectShift transmission isn't the best in the market, certainly not quite as good as ZF transmissions, but it's a decent automatic transmission. However, there have been rumors about its poor reliability.
Anyway, you can opt for captain's chairs for the front and second-row seats should you want to. A huge 12.0-inch touchscreen infotainment display with wireless Apple CarPlay is also standard. And you can also opt for the 15.5-inch vertical display as seen in the Mustang Mach-E.
Ford Expedition Reliability
So, is the Ford Expedition reliable? RepairPal gives the Ford Expedition an overall reliability rating of 3.5 out of 5, which is around average. However, this ranks it 21st out of 32 cars in the class.
Meanwhile, J.D. Power gives it 75 out of 100, which is also considered average. Note that these are average ratings over the years, and they will vary by model year—don't worry, we'll discuss the Ford Expedition years to avoid after this.
Overall, the Ford Expedition has average reliability ratings, which comes as no surprise since Ford's reliability is often average and sometimes sub-par. It seems like a pretty reliably full-size SUV, but the Toyota Sequoia, Land Cruiser, Chevy Tahoe, and even the Dodge Durango seem like they have better reliability.
Ford Expedition Years To Avoid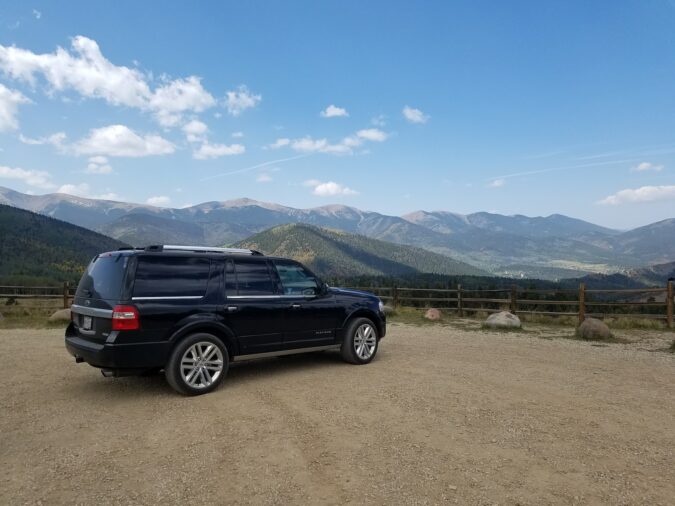 So, here's the thing about reliability ratings: they're a good indicator of whether or not a car is reliable. But to buy a reliable used car, you'll need to delve deeper into each model year. Find the problematic ones, avoid them, and try to find the model years that have the least issues.
This is pretty normal in the car industry. Since there are thousands of moving components in a car, something is bound to go wrong, and in some model years; sometimes oversights or poor quality control just happen. Even Toyota—which is supposedly bulletproof—has this issue of bad model years. So, here are the Ford Expedition years to avoid:
1999 to 2001. These had a lot of complaints regarding the engine, which comes as no surprise since the Triton V8 isn't all that reliable. Some electrical problems are also reported in these model years.
2003. Engine issues remained in this model year, and there are quite a lot of complaints about the door ajar light and dome light staying on even after the doors are closed.
2004. This model year didn't receive as many complaints as previous years, but transmission failures plagued this model which is a serious and expensive issue.
2006. Engine issues still plagued this model year. However, complaints in previous years were about the spark plugs, but in 2006 the complaints were mostly about the engine suddenly dying.
2007. Most of the complaints are about the paintwork bubbling. Not as serious as in previous years, but it should be noted that the 2006 model also had this issue.
 

View this post on Instagram

 
Overall, we recommend thinking twice about buying any of the 1999 to 2008 model years. They all had quite a lot of complaints, although the ones we mentioned above are the worst ones.
Ford Expedition Problems
If you're thinking of buying any of the 2000s models—maybe that's what you like, or that's what your budget allows—you should know about the common problems. This will help you decide if the Expedition is worth owning or not. And you'll also know what preventive maintenance—if any—you can do to help your Expedition stay reliable.
So, here are the Ford Expedition problems you should know about:
1. Spark Plugs Blowing Out Of The Engine
We've written a detailed problems list for the Ford Triton V8. Overall, it's a decent engine but with sub-par reliability. It's not the worst engine you can buy, but it's certainly not the best either. One of the issues that owners often face is the spark plugs blowing out of the engine.
In case you're not familiar, spark plugs sit on top of your engine's combustion chamber. They're powered by ignition coils and create a spark at their tip to combust the compressed fuel and air mixture inside the engine—which is what powers the engine.
Spark plugs are supposed to remain in place, and you'll need to detach the ignition coils and then use a spark plug socket to remove them. So, for them to blow out of the engine? Well, you're not going to have a good time, that's for sure.
This problem seems to mostly plague the 5.4L version of the Triton engine but can also happen in the 4.6L version. Spark plugs are cheap, they're about $18 each. But the blowout will likely damage the coil packs and the threads of the cylinder heads. Some owners report having to pay as much as $1,200 to repair the whole thing.
This problem affects mostly the 2003 model year. Although we're seeing complaints about this appear as early as 1998. Again, we would generally stay away from the 1998 to 2003 model years. But if you must, then the 2002 model has the fewest complaints.
2. Difficulty Changing Spark Plugs
As mentioned, Ford started using the 3-valve version of the Triton in 2004. This seems to have rectified the spark plugs blowing out, but another problem arises:
Owners report that the spark plugs would often break when you're removing them. Of course, if you're removing a spark plug, chances are you're going to replace it anyway. So, not a big deal, right?
It becomes a big deal when part of the plug breaks off and falls back into the spark plug port. To say removing a piece of the spark plug from its port is difficult would be an understatement.
If you're the type to DIY these sorts of repairs, we recommend watching the video above. It will teach you how to remove the spark plugs safely and avoid them breaking.
Of course, if you're the type to let a professional mechanic do this sort of thing for you, then you needn't worry too much. Just be sure to go to a shop that knows its way around Ford engines and cross your fingers that they won't mess it up.
3. Sudden Engine Shut Downs
The 2006 model year is known to have sudden engine shutdown problems. This presents a safety issue, as you'll have little control over the vehicle. The engine controls the braking and steering system, and if it shuts down, those won't work properly. You can see why this is terrifying.
Owners note that the engine fail-safe mode flashes on the dashboard before the engine shuts down. In this situation, ideally, the engine should limit the power and not shut down completely. This allows the driver to stop at a safe spot, rather than leaving them stranded in the middle of the road.
The issue seems to stem from a faulty throttle body. This is the device that controls the flow of air into the engine. When you press the gas pedal, the throttle body will open accordingly to allow more air in and the engine produces more power. If it fails, well, the engine won't work properly.
Most owners reported that they've had to either change or clean the throttle body. You can expect the replacement job to cost around $750 on average.
4. Paint Bubbling
Paint bubbles happen when moisture enters the paint. This usually occurs during the application process, where moisture manages to seep into the paint. After some time, the moisture will transfer to the surface of the paint and result in paint bubbles or blisters.
Once this happens, the area of the bubbles can easily be peeled and damaged. Further ruining the look of your car. In the case of the Ford Expedition, the tailgate seems to be the most susceptible panel, although some owners have reported this happening on their hood as well. This problem plagues mostly the 2007 and 2008 model years, and there are a few reports in the 2015 model year.
Unfortunately, once this happens you'll need to repaint the entire panel. And you'll want a high-quality paint job, otherwise, similar paint quality issues might appear. And this can cost you thousands of dollars. Additionally, there isn't anything you can do to prevent it. You can't really fix poor-quality paint jobs, no matter how much detailing and polishing you do.
This is probably not a big deal if you don't care about how the car looks and you just want something that drives well and is dependable. However, premature paint peels are an indication of a poor-quality paint job. While this is just speculation, there's a good chance more of the paint job will peel and the car might even be susceptible to rust.
5. Faulty Door Lock Mechanism
As mentioned, the problematic 2003 model year had a problem with the door ajar light and dome light staying on even when the door is closed. To be fair, this isn't a big problem—even a dome light that stays on for hours won't drain your car's battery. However, it's still an unnecessary nuisance to deal with.
Thankfully, the fix seems to be quite simple. Many owners report that spraying a WD-40 spray on the lock mechanism fixes the problem. However, in some cases, you may need to replace the mechanism. Costs for this are around $300 per door including labor.
Best Year For Ford Expedition
We've talked about the Ford Expedition years to avoid, how about the best ones then? Here are the safe model years you can consider:
1997 & 2002. These will be very cheap since they're quite old, costing around $8,000 for a relatively low-mileage specimen. Note that while they're better than the bad model years, there are still quite a few complaints about them.
2009, 2012 to 2014. These are the absolute best years if you're looking for an older Expedition. Complaints are few and far between, which suggests it's an isolated issue that only affects a few bad production batches.
2019 to 2020. These are the best years if you're looking for a more recent model. Of course, they're still quite expensive since they're relatively new.
 

View this post on Instagram

 
Those are the safe model years with the fewest complaints that you should consider. Note that the 1997 and 2002 model years also have complaints, as stated above. But are fairly minimal when compared to the problematic model years.
There are some other safe model years as well, such as the 2016 to 2018 models. But they have more complaints when compared to the 2019 model. So, we'd still recommend that you get the 2012 to 2014 models if you want a second-generation model. And the 2019 model and onwards if you can stomach the price.
FAQs About Ford Expedition Years To Avoid
So, now you know the Ford Expedition years to avoid, the best ones, and the troubles to look out for. Got any more questions about the Ford Expedition? The answer you need might be below:
How Much Does A Ford Expedition Weigh
The current Ford Expedition weighs in at around 5,368lbs, while the Ford Expedition Max weighs around 5,793lbs. It's around 450lbs lighter than previous generations thanks to Ford's new aluminum chassis they use for the Ford Expedition and F-150 pickup truck.
How Long Is A Ford Expedition
The standard Expedition now measures 210 inches long, while the Expedition Max is 221.9 inches long. Previous generations are shorter and are all under 206 inches long.
How Much Does A Ford Expedition Cost
A new Ford Expedition will cost you between $50,000 to $85,000 depending on the trim and options. Note this is Ford's MSRP, and dealer prices may be higher. If you're buying used, the fourth generation is typically around $39,000. And previous generations are between $9,000 to $30,000 depending on the year and mileage.
What Year Expedition Should I Buy
Almost any model after 2009 is safe to buy, except for the 2015 model year. 2012 to 2014 seems to have the fewest complaints. The 2019 model and onwards are great too, but they're still pretty expensive since they're quite new. If you want earlier models, the 1997 and 2002 model years also have relatively few complaints.
How Tall Is A Ford Expedition
The Ford Expedition is 76.5 inches tall, with a ground clearance of 9.8 inches. However, the offroad-oriented Timberline has a ground clearance of 10.6 inches. The height is about the same for previous generations with negligible differences.
How Many People Can You Fit In A Ford Expedition
Between five to eight including the driver. Eight seats are usually the standard configuration, but you can opt for captain's chairs in the second row for more comfort but this only seats seven people. Additionally, the Expedition can also be configured without the third-row seating, giving you more luggage space.
Is A Ford Expedition A Truck
It's based on a truck chassis, it shares the same platform as the Ford F-150 truck. However, since it doesn't have a bed, it technically falls under the SUV classification.
Are Ford Expeditions Reliable
They have been very reliable since 2009. To be on the safe side, buy a Ford Expedition with the EcoBoost V6 engines. The first-generation version has its own set of issues, but nowhere near as bad as the Triton engines.
How Many Gallons Of Gas Does A Ford Expedition Hold
The standard Ford Expedition has a 30-gallon fuel tank, but the larger Expedition Max has a 27.8-gallon fuel tank. The combined MPG estimate is 19mpg, so you can expect the Ford Expedition to travel as much as 570 miles with one full tank of gas.
Do They Still Make Ford Excursions
They don't. Ford discontinued it in 2005 and replaced it with the Ford Expedition EL, which is now known as the Expedition Max.
Ford Expedition Years To Avoid: Final Thoughts
So, the Ford Expedition years to avoid are 1999 to 2001, 2003 to 2004, and 2006 to 2007 model years. These have quite a lot of complaints, and you probably want to avoid them to prevent headaches and an empty bank account.
The problems are mostly with the Triton engine, a decent V8 engine but can be a bit temperamental at times. If you want the Triton V8, we recommend the 2009, 2012, and 2014 model years. These are much better, although you'll still need to take extra care when changing the spark plugs.
However, our preference is the EcoBoost V6 that comes as standard in the Ford Expedition since 2015. The first-generation EcoBoost (2015 – 2017) isn't perfect either. It's known to have timing chain tensioner issues, but overall, we still think this is the better choice than the Triton engines. While MPG doesn't improve much, the EcoBoost engine offers more power.
Regardless, you should always inspect a used car thoroughly before buying them. We recommend doing a pre-purchase inspection, which many mechanics provides. And there are services that you can look up online. They should cost no more than $250 and will help you avoid future headaches. Hopefully, this has been helpful for you, and good luck in finding your perfect Ford Expedition!