Are you planning to purchase a used Subaru Tribeca and you are trying to learn more about this model, its perks, and flaws and see if this is a good purchase? Well, if that is the case, then you are at the right place because there will be quite a lot to cover on this topic and we are going to elaborate on everything in detail.
Doing the proper research before you decide to purchase a vehicle should be one of your top priorities. On the market, there are hundreds of models and almost every one of these models has different generations. And each generation has different problems since different parts were used.
This is why trying to learn more about the model that you intend to purchase is the number one priority. Some of these problems can be crazy expensive when it comes to fix. This is why doing good research before you buy is the way to go. This is why we are here to help you determine if this model is the right one for you.
First, we are going to learn more about the basics when it comes to the Subaru Tribeca. Then we are going to cover its specs and learn more about the dimensions, engines, transmissions, fuel economy, and price. Once we cover these aspects, we will move on and cover the problems and reliability of this model. So, if you want to learn more, follow along.
Subaru Tribeca
Now before we dive into more complex topics and understand a bit of the spec of the Tribeca, let's first learn more about what is the Subaru Tribeca in general. Knowing the core concepts of this model will really help you to put things into perspective and see if this model is the right one for you. So, what is the Subaru Tribeca?
Well, the Tribeca is a mid-size SUV that was marketed and sold by Subaru between 2006 and 2014. This model got its name from a neighborhood in New York known as Tribeca.
This is a neighborhood located in lower Manhattan with a cool-sounding name so Subaru decided to appeal more to the casual New Yorkers and other people living in these big urban environments.
Nevertheless, the Tribeca had a short lifespan of only 8 model years before being discontinued. The reasons behind this as you would assume are the low sales that this model got.
For the first four model years, the Tribeca sold roughly 16,000 units annually. But these sales dropped to 2,000 in the last four model years, so Subaru couldn't find any profits in the Tribeca and decided to stop production in 2014. The model was replaced with the Subaru Ascent.
But stopping the production doesn't mean that the Tribeca is bad right? Well, more on that whether the Subaru Tribeca is bad or not, we are going to learn in the following chapters, where we are going to elaborate first on the specs and then on the problems. Lastly, we will make our conclusions and see if this model is a good purchase.
Subaru Tribeca Specs
Now let's introduce ourselves to the Subaru Tribeca and learn more about its specs and see in which numbers this model comes in. Since specs are rather important for anyone out there that wants to purchase a vehicle.
This model as we mentioned is a mid-size SUV. So, what does this mean? Well, this means that the model falls in the mid-size category. Just like other competitor models like the Honda Pilot, Nissan Pathfinder, Mitsubishi Outlander, and other similar models.
This meant that the Tribeca was based on the same platform as the Subaru Legacy. The Legacy if you didn't know is the mid-size sedan that Subaru offers for the US market.
The Legacy is a really good platform actually, it comes with AWD as a standard (most Subaru models are all-wheel drive) and also includes quite powerful boxer engines. But more on that, we will cover it in a bit.
This model as we mentioned previously, debuted in 2005, and 2006 was the first model year. The production of the Tribeca was stopped in 2014. The model was assembled in the US. More specifically at the Subaru factory in Lafayette, Indiana.
So, even though the Tribeca is not produced anymore, you can still purchase a Subaru Ascent. This is a similar model in terms of size and performance. But if you want the Subaru Tribeca, follow along while we cover all of the specs of this model that Subaru sold between 2005 and 2014 because there will be quite a lot to cover.
Subaru Tribeca Dimensions, Size, And Practicality
Now let's start with the specs of the Tribeca and learn more about the size in which this model comes. Size matters and based on these numbers you determine if this vehicle is good enough for you or not.
This model has a wheelbase of 108.2 inches and an overall length of 189.8 inches. What is important to note is that since 2008 the model grew in length and the newer model is 191.5 inches long. The Tribeca is 73.9 inches wide and also 66.5 inches tall and up to 67.7 inches tall for the updated versions from 2008.
The Tribeca also has a very good ground clearance of 8.4 inches in total. The curb weight of the Subaru Tribeca is 4,245lbs. Quite heavy we must admit. Since it is only a mid-size SUV. But what about the practicality? How much space do you have inside the Tribeca?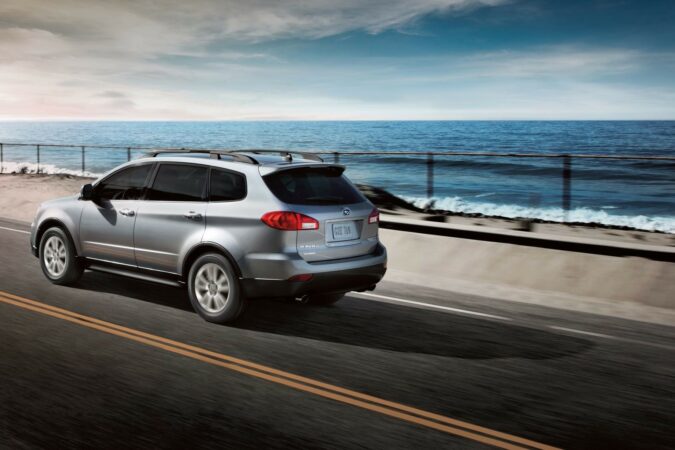 In terms of practicality, we can say that the Tribeca performs rather well. What is good about this model is that it has 3rd-row seating. So, this means that you can fit up to 7 people in this model. Even though, the third row might be a really tight fit.
In terms of cargo capacity. With the third row up, you get 8.3 cubic ft of space. When you fold down the third row and the second row, you can free up to 74.4 cubic ft of space. Which is plenty for most people out there.
But what about the interior of this model? What can the Tribeca offer you in terms of trim levels and features? Let's find out more about that in the following chapter.
Subaru Tribeca Interior
Now that we covered the dimensions and size of the Tribeca, let's take a look at the interior of the model and learn more about what the Tribeca can offer in this aspect.
Inside as we mentioned, there is three-row seating and the Tribeca can accommodate up to 7 people, which is a lot, but the last row of seats isn't particularly comfortable. People that are tall can really struggle in the rear. Using these seats for children makes more sense.
In terms of trim levels, there were a lot of them during its long production stint. So, many that it would take ages to list all of them. So, we are going to mention the trims that were used in the 2012 model year.
And frankly, the trims did not make much sense. The Premium trim level was the lowest level of equipment and this model started at $31,370. Then there was the Limited trim level starting at $33,370, and the Touring which was the top trim, the Touring started at $36,670. The most expensive trim available for this model.
And with the top trim, you got all the good stuff like a power moonroof, Harman Kardon Audio system with a 6-disc CD charger, aux output to connect your phone with the radio, SiriusXM, and Bluetooth.
Also, not to forget the leather interior, as well as the 8-way adjustable seat for the driver with lumbar support (which could be made better with a lumbar support cushion for car). As well as the heated front seats.
In addition to these features, there is also keyless entry, cruise control, a security system, and much more. This is why we would recommend if you want to get a Tribeca, to go for the more upscale models that are available. Now let's discuss the powertrain options.
Subaru Tribeca Engine And Transmission
Now let's take a look at the Subaru Tribeca engines and transmissions that were included. During the long years of production, there were only two powertrain options available.
The first powertrain option that originally came with the model was a 3.0L H6 boxer engine with 4 cylinders. This engine was rather weak and not enough for this chassis. The car felt a bit underpowered. The engine only produced 240hp and 219lb-ft of torque.
This is why later the engine in the Tribeca was upgraded with the EZ36. Which was a 3.6L H6 engine that was based on the 3.0L but with improved displacement. So, this new engine delivered 256hp and 258lb-ft of torque. The increase in torque created a huge difference in terms of the overall performance of the car.
Both engines were paired with a 5-speed automatic transmission. The automatic was the only transmission available with this model. So, like it or not, it is there and there is no other alternative like in more modern automatic cars that have 6-speed and even 8-speed transmissions. Having a 5-speed affects the fuel economy and how much, we are going to find out next.
Subaru Tribeca Fuel Economy
Now let's discuss more about the fuel economy of the Subaru Tribeca. Is this model fuel efficient? Well, sort of, for today's standards, the model is subpar when it comes to this aspect.
The 3.0L engine gets 18 mpg in the city and 23 mpg on the highway, with a combined fuel economy of 20 mpg. This model has a fuel tank size of 16.9 gallons.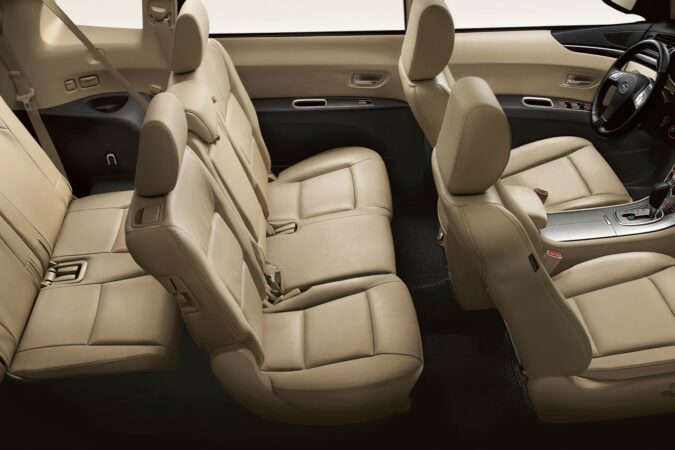 The 3.6L engine on the other hand is much worse. This engine gets 16 mpg in the city and 21 mpg on the highway, with a combined fuel economy of 18 mpg. It performs quite similarly to a pickup truck. So, if you are interested in good fuel economy, the Tribeca is probably not the right car for you because this car will drain your wallet at the gas pump.
Nowadays modern cars get a really good fuel economy and average about 22 to 25 mpg in this class of cars. But now let's move on and look at the towing capacity of the model.
Subaru Tribeca Towing Capacity
So, we covered the fuel economy of the Tribeca and learned the numbers. Now let's take a look at what numbers the Tribeca produced when it comes to towing. Is this model a capable machine in this aspect?
Well, the Tribeca is also quite poor in terms of towing as well. This model can only tow up to 2,000 lbs. Towing anything heavier means that you should be prepared for the repercussions. And under heavy load, these Subaru engines are known to show their downside.
A head gasket can blow (i.e. seeing oil in coolant), transmission damage can happen, and even structural damage in some cases. So, you get the idea why towing heavy stuff with this type of vehicle is not recommended. But what about safety? Is the Subaru Tribeca considered to be safe by today's standards? Let's learn more about that next.
Subaru Tribeca Safety
In terms of safety, Subaru almost never fails and the Tribeca is one of these models that are rather good in this aspect.
The model, more specifically the 2006 model was tested by the IIHS and they gave the model "Good" scores on all of the tests. This model even exceeds on the small overlap test is rather tricky for some carmakers. The cage on their testing kept its structural integrity. And there were no major leg injuries.
Still, remember that this is an almost 18-year-old model. This is why you need to be aware that some of these tests are outdated for today's standards and if the model was again tested today, it could get a worse test result in some aspects. But what about the price, how expensive is the Subaru Tribeca? Let's learn more about that next.
Subaru Tribeca Price
Now let's discuss price since the price is probably one of the main factors that are important for you. As we previously noted, the new 2014 Tribeca came at a cost of about $36,000. But what about today? For how much money you can find this model?
Well, newer model years hold their price really well and a low mileage example will set you back about $19,000.
If you want to go for the pre-facelift models produced between 2006 and 2008, you can save some money since these usually go in the range of $4,000 to $8,000. But honestly, these are highly underpowered with the 3.0L engine.
And not only that, these are high-mileage models that have issues. And more about these common problems of the Subaru Tribeca, we are going to cover in the following chapters, where we are going to elaborate on everything in-depth and see what bothers the Tribeca the most and what you should be most aware of before you purchase one of these models.
Subaru Tribeca Problems
Now let's discuss more about the Subaru Tribeca's problems and see from which problems this model is troubled, as per data from carcomplaints.com. But just to take note that only 77,000 vehicles were made of this model and there is not a lot of data on these cars.
But what is certain are the engine problems that trouble almost all Subaru engines. Even though, we must admit that these bigger displacement Subaru engines are less troubled than the 4-cylinder engines that they make.
Still, there are some problems with the engine reported on the website. There were mainly issues with the engine knocking, as well as oil leaks coming from the engine on the 2009 model. This was reportedly due to a bad head gasket. As common as it is, a lot of owners need to worry about a Subaru head gasket replacement cost at some point. There were also reports of the spark plug failure as well.
Overall, there were not many reports on the engine, which is rather strange for a Subaru model. But still, you need to check some things before purchasing. And that is the head gasket (a lot of similar problems among Subaru models), check for oil leaks, and overheating problems. And try to avoid engines that are well above 100,000 miles for these known issues that can happen on Subaru engines.
Also, some owners reported a shudder caused by the transmission, as well as a torque converter failure. This is why you should also make sure that the car shifts well before you purchase.
Besides these minor powertrain problems, this model isn't plagued with issues. So, this is why it holds its value really well even after all these years. But what about the Subaru Tribeca recalls? More on that next.
Recalls
Recalls are also another very important aspect when it comes to purchasing a car. Especially used cars. Just to make sure that the car did all the recalls before you buy, or if not, to have this vehicle recalled.
In total, there were 13 recalls done to this model, with the latest recall done in 2019. This recall was concerning the airbags. Which is quite an important thing to know since the airbags keep you safe from suffering serious injuries. For more on the rest of the recalls, you can visit this link and learn about each one of them.
If the car was not recalled, you can visit any Subaru dealership and get these things sorted out. The technicians have to serve you since when a vehicle is recalled, this is a mandatory service that the dealership has to do. Now let's move on and discuss the Subaru Tribeca's reliability.
Subaru Tribeca Reliability
In terms of reliability, the Subaru Tribeca performs rather well. We can say that this model is basically what other Subaru models should be.
Other models that run smaller displacement engines are usually plagued with issues like overheating, blown head gaskets, oil consumption, and spark plug issues. But the Tribeca is somewhat less prone to these problems.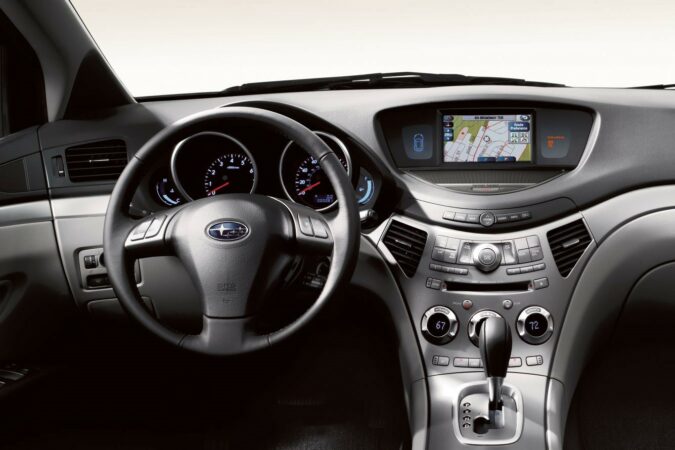 This is why if you want to get one, you can do it. But make sure that you inspect the engine and transmission. Inspect for oil leaks, coolant mixing with oil, heavy oil consumption (see if the car is throwing black smoke under heavy load), and overheating issues. If the engine is solid, then you are good.
The second most important thing to check is the transmission. Make sure that the transmission shifts smoothly and that it doesn't produce any vibrations or strange noises. And if everything checks, then you are good to go.
Conclusion
In this article, we covered the Subaru Tribeca. First, we learned what the Subaru Tribeca is and more about the history of the model.
Then we covered the specs in which the model comes, as well as the common problems, reliability, and other aspects that are really important for you as a buyer. So, make sure that you find a good model that doesn't have any major mechanical problems and you will be good.
Frequently Asked Questions
Now let's answer some frequently asked questions.
Is Subaru Japanese
Yes, Subaru is a Japanese automaker. This company is part of the Subaru Corporation conglomerate. Which was previously known as Fuji Heavy Industries. Their headquarters are in Shibuya, Japan.
Where Is Subaru Made
Subaru is made in Japan, as well as in the USA. Some of the models like the Legacy, Outback, Impreza, and Ascent are assembled in Lafayette, Indiana. Other models are imported from Japan.
Are Subarus Made In America
Yes, some of the models are assembled in America. Subaru has a factory in Lafayette, Indiana. This factory assembles the Legacy, Outback, Impreza, and the Subaru Ascent. In the past, they also produced the Subaru Tribeca and the Subaru Baja models.
Why Did Subaru Stop Making The Tribeca
The Tribeca was canceled because it didn't bring a lot of sales. The sales were rather poor and the nameplate was discontinued. This model was replaced with the Ascent which is basically in the same car class.
What Happened To The Subaru Tribeca
The Tribeca was replaced with the Subaru Ascent. The model sold poorly and Subaru decided to discontinue the model. So, if you are looking for a new mid-size SUV, the Subaru Ascent is the model that you are looking for.
Image Notes:
Subaru-Tribeca.jpg sourced from https://media.subaru.com/image-gallery.do?method=view&imageGalleryId=55
Subaru-Tribeca-3.jpg sourced from https://media.subaru.com/image-gallery.do?method=view&imageGalleryId=55
Subaru-Tribeca-1-1.jpg sourced from https://media.subaru.com/image-gallery.do?method=view&imageGalleryId=55
Subaru-Tribeca-2-1.jpg sourced from https://media.subaru.com/image-gallery.do?method=view&imageGalleryId=55