The Nissan Versa remains a fan-favorite for its budget-friendly price tag, great features, and smooth performance. Even for the latest 2023 model year, the price starts at only $15,730. Similar competitor cars such as the Hyundai Accent and Honda Fit are much pricier. Nissan cars boast good performance in general. But for some time, the Nissan Versa problems got out of hand.
While this affordable option may seem like the perfect choice when you are shopping on a budget, there are two model years you must steer clear of. Tainted by user complaints, these Nissan Versa problems have managed to overshadow the pros.
Nissan Versa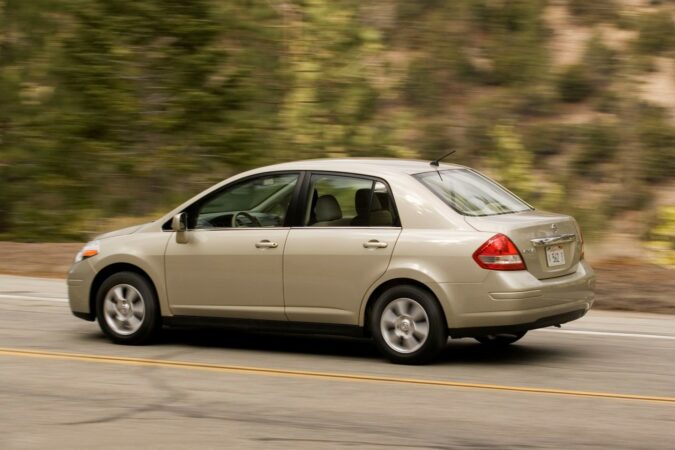 North American-branded Nissan Versa is a compact car that goes by many other names depending on the market, like the Sentra, the Sunny, and the Pulsar. The automaker selected the name Versa since it was supposed to be brief for "versatile space."
The nameplate is supposed to indicate how the compact car has a surprisingly generous interior space and many cargo configurations. In the U.S., Nissan introduced this car in 2006 and to this day, it remains one of the more affordable vehicles in today's market.
Although Nissan started manufacturing the Versa in 2004, the brand waited 2 years to introduce it to the American market. North America's first interaction with the Nissan Versa was in the form of the 2007 Nissan Versa. The hatchback model was launched first followed by a sedan later in the year.
When it first hit the U.S. shores, the Nissan Versa was priced at only $9,990, making it one of the least expensive vehicles of this kind. The sleek design paired with the low asking price made it popular amongst young buyers.
Nissan Versa Specs
What made the Nissan Versa such an all-rounder? For starters, the 2007 model focused on usability and comfort in a compact size. The front was inspired by Murano whereas the rear took inspiration from 350Z. Under the hood, Nissan added the MR18, a "Best in Class" engine with 122 HP/127 lb-ft torque horsepower/torque rating.
Paired with impressive rear legroom and a capacious 17.8 cubic foot cabin, the Versa makes efficient use of its entire dimension. All these features awarded the 2007 Nissan Versa the title of "Best Buy Aware" by Consumers Digest.
The lineup went through its share of ups and downs but currently is one of the more highly regarded budget-friendly cars money can get. Recently, the manufacturer added a sporty yet smaller Versa Note to the group. Economically conscious customers will be pulled in by the impressive fuel economy and low MSRP.
Another recent redesign has given the Versa a brand new look, making it appear similar to its larger siblings, like the Altima.
Problems With Nissan Versa
Although it is a very reliable car, the Nissan Versa has its issues. Some model years did not have it in them to fill the very large shoes of their predecessors. While the 2009 Versa recorded the highest number of user complaints, the complications were more severe with the 2012 Nissan Versa.
Here are some of the most frequently mentioned Nissan Versa problems for multiple model years:
1. Transmission Issues
The 2012 Nissan Versa problems caused a shocking number of complaints regarding the transmission. It was prone to failure once the average mileage crossed the 72,900-mile margin. Repairing a transmission costs around $4,000 – one of the most expensive repairs for a car.
A few transmission problems can sprout in the automatic transmissions, but the majority of them affected the Nissan CVT transmission that spanned between the 2012 to 2017 model years. Common examples include:
Jerking transmission during driving
Trouble shifting gears
Jumps in tachometer scale
The car abruptly stopped in the middle of the road
In most of these cases, the problem went away entirely only after the transmission was replaced, either with a remanufactured system or a brand-new one. Some disgruntled owners decided to get rid of their Nissan Versa rather than spend hundreds or thousands of dollars on getting the faulty transmission fixed.
2. Steering Problems
There was a lot going for the 2016 Nissan Versa, such as a spacious interior and great fuel economy. However, complaints started flowing in reporting how the car tended to fly or drift into opposite lanes, such as the car pulling to the right. The problem seemed to happen on the interstate and open roads at median speed.
The dealerships claimed their sedans were really out of alignment. Even after repairs were done, the Versa did not seem to react properly.
NHTSA complaints brought up other issues linked to steering failure. Some owners claimed the car would wander back and forth or veer off across the road. The steering wheel would get locked up without warning, sharply increasing the risk of accidents. Drivers would end up rear-ending another car on the road.
Similar to the drifting problem, these issues persisted despite multiple repairs at Nissan dealerships.
3. Poor Coil Springs
Perhaps the 2009 Nissan Versa is not as bad as the 2012 model, but the benchmark is not that high, to begin with. Recurring problems exist in these models. The 2009 model year did not receive as many complaints about the transmission but people noted how the suspension was disappointing this time.
The coil springs are super brittle and will break down often, taking down other suspension components with them. In a particular case, the broken front coil cracked the bottom strut. The damaged strut rotated the tire, ripping up the interior of the rubber tire.
In worse cases, the damaged coil spring damaged the tire by itself, resulting in a blowout. On top of that, the tire would separate entirely from the vehicle. As a result, the car would bang into the tire before swerving out of control, damaging the ball joints, axle, and brake line.
Nissan announced a recall to address the front coil springs issue. Springs contain a corrosion coating to protect them from road salt while driving in winter. Turns out, there was not enough coating for states that had excessive road salt. Rust would develop on these coil springs and they would disintegrate faster than usual.
Suspension problems on the Nissan Versa are not limited to simply the front coil springs. Cracked rear coil springs are a common cause. Faulty springs must be replaced before they damage other suspension components.
4. Airbag Issue
Takata airbags are a popular airbag choice for many vehicles, and for the model years 2007 through 2011, Nissan Versa had those. However, these airbags were subjected to a recall after multiple reports claimed they would not deploy during collisions.
Apart from engaging too slowly or not engaging at all, Takata airbags were prone to bursting, injuring the occupants. As if not bad enough on their own, the Takata airbag problems became more severe when paired with the poor functionalities of the Nissan Versa.
If a suspension, steering, or transmission problem would disrupt the control of the sedan, it could lead to a crash. And if the airbags would not deploy, people could get seriously injured. In some cases, it might require you to pay for a pricey airbag replacement cost.
Nissan Versa Reliability
There are three generations in the Nissan Versa lineup:
First Generation: 2007 to 2011
Second Generation: 2012 to 2019
Third Generation: 2020 to present
As we mentioned before, not all Nissan Versa models are problematic. In fact, some of them remain within the top 10 affordable sedans for many. However, to determine which one you should get, you must be aware of the problems each model year has.
Nissan Versa Years To Avoid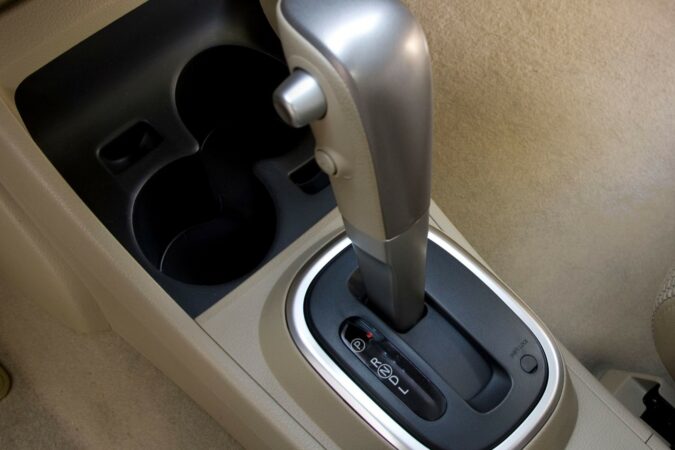 According to Car Complaints, a concerning 734 complaints and 150 problems were reported for the 2009 Nissan Versa. Almost 30% of this car's problems are linked to the suspension.
Out of 30% of these issues, about all of them were due to broken coil springs. Owners generally had to pay around $600 to get it fixed and the problems started appearing at about 71,000 miles.
Minor issues include hubcaps falling off, failing handles, failing exhaust system, and poor engine and transmission.
On the other hand, the 2012 Versa was riddled with transmission problems. A total of 145 problems and 708 complaints were reported by users – the most common issue being with the transmission.
70% of these complaints revolved around transmission failure. The average price of replacing a transmission is $4,000. Needless to say, this model year got awful reviews everywhere.
In general, the 2007 and 2012 model years are the worst Nissan Versas so avoid these at all costs.
In short, here are some of the Nissan Versa model years to avoid:
2007 – Total engine failure (sometimes with low mileage, preceded by loud clanking sounds), Takata airbag recall
2008 – Transmission issues (noted by a transmission fluid leak, hesitation while accelerating, and hard shifting), rusty exhaust flange
2009 – Faulty coil springs (usually in the driver-side rear, followed by the coil spring puncturing the tire), fuel pump failure (starving the engine of fuel, and stalling)
2012 – Transmission problems (could easily shift out of Park without depressing the brake pedal, causing roll-away incidents)
2014 – Transmission troubles (you can experience loud noises, inability to shift, or the car losing power when accelerating)
Best Nissan Versa Year
TL;DR, if you're thinking of getting a used example, here are some of the best Nissan Versa years to get:
2015 – You'll notice fewer issues compared to previous model years, and you can get one for a reasonable price. Fuel economy in this model year is pretty good (up to 40mpg, in some situations). On top of that, the redesigned interior is nicer to spend time in, is cozier, and is quite spacious. The ride quality is rather nice, too.
2018 – There are very few problems or recalls that you need to worry about. That includes a pleasing lack of widespread transmission issues. Moreover, the 2018 Versa offers efficient, smooth, and easy-going performance for an attainable price point. Granted, competing compact cars may have more equipment for this price.
2019 – You may know it as one of the smoothest, most comfortable cars in its class. In addition, Nissan continues to refine the powertrain to be both potent enough for day-to-day driving. Yet, it offers solid MPGs. You then get a lot of interior space (for its size), and a plethora of safety systems and driver aids built-in.
2020 – Numerous outlets such as US News gave it positive reviews for reliability. Moreover, its stylish and spacious interior, combined with comfortable ride quality, is well-priced. Compared to most other competing compact sedans in its class, the Nissan Versa offers you a lot more for the money than its many rivals.
2007 Nissan Versa Problems
The representative of the Nissan Versa line, the 2007 model had little to no performance problems. Of course, it was not immune to the occasional malfunction. The only problem users had with it apart from the faulty airbags were the hubs and wheels system. There were minor issues with the exhaust system too.
Nissan issued two recalls in the United States for Versa 2007-2011 to fix the airbag problem – the first in May 2016 and the other in July 2017. Dealerships were unable to solve this problem due to a shortage of parts so the problem only worsened.
Coming back to the hubs and wheel system, users reported that hubcaps would keep falling off. In addition, the tire pressure sensor light would remain on. Hubcap replacement costs just under $300 (if you're wondering about how much are car rims) and starts happening at around 38,000 miles.
2007 Nissan Versa problems were nothing out of the ordinary for a regular car. The exhaust system was said to go down with premature muffler corrosion of the occasional faulty catalytic converter. In both cases, the best solution was to replace the muffler which would cost the owner around $550. Symptoms occurred nearly 60,000 miles.
2008 Nissan Versa Problems
For the 2008 model year, the top complaints were similar to the 2007 model year problems – exhaust system failure, airbag issues, and poor seatbelts. The exhaust system issues include:
Rusting exhaust flange
Premature rust on the exhaust
Rotting of catalytic converter joint
Fixing the exhaust range would typically cost $280 and the problems would start at 61,000 miles on average. Experts recommended drivers change the exhaust assembly.
NHTSA complaints, for the most part, dealt with airbags and seat belt difficulties. The airbag light would blink continuously, airbags would not deploy, the air bag sensor was unresponsive, and users also reported that the airbag light would not turn off for multiple days at a time. Issues like that caused nine crashes, ten injuries, and 1 death.
2009 Nissan Versa Problems
Most of the complaints about the 2009 Nissan Versa focus on wheels and hubs along with suspension, with the NHTSA claiming 200 complaints poured in about the suspension. A broken coil spring was what was generally messing with the suspension.
Signs included faulty control arm bushings and a popping noise emitting from the front end. Owners would have to spend an average of $570 to get the broken coil spring repaired and it was assumed that the problems would start at about 71,000 miles.
2010 Nissan Versa Problems
It was in 2010 when a brand new complaint started surfacing about the Nissan Versa. Exterior accessories along with suspension problems had owners reporting 119 complaints. Airbag and seat belt issues were included as well.
However, the top complaints about the suspension remained the same – noise from the strut and strut and spring failure. Median general suspension repair costs rounded up to $630 and were incurred at around 66,000 miles.
Complaints registered at the NHTSA dealt with the airbag light staying on along with issues with the frontal airbags and seat belts. Problems like that caused ten crashes, one fire, and eight injuries. Drivers noted how the problems would start at about 23,000 miles.
2012 Nissan Versa Problems
Now comes the worst Nissan Versa to have been made by the automaker. Model years 2012 to 2017 displayed failures in the CVT transmission (which is reminiscent of the 2015 Nissan Altima transmission woes) and would have the owners spending thousands to get it fixed.
Granted, it's still cheaper than an outright replacement, as the high price of the Nissan Altima CVT transmission replacement cost show. The defect was brought up in a class action settlement in late 2018 but the actual lawsuit was filed in 2012. Main user complaints included:
Noisy transmission
Transmission failure
Clunking transmission
Car shifting roughly or jerking
2014 Nissan Versa Problems
2014 marks the last model year where there were significant Nissan Versa problems. Users complained about the transmission while NHTSA complaints talked about the drivetrain errors. The transmission would fail often, refuse to get into gear, and not deliver enough power to the engine to accelerate.
Typically, repair costs would average around $3,600 and customers could expect to develop in the car after 81,000 miles.
NHTSA complaints about the drivetrain focused on the loss of power during acceleration, the excessive time required to shift the car, wobbliness when the vehicle accelerated, and transmission failure during use. Two crashes and one injury were caused by these shortcomings.
Nissan Versa Recalls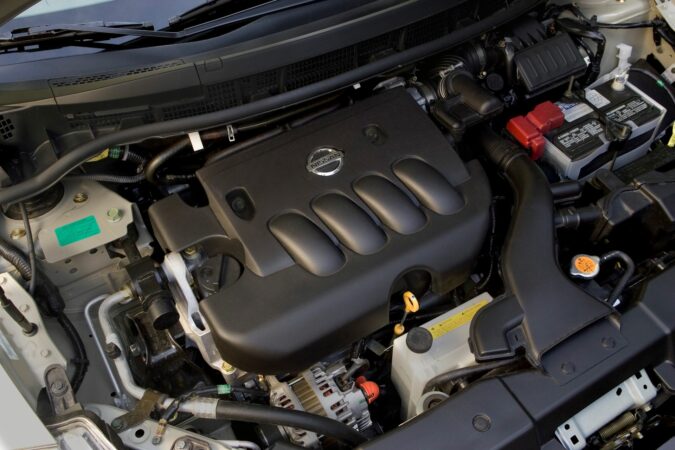 In its most remarkable 13-year lifespan, the Versa has been subjected to 22 recalls. To no one's surprise, the 2012 model year was recalled the most.
Usually, the automaker or the National Highway Traffic Safety Administration issues a recall due to widespread safety concerns. Most of them were owing to faulty passenger airbag inflators. Below is a table of Nissan Versa recalls to date:
Nissan Versa Recalls
Model Year
Number of Recalls
2007
8
2008
7
2009
7
2010
7
2011
6
2012
10
2013
1
2014
2
2015
1
2017
3
2018
2
2019
1
2020
1
One of the earliest and most severe recalls dealt with airbags for the window and sides. The manufacturers issued a recall because some model years were known to be equipped with a particular side curtain airbag.
Those airbags featured a harmful propellant mixture, decreasing the amount of compressed gas and stopping the airbags from deploying properly. One more recall was announced a few years later but this one mentioned passenger-side frontal airbags.
Some 2007 to 2011 Versa cars were recalled as they came with inflators prone to rupturing. When the propellant degraded due to long-term exposure to elevated temperatures, the airbags would fail to deploy.
There was another recall that dealt with the front suspension, suspension, and coil springs. Certain model years between 2007 to 2012 model years had corroded front coil springs. As a result, the coil springs would crack, occasionally puncturing the tire altogether.
2019 Nissan Versa Reviews
According to RepairPal, the 2019 Nissan Versa has a 4.0 out of 5.0 on the reliability scale.  It received 21st place in the 2019 Hatchbacks category, 11th place in the 2019 Subcompact Cars category, and slightly lowers rankings in a handful of other categories.
In the 2019 Affordable Small cars category, the Versa earned the 31st position as well as 37th position in the Used Subcompact Cars (Between $10,000 to $15,000), 45th place in Used Hatchbacks ($12,000 to $15,000), and 46th place in Used Small Cars ($12,000 to $14,000).
In total, the rating in the U.S. News Scorecard was 6.9 out of 10 while the critics' rating totaled 5.6. A breakdown of that:
Performance: 4.5
Interior: 6.2
Total ownership cost: 9.2
Safety: 8.1
Reliability score from JD Power: 3.5
All of these marks are out of a 10 scale.
2020 Nissan Versa Reviews
The 2020 Versa ranked significantly higher than its immediate predecessor by scoring the 6th position in the Subcompact Cars category. The car earned the 20th position in the Small Cars segment. The U.S. News Scorecard total is 7.7 out of 10 but critics rate it an impressive 9.2. Breakdown of score:
Performance: 6.2 / 10
Interior: 6.8 / 10
Safety: 9.5 / 10
JD Power reliability index: 3 / 5
The best features of the 2020 Versa include a lower price tag in comparison to other models, a stylish, sleek interior, great standard inclusions, and a reliable safety score. The cons of this otherwise good model would be the low-performing and weak engine, the slow-to-respond touch screen, the lack of functionality of the touch screen, and lesser second-row space.
Nissan Versa Similar Cars
When comparing two subcompact cars, we will take into consideration three factors:
Reliability rating
Miles covered
Maintenance cost annually
Honda Fit
Truth be told, the 2019 Fit outperforms the Versa in almost every single category, as the 2019 Nissan Versa got a rather poor score in the total US News Rankings. 2019 Honda Fit is only available in a hatchback design, but it does offer generous cargo space for the passenger area and gear.
It also features a roomy cabin and a decorated interior, dissimilar to the Nissan Versa. The Nissan only contains a single rearview camera whereas the Fit is equipped with multiple safety and driving assistance features to add to its overall reliability.
Although acceleration is not a strong suit for either of these cars, the Fit ensures better fuel economy and smoother handling. And if you're looking at the Fit, you might also be comparing the Honda Fit vs the Toyota Yaris. In short, both of the latter are good options.
Nissan Sentra
Comparing the Versa to a sister model, the Nissan Sentra is definitely a better compact car. It scores higher in terms of reliability and has an extra driver safety feature. The sweet 188 HP engine is one of the things owners liked most about this car, including the larger class.
The Sentra, however, does not offer any additional cargo or passenger space. That being said, we still think it's best to invest a little and get the Sentra instead of the Versa. Just make sure that you're also keenly aware of the Nissan Sentra problems before getting one.
Ford Fiesta
Based on covered miles, the Nissan Versa is as long-lasting as the Ford Fiesta (barring the 2011 problems). These cars can easily cross 200,000 miles with proper maintenance and care. Both scored a 4.0 out of 5.0 on the reliability scale of RepairPal, which marks the Ford Fiesta reliability as decent overall.
However, in terms of rank as a subcompact camp, the Versa is ahead. It stands at 9th position while the Fiesta is at 13th place out of 21. On average, maintenance of a Ford Fiesta costs $552 annually whereas it costs $456 per year to maintain a Nissan Versa. So, there is a $96 cost difference in terms of maintenance.
Final Thoughts
Be it used or new, a Versa is generally a good car. It's important to study the common Nissan Versa problems each model year displays. If you already own this car, knowing about these problems beforehand can help you extend the service life of your vehicle.
Frequently Asked Questions
If you're still curious to learn more about all the Nissan Versa problems, our FAQs here might help…
Is Nissan Versa A Good Car
For all that it offers, the Nissan Versa is indeed a pretty good car. For a compact sedan, it has a decent engine – not at all sporty, but enough to get you from A to B rather effortlessly. Plus, that powertrain has really good gas mileage. Additionally, its suspension and chassis are tuned well, rewarding you with a smooth and supple ride. Even that interior is quite well-appointed, with a good mix of comfort and nice-to-have tech. Although, room in the rear seats is a bit cramped compared to its rivals. If you can ignore its boring engine, the Nissan Versa is a great choice for anyone looking to get a practical, comfortable, yet affordable vehicle.
How Much Is A Nissan Versa
The latest 2023 Nissan Versa has a starting MSRP of $15,730. That makes it one of the cheapest new cars that you can buy today. In fact, you can still get the top-end Versa for under $20,000 (not counting all the options of course, but the most important ones). For that starting price of $15,730, you're getting the Versa S, with a manual. Or, if you'd want the automatic, the Versa S (with auto) starts at $17,400. Beyond that, the nicer, mid-range Versa SV trim starts at $19,020. If you don't mind spending a bit more to get a more well-appointed example, the Versa SR (the highest trim level) starts at a still-affordable $19,720, which is a lot of bang-for-buck.
Are Nissan Versa Reliable
Besides its great comfort, smooth ride, fuel-efficient engine, practicality, good interior, and affordable price point, the Nissan Versa is also fairly reliable. Based on a number of surveys, the Nissan Versa enjoys above-average reliability, especially with its more recent model years – specifically, around 2019 and up. These later model-year cars don't feature too many issues or recalls that you need to worry about. Although, you do need to be wary of the earlier Versas. That includes examples from 2007, 2009, and 2009, as well as 2012 and 2014. The latter two are among the most unreliable. Therefore, you do have to be cautious if shopping for one that's used.
How Long Do Nissan Versas Last
You'll note that the Nissan Versa is among the most reliable cars in its entry-level, affordable compact cars class. There were a few noteworthy and serious issues with the early model year examples. Although, in recent years, this has improved quite a bit. With that in mind, a Nissan Versa should handily last you upward of 200,000 miles. With good maintenance and diligent care, that should last you at least 13 years and beyond. The latter accounts for the fact that the average American typically drives around 13,000 miles every year. Once that 200,000-mile threshold is crossed, you'll likely need to rebuild, replace, and restore major parts to keep it going.
Why Are Nissan Versa So Cheap
The Nissan Versa is one of the cheapest cars that you can buy brand-new today. According to some statistics, it's as much as 60% cheaper than the average price of a new car in today's market. This has always been one of the biggest draws of the Versa – offering you a practical, easy-going, and efficient car at an affordable cost. In fact, its higher trim levels can still cost you less than $20,000 MSRP overall. There are a few reasons for this. Mainly, the Versa is a compact, no-frills car. That means you get plastic trim and a lack of leather upholstery. It's not as well-kitted as other cars, the engine is just about adequately powerful enough, but doesn't have that much power.
Approved Tools
These tools have been tried and tested by our team, they are ideal for fixing your car at home.