The Volkswagen Atlas is a three-row, mid-size crossover SUV from VW. It rivals other family SUVs such as Jeep Grand Cherokee L, Mazda CX-9, and Hyundai Palisade. In fact, it's been quite a popular option in recent years. But like any other car, the Volkswagen Atlas has its own list of reliability problems. So, what are the VW Atlas problems you might encounter?
In this post, we're compiling reviews and complaints from VW Atlas owners. From there, we'll identify what the common problems are with the VW Atlas and how serious they are. And of course, we'll list down the possible repairs and costs you might have to deal with if you're planning to, or already own a VW Atlas.
Volkswagen Atlas
The Volkswagen Atlas starts at around $32,000 and goes as high as $51,715 for the top SEL Premium R-Line. There are three engine options, but only two are available in the US. The 2.0 TSI 4-cylinder makes 235 horsepower, while the 3.6L V6 makes a more punchy 276 horsepower. Both engine options are mated to an 8-speed automatic gearbox. Meanwhile, the 7-speed DSG transmission is reserved for the Chinese market.
Reviews have praised the Atlas' cargo and passenger space. As for the driving experience, many reviews noted that both the 4-cylinder and V6 engines are decent, but acceleration is hardly anything out of the ordinary. However, both engines feel refined and rarely feel underpowered.
Handling in the VW Atlas is also decent, feeling very nimble and very well-behaved for a relatively large 7-seater SUV. However, the Atlas can ride quite roughly on bad surfaces. So if there are a lot of bad roads near where you live, be wary of the Atlas' ride quality.
Other downsides include the rather boring interior and cheap materials in a few places. The real-life MPG is also lower than VW claims, although to be fair this is the case with most cars. Volkswagen claims 21 mpg city and 24 mpg highway for the front-wheel drive 4-cylinder and 17 mpg city and 21 mpg highway for the front-wheel drive V6. If you want all-wheel drive, the V6 AWD will consume about 16 mpg city and 22 mpg highway.
Lastly, while this is very subjective, it has to be noted that the Atlas has a boxy and somewhat uninspired interior. However, if you like boxy-looking cars, the VW Atlas is sure to be one of the better-looking cars out there.
Volkswagen Atlas Problems
So, that's the overview of the VW Atlas. Decent engine options, and good passenger and cargo space, but really nothing out of the ordinary to write home about. But then again, this is a mid-size family SUV, so maybe you're not really looking for anything out of the ordinary. The question is, how reliable is it? What are the VW Atlas problems you need to be aware of? Here are a few user complaints that we found:
VW Atlas Problems #1: Forward Collision-Avoidance System Problems
One of the most common VW Atlas problems seems to be with the forward collision avoidance system or sometimes called forward collision warning. This is a system that provides drivers with a visual and/or audible warning to warn drivers of an impending collision.
In some cars, the car will simply alert the driver when they get too close and too fast to a car or other objects in front of the car. Meanwhile, in some other cars (including the VW Atlas) it will engage the brakes automatically for the drivers. While not 100% foolproof, this system helps drivers to avoid front collisions and has become a standard in most new cars.
Owners of the VW Atlas have complained that the system engages on its own even when there's nothing in front of the car. One 2019 VW Atlas owner stated on the NHTSA website: "On numerous occasions, our 2019 VW Atlas SEL Premium has engaged the brakes even when there are no obstacles to avoid creating a dangerous, scary, and unpredictable scenario for our family and other drivers around us."
Additionally, some owners have complained about the emergency brakes engaging on their own without warning. There are 11 similar complaints about the forward collision avoidance system on the NHTSA's website. And most of them are complaints from the 2018 and 2019 model year owners of the Volkswagen Atlas.
VW Atlas Problems #2: Engine Shutting Off While Driving
Another common VW Atlas problem is the engine shutting off on its own out of nowhere. Here's an experience from one of the owners that we found on the NHTSA's website (ID: 1135456):
"The vehicle shuts down while driving. It has happened 3 times. Auto start/stop is disengaged each time. In one incident (6/19/20) while driving 50mph, had to coast into a parking lot & restart the engine. Another (8/19/20) when slowing down to go into our driveway. Took the car to the dealer after each of these incidents. They could not diagnose the issue. The dealer has contacted VW tech & engineering. We have started a file with VW Customer Care. We were instructed by VW that the next time it happens, leave the car where it stops and call customer care for a tow."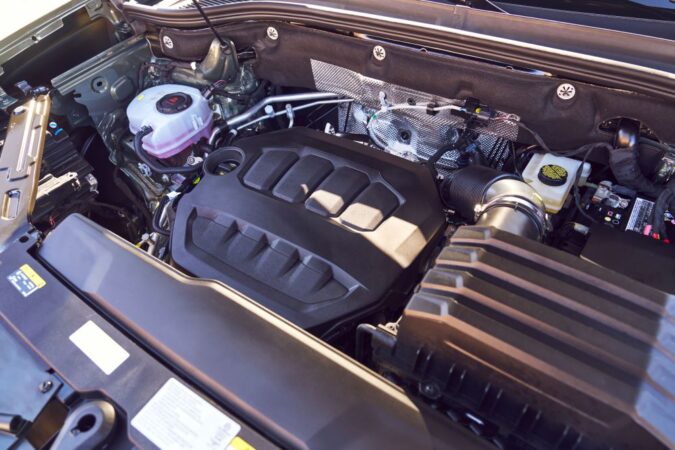 There have been other incidents regarding the engine as well. Some owners also complained that their VW Atlas' engine makes a weird noise while accelerating with no check engine light whatsoever, and sometimes the car would lose power while accelerating as well.
And finally, a few owners report problems with their fuel system. One owner complained that their Atlas won't take more than 3 gallons of fuel while refueling. They took the car to a VW dealership to replace the fuel canister, but the problem came back two weeks later. Another owner also reports a cracked fuel injector at just 21,000 miles. This isn't normal as fuel injectors usually last around 50,000 – 100,000 miles. This mostly affects the 2019 model year of the VW Atlas.
VW Atlas Problems #3: Coolant Loss Problems
Under normal circumstances, your car will lose very little coolant. If the car loses engine coolant rapidly, this likely means there's an underlying problem. This can be anything from a hose leak to a blown head gasket. However, VW Atlas owners have complained that they're losing coolant very quickly. In three different complaints, all of them state that VW dealers said that the coolant has "evaporated" and the car needs a refill. Here's a complaint from one owner (NHTSA ID: 11388276):
"Coolant loses 8oz of fluid every two months, dealer says it "just evaporates" it only has 12,017 miles on it. Just search all the forums to see all the complaints of the same issue."
Some owners complained this problem appeared as early as 8,800 miles, and their VW dealer has offered no real solution either. While coolant can evaporate over time, the normal rate for coolant loss through evaporation is about 0.25% in five months. This problem also seems to affect mostly 2019 VW Atlas, but it's not as widespread as the previous problems.
VW Atlas Problems #4: Weird Steering Noises
The VW Atlas' problems aren't limited to just their engines. In fact, many owners report that their experiencing weird steering noises with their VW Atlas. Several owners report that there's a weird clunking or squeaking noise coming from their Atlas when they turn the steering wheel. No matter how far and where they're turning from, the noise seems to always be present.
An owner even reported that their steering wheel is completely locked. They then have to replace the steering rack to fix the problem, and another owner reports that their 2019 Atlas is on its 3rd steering rack in six months. Volkswagen seems to refuse to acknowledge the issue and recall the vehicle.
VW Atlas Problems #5: Electrical Problems
German cars are known to be plagued by electrical gremlins, especially in the mid-2000s. While it has gotten better some cars have fairly few and minor electrical issues, the VW Atlas seems to be plagued by electrical gremlins. This is especially true for the 2018 model year of the VW Atlas, here's what one owner has to say (NHTSA ID: 11405606):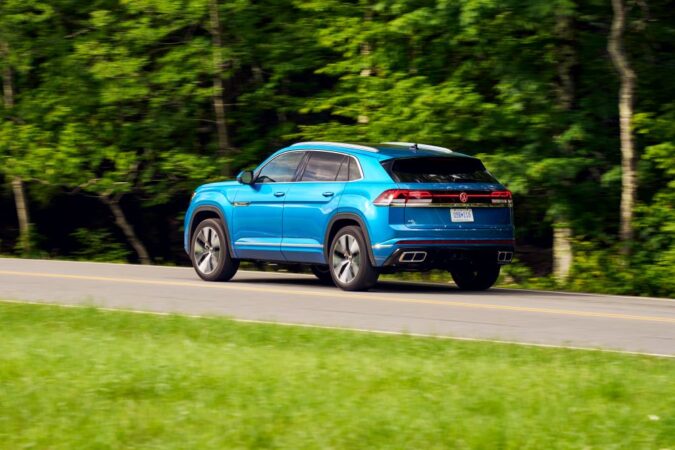 "When the vehicle is in motion, specifically when accelerating but at a low speed (when the doors would normally auto lock) the locks attempt to unlock repeatedly. There is also a light in the cargo area that doesn't turn on consistently and sometimes flickers when the car is running, in Park, and the rear gate is open."
There have been other electrical issues as well, a 2019 VW Atlas owner reports their rear window winding down on its own. While many other owners report a problem with their car not identifying the key and sometimes the keyless entry system wouldn't work.
VW Atlas Problems #6: Rust And Structure Problems
This is the weirdest one of all since new cars usually have factory-treated rust protection. This prevents rust from appearing on the car anytime soon, even in the most demanding and unforgiving areas in the world. By the time rust appears, it will be years after the car first rolled out of the dealership.
However, both 2018 and 2019 VW Atlas owners have reported spots of rust appearing on their brand-new cars. Some even report rust appearing all around the back door, side panels, and bottom half of the car. While it's normal for a car to develop rust on the bottom half of the car, it's definitely not normal to appear in a car that's less than five years old.
No information on whether or not Volkswagen is providing solutions for these owners. That being said, VW usually gives a rust warranty with varying terms and conditions depending on the car, and some owners stated that the Atlas comes with a 7-year limited warranty. Nevertheless, it's a big nuisance to deal with rust on a car that's less than five years old. Not to mention, rust repair costs can be quite substantial.
One last note, an owner has also stated that the storage compartment under the radio was wet and there was water dripping from the car's ceiling. Another owner reports that the sunroof on their VW Atlas broke on its own, with no sign of debris hitting it prior. Keep in mind that this is a more isolated issue and not as widespread as the rust problem.
VW Atlas Problems #7: Transmission Issues
Transitioning into another crucial component, the transmission has become a point of concern for several Atlas owners. Some have reported erratic shifting, while others talk about the transmission slipping between gears. A 2018 VW Atlas owner mentioned on the NHTSA website: "When accelerating from a stop, the car hesitates then suddenly jolts forward." Such unpredictable behaviors while driving can be hazardous.
Moreover, there have been complaints about a loud grinding noise emanating from the transmission during shifts. Although Volkswagen has often advised software updates to address these problems, some owners continue to experience them post the supposed fixes.
VW Atlas Problems #8: Infotainment Glitches
For many, the infotainment system serves as the control center of modern vehicles. Yet, several VW Atlas owners have reported recurring glitches. Some talk about the system randomly rebooting, while others mention an unresponsive touch screen. Additionally, issues connecting to Apple CarPlay or Android Auto have been shared by some users. Such disturbances can detract from the overall driving experience and potentially create distractions while on the road.
VW Atlas Problems #9: Air Conditioning Malfunctions
A cool car interior is essential, especially during hot summer months. But, a segment of Atlas owners have found themselves sweating it out due to A/C malfunctions. Complaints range from the A/C not blowing cold air, unusual noises when the system is active, or even complete system failures. While not necessarily a safety concern, it's certainly an issue of comfort and an unexpected problem for a relatively new vehicle.
VW Atlas Problems #10: Brake System Concerns
Safety always remains paramount when it comes to vehicles. Some VW Atlas owners have reported concerns related to the brake system. Issues include soft brake pedals, longer stopping distances, and squealing noises. Given that brakes are vital for vehicle safety, any inconsistency or unpredictability can result in perilous situations, emphasizing the importance of this concern.
VW Atlas Problems #11: Suspension Anomalies
The suspension system is key to a smooth ride, yet several Atlas owners have indicated otherwise. Some describe hearing a rattling noise when driving over bumps, suggesting potential issues with shock absorbers or struts. Others mention an uneven tire wear pattern, indicating possible wheel alignment problems. While not as immediate as other issues, suspension anomalies can lead to long-term wear and tear.
Volkswagen Atlas Recalls
Vehicle recalls might sound bad, but it's actually not such a bad thing. It's basically a manufacturer's way of saying they did something wrong and they're going to fix it. No matter how brilliant the engineers and designers are, sometimes they're bound to miss a few things.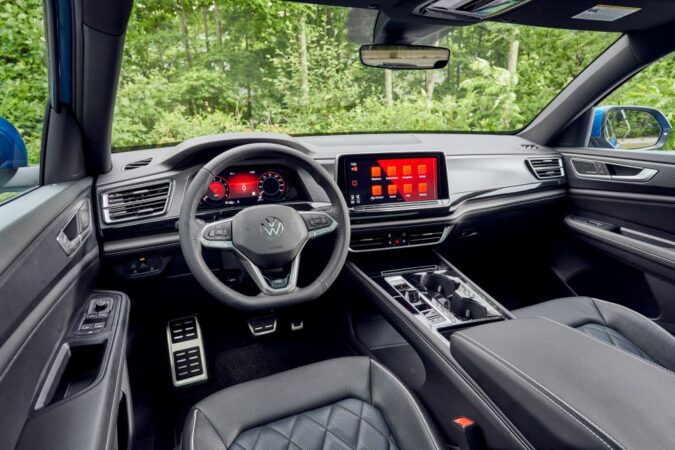 Maybe there was a problem with the manufacturing process. Or, maybe there was a badly designed component that they didn't notice during development and needs to be replaced to prevent severe damage or accidents. Recalls are perfectly normal, to a degree, of course.
There have been six recalls for the 2019 VW Atlas, and 14 for the 2018 model years. Here's what the recalls entail:
2018 Volkswagen Atlas Recalls
The 2018 VW Atlas has had two recalls regarding fuel tanks and fuel leaks. There were also two recalls regarding braking issues, one for possibly loose bracket bolts and one for insufficient braking performance. Then another three recalls were made for airbag-related issues.
VW also recalled the Atlas for a possible belt buckle issue, as certain child seats may damage the buckles. Owners were notified and dealers inspected the center and left outboard seat buckles. Another serious recall was for the rear coil springs, which could fracture while driving. VW dealer replaced the rear axle coil springs for free.
Another minor recall was also made for a warning malfunction. The Atlas is supposed to notify the drivers when the key is left in the ignition, and this warning sound may malfunction. VW then did a recall in 2019 for a headlight issue, then again in 2020 for modifications that made the vehicles non-compliant with regulations.
Two more recalls were made in 2021 regarding tire failure and modification issues similar to the 2020 recall.
2019 Volkswagen Atlas Recalls
There have so far been six recalls for the 2019 Volkswagen Atlas. One recall is related to the key in the ignition warning issue. There was also a recall for the rear coil springs, headlight issue, fuel tank leak, and possible tire failure. These recalls are similar to the 2018 VW Atlas.
And finally, there was also a recall for the side impact airbag. The problem was that the side airbags may not deploy correctly in the event of a crash. VW dealers will replace the defective part free of charge if necessary.
If you already own a VW Atlas, or you want to check if there have been any recalls for the vehicle you own now, you can go to the National Highway Transportation Safety Administration (NHTSA) site's recall section. From there, enter your car's VIN and it will show whether your vehicle is part of a recall or not.
Buyer's Guide
The good things about the VW Atlas are as follows: good passenger and cargo space, decent engine options, available in all-wheel drive should you need it, and good road behavior, and comfortable ride in most conditions. Reviewers often recommend the SE line which costs about $35,915. If this ticks all your boxes, then the Atlas is a strong contender.
However, as we've seen, it does seem to be plagued by quite a lot of issues. Engine and electrical problems are especially common with the Atlas. If these problems are a turnoff or sound unnerving, then we won't blame you if you decide not to buy the VW Atlas.
However, if you're still considering buying the VW Atlas, here are our tips:
1. If You're Buying Brand New
If you're buying brand new, there's not a lot that you can do. Your best bet is to pick the model trim that fits you, and fingers crossed that you won't get a bad unit. Hopefully, you won't experience any of the problems mentioned above.
Note that many 2021 VW Atlas buyers are still reporting the same problems: front collision warning issues, accelerating problems, and even faulty entertainment systems. It does seem that 2021 VW Atlas owners with the 4-cylinder engine are happier with their purchase, we're seeing a lot fewer engine complaints from them. So it might be a good idea to avoid the V6 engine versions.
Note that the R-Line models are only available with the V6 engines. So, if you want the 4-cylinders, you'll have to stick with the non-R-Line trim levels.
2. If You're Buying Secondhand
If you're buying secondhand, then first and foremost check the vehicle's service history thoroughly. This will tell you if the previous owner has done the proper maintenance. If not, run away and find another car. You don't want to deal with a car that has reliability problems that aren't serviced regularly.
You should also note that, unlike some cars, there are no particular model years of the Atlas that are better. All VW Atlas models thus far are plagued by similar problems, and not one model year seems to be more reliable than the other.
Also, check if the car has been recalled, this will decrease the chances that you will have to deal with certain issues in the future. Next, take a thorough test drive. Make sure there aren't weird noises coming from the engine or anywhere in the car under normal driving conditions. Also, remember to check if all the electricals such as the entertainment system, locks, and windows are working properly.
Basically, since you now know the common VW Atlas problems, you can look out for these problems when you inspect a potential car.
Finally, ask the owner if it would be alright for you to inspect the car and bring a professional mechanic. There might be some problems that only professionals can spot. So, it's a good idea to have the car inspected thoroughly by a professional. You can ask a trusted mechanic or use car inspection services, they should cost you no more than $250.
VW Atlas Alternatives
We've written many articles about common reliability problems with certain cars in the past. And to be honest, the Atlas seems to be one of the worst ones. Not only there are serious widespread issues, but VW dealers aren't particularly helpful either. Most dealers are only providing temporary solutions, sometimes not even giving customers a clear reason why their car is so unreliable.
It makes the Nissan Rogue's notorious transmission problems seem minuscule in comparison. Nissan will at least give owners a straightforward solution, in most cases anyway.
But it's no good telling you to avoid a certain car, without giving you any alternatives for your driving needs. We like to be helpful here at MotorVerso, so here are some possible alternatives to the VW Atlas:
Mazda CX-9
The Mazda CX-9 starts at around $35,000 and goes as high as $48,000. So it starts out a bit more expensive than the Atlas, but the most expensive version is around $3,000 cheaper. The CX-9 only has one engine option, and that's the turbocharged 2.5L 4-cylinder engine. So if you want more power, you're out of luck. But that being said, the CX-9 still has 250 horsepower and that's more than the 4-cylinder Atlas.
Better still, many reviews commend the Mazda CX-9 for excellent driving dynamics. The firm but supple suspension makes the Mazda CX-9 a wonderful SUV to drive. Downsides? Well, the cargo space is hardly exceptional. And the third-row seats aren't exactly spacious either.
Additionally, the Mazda CX-9 is showing its age on the inside. The interior's design has been around for a while and could use an overhaul. However, the fit and finish are still brilliant and you'll find a few cheap interior trims inside. If you like driving above all else, this is the SUV for you.
Jeep Grand Cherokee L
If you're proud of being American and American cars, the Jeep Grand Cherokee L is a good option. It's available with a 290 horsepower V6, or a 357 horsepower V8 if you're feeling naughty. But it's probably better that you get the V8 model instead, as it has better power delivery and feels more refined than the V6.
The Grand Cherokee L has excellent off-road capabilities and surprisingly good road behavior. Reviewers report that the Grand Cherokee L has decent handling, and ride comfort is quite decent as well. However, the Grand Cherokee L starts at around $41,000. Almost $10,000 more than the VW Atlas, and if you want the full bells and whistles, the 'Summit Reserve' version will cost you around $62,000.
Hyundai Palisade
If you're looking for a more sensible option, then might we suggest the Hyundai Palisade. This new mid-size crossover SUV from the South Korean manufacturer starts at around $34,000 while the 'Calligraphy' top-of-the-line model is around $47,000.
All Palisade in the US comes with a 3.8L V6 engine making 291 horsepower. The Palisade utilizes an 8-speed automatic transmission and a front-wheel drive system, with all-wheel drive available as an option. But this comes as standard in the top Calligraphy model.
The Palisade is capable of towing up to 5,000 pounds, which is less than the Grand Cherokee L which can tow up to 6,200 pounds in the V6 model. However, power delivery is adequate, and the driving experience is overall decent. It's not quite as exceptional as the Mazda CX-9, but good nonetheless.
The Hyundai Palisade also offers good cabin space. It may not stand out in any particular way, but it's a well-rounded package and comes well-equipped, making it a very good value buy. It's also a pretty cool-looking SUV.
In Conclusion…
Most cars will have their own list of common problems, and the Volkswagen Atlas is no exception. But we can't help but notice that the VW Atlas has severe engine problems and electrical gremlins. Some of them – like the engine shutoff and collision avoidance errors – are downright dangerous. Even worse, VW dealers are not providing clear answers, let alone solutions for their customers.
If you still want to own the VW Atlas, hopefully, this article has helped you learn more about the VW Atlas problems you should look out for. And maybe even help you pick out a good unit in the future. If not, there are other very desirable options out there and we've mentioned a few that we think are very interesting. Happy shopping!
VW Atlas Problems Essential Knowledge
The Volkswagen Atlas is a midsize SUV with an impressive towing capacity and cargo space.
Dead battery issues are among the most common problems Atlas owners face, with the problem being most reported on the 2018 and 2019 models.
The dead battery problem has been linked to the Start-Stop feature that turns off the engine at stops, causing excessive battery drain.
Some Atlas owners have reported the emergency brakes activating while driving, a problem that has been linked to electrical issues caused by wiring harness corrosion.
Windows rolling up and down on their own is another problem Atlas owners have reported, which has also been linked to electrical wiring harness faults.
Excessive wind noise while driving above 40 mph has been a common complaint from 2018 Atlas owners, which has been linked to the driver's side outside mirrors.
Squeaky and grinding brakes have been a common problem reported on 2019 to 2022 Atlas models, which may be solved by replacing defective brake pads and/or rotors.
Some Atlas owners have reported the left wiper blade hitting the left A-pillar at high speeds, which can be fixed by adjusting the wiper arm down slightly.
A number of Atlas owners have reported rear liftgate problems, such as it not opening or closing, opening only halfway, or having a mind of its own.
Volkswagen has reportedly not been very helpful in addressing the liftgate problems, leaving many customers dissatisfied and seeking legal recourse.