If you're looking to purchase a new car, you might have noticed that many vehicles have letters or acronyms, such as "SE", especially in a Toyota. So what does SE mean on a car, and how does it impact the features and performance of the vehicle? We'll examine the SE moniker in more detail in this article and discuss what it usually means. 
Known for its distinctive sporty design and improved driving experience, the SE trim level is a popular choice for many Toyota cars. The SE trim often has a number of performance-focused features in addition to those found in the standard trim. For drivers seeking a more engaging and dynamic driving experience without committing to a full-fledged performance model (or, simply cars that look sporty), the SE trim is an alluring option.
We'll look at some of the standard features and upgrades that SE models include and how they stack up against other trim levels (such as comparing a Highlander Limited vs Platinum trim level). You can learn more about what SE stands for on a car, regardless of whether you're a car enthusiast or just trying to make an informed choice on your next vehicle purchase. 
Let's first establish a trim to comprehend trim designations. A specific name is given to the trim, which refers to a certain car version with a specific set of features and setups. Trim levels, sometimes known as trim packages, provide different elements to a certain model. These include performance enhancements, updated technologies, and safety features.
Trim Level On A Car
Trim levels describe the numerous configurations or variations of a certain automotive model available to purchase. Depending on their personal tastes and financial constraints, customers can choose from different trim levels. Additionally, some trim levels could have extra safety features not seen on cheaper trims, such as blind-spot monitoring or forward collision warning.
Although certain models only come in one version, automobile manufacturers today provide a wide range of trims. The least expensive base models are often the ones with the fewest features and with smatterings of substandard materials. As you go up the trim levels, the price will significantly increase. 
Depending on the model, upgrades could include bigger engines, better sound systems, leather upholstery, sportier styling, and a host of other things. Then there are the high-end and luxury trims, which come with every upgrade imaginable and more. Overall, trim levels have a significant impact on a vehicle's pricing and performance.
They are crucial in assisting buyers in selecting the vehicle that best suits their needs and preferences. Making an informed choice when buying a car requires carefully weighing the various trim levels offered and their accompanying features and costs.
For more insight, check out our guide on how do I know what trim my car is, as well as how do I find out what options my car was ordered with.

Toyota cars are available in a range of trim levels, each with its own special features and price range. You may choose a Toyota vehicle that best meets your demands and budget by being aware of the many trim levels that are offered.
Toyota Trim Levels
The "L" trim, is frequently the base model for many Toyota automobiles. Basic equipment like power windows, air conditioning, and a rearview camera are frequently included with the "L" trim. It is a fantastic choice for individuals looking for a dependable vehicle with basic equipment at a reduced price.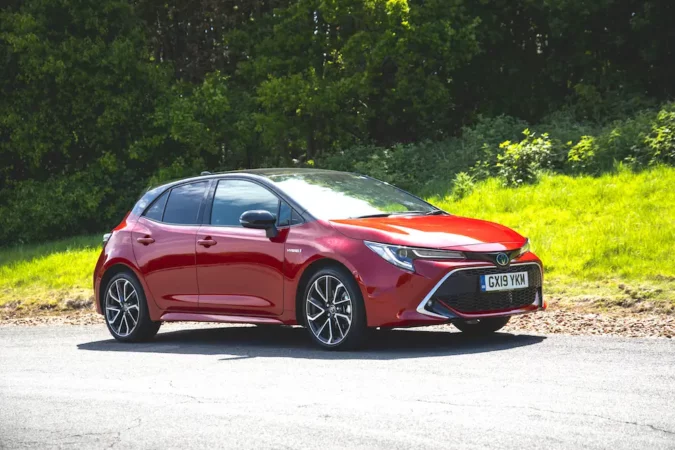 The "LE" trim is a step up from the "L" trim. It comes with extra features such as an updated infotainment system, remote keyless entry, and better interior materials. 
The "XLE" trim placed above the LE can be regarded as a budget luxury model. A power moonroof, leather seats, and a premium audio system (some cars with the best sound system are found here) are features commonly included in this trim level. Anyone looking for a car that blends comfort and performance may consider the "XLE" trim.
Those that seek a sportier driving experience are targeted by the "SE" trim. Features of this grade level include a sport-tuned suspension, paddle shifters, and a distinctively sporty external styling. Those looking for a more exciting driving experience (this is where you find some of the best used sports sedan models) should definitely consider it.
Similar to the "SE," the "XSE" model would also have heated front seats, a power sunroof, and a bigger infotainment screen. If you're looking for a sporty car with extra comfort amenities, the "XSE" is a fantastic choice.
The "Limited" trim, which often comes with the most cutting-edge technology and opulent amenities, is the top-of-the-line trim level. For those looking for the best of the best, the "Limited" trim is a fantastic choice.
SE Meaning
Depending on the automobile manufacturer, SE can mean several things. Yet Special Edition, Sport Edition, and Special Equipment are the three most frequent definitions of SE. The SE trim typically has more features than the base or standard trim.
Depending on the model, the car's inside and appearance may have been improved. Let's examine the various interpretations of the SE designation:
What Does SE Mean On A Car #1: Special Edition
SE typically refers to the Special Edition model. "Special Edition" designation is a general word used to denote that it is more technologically advanced than the original model. Contrary to what the term implies, special edition cars are just equipped differently from the base trim. However, they are neither rare nor limited.
Then again, what is included in a Special Edition trim varies greatly across different models and auto manufacturers. The vehicle is a step up over the original model even if the Special Edition trim doesn't actually reflect any specific changes.
What Does SE Mean On A Car #2: Sport Edition
Sport Edition is another frequent use of the SE abbreviation. A Sport Edition trim, as its name suggests, provides an improvement in performance over lower trims. The engines in Sport Edition cars are typically bigger or more powerful, and/or they may have stiffer, sportier suspensions underneath.
Fundamentally, Sport Edition trims are designed to perform faster than the normal model.
What Does SE Mean On A Car #3: Special Equipment
Special Equipment is another possible meaning of SE, albeit it's less frequent than the other two. A car with a few non-standard enhancements over the original model is simply described as having special equipment. In some circumstances, special equipment may refer to enhanced equipment, such as a superior transmission or suspension system, that comes with a specific model.
Similar to the previous meanings of SE we've discussed, Special Equipment informs the customer that it provides something more distinctive beyond the regular version.
SE usually refers to "Sport Edition" in Toyota cars. The SE trim level is an option on a number of Toyota models (you can learn more about the brand in our explainer on where are Toyotas made), and it offers a sportier and more exciting driving experience. The sport-tuned suspension is one of the most noteworthy characteristics of a SE model.
SE Meaning In A Toyota
This indicates that the suspension system has been specially modified for greater driving dynamics and more responsive handling. 
Paddle shifters are yet another characteristic frequently found in SE models. The driver may manually swap gears without using a conventional shifter thanks to these tiny paddles that are found behind the steering wheel. As a result, the driver has more control over how the car operates, which adds more excitement to the driving experience.
Moreover, SE versions frequently have a more aggressive external style. These could include distinctive design features including sportier front and rear bumpers, side skirts, and bigger wheels. These elements improve the performance of the car in addition to being more aesthetically pleasing to look at. Not really cars with wide body kits, but close enough.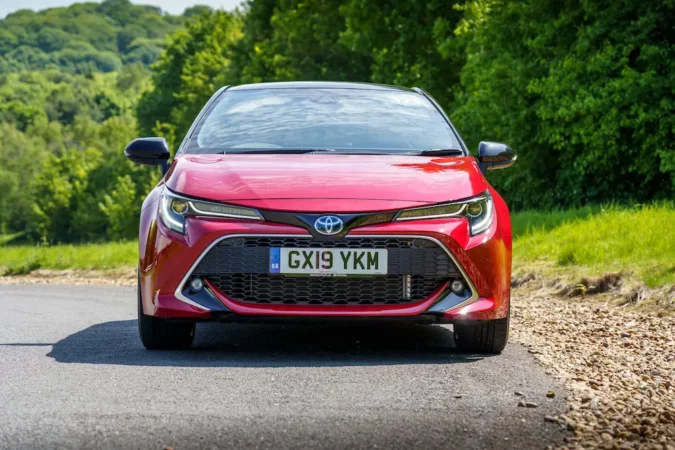 SE models also frequently have distinctive interior trim and upholstery materials inside the cabin. This may include sporty seats with more obvious bolstering that helps in holding the driver and passengers safely in place during spirited driving.
Additional features can include a steering wheel and gear shift knob covered in leather, along with other elements like a bigger infotainment screen or a better music system.
In conclusion, an "SE" Toyota model usually denotes a sportier variation of the standard model. SE variants are made to offer a more interesting and enjoyable driving experience thanks to a sport-tuned suspension, paddle shifters, and distinctive exterior and interior appearance. 
Because of this, driving SE models are exceptionally enjoyable, especially on winding roads or in circumstances that call for fast maneuvers. 
Toyota SE Vs LE
Both the Toyota SE and LE trim levels are well-liked choices for Toyota cars. SE is regarded as an upgrade in terms of amenities and performance. On the other hand, the LE is frequently the base model for many Toyota automobiles and SUVs.
LED headlights, a rearview camera, and Toyota Safety Sense, which incorporates adaptive cruise control and lane departure warning, are frequently included as standard equipment with the LE. It is made to be a useful and dependable solution for drivers who value price and efficiency over sporty performance.
The LE trim typically has items as standard equipment including a rearview camera, and LED headlights. It also usually features Toyota Safety Sense, which includes a set of driver-assistance features. It is intended to be a reliable and practical choice for those who value price and economy over sporty performance.
The SE, on the other hand, is typically regarded as the more fashionable and sporty choice. It frequently has extras like larger wheels, a sport-tuned suspension, and paddle shifters. These elements are designed to improve driving and make the journey more exciting.
The SE may also come with a number of exterior styling enhancements, like a distinctive body package or blacked-out trim.
Although the LE and SE may differ in terms of features and performance capabilities, they are both dependable options that are made to last. These trim levels are preferred by drivers who desire a vehicle they can depend on for many years. This is because both of them come with Toyota's impeccable reputation for quality and durability.
Choosing Between SE And LE
It ultimately comes down to personal preference and priorities when choosing between the SE and LE trims. LE might be a better choice for you if fuel economy and a reduced price are important to you. The SE might be the better option if you want a more exciting driving experience and are willing to pay a little bit extra.
Drivers may choose from a wide range of features and extras throughout the Toyota SE and LE trim levels. This makes it possible for them to find the ideal car to suit their needs and tastes.
TRD Meaning
TRD stands for Toyota Racing Development, which is a division of the Toyota Motor Corporation that focuses on creating high-performance parts and accessories for Toyota vehicles. It was established in 1976 and has been in charge of creating aftermarket enhancements for Toyota's consumer vehicles.
On top of that, TRD is also credited with creating some of the company's most recognizable and successful race cars.
The products made by TRD are intended to enhance the handling, performance, and overall driving experience of Toyota automobiles. This may involve everything from exhaust system upgrades to engine tuning and more, including suspension upgrades. Racing fans frequently employ TRD components to increase the speed and handling of their cars.
TRD creates special editions of some of Toyota's most well-known automobiles in addition to aftermarket improvements. These special editions often have a more performance-oriented design and distinguish themselves from ordinary models with distinctive aesthetics and features. Not to mention, being some of the fastest Toyota cars around.

TRD special editions include models like the Toyota TRD 3000GT Supra, Toyota 86 TRD, and Toyota Tacoma TRD Pro.

The TRD Pro suspension system is one of the most well-known TRD products. This suspension system increases Toyota trucks' and SUVs' off-road prowess, making them better at navigating difficult terrain. The improved shocks, springs, and other parts of the TRD Pro suspension system offer a smoother ride and better handling on unpaved surfaces.
Overall, Toyota's dedication to building high-quality, high-performance cars is greatly enhanced by TRD. Whether you're a racing fan aiming to lower your lap times or a truck owner wanting to take your vehicle off-road, TRD provides a wide choice of goods and special editions to match your needs.
What Does SE Mean On A Car: Trim Levels Of Toyota Camry
Since its introduction in 1982, the Toyota Camry has been a well-known mid-size sedan. Toyota has released a variety of Camry trim levels over the years, each with its own special features. Here are the Toyota Camry's numerous trim levels and how they differ from one another.
The L trim level represents the Camry base model. A 7-inch touchscreen with Apple CarPlay and Android Auto is included, along with LED headlights. The L trim also has Toyota Safety Sense 2.5, which offers automatic emergency braking, lane departure warning, and adaptive cruise control.
Following the L trim level is the LE trim level which has a similar feature set to the L. But it includes a few more comfort options such as a power driver's seat, a rear seat armrest with cupholders, and a 60/40 split-folding rear seat. A six-speaker stereo system, an updated 8-inch touchscreen, and 17-inch alloy wheels might also be included with the LE.
The Camry comes in a sportier trim level called SE. It features a sport-tuned suspension, 18-inch alloy wheels, and a distinctive front fascia with a black grille. A leather-wrapped steering wheel and sports seats with fabric inserts (it might be handy to learn how to clean car seats fabric yourself) are further additions to the SE. Moreover, it incorporates steering-wheel-mounted paddle shifters that let the driver manually change ratios.
The Camry's XLE trim level is its most opulent model fully loaded with luxury features. The XSE trim level (including the Toyota Camry XSE with its lovely red interior) is comparable to the SE and has all of the XLE's amenities. It also includes a few sporty accents and a little more power from the 4-cylinder engine. 
What Does SE Mean On A Car: Camry SE Vs LE
For those seeking the sportiest driving experience, the Camry TRD is a special version of the Camry. It has a TRD cat-back exhaust system along with a stronger 3.5-liter V6 engine as standard. Also, check out our guide on where is the catalytic converter located. Speaking of, if you're thinking of getting a Camry for yourself, do check out our other Camry-related guides:
The Toyota Camry is a popular mid-size sedan praised for its reliability, comfort, and affordability. The SE and LE trims, each with their unique set of features and advantages, are two of the most popular choices in the Camry lineup. The differences between the Camry SE and LE are the following.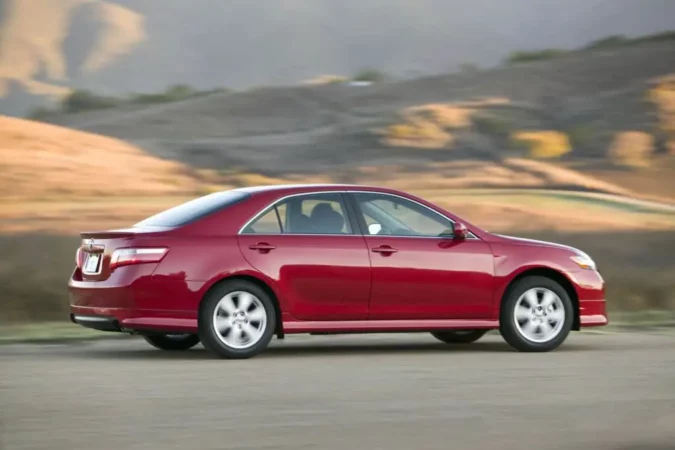 The Camry LE, which serves as the lineup's entry-level model, aims to strike a balance between price and convenience features. It has a standard 2.5-liter four-cylinder engine with 203 horsepower and 184 lb-ft of torque and an eight-speed automatic transmission. 
Automatic headlights, LED taillights, a six-speaker audio system, a 7-inch touchscreen, and Toyota Safety Sense 2.5 are additional amenities that come as standard on the LE. This suite of cutting-edge driver-assistance technologies includes adaptive cruise control, automated emergency braking, lane-departure warning, and front collision warning.
On the other side, the Camry SE is positioned as a sportier and more performance-oriented alternative. It has the same engine and transmission as the LE. However, it also has a number of additional improvements that improve both the aesthetic and driving performance of the vehicle. 
What Does SE Mean On A Car: Conclusion
The SE adds paddle shifters, a rear spoiler, wider wheels and tires, and a sport-tuned suspension. It also sports a distinctive front grille design, exterior details that are blacked out, and a steering wheel and shifter that are wrapped in leather. A wireless charging pad (to learn more, check out our guide on how to sync my phone to my car), an 8-inch touchscreen, and a six-speaker audio system are also among the extra features the SE offers.
SE is a trim level that's frequently used in the auto industry to indicate the degree of features or equipment in a specific car model. Generally speaking, the SE trim level stands for "Special Edition," though this can differ from manufacturer to manufacturer. Between the base model and the higher-end trim levels, this trim level is frequently chosen as a mid-level choice.
Most vehicles with the SE trim level have a number of standard amenities that are not included in the base model. Upgraded wheels, a more potent engine, automated climate control, keyless entry, and a bigger infotainment screen are a few examples. Better materials and more comfy seats may be found in a SE-trimmed car's interior as opposed to a base model.
The SE trim level on Toyota automobiles typically offers a more sporty exterior appearance and driving experience. It features options such as special alloy wheels, a sport-tuned suspension, and an aggressive front grille. Sport seats, a leather-covered steering wheel, and other sport-inspired features are also frequently added to the interior of these vehicles.
Overall, the SE trim level is a fantastic choice for gaining a more thrilling driving experience without breaking the bank. It is a well-liked option among Toyota purchasers because it provides a nice blend of comfort, performance, and safety.
FAQs On What Does SE Mean On A Car
Here are some popular FAQs on what does SE mean on a car:
What Does GL Mean 
The trim level GL is frequently used by automakers to indicate a particular level of features and equipment in a particular model of an automobile. Depending on the manufacturer, Grand Luxury or Grade Luxury are the terms denoted by the acronym GL. This trim level is frequently found between the base model and the higher-end trims. 
What Does SI Mean 
Honda frequently uses the trim level SI in a few of their vehicle models. The SI abbreviation stands for Sport Injected, and it's intended to provide drivers with a sportier driving experience. With features like special alloy wheels, a rear spoiler, and a sport-tuned suspension, Honda vehicles with the SI badge typically have a more aggressive exterior appearance.
What Does SE Mean 
SE in a car usually stands for Special Edition. Usually, automakers use it to refer to a particular trim level or package that comes with extra features over the standard model. The SE trim level frequently sits between the entry-level model and the more expensive trims. Features and design aspects included in a SE trim level can change depending on the automaker.
What Does LT Mean On A Car 
Chevrolet frequently uses the trim level LT in some of their vehicle models. The LT abbreviation stands for Luxury Touring, and it's intended to give drivers a more relaxing and opulent driving experience. Often, the LT trim level sits between the base model and the top trims. The LT trim level typically comes with extra features that are not offered in the base model.
What Is Trim On A Car 
Several pre-packaged groups of features for a particular car are referred to as automotive trim kinds or levels. The base model is the lowest, most basic option with the fewest features. Higher trim levels typically come with more features, technology, and performance improvements at a higher price.
What Does LTZ Stand For 
Several automakers, including Chevrolet, Suzuki, and others, frequently utilize the trim level or package term LTZ. LTZ, which stands for Luxury Touring Z, is the designation for higher-end features and luxury in Chevrolet automobiles. The letter Z denotes that the trim is the top tier of luxury touring.
What Does TRD Mean 
TRD stands for Toyota Racing Development. It is a branch of the Toyota Motor Corporation in charge of creating and manufacturing high-performance accessories and parts for Toyota cars as well as taking part in racing. TRD was established in 1979 and has participated in numerous racing events since then. These include the World Rally Championship, the Dakar Rally, and the NASCAR Cup Series.