There's no denying the 2014 Ford Focus is a popular car. It's great around town, has decent gas mileage, and looks excellent. The Ford Focus is one of the brand's most successful vehicles. But this car has some problems that aren't so easy to overlook and you might be wondering what are the 2014 Ford Focus problems?
Common 2014 Ford Focus problems affect the transmission, PCM, and engine. You might notice the steering wheel becomes stiff, or the clutch doesn't work. Problems in car transmissions are dangerous as they can cause severe accidents and harm car drivers.
If you've acquired a new 2014 Ford Focus or want to, you should research the vehicle's road safety, problems, and reliability properly. In this article, we have enlisted all the problems you may face while using the 2014 Ford Focus, and we have also talked about its reliability. If you own a 2014 Ford Focus or if you are planning to buy one, then you should read this article to the end.
2014 Ford Focus
The 2014 Ford Focus is a compact car with four-door hatchback styling available in three trim levels. The hatchback and sedan are both sleek, aerodynamic, and affordable. The Focus is a good choice for families with young children.
Interior Features
Push-button start.
Ford's Sync infotainment system. 
Bluetooth phone and audio streaming.
MyFord Touch. 
8-inch touch-screen display. 
CD player.
The 2014 Ford Focus has a beautiful interior; there are options for leather upholstery, heated front seats, and a power-adjustable driver's seat. Soft-touch materials are used throughout the interior.
Performance
The vehicle has a 2.0 L four-cylinder base engine that generates 160 horsepower and a standard five-speed manual transmission (a six-speed automatic transmission is optional).
The Focus ST model is more sophisticated, with the four-cylinder engine producing 252 horsepower. Its fuel economy is good; the base engine has an EPA fuel economy of 27 mpg in the city and 36 mpg on the highway with the six-speed automatic transmission, while the turbocharged engine has 23/31 mpg city/highway.
Safety
2014 Ford Focus has a 5-star safety rating from the federal government's National Highway Traffic Safety Administration (NHTSA). NHTSA also gave it four stars after conducting frontal crash and rollover tests. Outstanding safety features on the 2014 Ford Focus include:
4-Wheel ABS.
Front Disc/Rear Drum Brakes.
Brake Assist.
Child Safety Locks.
Traction Control.
Driver Air Bag.
Passenger Air Bag.
Front Head Air Bag.
Rear Head AirBag.
Front Side Air Bag.
Price
The 2014 Ford Focus has an MSRP of $16,810 for the S trim, $18,615 for the SE Trim, and $23,565 for the Titanium.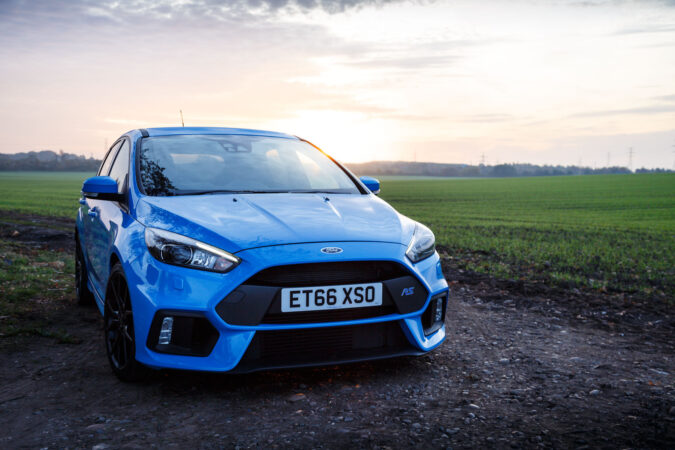 Ford Focus 2014 Problems
On average, the 2014 Ford Focus Trend owners have experienced numerous problems. The most common problem is the vehicle's transmission, engine, and electrical system. Users have lodged several complaints with the NHTSA.
2014 Ford Focus Recalls And Problems
FDM
Ford started a recall in September 2014 for some Ford Focus 2014 vehicles with Fuel Delivery Module (FDM) problems. In the affected vehicles, the FDM cracks between the filter body and the filter cap. This opening causes low pressure in the fuel delivery module. Ford notified owners that they could replace the FDM without charge. Ford's number for this recall is 14S20.
Steering Problems
Ford also made a recall concerning steering problems in some of the 2014 Ford Focus vehicles. The recall started on November 11, 2014. For this issue, steering gears were not correctly assembled. Ford notified owners to go replace the steering free of charge. Ford's number for this recall is 14S18.
Door Latches
They began a recall on January 27, 2017, concerning door latches. This fault was a broken component in the door latch that prevents it from latching. The driver might dive off thinking the door is securely closed when it's not. They notified the car owners to get the latch replaced at no cost. Ford's number for this recall is 16S30.
Hatchback Latch
They began a recall on February 10, 2017, for some of their 2014 Ford Focus hatchback vehicles with manual transmission concerning latching issues. The affected vehicle may be unlatched with a single push of the interior latch release button.
The hatchbacks were not up to Federal Motor Vehicle Safety Standard's requirements for "Door Locks and Door Retention Components." However, users can get the Body Control Module reprogrammed with updated software at no cost. Ford's number for this recall is 16C13.
2014 Ford Focus Transmission Problems
Ford Focus 2014 owners have lodged 302 complaints on Carcompaints.com and NHTSA about the vehicle's transmission system. Common symptoms of transmission issues are low transmission fluid and a burning smell in your car. The affected vehicles may stall and jerk while you're driving. When the automobile hesitates before taking off or stalls when changing gear, jerking may occur.
Stalling and jerking are caused by malfunctioning powertrain control modules and incorrect TCU inputs, as with most gearbox problems (transmission control unit).
The TCU is part of the powertrain module, the brain of every contemporary automobile, and the ECU (engine control unit). The car may lurch when you begin driving from a stop or slow down. When braking, it may also jerk. The vehicle may shudder while you're on the wheels.
Owners have noticed severe vibration, particularly while shifting to a lower gear (slowing down). Transmission shuddering can also occur while accelerating.  Users also noticed vibration and strange grinding sounds when taking a turn.
The jerking might create shuddering, forcing the gears to disengage, and the vehicle stops moving. In some cases, the transmission may suddenly disengage and stop working. If this happens, your vehicle will not respond when you step on the accelerator pedal.
2014 Ford Focus Transmission Recall
There are no recalls on the 2014 Ford Focus transmission, but Ford has extended the PCM warranty for the affected vehicles so owners can get free checks and fixes for a long time. Some states have filed lawsuits against the company for transmission replacements, but the company hasn't responded.
If you are experiencing any issues with your transmission, you must contact your local mechanic or dealership immediately for service. If they make a transmission recall, car owners can get their transmission replaced free of charge.
2014 Ford Focus Transmission Shudder Fix
Causes of transmission shudder are:
Low or contaminated transmission fluids.
Worn or damaged torque converter.
Transmission gears.
Engine mounts.
To fix it, you will have to identify the root cause of the problem and then seek a solution which could be changing the transmission fluid if it was contaminated.
If the transmission fluid is low, pour in new fluid in the right amount. If the transmission fluid becomes contaminated with dirt, flush out the fluid and pour a new one in. Low transmission fluid may be caused by a leak that must be addressed and fixed for your transmission to function correctly again.
Replace the torque converter if it's worn out.
Replace the transmission filter if it's clogged. A clogged transmission filter will restrict the flow of transmission fluid.
The cost of fixing a transmission shudder depends on the cause of the problem. Changing the fluid is not as expensive as replacing the torque converter—a transmission fluid replacement costs on average $200.
Practicing appropriate car maintenance, such as changing the transmission fluid every 30,000 miles, will preserve the transmission. If your vehicle requires more comprehensive repairs, the cost might range from $600-$1000.
2014 Ford Focus Transmission Fluid
The transmission fluid in your Ford Focus keeps your transmission working at peak performance. It helps cool and lubricate internal parts of the transmission to work smoothly and efficiently. If you're having trouble shifting gears, it's probably time to change your Ford Focus transmission fluid.
Ford Focus uses the Valvoline DEXRON-VI ATF Synthetic ATF. These vehicles come with a sealed transmission; they don't have a transmission fluid dipstick because they are designed to be maintenance-free.
To check the transmission fluid level in your 2014 Ford Focus, we'd advise you to let a professional with a hydraulic lift or an underground bay handle it because the process is tedious.
2014 Ford Focus PCM Problems
PCM problems are common, with Ford Focus having 1156 NHTSA complaints on CarComplaints.com. The PCM is the computer that controls the engine and transmission in a vehicle. It is under the hood and connected to sensors that monitor everything from fuel levels to engine temperature.
If any of these sensors malfunction or fail to send accurate information, the PCM will adjust other components to keep your car running smoothly. The transmission control unit is housed in the PCM, and incorrect inputs at any stage might lead to incomplete combustion and transmission issues. Here are some common symptoms that could indicate a PCM issue:
Engine misfires.
Poor fuel economy.
Poor acceleration.
Hard starting or stalling.
Intermittent electrical problems.
If your car's check engine light is not coming on, this may mean that your PCM does not have any stored codes and is working correctly. If you have a check engine light on in your Ford Focus, there are several ways to troubleshoot the problem. You will need to read the stored codes to determine what needs to be repaired first.
2014 Ford Focus Electric Problems
The most common complaints about the 2014 Ford Focus Electric include stalling, battery, and alternator failure, with 2 and 1 reports respectively on Carcomplaints.com. Owners said they experienced a sudden loss of power while driving.
The issue arises from the Powertrain Control Module software. In some cases, the car will not start. Other electric problems include battery failure, multiple sensor misreads, and the engine not shutting off.
2014 Ford Focus Power Steering Problems
Steering problems have 25 complaints on Carcomplaint.com. It is one of the most common problems mentioned by Ford owners. Hard steering can be dangerous, especially while driving, as it increases the risk of an accident. Stiff steering is caused by a lack of power steering fluid caused by leaking steering fluid.
If the strut bearing fails, your steering will likely have trouble moving. The issue appears to be related to a sensor incorrectly interpreting a person's input on the steering wheel as a turn signal activation.
An outdated or broken power belt might also cause a difficult-to-move steering wheel. Fluid leaks cause the steering wheel to malfunction. If your vehicle loses power steering assist while driving, you should pull over as soon as possible and contact your local dealership so they can check out your car's issue.
2014 Ford Focus Fuel Gauge Problems
The fuel gauge on a 2014 Ford Focus can fail, leaving the driver without an accurate reading of how much gas is left in the tank. This happened after 43,350 miles. A faulty fuel gauge can be dangerous if you're out on the road and suddenly find yourself running low on gas.
2014 Ford Focus Shifting Problems
Some owners had reported that their cars would not shift into gear properly or would shift into neutral when they wanted to shift into park or reverse. Poor fuel economy and loud noise while changing gears indicate that your car transmission is not shifting. If you are experiencing this, then you should take your vehicle for proper diagnosis.
2014 Ford Focus Malfunctioning Clutch
There are 41 reports of a faulty clutch. Many motorists claim to have changed the clutch several times. If your 2014 Ford Focus has any of the following problems, it's most likely a clutch problem.
The car performs poorly and makes strange noises while driving. Second, the automobile moves slowly while its engine accelerates rapidly. The vehicle may also fail to change into gear in some cases. In such instances, visit a Ford dealership to have it sorted out.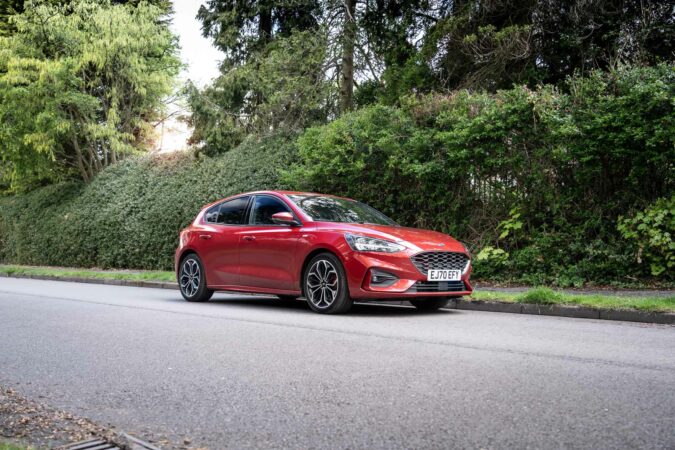 2014 Ford Focus Alternator Problems
The car alternator may get faulty and cause electric problems like a dead battery. Other signs that the alternator has failed include:
Dim or intense light.
Malfunctioning accessories.
The engine is not starting.
Battery warning light.
2014 Ford Focus Reliability
The 2014 Ford Focus has a low rating in its class with a 2-star rating according to J.D. Power's 2014 Vehicle Dependability Study (VDS). Though it's not the best, the 2014 Ford Focus is one of the most well-rounded cars in its class.
It offers decent performance from its four-cylinder engine and good fuel economy ratings when equipped with an automatic transmission; however, manual transmission models get slightly lower fuel economy ratings than automatic transmission versions.
The 2014 Ford Focus has a 5-star overall rating from NHTSA. This rating applies to the sedan and hatchback versions of the 2014 Focus. The Insurance Institute for Highway Safety (IIHS) gives the 2014 Ford Focus a "Top Safety Pick" rating, which means it received top marks in all crash tests.
Other Problems With The 2014 Ford Focus
Wheels and hub problem.
cooling system problems.
Brakes.
Exhaust system.
Ford Focus vs Fusion
A glance inside the Focus reveals that it is far superior to the usual budget car. Without alienating conservative customers, the style is bright and expressive. Interior refinement was a top emphasis during development. The dashboard is made of high-quality materials and flows seamlessly between the driver and the front passenger.
The Ford's 160-horsepower 2-liter engine has good performance. It's powerful for its class and still manages to get up to 40 miles per gallon on the interstate. Good handling and a well-balanced suspension contribute to a positive overall driving experience.
The Fusion is still one of the most attractive family vehicles on the market. The steep roofline and broad horizontal grille remind you of vehicles costing twice as much. Inside, you'll find plenty of high-quality materials and technological elements, continuing the outstanding design.
A 175-horsepower four-cylinder engine is standard on the Fusion. Upgrade to one of two optional turbocharged engines with up to 231 horsepower for more power and economy.
The Fusion is an excellent choice for any family, and we anticipate its popularity will continue. The Focus is smaller than the Fusion, yet it's just as powerful and costs thousands less. If we had to put our money down, we'd go with the Focus.
Facts about the 2014 Ford Focus:
The 2014 Ford Focus is a compact car with serious transmission and engine problems.
At $6,775 to $13,225, it is cheaper than other compact cars, but not worth buying due to its high repair costs.
The Ford Focus has a 5/10 rating for overall satisfaction and 4/10 for reliability.
The Focus has average performance from the base 4-cylinder engine and turbocharged motor offers more power than most competitors.
Fuel economy is good at up to 33 MPG, giving 409 miles of range from the 12.4-gallon tank.
The 2014 Ford Focus has many mechanical problems, leading to high repair costs.
Common problems include hesitation while shifting, engine stalling while driving, and complete power steering system failures.
A well-maintained 2014 Ford Focus may last around 150,000 miles, which is half as long as the top-rated Toyota Corolla.
There are four models of the Ford Focus available for 2014, from the base S to the high-performance ST.
The 2014 Ford Focus is not very comfortable, with less supportive seats and cheaper interior materials than other compact cars.
Frequently Asked Questions
Here are some popular FAQs:
How Long Does A Ford Focus Last
The average lifespan of a 2014 Ford Focus is between 13 to 16 years, depending on how well it is maintained and driven. If you take care of your vehicle and do not abuse it, your car will last longer.
Is Ford Focus A Good Car
The Ford Focus is one of the best cars on the market. It's affordable, it's efficient, and it gets good gas mileage. The Focus also performs well in crash tests. The base model comes with a 2-liter four-cylinder engine that produces 160 horsepower. The turbocharged 1.0-liter EcoBoost engine in the ST model has 123 horsepower and 148 pound-feet of torque. The Focus is also fun to drive, thanks to its responsive steering and handling, making it feel light on its feet.
How Much Does A Ford Focus Weigh
The Ford Focus weighs between 2,935 and 3,434 pounds. This is the curb weight, i.e the total weight of your vehicle, including all fluids and fuel. The weight of your Ford Focus vehicle will depend on its configuration and trim level.
How Many Miles Does A Ford Focus Last
Ford Focus vehicles can last between 200,000 to 250,000 miles, which is about ten years. Depending on how much you drive, this could be sooner or later than this estimate. Routine car checks and maintenance can prolong your car's service life.
Are Ford Focus Reliable
Ford Focus is a very reliable car. The Focus may be your best bet if you're looking for something economical and efficient. Many people are concerned about reliability. The Ford Focus is one of the most reliable cars on the road. It has a 4 out of 5 rating from RepairPal, ranking 27th out of 36 compact vehicle types. The Ford Focus received good overall crash and safety ratings from the Insurance Institute for Highway Safety (IIHS) for a tiny vehicle. The Focus's fuel economy is another factor that makes it reliable because few cars can match its mileage rating. While other vehicles may get better mpg ratings, they require more frequent maintenance than the Focus.
How To Turn Off Hill Descent Control Ford Focus
To turn off the hill descent control in your Ford Focus, you should first turn on the ignition, check above the console display and locate a button with a symbol of a little car going down an incline, and then push the button to turn off the control.
How Long Is A Ford Focus
The length of the Ford Focus is 4,378mm, 2010mm wide, and 1469mm tall. It is a small compact car known for fuel economy, safety, and affordability. The cargo space is 13.2-cubic-foot which isn't big but it's okay for a small family.
How Much Does It Cost to Replace Your 2014 Ford Focus Transmission
The cost of replacing the transmission ranges from $3,500 to 5,000. The transmission replacement cost includes replacing the whole piece of equipment. It's sometimes referred to as remanufacturing your transmission. However, this is not the same as the cost of replacing a transmission solenoid. New transmissions are rarely available on the market; you'll be buying a rebuilt transmission (also known as used). Rebuilt transmissions aren't bad, but you should ensure it's thoroughly examined, and it might save you money because a new transmission is expensive. When you replace the transmission, all parts are replaced rather than just the worn-out ones. It's usually only done when the transmission can't be saved any other way. Since it will be updated to the factory settings, this operation should always be done in a controlled environment. It is well-known for being incredibly costly.
Conclusion
The Ford Focus has received bad reviews regarding its engine and transmission. While the automaker has made a recall for some issues like steering, there are several other unaddressed 2014 Ford Focus problems. When buying a Ford Focus, one thing to consider is whether you can get an extended warranty on your car if you have problems down the road. Some years like 2014 are plagued with transmission and engine problems, and repairs are expensive.
The car has an impressive safety rating, so you would not have severe injuries if you were involved in a crash. It also has a beautiful interior. If you have intentions of buying the 2014 Ford Focus, you should consider its numerous problems and also consider its pros for you to be able to make a great choice.