Hot seasons can get very uncomfortable, and cars can heat up by the sun while parking, making the seats hot too. The real benefit of ventilated seats depends on the extent of the need for coolness in the car and can be a great benefit if you are in hot regions. You can finally get rid of discomfort from a sweaty body while driving.
Ventilated seats work with the help of some fans installed inside the seat and perforated or porous leather seats to circulate air onto the surface of the seat. They help give adequate ventilation around the seat occupant and can be regulated as needed.
Ventilated car seats have been around for a while but not many people can tell you how they work or demonstrate how it functions. This article will explain the functions of ventilated seats, the types of cars with them, their functionality, and how to clean them. Keep reading as we dive into the world of car luxury, comfort, and style.
How Do They Work
Ventilated car seats work by installing fans in the center and backrest. The fan takes its air from the car cabin, and the air passes through several air ducts and eventually distributes evenly throughout the seat. The air passes out from perforations in the seat leather.
The fans come in different speeds and are adjustable or preset to the highest, depending on the manufacturer. But usually, the fans start at the highest, and it is then that the seat is hot due to parking under the sun or that it is needed most. Anyhow, you can constantly adjust the fan speed to suit you.
The ventilated car seat uses buttons or switches for regulation, which are close to the other seat control buttons. Each seat is operated differently and ventilated independently. Mostly, the driver's seat has the most ventilation than the other seats. They can function with additional features like massage seats, cooled seats, and power seats.
They're mostly found in luxury cars, but some brands offer them as standard equipment in their entire lineup, and others offer them as an option on many models. Also, they are especially useful on long journeys and in hot regions.
What Are Their Benefits
Driving in the summer has side effects, like sticky seats, sweaty irritations, and scorching cabins. A ventilated seat car offers a level of solution to these heat effects. Its benefits are pretty numerous and listed below:
They reduce the amount of sweating and moisture between the body and the car seat.
They reduce the hot temperature of the seat, assuming the car was under the sun for a while.
Some of the ventilated seats make provisions for heat, too, especially in winter as heated seats. 
They give a luxury feel to a car and a sense of elevated status. 
Ventilated Seats Vs Cooled Seats
Ventilated seat blows unrefrigerated air out of the chair onto the occupant through perforations in the seat while a cooled seat circulates and blows refrigerated air onto the seat through fans and holes. The significant difference is the type of air and the means of circulation around the seat.
Ventilated car seats keep cool without needing refrigerant, reduce sweat by decreasing body temperature and dry moisture from the seat and body, and work with other seats like massage, power, and heated seats. While cooled seats have to use refrigerant, keep heat away, save fuel and keep the occupant more comfortable with its relaxed nature.
The ventilated seat can be noisy due to the fans working, unlike the cooled seats, and ventilation can be affected by poor ventilation in the car as it draws its air from the car cabin. But, the cooled seat does not need ventilation and doesn't make noise as it doesn't use fans. Instead, without a refrigerant, cooled seats won't work.
Installation of ventilated car seats can be expensive; also, the seats might take longer to dry if it gets sweaty or wet. It could even become too chilly for some people. Its air blows around the seat and on the occupant. While cooled seats are still quite expensive, it reduces fuel use by cooling the seats individually instead of the whole car cabin.
The occupant can also regulate the cooled seat if too cool. You might be thinking about the difference between ventilated car seats and cooled seats. Below is a further explanation of the difference between these two car seats.
Between Ventilated Car Seats And Cooled Seats, Which Is Better
There is no definitive way to determine which is better between ventilated seats and cooled seats because its preference is dependent on individual differences. While some people prefer the cooling effect of cooled seats, others prefer the ventilated seats because it's less cold.
How Much Is It To Add Ventilated Car Seats
It costs about $1000 to install a ventilated car seat. While some cars come with it, there is no need to install another. It would be best if you also understood that the cost depends on the seat fabric type.
Aftermarket Ventilated Seats
If you do not have enough funds to install a new one, you can opt to add an aftermarket ventilated seat. Installing aftermarket ventilated seats is quite tricky because they are revamping car seats. The advantage of this is that you can customize the seats to suit your personal needs and design.
The price for installing an aftermarket ventilated seat can range from $50-$500. This price depends on the car model and design. The price range can increase if you change the car interior design to match the new seats.

SUVs With Ventilated Seats
Nowadays, luxury and comfort have become the go-to point while shopping for a vehicle. People are developing an interest in cars with luxury extras, including SUVs that have ventilated seats and still live up to the practical use of a vehicle like three-row seating capacity and massive cargo capacity. SUV cars now imbibe luxury and essential utilities to get the perfect vehicle. Here are some of the SUVs with ventilated car seats:
2017 Chevrolet Tahoe
2017 Chevrolet Suburban
2017 Ford Expedition
2017 Lincoln Navigator
2017 GMC Yukon
2017 Toyota Land cruiser
2017 Toyota Sequoia
2017 Nissan Armada
2017 Lexus GX
2017 Cadillac Escalade
Almost all 2017 SUV model cars come with ventilated seats and varying perps. Differences in car models can range from horsepower to cargo capacity, body structure, and other luxury additives.
Cheapest Cars With Ventilated Seats
At a time, ventilated car seats were features found in high-end premium cars, but now there are cheaper cars with them. They are now cutting across to more affordable sets of cars, and one can get a ventilated seat vehicle for as low as $25,000. Here is a list of the cheapest cars with ventilated seats cutting across brands and their model variants.
Dodge: Durango, Challenger, Charger.
Buick: Evison and Enclave
Chevrolet: Tahoe, Silverado 2500/3500, Camaro, Blazer, Equinox, etc.
Audi: A4, A5, E-Tron
BMW: 4, 5, 7, 8 Series, and X series.
Genesis: G70, 80, 90 and GV80
Ford: Explore, Super Duty, Mustang, Edge, and F-150
Lexus: GX, IS, LC, LS, ES, , LX, NX, RC, RX, UX
Lincoln:  Corsair, Nautilus, Aviator, Navigator
Honda: Odyssey, Accord, Passport, Pilot.
Infiniti: QX series.
Hyundia: Kona EV, Nexo, Palisade, Elantra.
GMC: Canyon, Sierra 1500, Acadia, Sierra 2500/3500, Terrain, Yukon
Jaguar: F-Pace, E-Pace, F-Type, XF
Jeep: Cherokee, Grand Cherokee, Compass, Grand Cherokee L
Kia: Sedona, Sorento, Forte, K5, Niro, , Sportage, Stinger, Telluride
Land Rover: Range Rover Evoque, Range Rover Sport, Defender, Discovery, Discovery Sport, Range Rover, Range Rover Velar
Mazda: Mazda6, CX-5, CX-9,
Mercedes-Benz: A-Class, GLA-Class, GLB-Class, GLC-Class, GLE-Class, GLS-Class, AMG GT, C-Class, CLA-Class, CLS-Class, E-Class, G-Class, S-Class
Nissan: Armada, Maxima, Murano, Titan, Titan XD
Polestar: Polestar 2
Maserati: Ghibli, Levante, Quattroporte
Porsche: Cayenne, Taycan, Macan, 718, 911, Panamera,
Ram: 1500, 2500/3500 HD
Volkswagen: Arteon, Atlas,
Rolls-Royce: Dawn, Cullinan
Subaru: Legacy, Outback, Ascent,
Tesla: All Models
Toyota: Avalon, Camry,  4Runner, Highlander, Land Cruiser, Mirai, RAV4, Sequoia, Sienna, Tundra, Venza
Volvo: S90, V60, V90, XC60, XC90
These are some of the cheapest cars with ventilated seats. There might be others, so always enquire to be sure of the specs before purchasing a vehicle.
Air Conditioned Seats Vs Ventilated Seats
Air-conditioned seats and ventilated seats are almost the same. The difference is that air-conditioned seats take the air it circulates directly from the car's AC system, and ventilated seats circulate the air in the car cabin.
Air-conditioned seats are an alternative to the standard car air conditioning system. It keeps the cooled air to just the seats and not the entire cabin, making it energy conservative to use. Air-conditioned seats are perfect when the occupant is stuck in traffic, on a long journey, or during the summer.
Most air-conditioned seats also include a heating system for the winter period, and it can easily be adjustable with a button or switch to the level needed. With the help of a built-in fan, air circulates the seat and spreads to the surface of the seat to help the occupant get maximum effect.
The seat has perforated or porous coverings that help them pass unhindered through the seat. Recent air-conditioned seats use one system for cooling, and any temperature change utilizes a control. The cooling system can be the car's AC unit from where the fans in the car circulate the cool air. The car AC cools the cabin and still gives air to circulate through and on the seats.
Heated And Ventilated Seats
While ventilated seats are built to circulate air around the seats and body to give a cooling effect in hot periods, heated seats do the opposite. Heated seats distribute heat around the seat occupant in cold weather. Heated and ventilated seats can both help a ride to be more comfortable, but there are distinct differences between them.
Ventilated Seats: Gives a cooling effect in hot weather and helps the occupant relax and not feel sticky and sweaty.
Heated Seats: Offers heating effects in cold or chilly weather and helps the occupant remain warm.
There is no way to say that either seat is better than the other because they both serve different essential functions and depend on the driver's preference. Most times, ventilated car seats come with a heating system that is controlled using a button. Instead of comparing heated seats vs. ventilated seats, why not enjoy what both systems have to offer to their fullest.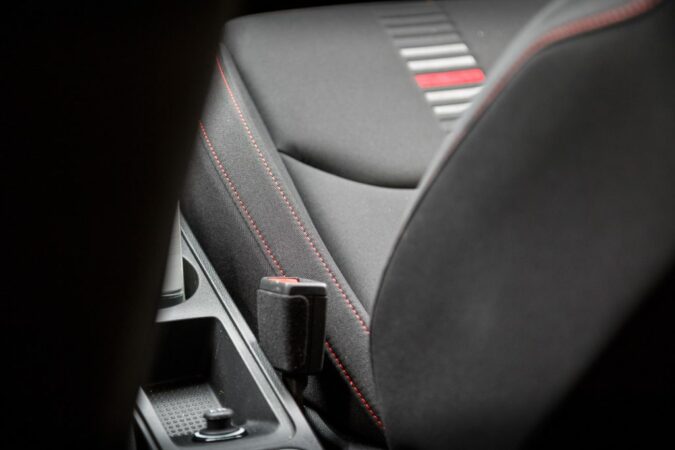 Seat Covers For Ventilated Seats
For car interior decor style or more practical reasons like preventing stains on the seats, getting seat covers for ventilated seats will come to mind. It is not very good to put seat covers over ventilated seats because, just like wearing a sweater on a cold day, seat covers can hamper the cooling system's effectiveness.
Though the effect might be small, you might experience the seat not getting cold or chilly as fast as it does. It is best to use ventilated seats as they come without any cover. But, if you must put a seat cover, use ones with light, porous materials that help air to circulate and pass through it quickly. A spacer mesh is always the best due to its porous design and little resistance to the seat cooling effect.
How To Clean Them
Ventilated leather seats quickly accumulate dirt and debris due to the tiny holes that provide breathing spaces for ventilation. The most important part of cleaning a ventilated seat is knowing how to clean the perforated holes. In concise steps, we will explain how you can do that properly.
Tools
A soft brush head vacuum. 
Towels (microfiber preferable). 
A bottle of leather cleaner.
Any leather conditioner.
Cans of compressed air.
A steamer cleaner.
A toothpick.
To clean properly, follow these steps using the tools above;
First, vacuum the seats to get rid of loose specks of dirt on the seat, run the vacuum on moderate through all seats, and don't forget to do the armrests and headrests.
Using a microfiber towel, rub away any greasy dirt or oil stains from the seats, and ensure no debris remains on the seat surface.
Do a patch test of the leather cleaner to ensure it does ruin your car leather seat. Do this test by putting the cleaner on a small hidden part of the seat for 2 minutes.
With the cleaner and a towel, scrub the car seat of any stains. Scrub generously but with moderate force to remove all grease stains but do not apply plenty of the leather cleaner to avoid stains. Work from one area to another to prevent skipping portions.
After scrubbing, wipe away the lather and dirt with a towel and rinse as you wipe. Please do not pour water on the seats.
Apply leather conditioner on the seats sparingly and rub in for a shiny effect.
Lastly, dry and open car doors to airdry the seats and blush the seats in circular motions for a more shiny effect.
Note: If dirt sticks to the perforated holes after vacuuming, use toothpicks or a small brush to remove the dirt before scrubbing.
Ventilated Seats vs Cooled Seats
Ventilated seats and cooled seats both work by circulating air through tiny perforations in the seat upholstery to keep you comfortable in hot weather.
Cooled seats blow cool air, which may or may not be refrigerated, on the seat occupant. Ventilated seats use fans and ducts to circulate air but never use refrigerated air.
Cooled seats that use refrigerated air may be more effective in hot and humid weather compared to ventilated seats.
Cooled and ventilated seats are widely available in modern cars and SUVs, and can be found in premium brands such as Tesla, Land Rover, and Mercedes-Benz, as well as in more affordable brands such as Toyota, Honda, and Mazda.
Automakers do not typically offer a choice between cooled and ventilated seats for a particular model.
Different automakers use different approaches in executing these technologies, and some methods work better than others.
If cooled or ventilated seats are important to you, it's a good idea to test this feature during your test drive, whether you're buying a new or used car.
Ventilated seats can create an evaporative effect that can cool the body, while others use fans to blow air directly on the seat occupant.
If you live in a region that frequently experiences hot and humid weather, cooled seats might be an excellent choice.
Cooled and ventilated seats are not as prevalent as heated seats, but they can make the driving experience more pleasant for you and your passengers.
Frequently Asked Questions
Here are some popular FAQs:
What Are Ventilated Seats
Ventilated seats are the type of seats that have ventilation features built into them. The built-in system helps adequate air circulation through the seat to keep the occupant's body temperature at a comfortable level while driving. They help in heat transfer. The heat from the body transfers into the seat, and cool air blows unto the body, reducing sweating and stickiness. This feature is fantastic for summer or hot weather and it helps to give more comfort to car users. Apart from this, you can also use the cooled seat or air-conditioned seat for similar purposes based on individual preference.
How Do Ventilated Seats Work
Ventilated car seats work by integrating little fans into the seats and using perforated leather seat surfaces to draw in air from cooler areas of the vehicle into the seat region. This air drawn in is then equally circulated and passed through the perforations in the seat onto the occupant. These fans generate adjustable airflow, which cools the seat to a pleasant temperature even when the car heats up by the sun. The perforations in the seat surface serve as perspiration absolve and create some breath effect on the seat. The breath effect is when heat sucks into the seat, and cool air blows simultaneously to stabilize temperature. Typical car seats will block the airflow on the occupant's back. The blockage prevents the heated water from escaping as water vapor, causing water to condense and run down in tickles known as sweat.
What Does Ventilated Seats Mean
Ventilated car seats mean that the seats have a ventilation system built-in to circulate air through the seat. Ventilation is the proper distribution of air in a space to help sanitize the air from excessive water vapor, debris, or smelly odor. Ventilated car seats eradicate heat from water vapor from the back and bottom of the occupant and give fresh cool air to regulate the temperature to normal.
What Cars Have Ventilated Seats
Not all cars have ventilated seats. They are found mostly in high-end luxury cars such as Volvo S90, XC60, all Sedans, and Lexus cars, S-Class 7 Series. These models have all seats ventilated and are quite a definition of luxury. Some smaller cars have front seats ventilated and they include; Skoda, Hyundai, Toyota, Camry Hybrid, and Jeep Grand Cherokee. These cars too are in the luxury department, but unlike the first set of cars, they are a bit cheaper. Even with new strides in technology and comfort, some luxury cars still don't come with ventilated seats. Yet, they are in low-segment car driver's seats like Hyundai, Kona, Elantra, Kia, and Sonnet. Most of these lower price cars only have their ventilated seat in the driver's seat.  Latest cars offer ventilated seats, like VW Taigun and the Jeep Compass, as part of their specs.
Are Ventilated Seats Worth It
Due to its expensive nature, it is normal to wonder if getting ventilated seats is worth it. Ventilated seats are worth every bit of their purchase. They offer a solution to the lack of air circulation to the user's back and bottom and hot cabins. Without them, sweating and poor air circulation are eminent, even in an air-conditioned space. It is better to go for a car with ventilated seats than one with regular seats.
Are Ventilated Seats The Same As Cooled Seats
Ventilated seats are not the same as cooled seats although they have similar features and use. The significant difference is that ventilated seats circulate air in the cabin without using a refrigerant to cool the air first. Cooled seats cool the air using a refrigerant before distributing it through the seat surface. The use of ventilated car seats cannot serve as an AC source for the cabin, while a cooled seat can be an alternative for the cabin's AC use.
Can You Put Seat Covers On Heated Seats
You can put seat covers on heated seats only if they're made of fire-resistant fabric. The seat cover can reduce the effectiveness of the heated seat. Ensure you use the right seat cover material that can retain heat and not inhibit the effectiveness of the heating system. You may place a towel in between the heated seat and the seat cover.
Conclusion
Ventilated seats in your car aid in driving comfortably in hot or cold weather as they work with cold and heating conditions. It is more convenient to get a ventilated seat than to purchase different seats for both heat and cooling. On the other hand, heated seats help to warm up the seats and are most needed during extreme cold or snowy periods.
Getting a ventilated seat might seem like too much of a luxury or expense when it doesn't come with the vehicle, but it is a worthy investment. While getting a ventilated seat, check the car manual and get on to the car specifications to know the exact type and size you should buy. Enjoying the relaxation ventilated cars offer is a treat everyone should indulge in.