Despite being in production for many years, the Chevrolet Tahoe is a gear all-American large SUV that is still a preferred option for families. But is there the best year for Chevy Tahoe?
The Tahoe has distinguished itself as a capable, family-friendly SUV that dominates in comfort, towing capacity, and cargo space, besting its competitors like the Ford Expedition, Toyota Sequoia, and Nissan Armada.
There are clearly better Tahoe model years than others, so not all Tahoe model years are equal. To get the most out of this family hauler, you'll need to pick the right Tahoe model year. Plus, taking the time to understand the reliability of the Chevy Tahoe.
However, choosing the best year for Chevy Tahoe is difficult given the lineup and trims that have been available for decades.
Chevy Tahoe Years To Avoid
Given that the Chevy Tahoe has been in existence for over four generations, it is not surprising that some model years are less than ideal. So, what are the Chevy Tahoe model years to avoid?
2015 is the best year yet for this SUV. For this model, CarComplaints.com reports over 600 complaints and 15 recalls.
Poor ratings were primarily due to problems with the suspension, climate control, and power equipment.
This included malfunctioning sensors for seat adjustment, fuel levels, or the four-wheel drive transfer case, as well as interior flashing lights, broken radios, rattles in the dashboard, and other issues.
Additionally, there were instances of seatbelts, brakes, airbags, the door lock actuator requiring troubleshooting, sunroofs, and rear window defoggers failing.
For owners of the 2015 Chevy Tahoes, a major source of pain is the failure of the air conditioner and heater. A coolant leak resulted from the refrigerant hose's frequent cracking and breaking.
The compressor or car AC condenser would frequently fail as a result of the air conditioner blowing hot air. Meanwhile, the cost to replace a car AC condenser (among other parts) costs owners over $3,500 to replace.
The redesign of the vehicle also caused other issues, making 2015 the worst year for the Chevy Tahoe. The ride was rougher because there was no option for the adaptive suspension.
Much to the disappointment of reviewers and owners, base models did not feature with telescoping steering wheels. And there was a delay in responsiveness when braking. By 2017, the SUV's predicted reliability score had significantly gone up.
Worst Year For Chevy Tahoe
Critics also advised staying away from the 2011 model year. The plastic in the dashboard would crack and need a replacement, according to some forum users.
Even after fixing the issue, it kept happening. Other frequent complaints included poor acceleration and electrical problems.
The 2007 Chevy Tahoe is not the best year for Chevy Tahoe. It also had electrical issues. These included failing radios and lights, or even worse, the SUV refusing to start after having its battery and wires replaced.
This year's Chevy Tahoe is one to steer clear of due to excessive oil consumption and an overheated transmission.
The Chevy Tahoe is still a well-liked, capable car despite these bad model years. Families and a lot of government and law enforcement organizations appreciate how well their beloved SUV performs.
Chevy Tahoe Best Year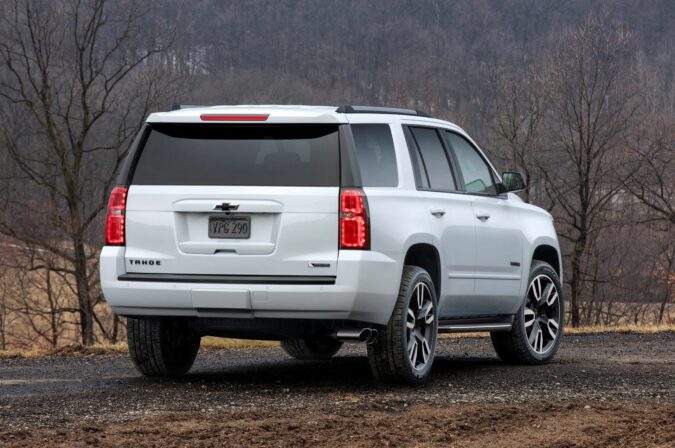 The best year for Chevy Tahoe was 2017. If you're looking for a used large SUV with three rows of seats, the 2017 Chevy Tahoe is a good option.
The 2017 Tahoe is an exercise in practicality because it can seat eight people and has lots of cargo space.
Additionally, because it's a more recent model, buyers benefit from a wealth of cutting-edge security and entertainment features, providing safety and entertainment for the entire family.
The fourth generation of the Tahoe, which includes the 2017 model, underwent significant refinements and gained new technologies that helped the SUV's fuel efficiency.
Additionally, after comparing the prices of the 2016 and 2017 Tahoe models, this year offers excellent value.
2017 Chevy Tahoe Cost
The average cost of a used 2017 Chevy Tahoe, according to Truecar.com's listings, ranges from $18,990 to $49,998 – depending on various factors like mileage, trim level, fleet or personal use, and vehicle history.
The base LS Tahoe comes with features like remote start, rear park assist, and onboard Wi-Fi (head over to our explainer on how does car WiFi work, if you'd like to learn more) and is powered by an aluminum-block 5.3L EcoTec3 V8 engine.
For $26,000 you can purchase one of the 2017 Tahoe LS models with the lowest price and the fewest miles. For more context, check out our guide on how many miles does a Chevy Tahoe last. On the other hand, a 2017 Tahoe with 47k miles and low mileage sits at $40,000.
The LT Tahoe is the next trim level up and features several improvements over the base model, such as leather interior appointments, a Bose 9-speaker premium sound system, and a power liftgate.
For $21,900, you can purchase a 2017 Tahoe with RWD and 145k miles. For $39,035, a 2017 Tahoe with 4WD and 54k miles are currently on the market.
The top-rated Premiere The 2017 Tahoe includes second-row bucket seats, a 10-speaker Bose Centerpoint surround sound system and Chevrolet MyLink with Navigation.
In light of the aforementioned, you can find a listing for a 2017 Tahoe Premier with 4WD and 125k miles for $29,998. A 2017 Tahoe Premier with $52k miles is available for $46,998 at the other end of the price range.
2017 Chevy Tahoe Specifications
A robust full-size SUV with an emphasis on utility, the Chevy Tahoe harkens back to the days of SUVs on truck platforms.
The 2017 Chevy Tahoe will suit your needs if you're looking for a sizable three-row SUV that can seat up to eight people and tow up to 8,600 pounds.
Unfortunately, the 2017 Tahoe only comes with one engine choice: a 5.3-liter V-8 with an aluminum small-block engine that produces 355 horsepower and 383 lb-ft of torque.
All models come with a six-speed automatic transmission and the choice of rear- or four-wheel drive.
The V8 has more than enough power to pull people, boats, and trailers. A delayed response from the gas pedal can make the Tahoe feel sluggish even though it delivers an authoritative acceleration.
The 2017 Chevy Tahoe provides a ton of interior space for passengers, particularly in the first two rows. For adults, the third row can be uncomfortable.
The materials and cabin design, meanwhile, are superior for the class. Starting with the LT trim, heated seats and perforated leather are standard.
The 2017 Chevrolet Tahoe with automatic transmission and RWD achieves fuel economy ratings of 16 mpg in the city, 23 mpg on the highway, and 19 mpg overall, according to FuelEconomy.gov.
With mpg ratings of 16/22/18 city/highway/combined, switching to 4WD reduces efficiency but not significantly.
2017 Chevy Tahoe Reliability
The Chevrolet Tahoe has an Above Average reliability rating from RepairPal with a score of 3.5 out of 5.0.
On the other hand, J.D. Power gave the 2017 Tahoe an overall score of 83 out of 100 and a Quality & Reliability score of 80-100.
The average annual cost for repairs and maintenance in Tahoe is $744, which is unfortunate because ownership costs can be high.
The 2017 Tahoe received 14 complaints with the following reliability issues on CarComplaints.com:
Refrigerant condenser leak
Faulty torque converter and transmission
Bolts on the harmonic balancer backing out
As of writing this, the Tahoe has three safety recalls, including one for faulty airbags, one for brake assist, and one for the unintentional activation of the driveline-protection system.
2017 Chevy Tahoe Safety Features And Ratings
The 2017 Tahoe received a 4 out of 5-star safety rating from the NHTSA, but the IIHS has not evaluated the sizable SUV.
The 2017 Tahoe also does a great job of safeguarding occupants with a variety of security and driving aids, such as adaptive cruise control (make sure that you also know how to use cruise control), forward collision alert, rear vision camera, rear-cross traffic alert, side blind zone alert, intelligent brake assist, etc.
Chevy Tahoe Generations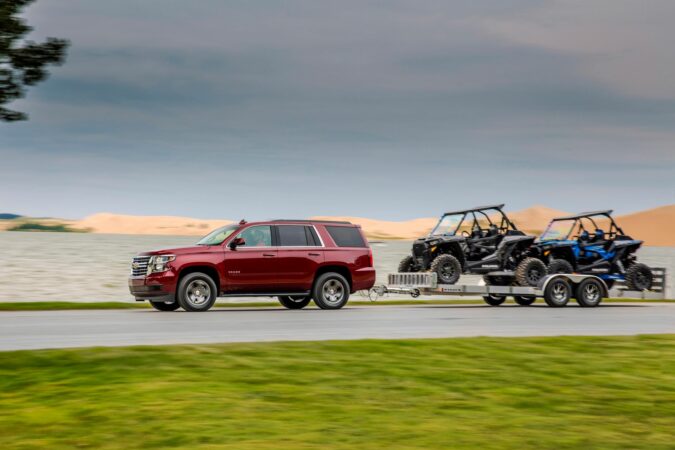 A more compact version of the Chevrolet Suburban SUV is the Chevrolet Tahoe. You'll know just how gigantic the Suburban is when you understand how many seats are in a Suburban, as well as compare the Suburban vs the GMC Yukon XL.
The Tahoe is a roomy full-size SUV from General Motors with better handling than its predecessors. It sits on a truck frame.
This dependable workhorse has been around for years and can tow up to 8,600 pounds and handle rough terrain. It can seat up to eight people.
The K-Blazer, formerly a member of the Blazer family, made its debut in 1995 as the Tahoe. As a large SUV, the best year for Chevy Tahoe commands attention on the road.
Chevy Tahoe 5th Generation
Chevrolet completely redesigned the Tahoe for the 2021 model year, joining other GM family members like the Cadillac Escalade and GMC Yukon.
The 2021 Chevrolet Tahoe's floor is now lower and provides more room for the second and third rows of seats as well as more cargo space. No doubt, it's among the SUV with the most cargo space. It has the same GMT T1XX platform as the Silverado 1500.
The Tahoe grew to a length of 210.7 inches and a wheelbase of 120.9 inches, surpassing competitors like the Ford Expedition, Nissan Armada, and Toyota Sequoia to become the largest SUV in its class.
Finally, the eagerly anticipated independent rear suspension debuted with the 2021 model year.
An entirely new infotainment system with a larger touch screen, more standard driver-assistance features, more cargo space, updated exterior, and interior styling, and an extra 10 inches of third-row legroom debuted for the 2021 model year.
The turbo diesel engine made its debut in 2021.
Safety Features
The 2021 Chevrolet Tahoe has thirty more safety features installed all throughout the vehicle, a new push-button shifter column on the dashboard, nine camera displays for improved towing capability, and more.
The higher trims all come standard with the Air Ride Adaptive Suspension.
The RST and Z71 moved from the package to the trim level. The Tahoe LT, LS, and Premier trim stayed in the fifth generation.
Additionally, there was the introduction of a brand-new High Country trim in 2021, giving the Chevy Tahoe the trimmest levels of any car in the large SUV segment.
With the exception of the Z71, all trims and packages now offer the 3.0-liter I6 Duramax diesel engine (one of the best Duramax engine variants), which has a 277-horsepower output.
Only a few changes were made to the Tahoe lineup for the 2022 Chevy Tahoe. The RST, Z71, and Premier trim levels all offer the 6.2-liter V8 engine with 420 horsepower.
A modern electronic limited-slip differential is available on the off-road Z71. Except for the base Tahoe LS, every Tahoe has a 12.3-inch gauge cluster that is customizable.
The voice assistant, app store, and Google Maps are also part of the Tahoe LT's infotainment system.
The Z71 Signature Package for 2022 includes a panoramic sunroof, power-folding third row, upgraded towing equipment, blind-spot monitoring, and these features.
The 2022 Chevy Tahoe also includes the Buckle to Drive feature, which is now standard across all trim levels, as well as automatic high beams, front and rear parking sensors, and lane-keep assist.
Chevy Tahoe 4th Generation
The Tahoe's hybrid model is no longer available, and the new platform has better soundproofing to reduce interior noise.
The GMT K2XX platform is now being used to construct the Tahoe, and new features include enhanced aerodynamics, increased fuel efficiency, and decreased interior noise.
To help reduce weight, the hood and liftgate of the new Tahoe comprise aluminum. The fourth-generation Tahoe has a direct-injected EcoTec3 powertrain that is more effective and improves fuel economy.
The projector-beam headlamps are now on either side of the chrome grille in the front grille and headlights, which have also undergone other changes.
On the most recent model of the Chevy Tahoe, the second and third rows of seats are now standard fold-flat seats with a power-folding feature as an option.
Chevy increased legroom in the second row by two inches to improve comfort. If you're in the market for vehicles that have extensive rear passenger spaces, feel free to check out our list of minivans with stow-and-go seats.
In addition to rear-seat entertainment, numerous USB ports, and power outlets, including a 110-volt outlet with three prongs, Tahoe now offers a touch-screen radio and navigation system.
New Features For 2015
Additionally, a hands-free power liftgate, WiFi, Siri support, and a new color scheme were all introduced in 2015. (Brownstone Metallic).
GM's third-generation magnetic ride control suspension is an option for the Tahoe's LTZ models.
With power-adjustable pedals, forward collision alert, lane keep assist, IntelliBeam headlamps, and a safety alert seat, the 2016 Tahoe was made even safer.
All of these features are a part of the LS trim's new enhanced driver alert package. Connectivity options for new technology include Apple CarPlay and Android Auto (as you learn how to use Android Auto and how to turn off Apple CarPlay, as well as how to connect Android Auto).
With the teen driver feature, rear seat reminder, and low-speed automatic braking, the 2017 model year increased safety.
There is an improvement in the rear-seat entertainment system, while the 22-inch wheels were increased to 23 inches.
The new 5.3-liter engine is coupled with Chevy's Hydra-Matic six-speed automatic transmission, which increases efficiency.
Speaking of the 5.3, do check out our guide on the Chevy 5.3 engine problems to learn more if it's a reliable motor. As well as, our write-up on how reliable is the 5.3-liter Chevy engine.
In addition, Tahoe now has auto-grade braking, TapShift control, and a special mode for hauling and towing.
A 6.2-liter V-8 L86 engine was part of Chevy's performance package for the Tahoe RST in 2018. But to make sure it's truly worth it, make sure you check out our list of GMC 6.2 engine problems (a related engine) to find out more.
Chevy Tahoe 3rd Generation
The Tahoe received a significant redesign for the 2007 model year based on the new GMT900 platform, and the base engine was a 4.8-liter V8 with 290 horsepower.
A 5.3-liter V8 engine with 320 horsepower was standard on Tahoe models with four-wheel drive.
In order to save fuel, this engine had cylinder-deactivation technology, which in certain driving conditions turned off half of the cylinders.
This engine had a version that could run on E85 in addition to regular unleaded gasoline. For more insight, head over to our guide on whether can you mix E85 with regular gas.
Except for the two-wheel-drive models with 4.8-liter engines, which kept the four-speed automatic transmissions, all Tahoes received an upgrade to six-speed automatic transmissions.
The Hybrid
The Tahoe Hybrid made its debut in late 2007. It featured an engine that combined a dual displacement 3.0/6.0 liter V8 engine with two continuous 60 kW 80-horsepower electric motors.
You could power it solely by gasoline, solely by electricity, or by a variable ratio of the two. It could run entirely on its battery, albeit with a constrained range and at slow speeds. This car was regarded as a strong or full hybrid.
The hybrid's two-wheel-drive model achieved 21 mpg in city driving, while non-hybrid models were only capable of 15 mpg. The Tahoe hybrid achieved 22 mpg on highways.
On the Tahoe LS base model, dual-zone air conditioning and cloth seating for five people were included as standard features.
Additionally, this model included an eight-speaker audio system and StabiliTrak stability control. External modifications included 17-inch wheels and a tire pressure monitoring system.
The new design also featured updated taillights, a new front fascia, and a new hood. The grille of the Tahoe featured a central body-colored bar. This resembled the chrome bar found on the majority of earlier models.
In comparison to its predecessors, the Tahoe's redesign was also more angular. A real wood dashboard with chromed instrument controls was part of the interior's extensive redesign.
Only the LTZ model was offered with a 6.2-liter engine as an option in 2009.
The GM "Mark of Excellence" door badge was removed. The bumper was slightly raised, and side torso airbags were added. There was an optional side blind-zone alert was introduced in 2010.
Chevy Tahoe 2nd Generation
Built on the new GMT800 platform, this generation's exterior underwent a redesign with softer lines and a more aerodynamic shape.
The previous 5.7-liter small-block V8 engine was replaced by two new options. These were the 4.8-liter Vortec engine and a 5.3-liter V8 engine, both mated to a four-speed automatic transmission.
Despite being smaller and producing more horsepower than their predecessors, both of these engines had less torque.
In the second generation, the manual transmission was eliminated, and the interior received new door panels, dashboards, and seats. The first model with a flex-fuel engine was the 2002 model.
The Tahoe and other GM full-size trucks received an upgrade to their interiors in 2003. There was a new steering wheel, new radio controls, and XM Satellite Radio with Bose audio. There was also an integrated DVD entertainment system among the modifications.
The second generation had a new platform. Despite this two unique, limited edition models that maintained the GMT400 platform debuted with the 2000 model year.
Off-Road Capable
These vehicles could handle rough terrain and had off-road capabilities. They were the two-wheel-drive Tahoe Limited and the four-wheel-drive Tahoe Z71.
Both of these came with Bilstein shock absorbers and color-keyed bumpers rather than the customary chrome bumpers.
The Z71 had sidestep bars, inset driving lights in the bumper, and covers for the taillamps, whereas the Limited had bumper-mounted fog lamps, no roof rack, and five-spoke aluminum wheels.
All trim levels of the 2005 model year came standard with a rear liftgate and lift glass.
2005 also brought two new colors: Sandstone Metallic and Bermuda Blue Metallic, a brand-new electric cooling system, and increased fuel efficiency.
Both the Tahoe and Yukon's time on the GMT800 platform came to an end in 2006, with only very minor changes.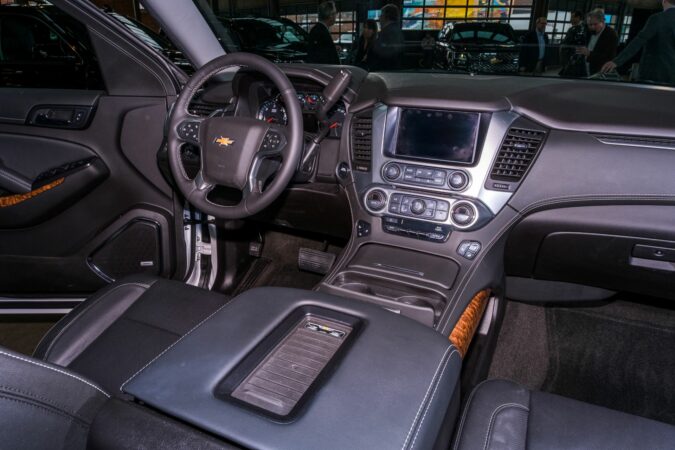 Chevy Tahoe 1st Generation
Chevrolet marketed the vehicle under the Blazer name through the 1994 model year before reintroducing it as the Chevrolet Tahoe in 1995.
Although it shared the GMT400 platform with the Suburban on which it was based, the original Tahoe was shorter.
Both the two-door and the longer-wheelbase four-door models were offered with either rear- or four-wheel drive. They were built on sturdy truck chassis similar to the one used in Chevy's Silverado full-size pickup truck.
At 5,500 pounds, the four-door model weighed about 1,000 pounds more than the two-door model.
The first-generation Tahoe was available with a 4-speed automatic or manual transmission. There was a programmable Homelink transmitter and "AutoTrac" automatic four-wheel drive with the 1998 model year.
There was also the PassLock security system and rear seat air conditioning. Granted, due to reliability issues, some owners opted to permanently disable the GM PassLock system. The Tahoe's engine was a 5.7-liter small-block Chevy V8, but a 6.5-liter turbocharged diesel V8 was also on offer.
Chevrolet did away with the two-door model in 1999 and enhanced the Tahoe's transmission and radiator. Along with optional front and rear side torso airbags and combination head and torso side airbags, they also changed the steering wheel and added side curtain airbags for all three rows of seats.
Problems With Chevy Tahoe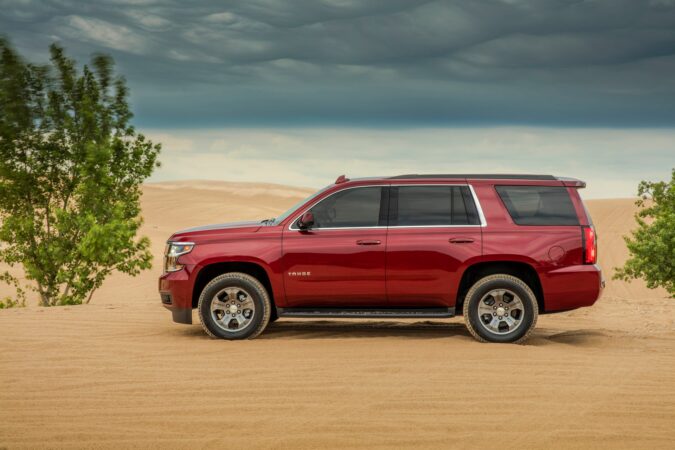 The Tahoe ranks 21st out of 26 midsize SUVs, with a reliability rating of 3.5 out of 5.0, according to RepairPal. The Tahoe isn't exactly popular with dependability, and there are a few typical issues you should be aware of:
Service Message for 4WD – Over the years, more than a dozen Chevy Tahoes have experienced this annoying message. The primary cause of the dreaded message is a malfunctioning selector switch or transfer case encoder sensor.
Cracked dashboard – The Tahoe's cracked dashboard is one of the most common problems. Even though the problem is mostly cosmetic, it is still annoying, especially since GM won't fix it.
Low oil pressure – This is yet another serious problem with the Tahoe's dependability. In addition to the illuminated check engine light, many drivers reported that engine performance had decreased.
AC system stopped functioning – On a hot day, dealing with this problem would be intolerable. The Tahoe A/C system malfunctions for a number of reasons, including a refrigerant leak, electrical problems, and a broken car A/C compressor.
Replacing the damaged components, such as the compressor or condenser, is the typical repair procedure to resolve this issue. Otherwise, you'll have to be cognizant of the symptoms of a bad AC compressor. Not to mention, how to test the car AC compressor and diagnose other issues with the A/C compressor in your car.
Frequently Asked Questions
Is A Tahoe A Truck
The Chevrolet Tahoe is as powerful as many pickup trucks despite being a full-size SUV. The 2022 Tahoe can produce up to 420 horsepower and 460 pound-feet of torque with a variety of powertrain options. Up to 7,900 pounds can be moved by that much force.
How Long Do Chevy Tahoes Last
The Chevy Tahoe has a lifespan of 200–300,000 miles. You will need to put some effort into it to meet and exceed these mileage targets, though. Follow the manufacturer's advised schedules for regular maintenance for the longest lifespan.
Are Chevy Tahoes Reliable
Compared to other midsize SUVs, the Chevy Tahoe has a relatively low-reliability rating. Despite the fact that the Tahoe doesn't require repairs frequently, when it does, they are typically much more involved than those on other vehicles.