There are a handful of cars that revolutionized the car industry forever. The Benz MotorWagen, the Ford Model T, the McLaren F1, and of course, the Mini Cooper are some of them. In this article, we are going to talk about this little car that had a big impact on the way we travel. If you are hoping to buy a Mini Cooper, there are a number of things you should consider. Reliability is one such important factor. The reliability of Mini Cooper models varies between the model years. In this article, we are going to tell you the best year for Mini Cooper reliability.
The Mini Cooper is one of the most recognizable vehicles in the world. It has been around for a long time. As a result, these are some of the most affordable vehicles you can buy. But as with any vehicle, it is important to do your research before committing to a Mini. First of all, let's take a look at the history of this wonderful vehicle.
Mini Cooper
In the late 50s, the world was going through a fuel crisis. Gas prices rose sky-high, and people started to look for a fuel-efficient method of transport. This need was realized by the Morris Company of England. One of the top engineers of the company, Alec Issigonis was the main figure behind the invention of the Mini. This small city runabout made its first public appearance in 1959.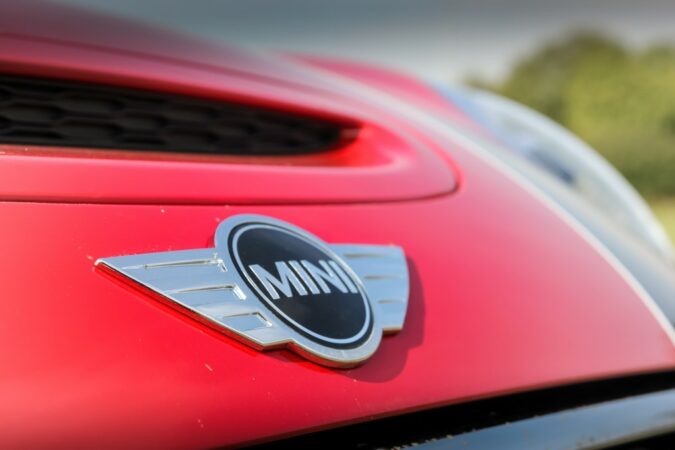 The low-cost, small, and fun-to-drive Mini was an instant success. It became a symbol 0f the 1960s counterculture. However, the Minis' popularity was not merely on the road. It was popular on the race track as well.
In 1961, British racer John Cooper got his hands on one of these machines. By adding a powerful engine, bigger brakes, and a couple of tweaks, he created what would come to be known as the Mini Cooper 997.  This car was a rally legend. At the Netherlands Tulip Rally in 1962, the Mini achieved its first victory at the hands of Pat Moss. It is safe to say the Mini was an automotive phenomenon. In its first decade alone, 2 million of these cars were sold worldwide.
In 1999, the Mini received the accolade of "European car of the century". Not only that, this was the same year that the classic Mini production came to an end. Then, Under the new ownership of German brand BMW, the new Mini debuted in 2001. Since then, various body styles of the Mini have been introduced. Some of the most popular versions include,
Mini Clubman
Mini Countryman
Mini Roadster
Mini Paceman
No matter what, the popularity of the Mini still remains the same as it did almost 60 years ago.
Mini Cooper Years To Avoid
However, some model years of the Mini are generally rated as worse than others. In this section, we will tell you about these specific years. If you are hopeful of buying a Mini in the future, this will be very beneficial for you. You should avoid these model years for several reasons.
Mini Coopers from these model years have more issues compared to others. This in return requires these models to be repaired frequently. Frequent repairs cost owners both time and money. So, we strongly recommend you avoid buying Mini Coopers from these model years.
2009 Mini Cooper
2009 is considered by Mini Cooper owners to be the worst model year there has ever been. The main issue of this model is related to the engine. You see, the exhaust valves of the cylinders could break easily. If this happened, the engine lost all compression. The vehicle also made rattling sounds when driving.
The only way to fix this issue was to replace the engine entirely. Many owners had to go through this trouble, sometimes more than once. Other than this, the 2009 Mini also had turbo, supercharger, timing chain, and timing belt issues.
As a result of these problems, this model of the Mini was recalled three times. These recalls were ordered by the National Highway Traffic Safety Administration itself. All these factors combined make 2009 the worst year for Mini Cooper reliability. If you are still looking to buy a 2009 Mini, we have one piece of advice for you."Please don't! do it"
2011 Mini Cooper
The engine issues with the Mini Cooper only got worse in the 2011 model year. Here, the issue was that the engine was known to easily fail without notice. Not only that, it could even catch fire at random moments. This made the 2011 Mini one of the most dangerous cars on the road.
Apart from the engine issues, the 2011 model year suffered from transmission issues as well. Owners have reported the gear shifts to be difficult. This issue especially applies to automatic transmissions. Not only that but the oil filter housing gasket was also known to leak fluid.
Another faulty component of the 2011 Mini Cooper is the engine computer unit, also known as the ECU. Oil leaks from the thermostat and issues with the fuel pump are also common with this generation.
2012 Mini Cooper
The 3rd worst year for Mini Cooper reliability is 2012. This model of the Mini Cooper was plagued with issues in the electrical and transmission systems. Transmission issues make the vehicle difficult to accelerate and handle. On the electrical front, the wires had a tendency to wear out quickly. Because of this, the lights and other exterior components didn't work most of the time.
Apart from the above-mentioned issues, the 2012 Mini Cooper had some other issues as well. These included faults with spark plugs, failures of the brake rotors, and problems with electronic ignition. Do you know what's worse? These components can be hard to access. Often, the repair cost of a 2012 Mini Cooper exceeds $2000.
2013 Mini Cooper
Clutch failure is the most common issue with the 2013 Mini Cooper. This can happen around the 15,000-mile mark, which is really low mileage for issues like this. The interior of the 2013 model is also known to be uncomfortable. This is especially true about the back seats of the vehicle.
This Mini also has poor ride quality and handling at high speeds. Not only that, the infotainment system has some issues as well. Because of all these reasons, We recommend you refrain from buying a 2013 Mini Cooper.
Now that we have looked at the worst years for Mini Cooper's reliability, it is time to look at the opposite. The most reliable years of the Mini Cooper are discussed in the next section.
Best Mini Cooper Year
Here, we will tell you the top 5 Mini Cooper models years known to have the best reliability. That way, you can choose a Mini from one of these years without any doubt. The 5 best years for Mini Cooper reliability are,
Next, we will go through each of these models and tell you what's so great about them.
Best Year For Mini Cooper Reliability #1 – 2016 Mini Cooper
Undoubtedly, the 2016 model year can be considered the best year for Mini Cooper reliability. Powerful brakes paired with nimble handling make this one of the most fun cars money can buy. This model has plenty of power under the hood as well. The power is produced by a four-cylinder engine. The maximum power output of the 2016 Mini Cooper is 189 horsepower, which is plenty for a small car like this. This means that this car can reach 62 mph in a mere 6.8 seconds.
The 2016 Mini Cooper has a responsive and agile steering feel. Not only that, the ride of this model is very comfortable. There are plenty of safety features too. Some of them are stability control, front and side airbags, and anti-lock brakes. Advanced safety features such as forward collision warning and an automatic emergency braking system are also present. The 2016 Mini Cooper has a good reputation for reliability as well. All these facts combined make this the best Mini Cooper you can buy.
Best Year For Mini Cooper Reliability #2 – 2017 Mini Cooper
A great reliability rating along with impeccable crash test results make 2017 another best year for the Mini Cooper. For people looking to get a high-powered engine, the 2017 model year is the best choice. That is because this model was offered with powerful turbocharged engines.
Not only that, these engines allow the Mini Cooper to be very fuel-efficient too. Also, the interior of the 2017 Mini Cooper is a great place to be. Paired with a large luggage space with the seats down, this is another great year for the Mini Cooper for both reliability and usability alike.
Best Year For Mini Cooper Reliability #3 – 2018 Mini Cooper
2018 is another best year for Mini Cooper reliability. With good maintenance, this model of Mini Cooper can serve you for years to come. The 2018 Mini has great handling and an enjoyable ride. Also, three body styles are offered with this Mini Cooper. These are divided into hardtop and convertible models.
The hard top can be had in both two-door and four-door configurations. However, the convertible is only offered with two doors. Good technology and safety features make 2018 one of the best years in the history of the Mini Coopers.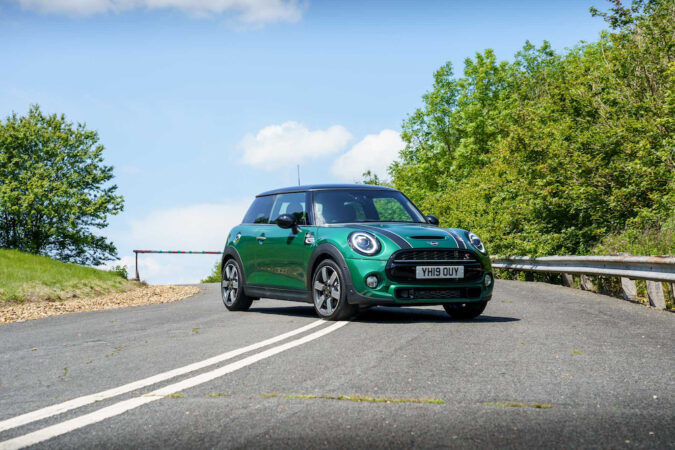 Best Year For Mini Cooper Reliability #4 – 2019 Mini Cooper
The 2019 Mini Cooper came with many upgraded features which makes it another best year for reliability. This Mini Cooper also had a great crash test rating. As a result, this is one of the safest Mini Cooper models on the market today. In 2019, the Mini Cooper S trim level was on sale as well. This is the best option for people looking to get a luxurious Mini Cooper. However, if you are just looking for a fun, cheap, and reliable vehicle, the base model is more than enough.
Best Year For Mini Cooper Reliability #5 – 2020 Mini Cooper
With a reliability rating of 5 out of 5, the 2020 Mini Cooper deserves a place on this list. A practical interior with luxurious options, together with a peppy engine makes this Mini Cooper stand out from the rest of its siblings. This model year of the Mini Cooper comes with a variety of customization options.
This means, that you can find a Mini Cooper made just for you. A smooth accelerating engine makes sure that you are enjoying every moment behind the wheel of this fun little car. By considering all these factors, we decided to name 2020 as another best year for Mini Cooper reliability.
So, now you have an idea about the best year for Mini Cooper reliability. Next, we thought of discussing the various generations of the new Mini Cooper with you. If you are a Mini Cooper enthusiast, you will definitely enjoy this. Let's begin, shall we?
Mini Cooper Models
The modern Mini Cooper we know and love today made its debut in 2001. As of 2022, there have been three generations of this vehicle. Here, we will have an in-depth look at each generation of the Mini Cooper.
First Generation
The first generation of the Mini Cooper went on sale in 2001. This model was powered by a 1.6-liter engine. The little four-cylinder engine produced 115 horsepower, which was adequate for a small car like the Mini Cooper. The car could be had with two transmission systems. The first was an old-school five-speed manual. The second choice was a CVT automatic. The manual was the more fun option, while the CVT provided ease of use.
A high-performance version called the Mini Cooper S was also offered. This version was powered by the same engine. However, it was paired with a supercharger for good measure. This gave the engine a 48-horsepower bump, up to 163. The Cooper S received many accolades at the time for being one of the best performance hot hatches on sale.
2005 saw the introduction of the convertible body style for both the Cooper and the Cooper S models. A limited-edition model named the John Cooper Works GP was released in 2006. Only 2000 of these hot hatches were produced.
These were made as a tribute to John Cooper, who was the person responsible for the original performance Mini. This model increased the power output even further, peaking at 215 hp. The JCW GP was handcrafted in Italy, which makes it extra special. 2006 was the last year of the first generation Mini Cooper.
Second Generation
There was one major difference between the second-generation Mini and the first one. This was the platform they were based on. The second generation was based on an all-new platform and had some exterior differences as well. The most significant one was the front grill, which had an updated look. The engine power of this generation was increased to 118 hp. However, the transmission options remained the same.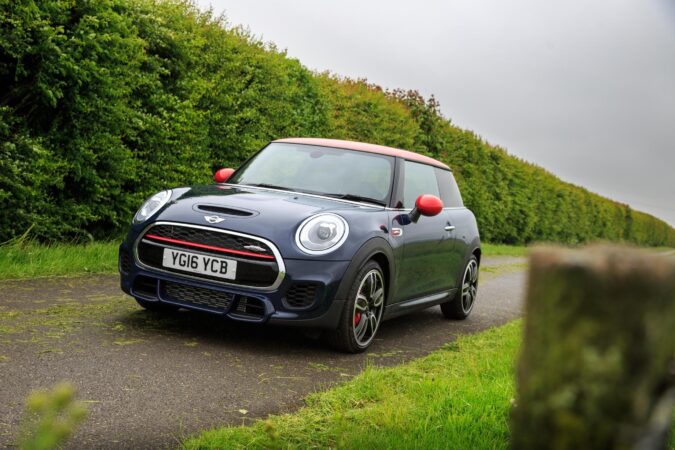 On the other hand, the Mini Cooper S received a significant upgrade. The supercharger was ditched in favor of a turbocharger. This gave the engine a 9-horsepower bump.  The Mini Cooper S offered buyers two transmission options. A six-speed manual or a paddle-shift automatic.
A new John Cooper Works model along with convertible variants of the base models arrived in 2009. 2011 saw the second-generation Mini get a mid-cycle refresh. New body colors and some new wheel designs were introduced with this refresh. Not only that, new safety features and a performance upgrade were offered as well. The second-generation Mini Cooper was sold for 7 years, starting in 2007 and ending in 2013.
Third Generation
The current generation of the Mini Cooper first went on sale in 2014. With this third generation, the dimensions of the Mini saw an increase. This was mainly done to comply with updated safety regulations. But, this increase in size had a positive effect on the practicality of the vehicle. As the cabin was now bigger, there was more space for the passengers.
On the other hand, the performance figures of the Mini Cooper also got updated. The third generation of this city car came with two all-new engine options. Powering the base model was a 1.5-liter three-cylinder turbo engine. It could produce a more than adequate 134 horsepower.
The Cooper S also got a new engine. Now, it was powered by a turbocharged inline-four engine. This 2.0-liter engine was capable of producing 189 horsepower. The old automatic transmission was replaced by an all-new dual-clutch transmission.
The third-generation Mini Cooper was fuel-efficient as well. The EPA rated this model at 32 mpg. The later years of this model saw some aesthetic and safety features being added to the vehicle. The third-generation Mini is currently on sale around the globe.
Mini Cooper Reliability
The reliability of Mini Cooper models varies between model years. Also, each of the three generations had its own set of reliability issues.
Reliability #1 – First Generation
The first-generation Mini Cooper has a number of reliability issues. Failures of the clutch are one of the most common reliability issues of this generation. The clutch can fail at relatively low mileage. Rust is another widespread issue. Oil leaks and electrical issues are also common with Mini Coopers of this generation.
This generation of the mini faced several recalls. The most common recall affected 86018 Mini Coopers. This was because of an issue with the power steering system. However, this issue was fixed as the Mini Cooper reached the end of production
Reliability #2 – Second Generation
Timing chain issues were the most common problem during the second generation of the Mini Cooper. Here, the timing chain could get loose, leading to engine problems. The main cause of this issue was oil starvation. The power steering pump was also known to fail. Leaky water pumps were also common. Another common reliability issue of this generation was related to the radiator. You see, the radiator of these Mini Coopers was made of plastic. As a result, they cracked as time passed.
We recommend avoiding second-generation Mini Coopers with CVT transmissions. There are many reliability issues with these models. Instead, go for a manual transmission car (and you know how to drive a stick). With proper maintenance, these cars can be very reliable.
Reliability #3 – Third Generation
There were no major reliability issues reported with this generation. However, owners have reported a few minor issues. Wearing the clutch is one area of concern. Other than that, electrical issues and engine mount problems are common. Not only that, the third generation mini is well known for high oil consumption. All in all, this is the most reliable Mini generation. However, the long-term reliability of these Mini Coopers is yet to be seen.
Mini Cooper Reliability: Facts to Know
The Mini Cooper has been in production since 1959 and is currently owned by BMW.
The first generation Mini Cooper debuted in the United States in 2002 and had five recalls, making it not very reliable.
The second generation Mini Cooper had issues with loose timing chains and the power steering pump, but improved compared to the first generation.
The third-generation Mini Cooper has improved significantly in reliability and had no recalls for the 2018 model year, with models between 2015 and 2019 being the safest to buy used.
The 2011 Mini Cooper is considered the best year for reliability with only two recalls, and has held its resale value well.
Common problems for Mini Coopers include clutch failure, radiator expansion tank cracking, oil leaks, rust, and electrical glitches, as well as problems with the variable valve timing and water pump.
The annual maintenance cost for a Mini Cooper is estimated to be around $750, higher than the subcompact average of $500 to $700.
Minis can last over 150,000 miles with proper maintenance, but repair bills can become expensive after 100,000 miles.
Used car prices for Mini Coopers vary widely, ranging from $4,000 to $40,000 depending on the model and year.
A pre-purchase inspection (PPI) is recommended before buying a used Mini Cooper, and it is important to check for common problem areas.
Best Year For Mini Cooper Reliability: In Conclusion…
In this article, we talked about one of the most iconic vehicles in history. The Mini Cooper has a history that runs back half a century. Throughout these years, there have been some great models. However, there have been some bad models as well. Here, we discussed the best year for Mini Cooper reliability.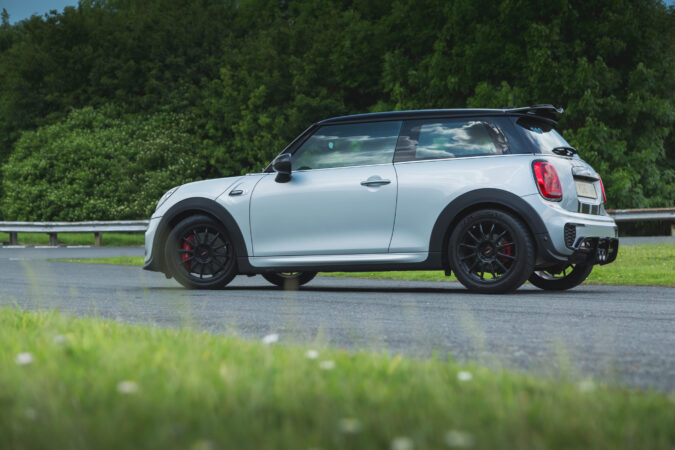 First of all, we looked at the history of the Mini Cooper. Then we looked at the worst and best years for Mini Cooper reliability. Later on, we looked at the various Mini Cooper generations that were sold throughout the years. In the final section, we talked about the reliability of these Mini Cooper models.
Best Year For Mini Cooper Reliability: Frequently Asked Questions (FAQs)
Here are some popular FAQs:
Who Makes Mini Cooper
The original 1959 Mini was made by the English car manufacturer British Motor Corporation (BMC). However, German car manufacturer BMW makes Mini Coopers now. They purchased the Mini brand in 1994. The third-generation Mini Cooper is produced in England, the Netherlands, and Indonesia.
Are Mini Coopers Reliable
Older Mini Coopers are not that reliable. However, the newest Mini is known for its reliability. With proper maintenance, Mini Coopers can serve you reliably for a long time.
Who Owns Mini Cooper
German car manufacturer BMW owns the Mini Cooper.
Where Are Mini Coopers Made
Originally, Mini Coopers were only made in England. Now, they are made in Indonesia and in the Netherlands as well.
Are Mini Coopers Good Cars
Mini Coopers are great for daily use. They are small and fun to drive. These cars have great fuel economy as well. However, a Mini Cooper can be too small to be used as a family car.
How Much Does A Mini Cooper Cost
Mini Coopers are some of the most affordable vehicles on the planet. In fact, being affordable was one of the goals of its creators. Currently, the starting price of a Mini Cooper is $22,900.
Are Mini Coopers Safe
Mini Coopers are known for their compact design and sporty appeal, but safety is also a priority. They often come equipped with multiple safety features, including anti-lock brakes, stability control, front-impact airbags, side-impact airbags, overhead airbags, and knee airbags. These features aim to protect passengers in various collision scenarios. Additionally, they undergo safety tests by various agencies and have received commendable ratings in certain aspects. However, like all cars, their safety can vary by year and specific model. It's always good to check safety ratings for the particular year and model you're interested in.
Is Mini Cooper BMW
Yes, the Mini Cooper brand is owned by BMW. BMW acquired the Mini brand in 1994 and has since been responsible for the development, production, and marketing of Mini vehicles. Under BMW's ownership, the Mini Cooper has seen various design changes and technological advancements while maintaining its iconic design and heritage.
How Long Do Mini Coopers Last
The lifespan of a Mini Cooper can vary based on factors like maintenance, driving habits, and climate. On average, a well-maintained Mini Cooper can last over 150,000 miles. Regular service and using genuine parts play a crucial role in ensuring longevity. It's always recommended to follow the manufacturer's maintenance schedule and address any issues promptly.
Are Mini Coopers Expensive to Maintain
Maintenance costs for Mini Coopers can be higher than some other compact cars. This is partly because they are a premium brand, and parts and labor can be more expensive. Regular maintenance is essential, and addressing issues early on can save money in the long run. It's advisable to get a service quote or check reviews from other owners to get an idea of yearly costs.
How Many Miles Do Mini Coopers Last
On average, a well-maintained Mini Cooper can serve its owner for over 150,000 miles. Some have even surpassed 200,000 miles with diligent care. However, the overall lifespan can vary depending on factors like driving habits, maintenance, and regional conditions.
Are All Mini Coopers Manual
No, not all Mini Coopers are manual. While Mini Coopers have a history and reputation for manual transmissions, they are also available with automatic transmissions. The choice between manual and automatic largely depends on personal preference and driving style. It's always a good idea to check the specific model and year for available transmission options.
Is Mini Cooper German
The Mini Cooper brand has roots in the United Kingdom and was originally a British invention. However, since 1994, the Mini brand has been owned by BMW, a German company. So, while its heritage is British, its current ownership and some of its production aspects are German.
Are Mini Coopers Automatic
Yes, Mini Coopers come in both manual and automatic transmission options. Over the years, as consumer preferences have shifted, automatic versions have become increasingly popular. However, for those who love the traditional driving experience, manual versions are still available in many markets. Always check the specific model and year to see the available transmission options.
When Did Mini Cooper Come Out
The original Mini was introduced in 1959 by the British Motor Corporation (BMC). It became iconic for its unique design and efficient use of space. The 'Cooper' name was added after John Cooper, a racing car maker and friend of the Mini's designer, who created a more powerful and sporty version in the early 1960s. This led to the development of the Mini Cooper, which gained popularity rapidly and became synonymous with British pop culture of the 1960s.