It might be fair to say that a vehicle couldn't possibly get any more innocent than a Chevy Traverse. Chevrolet's mid-size three-row SUV is as family-friendly as an episode of SpongeBob SquarePants over a PG-rated movie night. The Traverse appears to be the ideal choice for anyone looking for a great family car, with plenty of room to spare. But peel away underneath the unassuming skin, and you might just yourself drowning in a sea of Chevy Traverse problems.
The Chevy Traverse offers a lot of kit and practicality for the money, but the Chevy Traverse may just cost you a semester's worth of your kid's college tuition if and when it goes wrong.
But is it really that bad, and is it a car worth traversing all the inconvenience just to have a go in it? Well, it's got a fairly handsome shape, plus a lot of interior space for your whole family and an entire Walmart's worth of groceries. That, plus a lot of clever safety and convenience tech packed in.
Yet, it didn't take long for all the issues to start appearing following its inception amidst the ashes of the Financial Crisis. It ranges everything from minor electrical faults, to transmission woes, and at times catastrophic engine failure.
So, you might wonder as you're reading this, is Chevrolet's family roundabout going to bankrupt me all the way to the workshop? Well, our guide on all the noteworthy Chevy Traverse problems should hopefully help you answer that.
Chevrolet Traverse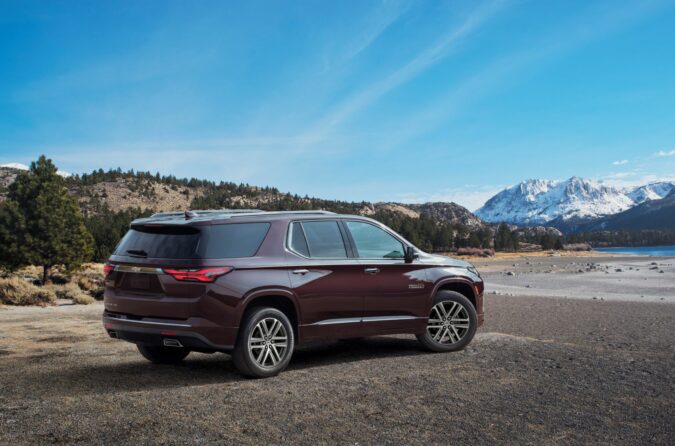 First, let's take a closer look at what the Chevy Traverse is, and why it needed to exist. Its design was inspired by the Chevy Sequel concept, which made its debut in 2005. The Traverse followed suit in the Sequel's display of a new chevron-styled grille that came to identify Chevrolet cars of the era.
The veil was finally lifted from the 1st-generation Traverse in the 2008 Chicago Auto Show. Contrary to the Sequel's use of hydrogen fuel cells, the Traverse stuck with an old-school V6 motor.
More specifically, it was Chevrolet's 'LTT' 3.6-litre V6, mated to a 6-speed GM automatic transmission. The underpinnings of the 1st-gen Traverse were shared with several other General Motors vehicles, including the GMC Acadia and the Buick Enclave.
The 1st-generation of the Chevy Traverse had the most amount of problems – as we'll look more into later on in our Chevy Traverse problems guide. It was on sale for a long time, from the 2009 to 2017 model years.
The 2nd-generation of Chevrolet's Traverse was introduced for the 2018 model year and remains on sale today. It shared a platform with the new Cadillac XT6, including updated versions of the aforementioned GM staples.
With its new and rugged truck-like design, the 2nd-gen Traverse had some tech upgrades for active safety features and other improvements. The powertrain options now include a 3.6-liter 'LFY' V6 and a 2.0-liter 'LTG' turbocharged 4-cylinder.
Chevy Traverse Years To Avoid
Overall, the Chevy Traverse itself was decently well received by the automotive press and its customers. It's very practical, with plenty of high-tech gadgets, comes at a fairly reasonable price tag, and is plenty capable on or off the road.
Plus, the most recent 2020 and 2021 model year Traverse was given a highly respectable 5-star safety rating from the NHTSA. If you could have a single vehicle that could do as many things right and all at once, the Traverse would be it.
But that luster begins to dim once the repair bills start coming in. The 1st-generation of the Traverse in particular was quite problematic as maintenance goes. Most especially, the Chevy Traverse made between the years 2009 and 2015, which can suffer disastrous problems.
In order of severity, these cars suffer from a myriad of different engines, steering, transmission, and electrical problems. Those are the most common and costly issues to bear in mind.
Based on the website, CarComplaints.com, they have concluded that the 2011 model year of the Traverse is the worst. This is taking into account the severity of the problems and the expense associated with fixing them.
Along these particular model years, the Chevy Traverse problems also prompted the most number of recalls. For the most part, the most serious of these recalls concern the transmission.
In short, the Chevy Traverse years to avoid include these model years:

2009 – Transmission failure (and many other issues besides)
2010 – Engine problems (leading to total engine failure)
2011 – Engine problems (often causing stalling while driving)
2012 – Engine problems (causing your car to lose power)
2015 – High oil consumption (in addition to oil leaks)
2018 – Shudder and vibrations (including a loss of power)
Best Years For Chevy Traverse
Having so far listed out the worst model years of the Chevy Traverse, what are its best model years? Well, it's not all doom and gloom, as several model years of the Chevy Traverse were not too bad. In addition to its features, practicality, and capability, these model years were also comparatively reliable.
If you're thinking of getting a Chevy Traverse, here are some of the better model years that you can consider looking into:
2014 – Although the 2009 to 2015 Traverses are best avoided, the 2014 variant (and some 2013 ones) are pretty decent choices. It offers a great mix of safety systems, spacious passenger and cargo space, deft handling, and many other neat features.
2016 – Besides improved ADAS suites (including the addition of rear cross-traffic alerts and blind-spot monitoring), Chevy added more features to the Traverse. It had nice leather upholstery, 8-way powered seats, and better Wi-Fi and 4G LTE features.
2019 – The 2018 model year saw an uptick in faults as Chevrolet went ahead with redesigning the Traverse. But once those early issues were sorted out, the 2019 Traverse was a well-rounded car, with an abundance of interior space, all-wheel drive (also, check out our list of the best all wheel drive cars), and a potent V6.
2020 – There's a good reason why the Chevy Traverse is so popular, and the 2020 version solidifies this. You no longer had the option of its turbo 4-cylinder, but you did get a higher-tech infotainment system in return. This meant improved backup cameras and a handy 360-degree camera setup.
2021 – Not a lot of changes here from the 2020 model, but there was some refinement. This means that you get to enjoy a comfy, roomy, and well-appointed cabin, in addition to some impressive in-car tech. So far, it also isn't showing too many Chevy Traverse problems (not yet).
Chevy Traverse Reliability
We're using a popular site known as CarComplaints.com to narrow things down and identify specifically what problems are plaguing which model year of a certain car.
Their webpage accumulates complaints made by online users, as well as those filed directly to the NHTSA. CarComplaints.com's database is the basis for our Chevy Traverse problems guide here. As mentioned earlier, the worst model years range from 2009 to 2015.
However, the frequency of complaints started dropping after 2012, especially after the 2013 facelift. In summary, the 2017 model year Chevy Traverse had little to no complaints thus far.
Meanwhile, the 2nd-generation of the Chevy Traverse saw an uptick in complaints in its maiden launch in 2018. But after that, the car is still too new for any significant problems to crop up. We also saw GM's more concerted efforts to address major quality and reliability issues.
Chevy Traverse Common Problems
We'll take a closer look at model year-specific Chevy Traverse common problems in a bit, but for now, here are the most common issues (across all model years)…
1. Transmission Issues
Another transmission-related issue common in Chevy Traverse is the wave plate failing, leading to no movement in the vehicle even though it can start. This requires a transmission rebuild or replacement, which is costly. It's crucial to have your vehicle regularly serviced to minimize the likelihood of transmission failure.
2. Cooling System Problems
The Traverse is also known for having cooling system problems. Overheating can occur due to a faulty thermostat or a leaking water pump. Both of these issues are serious and require immediate attention. If your vehicle overheats, it can lead to engine damage. Make sure to check your coolant level regularly and look out for any coolant leaks on the ground where your car is parked.
3. Air Conditioning Problems
Many Traverse owners report problems with the air conditioning system. Some common issues include the AC not cooling enough or the AC compressor failing. This is a widespread issue, especially in areas with hot climates. If your AC is not cooling properly, it is best to have it checked by a professional. A non-functioning AC system can make your car rides very uncomfortable, especially in hot weather.
4. Suspension Problems
Chevy Traverse owners have reported various suspension problems, such as a knocking noise while turning or driving over bumps, and excessive tire wear. These issues are often due to worn-out struts or other suspension components. Regular inspection of your vehicle's suspension system can help catch these problems early on and prevent costly repairs.
5. Electrical Issues
Electrical problems are also common in the Chevy Traverse. These can range from minor issues like a malfunctioning radio or interior lights not working to more severe problems like the vehicle not starting at all. It's essential to address electrical problems promptly, as they can lead to other, more serious issues.
6. Recalls
It's also important to be aware of any recalls associated with your vehicle. The Chevy Traverse has had several recalls over the years for various issues, such as problems with the airbags, seat belts, and brakes. Make sure to check with your dealer or the National Highway Traffic Safety Administration (NHTSA) website to see if your vehicle has any recalls that need to be addressed.
7. Fuel System Issues
Another issue reported by some Chevy Traverse owners is fuel system problems. This can include the fuel pump failing or the fuel gauge not reading accurately. A faulty fuel pump can cause the vehicle to stall while driving, which is a significant safety concern. Regularly check your fuel system to ensure it is functioning correctly.
8. Power Steering Failure
Some Traverse owners have reported power steering failure, particularly in the 2009 and 2010 models. This issue can make the vehicle very difficult to steer and maneuver, which is a significant safety concern. Some owners have had to replace the entire power steering pump, which can be quite expensive.
9. Timing Chain Problems
The Chevy Traverse has also been known to have issues with the timing chain. A faulty timing chain can lead to a variety of problems, including engine failure. Some owners have reported needing to replace the timing chain, which can be a costly repair.
10. Airbag Issues
Some models of the Chevy Traverse have been recalled due to airbag issues. The airbags may not deploy properly in a crash, increasing the risk of injury. It's crucial to address this issue immediately if your vehicle is part of the recall.
11. Faulty Traction Control
Another common complaint among Traverse owners is the traction control system. Some owners have reported that the traction control light comes on randomly, and the vehicle may lose traction unexpectedly. This can be a significant safety concern, especially in slippery or icy conditions.
12. Premature Brake Wear
Many Traverse owners have reported premature brake wear, particularly in the 2009 and 2010 models. Some owners have had to replace their brake pads and rotors as early as 30,000 miles. Regularly inspecting your brakes can help catch this issue early on and prevent costly repairs.
13. Faulty Windshield Wipers
Some Chevy Traverse owners have reported issues with the windshield wipers not working properly or failing altogether. This is a significant safety concern, especially in rainy or snowy conditions. Regularly inspecting your windshield wipers and replacing them as needed can help prevent this issue.
While the Chevy Traverse is a popular midsize SUV, it is not without its problems. From engine and transmission issues to suspension and electrical problems, there are several common issues that Traverse owners should be aware of.
Regular maintenance and promptly addressing any problems can help keep your vehicle running smoothly for years to come. Remember to also check for any recalls associated with your vehicle and have them addressed as soon as possible.
By being proactive and aware of these common Chevy Traverse problems, you can help ensure your vehicle remains safe and reliable on the road. Ultimately, while the Traverse has its share of issues, with proper care and attention, it can still be a great vehicle for you and your family.
Here is a more in-depth breakdown of the most common and notable Chevy Traverse problems, based on their model year:
2009 Chevy Traverse Problems
This was the first full model year of the Chevy Traverse on sale following its unveiling. This model year has quite a large number of issues, but by far not the worst. In this model year alone, CarComplaints.com noted that there were more than 1,300 TSBs.
Otherwise known as Technical Service Bulletins, TSBs are official communications made between Chevrolet and its dealerships. This is to detail key problems with the car, and how to troubleshoot or fix them.
There have also been 8 recalls made so far. In 2009, there were two recalls totaling nearly 300,000 Chevy Traverses. This is an issue with the gear lever and faulty parking brake, which may enable unintended movement even while parked.
There were also several other recalls concerning the wiring, electrics, airbags, and more. The most serious recall in terms of sheer number was in 2014 when over 1.3-million cars were recalled over the seatbelt restraints.
The liftgate struts might also fail and cause it to fall on top of someone. This prompted another recall in 2015, totaling over 690,000 cars to have fixed. As far as Chevy Traverse problems go, CarComplaints.com recorded over 637 unique complaints made against the 2009 model year.
This is quite a high number for any car on their database. As we take a closer look, the most common problems are with the steering, engine, and transmission.
1. Steering – Hard To Turn The Wheel
A third of Chevy Traverse problems for the 2009 model year surround the car's steering. Many owners reported instances where the steering wheel would be hard to turn, especially at lower speeds.
As such, maneuvering at lower speeds such as needing to park or driving around tight spaces can be a challenge. This can be noticed by the steering wheel being stiff to turn. Or, there might be odd 'knocking' or 'clunking' noises when turning the wheel.
Some owners have reported hazardous situations where they very nearly hit another car or noticed the steering correct itself suddenly while driving. The problem has been narrowed down to a faulty steering rack.
Owners have reported the problem being fixed after replacing the entire rack and pinion system. The steering issues can start cropping up after 100,000 miles and have a repair bill of around $1,200 to $1,400 on average for a fix.
2. Engine – High Oil Usage, Spark Plug Failure, Broken Timing Chain
After steering issues, engine problems sit in second place for the number of complaints. Commonly, owners have reported that their Chevy Traverse would consume a lot of oil.
So much so, that excessive oil consumption can cause performance issues. One owner was informed by a mechanic that the engine needed to be replaced ($4,500 – $5,000) if they wanted to fix the problems for good. Alternatively, the camshaft and sensors could be replaced ($1,000 – $1,500).
Among other engine-related issues with the 2009 Chevy Traverse was spark plug coil failures, which could happen at mileage as little as 48,000 miles on average. This can cause misfires and a repair bill of around $360.
Perhaps the most serious common issue, however, was faulty timing chains. This can happen at a mileage of around 100,000 miles and will result in a hefty bill of around $3,000 to fix or consider a timing belt replacement cost.
3. Transmission – Complete Gearbox Failure
The transmission on the Chevy Traverse for the 2009 model year can also be problematic. It can be felt as a sudden loss of power, unable to change gears, the engine revving high, or transmission slippage.
It could happen at around 88,000 miles on average. The cause varies but has been narrowed down to prematurely worn-out transmission fluid. This results in complete transmission failure, and the only way to fix it is a full replacement of the entire transmission, costing between $3,000 to upwards of $4,000.
2010 Chevy Traverse Problems
Based on data from CarComplaints.com, the 2010 model year Traverse saw a large increase in the number of reported issues. There were more than 1,400 different technical service bulletins on faults related to this year of the Traverse.
In contrast to the previous model year, there were "only" half as many recalls. All of them were issued alongside the 2009 model year Traverse, covering aspects of the seat belts, airbags, and rear liftgate as mentioned earlier.
A 30% increase in the number of Chevy Traverse problems from 2009 saw the 2010 Chevy Traverse problems record 996 complaints on CarComplaints.com. It even helpfully won the "Beware Of The Clunker" award on their website, owing to the high dissatisfaction over the Traverse's reliability.
Some of the issues of this particular model year, such as the faulty steering and powertrain problems, are carried over from the 2009 car.
1. Engine – Blown Motor, Faulty Timing Chains
Some owners of the 2010 Chevy Traverse noticed the 'check engine' warning light flash, followed by an immediate loss of power. Other potential signs were a ticking noise (similar to a lifter tick in some ways) with the engine running, or the odd noise as though the engine was running with no oil in the car.
Despite many of these owners diligently changing the oil, the 2010 Traverse can fall victim to noticing the signs of a blown engine. The only fix was to replace the engine with a new block.
Estimates vary anywhere from upwards of $6,000 to more than $13,000. Not only deadly expensive to fix, but it can start showing signs of failure after just 100,000 miles of driving.
Another part within the powertrain of the 2010 Chevy Traverse that could fail is the timing chain. Just like the 2009 model year, this will require an immediate replacement, with an average bill of between $2,000 to $7,000 depending on how much damage it's caused to the rest of the engine.
2. Steering – Power Steering Failure
As with the 2009 car, the Chevy Traverse problems for 2010 also included faults within the steering rack. More than a third of complaints centered around this issue, mostly on the power steering system.
It might stop working entirely (akin to a power steering fluid leak), or it would sometimes cut in and out. Often, this happens while maneuvering at low speeds, such as reversing or parking. Some owners have also reported a noticeable 'clunking' noise while turning.
The cause of this is the steering rack's inability to lubricate itself sufficiently. It might require a power steering pump replacement, or it might require a complete replacement of the whole steering rack.
For the Chevy Traverse, the average repair bill varies anywhere from around $1,500 to $6,000 if significant repairs are needed. This could also be because of a leak in the steering pump, which will cost you around $1,500 to $2,000 for a repair.
3. Air-Conditioning Unit – Pressure Hose And Compressor Failure
Another one of the common Chevy Traverse problems for the 2010 model year was its A/C unit. When the A/C unit fails, it can be felt almost immediately with it blowing out hot air, or if the air isn't cold.
The faults can vary from a premature failure in the pressure hose (thus causing Freon refrigerant to leak – which you can diagnose if you know how to check freon in car and how to put Freon in car), or a broken compressor. On the less severe side of things, it can be fixed for as little as $350, but if major components like the compressor need replacing, it may cost upwards of $1,500.
2011 Chevy Traverse Problems
As we've mentioned earlier, the 2011 model year is the most heart-aching as far as Chevy Traverse problems go. It was affected by the same batch of recalls as the previous 2009 and 2010 model years.
However, the 2011 Chevy Traverse problems noted twice as many complaints compared to 2009. Many of the problems that it faces are a continuation of the previous year and are equally complex and expensive to fix.
Worst of all, most of these issues only tend to appear after the warranty period (approximately 73,000 miles under coverage). The 2011 Traverse is hence noted to be the worst model year based on CarComplaints.com's database as far as maintenance goes.
Although the frequency of electrical problems has gone down, there are still major faults within the engine and steering. Another new entrant here is the possibility of brake-related defects.
1. Engine – Faulty Timing Chain, Blown Motor
Just like the past two model years, the 2011 Chevy Traverse faces monumental problems with the powertrain. Once again, it takes up the lion's share of owners' complaints with the 2011 model year.
The timing chain here is equally prone to premature failure, which can result in the 'check engine' light flashing. According to some owners' comments, this is instantaneously followed by a sudden and immediate car losing power when accelerating.
If this isn't fixed quickly, it can cause a lot of secondary damage to the rest of the powertrain. On average, a repair of the timing chain is quoted to be around $2,500 to $3,000.
Drive it for long enough, and it could result in a completely blown motor. Replacing the entire engine on the 2011 Traverse is said to cost about $6,000 to $9,000. Other owners have reportedly needed to change the throttle bodies and the catalytic converter in addition.
2. Steering – Power Steering Failure
Power steering failure is just as common of a malfunction in the 2011 Traverse just in the previous model years. Even with meticulous servicing on the owners' part, the steering system can still suffer from lubrication problems.
The consequence is needing to replace the power steering pump (once you notice the symptoms), or the entire steering rack and pinion. In some cases, it might necessitate replacing both, which will cost you upwards of $2,000 for a fix after just around 88,000 miles.
3. Brakes – Faulty Electronic Stability Control
There is a large number of Chevy Traverse problems in the 2011 model year concerning the brakes. There is actually nothing wrong with the brakes themselves but with the electronic stability control (ESC).
Chevrolet's GM-based "Stabilitrak" ESC system can sometimes go off without a warning, causing you to slow down or brake in an instant. This can result in a loss of control and will require replacing some of the vehicle's sensors with an average repair bill of around $1,000.
2012 Chevy Traverse Problems
The 2012 Chevy Traverse did see a gradual decrease in the number of complaints, with 556 total reports on CarComplaints.com. Most of the problems here are repeated from the earlier model years.
In many cases here, it involves the powertrain once more. Some owners have reported that their cars would shudder while driving at low speeds or while driving uphill. Others, meanwhile, have noted a sudden loss of power or the engine completely dying.
Just as we discussed earlier, the common causes can be narrowed down to prematurely worn or contaminated engine oil (such as metal shavings in them), as well as a faulty timing chain. If it's been taken care of early on, it would still cost you around $2,500 on average.
However, continue driving it for too long, and might result in a lot more damage being done, such as a blown motor. Replacing the whole engine in the 2012 Traverse costs an average of around $7,000 to $8,000.
2013 Chevy Traverse Problems
Chevrolet's 2013 model year for the Traverse started seeing a halving in the number of overall complaints compared to 2012. There are 233 reports marked on CarComplaints.com, mostly listed under 'braking', 'engine', and 'electrical'.
However, all of these problems are actually the same, and the finger can be pointed toward problems with the ESC program. As per the 2012 model year, there are still lingering difficulties with the StabiliTrak electronic stability control.
The after-effects of the ESC issues can cause damage elsewhere, as it can affect the car's driving behavior such as braking and acceleration. A simple replacement of some sensors or fuses will cost around $600.
However additional wear and tear from a faulty ESC can cause issues, as one owner found out after being quoted $3,000 after their transmission needed a replacement. Other small niggles with the 2013 Traverse included problems with the A/C unit.
2014 Chevy Traverse Problems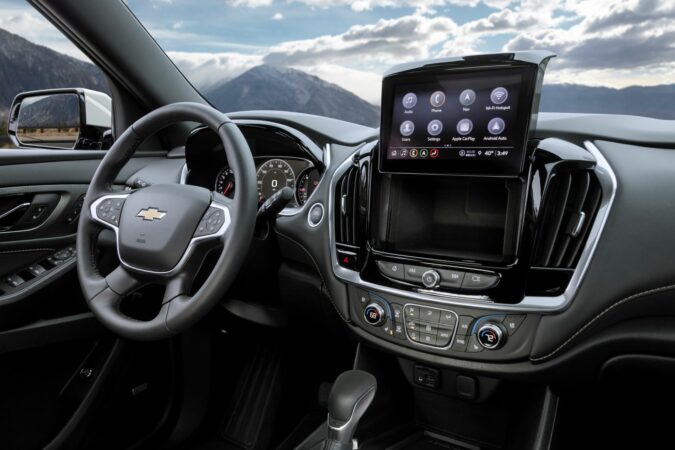 Based on CarComplaints.com's data, the 2014 Chevy Traverse problems saw an uptick over 2013, with 544 reports in total. A carry-over defect from the past year is defective electronic stability control.
The Stabilitrak ESC can go haywire and cause a sudden reduction in speed. Embarrassingly, this issue could start appearing at a very low mileage of just around 36,000 miles. A replacement of some fuses and sensors will fix the issue, with an average bill of $750.
This could also have unintended damages to the transmission, which can be felt as jerking by some owners, or as a hard shunt while changing gears at low speeds. Another common fault with the early Traverse model years is the airbags.
Some owners noticed a 'service airbag' warning light (and quickly wondered… what does 'service airbag' mean)on their dashboards. If not serviced right away, a failed sensor ($250 for a fix) might result in the airbags not being able to deploy in the event of an accident.
2015 Chevy Traverse Problems
The 2015 Chevy Traverse saw yet another decrease in the frequency of reliability concerns. A lot of the complaints are echoed in the preceding model years. In order of how many complaints there are, these defects relate to the air-conditioning, Stabilitrak ESC program, and power steering issues.
There were also a small number of owners whose 2015 Traverses had burnt down due to electrical short-circuiting. However, this has prompted a recall.
2016/2017 Chevy Traverse Problems
These last two model years – 2016 and 2017 – of the 1st-generation Chevy Traverse didn't see as many problems as the earlier years. Gradual improvements have led to around 250 complaints for both those model years combined.
Once again, the issues from the previous Traverses have persisted here, though only in smaller quantities. These are mostly related to faults with the StabiliTrak electronic stability control.
There were also some sporadic issues concerning the car's electrics. For instance, some have reported issues such as dead batteries. Moreover, there were also other issues noted, such as shorted-out wiring harnesses and burn-out sensors.
2018 Chevy Traverse Problems
2018 saw the introduction of the newly updated 2nd-generation of the Chevy Traverse. The largest share of the complaints in this model year (225 in total) is related to the transmission.
Particularly, it concerns a "Shift To Park" message popping up in the instrument cluster. This can sometimes result in owners not being able to shut off the engine and lock the car. The best DIY solution found so far is to fiddle about with the gear shifter until the message goes away.
Thankfully, the 2018 Traverse is still a fairly new car, and most owners can have these problems fixed under warranty. In general, this fault within the transmission highlights that electrics are one of the primary reasons for a lot of complaints made against this particular model year.
For instance, rapid and sudden changes in speed, or the parking brake not releasing or disengaging. Other owners have complained that their power steering module in the 2018 Traverse had failed.
2019 Chevy Traverse Problems
Although relatively new, the 2019 model year Chevy Traverse already had some issues of its own. For the time being, it's mostly sporadic and isn't necessarily indicative of any systemic, model-wide problems. But, that's something that we'll have to wait and see.
One of the most serious issues, however, concerns the 'Shift to Park' problem. This warning message lights up even after you've shifted gears into Park. On top of that, this warning would continue to persist, even after you've turned off the engine.
A temporary fix would be jiggling the gear shifter once it's in Park, which sometimes makes the warning message go away. If not, you can try shifting out of Park and into Reverse, before shifting back into Park again.
Beyond this, there are a variety of other engine and transmission-related problems. Several owners have noted oil pressure and oil leak issues. Meanwhile, others have documented problems with their Traverses stalling or not starting again due to a faulty start-stop system, or a bad starter (once you understand how to tell if starter is bad, and get your car going again by understanding how to jump a starter).
2020 Chevy Traverse Problems
With a vehicle this new, it's unlikely that systematic problems with the 2020 model year Traverse will appear any time soon. Usually, it would take some years and added mileage before serious issues start to appear.
With that being said, sporadic (and serious) faults have plagued some unlucky owners. The most expensive woe, as per comments and reports on CarComplaints.com, is something that isn't limited to Chevy alone.
This concerns the use of soy-based products to coat and shield the wiring. It's a matter that has troubled other carmakers beyond Chevrolet. The issue here is that with the coating of the wires being made of edible substances, they do attract rodents that nibble on them or make nests out of them. It might help if you know how to keep mice out of your car.
Therefore, owners are often surprised when they encounter faulty or burnt-out wiring. Other owners also experienced random issues with their 2020 Traverse's ABS and StabiliTrak. One owner even faced a problem where the entire dashboard went dark, requiring the replacement of the onboard electronics.
2021 Chevy Traverse Problems
Just like the aforementioned 2019 and 2020 models, the 2021 model year of the Traverse is far too new. Therefore, serious issues (if there are any) that can impact a large batch of vehicles aren't likely to be discovered just yet.
This doesn't mean that case-by-case and sporadic problems haven't affected some owners. For example, quite a few owners report that their brakes made a loud grinding and squealing sound, even on a light touch. Oftentimes, this is normal, where the brakes are squeaking after getting new pads.
Many vehicles with brand-new brake pads have a short break-in period, where you'll hear these noises. They typically go away after a while. But in the case of this Chevy Traverse problem, a couple of those owners noticed uneven or poor braking performance.
So, besides checking those brakes, there are some other issues to note. There were some other random and isolated troubles, too. For instance, one owner noted that their touchscreen infotainment system froze, while another reported an inability to shift into reverse
2022/2023 Chevy Traverse Problems
So far, these vehicles are far too new for mass reports and complaints to come in just yet for both the 2022 and 2023 model years of the Chevy Traverse. We'll be sure to keep you updated in the future here, should they appear.
Chevy Traverse: Years to Avoid and Common Problems – Facts
The Chevy Traverse is a midsize SUV that has been in the market since 2008 and has gone through several updates over the years.
Not all Chevy Traverse models are created equal, and some years have been plagued with issues that make them worth avoiding if you are buying a used vehicle.
The worst Chevy Traverse years to avoid include 2009, 2010, 2011, 2012, 2015, and 2018, as these models had various complaints and problems reported by customers.
Some of the most common complaints about the Chevy Traverse include engine troubles, steering issues, excessive oil consumption, unusual brake noises, and transmission problems.
Engine problems, such as engine failure, reduced engine power, stalling engine while driving, and check engine light on, have been reported on models like the 2010 and 2011 Chevy Traverse.
Steering problems, such as noisy steering, power steering fluid leak, and loose steering pump, have been reported on models like the 2011 Chevy Traverse and can be expensive and dangerous.
Excessive oil consumption, which can lead to complete breakdowns, has been reported on models like the 2010 and 2011 Chevy Traverse.
Unusual brake noises have been reported by some owners of the 2020 Chevy Traverse, but this is not as prevalent as other problems and was addressed by a technical service bulletin issued by Chevrolet.
Transmission issues, such as low fluid levels, lack of response, dragging clutch, grinding or shaking, hard shifting, slipping gears, and burning smell, have been reported by some owners of the 2009 Chevy Traverse and can cost as much as $3,000 to fix.
According to CarComplaints, some of the best Chevy Traverse models to consider if you are buying a used vehicle include 2013, 2014, 2016, 2017, 2019, 2020, and 2021.
Final Verdict
I'm sure you're reading this and are understandably feeling a bit worried. Maybe you have a Chevy Traverse waiting for you in the garage, or perhaps you might be in line for buying one (a new car or used).
In short, the earlier model years of the Traverse – in particular, those made in 2009, 2010, and 2011 – can be a land mine in terms of reliability. You could be out of pocket to the tune of $10,000 just to fix all the little (and very big) problems. In short, it can be a nightmare and a half.
There are at least some things that you can do to help mitigate any heartaches in the future. If you are planning to buy a Chevy Traverse, then consider getting a pre-purchase inspection done.
Especially take note of some of the aforementioned Chevy Traverse problems. Have these defects been serviced or replaced by the previous owner? Were there any of the above symptoms cropping up during your test drive? Did your technician friend reveal anything nasty?
If you already own a Chevy Traverse, then maybe think about getting it checked out anyway by a qualified mechanic. Keep in touch with your local dealership to know if there are any recall notices or problems that you should be aware of.
If you're able to, see whether you could get an extended warranty program on your Traverse if it's still fairly new. In all, the Chevy Traverse is a decently reliable and helpful companion to have in one's life… If and when it works properly.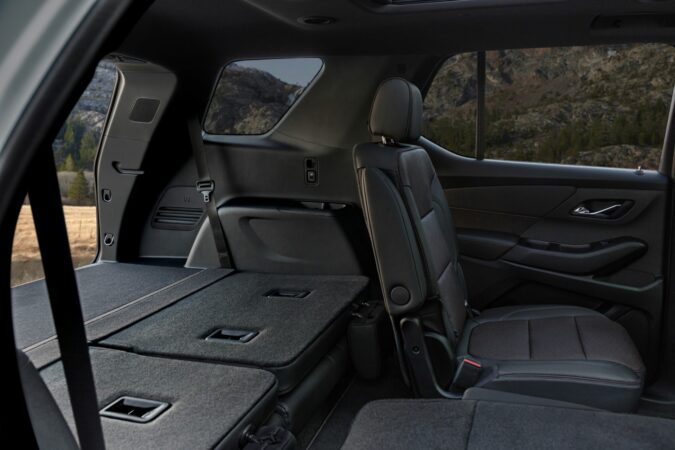 Frequently Asked Questions
If you still have some unanswered questions, perhaps our FAQs here might help provide a solution…
What Problems Do Chevy Traverse Have
The Chevy Traverse, especially the first-generation models, has an abundance of problems that might plague your ownership experience. They suffer from a variety of engine, steering, and transmission issues. The transmission is known to fail completely in some cars, while the power steering could also go out on you. By far the worst problem with the Traverse was its engine. It had a habit of burning through a lot of oil, often leaving some owners to drive for extended miles with no oil at all. Additionally, it tended to suffer from significant timing chain failures. Both of these – the oil and timing chain – can cause complete engine failure if not fixed in time.
Chevy Traverse Air Conditioning Problems
Unfortunately, it seems that owners of Chevy Traverses (especially between the 2012 to 2015 model years) frequently complain of A/C-related problems. The most common point of failure includes the compressor, blower motor, evaporator, and condenser. It's advised to have your Traverse checked out at the earliest possible opportunity if the AC starts acting up. Should you manage to fix these issues before they get any worse, it might save you from having to shell out $1,000 or more to replace and overhaul the entire AC unit.
Chevy Traverse Transmission Problems
Some of the early Chevy Traverse model years are known to suffer from transmission-related issues. For the most part, these problems came about due to transmission fluid being worn and burnt out prematurely, long before their intended end-of-life period. Therefore, owners are advised to have it checked and replaced diligently. Be wary of symptoms such as suddenly losing power, or being unable to change gears. Other tell-tale signs include the engine revving higher than usual, while the gears could slip.
Is Chevy Traverse A Good Car
In short, yes, the Chevy Traverse is among the best mid-size SUVs that you can buy today. Stepping inside, it boasts a spacious cabin, an abundance of clever tech, and is quite cozy to spend time in for those long commutes. You also get a lot of driver aids and safety systems, in addition to a smooth ride and a sporting V6 engine. In every regard, it's certainly among the best family cars that you can buy today. However, you should be wary of certain reliability concerns, especially with older Traverses. For instance, some of the Traverses made between 2009 and 2015 suffered numerous issues, ranging from engine problems to transmission failure. So, be cautious of which Traverse you get.
Where Are Chevy Traverse Made
Previously, the first Traverses were made in GM's Spring Hill, Tennessee plant. However, by 2010, production then moved to GM's Delta Township plant in Lansing, Michigan. This is where all Traverses sold today, including the recent 2022 and 2023 model years, are made. Unlike some other competing models in the midsize SUV segment, the Traverse is not sold widely on the international market. It's mostly a US-focused vehicle, with production centered in the US. Meanwhile, Canada also gets the Traverse, which is built in that same Michigan plant. Otherwise, the other major markets for the Traverse are South Korea and Mexico, where Michigan-built Traverses are exported to.
What Does LTZ Mean On A Car
LTZ – an abbreviation of Luxury Touring Z – is one of Chevy's higher trim levels, only applied to their pricier, and upmarket models. Since it's one of the higher-end trims, a Chevy vehicle fitted with the LTZ trim adds more features as standard. For the most part, you're getting more luxury appointments and in-car technology, as well as more safety systems and updated driver aids. Therefore, you can expect more equipment, accessories, and upscale touches with the LTZ trim compared to the LT or LS trim levels. In specific Chevy models, the LTZ also unlocks other features that the other trim levels don't get, such as beefier engines and more potent performance.