The Honda Civic Si (Sport Injected) is the sporty trim of the Honda Civic. If you want a sporty Civic, but the Type-R is out of your budget, or too performance-focused for your taste, then the Honda Civic Si is probably for you. But how is it different than other Civics? Which generation should you consider? And is there a Honda Civic Si automatic? We'll try to answer all your questions in this post.
History Of The Honda Civic Si
Honda began making the Si trim since the third generation of the Civic. Produced from 1984 to 1987, but there are two different versions. The Japanese and European Civic Si had a 118 horsepower DOHC engine, while the US and Canadian versions had a 91 horsepower SOHC engine. But since then, they share the same engine across all markets.
Honda has since made an Si trim of the Civic every year, with 2016 being the exception due to poor sales. However, the Si badge made a return in 2017 with the new Civic. The Civic Si is a slightly more powerful version with lots of equipment as standard. Additionally, some accents and trims are added to give the car a sportier look, such as spoilers and larger wheels.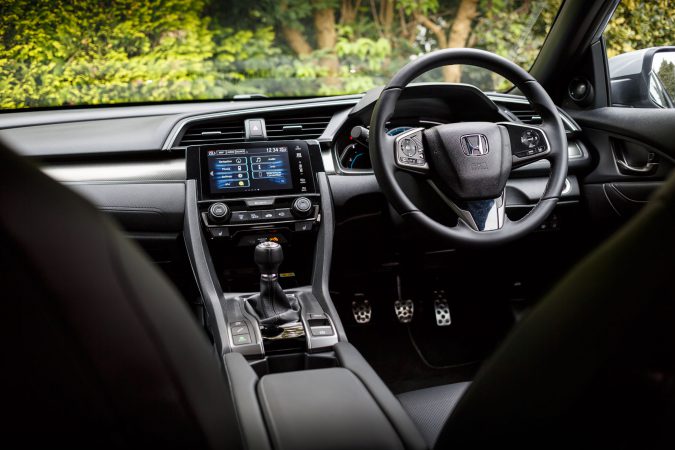 Meanwhile, some of this equipment fitted as standard includes a power sunroof, cruise control, sports seats, and more. There are also coupe versions on offer for several generations. Additionally, some generations also received a limited-slip differential (LSD). This helps to reduce torque steer and understeer, making the car more fun to drive.
The fifth and sixth generations are loved by car enthusiasts, mostly thanks to the endless modification potential. But the eighth and ninth generations are also worth noting. Whichever generation you choose, the Civic Si delivers a blend of performance and practicality into one package. It has all the practicality you would expect from a Honda Civic, but with a bit more power and better handling for a fun driving experience.
Is There A Honda Civic Si Automatic?
No, Honda has never offered a Civic Si with an automatic. Every one of them came with either a 5-speed or 6-speed manual. So if you were hoping to get a sporty Honda Civic with an automatic, you're out of luck. It's manual or nothing with this one.
You're probably wondering why there isn't an automatic version. Especially in the more recent versions, since most people only drive automatics these days and almost no one except us car enthusiasts drives manual. This is even more confusing when you consider that only 2.4% of new cars bought have a stick shift. But there are some very good reasons why:
1. Automatic Transmission Will Reduce Performance
First of all, automatic transmissions can sap more power from the engine than a manual. The torque converter is often the culprit, due to power loss when the torque converter is pumping fluid to the turbine. Drivetrain power loss is present in all cars, but an automatic can exacerbate the issue. Power loss from the engine to the wheels is usually somewhere around 15% but can be as high as 25%. You can learn more about automatic transmissions here.
Because an automatic will sap more power, this will make the car feel slower and less fun to drive. This wouldn't be a big deal for sports cars or supercars with more than 300 horsepower. But the Civic Si has no more than around 190 – 210 horsepower throughout the years. While this is plenty enough, using an automatic will make the car feel noticeably more sluggish.
Additionally, conventional automatics tend to be quite slow during shifts. As a result, this hurts acceleration performance, making the car feel even more sluggish. Of course, not all automatic transmissions are bad. Transmissions from ZF Friedrichshafen for example are very quick to shift and are one of the best automatics out there. However, they're usually more expensive and reserved for higher-end cars.
Honda often uses CVTs (Continuously Variable Transmission), which will help with the acceleration problem since CVT transmissions don't shift gears. But this makes the car mind-numbingly boring to drive. Not to mention it makes the car produce a rather annoying humming noise in highway driving. When you consider all these things, a manual is simply the better option.
2. It Will Be More Expensive, And Less Fun To Drive
Secondly, as mentioned, the manual transmission in more recent models is equipped with a limited-slip differential. This helps to reduce torque steer and understeer by controlling which wheel the power goes to. They can equip an automatic with a limited-slip differential, but that will require more development which will cost more and will ultimately make the car more expensive to buy. For that reason, it's best that Honda stick with, well, a stick-shift.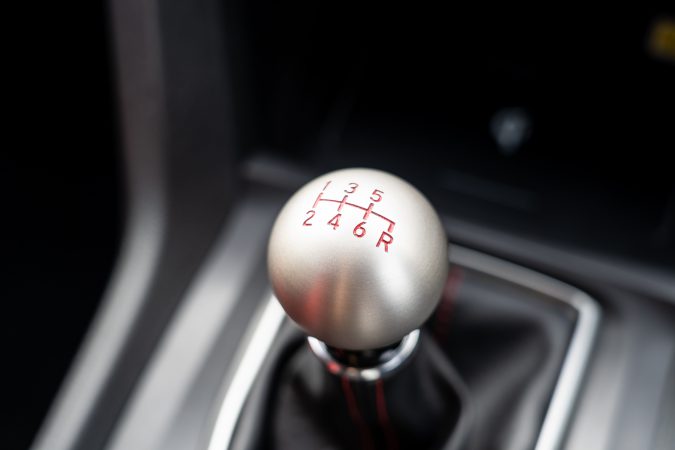 Honda intends for the Civic Si to be the higher-end and sporty version of the Civic, before getting to the full-blown Civic Type-R model. It's intended for buyers who want a practical, affordable, but still a fun car to drive. And a manual transmission is fitting, since it's cheaper to produce, and more fun. A manual makes you feel more involved in the driving process, and it feels much more rewarding to drive.
You don't just sit there and let the car decide when to change gear; you're the one who has to decide. Pick the wrong gear and the car will either over-rev or won't have enough power when you exit a corner. But pick the right gear and you will execute the corner correctly, exiting it with a huge grin on your face.
I Want One, Which One Should I Buy?
The answer will differ depending on who you ask. Passionate Honda enthusiasts will probably prefer the older generations. While more casual enthusiasts will probably recommend something like the eighth or maybe the ninth generation. So, we won't recommend exactly which one you should buy. But we will talk you through each one, and hopefully, you will be able to make an informed decision.
1. Third-Generation Civic (First Si)
The first Civic to dorn the Si badge was the third generation, from 1984 to 1987. As mentioned, the US version sports a 1.5L, 12-valve SOHC engine with 91 horsepower. Doesn't sound like much, but cars are much lighter back then. This means the Si can reach 60mph from a standstill in just around 9 seconds, and even by today's standard that's not bad.
Admittedly, there's not much special about this first-gen version. But it looks good, it has decent performance, and it's a fun little car to drive. Price starts as low as $2,500 in the secondhand market for cars in decent condition. But some specimens in immaculate condition will dorn a $7,000 asking price. They're quite desirable in the classic car scene these days.
2. Fourth-Generation Civic (1989 – 1991)
The Civic Si was initially absent in 1988, with only the CRX being offered in the Si trim during this time. But Honda brought back the Civic Si in 1989, and that's what they gave the US market until 1991. The Si also only came in a hatchback version, just like the previous generation did.
For this version, Honda gave it their D16A6 engine; a 16-valve SOHC 4-cylinder with 4-point fuel injection and a power output of a dizzying 108 horsepower. Okay, maybe it's not that much power, but still, it was decent. With a curb weight of just 2,286 lb, it can do 0-60 mph in a very healthy 8.1 seconds. To put it into context, that's about the same 0-60 mph time of a MINI Cooper with the 1.5L 3-cylinder turbo engine. So, still pretty sprightly.
Additionally, there are handling improvements as well to this model. Thanks to double-wishbone suspension at all four corners, and a more aerodynamic body shape as well. If you're interested in this model but not quite satisfied with the engine, good news: engine swaps are common with this generation.
The JDM (Japan Domestic Market) version of this Civic Si uses the B16A engine, which is a DOHC VTEC engine that produces an even more dizzying 158 horsepower. Why this engine didn't make it to the States in the first place, we're not quite sure. But since the rest of the car is still about the same, engine swaps are possible and quite common. Price? Well, they can be as low as $900 for "project" Civics, but good ones will cost anywhere between $2,500 to $8,500 depending on their condition.
3. Fifth-Generation Civic (1992 – 1995)
Like its predecessors, the Si trim of the fifth-generation Civic also only came in hatchback form. This time the Civic gets a D16Z6 VTEC engine, making 125 horsepower which is good for a 0-60mph time of 7.5 seconds. But just like the previous years, the Europe and JDM version had the B16 series engines which produce anywhere between 160 to 168 horsepower depending on the market.
The US version gets 14-inch wheels, a power moonroof with tilt, cruise control, and disc rear brakes as standard. Overall, it's still the same Civic Si recipe: practical and economical hatchback, but with better equipment and driving dynamics. It also looks more modern compared to previous Civics, since the design is more rounded which makes it look more modern.
If you're not quite happy with the engine, it's quite common to do a B-Series engine swap for this generation of the Civic as well. Prices are about the same as previous generations of the Civic Si, but the fifth generation can go as high as $9,600 on the secondhand market.
4. Sixth-Generation Civic (1999 – 2000)
Honda didn't sell the Civic Si yet again in the US from 1996 to 1998, but it made a return in 1999. This time, the US market finally gets the B16A2 engine as standard, making 160 horsepower paired with a 5-speed manual transmission. All this brings the 0-60mph time down to 7.1 seconds. And unlike previous generations, this time the Si was available in coupe form.
Other improvements include stiffer springs, stiffer anti-roll bars, and a tower brace. This makes the Civic Si slightly less comfortable than standard Civics, but handling was improved. Other upgrades also include a slightly larger exhaust which reduces backpressure, disc brakes all around, and a few aesthetic changes such as lower-profile 15-inch wheels.
This is the year where the Civic Si is going to feel more modern and more familiar to modern cars. If you're not a fan of classic cars, this is the Civic Si model year you should start to consider. This is partly thanks to a better interior, such as a leather-wrapped steering wheel, remote keyless entry, and a tilt adjustment for the bottom cushion. Prices will vary between $3,500 to $7,000 depending on the condition but expect a $5,000 asking price on average.
5. Seventh-Generation (2001 – 2005)
Honda can't seem to make up their mind when it comes to what body shape the Civic Si should use. The seventh generation of the Civic Si is back with the hatchback body style. This time the Civic Si adopts Honda's larger K20A3 engine, the same engine you'll find in the Acura RSX.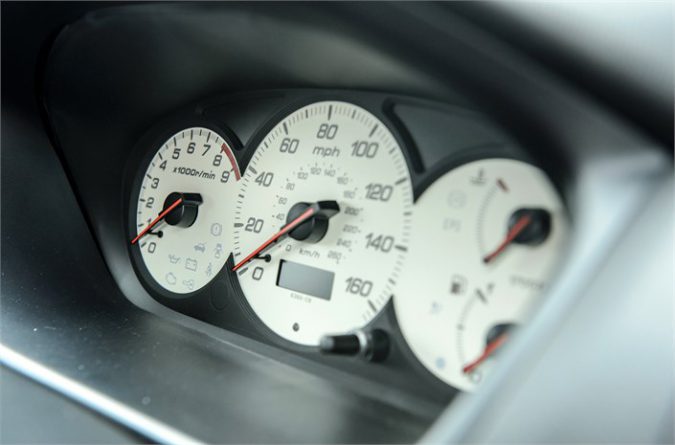 The engine is good for 160 horsepower and 132 lb-ft of torque, which sounds great but there are some downsides. The car is heavier so acceleration from 0-60mph goes down 7.6 seconds, even though it actually has about 20% more torque. As mentioned, this mostly has to do with the weight of the car and to narrow power band of the engine.
Overall performance was quite underwhelming, partly due to the engine, and partly due to the switch to MacPherson strut from double wishbone suspension, which results in less responsive handling. But like previous generations, you still get a bunch of equipment as standard. This includes air conditioning, power windows & locks, remote keyless entry, cloth bucket seats, and an electric power steering.
Despite its shortcomings, this generation of the Civic Si can still be quite pricey. Prices start as low as $8,000 but can go to as high as to around $14,000 for specimens in immaculate condition.
6. Eighth-Generation (2006 – 2011)
The next generation comes in either a coupe body or a sedan body. Whichever model you get, both come with a 2.0L K20Z3 i-VTEC engine that makes 197 horsepower and 139lb-ft of torque. Even better, it now has a 6-speed manual transmission with a helical limited-slip differential for better handling.
Add stiffer springs, dampers, and sway bars, and you now have better handling all-around. The extra power also means acceleration is much faster, with a 0-60mph time of just 6.7 seconds. And of course, there's a lot of equipment to go along with the performance; 17-inch wheels (18-inch for the sedan model), moonroof, key-less trunk access, and a deck-lid spoiler are just some of the equipment that comes as standard.
Criticisms of this generation include the weird hooded dash, where the digital speedometer sits on top of the rev counter which a lot of people find rather odd. But many enthusiasts do like it as well, as the speed is easier to read. The engine also receives some criticism; while it is more powerful, it barely has any low-down torque (like most VTEC engines do), so you'll have to rev it quite high to get the most out of the engine.
If you're interested in this particular generation of the Civic, it's going to cost you somewhere between $7,500 to $12,000 to have one of these in your garage.
7. Ninth-Generation (2012 – 2015)
This generation looks like an evolution of the previous gen and looks largely similar to it. It also comes in coupe and sedan forms, but Honda uses the K24Z7 2.4L inline-four engine for this model. This engine produces 201 horsepower and 170lb-ft of torque. It also comes with a 6-speed manual with a helical limited-slip differential just like the previous generation. All this results in a 0-60mph time of 6.3 seconds.
It's largely similar to the previous car, but the wing spoilers are different, and there are slight updates to the interior. Meanwhile, there are also upgrades to the sway bars, and the chassis is more rigid. Reviews of this generation of the Civic Si are generally positive. It's not revolutionary, but it's enough changes compared to the last-gen and is a car worthy of your consideration.
Interested? Well considering that it's still a relatively new car, this generation of the Civic Si is more expensive compared to previous ones. They'll cost anywhere between $7,000 to $19,000 on the secondhand market, depending on the model year and condition.
8. Tenth-Generation (2017 – 2020)
Finally, we get to the latest Civic Si available right now. Honda has started using turbochargers for their engines, and the engine in the Civic Si is no exception. It now has a 1.5L turbocharged engine found in other Civics, but with a power output of 205 horsepower and 192 lb-ft of torque. The 0-60mph time still hovers around the 6.3-second mark, and it still has the 6-speed manual with a helical limited-slip differential.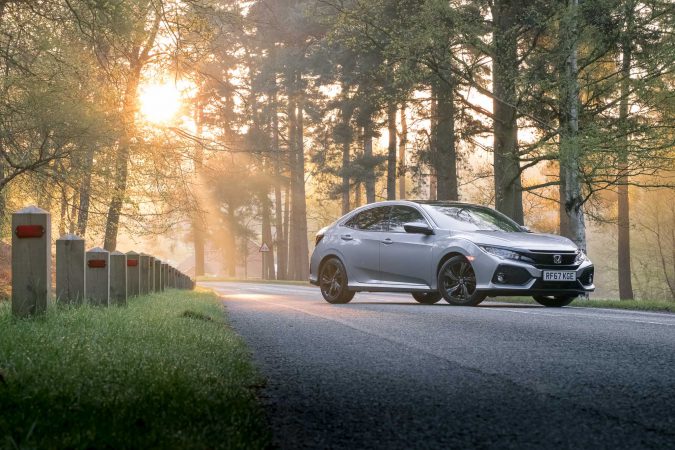 The tenth generation is probably the most mature version of the Civic Si to date, with a high-quality and well-built interior, and a relatively comfortable ride. Of course, the suspension is tuned and stiffened over standard Civics, there's an adaptive damper system, with larger front brake rotors to make driving fun.
Prices will start at around $25,000 if you want a brand new model, and expect secondhand ones to cost slightly less than that. If you just want a sporty Civic and don't want to think too much about performance tuning, this is probably the one for you.
Honda Civic Si Rivals
If you don't fancy any of the Civic Si generations above, there are alternatives. Here are some of the Civic Si's rivals:
Hyundai Elantra N-Line – This compact sedan from Hyundai also packs around 200 horsepower, and it's available with an automatic transmission should you want it. A more powerful full-blown "N" version will also be available, and there's the Veloster N as well. But these are more expensive than the Civic Si.
VW Golf GTI – The Golf GTI is one of the most famous hot hatchbacks out there. It's probably one of the best sporty compact cars you can buy, and it's available with a 7-speed dual-clutch transmission, or DSG as VW calls it. It's slightly more expensive with prices starting around $29,000 for a new model, but there are older versions which you should consider.
Mazda 3 2.5 Turbo – If you want a Japanese car, the Mazda 3 Turbo comes equipped with a 2.5L turbocharged engine making 250 horsepower. It's a compelling option, but note that the 6-speed automatic isn't a bit slow to shift, and it starts at a much pricier $30,000.
Honda Civic Si Automatic: How About The New 2022 Version?
You might have heard about a new Honda Civic coming next year. And yes, there will be a Civic Si version coming. But before you get your hopes up, no, there will be no Honda Civic Si automatic. It's still manual or nothing at all for the Civic Si. And if you're hoping for a coupe or a hatchback model, unfortunately, it will be sedan only for the 2022 Honda Civic Si.
However, the rest of the car still follows the old formula: more power than standard Civics, limited-slip differential and retuned suspension for better handling, a slightly more sporty look, and more equipment as standard. It still uses the same engine as the previous-gen, the same 1.5L turbo VTEC inline-four engine, churning out 200 horsepower which is about five less than the older model.
The good news is that Honda has retuned the engine. So, even though it makes less power, this power is available in lower RPMs, and it has a wider powerband. This results in less turbo lag, and the power is available at higher RPMs as well. Other notable upgrades include sport seats, dual exhaust tips, and larger brake rotors for better braking.
It'll go on sale at the end of 2021, but Honda hasn't confirmed the price for this new Civic Si. You can expect the price to be somewhere around $27,000 – $29,000, just a little bit more than the previous generation. The sedan body means that it's probably not the best-looking compact sports car that money can buy, but it's still a good-looking car. Moreover, the interior looks great and we rather like it.
Facts: Is There Honda Civic Si Automatic?
Honda Civic Si is only available with manual transmission and not automatic.
The reason for this is due to the low-powered turbocharged 1.5-liter engine which is better suited for a manual transmission to prevent sapping the power from the engine.
Another reason why Honda chose a manual transmission is because it complements the sporty look of the Honda Civic Si, as it gives more control to drivers who want to shift gears.
The Honda Civic Si is considered one of the best cars in terms of performance and is the only one available as both a sedan and coupe.
The Honda Civic Si comes with a 205-hp turbo four-cylinder engine, manual transmission, and a powerful chassis.
It has ample interior and cargo storage space, making it practical for everyday use.
The turbocharged 1.5-liter engine provides 205 horsepower and at least 192 lb-ft of torque, making it a lightweight and powerful car on the road.
The six-speed manual transmission comes with two driving modes: normal and sports mode, which gives drivers more control over shifting gears.
For those who prefer not to use a manual transmission, the Honda Civic Si Automatic is not available.
Car enthusiasts should consider trying the manual transmission of the Honda Civic Si as it is worth experiencing.
Honda Civic Si Automatic: Wrap Up
The Civic Si is Honda's idea of a sporty Civic. Each generation has substantial upgrades over the standard Civics, with many of them receiving more powerful engines, stiffer and sport-tuned suspension setups, and better equipment fitted as standard. It's the Civic for buyers who want a practical car, but with more performance and a more exciting driving experience.
The next time someone asks you "is there a Honda Civic Si automatic?" you can tell them no, there is no such thing as a Honda Civic Si automatic. Due to the sporty nature of the car, Honda only offers the Civic Si with a manual transmission. This minimizes power loss in the drivetrain and makes the Civic Si more fun to drive as a whole.