You're an American, living in America, and you drive an American car. Naturally, you'd want your car to run on American rubber as well. So, are there still any American tire companies? Why of course, there are still quite a few of them.
We're going to take a look at these companies. As well as some foreign-owned ones, but of course, they're still made in the US of A. And we'll answer some questions you might have about them as well. Here's the table of contents to make it easier for you to navigate:
Truly American Tire Companies
Naturally, we'd want to take a look at the "truly" American tire companies. These are the companies that were founded in the USA and don't have a foreign parent company even to this day:
1. The Largest Of The American Tire Companies: Goodyear
Of course, we start with the biggest and most well-known. After all, we've all seen the Goodyear blimp, no? Frank Seiberling founded Goodyear Tire & Rubber Company way back in 1898, just a decade after Karl Benz invented the car.
Wait, these early companies are usually named after their founder, no? So, why isn't it the Seiberling tire & rubber company? Well, the Goodyear name came from Charles Goodyear, the inventor of vulcanized rubber.
Vulcanization is a range of processes for hardening rubbers. To this day it's still an integral part of modern tire production. So, you can see why they choose this name to honor Charles Goodyear. Anyway, the company has gone global in its 124 years of operation. But its headquarters is still in Akron, Ohio.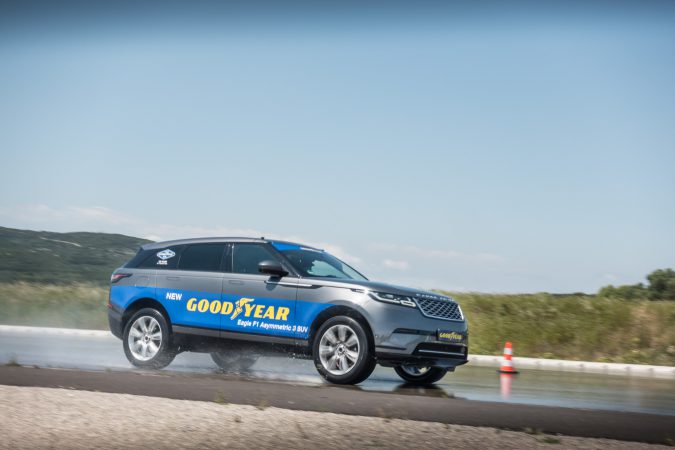 Goodyear makes tires for all sorts of different transportation modes. For instance, cars, motorcycles, commercial trucks, farm equipment, airplanes, and even bicycles. Yes, not only you can have Goodyear tires for your cars, you can have them for your bikes as well.
In addition to road cars, they also make tires for racing cars. They're currently the sole tire supplier for NASCAR. Certainly quite fitting to have the largest American tire company be the sole supplier of tires for America's favorite racing series. After 124 years, Goodyear is now the fourth largest tire company in terms of revenue, right after Bridgestone, Michelin, and Continental.
The company owns 55 facilities in 23 countries, including 17 in the USA. They currently have nine manufacturing plants, including in Ohio, Kansas, and Texas just to name a few. Additionally, they own over 1,100 tire and auto service spots and employ over 73,000 people worldwide.
2. Cooper Tires
Next on our list is Cooper Tires, which is actually owned by Goodyear. They focus mostly on cars and truck tires. However, the company owns several subsidiaries that specialize in medium trucks, motorcycles, and even racing tires.
The name originates in 1919 when an auto-parts dealer by the name of I. J. Cooper formed The Cooper Corporation in Findlay, Ohio. Interestingly, the company also made pontoons, landing boats, as well as other military devices during World War II. The government bestowed the company with the Army-Navy 'E' Award.
While not a household name, Cooper tires have some good products in their lineup. We even recommended one of them in our E-rated tires guide. The Discoverer A/T3, in particular, is a good all-around tire for trucks and SUV owners.
The company currently has four tire plants, which are in Georgia, Mississippi, Ohio, and Arkansas. They have a wide range of tires on offer, but their best ones are the Discoverer range for trucks and SUVs. And the Zeon LTZ is similar to the Discoverer, but with sporty pretensions on the road.
3. Carlisle
Unless you're in the farming industry, you're probably not too familiar with Carlisle. They're part of the larger Carlisle Companies based in Phoenix, Arizona. They dwell in all sorts of industries, from farming to electronics, and even aerospace.
They don't make car tires, but they have a vast lineup of trailer tires for you to choose from. Additionally, they also have a few rims for your trailers.
Aside from that, they focus mostly on making tires for farming equipment such as tractors. They also have tires for lawnmowers, golf carts, ATVs, and for other heavy-duty applications.
4. Dick Cepek And Mickey Thompson
Dick Cepek is an off-road motorsports Hall of Famer. He started the company in 1963 and was one of the first off-road enterprises. As you can imagine, the company focuses on offroad tires.
However, the business was sold off to Mickey Thompson tires in 2000. Mickey Thompson was also an American motorsport figure, he built cars to compete in drag racing and the Indianapolis 500.

The two companies are currently merging to simply become Mickey Thompson Tires & Wheels, rather than being separate companies. They now focus mainly on performance offroad tires and drag tires. If you go to the strip often, you might want to take a look at their products.
Mickey Thompson is actually a subsidiary of Cooper Tires. Along with other companies such as Mastercraft, Mentor, Roadmaster, and Starfire which are all owned by Cooper, and ultimately, by Goodyear. Avon Tyres and Dean are also under Cooper, operating in Europe and Asia respectively.
Foreign-Owned American Tire Companies
Now, there are more American tire companies out there for your car. However, these companies have been bought and are now owned by foreign companies. Whether it's because of a much-needed investment, or the management just wanted to sell the company.
Still, if you don't fancy the options above for all-American tire companies, you might like these:
1. Firestone
Founded by Harvey Firestone in 1900, the company is now owned by Bridgestone. While not a global household name, you're probably familiar with Firestone. You might have seen them on the drag strip in the past. And if you watch Indycar, you've no doubt familiar with them.
The sale to Bridgestone was due to the large debt back in the late '70s. After much restructuring, the company was then sold in 1988. However, its headquarters is still in Tennessee.
The company has gone through its fair share of hardships. From the Firestone 500 tread separation problem in the 1970s. To being part of the Ford Explorer rollover problem in the early 2000s.
However, they're in a good position now. They make decent tires, and their highway-terrain Transforce HT2 is an excellent choice for trucks and SUVs. If you like to go offroading, then their Destination M/T2 lineup will be more suitable.
Of course, they still produce their tires in the USA. They currently have eight plants, including in Tennessee, Illinois, and North Carolina.
Fun fact: Harvey Firestone had a personal relationship with Henry Ford himself. Doesn't really add anything to our list but a fun trivia nonetheless. Perfect for ice-breaking on your next awkward date.
2. BFGoodrich
BFGoodrich is another company that you probably know. Originally a part of the industrial conglomerate Goodrich Corporation. However, the company is now owned by Michelin, the French tire maker.
The company makes a wide range of tires for everyday use. But they're known for making high-quality tires for offroad-oriented vehicles. One of their best product is the BFGoodrich All-Terrain T/A K02. An excellent all-terrain tire for trucks and SUVs, especially in the snow.
Need more first-date ice-breakers? Henry Ford himself chose BFGoodrich tires to be fitted as the factory tires for the Model A Ford in 1903. They have a proud history of tire making, but the Goodrich corporation sold the rights to the tire business to Michelin in 1988.
American Tire Companies: Tires Made In The USA
In addition to the companies above, many foreign tire brands also make their tires in the US. In fact, you can find out where your tires are made simply by reading the tire's sidewall.
Every tire has a DOT (Department of Transportation) serial number near the wheel's lips. The "DOT" is followed by an eight to thirteen alphanumeric code that identifies where the tire was made, size, and week and year of production.
As an example, a tire made in Goodyear's facility in Lawton, Oklahoma will have "DOT M6" since that's their code. You can take a look at the full list here.
Since the list is quite long, here's a summary of foreign tire brands with their facilities in the US:
1. Michelin
Everyone knows them, the Michelin Man is arguably as famous as the Goodyear blimp. As mentioned, the French tire maker now owns BFGoodrich. It's also currently the largest tire company in the world by revenue.
Excluding its subsidiaries, the company now owns four tire plants in the US. Here's the list along with the tire code:
4M, M3 – Greenville, South Carolina.
B6 – Spartanburg, South Carolina.
B7 – Dothan, Alabama.
B9 – Lexington, South Carolina.
They may be foreign, but they make tires here in the US and employ American people. They have plenty of capable tires, whether it's for on the road or off the road.
The Michelin Pilot Sport Cup lineup is often regarded as the best performance tires you can buy for sports cars. Although, they aren't cheap and will cost you as much as $500 each. This depends on your size needs, of course.
2. Pirelli
If you like Formula 1 (if you're curious, you can learn more by checking out our guides on Indy Car vs Formula 1), you're undoubtedly familiar with Pirelli. They're currently the sole tire supplier for F1 and have been since 2011. And their experience on the track translates well into their performance on the road.
While reviewers still often pick the Michelin Pilot Cup, the Pirelli P Zero lineup can still go toe to toe with them. However, they often regard the P Zero as the better road tire. Additionally, they often perform better in the wet.
While it's what they're known for, they're not just about performance tires. They also have a wide range of regular tires available for more mundane cars. For example, the Cinturato P7 is an excellent touring tire for passenger cars. They're not too expensive either, and prices often start at a reasonable $118.
While it's true Pirelli is an Italian company, they're now actually owned by a Chinese company by the name of ChemChina. Yet another interesting tire trivia there, and this time it's not Henry Ford-related. Anyway, they currently have three tire plants in the US:
CH – Hanford, California.
CK – Madison, Tennessee.
JR – Rome, Georgia.
I wonder if Pirelli picked Rome, Georgia simply because it has the same name as Italy's capital? Well, regardless, they make good tires. And as F1 fans, you can't help but feel a little sense of pride when driving on a set of Pirellis.
3. Bridgestone
Since they own Firestone, of course, they also have facilities in the US. Quite a few of them in fact, here's the list:
0B, W2, Y2 – Wilson, North Carolina
1C, HY – Oklahoma City, Oklahoma
2C, 4D, 5D – Morrison, Tennessee
2M, 3M – Bloomington, Illinois
7X, 8X, 9X – Graniteville, South Carolina
8B, VE, YE, YU – Des Moines, Iowa
D2, E3, W1, Y7 – Lavergne, Tennessee
YD – Decatur, Illinois
Bridgestone makes all sorts of tires, from passenger cars to commercial trucks. I personally had experience with their Dueler highway-terrain (H/T) tire lineup. And I must say, they were excellent performers in the dry.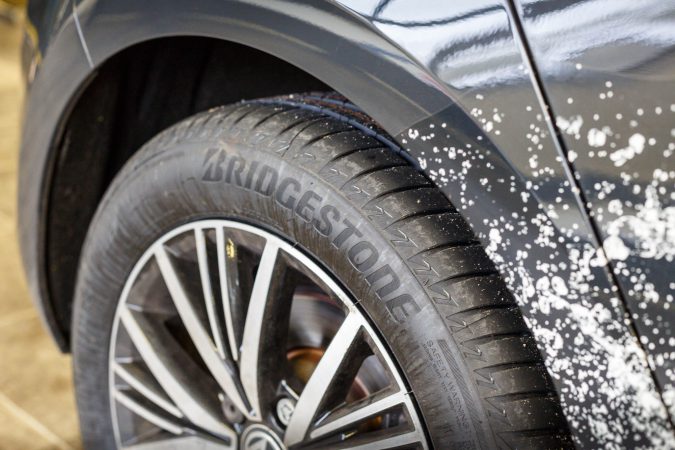 Plenty of grip in the dry and very responsive. With decent performance in the wet, I myself didn't experience any hydroplaning. As a result, I kept coming back to them for my old Mitsubishi Outlander. Keep in mind that it's not great in the snow, and tread life isn't exactly long either.
If you need performance tires, their Potenza lineup is also excellent. It's even chosen as the factory tires for the Ferrari Portofino. While often not in the talks for the best performance tires, you can't count them out. You can read our full review here.
4. Yokohama
Yokohama is another excellent Japanese tire company, albeit less known than Bridgestone. Since their market is smaller and they operate at a smaller scale, they only have one plant in the US. Specifically, in Salem, Virginia. Their DOT code is "CC".
While many are not familiar, the Japanese tire maker is quite popular in the JDM scene. That's the Japanese Domestic Market, a broad and loose term for Japanese cars. Organized Japanese car meetups will often have Yokohama as one of the sponsors.
Additionally, they sponsor drift championships quite often. And as of last year, they returned to sponsor the NORRA Mexican 1000. A rally event that takes place in Baja California, Mexico.
As for their road tires, the Geolandar A/T tires are probably their most well-known product. It's an all-terrain tire with stellar dry and wet performance and decent traction in snow. They're also very comfortable on the road, although tire noise is a bit of an issue with the Geolandar.
5. Continental
Germany gave us the car, so naturally, they also have a large tire industry. As mentioned, they're one of the top three tire makers just slightly ahead of Goodyear. Fun fact, they bought the Hoosier Racing Tire company back in 2016.
They have quite a strong presence in the US, and currently have six facilities:
6B, A3 – Vernon, Illinois.
A9 – Bryan, Ohio.
AC – Charlotte, North Carolina.
AD – Mayfield, Kentucky.
VY – South Sumter, South Carolina.
They have a wide range of tires on option, mostly for passenger cars and trucks. Some of their best ones include the TerrainContact H/T. This is an excellent choice for truck owners who need all-season tires, especially ones with good snow performance.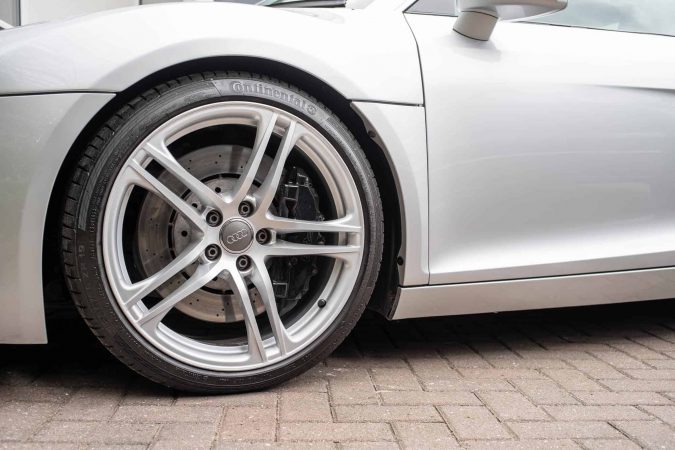 If you're looking for performance tires, the ContiSportContact 5 is worth looking at. They're excellent tires in the dry, and they're quite affordable starting at around $127 each for the smaller sizes.
We reviewed this with the Audi R8 and the result was good. But then it comes as no surprise since the tires were developed in conjunction with the R8.
American Tire Companies: Questions & Answers
Got more questions about tire brands? The answer you're looking for might be below:
How About Dunlop?
Dunlop is a tire company founded by John Boyd Dunlop in Dublin, Ireland. The company is in an interesting position, as Goodyear operates the car tire business in North America. If you choose a product from their website, it'll redirect you to Goodyear's site. And yes, the tires are made in Goodyear's facilities.
However, Sumitomo Rubber Industries is in control of the motorcycle tire business in North America. Meanwhile, Continental, the German tire company, operates and manufactures Dunlop tires for the Malaysia, Singapore, and Brunei markets. While this is common in other industries, it's a bit of an anomaly in the tire industry. But we digress.
Bottom line, they're an Irish company owned by Goodyear and they're also made in the US. You'll find their DOT code is "DA" and is produced in Buffalo, New York. However, the production scale is smaller than others.
Where Is Falken From?
Falken is also a Japanese company, and the aforementioned Sumitomo Rubber Industries owns it. They used to produce their tires in the US, but they no longer do.
Not a lot of people are familiar with Falken. But much like Yokohama, they often sponsor drift events and other Japanese car culture-related events. The Falken drift team famously won the Formula Drift Championship in 2010 with Vaughn Gittin Jr.
As for their road tires, their Wildpeak A/T3 all-terrain tires have found quite a following. Offroad enthusiasts note that it's a capable all-terrain tire with stellar snow performance.
What Are The Best American Tire Companies?
Goodyear is our pick. While BFGoodrich and Firestone are also still American companies, Goodyear just seems to offer higher quality products. And of course, you can't ignore the sheer size and success that Goodyear has found over the years.
Not to mention, most of their tire lineup get a decent tread life warranty. With some models getting up to an 80,000-mile warranty. The only downside is that unfortunately, they're quite a bit more expensive.
What's The Best Goodyear Tire?
When it comes to tires, it all depends on your needs. The recommendation will vary depending on your car's make and model, driving conditions, and even the climate in your region. If you're looking for the best dry performance tires, the Eagle F1 lineup is probably for you.
Meanwhile, if you're looking for something more winter-friendly, you'll want the Eagle Exhilarate. But if performance isn't your thing, the Assurance MaxLife will suit your daily needs.
As for the offroad enthusiasts among you, the Wrangler lineup will surely satisfy your needs. They also have the All-Terrain Adventure with Kevlar, making it even more durable and less prone to puncture.
How Do I Pick The Right American Tire Companies?
It's simple, you'll need to know your tire size first by reading the tire sidewall. If you're not changing your rims, then stick to the size you have. Although you may be able to choose a thicker tire for better comfort if you like.
Afterward, pay attention to the speed rating and load range. Make sure the new tires you're buying have the same specifications. You can upgrade the rating if you'd like, but never buy tires with lower ratings than your factory tires as this can be unsafe.
Afterward, decide whether you need summer, all-season, or winter tires. All-season tires are often the favorite for most people, as it often has good performance in the dry as well as in mild winter conditions.
Finally, read consumer reviews. You'd be surprised how much you can learn about a product from consumer reviews. Be sure to check for fitting costs and tread life warranty as well, although summer tires don't typically come with a warranty.
Tires Made in USA: Facts You Need to Know
There are only two genuinely American tire brands: Goodyear and Cooper.
Foreign global tire manufacturers such as Michelin, Pirelli, Continental, Bridgestone, and Yokohama have plants in the US.
To ensure you buy USA-made tires, you can identify the plant code on the tire by looking at its DOT code.
American brands that were purchased by foreign companies, such as BFGoodrich and Firestone, are no longer considered genuinely American.
Goodyear has 17 USA-based facilities and owns about 1,100 tire and auto service spots, in addition to tire retreading centers and plants.
Cooper has over 60 facilities worldwide, including those in Findlay (Ohio, for the tires made in the USA), Melksham (England), and Kunshan (China).
Michelin owns 68 plants in 17 countries, including 19 facilities in 16 North American locations.
Pirelli owns 19 plants in 13 countries and has a network of about 10,000 distribution spots in 160 countries.
Continental manufactures tires in several states, including Georgia, Illinois, Kentucky, Michigan, North Carolina, Ohio, South Carolina, and Texas.
Bridgestone is the largest tire manufacturer in the world and has facilities in Wilson (North Carolina), Oklahoma City (Oklahoma), Morrison (Tennessee), Bloomington (Illinois), Graniteville (South Carolina), Des Moines (Iowa), Lavergne (Tennessee), and Decatur (Illinois).
American Tire Companies: Wrap Up
If you're looking for the all-American tire companies, then you can't go wrong with Goodyear and Cooper Tires. If you're looking for drag or performance offroad tires, then Mickey Thompson tires have a wide range of options.
While those are the "true" American tire companies, there are actually more you can choose from. Both BFGoodrich and Firestone are excellent tire makers from the US although they're now foreign-owned.
However, even foreign companies have facilities and make their tires in the US. Goodyear and Cooper Tires are excellent choices if you want to show off your patriotism for American tire companies. But there's nothing wrong with buying foreign either since it often still means your supporting American workers.