With a shortage of chips and supply chains strangled, buying a car today has never been more challenging. Yet, let's suppose you might still be wondering, can you negotiate with CarMax for that sweet new whip? They're one of the largest dealership networks across the States and have seen a boom in used car sales during and after the COVID-19 pandemic.
Hence, they're probably the first stop for anyone keen to look for a new car. Or, maybe you'd want to sell your old four-wheeler to CarMax, instead. Regardless, can the old trick of haggling your way out still work? Can you negotiate with CarMax, as a buyer or seller? The act of buying or selling a car is always going to be a nerve-wracking and frustrating experience.
No matter how good you think you are, few could match a car salesman for sheer haggle. That back and forth of settling a strike price, as well as sorting out all the documents is a nightmare and a half. Yet with CarMax, their key USP is solely based on how easy buying and selling your car can be. So, let's take a look at how you can get the most out of a CarMax offer…
Buying And Selling A Car At CarMax
One of CarMax's most prized traits is its "haggle-free" experience. In other words, whatever you see on the price tag, that's what you'll pay. The entire goal of this shtick is to ensure an environment for buying (or selling) any car that's devoid of stress.
Moreover, there's a sense of honesty to the whole deal, as you're not going to be baited into taking a higher price than what you should be paying for. It's quite simple and straightforward, which goes the whole way through to all the paperwork and financing.
Clearly, this has worked wonders for CarMax, which has grown to be one of the largest networks of car dealerships in the US-of-A. Nationwide, it has just shy of 230 dealers, with inventory as large as 45,000 vehicles. These include cars, SUVs, crossovers, vans, trucks, pickups, you name it.
Since being founded in 1993, CarMax has sold more than 9 million vehicles. An eye-watering figure, especially when you consider that they've also appraised over 33 million cars. 9-million of that 33, in fact, were cars that CarMax purchased from the likes of you and me.
Whether you're buying a car from them or are selling your old jalopy, it's clear that CarMax streamlines the whole ordeal for you. If you're buying a car, for example, there are a few perks that most other dealers can't offer. Such as, being able to take a full 24-hour test drive.
Or, having the ability to return the car with a money-back guarantee within 30 days (or 1,500 miles). As a seller, all you need to do is input your car's VIN and details. Once that's done, you could get an offer back from CarMax within a rapid two or so minutes.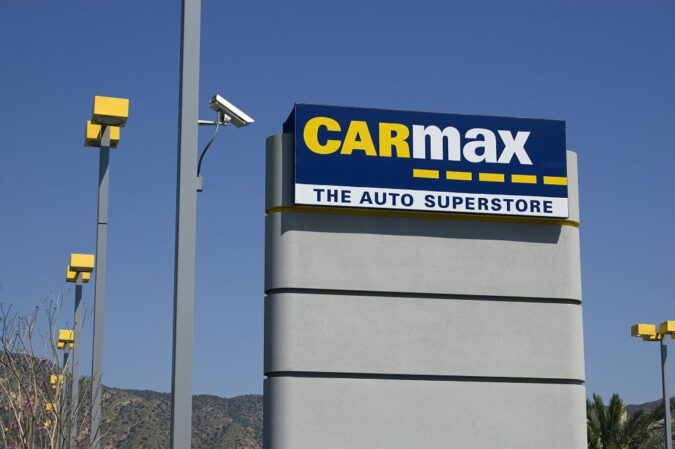 "Carmax" by Theron Trowbridge is licensed under CC BY-NC 2.0
.
CarMax Buy My Car
Here's what you need to do to buy a car at CarMax…
1. Researching the Inventory
Before you even set foot in a CarMax store, use their online platform. Here, you can view a wide range of vehicles, compare prices, and read detailed specifications. Decide on a few models that align with your needs, and note down their details.
2. Visit the Store
Now, it's time to physically visit the store. Remember, while online research helps, a real-world inspection is unmatched. Feel the car, sit in it, and get a firsthand feel of its condition.
3. Test Drive
Never skip this step. Ensure you test drive the cars you're considering. Listen to the engine, gauge the comfort, and ensure the car's performance matches your expectations.
4. Financing Options
CarMax offers multiple financing options. If you're not paying upfront, check out their in-house financing or bring your own from a trusted bank or credit union. It's essential to understand the terms, interest rates, and monthly commitments.
5. Inspecting the Car's History
CarMax provides a detailed history of every vehicle. Check for any accidents, previous ownership, and service records. This data ensures you're not inheriting any hidden problems.
6. What to Bring
When you're ready to finalize, ensure you bring:
A valid driver's license
Proof of insurance
Accepted methods of payment (like a bank draft or check)
7. Extended Warranty and Service Plans
Consider any extended warranty or service plans CarMax offers. These can offer peace of mind, especially if you're buying a used car.
8. Finalizing the Purchase
Once everything aligns—your chosen car, the financing, and any additional plans—finalize the deal. Sign the necessary papers, make the payment, and you're good to go!
9. Taking Delivery
After all formalities, take delivery of your car. Ensure you receive all documents, such as the title, service history, and any warranty details.
10. Post-Purchase Tips
Remember to notify your insurance company about the new vehicle. Also, familiarize yourself with the car's maintenance schedule to ensure its longevity.
Transitioning from buying to owning a car is exhilarating. However, it's essential to approach the process methodically. By understanding each step of the CarMax buying process, you're setting yourself up for a smoother, more informed purchase. As you progress to considering selling or trading in at CarMax, remember these insights to optimize every transaction.
CarMax Sell My Car
To sell a car at CarMax, here's what you need to do…
1. Preliminary Assessment
Before heading to CarMax, clean your car and review its condition. Take note of any dings, scratches, or mechanical issues. A well-maintained appearance can potentially add value to your offer.
2. Booking an Appointment
While CarMax does accept walk-ins, booking an appointment ensures you get your undivided attention. Schedule it online or call your nearest store.
3. What to Bring
For a hassle-free appraisal, ensure you have:
Your car's title or payoff information
Valid registration
Valid photo ID
All key fobs or sets of keys
4. The Appraisal Process
CarMax's appraisal process is systematic. Experts will inspect the vehicle's interior and exterior, test drive it, and review its history report. This typically takes around 30 minutes.
5. Receiving the Offer
Post-appraisal, CarMax will provide a written offer. This offer is valid for seven days, giving you time to consider it or explore other options.
6. Understand the Offer
The offer is based on various factors: market demand, mileage, condition, and current sales data. Ensure you're comfortable with the reasoning behind the offered price.
7. Making the Decision
If you agree with the offer, you can sell your car to CarMax right away. If you're uncertain, remember you have a seven-day window to decide.
8. Finalizing the Sale
Once you decide to sell, the transaction process begins. Present the necessary documents, sign the required papers, and CarMax will handle the rest. They'll even handle the paperwork associated with ownership transfer.
9. Getting Paid
CarMax offers payment through bank drafts. This is a secure method and is widely accepted by banks. You'll typically receive payment on the same day.
10. Post-Sale Tips
After selling, don't forget to notify your insurance company to remove the car from your policy. Moreover, cancel any auto payments linked to the car's maintenance or services.
Selling your car at CarMax is a straightforward process. Their structured approach is designed to offer transparency and ease to sellers. As you consider selling or even trading in your car at CarMax, having clarity on the process ensures you're making an informed decision.
The next step in your automotive journey might involve trading in a vehicle, and it's crucial to be equally prepared for that transition.
CarMax Trade In My Car
Meanwhile, when it comes to trading in a car, here's what you'll need to do…
1. Understanding Trade-Ins
Trading in your car means you're both selling your current vehicle and buying a new one. This process can help you offset the cost of your new car with the value of your old one.
2. Prepare Your Car
Just like selling, presentation is vital. A clean car might fetch a better trade-in value. Address minor repairs if possible and ensure the interior is tidy.
3. Online Estimation
CarMax provides an online tool for a preliminary trade-in estimate. Enter your vehicle's details to get a ballpark figure of its value. Though this isn't the final offer, it gives you a starting point.
4. In-Person Appraisal
Visit a CarMax store for a thorough assessment. Here, experts will inspect your car's condition, check its history, and take it for a test drive. This provides a more accurate trade-in value.
5. Documents to Bring
For a smooth transaction, ensure you carry:
Current car's title or payoff information
Registration of the vehicle
Photo ID
All sets of keys
6. Receiving the Trade-In Offer
After the appraisal, CarMax provides a written offer, valid for seven days. This offer will be applied as a credit if you decide to trade in and buy another vehicle.
7. Choosing Your New Car
Once you've decided to trade in, browse through CarMax's inventory. Test drive potential choices and identify the one you wish to buy.
8. Financing the Difference
If your trade-in value doesn't cover the full cost of the new car, you'll need to finance the difference. CarMax offers financing options, but it's also okay to arrange your own.
9. Finalizing the Deal
After settling on a new car and the financials, it's time to finalize. Sign the necessary documents for both selling your old car and buying the new one. CarMax ensures this process is seamless and efficient.
10. Taking Possession
With the paperwork done, your new car awaits! As you drive off, remember that CarMax also handles all the behind-the-scenes work, like title transfers.
11. Post-Trade-In Actions
Ensure your insurance reflects your new vehicle. Also, if there were any recurring charges or subscriptions linked to your old car, ensure they're canceled or transferred.
Trading in a vehicle at CarMax combines the processes of selling and buying, but with the added advantage of a cost offset. Whether you're trading in, buying, or selling, each journey at CarMax is distinct, yet the end goal remains: a transparent, straightforward automotive transaction. Armed with knowledge and clarity, your next vehicle transition is set to be a smooth ride.
CarMax Advantages
Besides these, there are numerous other benefits to buying or selling your car with CarMax. These (spoiler alert) may be crucial to understand if you're wondering if can you negotiate with CarMax…
Can You Negotiate With CarMax, Pros #1: CarMax Has A Massive Inventory
As the largest used-car dealer in the US, CarMax has an expansive inventory. Therefore, you'll be hard-pressed to search for a car that isn't for sale at CarMax. Whatever you need, even for a rare make and model, they ought to have it. Or else, they could even ship cars between lots to get it for you. There'll be a fee for shipping the car around, of course.
Can You Negotiate With CarMax, Pros #2: They've Got Stores/Lots Everywhere
Wherever you turn the corner, you're likely to spot this large blue, white, and yellow sign. CarMax has over 200 locations across more than 40 states. Should you need to visit them to view a car or get your old one appraised for a sale, they're likely just a short drive away.
If that particular CarMax lot doesn't have anything, then you could drive a bit further, and stumble on another one, instead.
Can You Negotiate With CarMax, Pros #3: Fixed-Commission Salespersons
Few people like dealing with car salesmen, as they often try to upsell you another, a different car that you can't otherwise afford. The reason? Why, do they get more commissions for that pricier car, though they're fully aware you might be stretching your budget.
CarMax, however, doesn't do this. They've practiced a strict fixed-commission rule for its staff. Thus, you'll find them significantly less pushy. They might sell you a Hyundai Sonata or a Lamborghini. It doesn't matter, as their commissions will end up being the same either way.
As far as they're concerned, it's far more beneficial to make the whole experience easier for you. On top of that, you'll mostly be working with just one salesperson. That's compared to typical dealers, that'll pass you from one desk to another, endlessly.
Can You Negotiate With CarMax, Pros #4: Thorough 125-Point Inspections
When buying a used car, the most worrying part is figuring out how the car is underneath. Is there any extensive damage that you'll have to shell out for a pricey repair once you drive it off the lot? It's a valid concern, but one that you can put to rest when you're shopping with CarMax. They maintain a thorough 125-point inspection with every vehicle that they'll sell to you, just to be sure.
This meant checking if there was any serious frame damage. Has it been flooded before, or if that car is a salvage title… They'll sort everything out, and make it clear beforehand. Moreover, CarMax has a guarantee that they'll only sell clean title cars.
Should the car you just bought have discrepancies or is acting a bit weird, CarMax might even buy the car back from you, if it's indeed their fault. Speaking off, CarMax takes every step to make sure that the cars you buy are peachy clean. To instill this confidence, buying a car from CarMax entails being shown a full background check.
You'll get a report card basically, of what a vehicle's gone through prior to the sale. This includes any damage or defect, servicing records, recalls, as well as what CarMax has done to recondition and repair it. On that note, CarMax boasts that they spend an average of 15 hours on each car.
This is used up to repair, recondition, and restore them to an "almost new" condition before selling them to you. Think of those scratches and dents, not to mention the heftier repairs. Even after the sale, CarMax employs more than 1,750 ASE-certified mechanics to help service the cars, and mend them where needed.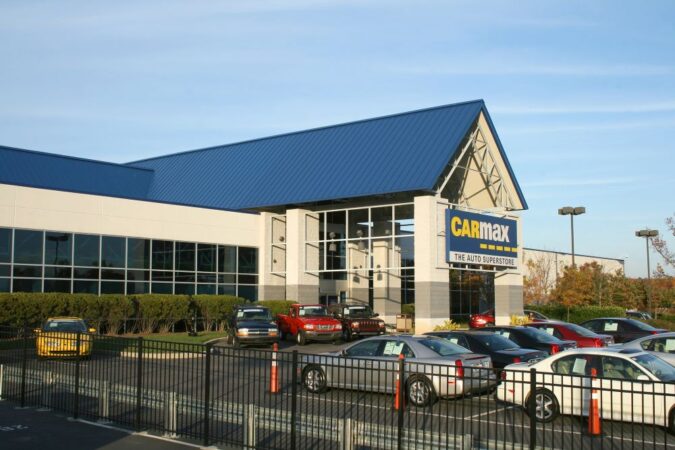 "2008-11-11 CarMax in Raleigh" by Ildar Sagdejev (Specious) is licensed under CC BY-SA 4.0
.
Can You Negotiate With CarMax, Pros #5: Generous Limited Warranty Support
As we mentioned, you could get a full refund for your car if you didn't like it up to 30 days or 1,500 miles after purchase. But let's say you intend on keeping it. If that's so, then CarMax has your back with its limited warranty program. For up to 90 days (or 4,000 miles), this plan can provide some coverage for the more serious issues of key vehicle systems and components.
Can You Negotiate With CarMax, Pros #6: No-Haggle Pricing Model
CarMax's business model offers no-haggle pricing. This means the price you see is the price you pay. For some, the art of negotiation can be thrilling, but for many, it's a tedious process that they'd rather avoid.
With CarMax, you don't need to worry about the uncertainty of getting a good deal or the need to engage in lengthy negotiations. The transparency in pricing ensures that every customer gets a fair deal from the get-go.
Can You Negotiate With CarMax, Pros #7: Financing Options for Everyone
Financial worries often become a barrier when buying a car. CarMax, recognizing this issue, offers a range of financing options that cater to diverse credit histories. Whether you have an exemplary credit score or one that's been tarnished by past mistakes, CarMax can potentially work out a financing plan that fits your budget.
This ease of financing can make your car-buying journey smoother and less stressful.
Can You Negotiate With CarMax, Pros #8: Trade-In Convenience
If you have an old vehicle, CarMax provides a seamless trade-in process. You bring in your old car, get an appraisal, and then you can either sell it to them outright or use its value towards your new purchase. This one-stop-shop approach is a timesaver and ensures you receive a competitive offer for your old vehicle.
Can You Negotiate With CarMax, Pros #9: Transparency in Transactions
Ever had the sneaking suspicion that the car dealer isn't being entirely forthright? That won't be a concern at CarMax. From the car's history to its pricing, everything is laid out transparently. They even provide a CARFAX report, so you know the full background of the vehicle you're purchasing.
Can You Negotiate With CarMax, Pros #10: Varied Selection Beyond Cars
While CarMax is known primarily for its vast array of cars, they don't limit their inventory just to that. You can also find a selection of trucks, SUVs, and even luxury vehicles. So, whether you need a compact car for city commutes, a robust truck for hauling, or a luxury sedan to ride in style, CarMax has you covered.
Can You Negotiate With CarMax, Pros #11: Customer-Centric Services
One of the main reasons for CarMax's success and popularity is its unwavering focus on customer service. Whether it's their friendly staff, the clear information provided, or the post-sale services, every touchpoint is designed with the customer in mind. This dedication ensures that every individual walking into a CarMax outlet feels valued and catered to.
Can You Negotiate With CarMax, Pros #12: Extended Service Plans
While the generous limited warranty support is impressive, CarMax also offers extended service plans. These plans offer further peace of mind by covering many of the car's components after the initial warranty expires. For an additional fee, you can protect your investment and reduce future uncertainties related to maintenance costs.
CarMax Downsides
Although there are plenty of reasons for choosing to buy or sell your car with CarMax, here are some downsides that you need to consider…
Can You Negotiate With CarMax, Cons #1: Higher Pricing
When it comes to CarMax, the no-haggle pricing model might be a double-edged sword. While it simplifies the purchasing process, the prices tend to be higher than what you might find in local dealerships or private listings. While you're paying for convenience and assurance, you might end up shelling out more for a similar vehicle elsewhere.
Can You Negotiate With CarMax, Cons #2: Limited Room for Negotiation
Building on the previous point, the no-haggle approach means there's little room for negotiation. For seasoned car buyers who have mastered the art of bargaining, CarMax might seem restrictive. Those looking for the thrill of a good deal might find the fixed pricing model less satisfying.
Can You Negotiate With CarMax, Cons #3: Trade-In Offers Can Be Lower
CarMax's trade-in process is undoubtedly streamlined, but there have been reports of the company offering lower than expected trade-in values. If maximizing your old car's value is a priority, it might be worthwhile to shop around and compare offers from multiple sources.
Can You Negotiate With CarMax, Cons #4: Overwhelming Choices
With a vast inventory, CarMax can be a car shopper's paradise. But for those who aren't sure what they're looking for, the sheer number of options can be overwhelming. A more curated selection from a specialized dealer might offer a more tailored shopping experience.
Can You Negotiate With CarMax, Cons #5: Generic Experience
Given its large-scale and consistent approach across locations, shopping at CarMax can sometimes feel impersonal. Local dealerships, with their unique charm and personalized service, can offer a distinct touch that's missing at larger retailers.
Can You Negotiate With CarMax, Cons #6: Extended Service Costs
While CarMax offers extended service plans for peace of mind, these plans come at an additional cost. Potential buyers need to weigh the pros and cons of these plans, as third-party warranties or servicing at local garages might offer better value for some.
Can You Negotiate With CarMax, Cons #7: Store Locations Can Vary
Though CarMax has many outlets, the consistency in inventory between stores can vary. This means a particular model might be available in one location but not another, potentially leading to extra shipping fees or the inconvenience of traveling farther.
Can You Negotiate With CarMax, Cons #8: Not Always the Best Financing Rates
While CarMax does provide financing options for a wide range of credit scores, they might not always offer the best rates. It's always a good idea to check financing rates from personal banks or credit unions to ensure you're getting the most competitive deal.
Can You Negotiate With CarMax, Cons #9: Potential for Hidden Fees
Like any large retailer, CarMax has certain administrative and processing fees. While their transparency is commendable, it's essential to be thorough and ensure you're aware of all potential charges before sealing the deal.
Can You Negotiate With CarMax, Cons #10: Limited Bargaining on Accessories
If you're hoping to score a deal on added accessories or features, CarMax's model might disappoint. Their fixed pricing extends to most aspects of the sale, leaving little room for sweetening the deal with added perks.
In conclusion, while CarMax offers a simplified, streamlined car buying and selling process with its unique advantages, it's crucial to be aware of the potential downsides. By understanding both the pros and cons, potential buyers and sellers can make an informed decision that best suits their needs.
Can You Negotiate With CarMax
All of this ease does have one sacrifice, however. Following its "no-haggle" pricing model, you could already have guessed what the answer would be. Can you negotiate with CarMax, whether you're a buyer or a seller? The short answer, is No, you can't negotiate with CarMax.
As previously noted, the price you're given as a buyer, and the appraised value as a seller, is fixed and unnegotiable. This is the one downside to buying or selling your car at any CarMax dealer. Their entire process has been fixed and is unconditional, with not even an inch of wiggle room.
There could possibly be rare exceptions under a unique set of circumstances that may somewhat break this rule. Here's a mock scenario to demonstrate…
You turn up at your CarMax dealer to look at a car. After exchanging pleasantries, you have a walk around this car. Then, you notice something… There's a deep, long, nasty scratch across the entire length of the car. Now that's surprising, shouldn't CarMax have fixed this, and why wasn't this noted in the car's details? Embarrassed, salespeople kindly excuse themselves for a quick check-up.
Well, it turns out that this scratch wasn't supposed to be there. Between when the car was parked up and is now ready for your viewing, some kid must've run through with a sharp metal object in hand. Thus, it left this unpleasant groove on the side of your potential future car. Since this issue wasn't previously accounted for, CarMax's sales team reconfigured the price, and have lowered it.
CarMax No Haggle Price Policy
With that being said, even our example up above isn't technically "negotiating". All you're doing is being diligent about the condition of a car before purchase. CarMax then responds by factoring in that damage, which would naturally have a massive impact on price, and adjusted it accordingly. You don't get a single say in how much lower that price would be, in that situation.
Whatever their adjustments end up, you'll have to take it or leave it. Again, you can't negotiate with CarMax. But why is this the case? Simply put, it's got to do with economics. CarMax's way of setting up a good strike price for buying or selling a car from you derives from a massive treasure trove of data.
Rather than experience or gut feeling, their salesperson relies on maths to find a good value. In layman's terms, they'll figure out what works, and what doesn't. Let's take that example we made earlier, and name that car to be a Toyota Corolla. CarMax will do the math and out spits a number – $500.
That's how much it may approximately cost someone to get a scratch of that size, length, and depth to fix. Take in other expenses such as a "we're sorry" discount, and the figure rises to $750. If this is what CarMax's sales team and computer have rounded up to, then they'll deduct $750 from the initial selling price that you were offered.
There's no shot that you can negotiate that any further with CarMax. At this point, you can either take that $750 discount or find something else on the lot that may entice you. No negotiations, just a recalibrated price to reflect changing conditions.
Get More For Your CarMax Offer
Ah, but don't think for a second that you're completely stuck with whatever price that CarMax offers you. Remember that most car purchases these days – an option you'll most probably consider – are done with financing. This is one avenue where you can have some breathing space to negotiate a better financing rate. The value of the car may be unnegotiable, but this doesn't apply to banks.
So, before you head out to CarMax, go to your local bank first. Inquire around between a few banks to get offers on car financing, and compile a batch together. Generally speaking, credit unions and banks have far more competitive rates than your typical dealership. Get a few quotes around.
When you're ready to pull the trigger on that car, tell CarMax that you'll think about the financing. There, you have two options. Either you can accept the bank/credit unions' financing or CarMax's in-house financing package. If CarMax offers you a better deal, then it's easy picking. Otherwise, you could happily opt to take on your bank or credit union's interest rate.
At CarMax, this is possible. Just remember to bring that proof of financing and paperwork for the loan, and they'll process the sale. This is the best way to get a more profitable deal from a CarMax purchase since you can't negotiate directly with them.
Remember, the total value of the car remains to be the same regardless of which financing rate you prefer. Nonetheless, the amount you have to pay every month will differ. In that regard, you're more or less better off, if you can find an interest rate more appealing than CarMax's.
Can You Negotiate With CarMax, Better Value #1: Making the Most of Your CarMax Experience
Despite the non-negotiable nature of CarMax's vehicle prices, there are still ways to extract value when dealing with them. The right strategies can improve your financial position, the quality of your purchase, and your overall satisfaction with the process.
Can You Negotiate With CarMax, Better Value #2: Exploring Financing Options
CarMax offers in-house financing, but that shouldn't deter you from shopping around. By comparing rates from other institutions:
Leverage Outside Offers: If you find a better rate elsewhere, present it to CarMax. While they may not directly match it, it can open up a conversation about favorable terms.
Pre-Approval Benefits: Securing pre-approval not only boosts your bargaining power but ensures you're not taken by surprise with unexpected rates.
Can You Negotiate With CarMax, Better Value #3: Maximizing Trade-in Value
Trade-ins are a significant part of CarMax's business model. Make the most out of this:
Research Your Car's Worth: Before heading to CarMax, research your car's value on platforms like Kelley Blue Book. Knowing its value gives you an upper hand.
Highlight Enhancements: If you've made recent upgrades or maintenance, point them out. This can make a difference in the evaluation.
Consider Private Selling: If CarMax's offer isn't satisfying, consider selling your car privately. It can sometimes fetch a higher price, reducing your next vehicle's net cost.
Can You Negotiate With CarMax, Better Value #4: Evaluating Warranty Offers
Warranties can be a safety net, but they can also be an added expense:
Shop Around: Before settling on CarMax's offer, explore third-party providers. They might offer similar coverage at a fraction of the price.
Analyze the Need: Assess the car's current condition, its history, and reliability. Decide if an extended warranty truly benefits you.
Can You Negotiate With CarMax, Better Value #5: Securing Service Deals
Addressing potential vehicle issues before finalizing your purchase can be both economical and beneficial:
Inspect Before Buying: If you identify any concerns, request CarMax to address them before purchase. This can range from minor repairs to more significant service needs.
Ask for Tires: New tires are a recurring suggestion for a reason. If the tires on your prospective purchase show wear, requesting a new set can save you a future expense.
While you might not be able to haggle directly on the sticker price with CarMax, understanding what can be negotiated ensures you drive away with the best deal. By preparing ahead, researching thoroughly, and being unafraid to ask questions, you can make the CarMax buying or selling experience work in your favor.
Remember, every car-buying journey is unique, and ensuring you get the most out of it lies in the details.
CarMax Warranty
Another important aspect of a car buying experience is pondering over the warranty. Many dealerships offer some sort of limited warranty, as does CarMax, as we've explained already. Additionally, they also have the MaxCare extended warranty coverage, if you'd want long-term protection against any unwanted repairs.
Uncertainties like these, without warranty, can be exceedingly costly. Key components in and around the transmission or engine, for instance, can cost thousands for just a simple repair. Having a warranty, therefore, is a lifesaver.
Across more than 3.8 million MaxCare customers, CarMax has already covered claims worth $ 1.5 billion. It's comprehensive coverage and is quite flexible. At the most, it can cover your car for up to 5 years or 150,000 miles. Mind you, it doesn't cover:
This is another avenue for which you can get a better deal elsewhere than what you might get with CarMax's MaxCare. Shop around with other extended car warranty providers, and see if their pricing and coverage outmatches CarMax's. The car's overall value is still the same.
Nevertheless, and with alternative warranty providers, you could save a whole lot more down the line to protect it.
CarMax Alternatives
Thus far, we've understood that you can't negotiate anything with CarMax on a deal. Although, you have ways of controlling the overall expense of getting a car, if not the value of the vehicle itself. As we've detailed, you can shop around outside of CarMax to find more attractive financing rates and warranty plans. Over time, negotiating on these may prove more cost-effective and valuable.
However, what if you're still intent on wanting to negotiate the best price out of a car, and haggle your way to a bargain? Here's a general round-up of possible alternatives that you can look at. You can't negotiate with CarMax on a good price, but you could certainly negotiate with these…
1. Dealerships – AutoNation, Penske Group, Sonic Automotive, Asbury Group, Etc.
Just like CarMax, this ensemble is all dealerships or franchised retailers. They might offer used cars, or every once in a while, they have a low-mileage example on the table. The general process is quite similar to buying (or selling) a car with CarMax. The key difference here is that they may enable you to negotiate a better price. Oftentimes, open negotiations are more than welcome here.
Moreover, they also offer decently attractive warranty plans and financing rates, just like CarMax. A catch here is that you'll most likely have to work harder to get what you want. CarMax's "no-haggle" pricing is meant to make things easier for you. With a more traditional dealer, however, you'll still have to go through the pains of going back and forth on terms.
Nailing the details will be tougher. Your attempts at negotiations may work, and drive the price down. Or else, you'll spend hours trying to convince the salesperson, to no avail. Or, you may be talked into getting something more costly. That's a risk that you'll no doubt run into, as you're ferried from one desk to another to sign off the paperwork.
Granted, things are more straightforward than they were before.
2. Online Car Buying/Selling Sites – AutoTrader, Cars.com, CarGurus, Vroom, Bring-A-Trailer, Etc.
Rather than head to a dealership in person, why not offer up your car online as an advertisement for all to see? The key advantage here is visibility, as practically anyone – even those living outside of the US – could gaze at your car. With more people looking at what you have, there's a growing audience that's willing to pay. Albeit, you may have to pay the website in question for an ad spot.
Although, some of those platforms give you one free ad. So, be sure to make it count. You can then embellish the ad with details of your car. As a seller, you can type in how your car's been cared for, or if any repairs would be needed. As a buyer, you have easy access to thousands of cars at a time, all from the comfort of your couch.
If there isn't enough information, then give the seller a call. Best of all, you're given free rein on setting the price, and subsequently negotiating. Certainly, there are downsides. You can't be sure if the details are 100% trustworthy, written by someone you've not met in person before.
In addition, you'll have to work a lot with making phone calls and sending emails hither and tither to potential sellers or buyers. If you can negotiate well, it may be worth it.
3. Digital Marketplaces – Craigslist, Facebook Marketplace, eBay Motors, Etc.
These are similar to the aforementioned online car buying/selling platforms. The key difference here is the leeway that you're given. Marketplaces like these aren't just confined to cars, but you can find car parts or items that aren't related to cars whatsoever. Clothes, jewelry, packaged goods, and so on. You're looking at a different target user base and one that's typically more enthusiastic.
It means folks that like to tinker with their cars, such as DIYers or tuners. The car you're selling might appeal to them more, and could fetch a better price. Alternatively, you could buy something more unique than one often found at a dealership lot. Modified project cars, for example. Usually, putting up an ad for your car on these marketplaces is free-of-charge up-front.
Nevertheless, they made take a percentage of any transaction you make. The major disadvantage of sites like these is the effort and stress you need to go through to buy or sell a car. The seller or buyer may be a hard negotiator. You could be thrown insulting questions like "Really, is that all you can offer?", or "Yeah, $100 is the best I can do." Or, you may end up being tricked into a scam.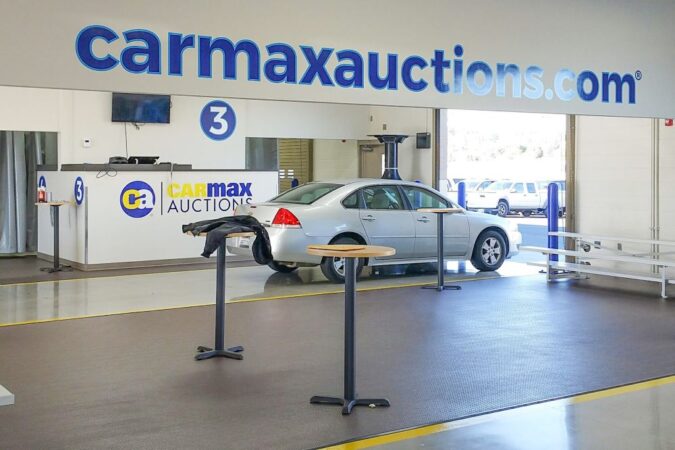 "CARMAX Auctions Murrieta" by MrBigCity is licensed under CC BY-NC 2.0
.
Negotiating Car Price
If you are thinking of buying, selling, or trading in a car, here are some effective negotiation and haggling tips to get more for your money…
1. Understanding the Car Market
Before even considering walking into a dealership, arm yourself with knowledge. Research the market value of the vehicle you're interested in. This means looking at various price points and understanding the factors affecting them. Websites like Kelley Blue Book or Edmunds can offer insights.
2. Recognize the Dealership's Perspective
Remember, dealerships also need to make a profit. Recognizing this fact can help you approach the negotiation process more empathetically. Dealers are more likely to work with buyers who understand their constraints and aren't overly aggressive.
3. Starting the Negotiation
When beginning negotiations, always start a bit lower than your maximum budget. This gives you some wiggle room. If you immediately offer the highest amount you're willing to pay, there won't be space for back-and-forth.
4. Listening is Key
In negotiations, listening is as crucial as speaking. Understand the dealer's counteroffers and reasons. They may have insights or offers that could be beneficial for you, such as extended warranties or service packages.
5. Finding a Middle Ground
Negotiations often reach a point where both parties need to find a middle ground. Be willing to compromise, but also set limits to ensure you're getting a fair deal. Sometimes, this might mean considering value-adds instead of further price reductions.
6. Knowing When to Walk Away
It's essential to recognize when a deal isn't going in your favor. If you feel the price isn't right, or you're not getting the value you want, be prepared to walk away. There are always other dealerships and cars available.
7. Negotiating for Trade-Ins
When trading in your vehicle, the same principles apply. Understand your car's market value. Clean and maintain your car before evaluation, as the presentation can influence the offer you receive. Be ready to highlight its positive aspects, like low mileage or its excellent condition.
8. Considering Add-Ons and Extras
Sometimes, it's not just about the sticker price. Dealers might offer extended warranties, free servicing periods, or accessories at a discounted rate. While negotiating, consider these perks as they can add substantial value to your purchase.
9. Trusting Your Instincts
In all aspects of the car-buying or selling process, trust your instincts. If a deal feels off or too good to be true, take a moment to evaluate. Consult trusted friends or family, and don't rush. Negotiating can be stressful, but with research and preparation, you'll be in a good position.
Closing: Negotiating a car's price, whether buying or selling, doesn't have to be intimidating. By understanding the market, being ready to compromise, and trusting your instincts, you can navigate the process with confidence and secure a deal that both you and the dealership can be happy with. Happy car hunting!
Can You Negotiate With CarMax: In Conclusion…
So then, we've uncovered a simple answer to can you negotiate with CarMax – No. If you're thinking of buying or selling a car from them, that'll be important to know before heading there. With all this in mind, should it matter that you can't negotiate with CarMax? It all depends on you.
Do you want a stress-free car buying (or selling) experience, and don't mind leaving a bit of money on the table? Then CarMax is a great choice. You may also want to consider Carvana, a rival that makes buying or selling your car as easy as it can be.
And no, you can't negotiate pricing with Carvana, either. But I digress, CarMax crafts the sales process to be as seamless as possible. You needn't haggle, and you can be assured that you're leaving the lot with a well-cared-for car that isn't going to break.
Bearing this in mind, remember that the deal you get from CarMax isn't absolute. While you can't negotiate on the actual value of the car, you could gain elsewhere. Getting a cheaper financing rate outside of CarMax as a third party is a fantastic example. Or, you could find bargain warranty plans elsewhere, too. It proves that you don't have to negotiate to get the better end of the deal.
Negotiating at One-Price Car Dealerships: What You Need to Know
One-price, or negotiation-free car dealerships like CarMax and Carvana offer a more pleasant car-buying experience.
The downside of these dealerships is that the selling price of the car is not negotiable, and it may be higher than the market value.
Car dealerships make most of their profits from fixed operations (parts and service) and finance and insurance products, rather than from selling cars.
Car dealerships make money when they originate the loan used to purchase a vehicle and sell vehicle service contracts and GAP insurance.
It is possible to negotiate the interest rate on the loan the dealership secures on your behalf, as they mark up the interest rate to profit from the difference.
Dealership-sold insurance products, such as extended warranties, GAP insurance, and tire and wheel protection, are all negotiable and marked up 200-300%.
You can consider purchasing insurance products from a different provider or negotiate the price at the dealership.
Dealerships are interested in securing new inventory and prefer to buy cars directly from customers rather than from an auction, making the selling price of your trade-in negotiable.
One-price dealerships make a large portion of their profits from the "back-end" of the car deal, including the sale of loans and extended warranties.
When purchasing from a negotiation-free car dealership, it is essential to understand the areas that are negotiable and to be cautious when offered additional finance and insurance products.
Can You Negotiate With CarMax: Frequently Asked Questions (FAQs)
Here are some popular frequently asked questions (and their answers) about whether can you negotiate with CarMax…
How to Negotiate a Car Price
When negotiating a car price, start by doing thorough research on the car's value. Websites like Kelley Blue Book or Edmunds can provide a fair market range. Walk into the dealership with this information and be confident. Know what you're willing to pay and set a clear budget. Always be polite but firm in your negotiations. If the dealer doesn't meet your desired price, be ready to walk away. Sometimes, leaving or showing hesitation can prompt better offers. Lastly, consider other factors like financing, warranties, or add-ons which might give you leverage.
Does Carmax Negotiate
Carmax has a no-haggle pricing policy. This means the price you see is the price you pay. They set their prices based on market value, so there's no room for negotiation.
Is Carmax Good
Yes, Carmax is known for its transparent buying and selling process. Their no-haggle pricing policy can be appealing to those who dislike traditional negotiation. They also have a wide selection of vehicles, and their cars undergo a thorough inspection before being sold.
What Is Carmax
Carmax is a used car retailer in the U.S. It offers a unique car buying experience with no-haggle pricing, ensuring customers pay the same price for the vehicle as advertised, without the traditional negotiation process.
Does Carmax Buy Cars
Yes, Carmax does buy cars. You can bring your vehicle to Carmax for an appraisal, and if you're satisfied with their offer, you can sell it to them on the spot. They'll even buy your car without you buying one from them.
Can You Negotiate With Carvana
Like Carmax, Carvana also has a no-haggle pricing policy. The price listed is the final price. This approach is intended to provide a transparent and straightforward car-buying experience.
How Does Carmax Work
Carmax works by buying and selling used cars. For buyers, they offer a wide selection of vehicles at set prices without negotiation. For sellers, you can bring your car for a free appraisal and receive an offer that is valid for seven days. If you accept, they handle all paperwork.
Does Carmax Sell New Cars
No, Carmax specializes in selling used cars. Their inventory consists of a variety of brands and models that have undergone inspection to ensure quality.
How Much Will Dealers Come Down on a Used Car
Typically, dealers have some wiggle room on used car prices. While it varies, many dealers might reduce the price by a few hundred to a couple of thousand dollars, depending on the car's price and its demand. Research and negotiation are key to getting the best deal.
What Time Does Carmax Close
Carmax hours can vary by location, but many stores operate from 10 a.m. to 9 p.m. on weekdays and have slightly shorter hours on weekends. It's best to check the specific hours of your local Carmax dealership for accurate timings.
Does Carmax Lease Cars
No, Carmax primarily focuses on selling used cars. They do not offer leasing options. However, they do provide financing options for those looking to purchase a vehicle.
Is Carmax a Good Place to Buy a Car
Yes, many people find Carmax a good place to buy a car. The no-haggle pricing policy removes the stress of negotiation, and their cars undergo rigorous inspections to ensure quality. Additionally, their wide selection allows customers to choose from various brands and models.
How to Haggle Car Price
To haggle a car price, start by researching the fair market value of the vehicle you're interested in. Set a budget and be prepared to stick to it. When discussing price, be calm, polite, and firm. Highlight any flaws or issues with the car that could lower its value. If the seller doesn't meet your target price, show willingness to walk away; sometimes this can lead to a better offer.
Can You Haggle With Carmax
No, Carmax operates on a no-haggle pricing policy. This means the listed price is the final price, and there's no room for negotiation.
Does Carmax Do Trade Ins
Yes, Carmax does accept trade-ins. You can bring your vehicle to any Carmax location for a free appraisal. If you accept their offer, they'll handle all the necessary paperwork, and you can use the amount towards your next purchase or take the cash offer.
How Much Can You Negotiate on a Used Car
The amount you can negotiate on a used car varies based on the car's price, demand, and how long it's been on the lot. Typically, you might be able to negotiate anywhere from a few hundred to a few thousand dollars off the asking price. Doing thorough research and being informed is key to successful negotiation.
How to Remove Carmax Sticker
To remove a Carmax sticker from your car, start by softening the adhesive with a hairdryer. Hold the dryer a few inches away from the sticker and move it around until the sticker's edges begin to lift. Then, slowly peel off the sticker from one edge. If there's any residue left, you can remove it with a mixture of soapy water or an adhesive remover, then clean the area with a soft cloth.
Can You Negotiate a New Car Price
Yes, new car prices are often negotiable. Research the car's invoice price, which is what the dealer paid for it. Having this knowledge can help you set a fair target price. Additionally, inquire about rebates, discounts, and financing deals that might be available.
Is Carmax Overpriced
Carmax typically prices their cars based on current market value, considering factors like vehicle condition, mileage, and demand. While some buyers believe the prices are fair given the transparency and ease of purchase, others might find similar vehicles cheaper elsewhere. It's always a good idea to compare prices before making a decision.
Does Carmax Deliver Cars
Yes, Carmax offers a service called Carmax Home Delivery in certain areas. With this service, you can buy a car online and have it delivered to your home. Additionally, if the vehicle you're interested in is at a different Carmax location, they can transfer it to a store near you, often for a fee.
Does Carmax Give Good Offers
Carmax aims to give competitive offers for cars based on their condition, market demand, and other factors. Many sellers find their offers fair, especially given the convenience of selling directly without having to find a private buyer. However, it's always wise to get multiple quotes when selling a vehicle to ensure you're getting the best deal.
How Long Does Carmax Take to Ship a Car
The shipping time for a car through Carmax can vary. If you're transferring a vehicle between Carmax locations, it typically takes between a few days to a couple of weeks, depending on the distance and logistical considerations.
How to Negotiate Dealer Markup
To negotiate dealer markup, start by researching the car's invoice price, which is the amount the dealer paid the manufacturer. This gives you an idea of the markup. Understand that dealers need to make a profit, but you can still negotiate. Discuss any incentives, rebates, or promotions that might reduce the price. If the markup seems too high, be prepared to visit other dealerships to compare offers.
How Does Carmax Pay You
If you sell your car to Carmax, they typically issue you a bank draft (similar to a check) on the spot once all the paperwork is completed. This draft can be deposited or cashed at your bank.
Does Carmax Buy Old Cars
Yes, Carmax buys cars of all ages, including older models. They'll evaluate the vehicle's condition and market demand to give you an offer. Even if the car is very old or not in running condition, Carmax may still provide an offer, though it may be lower.
Does Autonation Negotiate
Autonation, like Carmax, often promotes a no-haggle pricing approach. This means the price you see is typically the price you pay. However, as with any purchase, it doesn't hurt to inquire or discuss potential deals or promotions they might be offering.
Can I Trade-In My Carmax Car for Another Carmax Car
Yes, you can trade in your Carmax car for another vehicle at Carmax. They will appraise your current car and offer you a trade-in value. You can then apply this value towards the purchase of another Carmax vehicle, reducing the amount you'd need to finance or pay out-of-pocket.
What Does No Haggle Price Mean
A no-haggle price means the price listed by the seller is the final asking price. Buyers are not expected or encouraged to negotiate for a lower price. This policy aims to simplify the buying process and provide transparency in pricing.
Does Carmax Work With Bad Credit
Yes, Carmax works with customers with various credit backgrounds, including those with bad credit. They offer financing through multiple lenders, which allows for flexibility in financing options. However, it's important to note that individuals with bad credit might face higher interest rates or more stringent terms.
How to Negotiate Car Price When Paying Cash
When paying cash, let the dealer know you're a serious buyer with the means to make an immediate purchase. Sometimes, dealers are more willing to negotiate with cash buyers because it ensures a faster sale without the complications of financing. However, don't reveal your intention to pay cash right away. First, negotiate the price of the car, and then mention your payment method to see if there are any additional discounts.
How to Sell My Car to Carmax
Selling your car to Carmax is straightforward. First, take your car to a Carmax location for a free appraisal. They'll inspect the car and give you an offer. If you accept the offer, they will handle all the necessary paperwork. Once everything is completed, Carmax will provide you with payment, usually in the form of a bank draft.
Why Is Carmax So Expensive
Some people perceive Carmax as expensive because of their no-haggle pricing policy. The prices are based on market value, vehicle condition, and other factors, and are set to offer a hassle-free buying experience. The added value of transparency, a wide selection of inspected cars, and the convenience of a streamlined process can sometimes result in slightly higher prices than other venues.
Will Carmax Pick Up a Car
As of my last update, Carmax typically doesn't provide a home pick-up service for cars you're looking to sell. However, with their expanding online services and home delivery options, it's a good idea to check with your local Carmax store or their website for any new services or changes.
How Long Is Carmax Offer Good For
Carmax offers for vehicles are typically valid for seven days. This gives you a week to consider their offer and explore other options if desired.
What to Do If a Dealership Overcharges You
If you believe a dealership overcharged you, start by reviewing your sales contract and any related documents to understand the charges. Then, contact the dealership's finance or sales manager to discuss your concerns. Be calm and present your case clearly. If they're unwilling to resolve the issue, consider seeking advice from a consumer protection agency or legal counsel. It's also helpful to keep all documentation and correspondence for reference.
How Much Are Used Cars Marked Up
Used cars typically have a markup of anywhere from 10% to 20% over the dealership's acquisition cost. However, the exact markup can vary based on the vehicle's make, model, condition, and demand, as well as the dealership's overhead and business model.
Can You Negotiate Interest Rates on Cars
Yes, you can negotiate interest rates on car loans. While the rate you're offered often depends on your credit score, it's sometimes marked up by the dealer. Doing research on current rates for your credit range and shopping around with various lenders can give you a stronger position to negotiate.
How Does Selling a Car to Carmax Work
When selling a car to Carmax, you start by taking your vehicle to a Carmax location for a free appraisal. They'll inspect the vehicle, considering factors like condition, mileage, and market demand. After the evaluation, they'll present an offer. If you accept, they'll handle the paperwork and provide payment, usually in the form of a bank draft.
Does Carmax Offer Gap Insurance
Yes, Carmax offers GAP (Guaranteed Asset Protection) insurance. This type of coverage is designed to cover the difference between the amount you owe on your loan and the car's actual cash value if it's declared a total loss due to an accident or theft.
Why Is Carmax APR So High
The APR (Annual Percentage Rate) you're offered at Carmax, or any other dealership, largely depends on your creditworthiness. Those with lower credit scores might see higher APRs. While Carmax works with multiple lenders to try to get customers competitive rates, individual financial circumstances play a significant role in the rates presented.
Is Carmax or Carvana Better
Both Carmax and Carvana have their strengths. Carmax has a longer history and physical locations where customers can see cars in person. Carvana is known for its entirely online experience and unique car vending machines. The best choice depends on personal preferences regarding car buying and the importance of either online convenience or in-person viewing and test-driving.
Does Carmax Give Good Trade-In Value
Carmax aims to provide competitive offers based on the car's condition, mileage, and market demand. Some sellers find Carmax's trade-in offers to be fair and comparable to or even better than other dealerships, especially given the hassle-free experience. However, it's recommended to get multiple quotes to ensure you're getting the best value.
How Long Does Carmax Reserve a Car
Carmax typically holds a reserved car for seven days. This allows potential buyers some time to make a decision without the fear of the car being sold to someone else during that period.
Does Carmax Test Drive Your Car Before Buying
Yes, when you bring your car to Carmax for an appraisal, they will usually take it for a short test drive to assess its condition and performance. This helps them provide a more accurate offer for your vehicle.