Land Rover is one of Britain's most prominent carmakers. Specializing in off-road four-wheel drive vehicles, this marque has been around since 1948. But who makes Land Rover nowadays? Are they still British or have they fallen to the hands of another company?
So many carmakers have been bought by other larger car companies. And sometimes they're even bought by Chinese and Indian conglomerates. Most of the time due to their inability to cope with changing market demands and bad management. So, is Land Rover one of them? Continue reading to find out, and learn everything about the company:
Who Makes The Land Rover
So, who makes Land Rover nowadays? Technically, the company still makes its own cars. But they have been a subsidiary of the Tata Motors company—an Indian conglomerate—since 2008.
Tata bought Land Rover Ltd. in 2008 from Ford as the American giant was struggling to make money out of the British offroader brand. So, they sold both Land Rover and Jaguar to Tata for $2.3 billion. And it was a loss for Ford, as they originally bought the two brands for $5.3 billion.
Fast forward to 2012, Tata decided to merge the Land Rover and Jaguar brand into one holding company. The two will remain separate brands but will be under one holding company and thus the Jaguar Land Rover Automotive PLC—or JLR for short—was born.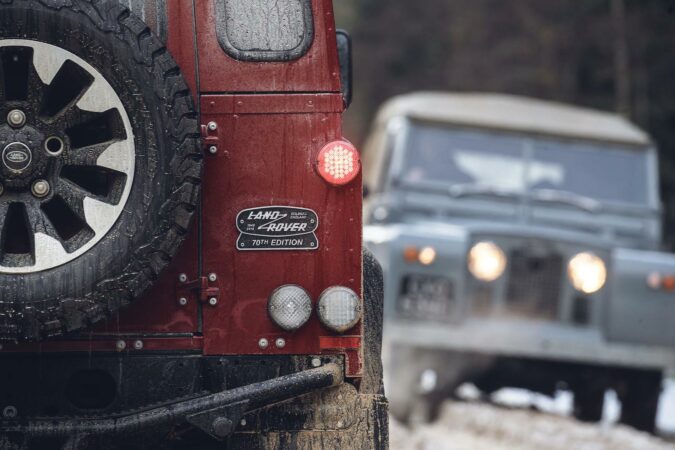 While Tata is still the parent company of JLR, the British company has its headquarters in Whitley, Coventry, United Kingdom. Its main factories are also in the UK, and for this reason, we can still consider them to be a British car manufacturer.
Their manufacturing plant locations include the UK, Slovakia, Brazil, China, and India. The global factories build mostly the Discovery, Discovery Sport, and the Range Rover Evoque. And they still build the flagship Range Rover SUV at their plants in Birmingham and Liverpool.
We'll get into the Range Rover in a bit, here's a quick history of the Land Rover marque first:
Who Makes Land Rover: The History
Land Rover has been around since 1948. It was initially a model of the Rover Company. The car was largely inspired by the original Jeep. A utilitarian, practical, and offroad capable vehicle that's useful for agricultural and military use.
However, the problem with using a Jeep in Britain was that once it broke down, repairing and finding replacement parts was hard. Amazon's same-day delivery wasn't exactly a thing yet back then. Fueled by this need, Rover came up with the Land Rover; a car similar to the Jeep, but was made in Britain so repairing and replacing parts was easier.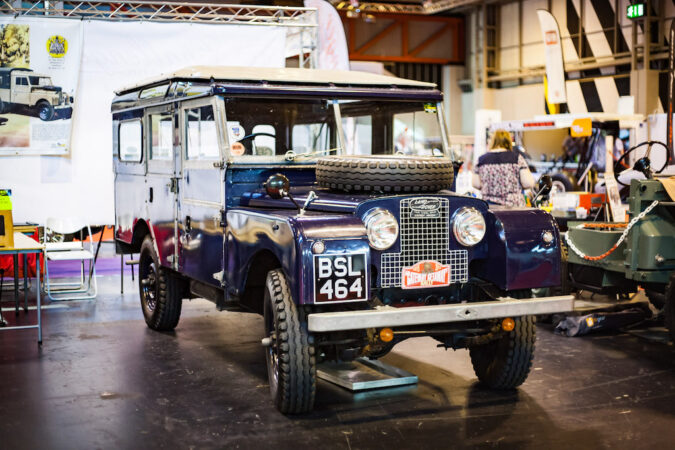 The original cars were simply called "Land Rover" but nowadays it's known as the "Series" Land Rover. Series I was built until 1958, and then came the Series II and IIA which they produced up until 1971. And then came the Series III Land Rover.
There were large changes over the years, but the recipe was largely the same: boxed-welded steel frames, a boxy exterior with several body options, and a simple interior. It was a simple offroad vehicle for farmers.
Who Makes Land Rover: Changing Hands
British Leyland—another old British carmaker—took over the Rover brand in 1967. And it wasn't until 1978 that Land Rover finally became its own company as Land Rover Ltd.
Fast forward to the 1980s, the company was wrapping up the production of its Series III. And then the Defender came along. Initially called the Land Rover 90 and 110 (the name reflected its wheelbase length), it was a modernized and more luxurious iteration of the Series Land Rovers.
British Leyland and many other British carmakers had well-documented business troubles. The Land Rover company changed hands back to the Rover Group in 1988, which was under the ownership of British Aerospace at the time.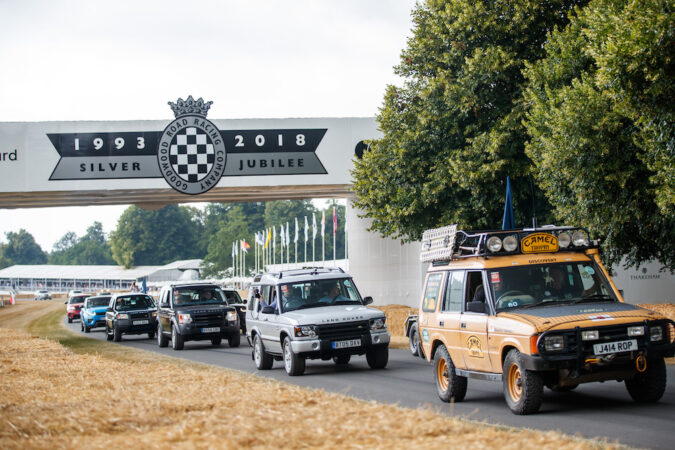 Then in 1994, BMW bought the Rover Group, taking the Land Rover brand along with it. But in 2000, BMW broke the Rover Group, keeping the MINI brand, but sold the Land Rover brand to Ford.
Ford saw little success with the brand. And in 2007 Ford announced that they were putting up the Land Rover and Jaguar brands for sale. There were many bidders, but as we know, Ford agreed to sell the two brands to Tata, and the rest is history.
Who Makes Land Rover: Current Lineup
Their current lineup consists mostly of the Range Rover and its spinoffs, including the Sport, Velar, and Evoque. But there are three other models they currently offer:
Discovery & Discovery Sport
The Discover is a family-oriented premium SUV that comes with 7-seats as standard. The original Discovery Series I was made in 1989 when Land Rover was under British Aerospace ownership.
It was always a family SUV and was originally based on the Range Rover. Meant to rival the Japanese family SUV such as the Nissan Patrol, Mitsubishi Pajero, and Toyota Land Cruiser.
The Discovery Series II then debuted in 1998, but it shared the same platform as the previous model. However, there were plenty of exterior and interior changes to make the Disco feel less, shall we say, agricultural.
The big redesign came in 2004 when the company was under Ford ownership. The Disco 3 has a monocoque chassis mated with a ladder-frame chassis. This made it very heavy, but much more comfortable on the road.
The Disco 4 was yet another redesign of the previous chassis. And it wasn't until 2017 (third-generation) that they unveiled an entirely new Discovery.
Gone was the weird chassis blend, and in with a new and entirely monocoque platform borrowed from the Range Rover. It's still a 7-seater, premium family SUV. And it's available with either a four-cylinder or straight-six engine starting from $58,400.
Honorable mention to the Discovery Sport, which is a compact SUV that shares its name with the original Disco. It's still a family-oriented crossover SUV, just intended for a smaller family on a budget. A budget of around $44,600, to be exact.
Land Rover Defender
The Land Rover Defender is the continuation of the original "Series" Land Rover. Originally launched in 1983, it remained largely the same until 2016 when it stopped production. The current model was launched in 2020 and was completely revamped with a new monocoque chassis.
The new car retains the boxy styling of the original, but with modern Land Rover design language. Additionally, the unibody-chassis made it more comfortable, which was necessary since they're targeting the upscale market.
The Defender is available with a variety of gas and diesel engines, and there are mild hybrids and plug-in hybrid variants as well. And a 5.0L supercharged V8 is available for those who don't care about current gas prices (more so when you compare is diesel cheaper than gas).
Much like the original, the current Defender also comes in the '90' and '110' versions, with the latter being the longer one. There are many positives about this car, but the main one is probably how well Land Rover has incorporated the retro design into a modern chassis.
So, there's the Discovery, Discovery Sport, and the Defender. Together with the Range Rover, that makes a total of seven models in their lineup. Let's further discuss the Range Rover, shall we? One of my favorite cars of all time:
Land Rover VS Range Rover
If you're not familiar, you're probably asking if the Range Rover is a different brand. Well, Land Rover is the company brand. Meanwhile, the Range Rover is the nameplate of their flagship SUV.
The Range Rover is now a full-size luxury SUV, the flagship model of Land Rover's lineup. And it's now an icon and the car of preference for the ultra-rich who wants to travel in a stylish, luxurious, and still offroad-capable SUV. Here's a history of how the Range Rover came about:
History Of The Range Rover
As mentioned, Land Rover started by making the Series I. And most people who are not Land Rover enthusiasts—such as myself—often refer them to simply as the classic Land Rover. This eventually evolved into the Defender in 1983, which is the modern iteration of the classic Land Rover.
Although they were available for the general public, the classic Land Rovers are geared toward agricultural, military, and other commercial uses. They needed a new car that was more refined and comfortable for road uses. But remains just as capable offroad and utilitarian.
So, after over 10 years of designing limbo, they introduced the Range Rover in 1969. The first iteration was a two-door, mid-size SUV intended to break into the American market. Equipped with a Buick-derived Rover V8 engine, the Range Rover was an instant hit. But not with the market they had in mind.
The original Range Rover has a price tag of around $40,000 in today's money. Not exactly within budget for your average farmer. But it was well within budget for the wealthy city-dwellers. And they found that driving tall cars like the Range Rover was surprisingly pleasant.
The Range Rover quickly became a status symbol. It wasn't just an offroad capable utilitarian SUV, it was a statement; a way to announce to everyone else on the road that you have done well in life. A statement of wealth and affluence, if you will.
Land Rover happily embraced this image for the Range Rover. And over the years, the Range Rover has become increasingly more luxurious, and of course, more expensive. Many regard it as the S-Class of the SUV segment.
Who Makes Land Rover: The Range Rover Family
The Range Rover has been around for over 50 years now, spanning five generations. Evolving from a utilitarian but comfortable mid-size SUV, into the luxury full-size SUV we know today.
The latest one, code-named L460, was just launched this year in 2022. There have also been other spinoff models, namely the Velar and the Range Rover Sport.
There's also the Evoque, which is an unrelated compact crossover SUV that shares the same nameplate. Here's a look at the current Range Rover lineup:
Most Expensive Range Rover
The "real" Range Rover remains as the company's flagship model and the most expensive Range Rover you can buy. It's now in its fifth generation and has just gone on sale this year. It looks largely similar to the fourth generation, but Land Rover says it's entirely brand new.
It's more luxurious than ever, and there are plenty of powertrain options. The P400 is a 3.0L straight-six gas engine with mild hybrid technology. And there's also the P440e, a plug-in hybrid with a 3.0L straight-six diesel and Land Rover claims can do up to 62 miles on the electric motor alone.
If those are too limp for you, then don't worry, the P530 with its 4.4L twin-turbo V8 is also available in the US. The P530 starts from $122,800, and there's a long wheelbase version for those who need the extra legroom.
You can't go wrong with any of them, even the standard P400 Range Rover SE starting from $104,500. Standard features already include a 3D surround camera, adaptive cruise control, and a 13.1-inch touchscreen with wireless Apple CarPlay/Android Auto.
All of them also have all-wheel drive and the Terrain Response 2 systems. And here's something new: four-wheel steering to improve high-speed handling and maneuvering in tight spaces. Also, a 7-seat configuration is available, something that was only available in the Range Rover Sport previously.
Regardless of which model you get, the new Range Rover will not disappoint. But if you want the no-compromise version, currently the Range Rover SV Long Wheelbase P530 is the most expensive Range Rover at $218,300.
Range Rover Sport
The idea of a sporty full-size SUV is kind of silly. Tall-riding and heavy cars aren't exactly sporty. But thanks to the Porsche Cayenne, it was clear that this type of SUV was possible. And that consumers had an appetite for it.
Land Rover jumped into the trend in 2005 with the L320 Range Rover Sport. Even though it had the Range Rover nameplate, its chassis was actually from the Discovery 3; an SUV with a monocoque mated to a ladder-frame chassis.
This meant it had the rigidity of a monocoque chassis, necessary for the sporty aspect. And the robustness of the ladder-frame chassis for offroad uses. The result was a very heavy SUV, weighing over 5,500lbs in some specs.
However, thanks to its offroad capability, a V8 engine available, and its lower price than the standard Range Rover, the SUV saw great success. They then introduced the second-generation L494 in 2013, and this time it uses a unibody construction.
This made the car much lighter, weighing in at just over 4,700lbs. Like the previous generation, it came with several engine choices from diesel to gas V8s. But most notably, they introduced an SVR version in 2015 which uses a Jaguar supercharged V8 making 550 horsepower.
The company just introduced the third-generation Range Rover Sport (L461) in May of 2022. We still don't know much about this new one. We do know it shares the same platform as the standard Range Rover, but it has a sloping roofline to give it a more sporty look.
It also has three different engine options, including a twin-turbo 4.4L V8. And a 3.0L turbo straight-six plug-in hybrid if you're into that sort of thing. You can order it now, and prices start from $83,000, with deliveries beginning in September 2022.
Range Rover Velar
The rise in SUV popularity drove the production of this car; everyone wants an SUV. But the original Range Rover and the Range Rover Sport were a little out of reach for a lot of people. And the Evoque—we'll get into it after this—is too small.
So, the answer was the Velar. It's a compact crossover SUV and is something that they made to fulfill the market demand. Unlike the regular Range Rover, sportiness and on-road comfort were the main focus here.
The Velar uses JLR's D7a platform and shares a lot of parts with the Jaguar F-Pace, XF, and XE. As mentioned, this was mostly an on-road SUV. But all models still came with an all-wheel-drive system and the company's Terrain Response (offroad driving aids) system.
While it doesn't share parts with the original Range Rover, it's still pretty capable offroad. And the interior is still a lovely place to be, even if it's not as feature-packed as its bigger sibling.
It may not be for everyone, certainly not for the Land Rover enthusiasts. But with a starting price of just $60,300, you can't argue with its value.
Range Rover Evoque
Land Rover launched the Evoque back in 2011. While it still looks largely the same, it's now in its second-generation model which they introduced in 2019. And yes, Posh Spice a.k.a Victoria Beckham did design the interior, in a bid to attract younger and fashion-conscious buyers.
The subcompact SUV may not share much with its bigger sibling. But it still had all-wheel drive and Terrain Response, making it a decent small off-roader. Although most Evoque owners probably never take it off the road.
Anyway, it's currently on sale in the US starting from $46,400. All models come with the same 2.0L Ingenium engine making 246 horsepower. And a mild-hybrid version with 296 horsepower is available for $57,000.
Land Rover History and Facts:
Land Rover started as a bicycle manufacturer in Warwickshire, England in 1885.
Tata Motors, an Indian automotive manufacturer, currently owns Land Rover after buying it from Ford in 2008.
Tata Group, the parent company of Tata Motors, has a diverse range of business operations, including hospitals and telecommunications.
In 2013, Jaguar Cars and Land Rover were joined under Tata Motors to form Jaguar Land Rover Limited.
Land Rover manufactures vehicles in six different countries, including the UK, Slovakia, and Brazil.
Land Rover models were built on a Jeep axle and chassis when they were first designed in 1947.
The first Land Rover debuted at the Amsterdam Motor Show in 1948.
Land Rover Limited became its own company in 1978 under British Leyland Motors.
The Rover Group was acquired by BMW in 1994, but Land Rover was sold to Ford in 2000.
Tata Motors created a new subsidiary, Jaguar Land Rover, after purchasing both brands from Ford in 2008.
FAQs About Who Makes Land Rover
Got any more questions about the Land Rover brand? These answers might be helpful for you:
Who Makes Land Rover Vehicles
Land Rover vehicles are now made by the Jaguar-Land Rover Automotive PLC or JLR for short. They're a subsidiary of the Indian car company, Tata Motors. But their headquarters is still in the United Kingdom, with multiple manufacturing plants across the globe.
Who Makes Land Rover Engines
Current Land Rover vehicles share their engines with Jaguar cars, which is what Jaguar calls the Ingenium engine family. There are three-cylinders, four-cylinders, and straight-six engines with gas and diesel variants. One exception is the 4.4L turbo V8, which is a collaboration between the JLR group and BMW. And older models also had engines either from Ford or BMW.
Who Makes Land Rover Discovery
The Land Rover group or more accurately the Jaguar-Land Rover Automotive PLC makes the current Discovery. Note that the Series I Discovery was made while Land Rover was still under the Rover group, and the Series II Discovery was produced when they were under BMW.
Who Makes Land Rover Diesel Engine
The diesel engines in the current Land Rover vehicles are all made by Jaguar and are part of the Ingenium engine family. Before 2021, the diesel engine mostly came either from Ford or BMW.
How Much Is A Range Rover
The current Range Rover starts from $104,500, with the most expensive model starting from $213,800 before optional extras. Note that this is the original Range Rover. And the smaller Range Rover Sport and Velar models are cheaper. Starting from $83,000 and $60,300 respectively.
Difference Between Land Rover And Range Rover
Land Rover is the brand and the company that makes the vehicles. The Range Rover is one of the vehicle models made by Land Rover starting in 1969.
Where Is Range Rover Made
The Range Rover, including the Sport and Velar,  is made exclusively in their Solihull plant near Birmingham. Their global factories in Slovakia, China, Brazil, and India are for the Discovery, Discovery Sport, Defender, and the Range Rover Evoque.
Does Range Rover Have A Third Row
The new generation 2022 model doesn't have a third row as standard, but it's an option that you can have, unlike previous generations. Previously, you can only have a third row in the Range Rover Sport.
Who Makes Land Rover: Final Thoughts
To summarize, Land Rover is a British car company that has changed ownership several times. It was initially a model of the Rover Company, and then eventually became its own company in 1978 under British Leyland.
British Leyland then broke down, and Land Rover was once more a part of the Rover Group under the British Aerospace Company. Before it then got bought by BMW, then Ford, and finally, by Tata in 2008.
The company then went into a joint venture with Jaguar in 2012 and is now under one holding group with Jaguar which is the Jaguar Land Rover Automotive PLC—JLR for short—which is a subsidiary of Tata Motors, an Indian car company.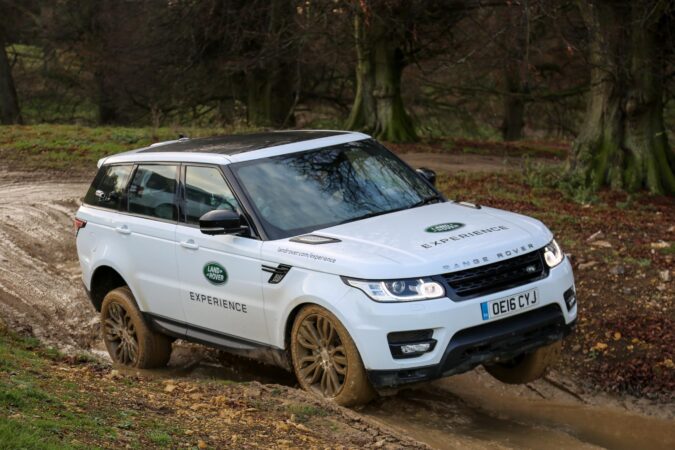 While technically under Indian ownership, Land Rover still makes their own cars and operates almost independently. They design, develop, and manufacture their own cars, albeit in collaboration with Jaguar.
Since the company operates almost independently, we think we can still consider them a British company. Hopefully, that clears everything about Land Rover and its history.