A half-ton truck is a superb all-rounder vehicle with some lightweight carrying or towing capacity. It's crucial to think about your payload and trailer weight when shopping for a new truck designed for towing, as well as the type of hitch and trailer you'll be using. Now in this article, we will be focusing on 1/2 ton truck towing capacity specifically.
Nowadays, it appears like everyone has either purchased a new truck, a new towable toy (boat, travel trailer, etc.), or both. We thought it would be a good idea to quickly review which half-ton trucks are the greatest for towing as they make up the largest truck class and sold more than 2 million units last year.
In order to determine which half-ton pickups can tow the most, we have gathered a variety of facts on their towing capacities.
1/2 Ton Truck
One-ton trucks are those that have a payload capacity of about 2,000 pounds, whereas half-tons are those with a payload capacity of around 1,000 pounds. The half-ton truck market is quite robust, supporting models from the majority of the country's top automakers.
High towing capacity is one of the most desirable characteristics a truck may have. Similar to vehicle owners, truck owners are concerned with payload capacity. For the purpose of clarity, a payload measurement establishes the total weight that a truck is capable of transporting in its cab and bed.
Knowing if their truck can comfortably carry a half-ton, 3/4-ton, or full-ton in the truck bed is important for truck owners who expect to transport a lot of weight wherever they go. Half-ton trucks are typically thought to be the most fuel-efficient and manageable on the highways among the various truck capacities.
They are regarded as light-duty pickups, appropriate for typical hauling but not advised for heavy loads. However, the term "half-ton" is rather misleading because the truck's real payload capacity is typically significantly larger than precisely 1,000 lbs.
Because the payload capacity does not account for people or other loads, some trucks with a payload capacity of up to 2,300 pounds are referred to as half-ton trucks. A truck with five passengers inside might easily weigh half a tonne just from the bodies.
Trucks are categorized as being able to transport significantly less than their real maximum capacity would suggest because truck owners cannot reliably estimate the weight of the passengers. Due to their smaller payload capacities, half-ton trucks are likely to have smaller towing capacities than full-ton trucks.
Towing Capacity Of 1/2 Ton Truck
For more than 40 years, half-ton trucks have dominated the automotive market in the United States. They are a common sight in every garage and driveway thanks to their practicality and dependability.
You might also be curious about how much weight a half-ton can pull considering that towing is these vehicles' strongest suit. In order to determine which half-ton pickups can tow the most, we have gathered a variety of facts on their towing capacities.
Traditionally, trucks were grouped according to how much payload weight they could transport. A 1/2 ton truck could carry 1,000 pounds, or half a tonne, of freight. For current 1/2-through 1-ton trucks, the maximum loaded trailer weights are far higher than those mentioned above.
It can commonly range from 5,000 to 14,000 pounds for 1/2 tonne trucks, and 13,000 to 22,000 pounds for 3/4 tonne trucks. This can range from 13,000 to 30,000 pounds or more for 1-ton trucks depending on how the truck is specced.
The best towing capacity for a pickup truck among the 2021 models is 14,000 lbs, while the lowest is only 7,700 lbs. Keep in mind that towing capability increases as trim level increases. Because it covers the gap between mid-size and full-size heavy-duty vehicles, the half-ton truck market is a very competitive class for trucks.
1/2 Ton Truck Towing Capacity Comparison
There are many options and competitive models and trims on the market. Half-ton pick-up trucks made up more than two million of the cars sold in the United States last year. The most popular half-ton pickup vehicles in America are listed here in brief. Follow us as we examine the specifications of each of the five half-ton producers.
Popular 1/2 ton Trucks
1/2 Ton Truck Towing Capacity: Ford F-150
Ford's F-150 pickup truck recaptured the best-in-class honor for half-ton towing in 2021. Ford also offers the most available axle ratios, cab and engine combos, and engine choices in the class. This makes figuring out any truck's real tow rating much more challenging. (GM uses stickers in the door jamb to clear up this confusion.)
Despite the confusion, the Ford F-150 with a 3.5L EcoBoost V-6 engine has a maximum towing capacity of 14,000 pounds. 2-wheel drive trucks with Super Cab or Super Crew configurations may accomplish this.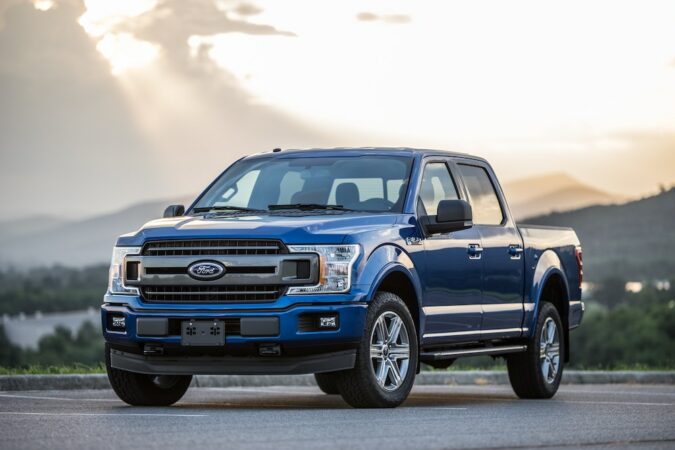 While the 2.7L EcoBoost V-6 is capable of towing up to 10,100 pounds in its Super Cab and Super Crew four-wheel-drive versions. However, the 5.0L V-8-equipped F-150 can tow up to 13,000 pounds in all cab configurations.
The 3.0L Power Stroke diesel V-6 from Ford can tow a healthy 12,100 pounds in both the Super Cab and Super Crew variants with four-wheel drive. In all cab configurations, the company's standard 3.3L V-6 is rated to tow a maximum of 8,200 pounds, while the new 3.5L Power Boost hybrid-equipped vehicles can tow up to 12,700 pounds.
1/2 Ton Truck Towing Capacity: Chevrolet Silverado And GMC Sierra
The extended-cab, four-wheel-drive models of the Chevy Silverado 1500 and GMC Sierra 1500 have the maximum tow rating for the 2021 model year. With the brand's 6.2L V-8 engine and towing package, these models can tow a maximum of 13,300 pounds.
The maximum weight for the 4.3L V-6-equipped Silverado and Sierra models is 7,900 pounds, while the maximum weight for the 2.7L I-4-equipped versions is 9,600 pounds. The 5.3L V-8 engine allows trucks to pull up to 11,500 pounds. Surprisingly, the 3.0L Duramax diesel's highest towing capacity is 9,500 pounds.
1/2 Ton Truck Towing Capacity: Nissan Titan
For the 2021 model year, Nissan upgraded their half-ton Titan truck. Unfortunately, Nissan has the lowest rated maximum for a V-8-powered truck, which is bad news for individuals who want to pull hefty loads.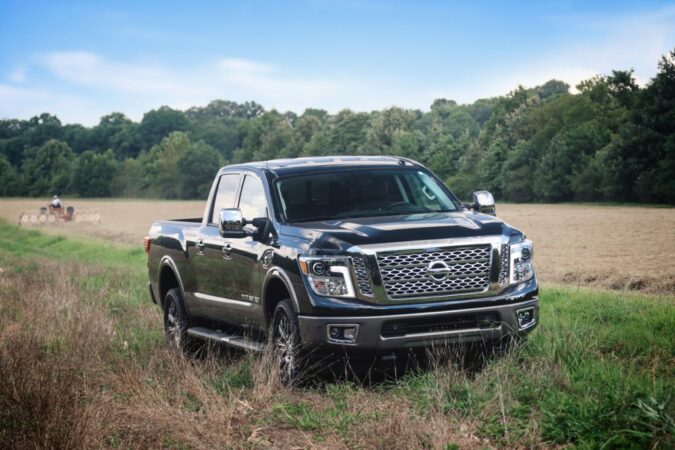 The King Cab and Crew Cab two-wheel-drive Titan models have a maximum of 9,310 pounds of towing capacity. There is only one engine offered, -the 5.6L Endurance V-8. That figure decreases by just 100 pounds to 9,210 pounds when four-wheel drive is added.
1/2 Ton Truck Towing Capacity: RAM 1500
The 2021 Ram 1500 pickup's two-wheel-drive Quad Cab model with the 5.7L Hemi V-8 engine has the best hauling performance. With its max tow package and 3.92:1 axle gearing, the Ram 1500 is capable of towing a trailer weighing up to 12,750 pounds. Ram doesn't specify if it's the case with the company's eTorque mild-hybrid equipped V8 or the conventional Hemi.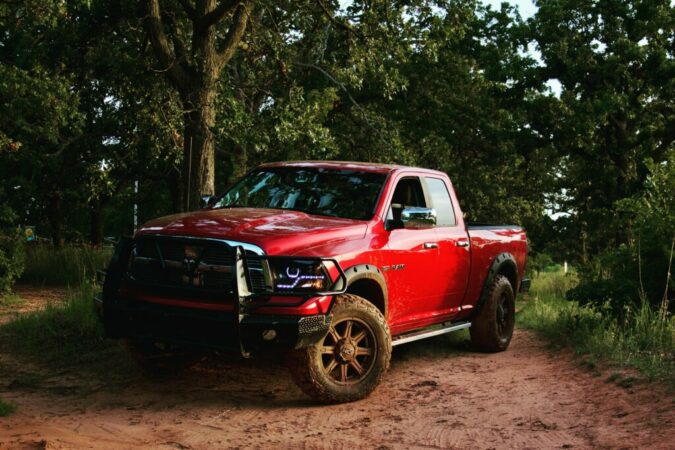 When coupled with the manufacturer's 3.92:1 axle gearing and maximum tow package, Ram 1500 pickups powered by the 3.0L EcoDiesel V-6 are capable of towing up to 12,560 pounds. The 3.6L V-6 engine in trucks allows them to tow up to 7,710 pounds. These are all configured as Quad Cabs with two wheels.
1/2 Ton Truck Towing Capacity: Toyota Tundra
The 2021 Toyota Tundra will mark the final production of this dated model before the all-new 2022 Toyota Tundra debuts. The Tundra can tow up to 10,200 pounds with its only engine option, a 5.7L V-8 coupled to a six-speed automatic transmission. The Double Cab variant with two-wheel drive has this top capacity.
The Crew Max variant with four-wheel drive has the lowest tow rating, which drops to 9,800 pounds. Despite the fact that neither tow rating is the greatest in its class, the gap between the best and worst is one of the narrowest in the business.
1 Ton Truck, Half Ton Truck, 3 Quarter Ton Truck
What do the phrases "half-ton," "3-quarter ton," and "one-ton" imply when used to describe trucks? The quick response is that it is a weight classification. Sadly, the lengthy response is more difficult and hampered by a history of evolving standards and advertising hype.
In the early days of trucks, these phrases only stated the maximum load capacity of a truck. You may transport up to 1,000 pounds of merchandise and people in your new half-ton truck. It was as simple as that.
Well, as technology advanced and trucks gained in popularity, the terminology started to lose its meaning. Particularly when truck manufacturers started to compete with one another in advertising things became more complicated.
Pickup trucks are becoming as common in driveways as they are on construction sites. The rise in recreational pickup use has brought this weight classification conversation from the fleet manager's office to the dinner table now. So let's look into it and sort out the jargon.
1/2 Ton Truck Towing Capacity And Other Features #1: Gross Vehicle Weight (GVW)
The current weight of a car or trailer with people inside, fuel and fluids, and aftermarket body or equipment, along with the loaded payload weight is its gross vehicle weight. A vehicle's GVW changes frequently as its weight changes as a result of factors like the number of passengers, fuel consumption, cargo weight, etc. At no point shall the GVW exceed the Gross Vehicle Weight Rating.
1/2 Ton Truck Towing Capacity And Other Features #2: Gross Vehicle Weight Rating (GVWR)
Knowing how trucks are categorized by the U.S. government and automakers is necessary to comprehend payload. Automakers first calculate the most that a truck's cargo bed and cabin can safely accommodate. The GVWR or gross vehicle weight rating of a truck is identified by this number.
Consider a truck that weighs 5,000 pounds but has a GVWR of 9,000 pounds. The truck's carrying capacity for goods, passengers, and trailer tongue weight is shown by the 4,000-pound difference. The "-ton" classification as a whole was founded on this cargo capacity.
2,000 pounds could be transported by a one-ton truck in the past, 1,500 pounds by a three-quarter-ton truck, and so on.
1/2 Ton Truck Towing Capacity And Other Features #3: Gross Combined Weight Rating (GCWR)
The Gross Combined Weight Rating, as stipulated by the OE vehicle manufacturer is the maximum permitted combined operational weight of a vehicle with a trailer. This weight comprises the trailer and its payload in addition to all the elements listed in the GVWR.
1/2 Ton Truck Towing Capacity And Other Features #4: Payload Vs Towing Capacity
Do you believe that towing capacity and payload have the same meaning? Think again. One focuses solely on pulling, the other solely on carrying. Learn the important distinctions between these frequently misinterpreted truck terminology to avoid endangering your vehicle or your load. It's time to discuss trucks.
Payload Capacity
The total amount of cargo weight that you may safely add to your truck's empty weight (also known as curb weight) is referred to as its payload capacity. A "payload" may be anything, from five people and a week's worth of luggage to a truck bed full of garden mulch.
Your vehicle's manufacturer will compute the payload capacity and list it in the owner's manual. However, with a little math, you can determine your truck's payload capacity on your own.
Start with your truck's maximum total weight capacity, or its Gross Vehicle Weight Rating (GVWR). The manufacturer also specifies the GVWR, which is listed in your owner's handbook. Calculate your truck's payload capacity by deducting the curb weight from the GVWR.
Towing Capacity
The amount of weight you can securely tow behind your truck with a trailer is referred to as the towing capability. Due to the fact that the majority of the weight is supported by the trailer axles, rather than the axles on your truck, your towing capability typically surpasses your payload capacity.
The towing capacity of your truck can be found in the owner's manual or determined independently. Subtract your truck's curb weight from its Gross Combined Vehicle Weight Rating to determine its towing capacity (GCVWR). The maximum weight of your loaded truck and its attached trailer is known as the GCVWR.
2 Ton Truck, 2 1/2 Ton Truck
Designed at the start of World War II for the US Armed Forces, the 2 1/2-ton, 6×6 truck was a standard class of medium-duty trucks. They served in combat for more than 50 years, from 1940 until the 1990s.
This moniker, which is also widely referred to as deuce and a half or just the deuce, gained popularity after World War II, perhaps during the Vietnam War. The fundamental cargo versions were created to move a cargo load that weighed no more than 2 1/2 short tonnes (5,000 lbs) over any terrain, in any condition.
The 2 1/2-ton trucks were used extensively during World War II and remained the American industry standard for medium-duty trucks following the conflict. They were also used for extensive service in the Korean and Vietnam Wars as well as the first Gulf War.
Best Towing Capacity Truck
Ford F-450 SuperDuty
You won't need to worry about the size of the cargo you're hooking up to a new Ford Super Duty F-450 because it can tow an incredible amount of weight. The Ford F-450 SuperDuty is the best truck for towing. It flaunts both the best-in-class conventional towing rating and the best-in-class gooseneck towing rating.
You can utilize this heavy-duty truck to transport 21,000lbs of cargo securely if you're employing a bumper draw trailer. A gooseneck trailer has a mind-blowing 37,000-pound towing capability. The F-450 can easily draw 27,500 pounds when towing a fifth-wheel trailer.
This is fantastic news for farmers who want a dependable vehicle that can carry heavy loads of grain and animals as well as for construction enterprises that require equipment hauled. The Super Duty F-450 is capable of hauling a significant amount of weight and navigating a variety of terrains.
The Ford F-450 is a versatile machine that excels as a tow truck. Of course, its size makes it a bad choice for someone who commutes every day. However, suppose you frequently transport horses, and large construction equipment, or simply enjoy driving huge, powerful trucks. In that case, you'll discover that the Ford F-450 offers a number of features that makes driving it a true delight.
SUV With Highest Towing Capacity
Jeep Wagoneer, Grand Wagoneer
The highest SUV tow ratings are currently held by Jeep's new Wagoneer and Grand Wagoneer full-size SUVs, which made their debut in 2022. The Wagoneer is powered by a 392-horsepower, 5.7-liter V-8 engine as standard with two or four-wheel drive.
Along with the Heavy-Duty Trailer-Tow Package which includes HD engine cooling, trailer brake control (just make sure you also know how to adjust trailer brakes), a hitch lineup assist, and hitch zoom view, it has a maximum towing capacity of 10,000 pounds comparable to that of a pickup truck.
The 471-hp, 6.4-liter V-8 in the nicer, heavier Grand Wagoneer is rated to tow 9,850 pounds. With new twin-turbocharged inline-six-cylinder engines (420 or 510 hp), Jeep has already introduced long-wheelbase L versions of the Wagoneers for 2023. When properly equipped, these longer models, according to Jeep, will tow up to 10,000 pounds.
Ford Expedition, Expedition Max
Ford's full-size Expedition, which had previously been the best SUV tow vehicle, dropped to the second position for 2022. It has a tow rating of up to 9,300 pounds with 2WD and 9,200 pounds with 4WD. The Expedition is not at all far behind with the optional Heavy-Duty Trailer Tow Package and a weight-distributing hitch.
A 3.5-liter, twin-turbocharged V-6 with 380 horsepower is standard. With the same trailering kit in the extended Expedition Max model, you can tow up to 9,000 pounds with 2WD or 4WD. Improved engine cooling, a blind spot monitor that can detect trailers, Ford's Pro Trailer Backup Assist technology, and an integrated trailer brake control are all included in the HD tow package.
1/2 Ton Truck Camper
Which half-ton pickup truck campers are the best? Let's temporarily close the road so we can learn more about truck campers. Campers on trucks are exactly what they sound like. They are seated in the pickup truck's back. They come in a variety of sizes to fit different-sized trucks.
Hard-side, pop-up roof, flatbed, and chassis-mount truck campers are all available (although chassis-mounted truck campers are now categorized as expedition vehicles). There are campers available with slide-outs and lots of interior space. Some are only big enough to allow you to sleep inside and have the essentials. So let's see which is the best camper option you can get for your 1/2 ton truck.
Lance 650
Nothing beats the Lance 650 for modern half-ton pickups in terms of elegance and comfort. In fact, the F-150 and Lance 650 combo are so opulent and convenient to drive that it continues to be one of Cruise America's most well-liked rental RVs.
One of our favorites is the Lance 650. It is equipped with a queen bed that runs north to south and a full bathroom with a sink. It also has a spacious kitchen and a dinette that can accommodate an adult. The Lance 650 only weighs 1,700 pounds dry and 1,903 pounds wet when fully equipped.
Although it is at the top of the payload rating, it may be used with the majority of half-ton trucks. Check your pickup's owner manual and take into account your engine's specifications, suspension, and other elements before buying this camper.
Truck Towing and Payload Capacity Facts:
Traditional truck size categories were based on payload capacity, with ½ ton trucks having a payload capacity of 1,000 pounds.
Current ½-ton to 1-ton trucks have much higher maximum loaded trailer weights, ranging from 5,000 to 30,000+ pounds.
Using an overloaded truck or carrying the incorrect payload or trailer weight can lead to higher fuel and maintenance costs, tire wear or failure, and liability issues.
When choosing a new truck for towing, consider the hitch and trailer type, payload and trailer weight, and factory towing packages that can include options like a trailer brake controller or 360-degree camera system.
Gross Vehicle Weight (GVW) is the current weight of a vehicle or trailer with occupants, fuel and fluids, aftermarket body or equipment, and loaded payload weight at any given time.
Gross Vehicle Weight Rating (GVWR) is the maximum legal operating weight of a vehicle as specified by the OE vehicle manufacturer.
Federal Truck Classifications range from Class 1 (0 – 6,000 lbs) to Class 8 (33,001 lbs or more).
Gross Combined Weight Rating (GCWR) is the maximum legal combined operating weight of a vehicle with a trailer as specified by the OE vehicle manufacturer.
Trailer Tongue Weight should be between 10-15% of the loaded trailer weight to avoid unstable driving conditions or receiver hitch damage.
CDL requirements for towing a trailer depending on the GVWR and GCWR of the truck and trailer.
Top 6 1/2 Ton Truck Models:
Ford F-150: Versatile with a wide range of features, 4G LTE Wi-Fi hotspot, and safety features like Pre-Collision Assist and Adaptive Cruise Control.
Ram 1500 Tradesman & Laramie: Luxurious interior and utilitarian capabilities, with features like Lane Departure Warning and Guided Parking.
Chevrolet Silverado 1500: Traditional, rugged work truck with off-road and towing capabilities, and safety features like Forward Collision Alert and Rear Park Assist.
GMC Sierra 1500: Several powertrain options to handle various towing and hauling needs, and safety features like Forward Collision Alert and Lane Keep Assist.
Toyota Tundra: 5.7L V8 powertrain, Apple CarPlay, and Android Auto, with safety features like Toyota Safety Sense and Hill Start Assist Control.
Nissan Titan: Tranquil interior with supremely comfortable seats and in-bed cargo boxes, and safety features like Automated Emergency Braking and Traction Control System.
Choosing the Best Truck for Your Business:
Consider towing capacity, drivetrain, budget, and maintenance/warranty package when choosing the best truck for your business.
Anything over 10,001 lbs will require documentation from the Department of Transportation.
Fleet management companies can help compare different truck models and total cost of ownership (TCO).
Diesel engines may be recommended for vehicles that drive between 30,000-35,000 annually, depending on application requirements.
Consider fleet maintenance programs and warranty packages, and read the specifics of the warranty.
1/2 Ton Truck Towing Capacity: Conclusion
Overall, the Toyota Tundra has the highest average towing capacity among half-ton trucks, but the Ford F-150 has the highest towing capacity. Half-ton trucks are nonetheless capable of towing even though they may not be the most strong when it comes to packing a truck bed. Whichever you choose, you can rely on it to enable you to accomplish nearly anything.
In conclusion, current half-tons are quite capable vehicles that can perform tasks that previously required higher-rated trucks. Despite the advanced technology and features found in these trucks, it's important to always be careful. Therefore, let's be responsible for the immense power these contemporary trucks possess and prioritize safety.
FAQs On 1/2 Ton Truck Towing Capacity
Here are some popular FAQs:
What Is A Half Ton Truck
A half-ton truck is a truck with a payload capacity of 1,000 pounds. A three-quarter tonne would be rated at 1,500 pounds, and a tonne truck could carry 2,000 pounds.
How Many Pounds In A Half Ton
A ton is generally rated at 2,000 pounds, therefore half a ton means 1,000 pounds.
What Does 1500 Mean On A Truck
It's just a means to better organize the pickup lineup by payload capacity in ascending order. 1500 means the truck is a light-duty model, while the 2500 and 3500 are heavy-duty models.
How Much Does A Travel Trailer Weigh
The average dry weight of a travel trailer is around 5,200 pounds. However, they actually range from around 1,000 to 9,000 pounds.
How Much Does A Small Camper Weigh
Depending on the type, a small camper might weigh anything from 500 pounds to 4,500 pounds. Small campers include shorter travel trailers, pop-up campers, and teardrop campers.
What SUV Can Tow The Most
The highest SUV tow ratings are currently held by Jeep's new Wagoneer and Grand Wagoneer full-size SUVs. It has a maximum towing capacity of 10,000 pounds comparable to that of a pickup truck.
What Does A 3/4 Ton Truck Mean
A 3/4-ton truck is simply any pickup with a GVWR that is between 8,501 and 10,000 pounds. This would include pickups like the Ram 2500, Ford F-250 Super Duty, Chevrolet Silverado 2500HD, and GMC Sierra 2500HD.
What Truck Has The Best Towing Capacity
The F-450 Super Duty truck from Ford is the strongest and can take on the toughest assignments. It has a maximum trailering capacity of 37,000 lbs.