The Kia Forte is the quintessential definition of what a car is meant to be. It was never designed for aspirational or thrilling driving pleasure, nor does it tickle any of the enthusiasts' heartstrings. Yet, it does everything a car needs to do. It can waft you from A to B in relative comfort and serenity. Plus, there's more than enough room inside for all things human and boxes, as well as having scored well in its safety tests. But how about the 2010 Kia Forte problems … Didn't think about that one, eh?
While the Kia Forte may have been headache-free ownership for some, others may not have been as lucky. The Kia of today is known as one of the most reliable carmakers, with quite a few of its clients left rather pleased.
But 11 years ago, the story isn't the same, leading us to talk about the 2010 Kia Forte problems that may still be causing you nightmares. So, is the 11-year-old Forte a deep pit of woes, or is it just misunderstood? Well, read along with our 2010 Kia Forte problems guide to find out.
Kia Forte
Let's start 2010 Kia Forte problems guide with its origins. The Forte is known as the K3 in South Korea, or the Shuma in China. In the South American, Australian, New Zealand, and several other South East Asian markets, it's badged as the Cerato.
In any case, the Kia Forte has been around for a long time, put into production from 2008 until today. You can order it as a four-door sedan, a family-friendly five-door hatchback, or a very delectable two-door coupe.
The Forte was Kia's replacement for the old Cerato and Spectra. Seeing that Kia and Hyundai are sister brands, the Forte is related to models like the Hyundai Avante or Elantra.
Its design was a new direction for Kia, which was based on the gorgeous Kia Koup Concept that was shown off at the 2008 New York Auto Show. At the time, it was penned by Kia's design studio in California. Since then, the Forte has sold handsomely as a product for Kia-Hyundai, across three distinct generations.
First-Generation Kia Forte (TD, 2008-2012)
The first-generation Kia Forte went into production in 2008. Although, it didn't reach North American shores until 2010, as its first model year is on sale here. Kia was targeting younger buyers who sought a more aggressive and sharp appearance in their cars.
In light of this demographic, Kia changed up the rear suspension with a semi-independent double-lever design, with an elastic beam. Compared to the second-generation Spectra (or first-generation Cerato in the US), which had a multi-link set-up.
This simpler engineering made the Forte (supposedly) more reliable and is thus both cheaper and easier to repair or maintain. Elsewhere, the car sits wider, longer, and lower than preceding Kia models.
Across its many markets, the Forte had a large variety of engine options. First, we have the 1.6-liter inline-4 'Gamma' gasoline motor, that could output 126hp and 156Nm of torque. But the most fascinating powertrains are the larger 2.0-liter and 2.4-liter 'Theta II' gasoline engines.
They could output 154hp and 171hp, with 164Nm and 226Nm of torques, respectively. You can then have these mated to a 5- or 6-speed manual, as well as a 4-, 5-, or 6-speed auto depending on the engine of choice.
These two engines are what most consumers in the US are familiar with. You could have the Forte in the LX, EX, and SX trims, moving further up in luxury kit and equipment. The 2010 Forte, in particular, received a 5-star Top Safety Pick from the Insurance Institute for Highway Safety.
Second-Generation Kia Forte (YD, 2012-2018)
Kia's second take with the Forte saw a significant change in exterior design. The front is emblematic of today's Kia, as the whole car sits lower, wider, and longer. Inside, you have a slightly more upscale cabin, with a driver-oriented cockpit.
Engines, once again, are plentiful in variation from one market to the next. In the US, we had two options – a 2.0-liter naturally aspirated inline-4, and a 1.6-liter turbocharged inline-4. The former can be had with either a 6-speed manual or automatic.
The latter, on the other hand, had a choice of a 6-speed manual or automatic, or a more high-end 7-speed dual-clutch (DCT). Regardless of which trim you pick, there was a monumental upgrade from the first to the second generation of the Forte.
You have more tech as standard, and the whole interior felt more sumptuous. As the technology arrived, you later had Apple CarPlay and Android Auto built-in. Later models had Kia's bespoke infotainment system, UVO, offered as an option.
Third-Generation Kia Forte (BD, 2018 – Present)
The third-generation Kia Forte was first announced at the 2018 North American International Auto Show. It took some styling cues from the oh-so-pretty Kia Stinger, with a more rearward positioning of the cab.

This gave it a long-hood grand tourer profile, with a fastback rear-end and a short trunk lid. Its powertrain choices are mostly carried over from the second-generation Forte, with tweaks and some modifications. Mostly, you'll find a 2.0-liter 'Nu' inline-4 in there.
It can be mated to a 6-speed manual or automatic, a 7-speed DCT, or with Kia's first-ever CVT. Inside the new Forte, Kia has a more futuristic interior design, which includes a "floating" center display, and rounded air vents from the Stinger.
You technically get more value for the money, as Kia has included certain features – such as safety systems and tech – that would otherwise be optional for its competitors.
2010 Kia Forte Reliability
Since we're getting into the subject of 2010 Kia Forte problems, we may as well look at the family as a whole. Is the Kia Forte a reliable car? Well actually, it's not half bad. To reference this, we're going to use data compiled by CarComplaints.com.
Of the 2,991 complaints noted by owners of every Kia model on its website, just 182 came from the Forte. That's across 11 entire model years, mind you. To look at this more closely, we've examined CarComplaints.com's PainRank leaderboards.
This is an algorithm that ranks certain models – and model years – based on how unreliable they are by measuring certain metrics. It won't just look at the frequency of certain faults that crop up, but also the mileage that they occur, how complex is that failure, and how much would it typically costs for a repair.
CarComplaints.com also cross-checks and displays complaints filed with the NHTSA. The Kia Forte ranks 18th overall out of 21 Kia models currently standing in the PainRank system.
If we break it down by generation, the first-generation Forte ranks a rather low 38th out of 42 cars. Meanwhile, the second-generation Forte improved far up in the reliability rankings to 19th place.
It's worth reminding ourselves that the 2010 Kia Forte problems are a major contributor to that ranking for all first-generation cars. That said, the Forte isn't too terribly unreliable and is on par with other Kia models like the Soul. You can probably get away with one without any issues if you're lucky.
2010 Kia Forte Problems
Back to business… As we look at the 2010 Kia Forte problems, we should note that this is the first model year that made it to the US market. Ordinarily, this would come with the caveat of it being more unreliable than succeeding model years.
Indeed, CarComplaints.com rates the 2010 model year as being the worst for reliability issues. Mostly, it involves problems that the Theta II engine that we talked about earlier. Over the years, the 2010 model year Forte has been involved in two recalls.
The first concerned the airbags and seatbelt retention system, which may have been disabled. A total of 507,587 cars were recalled, which included Kia Fortes. Then, we had another recall related to a problem with the brake light switch.
Such a defect may cause the cruise control to not be able to disengage. Overall, 980,337 cars were recalled. There are a total of 277 complaints filed for the 2010 model year Forte, which included owners' reports made to the NTHSA.
Now, apart from the Theta II engine that's become somewhat notorious for its seizing and stalling, other issues emerged. These included bearing failure, contaminated oil (caused by metal shavings), piston ring faults, knocking, and more.
Apart from that, owners are still worried about the seatbelt and airbag design flaw, which seems to persist even after the recall in some instances. So, let's get into some of the worst and most common 2010 Kia Forte problems that you should be wary of…
2010 Kia Forte Engine Problems
Here are some of the more common engine problems to be wary of…
1. Engine – 2.0-Litre Theta II GDI Engine Making A Loud Knocking (Or Ticking) Sound
Owners have heard a ticking, or more prominently, a knocking sound emanating from the engine. Engine woes as a whole make up the lion's share of 2010 Kia Forte problems, and this is the tip of it. Some have heard this knocking get louder while under acceleration.
Others, meanwhile, can hear it more openly while on a cold morning start-up. Some folks were unfortunate enough to have suffered this issue with just under 70,000 miles on the clock. The repair options varied.
One particular mechanic diagnosed it as a faulty rod bearing that needs replacing. As we mentioned, this is one of the many engine problems that could appear in Fortes which had a Theta II engine.
One owner noted that there was plenty of wear between two pistons, which were rocking back and forth loosely in the bore of the cylinder. Several other owners noted motor oil problems. They were either prescribed a simple oil change or were recommended to add in motor oil additives.
Others experienced their Fortes burning through a lot more oil than they should. The 'low oil' warning light can sometimes fail to come on. It may be followed by a sudden loss of power. This is likely caused by the aforementioned contaminated oil issue, which had metallic flakes in it.
For a thorough fix, a lot of owners of the 2010 model year Fortes had no choice but to replace the entire engine. The average repair cost, which marks the price of a brand-new motor, is around $3,000.
2. Engine – GDI-Based Theta II Engines Can Catch On Fire (Recalled)
It was worth noting that several Fortethat hadad a GDI (gasoline direct injection) type engine – of which the Theta II was – had caught fire. Kia issued a recall in 2015 and later agreed to lengthen the warranty of certain models like the Forte to 10 years, or 120,000 miles.
It seems this is related to that knocking problem from earlier. The engine's piston rods could knock around, and if they let loose in the engine, it can result in sudden combustion.
This is usually seen with what might appear like plumes of steam or smoke coming from the engine bay. But very quickly, flames can start to show up. Several owners had this happen to them, which they needed to call the local fire department to extinguish.
This would almost always lead to the entire car being engulfed in flames. Some folks had this happen to them with mileage as little as 100,000 miles, and their Kia Forte is now a write-off.
3. Engine – Motor Oil Contaminated By Metal Shavings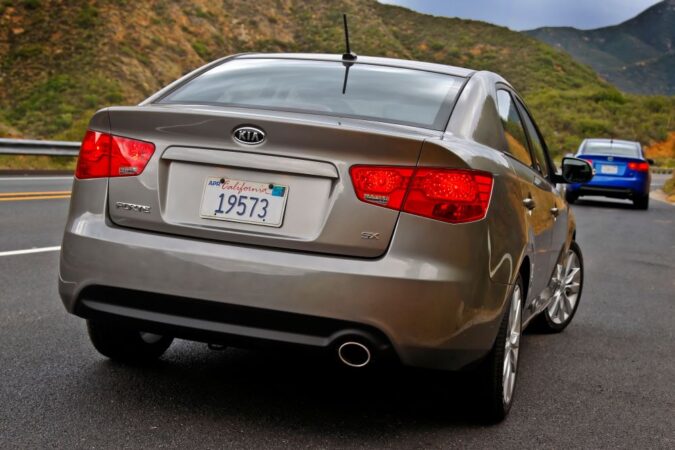 Once again back to a prevalent issue among 2010 Kia Forte problems, we return to the oil. To elaborate on this issue further, Hyundai and Kia admitted that there had been manufacturing faults with certain models.
This included the Kia Forte. It pertained to the fact that metal shavings or debris may have been deposited around the crankshaft during its production. When these shavings get mixed in with the engine oil, it can cause a lot of problems with oil flow.
The now-contaminated oil will turn thick, viscous, and sludgy, which affects its ability to cool and lubricate components. Moreover, this thick coil can clog up the oil lines, hence leading to oil leaks or catastrophic engine failure.
The latter can be attributed to a lack of lubrication. Some owners had this issue appear after as little as 16,000 miles of ownership. Worryingly, the 'check engine light' might not blink. In any case, the estimated repair cost is likely a new engine, which is around $3,000.
2010 Kia Forte Electrical Problems
Meanwhile, you should be diligent about its electrical systems, too…
4. Airbags And Seatbelts – Faulty ZF-TRW Crash Sensors Could Disable Airbags And Pretensioners
Although this did lead to a recall, as we mentioned earlier, it's serious enough that we should include it in our guide on the 2010 Kia Forte problems. According to media reports, this factory defect is the cause of as many as eight deaths.
In every car, there is something called the ACU, or airbag control unit. It's a computer, then tied to a series of sensors, which could detect an accident. When it does, it can pull in those electronic signals from the crash sensors embedded throughout the entire car.
With this system in mind, the ACU can accurately tell which side of the car is compromised, and how to deploy the airbags accordingly. On top of the airbags, the ACU is also responsible for activating the seat belt pretensioners, which keep you secured in place. Otherwise, check out our guide on where to get seat belt repairs near me.
However, the crash sensors developed by ZF-TRW were made without circuit-protecting diodes. This way, if the ASIC (application-specific integrated circuit) is supplying too much current or voltage to the ACU, it could shut down.
As a result, neither the airbags nor the seat belt pretensioners would be deployed in the event of an accident. Several Kia models were affected, which included the Forte, Optima, Optima Hybrid, and the Sedona.
Hyundai cars were a part of that recall too, as was a lawsuit that came around later. This problem should've been fixed, but do be wary of it. We've found a couple of complaints which showed us that not all of the affected cars were recalled. Some were still found to be faulty.
5. Electrical – Soy-Based Wiring Attracted Rodents To Chew Into The Electrical System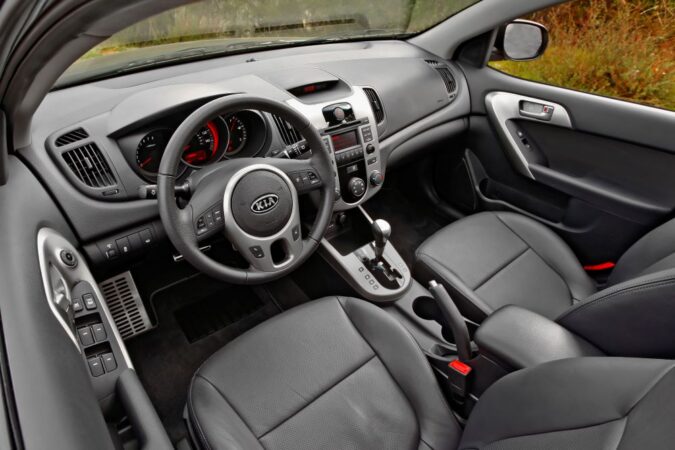 Here's a peculiar side to our story on 2010 Kia Forte problems. Both as an environmentally friendly and cost-cutting measure, Kia used a soy-based coating for its electrical wiring. It sounds like an innocent decision at first.
In fact, Kia wasn't the only carmaker to do this, either. Hyundai, Honda, Toyota, and Subaru were all a part of a class-action lawsuit concerning the use of soy-based coating for their componentry. It turns out that the use of soy in these coatings regularly attracted rodents.
These rodents loved to chew on the soy-coated wires. If not, they could use the coating for its nesting, which is often found near the warm and cozy engine bay. It's thus the perfect hiding place for mice, rabbits, and other critters to make it their home.
Nevertheless, some owners have woken up to severed fuel lines, which were also made of a soy-based sheathe. In all, the chewed-up wires – while good for Mother Nature – can cost owners hundreds or thousands of dollars in repairs.
2010 Kia Forte Brakes And Tires Problems
The brakes and tires are also worth looking into, as they have their own issues…
6. Brakes – Brakes Could Seize Up And Fail Due To Corrosion
One very dangerous defect in our search for 2010 Kia Forte problems had us looking at the brakes. It turns out that several people have had a brush with death – while others sustained injuries – caused by failed brakes.
It's worth noting that this isn't related to that aforementioned brake light switch and cruise control recall. The brakes in a few Kia Fortes could completely seize up without warning, and then fail, resulting in the driver not being able to slow it down or stop it.
It wasn't an ordinary brake wear issue. All of the brakes could seize up entirely, even when driving at slow speeds of around 30mph. The rear brakes, especially, could heat up massively when it seized, leading it close to the point of failure.
According to one owner who had their car diagnosed, it was apparent that Kia's braking components didn't have any anti-corrosive coating on them. It meant that the constant and intense heat could easily cause the brake fluids to become contaminated.
This happens as moisture builds up, and combined with exposure to debris, leads to oxidation. When that happens, the brake fluids could no longer effectively transfer hydraulic pressure.
Aside from the fluid, others have noted that the front and rear brake pads could become stuck inside the calipers. One owner mentioned that the rear brakes got so hot, they melted onto the rotors. A complete brake fluid flush is a good idea in this case, as well as a check-up and replacement of the brakes if need be.
7. Tires – Tire Pressure Monitor Stems Could Crack Or Fall Off, And Deflate The Tire
This particular part of the 2010 Kia Forte problems could appear with mileage as low as 6,000 miles. It all starts with a TPMS (tire pressure monitoring system) warning light blaring on the dash.
Upon closer inspection, one or more of the tires could be deflated. There is a design flaw with the TPMS stems, whose retaining nuts can crack. This could result in one of two things. Firstly, this crack can lead to the TPMS stem falling off the tire completely, which results in the tire deflating.
It could happen suddenly, even as you're driving the car at 60+mph. Secondly, the TPMS sensor (aka the tire pressure 'TP' sensor) – rather than falling off – could eject at speed into the tire. This causes a puncture or cracked wheel in some instances.
It appears that the nuts holding the plastic TPMS stems could corrode, which leads to the crack. Some owners have had this happen on more than a few TPMS stems at a time. To replace the stems would be another $200 or so at a Kia dealer.
2010 Kia Forte Problems: In Conclusion…
Well then, this rounds off our list of the most common and significant 2010 Kia Forte problems. In all, the frequency of these issues here isn't anywhere near as bad as some other cars, such as the Chrysler 200 that we looked at before.
However, certain faults, such as the engine knocking or the airbags and seatbelts not being able to deploy, are very serious enough on their own. If you have a Kia Forte or are thinking of getting one from the 2010 model year, do be very careful.
2010 Kia Forte Problems: Frequently Asked Questions (FAQs)
If you're curious to learn more about the 2010 Kia Forte problems, our FAQs here might help…
Is Kia Forte A Good Car
Many owners and pundits (including Consumer Reports) speak very favorably of the Kia Forte. They consider the Forte, especially in more recent years, to be a massive step-up over its earlier iterations. They're very well-built and offer a quiet and serene cabin, as well as a comfortable ride. Compared to earlier Kias and even when going head-to-head against the established competition, the fit and finish in the later Kia Fortes are pretty exceptional for the money. Plus, you get a lot of equipment and accessories for what you're paying. As such, it's no surprise that the Kia Forte is a leading contender in its class.
How Long Do Kia Forte Last
At the very least, a Kia Forte should comfortably last you at least 150,000 miles of ownership. However, with diligent maintenance and good care, a Kia Forte can handily last upward of 250,000 or even as far as 300,000 miles. Beyond that, it'll require a thorough rebuild and minor restoration to keep it going even further. When you consider that a typical American drives around 15,000 miles per year, that's somewhere between 10 to 20+ years of ownership. Compared to its rivals, the Kia Forte is also pretty reliable and could last quite a while if you take good care of it and practice routine servicing.
When Did Kia Come To The US
Kia has been making its own cars since 1974. Prior to that, all of Kia's passenger car and motorcycle production was licensed from Mazda and Honda. Some of Kias first models were jointly developed between itself, Mazda, and Ford. But, it took a while later before it made its own vehicles available in the US market. Specifically, in 1994, when its Kia Sephia was sold on American soil. This was then followed up by the popular Kia Sportage. Near the tail-end of the 1990s, Kia then unveiled the Optima and Sedona in the US, as well. Finally, in 2006, Kia broke ground on its first US-borne production facility.
What Does LXS Stand For Kia
Among the most popular trim levels for Kias, including the Kia Forte, were the LXS and EX tiers. They're both mostly similar, but with some subtle differences. Granted, most of them are creature comforts and nice-to-haves. For example, the LXS trim gets you woven cloth upholstery. Meanwhile, the EX trim grants you some nice, supple leather trim. Plus, the EX trim also gives you heated and ventilated front seats compared to the more basic LXS trim. But otherwise, as far as safety systems, driver aids, performance, as well as MPGs are concerned, the EX and LXS trims are practically identical.
How Reliable Is Kia
In its early days, Kia was often chided as a budget automaker with cheap build quality and poor reliability. But in recent years, they've stepped up massively. Over the past couple of years, Kia has consistently ranked in the top-3 to top-5 when it comes to reliability, build quality, and customer satisfaction. As per surveys done by JD Power, it also managed to rank in 1st place for dependability and initial build quality among other mainstream and mass-market automakers. As such, we can conclude that modern-day Kias are very reliable, even compared to the oft-bulletproof Japanese car brands.