Pickup trucks have become an essential item for all Americans. Just grasp the following data: There are 15.5 million trucks currently in use throughout the United States.  Since its creation in 1900, at the hands of John and Horace Dodge, the brand Dodge has been a synonym for reliability and durability. Granted, this reputation has been put to the test following numerous reports of Dodge Ram transmission problems.
Let us have some context. If you are in the market for a new pickup truck, let me tell you something: you are on the correct path. But, dear reader, when it comes down to the heart of a vehicle, the engine and transmission are crucial. Because of this, we need to break down the Dodge Ram transmission problems for you.
Dodge Ram Pickup
Dodge Ram or just Ram from 2012 onwards has had a great run since its creation in the '80s. However, our focus is on the second generation ahead, which started in 1993. There were numerous engines available in this second generation: the most notorious being the 5.2 V8 and the mythical 5.9 Cummins diesel. A 5.9 and a manual? That is Dodge Ram's best asset.
From the 2000s onwards is when everything got for the worst for the Dodge Ram. The fiasco of these years ended up with Chrysler being purchased by Fiat, now becoming Fiat-Chrysler. This decision changed and decided what became of Dodge Ram: it became its own brand. So, from 2009 onwards, you will find them as Ram.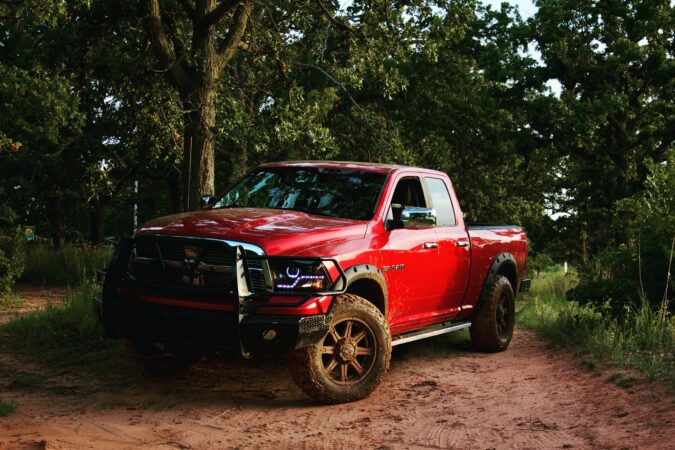 One of the many issues reported with the Ram 1500 onwards was transmission reliability issues. There are numerous issues, from jerky shifts to missing gears altogether. That is one terrifying issue, especially if you are looking for a truck for work.
Now, dear reader, you will ask yourself: after all this, which Ram model is more suitable for me? Well, there are numerous vital points you should evaluate. However, we have created a list of trucks that have these transmission issues just for you.
2014 Dodge Ram 1500 Problems
For a 7-year-old truck, the 2014 Ram 1500 has for sure many issues, specifically transmission-related. According to carcomplaints.com, people often feel that the transmission bumps whenever they release the brake or accelerate. On the other hand, many users feel as if the transmission does not downshift correctly or sometimes does not have any acceleration. That is a frightening issue.
The overall cost of repair for the bump in the transmission whenever they accelerated or released the break was around $750. Something relevant to be noticed is how early this happened for many – averaging at 13,500 miles. On the other hand, other users had their PCM updated, and their adaptive shift memory cleared from the transmission. This seemed to work for some; however other users stated that after some time, this solution failed.
Sadly, this is not over, folks; we got more transmission problems for you. In this model year, the Ram 1500 has had repeated issues with the accelerator pedal failing. According to someone who had this issue, it was the worst. He was driving uphill, and suddenly, the truck could not go uphill. Many have stated that his issue came as early as 21,000 miles.
2014 Ram 1500 Transmission Problems
With this data in mind, there is a recall for the 2014 Ram 1500 with the HEMI V8. This is because there can be an improperly machined park rod guide plate, which may cause the vehicle to roll away, as it cannot engage fully into Park. This imperfection has led to many trucks rolling away and crashing, leaving many injured.
The National Highway Traffic Safety Administration (NHTSA) issued in December 2017 a recall that gave some Ram owners a fleeting feeling of safety. Said recall explains that this may cause the BTSI to stick in an open position due to prolonged pushing of the brake pedal. The result is that you can shift the vehicle without pressing the lever. Chrysler's solution? Another system update.
Although currently there is a recall bulleting for this issue, in particular, the NHTSA has opened an investigation into the Ram 1500, from years 2013-2016, for rollback crashes even though the vehicle was placed in "Park." According to this investigation, there have been 9 injured and 25 crashes reported of this problem. Therefore, if you own this model, we highly recommend following the link to the investigation opened by the NHTSA.
Now, what's Chrysler's solution for this issue? For this fault, the manufacturer's remedy is to replace the transmission. This recall can be found as Recall 14V-161/P13. Even though Chrysler has decided to remedy this issue, only time will tell if any of these solutions survive the hardships of the time.
Even though Dodge Ram's transmission problems are notorious for the 2014 model, you will think that this is the only part with constant issues. Well, technicians say otherwise.
Other 2014 Ram 1500 Problems
The NHTSA has issued numerous recalls for the Ram 1500, 2500 & 3500. All of them are important for the vehicle to perform at its best. These must be evaluated according to your engine type. For instance, there are two recalls for the 3.0 EcoDiesel engine. These have issues with the Crank Position Sensor, which it would make the engine stall. Also, these were prone to have the EGR cooler crack, causing a fire inside the engine bay.
On the other hand, this model was plagued with electrical and airbag problems. The most notorious recall we could find because of the number of vehicles affected was the sudden driver-side air bag deployment and the side curtain air bag failure to activate during a rollover. Each recall has more than 1,000,000 vehicles involved.
What Can You Do About It
Ram transmission replacements are expensive – a ZF HP45 or ZF, HP70 can range from $3,800 up. Also, this does not include the labor cost of removing the old transmission, installing the new one, and programming it – eventually, the money will stack up. So, try to avoid this specific model year; however, we have some advice for you if you already have one.
Change the transmission fluid, oil pan & filter. Although not many manufacturers have a specific transmission oil change interval, ZF does have a recommended change interval. This is about every 50,000 miles. You can find a link throughout the video of this process here.
Avoid heavy towing or strain in the transmission. If you seek to expand the lifetime of any transmission, try to avoid any unnecessary strains on it. This would prevent any premature wear on it.
Avoid harsh accelerations. A transmission's lifespan is reduced by forcing harsh shifts, as all internal components are strained to the limit.
2016 Ram 1500 Problems
As crazy as it may look, this model was not the only one that has had issues with the transmission. You will think: if it is newer, it is better. Well, not in this case. The 2016 model has retained specific issues of the infamous 2014 model year. However, this is less common. On the other hand, there are still specific persistent issues with this truck.
The main issue plaguing this model is a sudden surge of power whenever you stop the vehicle. Nonetheless, it is not the only one. Recurring issues from early models, such as the transmission not shifting correctly, or sudden loss of power, are familiar with this model year. The good news is that these issues are not as expected. Guess you win some, or you lose some.
According to many customers, the sudden surge in power happened after Ram completed a recall where they reprogrammed the PCM and replaced the shift knob. They describe the issue as if someone had "rear-ended" them. They state that it usually happens when the vehicle is about to stop.
2016 Ram 1500 Transmission Problems
Something that has many customers concerned is how Ram has managed this problem. Up to today, there is no recall or notice from the manufacturer where the issue is solved. Most of the time, the dealerships "reset" the driving pattern of the transmission – reset the transmission's computer into factory specifications. Unfortunately, in most cases, this solution failed to solve the surge.
An important detail to be added is that these issues are not the only ones with this model. The NHTSA has 13 recalls for this model year. The ones that are the most concerning are:
Sudden loss of steering assist
Cruise control cannot be canceled
Sudden air bag deployment
Each issue, although treated, does provide each sufficient individual output to stay away from this model year, even though it is not Ram's worst. Ram seeks to "update the software" first for most issues if they believe that the part is not damaged. That is a crucial point to take into consideration if you want to purchase one of these trucks.
Dodge Ram 2500 Transmission Problems
The Ram 2500 (as well as the 3500) are larger and equip for heavy-duty work. These trucks have been used for detailing business', and towing, among other uses, because they are dependable through the years. However, it has had a fair number of issues with the transmission.
An issue noticeable all through the Ram lineup is that their transmission can be shifted out of Park without the key in the ignition. There is currently a recall from Chrysler where they have identified the issue being the Brake Transmission Shift Interlock. Chrysler has put some work into this issue, as they will "update" the module and change it if necessary.
At this point, there is much to question about these transmissions. Many Ram owners have stated their concern and disappointment with the trucks they have purchased. However, a Ram owner said that when he went to the dealership, they reply with a "there is no issue with your truck."
On the other hand, those are not the only issues the Ram 2500 has. Several additional recalls are being taken into consideration. One common issue with these trucks is that a steering component – the steering linkage – can come loose at any time. Thankfully, Chrysler rapidly took action by replacing the affected part.
The last issue can be decisive for someone who needs the truck for towing – as this issue can lead you to have your engine totaled. The NHTSA issued a recall where several Ram 2500 with the Cummins engine leaked coolant from the water pump assembly. This issue, if not repaired on time, can make you overheat the engine.
Ram did their job well with this issue – they are replacing the water pump assembly. However, it does make one question the quality and durability of these trucks.
2001 Dodge Ram 1500 Transmission Problems
Dodge Rams from the 2000s have a mixed reputation: some people state that they are the model to get, and others say that their experience was horrible. However, they did have many issues that hindered their reputation. For transmission problems, the 2001 model was the worst. Many failed altogether, while others experienced fluctuating RPMs or that the transmission shifted out of gear.
Dodge Ram trucks from this generation used a Chrysler – manufactured transmission for their V6 and V8 engines. However, these transmissions resulted in a disaster – the only real solution to their problem is a complete transmission rebuild. These issues, on average, came when the truck was hitting 94,000 miles. A rebuilt transmission can average a price of around $1,990.
Let us break down how a bad 2001 Dodge Ram transmission would behave. Often, these transmissions would have a rough shift – it often feels as if the gears are being forced to engage. This usually happens because the interior components of the automatic transmission are deteriorating, making it hard to engage physically.
On the other hand, these transmissions are known for having overheating issues. This problem usually happens because the stress inside the transmission is such that the cooling system cannot keep up with it. If you wish to read more about transmission cooling systems, you can click here.
The 2001 model year is notoriously known for having cracked dashboards. These must be replaced to fix this issue. On average, it will cost around $530 to fix this. However, some have been quoted up to $2,000. Also, it is particularly annoying that many individuals have reported small pieces of the dashboard have come out while driving through bumps.
Even after this, other models have constant issues – the engine, electrical problems, air conditioning, or even the body.
2002 Dodge Ram 1500 Transmission Problems
This year introduced one of the most hated engines that Ram has had: the 4.7 V6 engine. This engine is notorious for blowing head gaskets. This issue is reported to happen around 90,000 miles – early for a work truck to make matters worse. Because of the head gasket failing, Ram owners often must replace the engine, costing around $3,600.
On the other hand, other owners have stated that they have experienced severe oil sludge in their early 2000s 5.7 V8. However, if you regularly change your oil with quality oil, this should not be a problem.
2006 Dodge Ram 1500 Transmission Problems
This year marks the beginning of a constant issue for many Dodge Ram owners: the Multi–Displacement Management. This system works as a way for the truck to achieve better gas mileage by deactivating half of the cylinders. Nonetheless, many technicians have found that deactivating these cylinders creates a scenario where the lifter has direct contact with the camshaft lobes, creating premature wear.
If you wish to know more about how to maintain your engine running just right, we invite you to see the following YouTube video.
However, folks, that is not the most common issue. This title goes to the blend door breaking after being opened, and not letting the AC work properly. Many reports that even after an attempted fix, many had to deal with the problem. The average cost of this is around $520 and starts at approximately 48,200 miles.
Last, but certainly not less important, is the feared "death wobble." The worst part is that even if you replaced several parts of the suspension, the sudden, violent shake of the front suspension could not be avoided.
Best Year For Dodge Ram 1500
Dear reader, not everything is lost in the Dodge Ram world. Several good models can be reasonably reliable. Recent Ram models that have been reliable up to date are the 2017 and 2018 Ram 1500. Although their 2014 predecessor does not bide well for these models, owners have not come across issues not taken care of by the dealerships.
On the other hand, there has been an improvement from Chrysler to provide a better service to their customers. Some issues that have been found are being recalled by Chrysler under warranty. Also, the 2018 Ram was the last year they offered the manual transmission, which has been more reliable than the automatic.
The second-generation Ram 1500 has had a better run than the latest models. The best model years are 2009 & 2010. These models did not have the failing transmissions seen during the early years. They are decent trucks if they are well taken care of.
Indeed, the best models for any Ram are the 2500 and the 3500-heavy duty. The latest 3 years Ram 3500 have been trouble-free, alongside the 2500. If you plan to buy one of these, be sure that all the recalls have been adequately assessed and taken care of.
Last, the second-generation Ram 2500 and 3500 were great trucks, especially if they were equipped with a 6 – speed manual transmission. However, these trucks were equipped with Allison 6 – speed transmissions, which are bulletproof.
Dodge Ram Transmission Problems: Our Final Thoughts…
Ram has been creating heavy-duty trucks for many years now, striving to become the best truck manufacturer in America every year. Although they have had significant setbacks with many of their products, they have tried to provide the customer with the best service they can offer.
If you are interested in purchasing a Dodge Ram, there are many steps you can take to make sure you are purchasing a truck that will last. For starters, evaluate your needs – what use will my truck have? How much money am I looking to invest? What are my expectations?
To purchase any vehicle, you must have a trusted mechanic check it out and road test it. Have him check the data with their scan tool. Often good mechanics can determine if a vehicle is worth purchasing by only looking at the data.
Many individuals can often avoid purchasing clunker vehicles by having a throughout inspection of a car. Another tool that can help you evaluate if a truck is worth it is a VIN check certification. If a truck has been well maintained, it can last for many years.
If you wish to learn more about how you can maintain your vehicle better, we suggest reading the following article.
Dodge Ram Transmission Problems Essential Knowledge
Dodge vehicles with traditional automatic transmissions use sensors to determine when it should shift gears and changes them by using internal transmission fluid pressure.
The most common cause of failure in an automatic transmission is a malfunctioning torque converter, which can cause shifting problems in automatic transmissions.
If the torque converter is malfunctioning, it can fail over several weeks or months, contaminating the transmission fluid with metal debris, and causing significant damage to the transmission, which may require a complete rebuild.
Signs of a malfunctioning torque converter or any other transmission problems include transmission slipping, grinding or jumping during acceleration, overheating, contaminated transmission fluid, gears changing at high RPM, and the Check Engine Light On.
Dodge Grand Caravan owners may experience delayed transmission engagement, hard shifting, or shuddering, which can be caused by an unfastened snap ring on low drum spins.
Dodge Ram trucks, such as the 1500/2500/3500 series, can have issues with overheating, which can be responsible for starting many transmission problems and can lead to transmission failure in the future.
Dodge 2005-2006 Durango, Dakota, Charger, and Magnum models may have a common problem with the anchor shaft falling out, causing the vehicle to slip out of the park.
Dodge Sprinter vans from 2003-2010 are known to have shifting issues due to internal electrical issues with the output speed sensor.
Diagnostic technology is an integral tool in determining the best starting point for further investigations of transmission problems.
Mister Transmission, with over 55 years of experience, offers Dodge service, repair, and maintenance and can help with preventative maintenance to increase the longevity of your transmission and avoid transmission problems in the future.
FAQs On Dodge Ram Transmission Problems
If you're still curious to learn more about Dodge Ram transmission problems, our FAQs here might have the answers…
When Did Dodge And Ram Split
Dodge and Ram parted ways back in 2009 and have since operated under their own brands. In other words, today's Dodge and Ram are both separate companies. Albeit, both Dodge and RAM are still owned and run by Fiat-Chrysler Automobiles (FCA), which has since been renamed Stellantis following its merger with PSA. The reason behind this split between Dodge and Ram is to ensure that both brands can focus more clearly on their respective specialties. Dodge is more well-known for its performance vehicles and muscle cars, such as the Viper, Charger, and Challenger. Meanwhile, Ram specializes in building trucks and other commercial vehicles. Both of those genres don't really mix well with each other, at least not naturally.
Who Owns Dodge Ram
Prior to the split between Dodge and Ram in 2009, all Ram trucks are referred to as the 'Dodge Ram'. Back then, Ram was itself a distinct sub-brand or marque specializing in building trucks under the wider Dodge brand. At the time, Dodge too wasn't an independent company, as it was owned alongside numerous other automakers like Jeep under the Chrysler Corporation. However, the split between Dodge and Ram in 2009 made it so that both brands are separate from one another. Currently, it's more accurate to say that Ram is owned not by Dodge, but directly by Chrysler. The latter has since evolved into Fiat-Chrysler Automobiles (FCA) after merging with Fiat, which is now called Stellantis after another mega-merger with PSA.
Are Ram Trucks Reliable
Despite the litany of Dodge Ram transmission problems, Ram trucks are typically well-regarded for their reliability. A recent 2022 survey by JD Power gave the latest Ram 1500 truck a high predicted reliability score of 86 out of 100. This is a pretty great score. Meanwhile, RepairPal's 2022 surveys on the Ram 1500 also had good results. Here, they gave the newest 2022 Ram 1500 a reliability rating of 3.5 out of 5.0. This thus ranks it 4th among 17 other full-size trucks, which is another good result. In that RepairPal survey, they noted that the Ram 1500 is just about average in regards to yearly maintenance costs. Although, they also found that when issues do occur (which happens less regularly compared to the baseline among other truck brands), they tend to be more severe.
Where Are Dodge Trucks Made
To be clear, Dodge no longer makes trucks after the Ram brand was spun off into a separate entity back in 2009. So much so, that Dodge and Ram don't even share the same assembly plants anymore, though they are owned by the same parent conglomerate. Today, Ram's trucks are built in 3 locations. Its Classic series of trucks are put together at its Warren, Michigan plant. Meanwhile, their latest generation of Ram 1500 trucks are made in Sterling Heights, Michigan. As for Ram's heavy-duty offerings, such as the 2500, 3500, 4500, and 5500 (including some 1500 trucks), these are built at their Saltillo plant in Mexico. Regardless, the majority of components used in Ram trucks are built in either the US or Canada.
Why Is My Transmission Slipping
There are several reasons that explain why your transmission is slipping gears. Most of them, however, are related to the transmission fluid. Running a car with a low level of transmission fluid, or if the transmission fluids are worn-out and burnt, can cause gear slippage. Other than that, worn-out or faulty transmission bands would also cause transmission slippage. Faulty torque converters and bad shift solenoids are crucial to the operation of a gearbox, and their respective malfunction would subsequently cause a transmission to slip gears. Alternatively, we may attribute this issue to a bad clutch – which is present in automatic transmissions too, by the way.
Approved Tools
These tools have been tried and tested by our team, they are ideal for fixing your car at home.
AI Car Expert Thinking 

.

.

.